To celebrate our 10th birthday here at Urban List, we're asking you to tell us your top 10 lists over on our Instagram—we asked and you delivered on where to find Sydney's best baked goods.
There's a reason so many of us simply cannot be trusted when left alone with a warm loaf of fresh sourdough. The stuff is too good not to be devoured. Just add some Pepe Saya butter and stick a fork in us!
Whether you're a purist who gravitates towards the simple luxury of a perfect loaf of white sourdough, have a penchant for Mediterranean-inspired loaves with hints of olive and garlic, prefer sweet treats like cinnamon scrolls and vanilla slice, or you're downright experimental with your wheat obsession, we have you covered in our guide of Sydney's best bakeries. Punch another hole in your belts, you're gonna need it.
Here are the best bakeries in Sydney right now.
The Best Bakeries In Sydney As Chosen By You
Tokyo Lamington
Newtown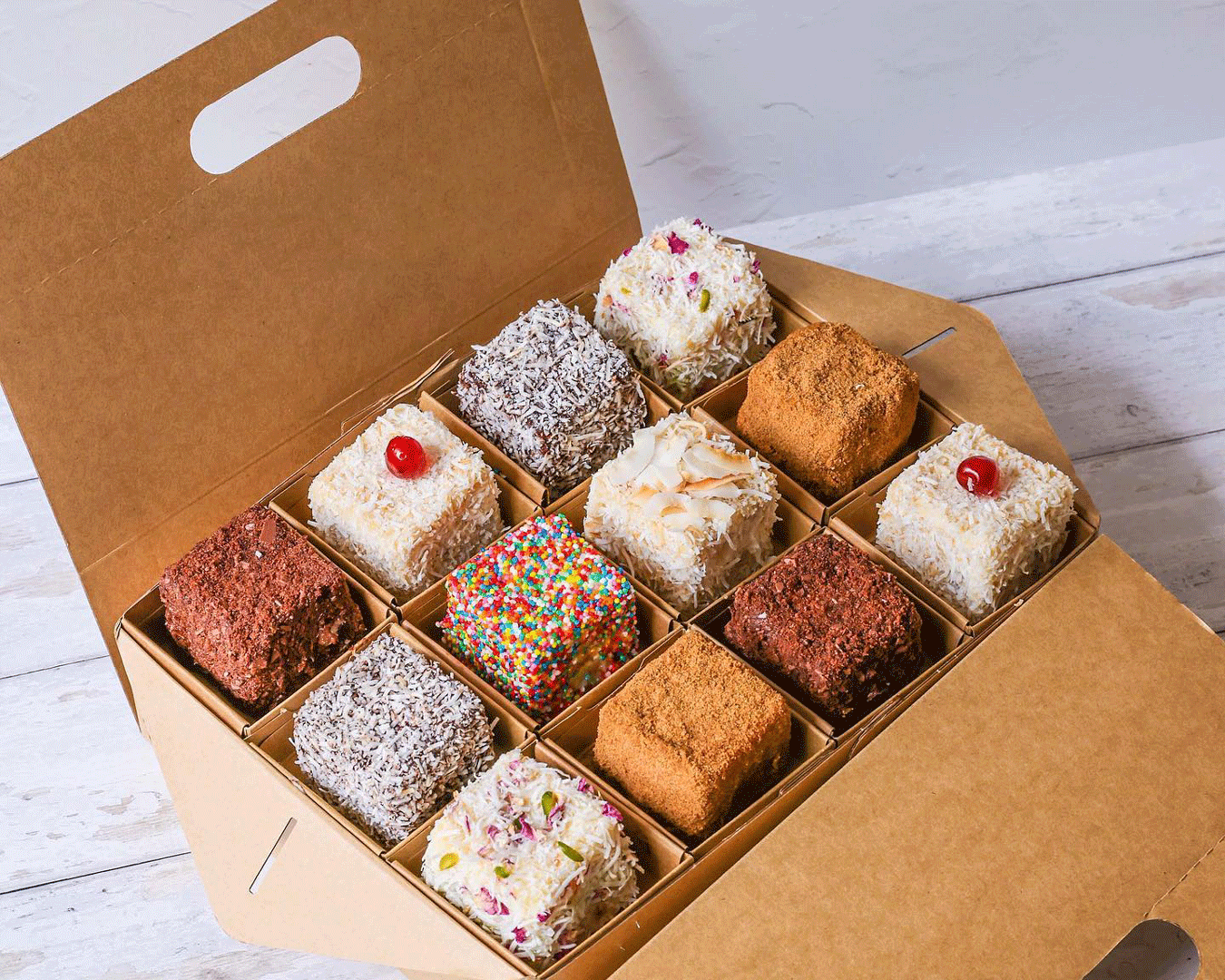 The people have spoken, with Newtown's Tokyo Lamington the handsdown favourite sweet treat pitstop according to a whopping 19 Sydneysiders—@princessgreedyguts, @plain_ster, @yrummy, @ceelsan.hu, @nickandhelmi, @tinatruongy, @oliviakosasih, @jonggy_, @muu.karen, @cattylicious, @feleciiaa, @joannadu_, @eddimame.san, @kerabeareats, @kayemarfori, @manihouston, @biarta, @alt_01, and @rubywly.
The brainchild of two top dessert chefs, Min Chai (ex-N2 Extreme Gelato) and Eddie Stewart (ex-Black Star Pastry), Tokyo Lamington puts the humble lamington on a pedestal. However, these guys are going well beyond the classic ingredients of just sponge, jam, choc, and coconut. On the menu, you'll find epic creative flavours such as fairy bread popcorn, pavlova, passionfruit vanilla slice, and an oh-so-nostalgic finger bun one. Run, don't walk, to this Inner West dessert haven.
Lode
Surry Hills
It's one of the newer kids on the block but Lode Pies & Pastries has already worked itself up to be a huge pie crowd-favourite, including by the likes of @monkie2804 and @adreamgnes.
Offering up all things sweet and savoury, as mastered by LuMi chef Frederico Zanellato and chef Lorenzo Librino, everything here is inspired by the aesthetic of viennoiserie. With that, the art of the 'lamination' process reigns supreme here, so you can expect lots of layered treats with creams, ganache, and seasonal fruit.
Flour And Stone
Woolloomooloo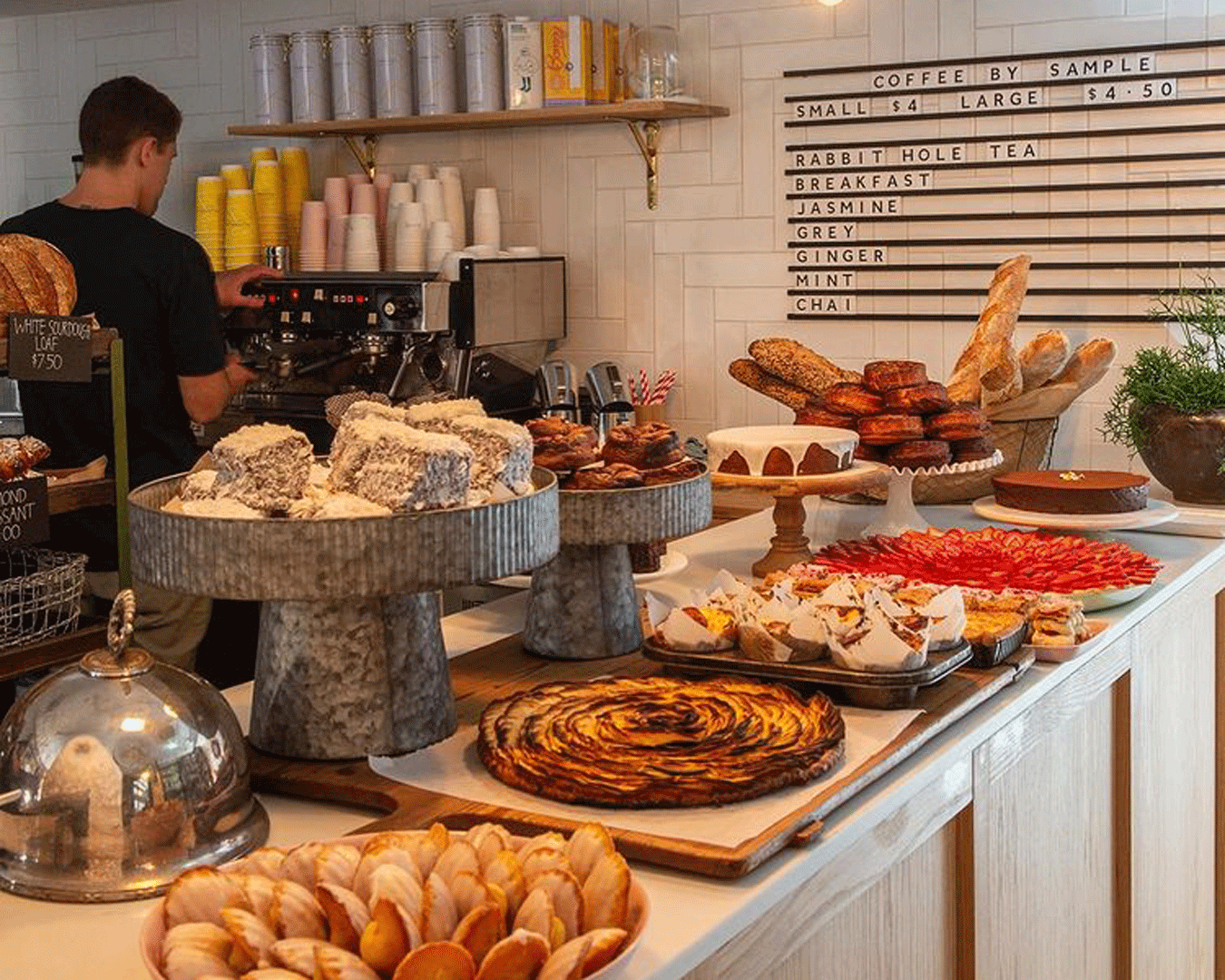 Woolloomooloo's go-to bakery—and @thecookslardersydney and nozaira's favourite—Flour and Stone serve up the classics with aplomb. But fresh sourdough and perfectly crisp croissants are not its only offerings. Its fresh take on classic sweet treats like beetroot and seed cake or spelt carrot cake are must-tries. If you're more of a savoury-tooth then don't miss out on the zucchini, chilli and gruyere buns or the lamb, potato, and rosemary pies. If you're feeling extra sweet, you can buy yourself a hand-iced gingerbread in a heart, rainbow, strawberry, penguin, or fox shape. Does it get any cuter? We think not.
Cherry Moon
Annandale
What can't Cherry Moon General Store do? Picked by @snackychans_syd, this woodfired bakery and grocer is the creation of ex-Rockpool and Tetsuya's pastry chef Kimmy Gastmeier and former schoolteacher Aimee Graham.
Cherry Moon has serious charm, with its folksy, eclectic style you could be forgiven for thinking you were miles away from busy Parramatta Road and the bustling city. At the heart of it all is a hand-built woodfire oven named Apollonia and, if you go for the woodfired sourdough, you won't be disappointed. The depth of flavour infused in their signature fig-leaf sourdough is a revelation. From burnt butter, choc chip, and sea salt cookies to doughnuts topped with glacé cherries, if you're looking for baked goodies you'll be spoilt for choice. The grocery is like no other, with almost all goods made in-house you'll find everything from magnesium oil to homemade butter.
Rollers Bakehouse
Manly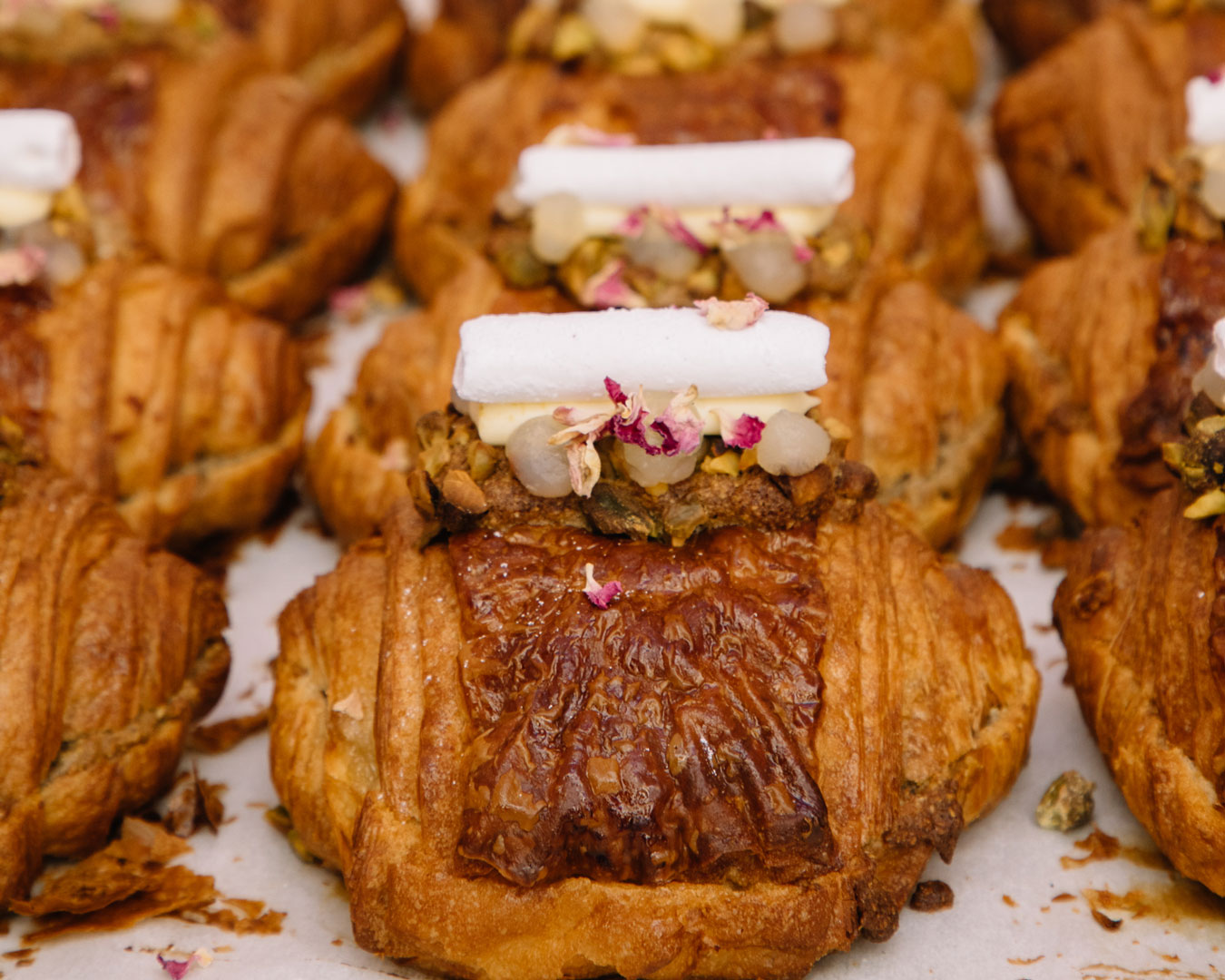 Loved by @sliceofjuliette and @jessica_1987, Rollers Bakehouse has an edgy, cool-kid feel to its design that matches its kooky croissant creations.
Baker James Sideris focuses on boundary-pushing flavours— think the likes of a truffle ham croissant that fuses a truffle goat's cheese spread with ham, comté cheese, and caramelised onion, and also a Middle Eastern-inspired eggplant, hummus, zaatar, and jalapeno concoction. Rollers diversifies its crazy croissant range with the likes of vegan chocolate and coconut cookies or maple-bacon snails made with smoked maple bacon, maple custard, and roasted almonds. This is not a bakery for the faint-hearted! Roll up to the door and see what daily specials have arrived to blow your socks off.
Tuga Pastries
Clovelly
Tuga Pastries is proof that good things come in small packages. This teeny-tiny, counter-only bakery specialises in handmade pastel de nata (Portuguese tarts). Clovelly's best-kept-secret also serves up Pao de Deus (a coconut brioche), Tart de Feijao (almond and hazelnut tart), carrot, and pineapple cake, dulce de leche pockets, and loaded Portuguese-style doughnuts. Its almond croissant has been voted number 1 in Sydney, too. And, for inner-city dwellers, it's also opened a location in Alexandria.
Simply said, this humble hole-in-the-wall— as picked by @carleena33—is not to be missed.
AP Bakery
Darlinghurst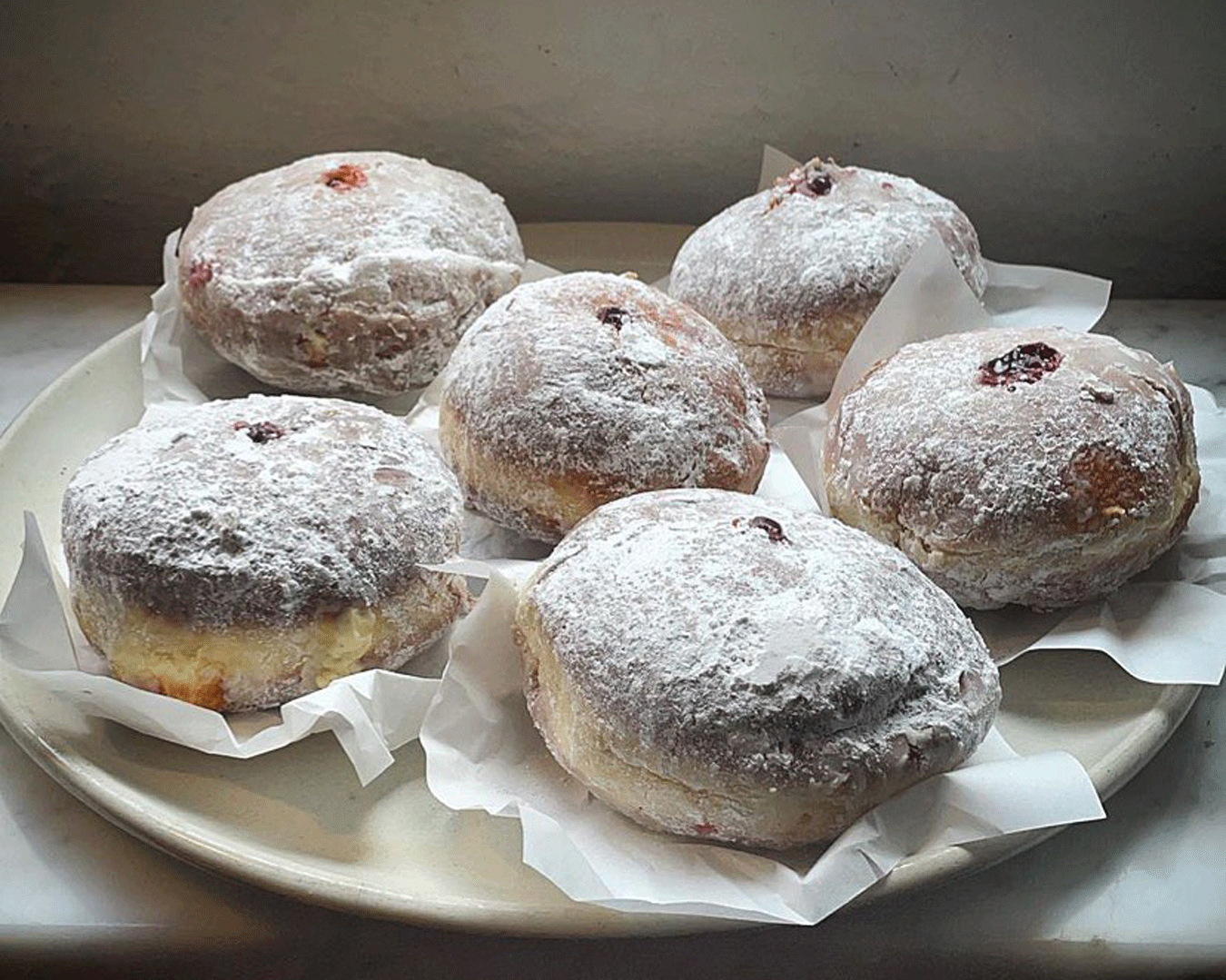 AP Bakery may be the most culinary-star studded bakery to grace Sydney (so it's an A-class pick from @karina_arora). Mat Lindsay (Ester, Poly), Russell Beard (Reuben Hills, Paramount Coffee Project), Dougal Muffet (Moonacres Kitchen in the Southern Highlands), and Ping Jin Ng (Paramount House Hotel) have joined forces in a promise to bring us the best bread in town. As yet, the bakery is yet to open its brick-and-mortar doors but when it does, it'll be serving up loaves fresh from its own on-site flour mill, taking the term artisan to another level.
For now, you can sample AP Bakery's goods at Reuben Hills and Paramount Coffee Project.
Flour Shop
Turramurra
"Flour Shop came about in pretty unlikely circumstances", says co-founder Anu Haran. What began as a friendship on a train in England has now blossomed into one of the North Shore's most friendly and welcoming locales. "We decided to open in the suburbs to service a community that was unserviced," Haran continues. She adores the community so much that she has taken to handing out Flour Shop's starter to anyone who asks because she says "while everyone is going insane at home we're happy to give them some joy."
So, it's no wonder @theredveld gave it a shout-out. Flour Shop has become known for its Jerusalem bagels: a soft focaccia filled with chorizo, cheddar, and egg. Its cinnamon scrolls have been another smash-hit. Or, you can simply enjoy a slice of lovingly baked bread with a smear of Pepe Saya butter.
Humble Bakery
Surry Hills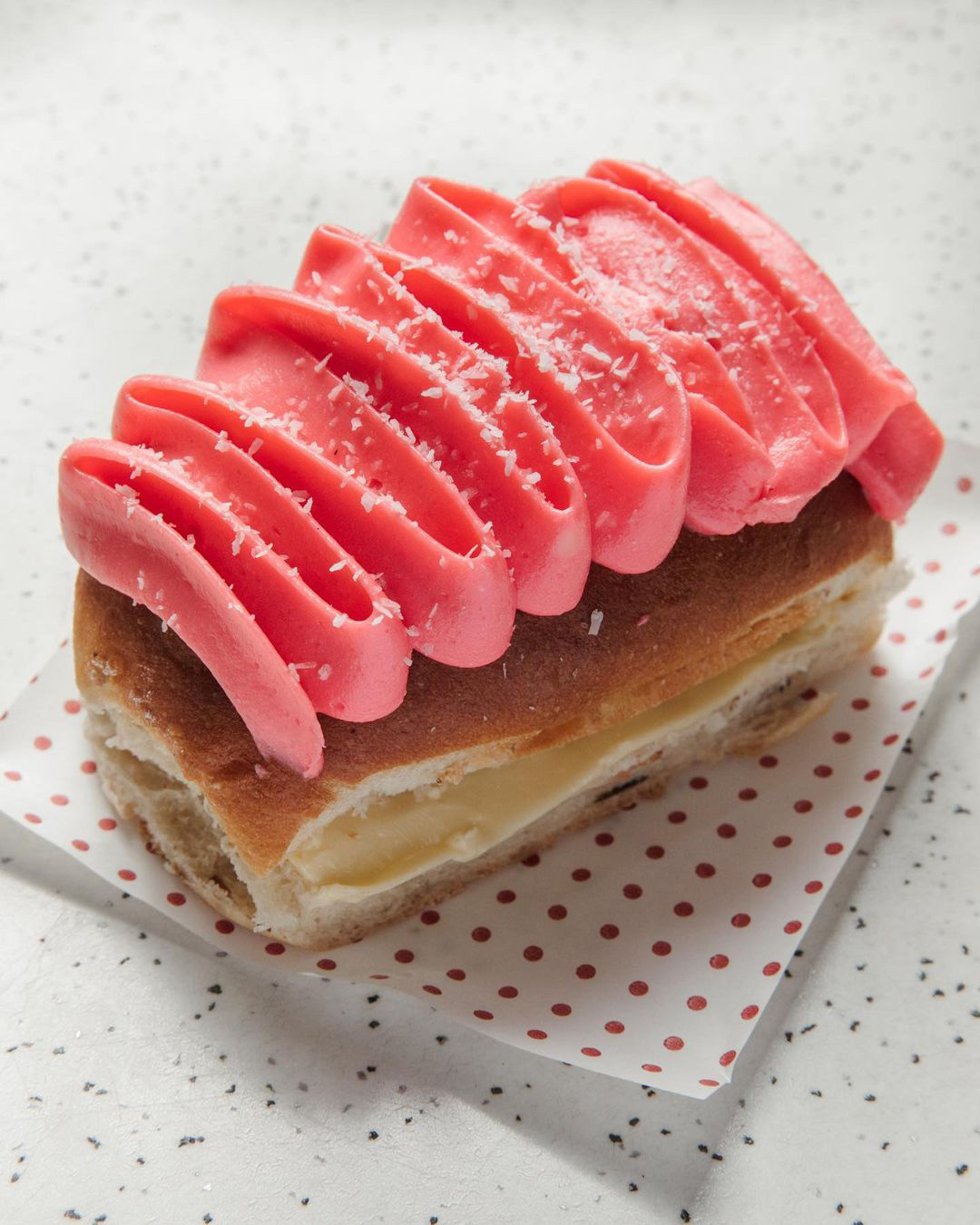 You wouldn't have thought that Surry Hills could squeeze one more bakery or coffee shop in without actually imploding on itself but, when you're as good as Humble, we're more than happy to accommodate. Tucked down the slope of Holt St, right next to sister venue Porteño, Humble is often bustling, with lunchtime patrons spilling onto the pavement. And it's an absolute winner according to @scarey0909 and @annawright__.
Following in the South American footsteps of its older sibling, Humble puts refreshing, south-of-the-border slants on the classics with treats like jamon and cheese croissants and caramelised onion and chorizo snails. The sourdough starter, developed by chef Francois Mignard is not too sour and produces a light crust instead of the teeth-breaking variety sometimes associated with toasted sourdough. "It's not as challenging on your jaw," says Abrahanowicz. Sweet seekers should try the watermelon, cheese, and pistachio pastry or the Basque cheesecake made with Meredith goat's cheese. The spinach pie (torta pascualina) is a timeless staple and we're also big fans of Humble's pink-iced finger buns.
Saga
Enmore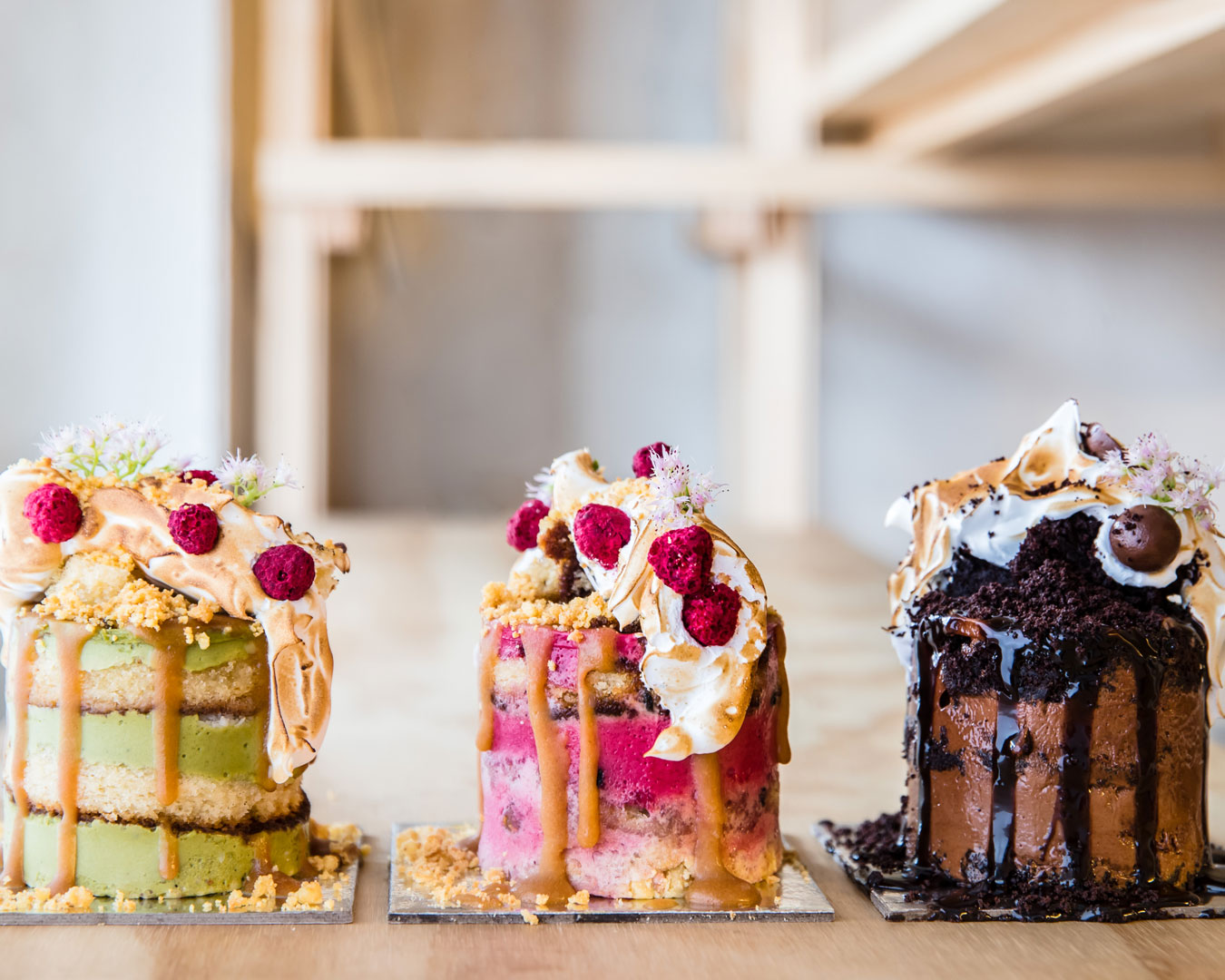 Andy Bowdy shot into the cake stratosphere with his insane tiered cake towers back in 2015. Dripping in caramel sauce and decorated with bombs of meringue, and available exclusively to order online, it used to be pretty impossible to nab one—they were (rightly so) insanely popular and totally one-of-a-kind.
Nowadays, you can get your fix at Bowdy's Enmore cafe, Saga—which is @snackychans_syd top bakery spot. At the cafe, you can pick up everything from a tiramisu to-go, to flourless chocolate cakes, and adorable mini versions of Bowdy's signature cake towers.
More Of Sydney's Best Bakeries
Wholegreen Bakery
Waverly and CBD
Whether you're coeliac or just prefer a gluten-free diet, Wholegreen Bakery is your mecca. It would be difficult for even the most discerning wheat-devotees to fault the delicious offerings at this bakery and cafe. Owner Cherie Lyden is a qualified nutritionist who was motivated to create a gluten-free offering when her daughter was diagnosed with coeliac disease. Wholegreen offers everything gluten-free eaters usually avoid. Seasonal muffins, pastries, sandwiches, sausage rolls, perfectly buttery pies, and, of course, loaves of meticulously baked gluten-free bread. The dairy and egg-free bread is vegan and comes in a range of quirky flavours including turmeric and activated charcoal, olive and rosemary, seeded, plain, and fruit.
Wholegreen Bakery's CBD store is set to reopen Tuesday 1 February, 2022. In the meantime, head to its Waverly location or order its goods for delivery via the website.
Madame & Yves
Clovelly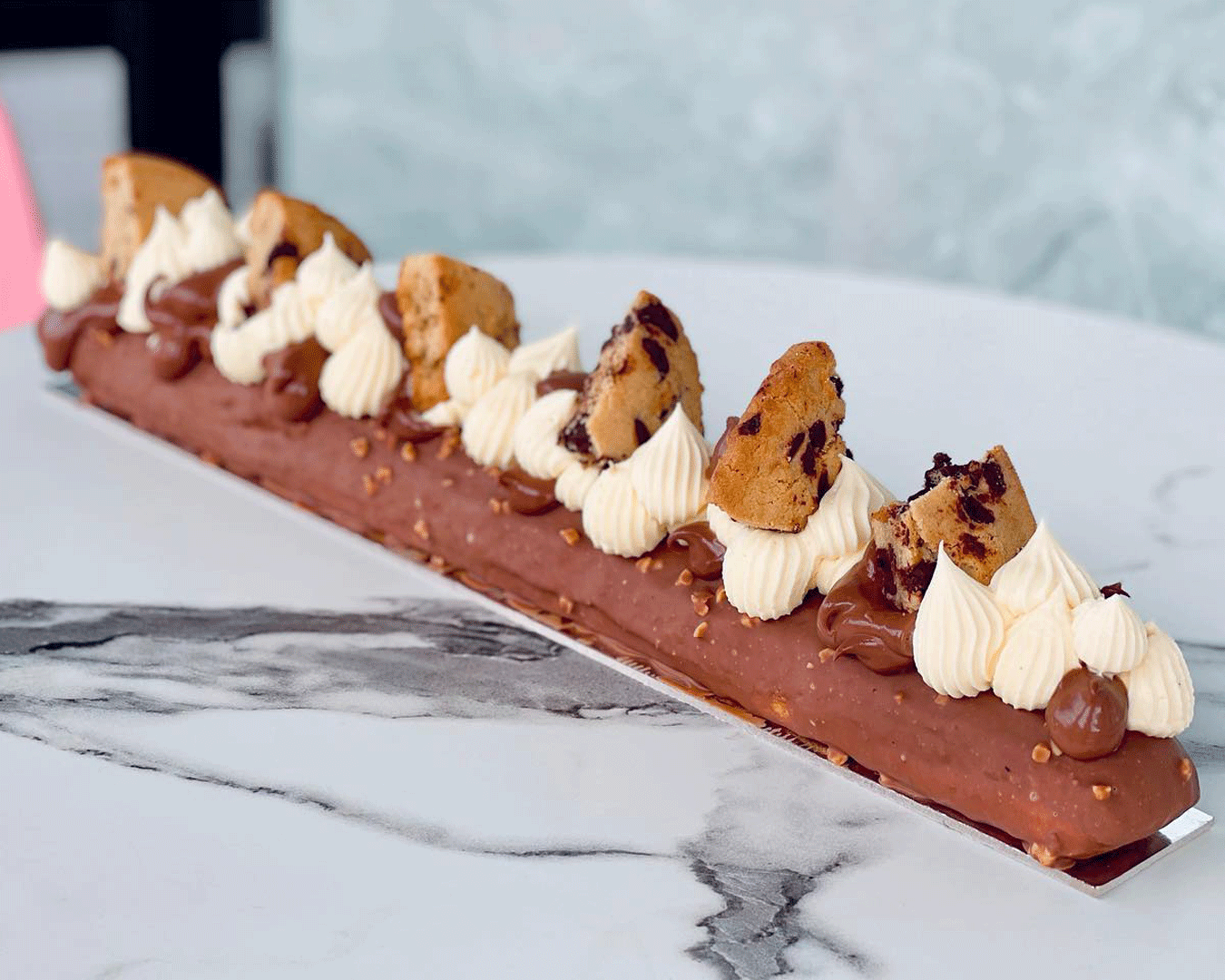 Madame & Yves comes by way of a true pastry chef. Yves Sherrer has been gracing quaint Clovelly village with his creative treats since 2019, after creating iconic desserts at Melbourne's Kisume, Sydney's Sake, Est, and Ananas. The white-tiled walls and pastel pink accents are a nod to the shop which was formerly Clovelly Road's Sweet Kiss Cake Shop for 30 years. This sweet heritage has made the perfect home for Sherrer's venture.
A French bakery, patisserie, gelato, and boulangerie, it truly specialises in technique and timeless flavours with a modern edge. You'll find interesting cakes for every occasion, an exquisite croque monsieur croissant, trio of eclairs, and inspired takes on croissants. Is there anything quite like a dip in the ocean followed by housemade ice cream? We didn't think so either.
Iggy's
Bronte
Yugoslavian-born Igor Ivanovic's now-famous bakery, Iggy's is all about the bread—and the no-frills shop front with queues for days will make you believe it. In a city obsessed with aesthetics, Iggy's defies convention by keeping the interiors basic and the bread consistently above par. The bakery also offers the classics, like green and kalamata olive rolls and breadsticks topped with rich Parmigiano and sprinkled with chilli flakes and oregano. Early birds get the worm in sunny Bronte. Make sure you're up and about to catch a loaf.
Brickfields
Chippendale and Marrickville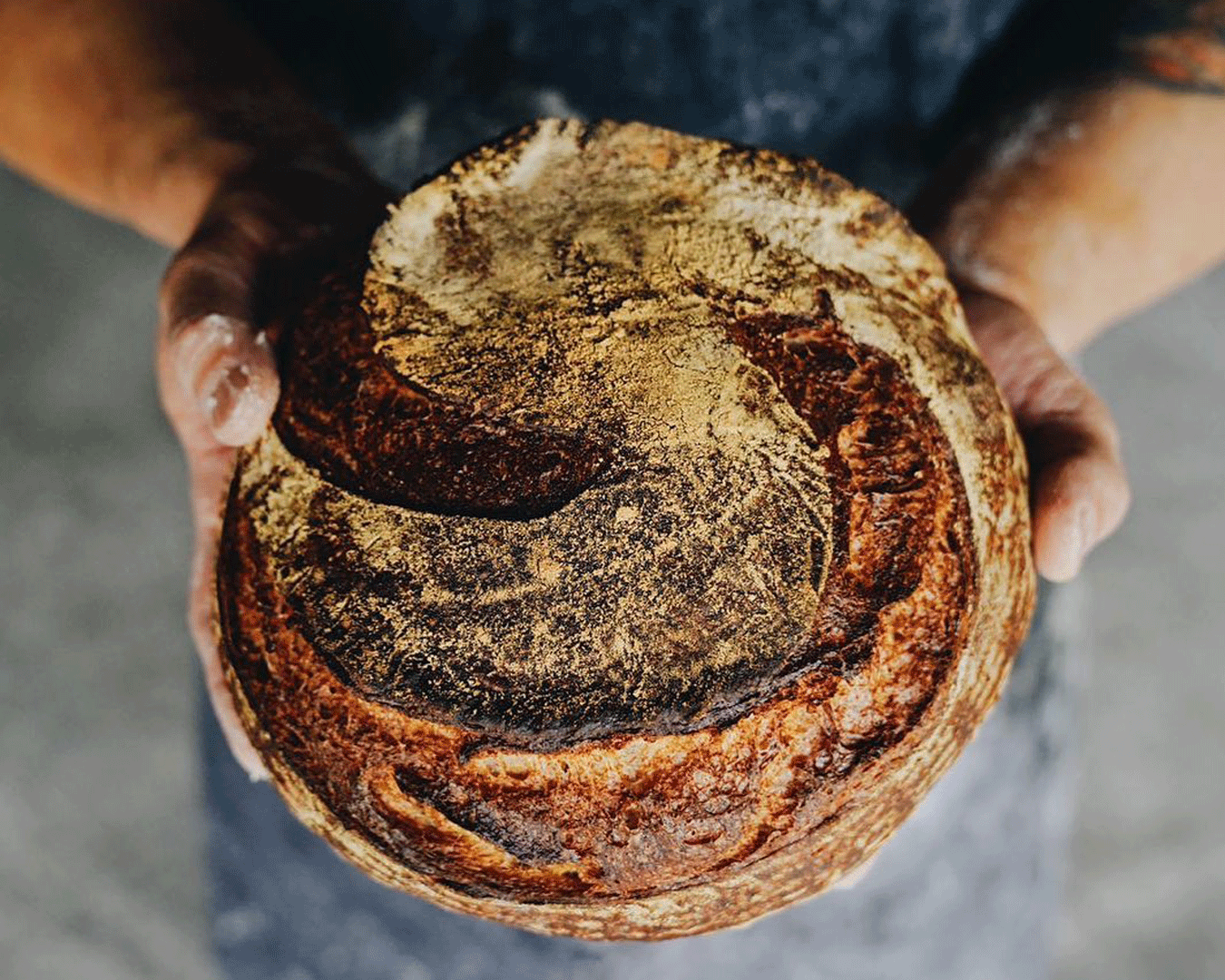 Brickfields' OG Cleveland Street cafe and bakery is a favourite among locals with good reason. It's not easy to nab a table in the artfully designed 35-square-metre space, but don't despair—you can pick up a pastry to-go and sit on the chairs that spill out into the street. To put it simply, if you haven't tried a Brickfields toastie, you haven't lived. The bacon sandwich is a perennial favourite featuring manchego, pickles, lemon aioli, and streaky bacon on a seeded ciabatta. The fresh bread is second to none: using a pre-industrial variety of whole wheat that incorporates bran, endosperm, and wheat germ, Brickfields create the perfect consistency of dough. And the list of pastries, sweets, cakes, and tarts is upsettingly good. Try the white chocolate lamington with passionfruit curd if you're feeling adventurous.
Pioik Bakery
Pyrmont
The word PiOiK (pronounced pee-oyk) means "the bread" in Coptic Egyptian—an ancient language spoken sometime after Hieroglyphics. Owner and head baker, Shady Wasef combines his Egyptian heritage with modern techniques to produce a surprisingly fresh take on baked goods. At this Pyrmont favourite, you'll find black-seed bread and ciabatta studded with whole halves of onions, flatbread pizzas with Mediterranean ingredients, spice-twist scrolls, and Egyptian semolina cake.
Breadfern
Redfern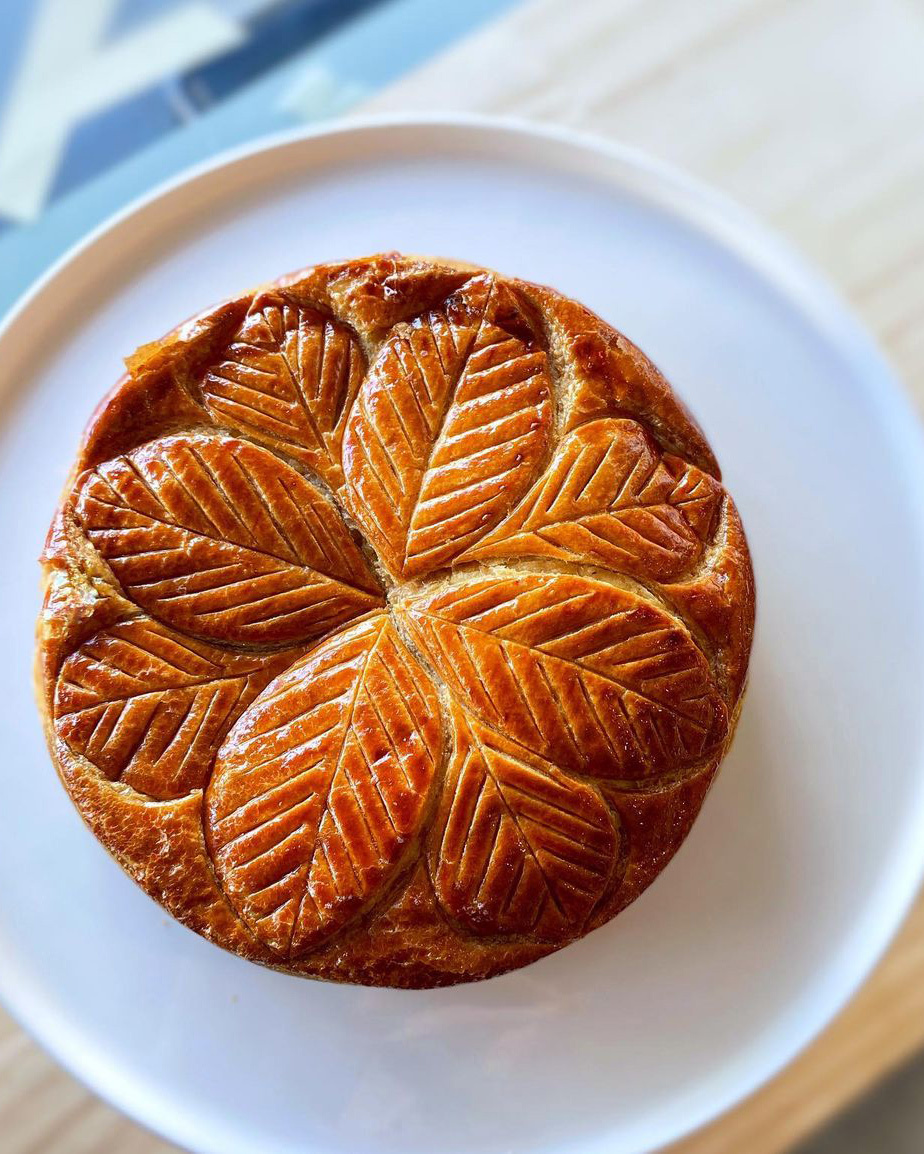 Breadfern has been a Redfern local favourite since it opened in 2017. And not just because of the cute name. The bakery stays in its lane by aiming to perfect its loaves without fanfare. The space itself is decorated with its prized bread, sitting in wall-mounted cubby holes and the kitchen within eye-sight. Open from 6am daily, it's worth an early rise to pick up a loaf while it's still warm from the oven. From a plain sourdough to fruit and olive loaves, all the classics are up for grabs. And if you're feeling naughty, you can grab a flaky almond croissant or a cherry danish for breakfast dessert—that's a thing, right?
Oregano Bakery
South Hurstville
The pièce de résistance of Oregano Bakery is undoubtedly their cinnamon scrolls. Sydneysiders are known to travel from afar to pick up a box or two of the butter-sugar, cinnamon and vanilla essence treats. Other notable scrolls on the menu include fairy bread, fig and almond, and tahini and pistachio. However, this little bakery is more than just its sweet treats. With a strong Lebanese heritage (it was formerly a dedicated Lebanese Pizza Shop) you can imagine the quality of pides and pizzas: perfect dough, crispy edges and packed full of traditional Lebanese flavours.
Supreme Bakery Liverpool
Liverpool
Supreme Bakery Liverpool are custodians of the Macedonian burek. If you ask Mark Delevski, Supreme Bakery's owner and head chef, he would tell you that the burek is not just a food, it's an art form. We wouldn't disagree. The much-loved pastry, made from tissue-thin layers of filo dough and stuffed with fillings such as ground lamb, or ricotta and fetta are worthy of the fan-fare. This small, family business delivers a variety of burek, from cheese and meat that's ready over the counter to pumpkin, potato and cherry varieties that can be ordered in advance on account of being more complex to create - they all deserve to be sampled!
Banksia Bakehouse
CBD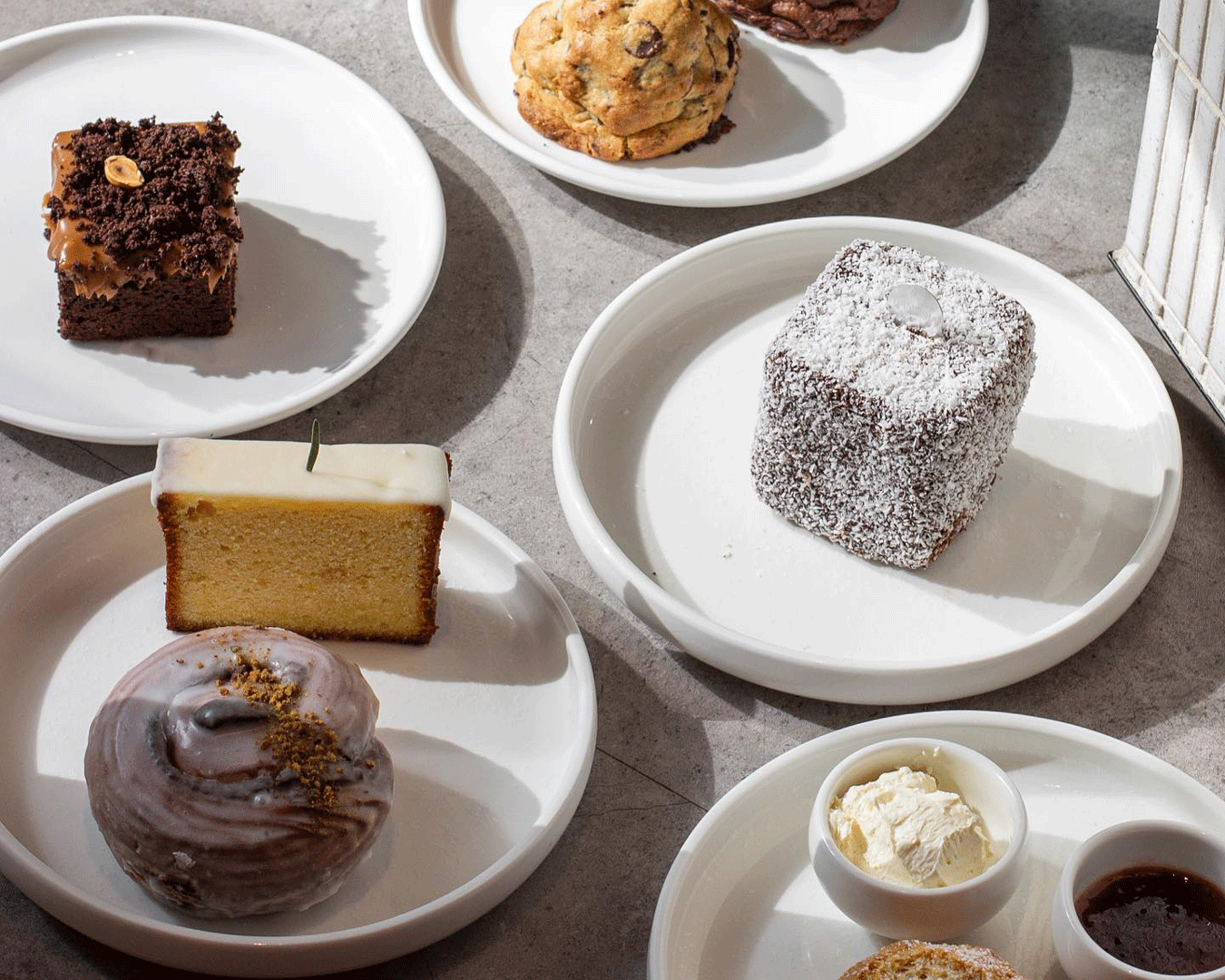 The busy heart of the city might be the last place you'd expect to discover a cake shop—but that is the void that Banksia Bakehouse sought to fill when it opened in late 2020. Led by an all-star crew of Chris Sheldrick, Hannah Kim-Sheldrick, Josh Kim, Aileen Zhang, just try to not be smitten with the stunning cakes and pastries on display. Biscoff and lemon-meringue croissants are the hero of the menu, alongside a glossy green apple, which is actually a deconstructed apple pie.
Sweet Belem
Petersham
Sweet Belem worships at the altar of the Portuguese tart (much like the rest of Petersham, known as "Little Portugal" by some). And Sweet Belem's tarts are some of the best in Sydney. Caramelised custard wrapped in a crisp layer of golden pastry is quite simply, a little masterpiece. The croissants, milk bread, classic palmiers, Portuguese lamingtons, and birthday cakes are also well worth a try.
Sweet Belem is slated to reopen on Tuesday 1 February.
Lamin8
Lane Cove
Perched on a corner of the bustling Longueville Road in the heart of Lane Cove, Lamin8 popped up in October 2020 and has been wowing locals ever since. There is little wonder why, as the shop is founded by Continental Patisserie wholesaler Jian Yao who has been in the pastry game for over three decades. Named after the process of folding dough, it's a slick, white tile affair, giving a sparkly backdrop to the 20 kinds of quirky pastries they specialise in.
Bread-wise, you have the impressive charcoal sourdough with a purple, pea-flower interior and a gold-dusted crust, while things get even more experimental in the flakey section. Matcha, poppyseed, or black-sesame palmiers and a Breton pastry called Kouign-amann (pronounced "queen a-mahn"), which is thought to be the fattiest in Europe.
Alevri
Dulwich Hill
Aki and Kathy Daikos' local food hall of modern Greek cuisine, Alevri, has been absolutely booming. Inspired by recent trips to the homeland, the couple wanted to bring the best of what Greece is doing right now to the shores of Sydney.
A huge selection of fresh, homemade Greek pastries awaits behind the bright glass windows, many of which you are unlikely to have come across before. We're talking peynerli, tsoureki, and a cheeseburger pita. They also blend new and old world together with their Aussie Moussaka pie using eggplant, potato, and Greek-style beef mince. The sweet selection is where it really heats up, however, with chocolate-coated eclairs and a show-stopping, glistening baklava cheesecake. We recommend a repeat visit or three to really explore the breadth of the menu.
Mrs Jones The Baker
Frenchs Forest, Freshwater, and Warringah Mall
Northern Beaches-based Mrs Jones is beloved for its dreamy cakes. The tasty stuff here is made with an organic base of ingredients with no artificial additives and you'll find a whole range from individual cakes, small patisserie cakes, whole cakes, and gluten-free cakes too. For your good samaritan deed of the week, you can fill a box with the likes of Victoria sponge cakes, lamington cakes, salted caramel tarts, passionfruit cheesecake, and a lot more.
The Grumpy Baker
Various Locations
The Grumpy Baker has grown into an empire of 10 locations, eight of which are in Sydney. Baker Cthurmer might be grumpy, but his sourdough is anything but. The Middle-Eastern-inspired menu includes traditional shakshuka, Moroccan-spiced lamb pies, and an array of sandwiches made with thick slices of the bakery's signature sourdough. With over 10 varieties, the bread is baked without preservatives or additives. We recommend the roast garlic and olive loaf. Chef's kiss!
Black Star Pastry
Newtown, Rosebery, Moore Park, and CBD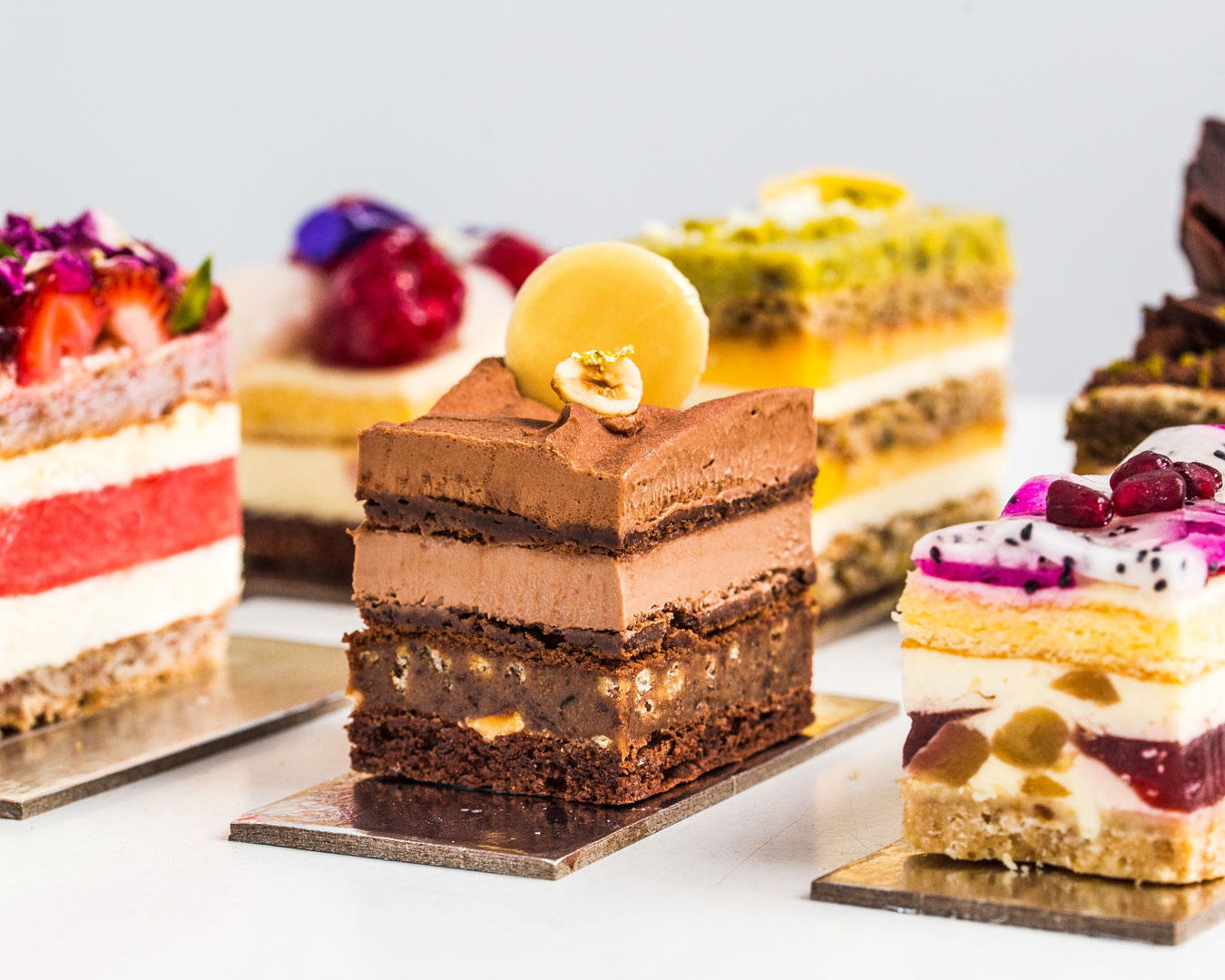 Black Star Pastry is most famous for its Strawberry Watermelon Cake, which boasts over one million slices served per year and, according to its website, is the "world's most Instagrammed cake." Beyond the ultra-hyped strawberry watermelon flavour, Black Star's delicate cakes include a chocolate mirage, raspberry lychee, Japanese forest, vegan chocolate popcorn, and orange cake with Persian figs. While these cakes are not for the faint-hearted, they also offer a range of classic pastries like croissants and danishes.
Hellenic Patisserie
Marrickville
Known as "Little Athens", Hellenic Patisserie & Gelato Bar is as much of a favourite in the Greek community as it is a foodie rite-of-passage in Sydney. You'll find this one on bustling Illawarra Road. Hellenic Patisserie's baked goods are made as traditionally as you could ever get them without actually going to Greece. Top picks include flaky galaktoboureko (semolina custard in filo pastry) and loukoumades (Greek doughnuts soaked in honey syrup and dusted with cinnamon).
STIX
Marrickville
"Perfection", David Allison replies when we ask what inspires STIX. "Creating the best of something, trying to create something new and exciting. Then it's just a simple dash of awesome customer satisfaction. We love it when the customer is simply blown away".
Blown away is right. Since STIX opened, it's been a portal to the STIX Farm on the Hawkesbury river, delivering fresh, farm-to-table produce directly to its patrons' awe-struck taste buds. The bakery selection is just part of the picture here in this revamped Marrickville warehouse, but what a big part it makes. The light rye and grain sourdough is a delight along with the seasonal rotation of dessert pastries like the blackberry lamington and the yuzu and black sesame pebbles. Absolutely worth scoping out.
STIX is set to open a location in Hunters Hill in early 2022. Stay tuned for more info.
Bourke Street Bakery
Various Locations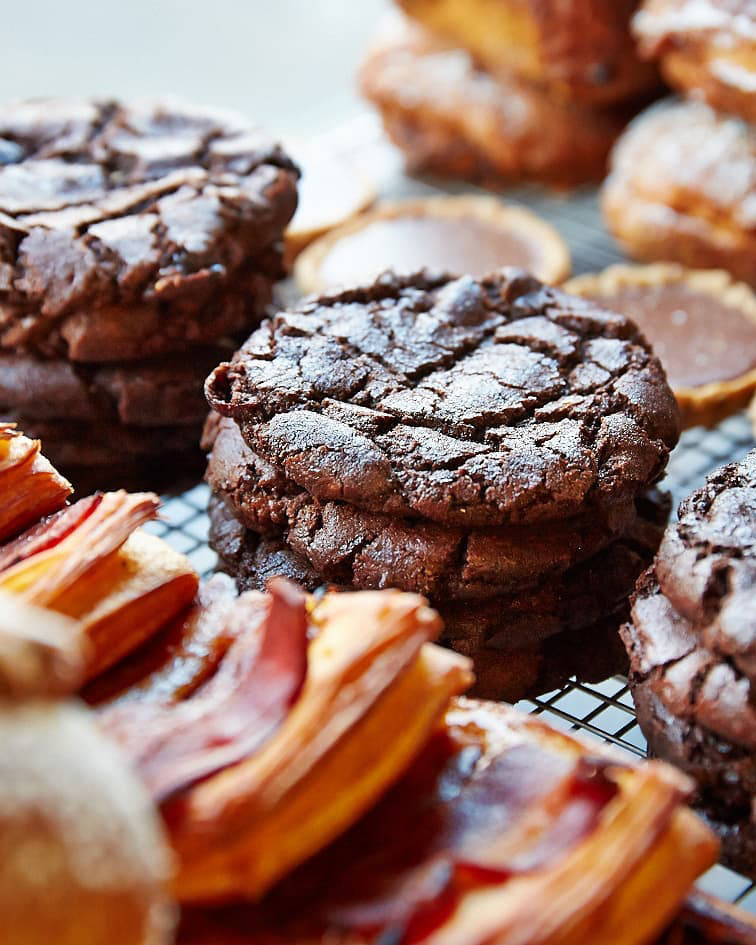 With humble beginnings in Surry Hills, Bourke Street Bakery has all but taken over most corners of Sydney with shopfronts in 12 locations. The success of Baker Paul Allam and patissier David McGuinness, who founded the first Bourke Street Bakery in 2004, is no surprise to those who have devoured their offerings. Notwithstanding their expansion, the organic sourdough still stands up as some of the best in Sydney, with flavours such as hazelnut and raisin; soy and linseed; fig and cranberry; and potato and rosemary (AKA "Mr. Potato Bread"). The sausage rolls filled with lamb and harissa; chicken and pumpkin and pork and fennel remain resolutely drool-worthy. And you can chase the savoury with something sweet. We recommend the ginger and brûlée tart; lemon and ricotta slice, or pineapple and coconut danish.
Image credit: Rollers Bakehouse, Mike Eggert, Alan Benson, Rollers Bakehouse, Tokyo Lamington, Flour and Stone, AP Bakery, Humble Bakery, Nikki To, Saga, Madame & Yves, Brickfields, Breadfern, Banksia Bakehouse, Black Star Pastry, Bourke Street Bakery