There's nothing better than a cinnamon scroll; the warm bun, the spicy cinnamon, and the sticky icing. It's no wonder Sydney has gone slightly mad for them.
If you're hankering for a good cinnamon scroll, bun, or roll, don't just stare longingly at Cinnabon pics, go in hard and treat yourself to these thick, glazed up, golden morsels of goodness now.
Here are Sydney's best cinnamon scrolls to hunt down.
Flour Drum
Newtown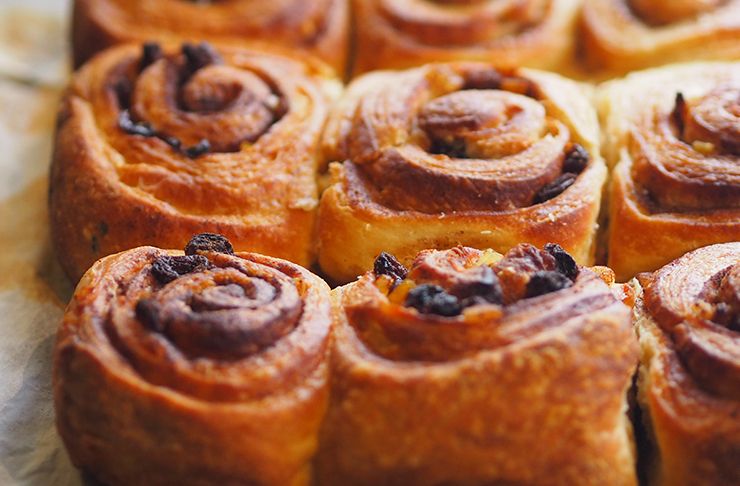 This charming Inner West cafe is a dream come true for both Newtown locals and the friends who started it. The blackboard wall showcases the ever-changing works of art on the menu, crafted by head chef and co-owner John Ageletos who has honed his craft at many of Sydney's most loved institutions. After the huge success with Flour Drum's hot cross cinnamon buns earlier this year, the Easter special has been revamped to combine Ageletos' mum's Greek tsoureki (Greek brioche) and Flour Drum's iconic cinnamon scrolls.
The cinnamon brioche scroll gets made by layering sheets of butter folded into the pastry over and over again to make it more flakey and moist. This process takes up to three hours, not including chilling time in between each rolling session, and before spices get added. A generous amount of sultanas and housemade candied orange and lemon peel are sprinkled over the dough before finally rolling them into scrolls and letting them rest for a few hours before baking—and if that doesn't spell the perfect weekend treat, we don't know what does.
Flour Shop
Turramurra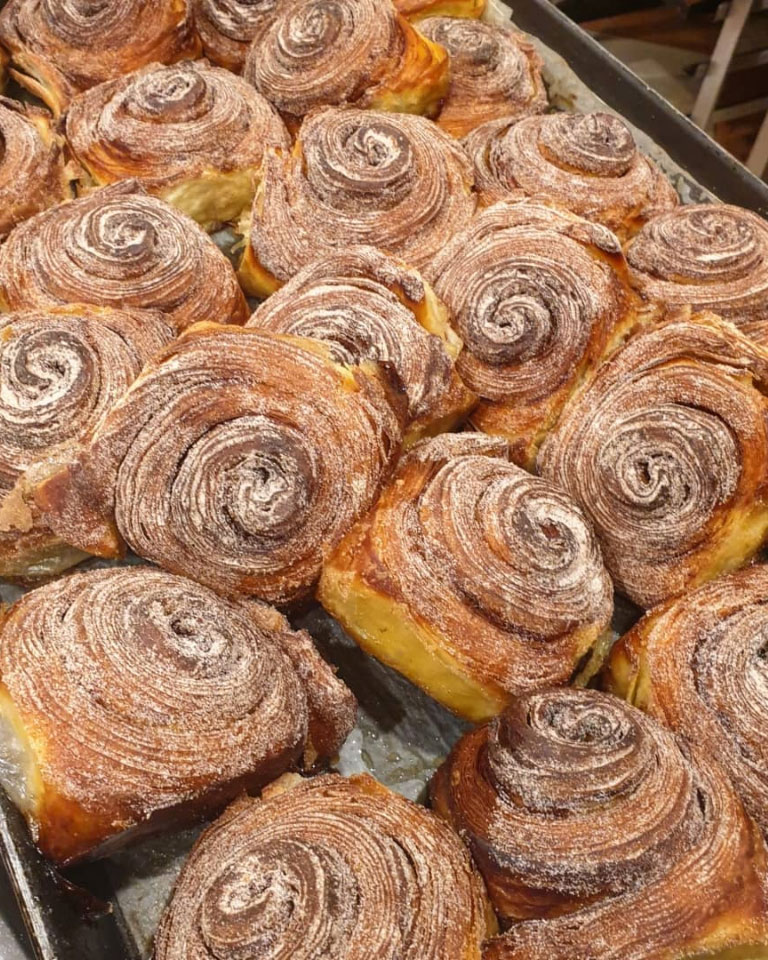 You know the scrolls have to be good if they sell out almost hourly, right? Open just Thursday through to Sunday, Flour Shop has been making waves in Sydney's bakery scene since it opened last year, scoring queues of scroll lovers from far and wide. While croissants are definitely the main event here (the crunchy caramel croissant has already become one of the city's favourites), cinnamon scrolls popped onto the menu one day by accident and they've quickly become the crowd fave. In fact, Flour Shop's cinny scrolls are so popular, the team has to bake a fresh batch every two hours.
Oregano Bakery
Peakhurst, Hurstville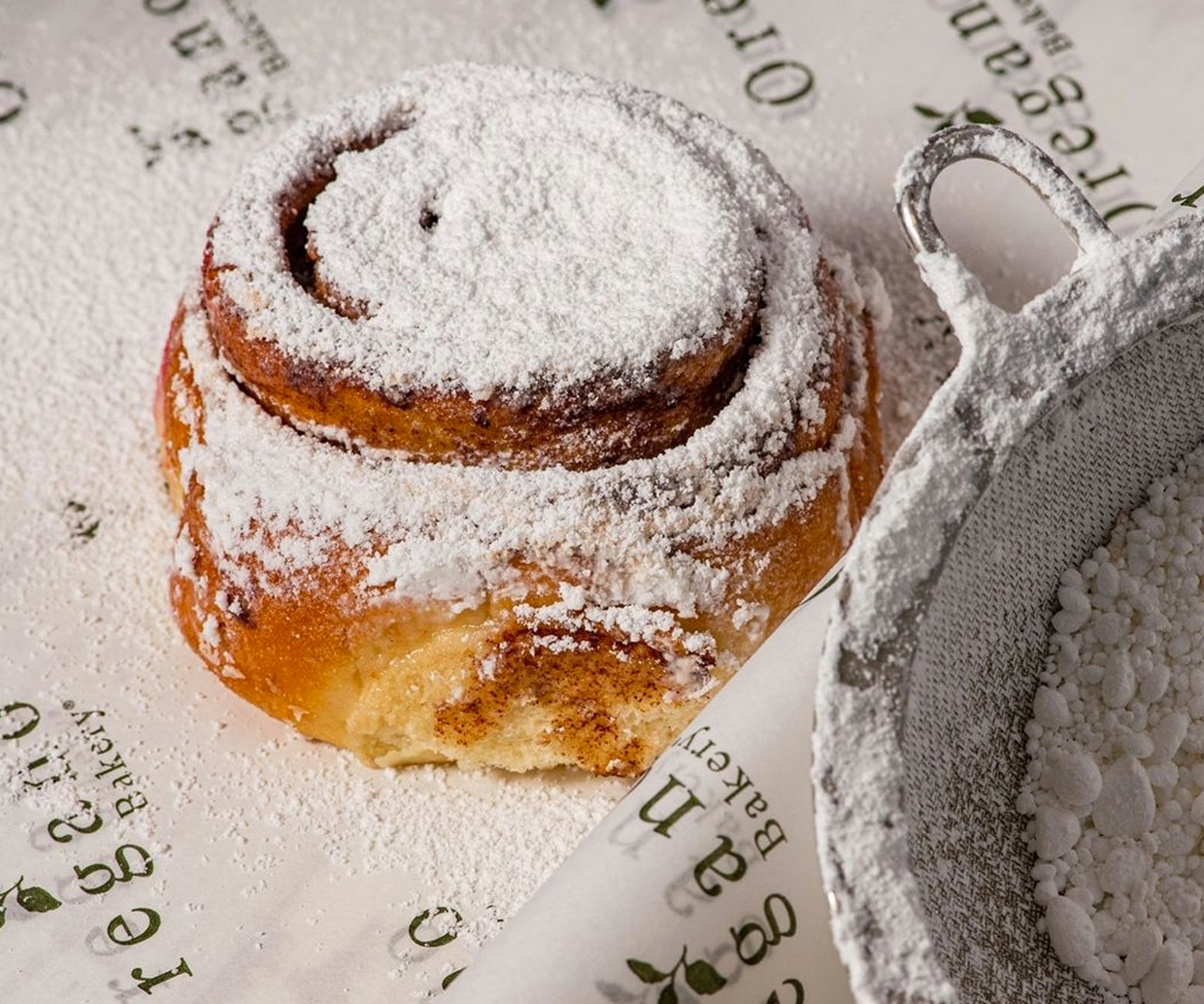 As one of the best speciality bakeries in Sydney, Oregano Bakery is basically a sweet, scroll heaven. While this family-run bakery (which has been going strong since 2010) glazes up anything from fairy bread, tahini, or pistachio scrolls, the real OG has always been the cinnamon scrolls here. The classic cinnamon morsel comes doused in butter sugar and vanilla and will dissolve in your mouth quickly after that first bite. If you still need convincing, Oregano also wholesales its scrolls to more than 500 stores throughout Sydney, plus they offer overnight courier services to Melbourne and Canberra, so you know these cinnamon scrolls are the real deal.
Sydney Cakery
Surry Hills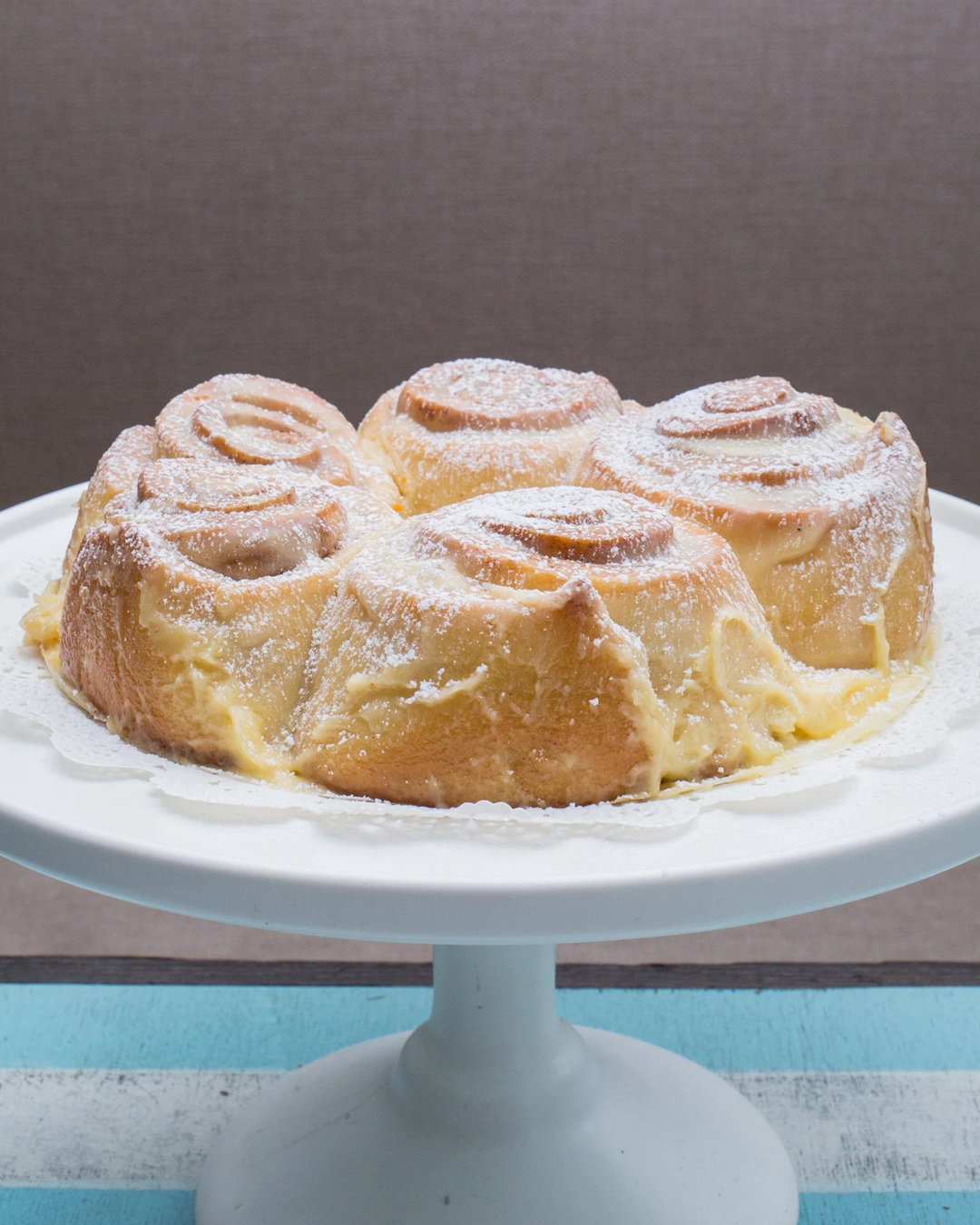 Sydney Cakery on Elizabeth Street is a true haven of vintage cakes with strong primary school bake sale vibes in the best way possible. Dubbed cinnamon "rolls" here, these bad boys come out super fluffy and soft so it's only wise you go in hard and order a baker's dozen here.
Midnight Donuts
Delivery Only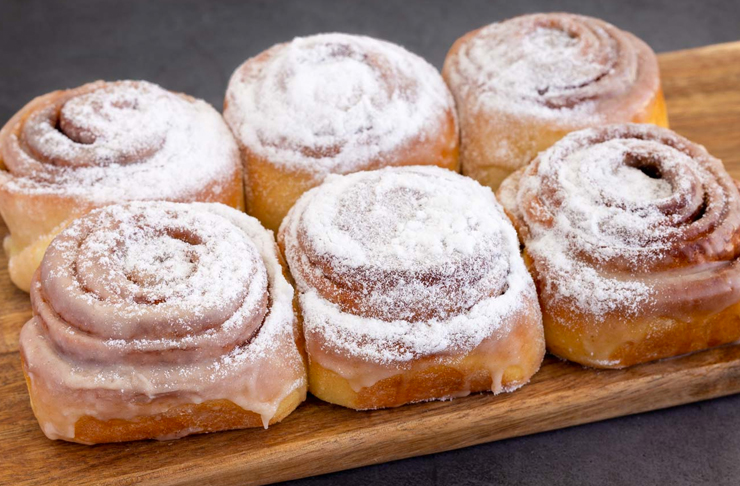 For creamy, spongy cinnamon scrolls delivered straight to your door, look no further than Midnight Donuts. The team here knows a thing or two about whipping nostalgic treats, most notably, their Golden Gaytime long Johns. Next to this, you can get all sorts of scrolls on demand (with next-day delivery if you order by 1pm the day before). Do yourself a favour and order up the six-pack, which will see half a dozen thick scrolls completely drenched in a rich, cinnamon glaze.
Still hungry? Check out the best dessert deliveries you can get delivered in Sydney.
Image credit: Mark Olsen, Flour Drum, Flour Shop, Oregano Bakery, Jillian's Cakery, Midnight Donut