Tuga Pastries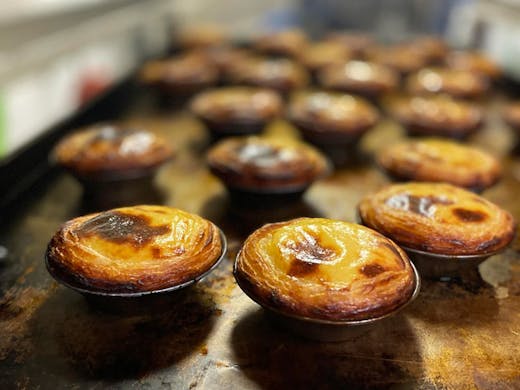 The Verdict
We wouldn't blame you if you haven't yet made a pastry pit stop at Clovelly's best-kept secret.
Tuga Pastries sits right at the chaotic and famous intersection where Clovelly Road, Mount Street and Fern Street all come together. There's a lot happening here with bustling cafes, a post office, a bank and the neighbourhood bottlo but secretly, it is the pint-sized, weekend-only Tuga Pastries that reigns supreme.
If you're a serious bakery bandit, you've most definitely heard the word that Tuga's Pastel de Nata is some of the absolute best in Sydney (the proper Portuguese name for our beloved Portuguese tarts). The recipe for this incredibly creamy tart has been passed down from the father of owner and head baker, Diogo Ferreira; who spent months perfecting this Portuguese treat. Ferreira believes that the ultimate tart is one that combines the best of flakey and silky consistencies.
"Most Natas in my experience have a good filling, which consists of texture and flavour or crispy thin pastry that doesn't leave a buttery film on your palate. I've not found one that has both in the one Nata," he said.
"What also makes it special is watching people's expression when they take that first bite and the expression of joy comes to their face."
And while his Portuguese tarts are a surefire standout, Tuga Pastries' menu is packed with even more baked delights worth your time, for example, its fluffy plain croissant, which, according to Ferreira, "customers have claimed it to be better than the traditional French croissant", and an almond croissant that has been voted number 1 in Sydney.
There's also the Pao de Deus (a coconut brioche), Tart de Feijao (almond and hazelnut tart), carrot and pineapple cake, dulce de leche pockets and of course, loaded Portuguese-style doughnuts.

These bad boys are known as "Bolas de Berlim" and they're a decadent take on a traditional German pastry. At Tuga, they're made from sweet yeast dough, fried and filled with jam, custard or Nutella. To top it all off, they're usually dusted with powdered sugar.

And while Tuga doesn't serve coffee (it's strictly pastry-only), its sister cafe next door Village on Cloey will sort you out with Single O house blend.
Image credit: Tuga Pastries
---
You May Also Like
Bars & Pubs
Sydney, NSW
Found on level eight of Swissôtel Sydney in the heart of the city, Arches on…