Oh, heavenly creator of puff pastry and pies. May we take a minute to thank you for everything you've done? Every morsel of chunky filling you've kept warm, before we slather it in sauce and gobble it down. Every 4am treat after a night on the schooners. And every road trip snack you've allowed us.
Biting into flaky, buttery crust and getting a mouthful of juicy, piping hot goodness is nothing short of heaven, especially when you do that thing where you try to keep your mouth from burning and end up just speaking with your mouth full while fanning it with your hand, but also nodding because it's so bloody good.
Here, we've scoured high and low to bring you the meaty, the vegan, the gluten-free and the novelty pies that are worth the trip. Behold, the best spots for pies in Sydney.
The Grumpy Baker
Various Locations
It's been almost two decades since The Grumpy Baker first opened its doors as a single cafe on Sydney's Oxford Street. Fast forward to now, and you'll find The Grump Baker slinging its famous old fashioned artisan sourdough from a number of bakeries across our glorious city, various markets, and in the Blue Mountains too. Each cafe houses a juicy range of pastries and muffins that get baked throughout the day as well as croissants, pain au chocolate, cheese sticks (do it), fruit scrolls, and the bakery's dense chocolate brownies too. When you're ready to tuck into a meaty morsel, the pie and sausage roll game here deserves a standing ovation. The Grumpy Baker makes its very own pies with puff pastry filled with slow-braised meats and vegetables. These look like a chicken Harissa and Moroccan lamb. Our best piece of advice is to get in early, before they sell out, and nab both pies.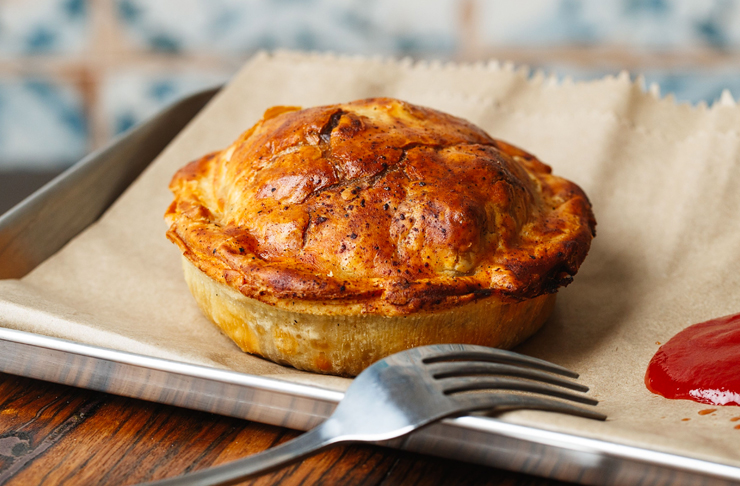 Funky Pies
BONDI
These pies are 100 percent vegan and will cook your taste buds straight into a frenzy. Your main go-to's here are the Tuscan mushroom pie filled with the good stuff and spinach in a creamy balsamic sauce, and the ever-iconic gluten-free Moroccan bean tagine pie loaded with chickpeas, lima and kidney beans slathered in Moroccan spices. More than just your local pie shop, Funky Pies is doing their part for sustainability by using bio-degradable packaging and fair trade coffee and uniforms. They also give away leftover pies at the end of each day. So you can feel the good karma while eating your scrumptious pies.
Kitchen By Mike
CBD, Temporarily closed
Kitchen by Mike (KBM) is vibrant, unpretentious dining at its best that focuses on providing Sydney-siders with affordable locally sourced, seasonal produce. There are a few epic restaurant-quality pies worth your time here, all of which will send you into heavenly, foodie bliss. The first is a KBM meets Broomfield's collab stacked with mushroom (vegan), the second is a wagyu beef and stout pot pie that regularly sells out it's that good, and the third—drum roll please—is a vegan silverbeet, brown rice and olive pie made with flaky filo pastry, salty olives and zingy zaatar served with honey and yoghurt.
Bourke Street Bakery
Multiple Locations
A million times yes to this Sydney institution and its wonderful pies (in fact, all of its wonderful baked goods—shout out to the pork and fennel sausage roll that holds a dear spot in every serious foodie's heart). The classic beef will always be there for you in the tough times, packed with Blackmore Wagyu beef shin sourced from Vic's Premium Quality Meat and pastry made with Pepe Saya's famous butter. You can also go ahead and branch out on a beef brisket, red wine and mushroom morsel.
Upper Crust
Collaroy
Any Northern Beaches local or general Sydney pie enthusiast knows Upper Crust Pies' big, green and yellow sign. It beams at them as they make their way down Pittwater Road and it's usually followed by a suggestion of "quick Upper Crust pit stop?" followed by "Yeah, nah for sure, get me a chunky beef". Serving hot, delicious pies to lovers of all things 'Strayan since 1948, The Upper Crust is a fast favourite among all that get involved. Hit the Mexican beef or the veggie pumpkin and never look back.
Harry's Cafe De Wheels
Multiple Locations
You know how long is a long time to be a purveyor of seriously delicious pies? Seventy years, and counting. Which is just about how long Harry's Cafe de Wheels has been filling the stomachs of hungry pie enthusiasts. The must-have classic tiger pie, with chunky beef, mushy peas, mash, and gravy is a testament to the hard work and dedication to pies that came from humble beginnings in a humble pie cart in Sydney, and ended up a must-visit spot for locals and tourists alike. Want to branch out? Lean beef and curry is your new best friend.
The Pie Tin
Newtown
The Pie Tin do our favourite treats justice. All tasty morsels are hand-made on-site at the Newtown location and kept fresh in an oven waiting to be devoured. The pies are on rotation but don't feel like you need to wait around and strike while the filling is hot, because everything is epic. Especially the Sunday roast lamb pie, which is best described with a raised hands emoji. Need more convincing? There's an actual pie package loaded with bolognese. Genius.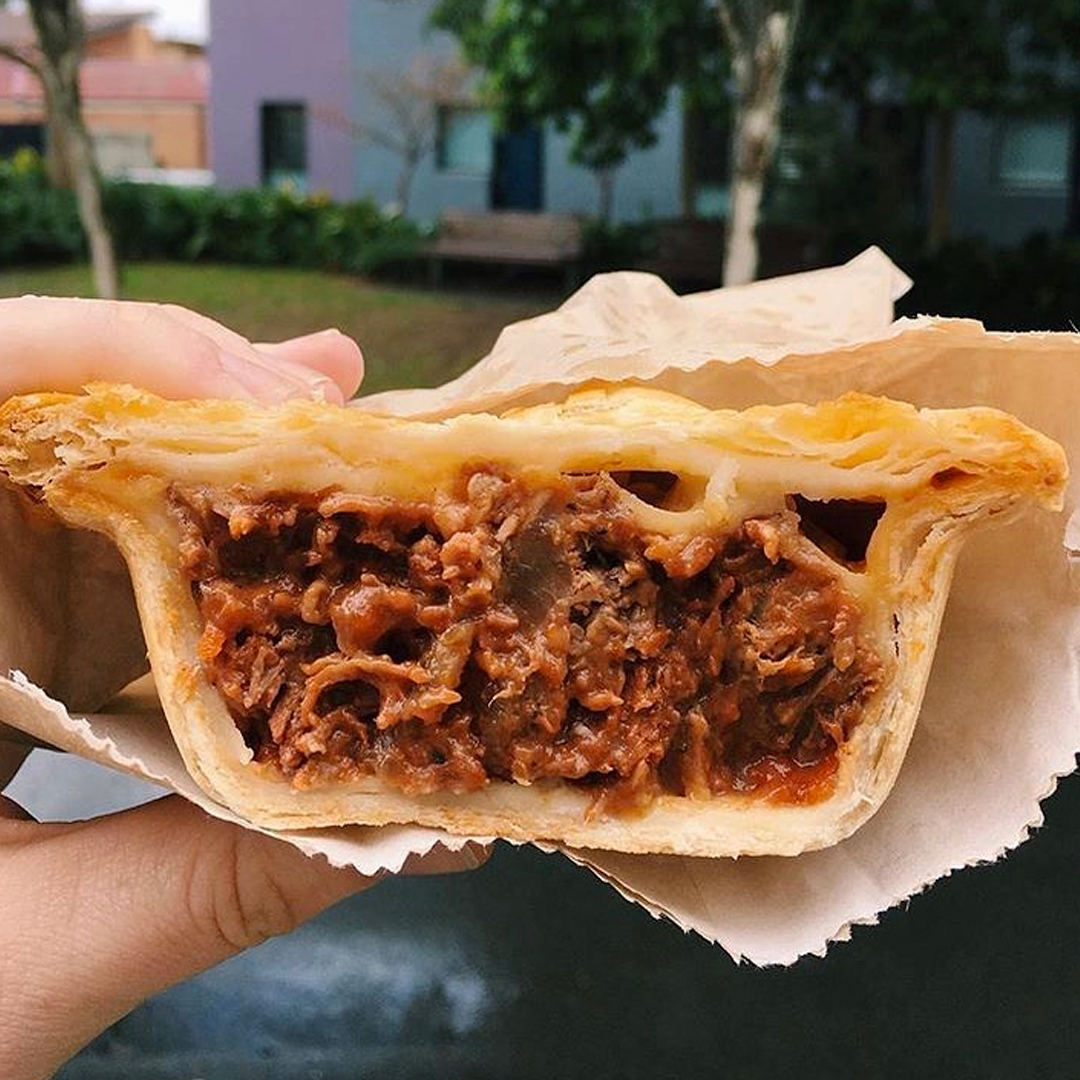 Infinity Bakery
Darlinghurst, Paddington, Manly
Handmade on-site? Check. Packed full of chunky, meaty goodness? Check. Flaky mess all over your top all day? Checkity check. It's all happening at Infinity Bakery, which you'll no doubt be able to tell the moment you catch a whiff of heavenly bready goodness whenever you're near. Ditch your significant other because the real love of your life looks like the gooey lamb and pea pie, a golden ratio of soft pastry to filling.
Flour And Stone
Darlinghurst
Come for the jam doughnuts, croissants and date scones, stay for the Syrian chicken pie. This guy is a neat little pack of cinnamon, cumin, sweet potato, dried mint and chook and we highly recommend you grab a few extras to fuel the rest of your week. We also need to give an honourable mention to the staple lamb, potato and rosemary pie, and a sneaky shout out to the pork and caraway sausage roll. Do yourself a favour and get them all.
Rag And Famish
North Sydney
The beef and Guinness pie at Rag and Famish comes with a crispy, flaky lid and just the right amount of gravy. Want to step it up? There's also a chicken, leek and mushroom pie filled with creamy veloute, and a pork belly and green apple pie packing sweet potato. Happy days.
Lord Nelson Brewery Hotel
The Rocks
Where would the streets of Sydney be without Lord Nelson's frosty ales and historic charm? Nowhere. Because when there's a cold beer to be drunk and meat pies topped with mushy peas sitting atop a rich pool of gravy and creamy mashed potatoes, you just know it's time to head to the Lord Nelson Brewery and tuck in. It's highly advised you get messy with this one and mix her into a mushy pile of deliciousness.
Glenorie Bakery
Glenorie
The team at Glenorie bakery have been baking fresh and tasty pies since 1994. Naturally, the award-winning classic beef pie is second to none, but you can feel free to branch out and give the beef, cheese and bacon a go because hot dang it's delish. And since you're here—as if you wouldn't also walk away with Glenorie's enormously famous apple turnover stuffed with diced apple, cinnamon and all the fresh cream. Dinner and dessert? You can't beat that.
And here are the best country pubs to hit in NSW.
Image credit: The Grump Baker, Kitchen By Mike, Bourke Street Bakery, The Pie Tin, Alan Henson, Lord Gladstone