A.P Bakery
CONTACT
1a Bucknell St
Newtown, 2042 NSW
Show on map
closed
---
Opening Hours
| | |
| --- | --- |
| SUN | 7:30am - 2:30pm |
| MON | closed |
| TUE | closed |
| WED | 7:30am - 2:30pm |
| THU | 7:30am - 2:30pm |
| FRI | 7:30am - 2:30pm |
| SAT | 7:30am - 2:30pm |
---
The Details
Serving
---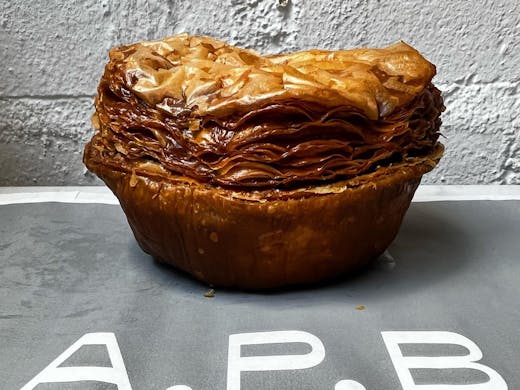 Brought to you by Ester head chef Mat Lindsay, Reuben Hills' Russell Beard, and Ping Jin Ng (of Paramount House Hotel and Paramount Coffee Project)—the same team behind the now-legendary Shwarmama—A.P isn't your average bakery.
The baked goods concept launched in Sydney in early 2021 and, with no fixed address, quickly sent the city into a frenzy with their roasted buckwheat and dark-chocolate croissants, hot pastrami pies, and top-tier crispy bacon sandwich.
The original plan for A.P was to set up shop in a cute sandstone cottage in Darlinghurst. Like so many good plans made in 2021, that got put on hold. Instead, the A.P crew found a home on the Paramount House rooftop in Surry Hills (not a bad swap, if you ask us). You can also find their baked goods at the Carriageworks Farmers Market on Saturday mornings.
As of June 2022, A.P has also landed in Newtown, opening up a pint-sized bakery-cafe in a warehouse just off King Street near The Marly. It's called A.P Town, naturally.
If you're not yet familiar with A.P, here's the drill. The "A.P" in the name stands for "all-purpose", though with Lindsay and head baker Dougal Muffet in the kitchen, we doubt there'll be anything generic about the way this crew goes about making their bread.
From prioritising sustainable and local sources of seed and grain to keeping the through-line between grower, maker, and customer crystal clear and rock solid, A.P Bakery churns out some of Sydney's tastiest, freshest bread.
There aren't too many bakeries in Sydney boasting on-site flour mills (Manly's Berkelo and the late, great, Dust come to mind), but A.P uses a "New American" stone mill to grind a variety of grains and seeds on the daily for ultra-fresh flour and an unbeatable final product.
Not only is it the secret sauce giving A.P's bread and pastries a mighty boost in flavour and nutritional value, but it means a more sustainable production process and the chance to work with local, small-scale farmers, Muffet's own heirloom seeds and grains, plus the Australian Gene Bank to source old-world varietals of wheat and corn.
"We are really keen on supporting farmers working with more regenerative practices and the mill is critical to providing them with a marketplace for the grain they grow," says Muffet. Plus, since their mill has no sifter, "effectively there is no waste. The grain that goes in at the start comes out at the end, just in a powdered form".
So, get ready to sustainably carb-load on any of A.P's staples, like their sourdough baguette, fermented potato buns, mixed grain loaves, and huge pizza bianca's, and get your morning pastry fix with that aforementioned buckwheat pain au chocolat and buttery croissants, a rosella wheat whiskey canelle, and Vegemite and asiago scrolls.
A.P Town in Newtown is open Wednesday through Sunday, 7.30am - 2.30pm.
A.P House at Paramount House is open Wednesday through Sunday, 7.30am - 3pm.
You'll also find A.P Bakery at the Carriageworks Farmers Market.
Image credit: AP Bakery
---
You May Also Like
Restaurants
Darlinghurst, NSW
Joining Sydney's collection of Japanese venues offering an omakase, Moku serves…
Bars & Pubs
Darlinghurst, NSW
An ode to the foundational ingredient of some of Japan's most loved exports…