Shwarmama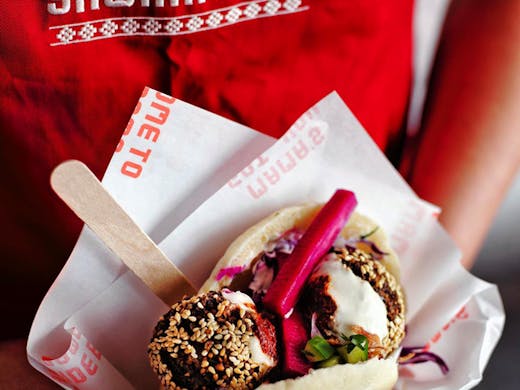 Ester's Mat Lindsay is easily one of Sydney's most exciting chefs. He's done a wine bar, and he does room service to perfection for one of Sydney's sweetest design hotels. Shwarmama is his latest venture—a slick standing-room-only kebab spot that breaks a few rules of the traditional kebab shop set up, and ups the ante on taste.
The pint-sized Commonwealth Street space has been designed by the same team that designed Poly and Ester, so expect lashings of polished concrete and slick bright red accents instead of fluorescent lights, plastic chairs and garish photos of rotisserie meats.
There are six menu items to choose from: a spiced marinated lamb shawarma, a felafel version, a hummus plate, a breakfast sandwich with fried eggplant and boiled egg, a non-Halal snack pack and a dessert special. Almost everything is made from scratch in house. Meat is layered on a vertical spit-roast, and dressed up in spices like fenugreek, star anise, cinnamon and cumin. It's shaved to order and served on puffy laffa flatbread.
By day you can sip self-serve filter coffee, from Reuben Hills (founder Russel Beard is part owner in the project). When you're ready, switch to sour beers from Marrickville's Wildflower brewery, or Sparrow & Vine wines on tap.
And for when you're a regular and a big-time fan, there's also some pretty sweet merch to shop too—tees, mugs and a chilli red cap we're definitely keen to add to our summer wardrobe.
Image credit: Shwarmama
---