Sausage rolls—they're the superior Australian snack. Why? Because you can never really have a bad one. Be it a plain and simple, gritty guy from a highway servo, or an award-winning Moroccan-spiced lamb creation so good, you'd throw your entire savings at it—sausage rolls are unbeatable.
That said, some sausage rolls are a cut above the rest. From the meat to pastry ratio, the flavour combo, or the girth—these are just a few necessary things we've taken into consideration to find Sydney's tastiest sausage rolls.
Read on to find out where you can cop the best sausage rolls in Sydney.
Grumpy Baker
Various locations
Simply put, the sausage rolls at Grumpy Baker are an addiction. From personal experience, you'll want to order up a handful to avoid disappointment when you finish your first morsel.
"The Grumpy Baker's much-loved sausage rolls are generous in sizing and made from a secret recipe that pays homage to my Israeli heritage," says Grumpy Baker owner Michael Cthurmer. "We bake our sausage rolls on site each morning and they are usually the first item to sell out in our cafes each day. Each roll strikes the perfect balance of a buttery and flaky puff pastry crust, slow-braised beef fillings, with a unique mix of flavours and spices."
On the menu right now, you'll find a vegetarian option filled with soft, oven-baked pumpkin and stuffed with all the feta cheese. The second is the true OG and looks like a slow-cooked beef sausage roll, which is the only thing you really need to be eating this winter down to all its poppin' flavour.
"Each sausage roll is individually hand-rolled and baked on-site at our cafes every morning" adds Cthurmer. "In each filling, we use dates, onions and a secret blend of middle eastern spices to slow braise the meat or vegetables which makes it rich in flavour with a caramelised finish, which is what makes a nice balance of sweet and savoury."
Banksia Bakehouse
CBD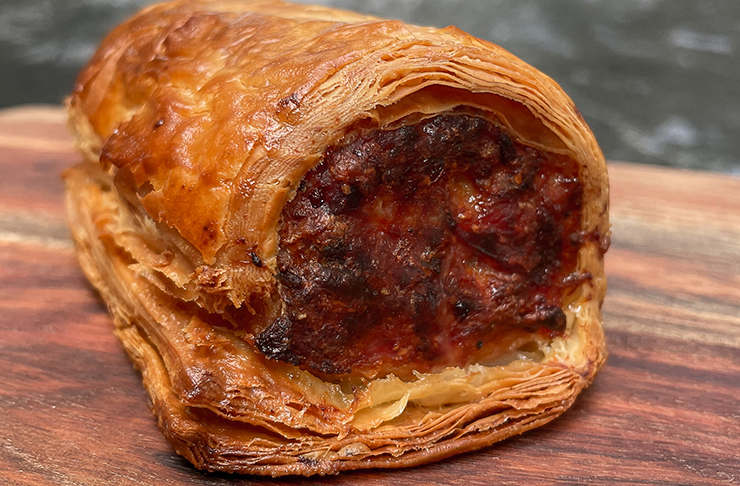 While Banksia Bakehouse is definitely known for its sweet offerings like this insane baklava croissant, the team here also whip up some of the best sausage rolls in Sydney. As with all their sweet treats, the pastry chefs here make their popular pork and fennel sausage rolls from scratch with one hell of a filling using diced pork instead of mince.
"Diced pork gives our sausage rolls an artisan look and taste, and a better bite compared to the mass-produced sausage rolls," says Sheldrick. "And although the pork is diced, it's not chunky like a beef pie, so it's easy to eat."
As the true sausage roll connoisseurs of Sydney, these guys know a good roll comes down to the meat to pastry ratio. "We create sausage rolls with a higher ratio of meat to pastry because our pastry, which we make in house, is rich and buttery and, in testing, we felt this ratio offers a better overall experience," explains Sheldrick.
The pastry chefs are currently planning a special vegetarian sausage roll for later this autumn, and the bakehouse already features a vegetarian pumpkin, feta and spinach pie on their menu.
Wholegreen Bakery
Clovelly, CBD
Wholegreen Bakery is not a new discovery among the coeliacs of Sydney. In fact, its Waverly outpost is known to churn out the best damn gluten-free croissants, brioche, sourdough, and pain au chocolat around. On top of this, the crew here also makes a sausage roll so good, the fact that it's gluten-free is just a bonus. Looking like a grass-fed beef sausage roll mixed with onion, carrot, coriander and cumin, the filling then gets wrapped in a buttery gluten-free shortcrust pastry and finally dated off with cumin seeds, poppy seeds and sea salt.
Anything But Humble
Alexandria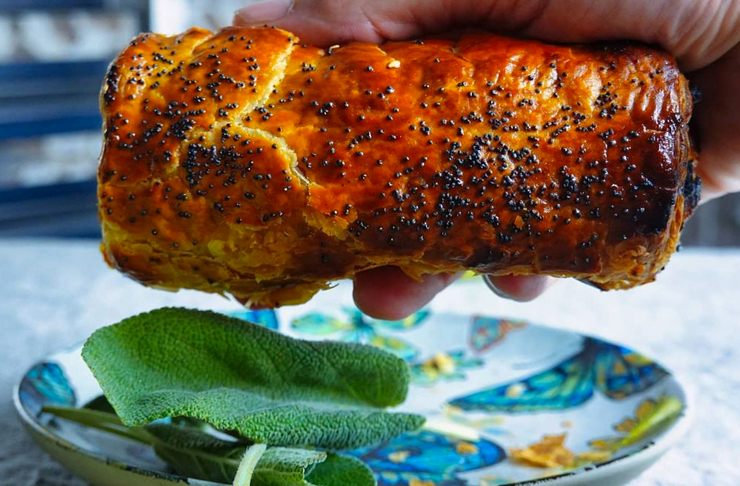 Haven't heard of Anything But Humble? Well, listen up because you're about to get the intel on not only some of the best sausage roll creations in Sydney, but the newest pie shop tearing up the savoury snack scene. Based on the age-old and fail-safe concept of a takeaway joint the idea behind Pie Society is plain and simple—you come in, pick up a bunch of pies and sausage rolls each weekend and get on your merry way.
While the name might insinuate that pies are the go-to here, don't be fooled. For the sausage roll fiends, you'll want to buckle in because there's a bacon cheeseburger roll with your name on it and ready for the taking. On top of this, you'll also find a sausage roll creation that looks like a glorious mix of pork, sage and caramelised apple which may turn you into a certified sausage roll snob as you say goodbye to the rookie beef mince and onion classic you've eaten all your life.
Bourke Street Bakery
Various locations
Is it too much to say the sausage rolls at Bourke Street Bakery are world-class? We think not. The sausage rolls at Bourke Street Bakery are truly some of the best in the biz and have been since the dawn of sausage roll time. There are three main routes to take here, the classic being the pork and fennel sausage roll. Aside from this, there's also a vegan sausage roll with eggplant, chickpea and mint, and then a not-so vegan sausage roll pumped with juicy lamb, almond and harissa.
Flour And Stone
Woolloomooloo
Flour And Stone needs no introduction. This Sydney bakery is god tier when it comes to serving up the best baked goods around like fine apple tarts, pannacotta lamingtons, cheese and chive scones with homemade chilli jam and of course, there's a whole lot of pie and sausage roll combos being churned out on the daily here. If you're looking for Sydney's best sausage roll, at Flour and Stone, this crunchy morsel looks like a pork and caraway version that practically melts in your mouth.
Rollers Bakehouse
Manly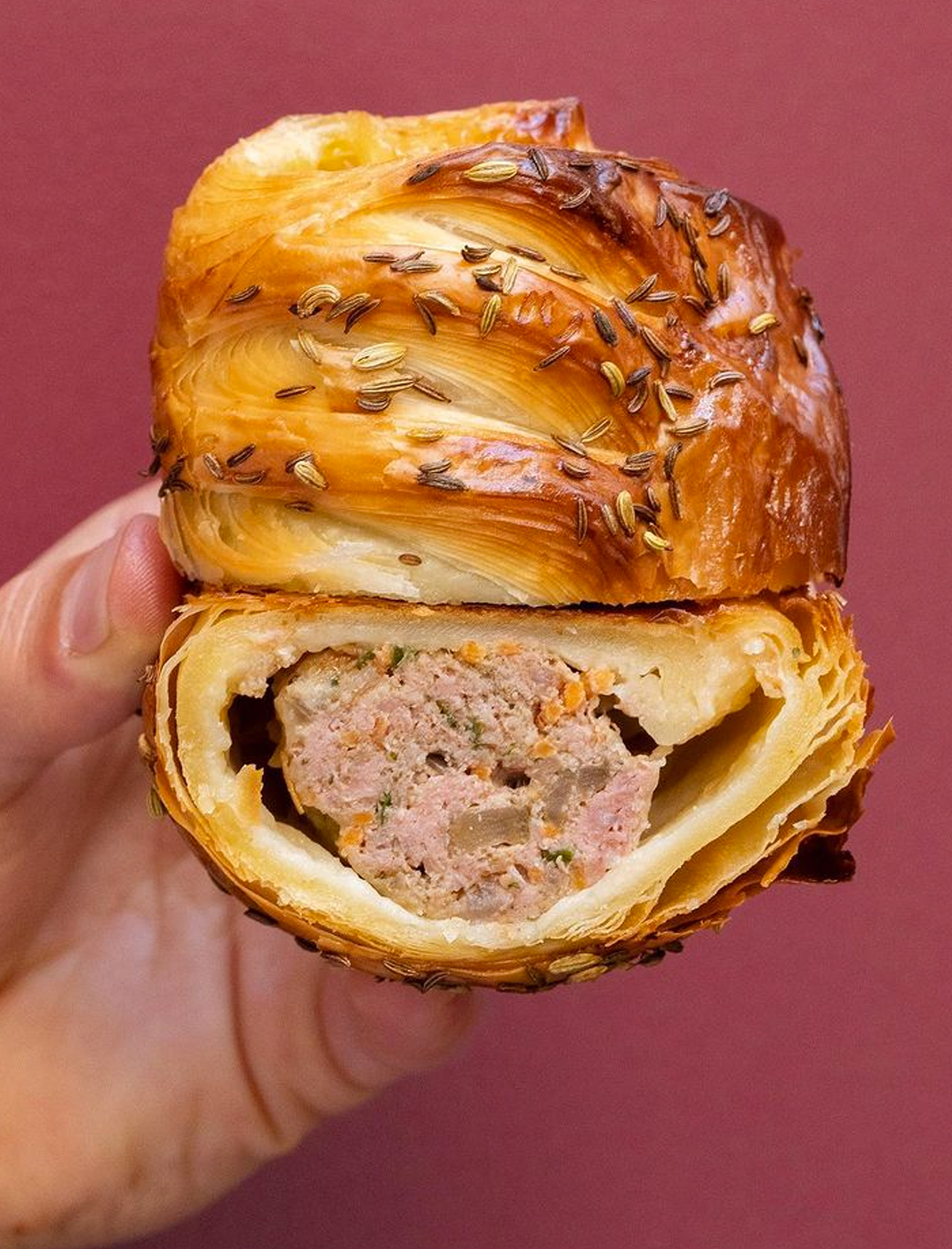 Oh yes, this croissant kingdom most definitely knows how to plate up some of the best sausage rolls in Sydney. Bring your attention over to the lamb and veal sausage roll that is pretty much total perfection. From the meat to pastry ratio, the toppings, and the girth—it's all here in a winning roll. This guy is made from a combination of sustainable, biodynamic lamb and veal mince from The Fairlight Butcher and then also stuffed with caraway, fennel, carrot, celery, onion, garlic, and a few other secret ingredients.
Funky Pies
Bondi
You're in for a triple whammy at Bondi's institution known as Funky Pies. Not only will you find vegan and gluten-free feeds here, but you'll also find some of the best sausage rolls in Sydney that are not only good for your body but good for the planet. On the "sausage" roll side of things, there's a "Rockin' Roll" with a veg-sausage mix with sauteed onion and fresh rosemary plus a "Brekkie Roll" with veg-sausage mix and baked beans, T-sauce and "bacon" bits. And yes, you're going to order up both of these.
Shepherds Artisan Bakehouse
Sefton
If you're looking for sausage rolls with great attention to detail, you can't go past the savoury fest at Shepherds Artisan Bakehouse. Like its name so wholeheartedly suggests, the idea here is to take some natural and unprocessed ingredients and turn them into something amazing and for more than 10 years, that's exactly what the crew here has been doing (yep, you've probably spotted them at various growers and farmers markets across Sydney and regional NSW).
And when it comes to sausage rolls, there's a hefty line-up of flavours and combos to work your way through. One of the staples is a vegetarian sausage roll packed with sauteed mushrooms and cheese and topped with an unholy (and god damn delicious) amount of garlic. You can also opt-in for a Morrocan lamb and harissa roll, a spinach and ricotta roll and a Russian Farmers roll packed with pork mince, dill and vodka (truly). To finish it off, there's an award-winning morsel that pays homage to the OG sausage roll of servos from yonder.
Now, check out where to find Sydney's best meat pies.
Image credit: Pie Society, Banksia Bakehouse, Pie Society, Rollers Bakehouse