Welcome to Snack City. We're a city enamoured with snacks. After all, who needs the commitment of just one meal? Especially when Sydney's top chefs are whipping up a whole lotta bite-sized beauties.
Over the years, there's been an ever-growing shift from three-course lunches and steak dinners to more snackable horizons—and we are here for it. Fine diners are offering snacky menu items in lieu of amuse-bouches, all-day diners are open for aperitivo hour with martinis and pintxos, and wine bars with top-tier treats keep popping up all around the city. Hell, even old-school boozers are dishing up fancy bites these days.
From one-bite wonders and skewered fish sticks to 80s Chinese-Australian hits and late-night French fare, these are the best snacks in Sydney right now.
Prawn Toast
The Bob Hawke Beer & Leisure Centre | Marrickville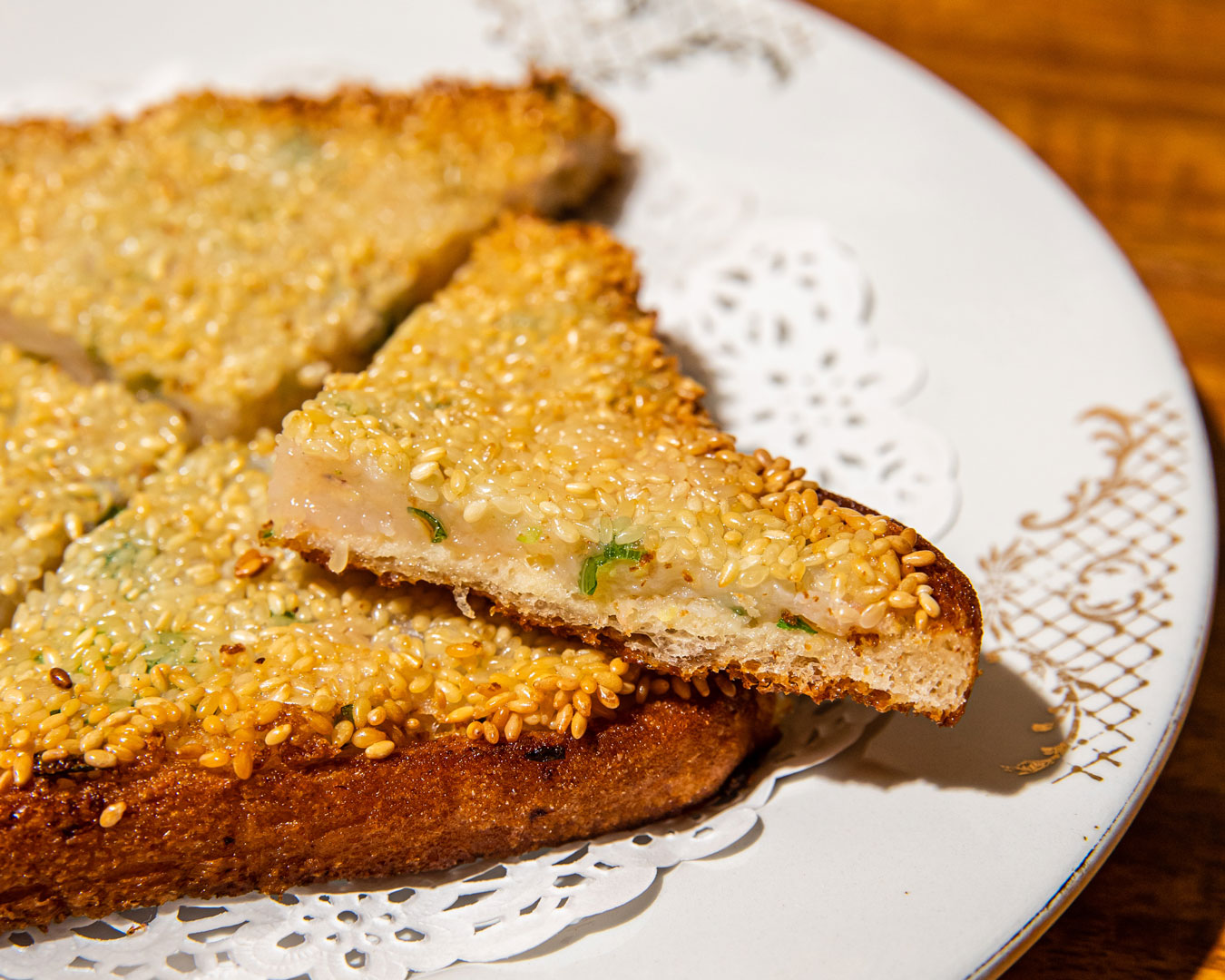 It wouldn't be a tribute to 80s Australiana without Bob Hawke... and prawn toast. Hawkes Brewing's The Bob Hawke Beer & Leisure Centre in Marrickville tugs at our nostalgic hearts with classic brews, a memorabilia-laden pool room and the on-site RSL-style Chinese diner, The Lucky Prawn. Stroll into the brewery for a pint and a game of pool, sure—just don't leave without a good ol' bite to eat. The old-school Chinese-Australian classics all feature—prawn crackers, crab omelettes, san choy bau, and sizzling beef—but it's the prawn toast, served on dinky china and paper doily, that's become a winner for punters young and old. You'll want to order a few of them, guaranteed. And it'd be rude not to finish with the deep-fried Viennetta. You beauty.
Ox Tongue Rye Taco
Cafe Paci | Newtown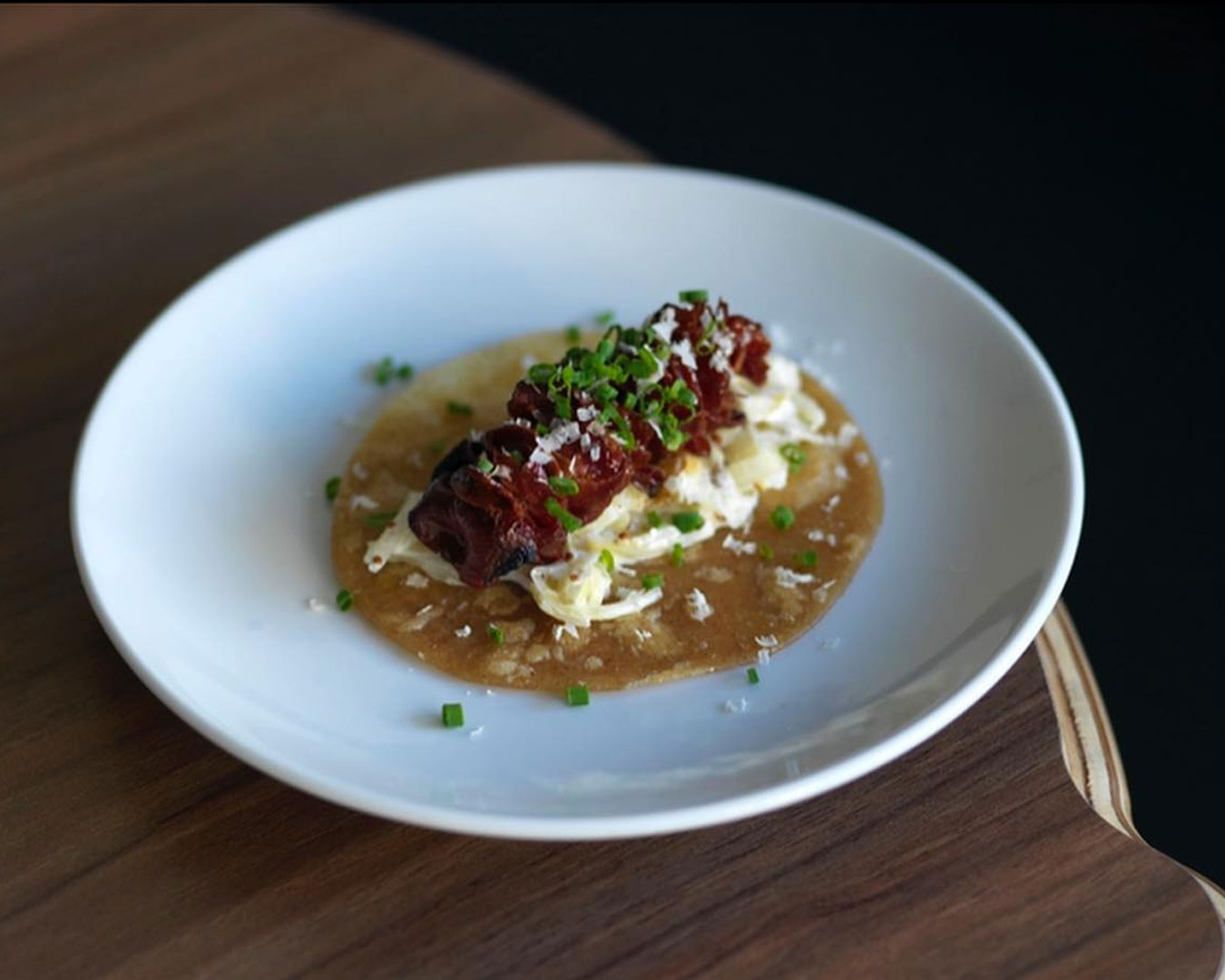 When Cafe Paci opened in Newtown, everyone was talking about the XO trout potato dumpling dish. And it's good—get it. But we reckon the snacks are the highlight at this moody King Street diner. The devilled eggs with trout roe—amazing! The fermented carrots with 'nduja? A classic. But if you're after a knock-your-socks-off snack, it has to be the rye taco with grilled ox tongue, sauerkraut, and horseradish. The thinly sliced ox tongue is as tender as it gets, while the kraut brings a balancing sourness, the horseradish some bite, and the dense, earthy rye tortilla is the perfect anchor. Eat it in two bites, then order another.
Anchovy, Tomato, Manchego Cracker
La Salut | Redfern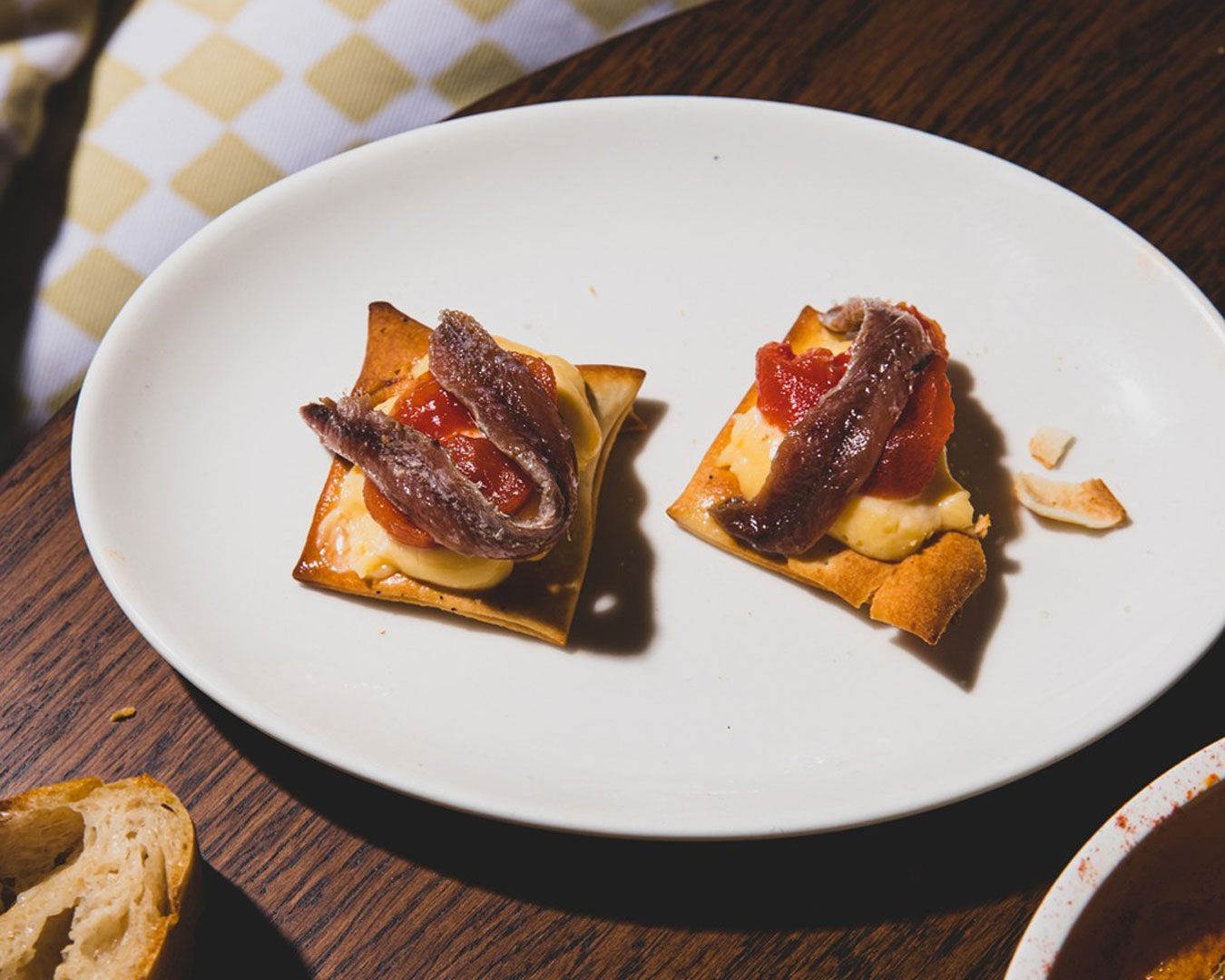 Despite anchovies becoming a bit too prominent on Sydney menus these days—and so losing some of their salty lustre—the Love Tilly crew know how to keep them sexy. Yes, sexy. While the group's venues Ragazzi and Dear Sainte Eloise serve up worthy anchovy appetisers, it's the simple cracker at La Salut that's won us over. The baked square cracker comes topped with creamy manchego custard, tomato, and, of course, anchovy—and it's the perfect companion to a glass of red vermouth.
Pretzel & Whipped Bottarga
10 William St | Paddington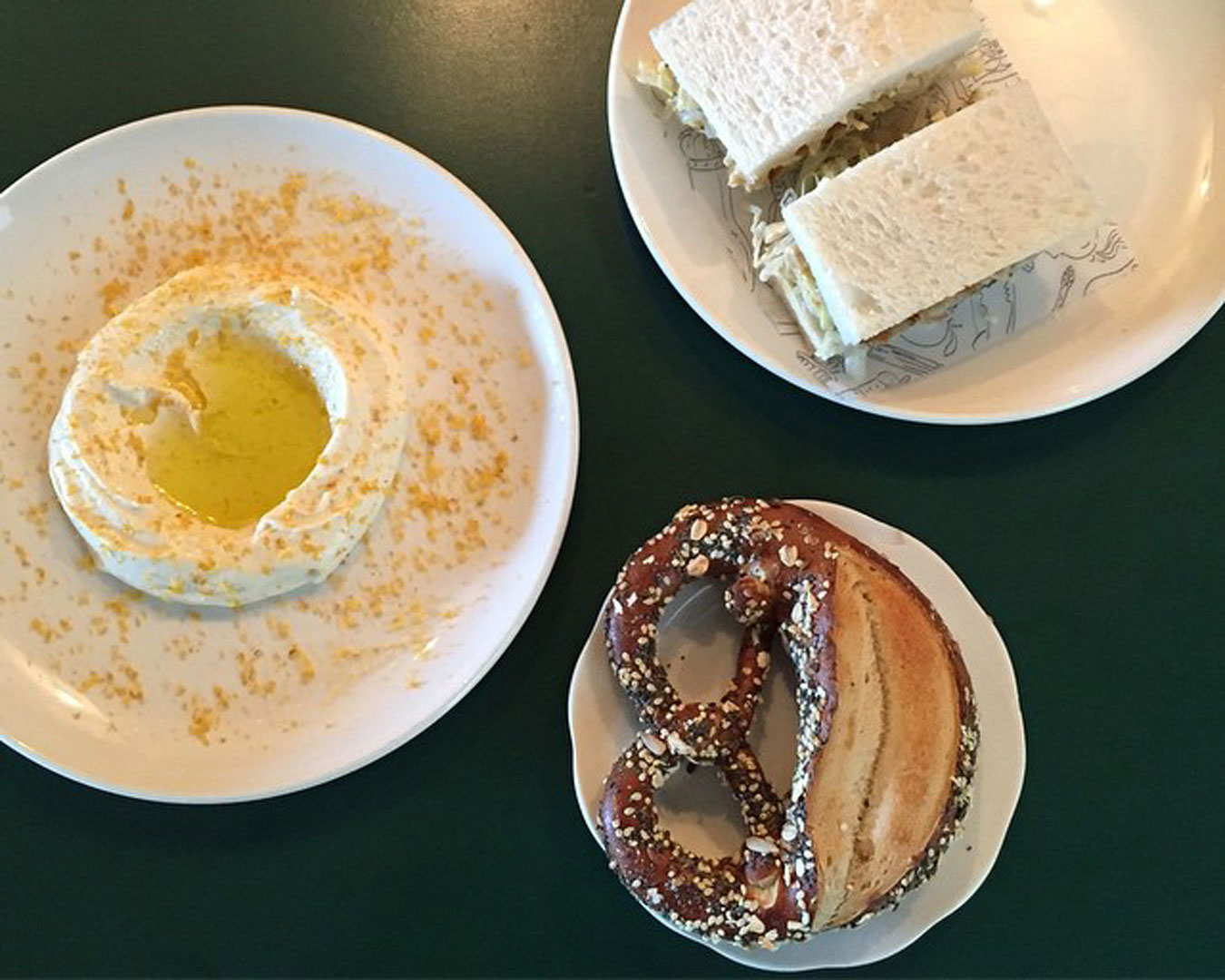 Natural wines, Nonna-level pasta, and an always-packed restaurant are recipes for a good time. But it's the pretzel served with whipped bottarga that is an essential order whenever you find yourself at 10 William St—of course, with a bottle of wine to match. The pretzel is sort of like a chewy, bready bagel with seeds and it's the perfect vessel for the silky, smoky whipped bottarga dip that comes topped with smoked oil and sprinkles of grated bottarga. Heaven. And you'll want to order a slice of the airy, oily focaccia to mop up any extra dip, trust us.
Cheeseburger Spring Rolls
Ms. G's | Potts Point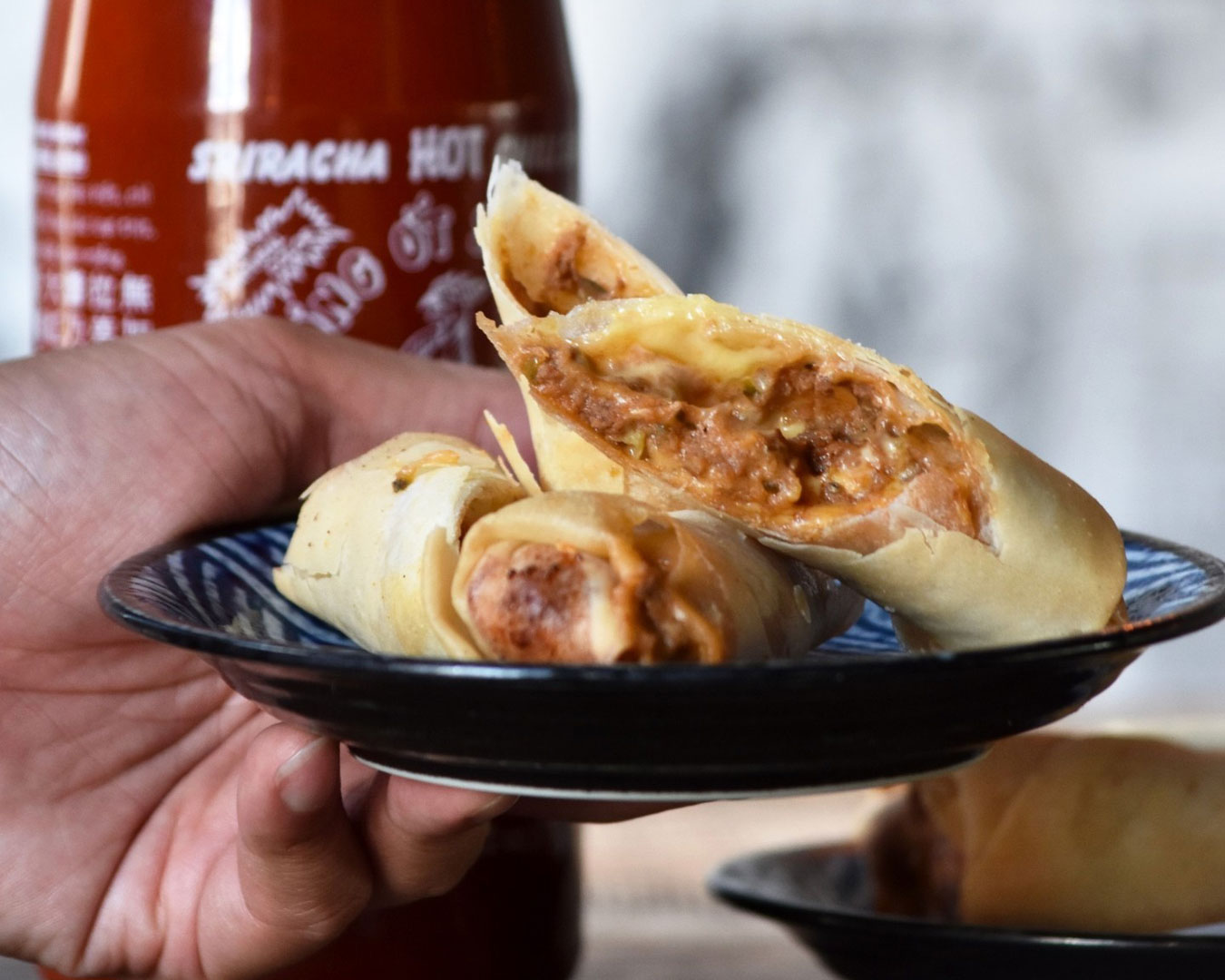 Dan Hong's Lotus cheeseburger ignited Sydney's undying love of American-style burgers (the cheddar, the ketchup, the caramelised onion, the chargrilled bacon, the Japanese mayo). The Merivale chef went in for round two at Ms. G's when he dropped his Maccas-inspired self-saucing cheeseburger spring rolls. While there are heaps of cheeseburger spring roll recipes online, none taste quite like Hong's. Made with ketchup, hamburger cheese, and American mustard, there's all the nostalgia of the Maccas classic, folded and fried into a bite-sized roll.
Prime Beef Tartare
Restaurant Hubert | CBD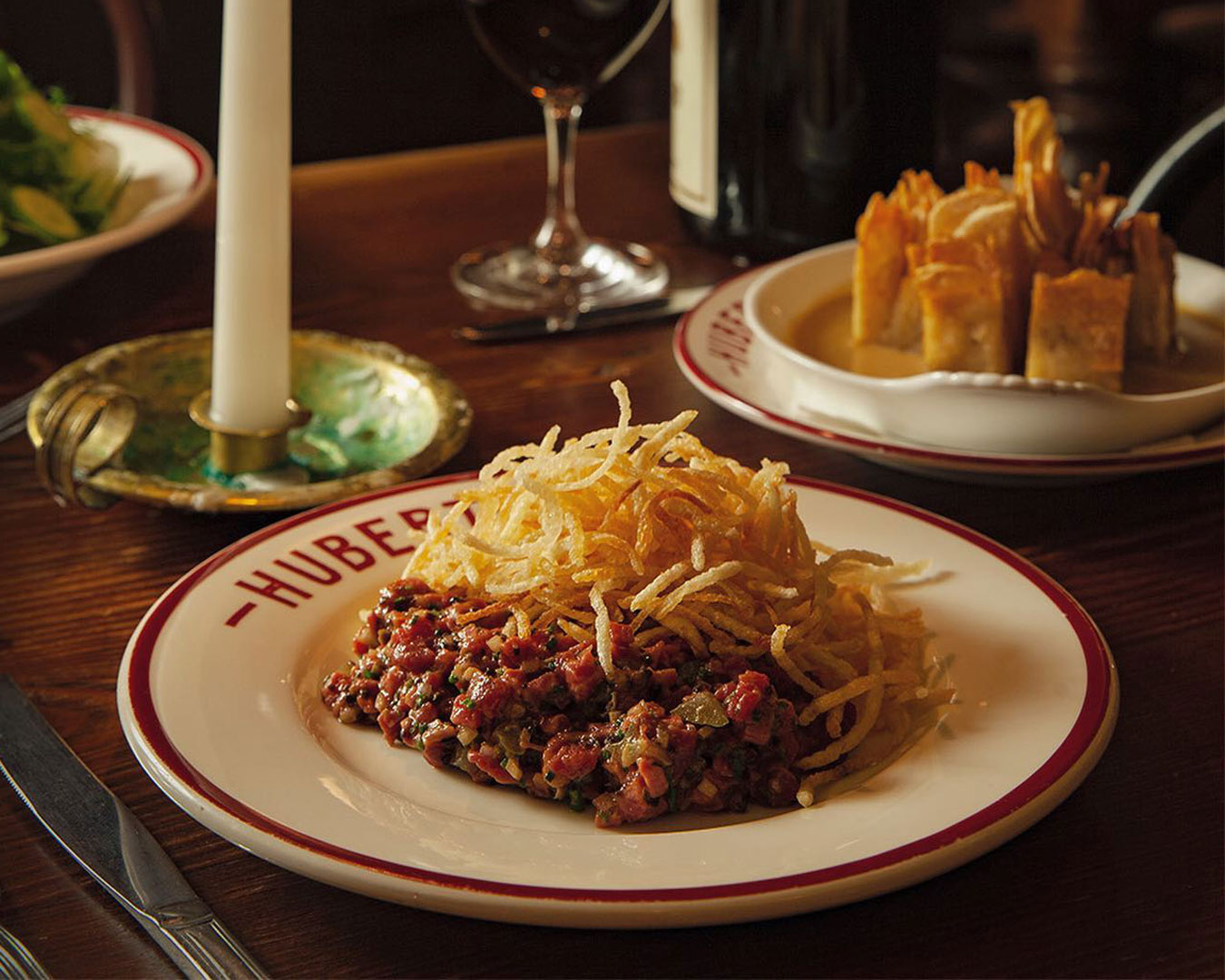 Many Sydney spots whip up an excellent steak tartare—Continental Deli, Bistro Papillon, Felix, and Loulou are all up there. But there's something about being able to order Restaurant Hubert's Prime Beef Tartare till late that nudges it above the rest. Because sometimes, on a night on the sauce, you want fancy French snacks over a kebab. Here, wagyu beef topside is cut by hand, mixed with egg yolk, chives, capers, and cornichons, and then topped with pommes allumettes (super-thin fries). Of course, the jazz tunes and old-world Paris atmosphere add to this snack's appeal, too.
Bluefin Toro Warm Crumpet
mimi's | Coogee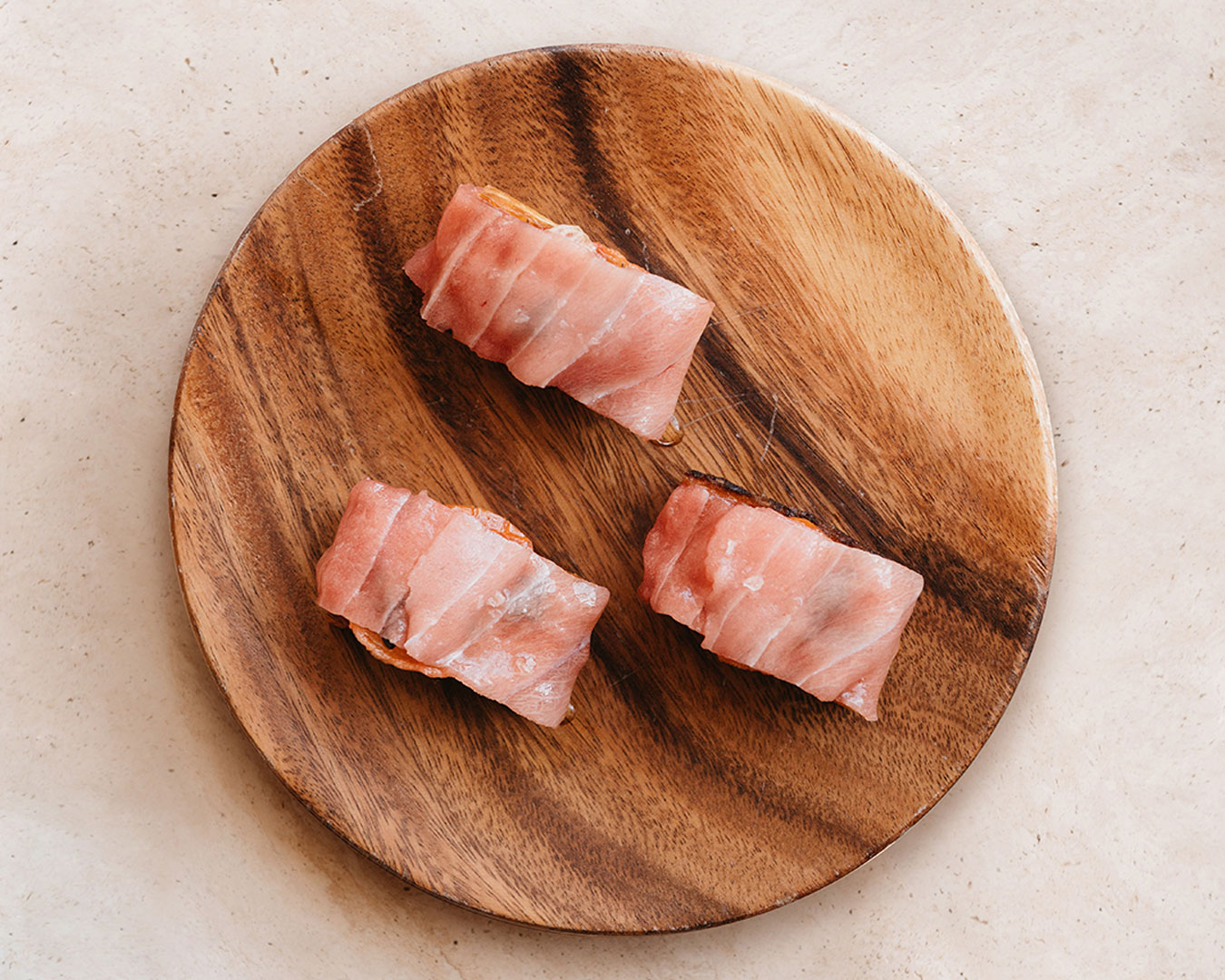 Remember warm honey crumpets before rushing off to school as a kid? Yeh, they were pretty good. But Jordan Toft does crumpets better. He's the chef behind Merivale's lavish fine diners Bert's and mimi's, where it's all lobster tails, oyster platters, and trolleys wheeling bumps of caviar and frozen vodka. These are all fine, fine things. But for us, it's the warm crumpet topped with bluefin toro and confit tomato at Mimi's that reigns supreme.
Chicken Tamale
The Tamaleria & Mexican Deli and Itacate | Redfern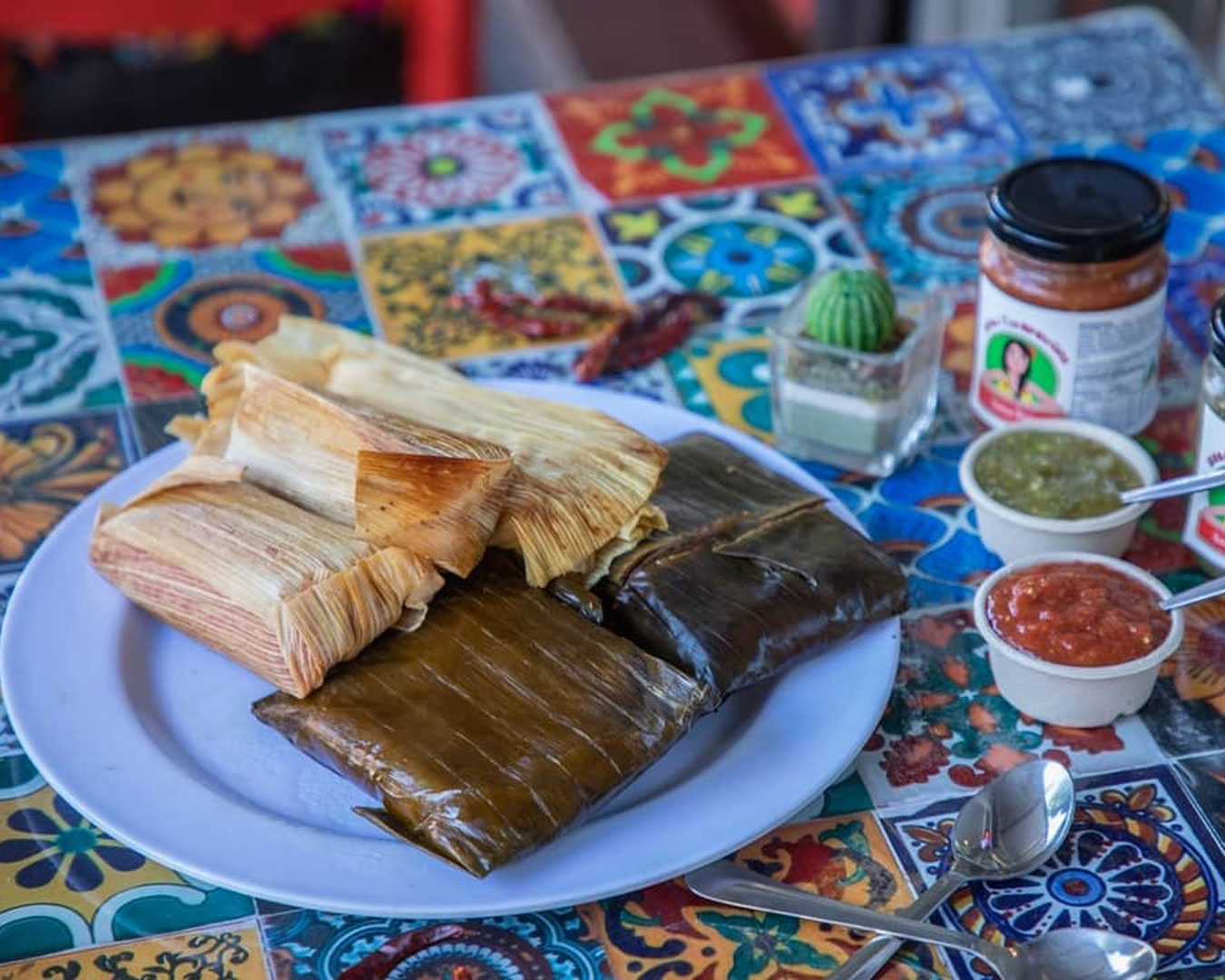 Not all snacks in Sydney have to be at fine diners and moody bars; some come from Mexican delis. Rosa Cienfuegos' tamales are the backbone of her two businesses—the Tamaleria & Mexican Deli in Dulwich Hill and Itacate in Redfern—with the steamy corn husk pockets one of the few truly authentic Mexican street foods found in the Harbour City. What once started as a homesick foodie's pop-up venture has now escalated into two full-blown, one-stop delis for all of the most authentic Mexican essentials. Here, you'll be loading up on chilli, tortillas, spices, antojitos, and frozen Mex meals—and of course Rosa's famous hot tamales. The chicken tamale with green sauce is a staple, otherwise the vegetarian poblano pepper with cheese is also a winner.
Gilda
Continental Deli | Newtown and CBD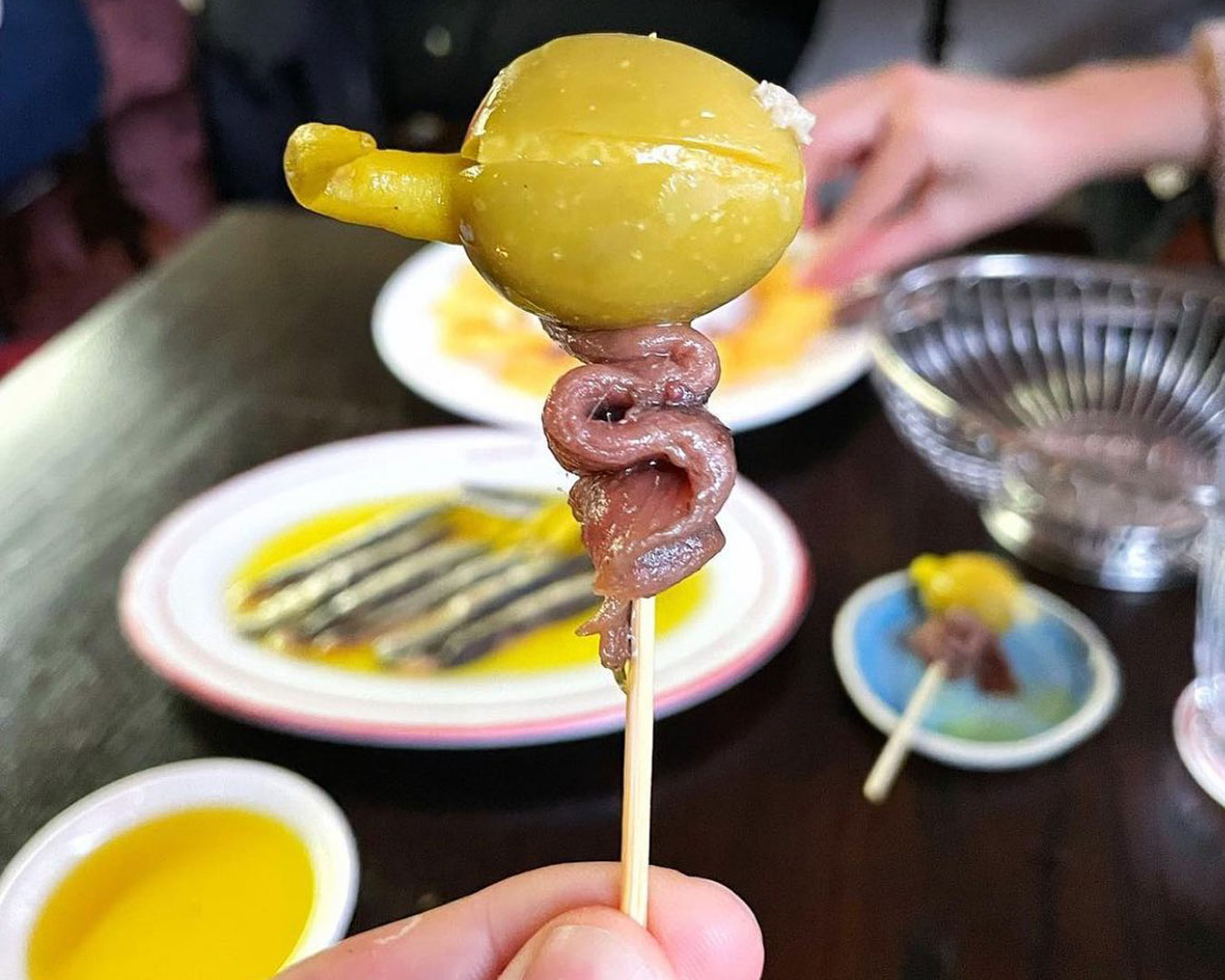 Dropping in for a Mar-tinny and skewered snacks is always a good idea at Continental Deli. The longtime Sydney favourite may be great for lunch and dinner, but it's the in-between golden hours that are perfect for perching at the bar with a tinned martini and a gilda. The snack is a classic Basque pintxo that is white anchovy, guindilla pepper, and olive simply served on a stick—so if you're dreaming of a Euro trip, order this. It's been on the menu at Continental since day one and, in our opinion, is an unsung hero of the much-loved Sydney mainstay. Order it once, and you may never drop in for "just a drink" ever again.
Burek
Liverpool Supreme Bakery | Liverpool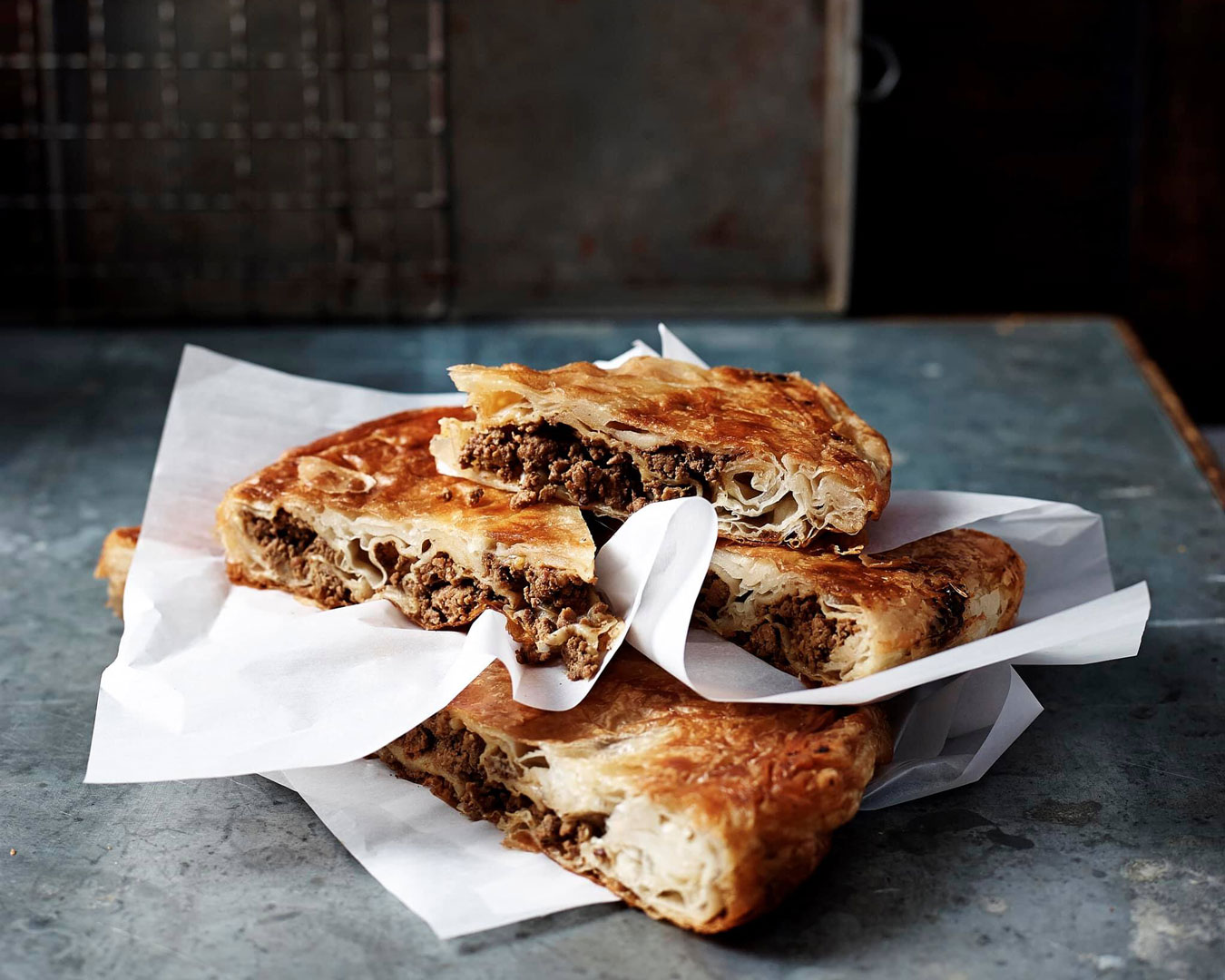 If it's a baked good kinda snack you're after, forgo the usual croissant or pie and get one of the best bureks in town. The folks at Liverpool Supreme Bakery are custodians of the Macedonian burek. If you ask Mark Delevski, Supreme Bakery's owner and head chef, he would tell you that the burek is not just a food, it's an art form. We don't disagree. The much-loved pastry, made from tissue-thin layers of filo dough and stuffed with fillings such as ground lamb, or ricotta and feta, is worthy of the fanfare. This small, family business delivers a variety of burek, from cheese and meat that's ready over the counter to pumpkin, potato and cherry varieties available to order in advance.
Now, tuck into something more substantial with the best new restaurants in Sydney.
Image credit: La Salut, Nikki To, Cafe Paci, La Salut, 10 William St, Ms. G's, Restaurant Hubert, mimi's, Tamaleria & Mexican Deli, Continental Deli, Liverpool Supreme Bakery