Sometimes you spend money. And then keep on spending money. And then you get hungry. We've all been there. It's not fun.
Sure, your wallet may be empty but we guarantee your stomach will be full (of happiness) after these seriously good cheap eats. We like to think of this as Sydney's most affordable food safari filled with birria tacos, chicken nugget rolls, vegan pies, gigantic schnitzels, and deli sandwiches, you know, for good measure.
Read on for the best cheap eats in Sydney.
The Best Cheap Eats In Sydney's Eastern Suburbs
Banh Mi From Hong Ha Bakery
MASCOT
Saving money? The entire menu at Hong Ha Bakery is your feasting dream. Everything slides in under the $10 mark, which means dim sum for $1.50 each, a meatball salad box for $8.50, or even a sweet chicken roll and a soft drink for $7.50. You're welcome.
​​Chicken Schnitzel Burger From Out Of The Blue
CLOVELLY
Out of the Blue is a legendary Eastern Suburbs takeaway joint known for burgers, fish and chips, and its breezy beachy location. Hit the chicken schnitzel stack (sitting at $10), which is loaded with Out of the Blue's iconic garlic mayo, beetroot, lettuce, tomato, and carrot. Is it one of the best burgers in Sydney? You'd be brave to try to convince us otherwise.
Pies From Funky Pies
BONDI
These pies are 100 per cent vegan and will cook your taste buds straight into a frenzy. Your main go-to's here are the Tuscan mushroom pie filled with the good stuff and spinach in a creamy balsamic sauce, and the ever-iconic gluten-free Moroccan bean tagine pie loaded with chickpeas, lima and kidney beans slathered in Moroccan spices. More than just your local pie shop, Funky Pies is doing their part for sustainability by using bio-degradable packaging and fair trade coffee and uniforms. They also give away leftover pies at the end of each day. So you can feel the good karma while eating your scrumptious pies. You won't pay a dime over $15 here.
Pasta From Friggitoria
Kings Cross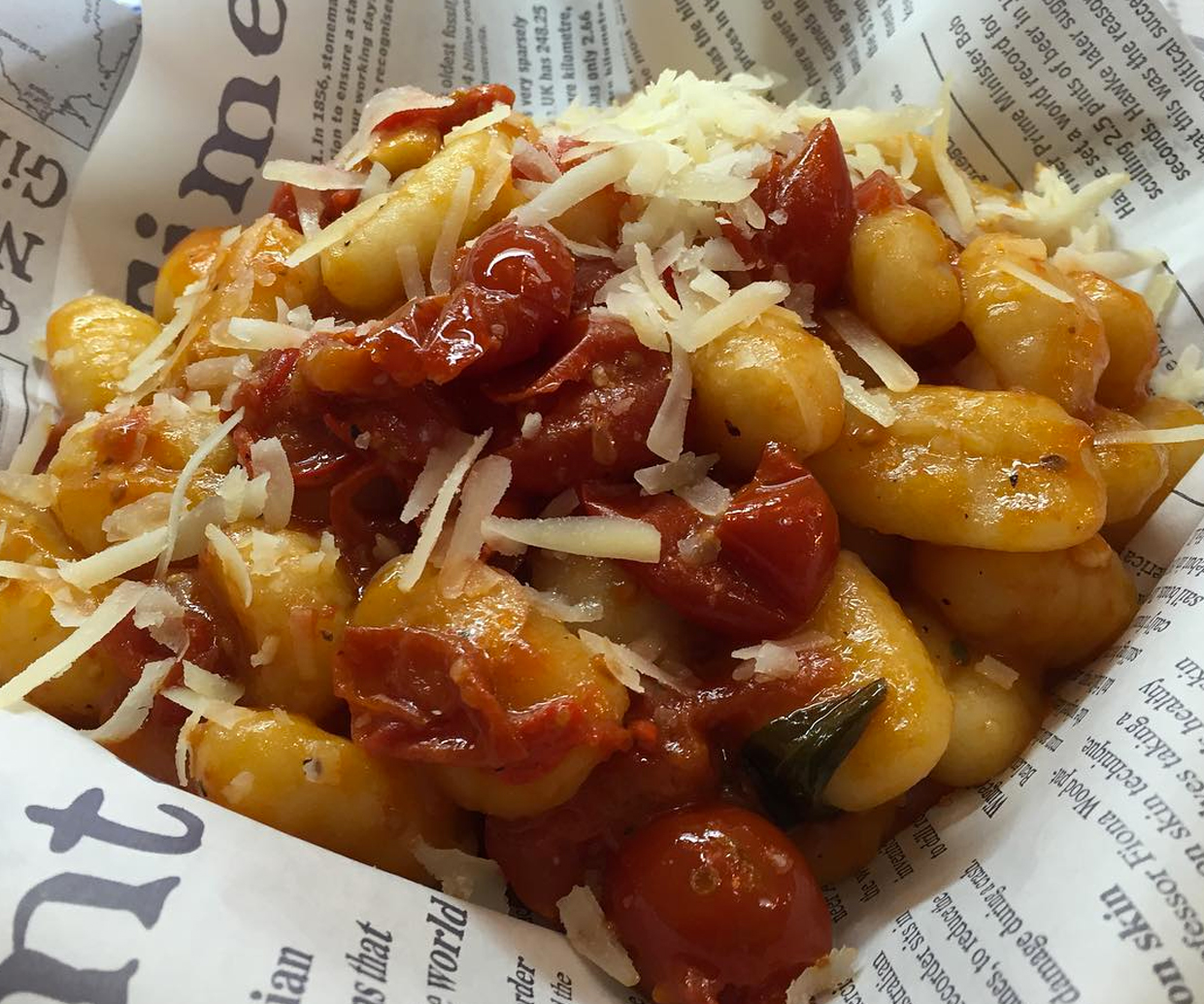 Pasta served in old newspapers—genius. The legends at Friggitoria have a name for whipping up some of the best Italian street food around. To keep your savings safe and your crypto in check, opt-in for the DIY pasta bar situation which lets you choose your own pasta and sauce. You'll spend as little as $14 and no more than $20. Our pick? Go the gnocchi with arrabbiata which is a glorious combo of cherry tomato, parmesan, fresh chilli, parsley, and garlic.
The Best Cheap Eats In Sydney's North
Gyros From Laneway Cafe
CAMMERAY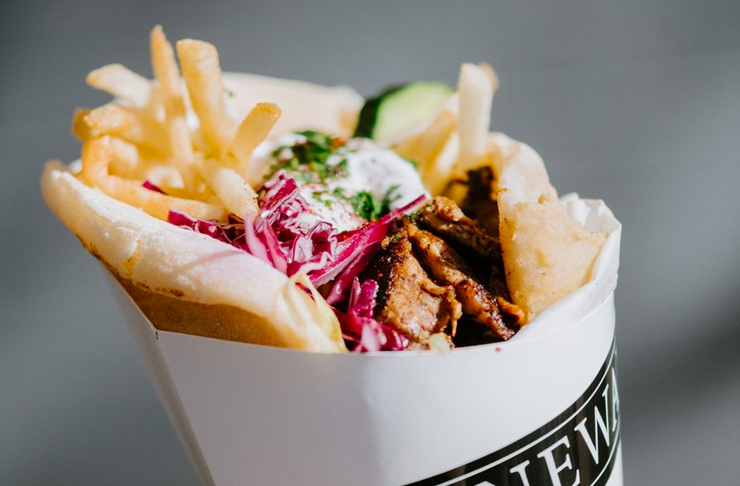 If you live on the Lower North Shore, you'd be well and truly all over the healthy feeds at Laneway Cafe. This no-frills Cammeray locale, while famous for its coffee and friendly vibe, also plates up one of the tastiest gyros in Sydney, not to mention, it only goes for $18 a pop. You can pick your poison (lamb, chicken, halloumi, falafel) and then sink your teeth into a fresh wrap of hummus, lettuce, tomato, cucumber, pickled cabbage, tzatziki, and parsley. For anyone off the bread-train, there's a saucy naked option for you too.
Chicken Nugget Rolls From Fuji Japanese Bakery
KILLARNEY HEIGHTS
Fuji Japanese Bakery is a family-run bakery that has been churning out red bean buns, Japanese-style meat pies, and fried noodle rolls since the 80s plus, the tasty chicken nugget rolls here are a must. Made with a secret fruit sauce, these boys sit at a pretty-in-pink fiver. You can also get mixed sandwich rolls for as little as $4.50.
Pies From Upper Crust
COLLAROY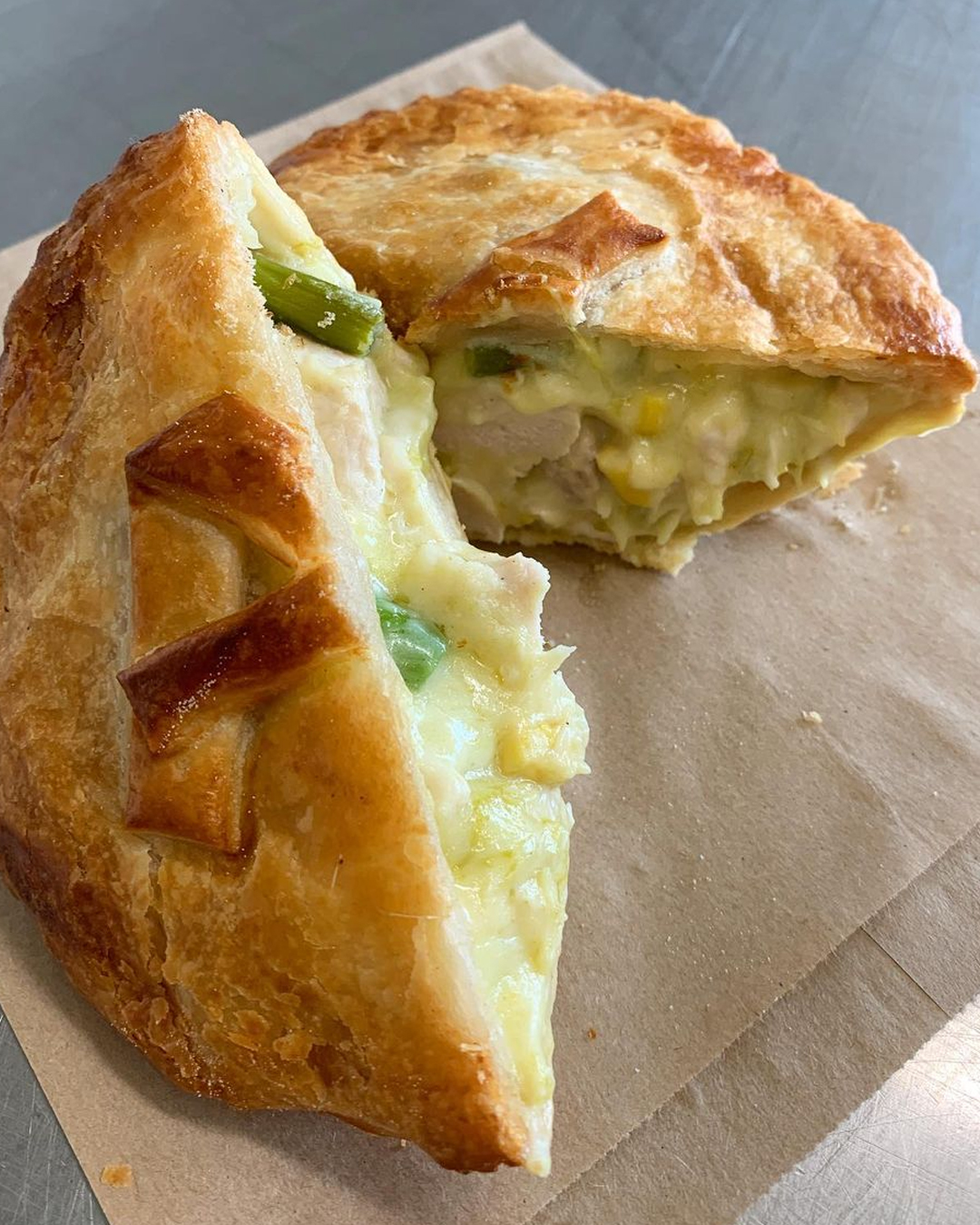 Any Northern Beaches local or general Sydney pie enthusiast knows Upper Crust Pies' big green and yellow sign. It beams at them as they make their way down Pittwater Road and it's usually followed by a suggestion of "quick Upper Crust pit stop?" followed by "Yeah, nah for sure, get me a chunky beef". Serving hot, delicious pies to lovers of all things 'Strayan since 1948, The Upper Crust is a fast favourite among all that get involved. Hit the Mexican beef or the veggie pumpkin and never look back (especially since nothing goes over $8).
The Best Cheap Eats In Sydney's Inner West
Pastizzi From Pastizzi Cafe
NEWTOWN
Pastizzi are synonymous with Malta. Ask any Maltese person about the country and they will spill into a misty-eyed recollection of childhood memories and family anecdotes heavily featuring the small flaky, diamond-shaped pastries filled with ricotta or mushy peas. One of the best spots for Pastizzi in Sydney is Newtown's Pastizzi Cafe, where there are around 20 flavours to choose from, ranging from sweet to savoury, each priced between $3.20 and $4.50.
Hot Tamales From The Talameria & Mexican Deli
Dulwich Hill
While munching down the odd taco and burrito is nice and all, if you want the real deal, Dulwich Hill's Tamaleria And Mexican Deli is where it's at. Headed by Rosa Cienfuegos, what once started as a homesick pop-up foodie venture has now escalated into a full-blown one-stop-deli for all of the most authentic Mexican essentials. Here, you'll be loading up on chilli, tortillas, spices, antojitos, frozen Mex meals, and Cienfuegos' famous hot tamales. Most items lie beneath the $25 mark—you'll find jars of nacho cheese going for $7 a pop and all kinds of frozen tamales for $18 a pack.
Curry Plates From Lentil As Anything
Newtown
When Melbourne's renowned pay-as-you-feel vegan restaurant, Lentil As Anything, spread its roots to Sydney, let's just say it was a huge win for our city. The 'honesty policy' restaurant founded by former Sri Lankan refugee, Shanaka Fernando, offers an array of tasty vegan dishes, where diners are invited to pay what they feel the meal is worth. You can keep tabs on the ever-changing menu which switches up daily but expect curry plates, chickpea masala, pesto pasta bakes, and Mexican bean wraps.
Birria Tacos From Chololo
Hurlstone Park (Fairfield location temporarily closed)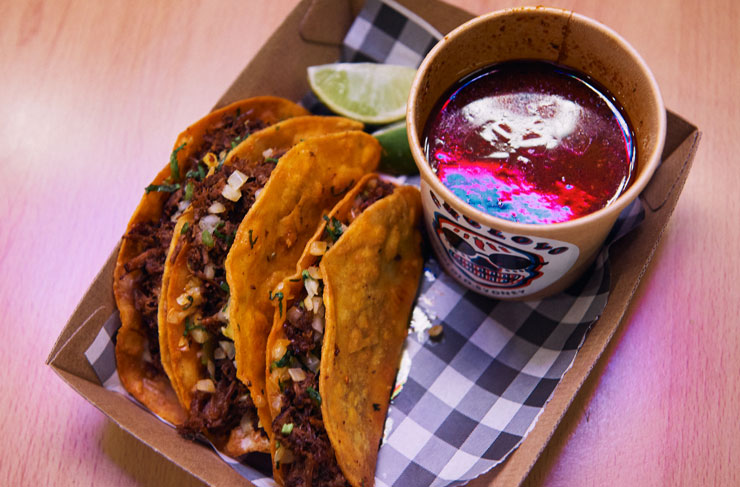 Looking for Sydney's best birria tacos? Well, this is it. Chololo serves up birria beef stew encased in a warm tortilla brushed with soupy goodness and fried to crispy perfection with onion and coriander. If the crispy cheese casing and fresh lime aren't enough, you'll also get a dipping cup of birria stew to soak your tortilla in. You can cop a birria pack (three tacos and soup) for $15.99.
The Best Cheap Eats In Western Sydney
Noodle Soup From Gourmet Noodle House
BERALA
The majority of the feeds on Gourmet Noodle House's mammoth menu are under $10, so you've just scored big time here. Try some of the best and greasiest spring rolls in Sydney for $6 a plate or slurp down a bowl of beef brisket noodle soup for as little as $8.
​​Bacon And Egg Roll From Harvey's Hot Sandwiches
PARRAMATTA
Harvey's Hot Sandwiches is filled with retro charm and mammoth sandos packed with all the trimmings. This 1950s American diner meets Aussie milkbar whips up mega stacks of the good stuff with the ultimate sandwich bread—thick and fluffy on the inside, yet nice and crisp on the outside. You'll want to try the epic bacon and egg roll loaded with a fried egg, crispy bacon, and BBQ sauce. On her own, she'll only set you back a cruisy $8, or you can start your day right with the "Brekkie Combo", which involves a bacon and egg roll and a coffee for $10.
Vada Pav From Durga's Indian Street Food And Bar
HARRIS PARK
Durga's Indian Street Food And Bar pays homage to the street food eateries of Mumbai, and you'll be hard-pressed to find any menu items over $10. The standout on the menu you absolutely need to be aware of is the vada pav—a veggie beauty that is native to the state of Maharashtra in India (located in the western peninsula region of the Deccan Plateau).
The vada pav at Durga's is essentially Mumbai's moreish version of the good ol' burger and you'll only need $4.90 on you to scoff this bad boy down. The patty is made up of a masala-soaked potato mash that gets deep-fried in a turmeric-based batter. Once this guy is good to go (that is, fried to golden perfection), it gets placed in a buttered "pav"—a square-shaped Indian bread-bun—and is cooked with a heap of butter and garlic and served with tamarind and cilantro chutneys on a thali plate.
Pork Roll From Banh Mi Bay Ngo
BANKSTOWN
This is definitely one of the best shops for banh mi in the entire city. At Banh Mi Bay Ngo, you have the choice of pork, pork skin, chicken, meatball, fish patties, and, most vitally, the hard-to-find fried egg roll (why is banh mi made with fresh, fried eggs so hard to come by?!). The bread is fresh and crispy, and the rolls are so stuffed that you will certainly feel full after one. For less than $5, you really can't get better. Like all good banh mi joints, things move pretty fast and can get a bit chaotic in front and behind the counter. It's also takeaway only, so find somewhere nearby to sit and chow down while the roll is still fresh.
The Best Cheap Eats In Sydney's South
Finger Buns From South Hurstville Bakery
HURSTVILLE
You might have missed this bakery on your usual weekend foodie adventures, but rest assured this little bakery is high on the list when it comes to housing Sydney's best finger buns (and you'll only need some loose shrapnel). The finger buns here lean more into finger-loaves that are much bigger than the average human head with the fluffiest sweet bread we've ever come across. Along with this, the team here does not shy away from shrouding this bread-size finger bun with all the pink icing.
Deli Sandwiches From Kosta's
Rockdale
Simply put, there's no venue that makes a sandwich quite like Kosta's. This hole-in-the-wall sandwich joint has a menu filled with hero sandwiches like the Super Deli panini, with turkey ham, basturma, marinated peppers, spinach, graviera, fennel butter, lettuce, and salsa verde, and the classic poached chicken sandwich, packed out with chicken, avocado, slaw, chives, mayo, and salsa verde on Tuscan-style schiacciata. Nothing creeps over $17.
Custom Plates From Eat Lebanese
Cronulla
Eat Lebanese is the pop-up brilliance sporting a big name for itself and yummy feasts at The Press Cronulla. The custom plates here prove real bang for your buck, only going for $20. Choose your protein (chicken, lamb, kafta, falafel) and then go to town on dips, salad, rice, fresh Lebanese bread, and pickles.
The Best Cheap Eats In Sydney's CBD
Pitas From Jimmy's Falafel
CBD
Jimmy's Falafel is George Street's little piece of the Middle East and the crew here know the power of a good pita. As a takeaway joint at the front and bar out the back, the entire venue has been inspired by head chef Simon Zalloua's food safari around the streets of Lebanon. Here, the standout looks like the original pita—just as the universe intended it. Stuffed to the brim with tasty falafel, creamy hummus, parsley, cucumber, tomato, sumac, onions, pickles, and tahini, this guy will only set you back $16.
Fresh Pasta From Fabbrica
CBD
Part deli, part pasta shop, part commercial kitchen, and part den of culinary action and inspiration, Fabbrica is an extension of the pasta we've come to know and love at Ragazzi—and a spot to live and breathe the ritual of pasta making, and then some. The good news is that the crew here is slinging packs (two servings) of freshly made pasta for as little as $7.50. You'll find linguine, spaghetti, semolina conchiglie, rigatoni, mafaldine, trottole, casarecce and even GF pasta in short and long variations for $8.75 a pop.
Toasties From Dutch Smuggler
CBD
Toasties are the pride and joy of CBD cafe Dutch Smuggler. Known for packing these babies to the brim, there are plenty of warm breakfast sambos under $10 to try, but the real MVP is the now-iconic Mi Goreng noodle toasty built with a fried free-range egg, cheddar, and magic sauce for $9.50.
Dumplings From Mr. Chen Beef Noodle
HAYMARKET
At Mr. Chen Beef Noodle, chef Gary Yuen heads up the kitchen, armed with a casual 40 years experience in traditional Chinese cooking and yes, he is also a dumpling master. Dumplings are made to order so brace yourself for generously stuffed pork morsels either boiled, pan-fried, or steamed. You can grab 12 pieces for as little as $11.80 (you do the math—that's less than a dollar a dumpling) with pork and cabbage, pork and egg, beef and shallots, beef and carrots and chicken and corn variations.
​​Doughnuts From Donut Papi
CHIPPENDALE
For those of you who sport a sweet tooth more often than not, you'll want to make sure you spoil your taste buds with the sweet treats at Donut Papi. The Filipino-inspired doughnut shop is one of the best in Sydney, serving handmade, sweet, doughy goodness layered with Asian flavours and stacks of creative flair. Brace your bellies for doughnuts with a pandan coconut glaze, an ube Oreo glaze, and our personal favourite, the apple pie Biscoff fritter, which will only set you back $7.50.
Sabich From Shwarmama
SURRY HILLS
Mat Lindsay is easily one of Sydney's most exciting chefs. Shwarmama is one of his latest ventures—a slick standing-room-only kebab spot that breaks a few rules of the traditional kebab shop set up, and ups the ante on taste. Unlike Lindsay's other slick fine dining restaurants and wine bars, Shwarmama is very (very) affordable. The menu is short and sweet and includes a creamy hummus plate for $10, loaded with chickpeas, tahini, harissa, and laffa bread. The real MVP however, is the $15 sabich which looks like pita bread stacked with eggplant, boiled egg, tahini, hummus, amba, onions, cabbage, pickles and pickled chilli.
​​The Best Cheap Eats Across Sydney
Omu
Delivery Only
Omu is an ode to the silky goodness that is omurice, a Japanese dish wherein rice gets wrapped inside a smooth omelette and topped with tomato sauce, onions, and various meats—if you're that way inclined. Usually popping up at markets across Sydney, Omu is is now offering home delivery on said Japanese egg roll (which will only set you back between $12 and $14). There are two flavours you can pick from, a tomato sauce finish and a demi-glace topping. Order yours here.
Pork Rolls From Marrickville Pork Roll
Marrickville, Haymarket
This hole-in-the-wall takeaway spot was so popular, they have now opened a second venue in Darling Square. The crew here have been churning out one of Sydney's best Vietnamese banh mi and the staple pork roll here has remained unchanged for years. Created with a crunchy baguette, some pate, mayo, generous slabs of BBQ pork, fresh herbs, a healthy hit of chilli, and tangy pickles, you'll only need $8 to be able to dig into one of these.
Large Fried Chicken From Hot Star
VARIOUS LOCATIONS
Ever thought, who needs a knife and fork when it comes to tackling a perfect slab of chicken schnitzel? That's pretty much the idea at Hot Star, where the main event is essentially a crumbed chicken steak that's fried to order and served up hot in a paper bag. It's crunchy, juicy, delicious, and only $9.50 too. Hot Star is also open late, making this our number one late-night cheap feast.
Still hungry? Check out the best bakeries in Sydney right now.
Image credit: Jimmy's Falafel, Jessica Best, Friggitoria, Laneway Cafe, Upper Crust, Pastizzi Cafe, The Talameria & Mexican Deli, Maclay Heriot, Harvey's Sandwiches, Banh Mi Bay Ngo, Kosta's, Eat Lebanese, Fabbrica, Mr. Chen Beef Noodle, Shwarmama, Omu,Hot Star