Sometimes you spend money. And then keep on spending money. And then you get hungry.
Thankfully, Sydney has some seriously good cheap eats; think of this list as Sydney's most affordable food tour, filled with gigantic schnitzels, deli sandwiches, $1 dumplings, banh mi, and big bowls of pasta.
Hungry? Read on for our top cheap eats in Sydney to help see you through till payday.
Durga Paan & Falooda House
Harris Park
Durga's Indian street food and dessert bar pays homage to Mumbai's bustling street food eateries. Here, you won't find much over $10, which should be enough to sway you. The standout on the menu is the vada pav—a veggie beauty that's essentially Mumbai's moreish version of the good ol' burger—and you'll only need $4.90 on you to scoff this bad boy down. The patty is made up of a masala-soaked potato mash that gets deep-fried in a turmeric-based batter. Once fried to golden perfection, it gets placed in a buttered pav (a square-shaped bun), then covered with a heap of butter and garlic before being served with tamarind and cilantro chutneys on a thali plate. Drooling yet?
Mr. Chen Beef Noodle
Haymarket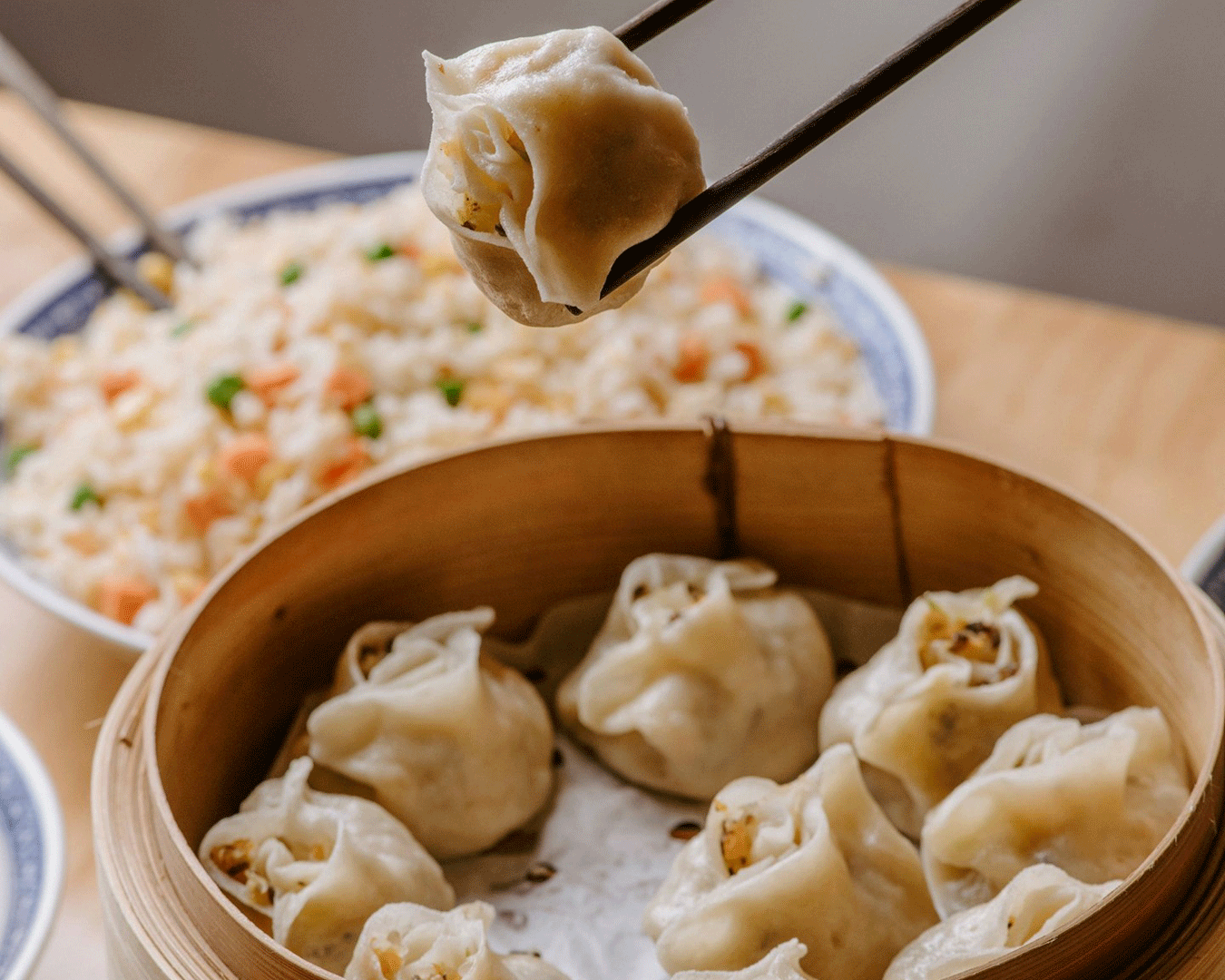 At Mr. Chen Beef Noodle, chef Gary Yuen heads up the kitchen armed with a casual 40 years' experience in traditional Chinese cooking and, yes, he is also a dumpling master. Dumplings are made to order, so brace yourself for generously stuffed pork morsels either boiled, pan-fried, or steamed. You can grab 12 dumplings for as little as $11.80 (that's less than a dollar apiece) with pork and cabbage, pork and egg, beef and shallots, beef and carrots and chicken and corn variations.
Temasek
Parramatta
Temasek serves up some of the best laksa in Sydney. So, lucky are the people who live within comfortable distance of this gem and its cosy bowls of noodle soup. Chock-full of egg noodles and delicious, juicy meat, Temasek's signature laksa is exactly what you need on those nights when you need a bit of noodly goodness in your life. Pro tip: head in at lunchtime to take advantage of its lunch specials, when you can get signature laksas for just $16, vegetarian fried noodles for $15, and Hainanese chicken and rice for $16.
The Sunshine Inn
Redfern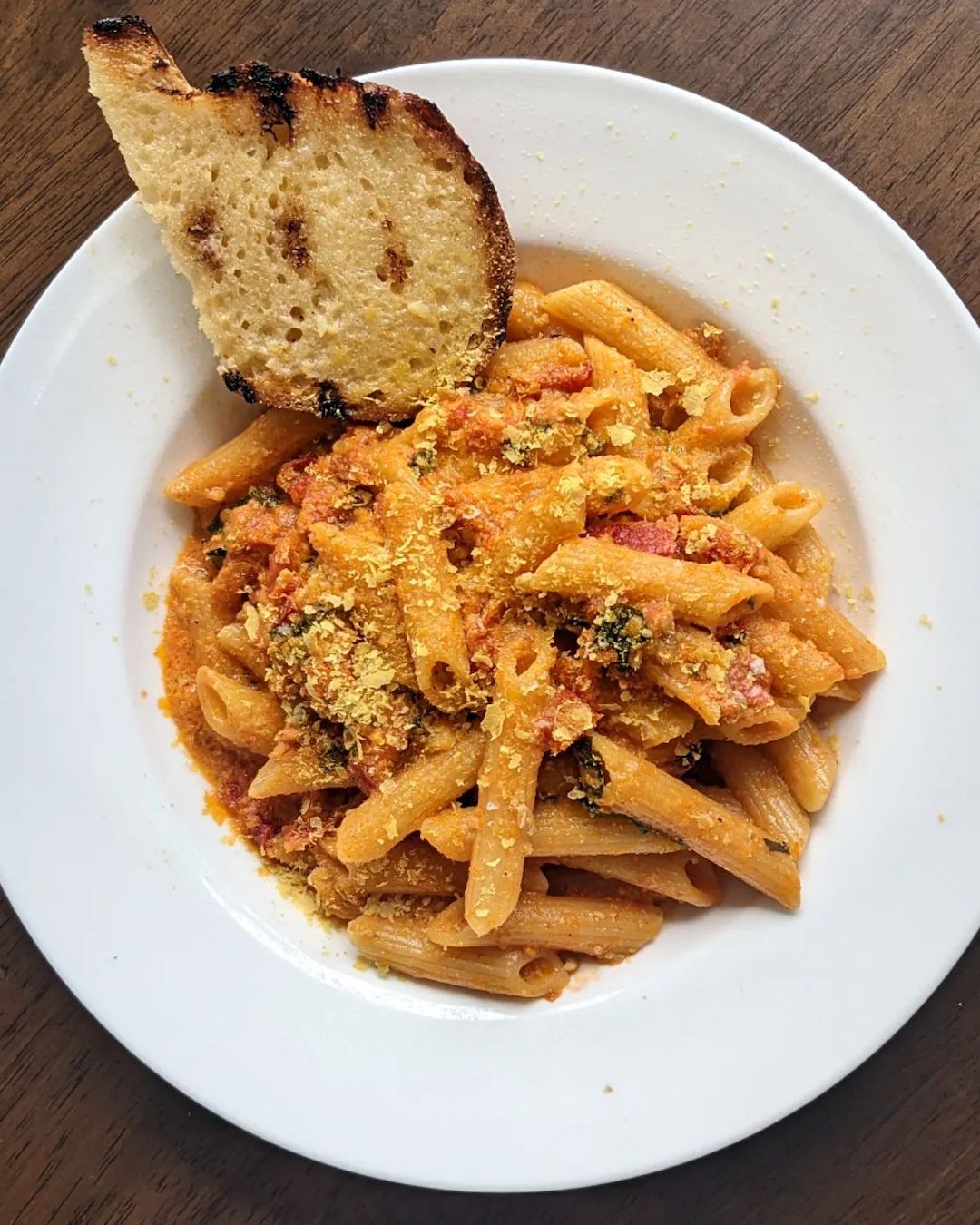 If pasta is the key focus of your bargain food-hunting, look no further than The Sunshine Inn's Tuesday special: a $10, plant-based pasta special that is sure to hit the spot. Past specials look like hand-rolled orecchiette with butter beans, cherry tomatoes, rocket, and herb butter, creamy tomato mushroom rigatoni with a herb pangrattata, and penne alla Norma, so it's guaranteed to be a good time.
Out Of The Blue
Clovelly
Out Of The Blue is a legendary takeaway joint known for burgers, fish and chips, and its breezy beachy location. Hit the chicken schnitzel stack (sitting at $12), which is loaded with Out Of The Blue's iconic garlic mayo, beetroot, lettuce, tomato, and carrot for a classic Aussie-style burg with all the trimmings. You can also pick up a $6.50 bacon and egg roll, a seriously good tofu burger for $11, and chips for $3.
Tamaleria & Mexican Deli
Dulwich Hill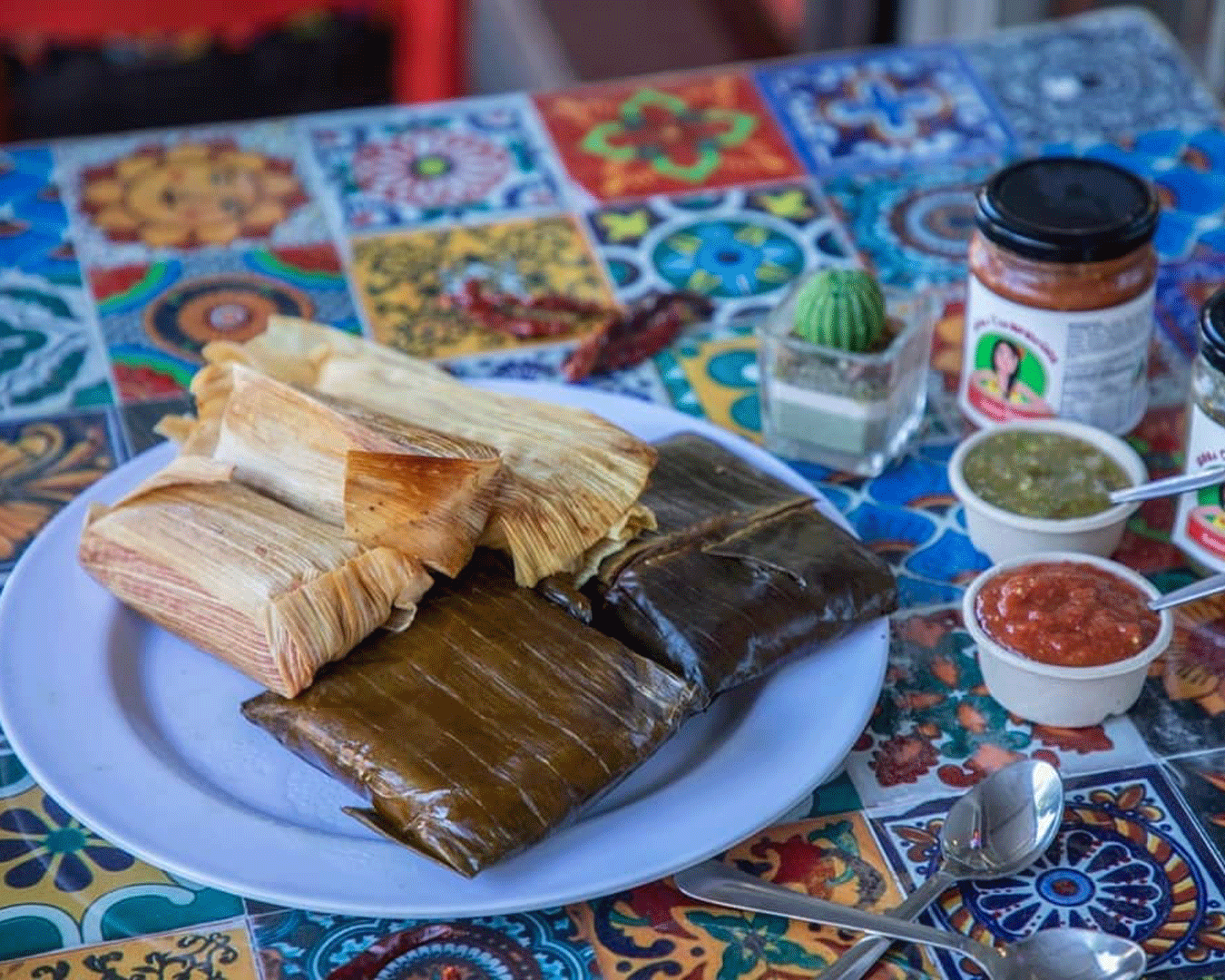 While munching down the odd taco and burrito is nice and all, if you want the real deal, Dulwich Hill's Tamaleria & Mexican Deli is where it's at. Headed up by Rosa Cienfuegos, what once started as a homesick foodie's pop-up venture has now escalated into a one-stop-deli for authentic Mexican essentials. Here, you'll be loading up on chilli, tortillas, spices, antojitos, and frozen Mex meals. If you're after ready-to-eat food, then you have to go for Cienfuegos' famous hot tamales ($9). Still hungry? You can also feast on empanadas, street tacos, and nachos for a steal.
And in good news for inner-city dwellers, sibling venue Itacate in Redfern is also dishing up A-class Mexican fare without the hefty price tag. Result!
Hot Star
CBD
Who needs a knife and fork when it comes to tackling a perfect slab of chicken schnitzel? That's pretty much the idea at Tawainese takeaway joint Hot Star. Here, the main event is essentially a crumbed chicken steak that's fried to order and served up hot in a paper bag. It's crunchy, juicy, delicious, and only $10.50. Hot Star is also open late, making this our number one late-night cheap feast.
Black Ginger
Newtown
Good pho needs a nice and light, aromatic broth loaded with beefy flavour that is well balanced by the spices. It takes a long time to get right, and Black Ginger in Newtown is a good example of how to do that. Their 12-hour bone broth has an excellent depth of flavour and creates a solid foundation for all their pho dishes. Thankfully they also do a great vegan broth too so everyone can share the joy. Best of all, the pho here clocks in at as little as $14.80. Score.
Harvey's Hot Sandwiches
Parramatta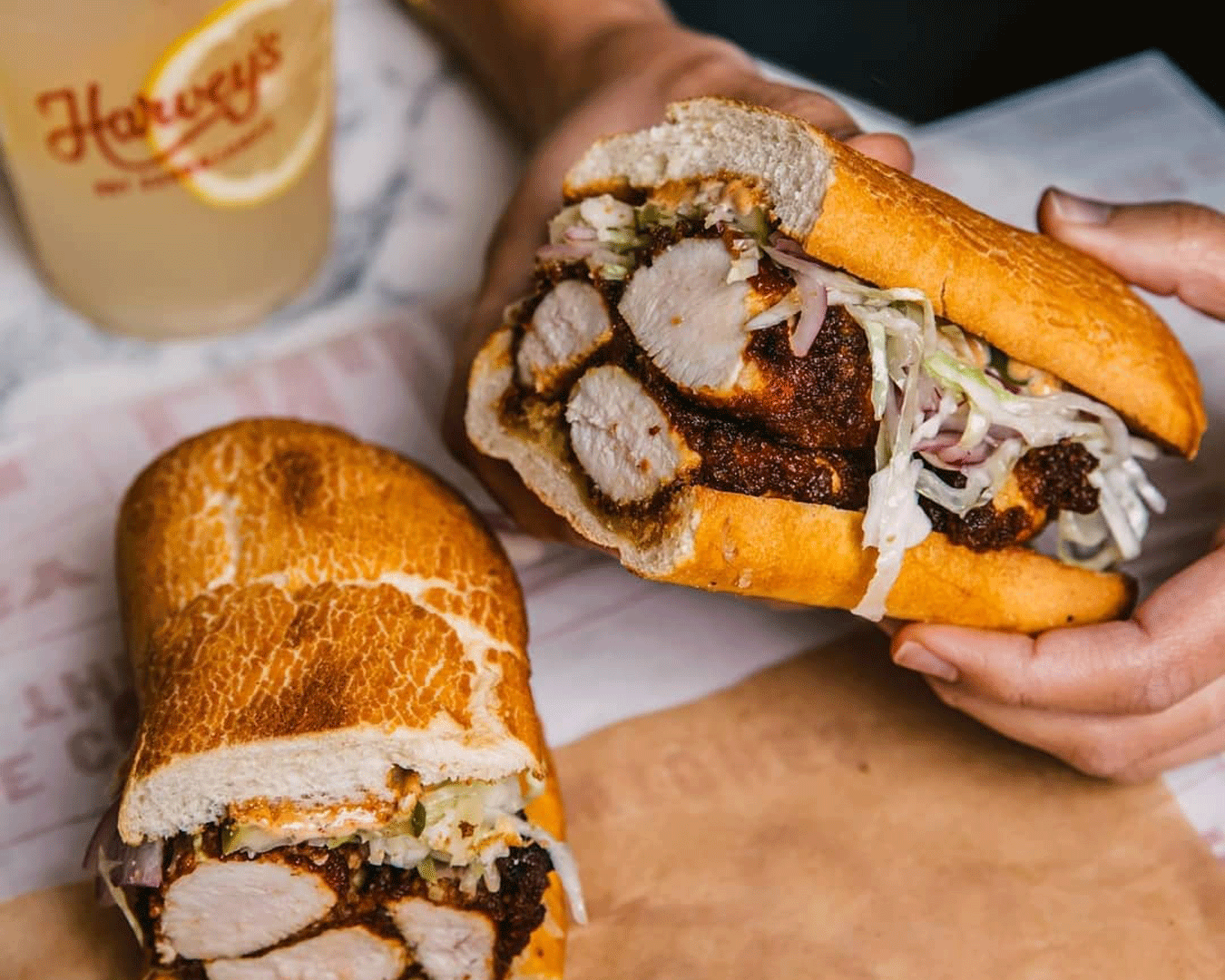 Harvey's Hot Sandwiches is filled with retro charm and mammoth sangas packed with all the trimmings. This '50s-style American diner meets nostalgic Aussie milkbar whips up mega stacks of the good stuff with the ultimate fluffy sandwich bread. You'll want to try the epic bacon and egg roll loaded with a fried egg, crispy bacon, and barbecue sauce. On her own, she'll only set you back a cruisy $9, or you can start your day right with the Brekkie Combo, which involves the roll in question and a coffee for just a tenner. Heading at lunchtime? Get the classic ham sambo ($13) or one of its chook rolls—you won't regret it.
Marrickville Pork Roll
Marrickville, Darling Square, and Circular Quay
This takeaway Vietnamese spot is a popular lunchtime go-to. The crew at the OG shopfront in Marrickville have been churning out one of Sydney's best banh mi for years, and the staple pork roll here remains unchanged. Created with a crunchy house-made baguette, some pate, mayo, generous slabs of BBQ pork, fresh herbs, a healthy hit of chilli, and tangy pickles, you'll need less than a tenner to be able to dig into one of these.
Pastizzi Cafe
Newtown
Ask any Maltese person about pastizzi and they'll spill into a misty-eyed recollection of childhood memories and family anecdotes heavily featuring the small flaky, diamond-shaped pastries filled with ricotta or mushy peas. Yes, they really are that good. And one of the best spots for pastizzi in Sydney is Newtown's Pastizzi Cafe, where there are around 20 flavours to choose from, ranging from sweet to savoury, each priced between $3.50 and $4.80.
Bar Reggio
Darlinghurst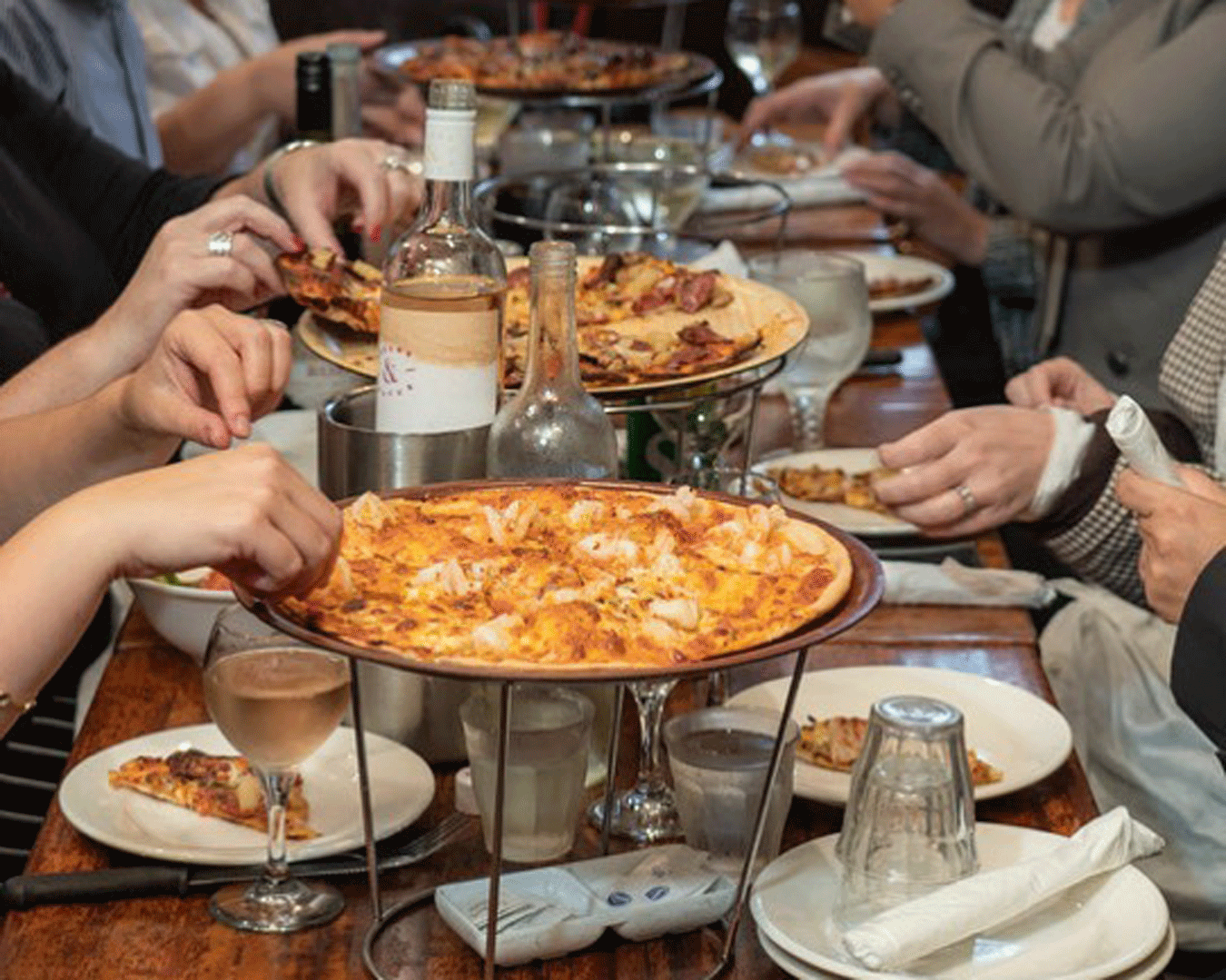 Rounding up the crew for a night out but you don't want to stretch the budget? Our answer: Bar Reggio. The Darlinghurst institution has been serving up cheap Italian fare to students, lunchtime office crowds, and thrifty locals for decades. Not only do you save money on booze thanks to it being BYO-friendly, but the carb-fuelled menu is reasonable too—think $20 pizzas and $15 pastas.
Hong Ha Bakery
Mascot
Banh mi is a staple when it comes to cheap eats. But, over the years, the Vietnamese roll has been on the rise—price-wise, we mean. Thankfully, at Hong Ha Bakery, you can still get your fix without forking out a fortune. Here, everything slides in under the $10 mark, which means dim sum for $1.50 each, a meatball salad box for $8.50, and its signature barbecue pork roll for $6. You're welcome.
Mamak
Haymarket and Chatswood
Chinatown bolthole Mamak is a Malaysian eatery renowned for its roti menu. The flaky flatbreads come with two curry dips of your choice as well as a spicy sambal sauce and, while all the savoury roti dishes are winners, the OG roti canai is hard to pass up—particularly as it costs a reasonable tenner. More of a sweet tooth? Don't despair, there are four delicious dessert options, including roti with sliced banana and one with pandan and coconut. Other well-priced dishes include the nasi lemak ($13) and satay skewers at $2.50 a pop.
Alevri
Kingsford and Dulwich Hill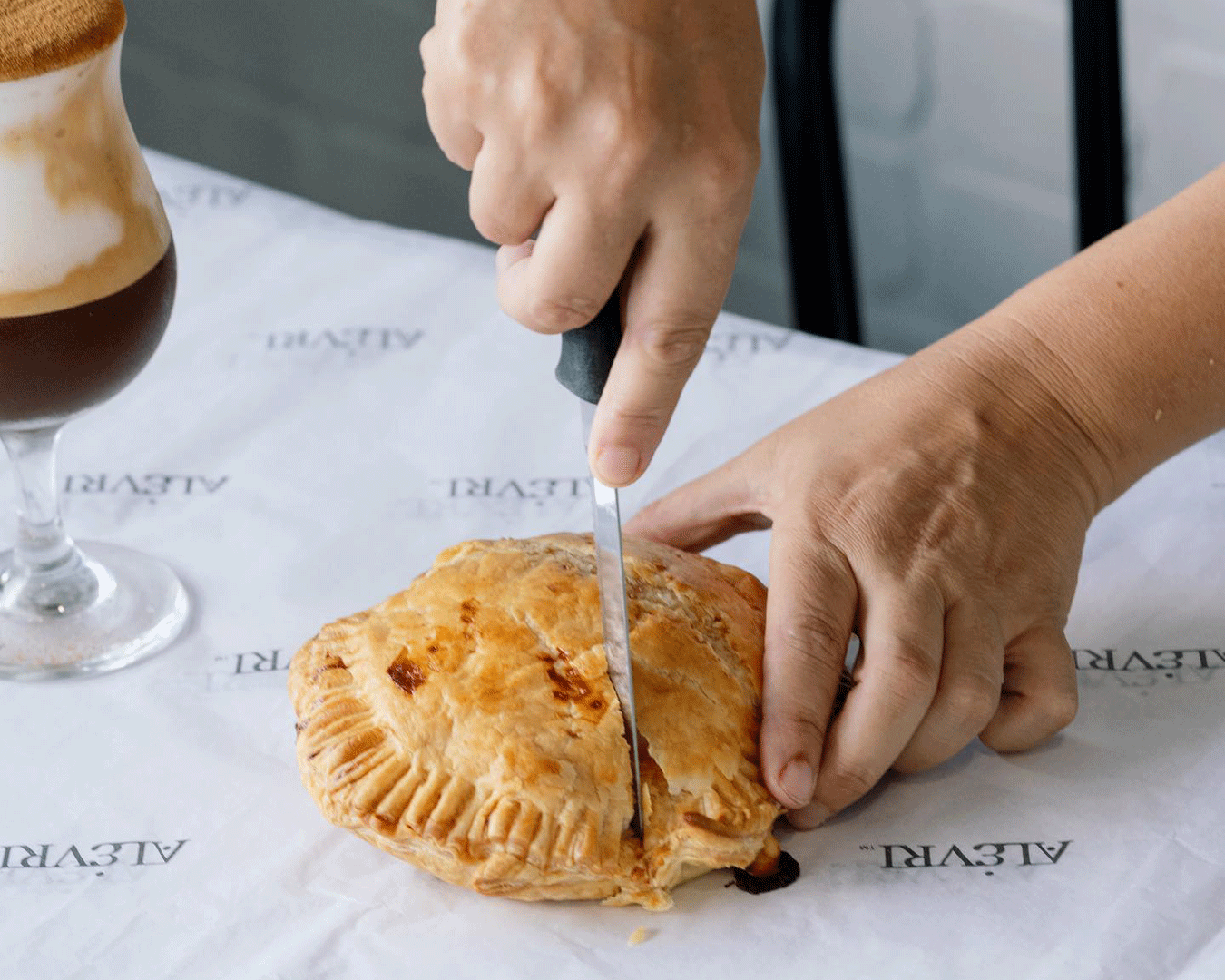 Aki and Kathy Daikos' local food hall of modern Greek cuisine, Alevri, is a must when it comes to Mediterranean delights on a budget. At any of its stores, you'll find homemade Greek pastries like peynerli, tsoureki, and a cheeseburger pita. They also blend new and old world together, like in the Aussie moussaka pie using eggplant, potato, and Greek-style beef mince. The sweet selection is where it really heats up, though, with chocolate-coated eclairs and a show-stopping, glistening baklava cheesecake. Dreamy.
Ryo's Noodles
Crows Nest
Some say that Ryo's Noodles is the only establishment in Sydney to serve authentic Tokyo-style ramen. Others will debate that but, in any case, the noodles here are damn good. The no-fuss, in-and-out restaurant on bustling Falcon Street is open for lunch and dinner every day. The ideal cheap eat here is the salty pork ramen coming in at $15; however, all noods here will cost you $18 or less, so it's a matter of loose change. Three are a few other non-ramen dishes, too, including gyoza ($8), karaage chicken ($10), and a katsu chicken curry ($18).
Emma's Snack Bar
Enmore
Emma's is the kind of place you want to head to for a group catch-up when you want good food at reasonable prices. The quality here is second to none, and it's BYO which certainly helps keep the bill down. You'll undoubtedly want to fill up on dips, but you should save room for the falafel, kibbe, and fried cauliflower. We strongly recommend you make a booking at this Inner West favourite, too.
Banh Mi Bay Ngo
Bankstown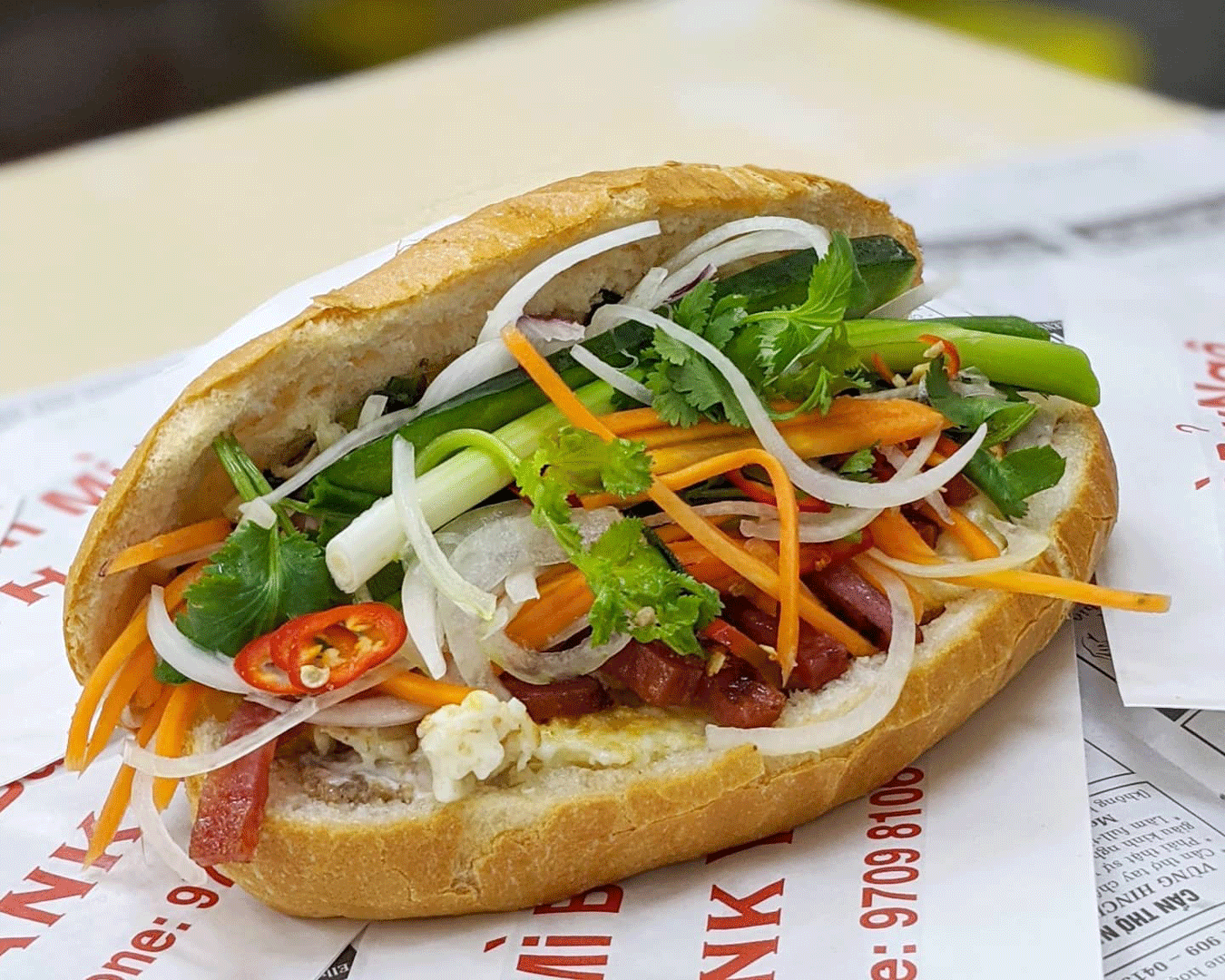 Yes, another banh mi place has made its way onto the list. But this is another one that's hard to beat when it comes to cost, serving up some of the best Vietnamese rolls in the entire city. At Banh Mi Bay Ngo, you have the choice of pork, pork skin, chicken, meatball, fish patties, and, most vitally, the hard-to-find fried egg roll. The bread here is fresh and crispy, and the rolls are so stuffed that you will certainly feel full after one. For a $5 note, you really can't get better. Like all good banh mi joints, things move pretty fast and can get a bit chaotic in front and behind the counter.
Yang's Dumplings
Burwood and Enmore
Yang's Dumplings comes to us straight from Shanghai, where the chain has been serving up tasty handmade treats for more than 20 years. The fame it has garnered in Shanghai is not lost in Sydney, either, where Yang's has venues in Burwood and Enmore. The must-try dish is the sheng jian bao, a soupy mince-pork dumpling with a crispy bottom that costs $9.80 for six pieces—just be cautious, these things are HOT.
Cairo Takeaway
Newtown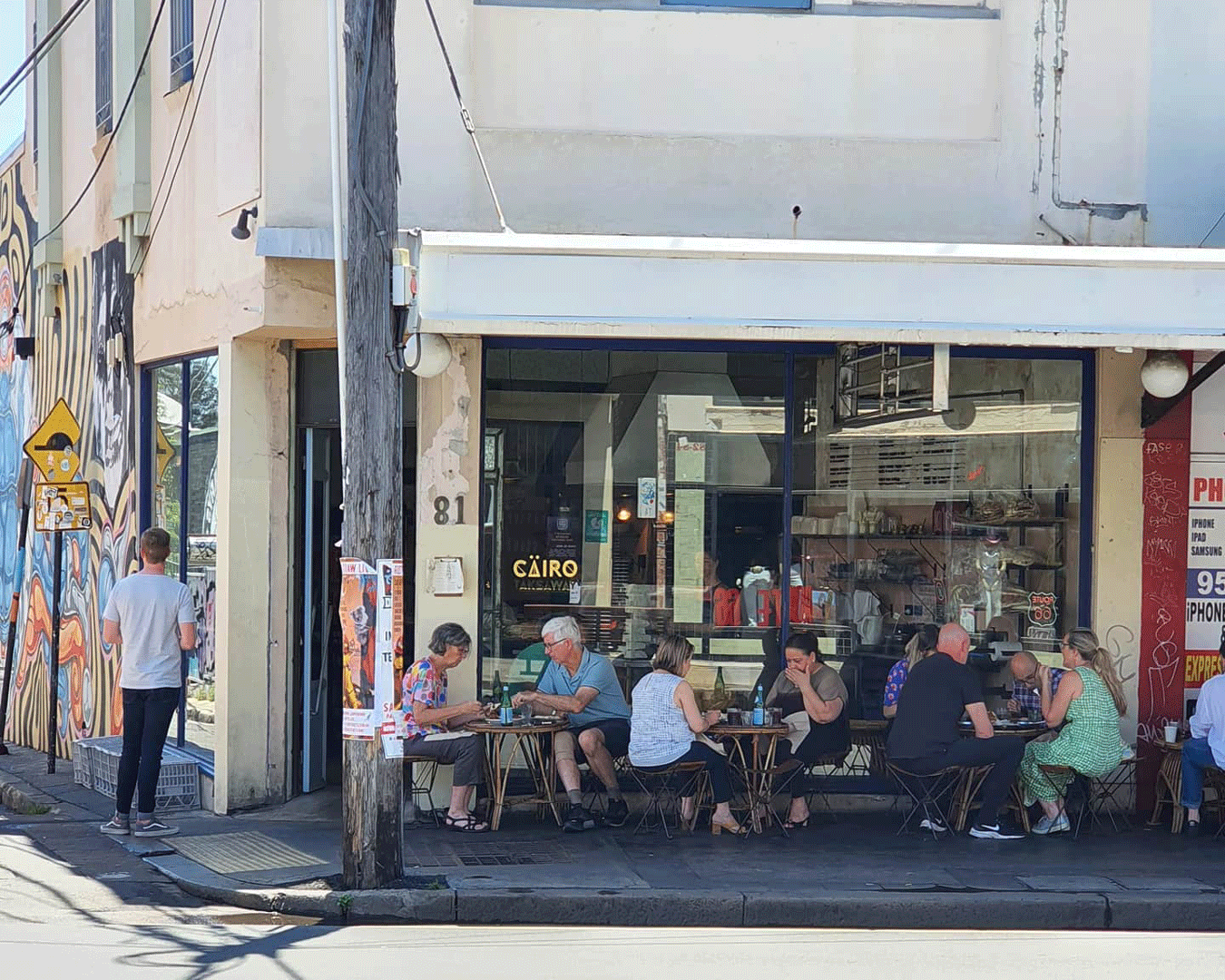 Cairo Takeaway is pimped-out takeaway food, without all of the regrets that come from a trip to your local kebab shop. You can eat in, or as the name suggests, take your feast away and perhaps enjoy a picnic in the nearby Camperdown Memorial Rest Park. The corner restaurant dishes up plates inspired by Egyptian street food—think pita pockets, koshari (lentils and rice), mixed veggie plates, and shakshouka baked eggs. The real steal is the $13 charcoal lamb kofta pita pocket—or you can turn it into a plate for an additional $3.
Una's
Darlinghurst
This Victoria Street hole-in-the-wall has been serving Euro-style schnitzels since the late '60s. The menu features authentic German Jägerschnitzel, a pork cutlet-style schnitty that's drenched with creamy mushroom sauce, rosti and cabbage salad. There's the Gyspy Schnitzel with spicy tomato sauce and all the trimmings and, of course, a good old staple chicken schnitzel for anyone wanting to stick to their guns. And while the mains here cost just over $20, they are absolutely massive—so, sharing is more than doable.
Ayam Goreng 99
Kingsford
Ayam Goreng 99 is an Indonesian restaurant located on the busy Anzac Parade restaurant strip. Popular with university students, locals and Indonesian food fans, the restaurant is known for its delicious food at excellent prices. Don't leave without trying one of their famous chicken dishes, with the enormous Ayam Goreng Mentega ($19) being one of our faves.
Keen for more of the city's best? Check these out:
Best restaurants Sydney
Best cafes Sydney
Best bars Sydney
Image credit: Draling Harbour (Marrickville Pork Roll), Mr. Chen Beef Noodle, The Sunshine Inn, Tamaleria & Mexican Deli, Harvey's Sandwiches, Bar Reggio, Alevri, Banh Mi Bay Ngo, Cairo Takeaway