Harvey's Hot Sandwiches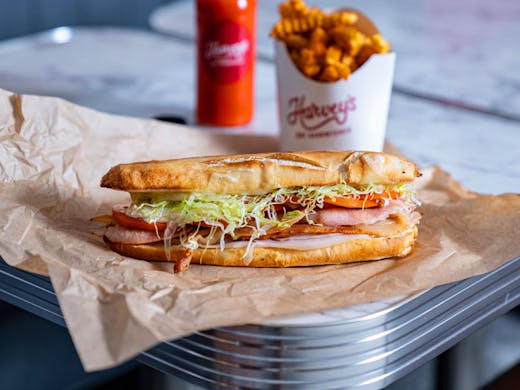 The latest addition to Sydney's growing sando scene is Harvey's Hot Sandwiches. You'll find this retro-style sandwich bar in the new Parramatta Square dining precinct, serving made-to-order subs served simple (with mustard and swiss cheese) or sloppy (with Russian dressing, coleslaw, and swiss cheese).
It's a simple but larger-than-life sort of concept that's already earning die-hard fans and queues to match. Choose your bread—white or wholemeal—then go deep on your fillings.
There's a classic meatball sub, made with pork and veal meatballs, garlic butter, marinara sauce and mozzarella cheese, and, in true Americana style, a Philly Cheesesteak with shaved scotch fillet steak, grilled onions, provolone cheese and a hot pepper spread.
Our favourite has to be the Muffuletta, made with mortadella, ham, salami, Harvey's olive spread, provolone cheese, and Swiss cheese. It's a lot—but that's the vibe here.
If it's a sweet sambo you're after, Harvey's has you covered with cookie ice cream sandwiches filled with fresh house-made ice cream and topped with warm Nutella poured from a—wait for it—Nutella fountain. Yes, an actual Nutella fountain.
To drink, keep it retro with classic soda fountain sodas, house-made Frescas or lemonade, or floats topped with that aforementioned house-made ice cream.
Image credit: Leigh Griffiths
---