To celebrate our 10th birthday here at Urban List, we're asking you to tell us your favourite venues over on our Instagram—this time, we asked you guys to share your favourite sandwiches in Sydney.
There are few things more comforting in life than a heavily laden sandwich. It's the perfect food. Tasty, portable, and with endless potential for variation, the sandwich is lunchtime comfort food you can have every day and never get bored. Invented, according to legend, by John Montagu, the fourth Earl of Sandwich, who requested his servants stick another slice of bread on top of the bread-and-toppings snacks he was usually served, making his meal easy to hold while playing cards. It was such a revelation that they named it after him.
Sandwich's sandwich became the carby template for all the generations of fillings-between-bread to come and, in Sydney, we still go mad for a proper sanga. As a city, we're drawn to those hefty two-handers that would be unwise to flop around at the poker table—packed to the brim, wrapped in foil, and designed to fill you up. Hunrgy? Here's where you'll find Sydney's best sandwiches.
Mrs Palmer Sandwich
Darlinghurst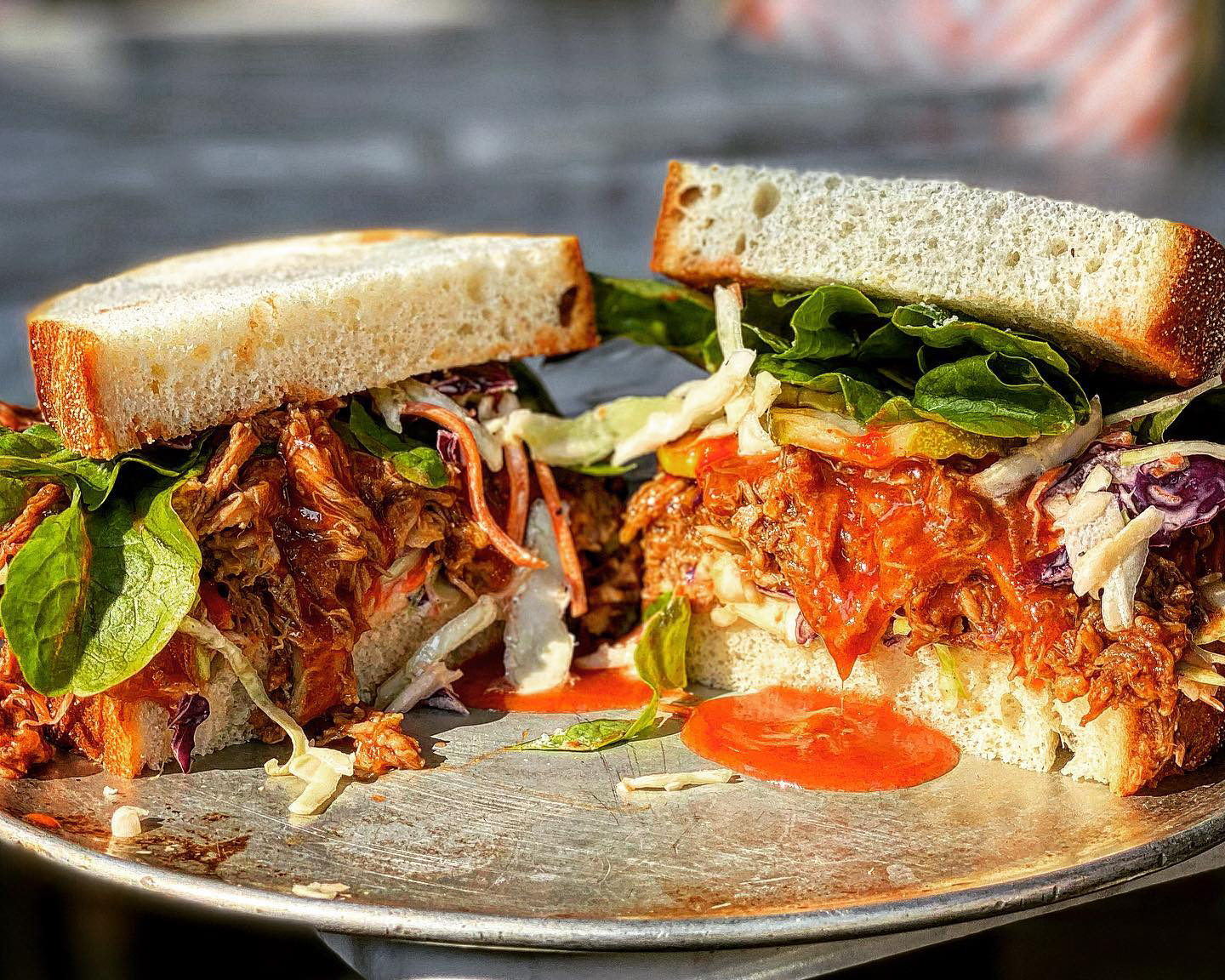 Mrs Palmer Sandwich dishes up just five sandwiches extremely well. The guys behind Wings and Tins have turned their deft hands to slicing bread and stacking toppings dangerously high. Each sandwich has a ludicrous number of mouth-watering ingredients and is liable to put you out of action for a least a few hours. "The Farm" is a fan favourite—stacked with a medley of meats including crispy pork belly, poached chicken, and BBQ brisket. Oh and there's a secret margarita bar out back if you get thirsty!
Sandwiches By Bootleg
Woollahra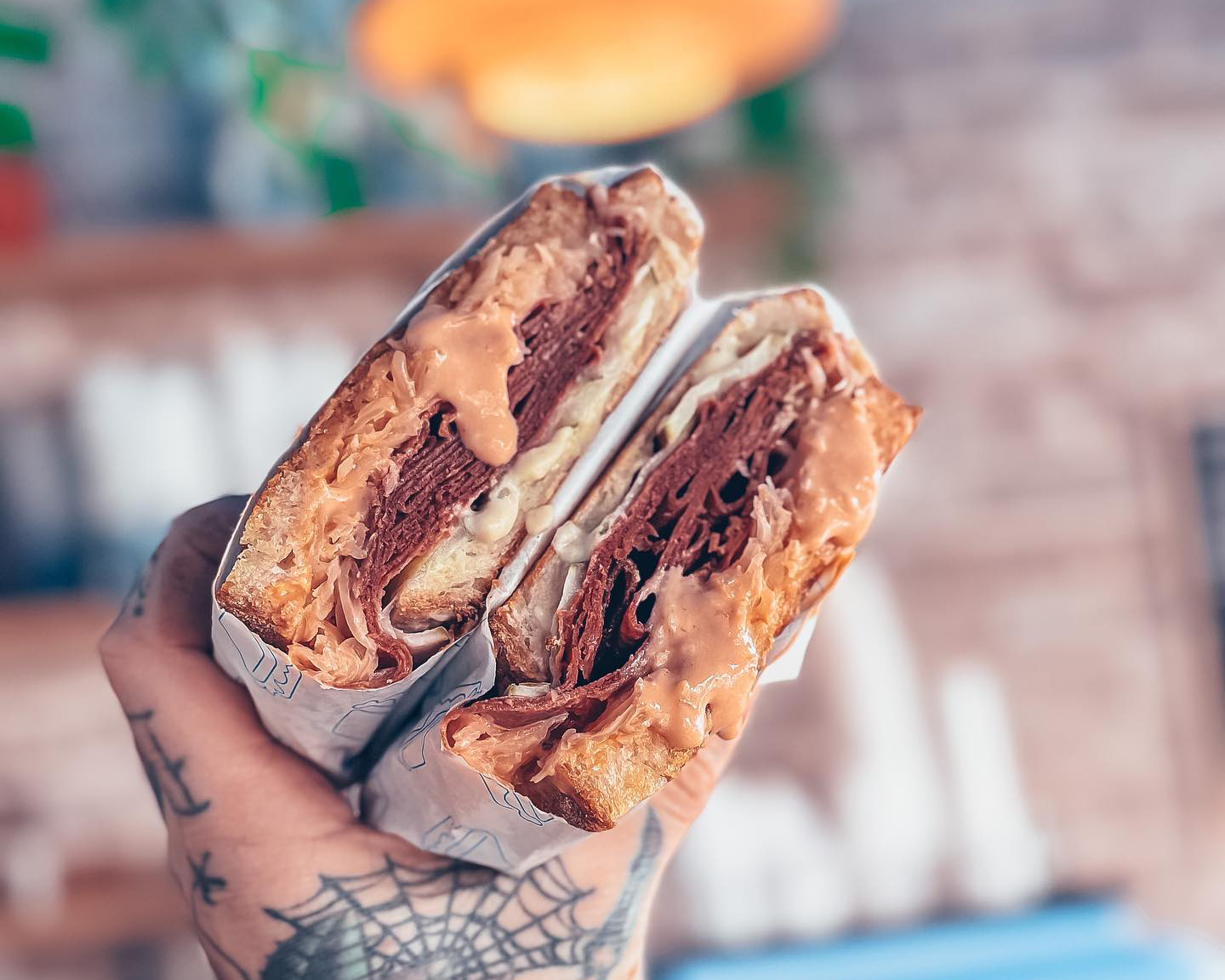 From the team behind vibey vegan Italian joint, Bootleg, this sandwich operation has scored a cult following since launching in late 2022. As with Bootleg's fully vegan "ragu bolognese" and tasty squares of tiramisu, everything here is 100% plant-based. Topped with "pastrami", house-made sauerkraut, and oozing tasty cheese, the Reuben at Sandwiches by Bootleg is a contender for one of the city's best, vegan or not. Other must-tries include the "Hot Chick", Bootleg's take on the chicken schnitzel, and the hang-over curing weekend-only brekkie bagel with tofu scramble and maple "bacon".
Self Raised
Carlton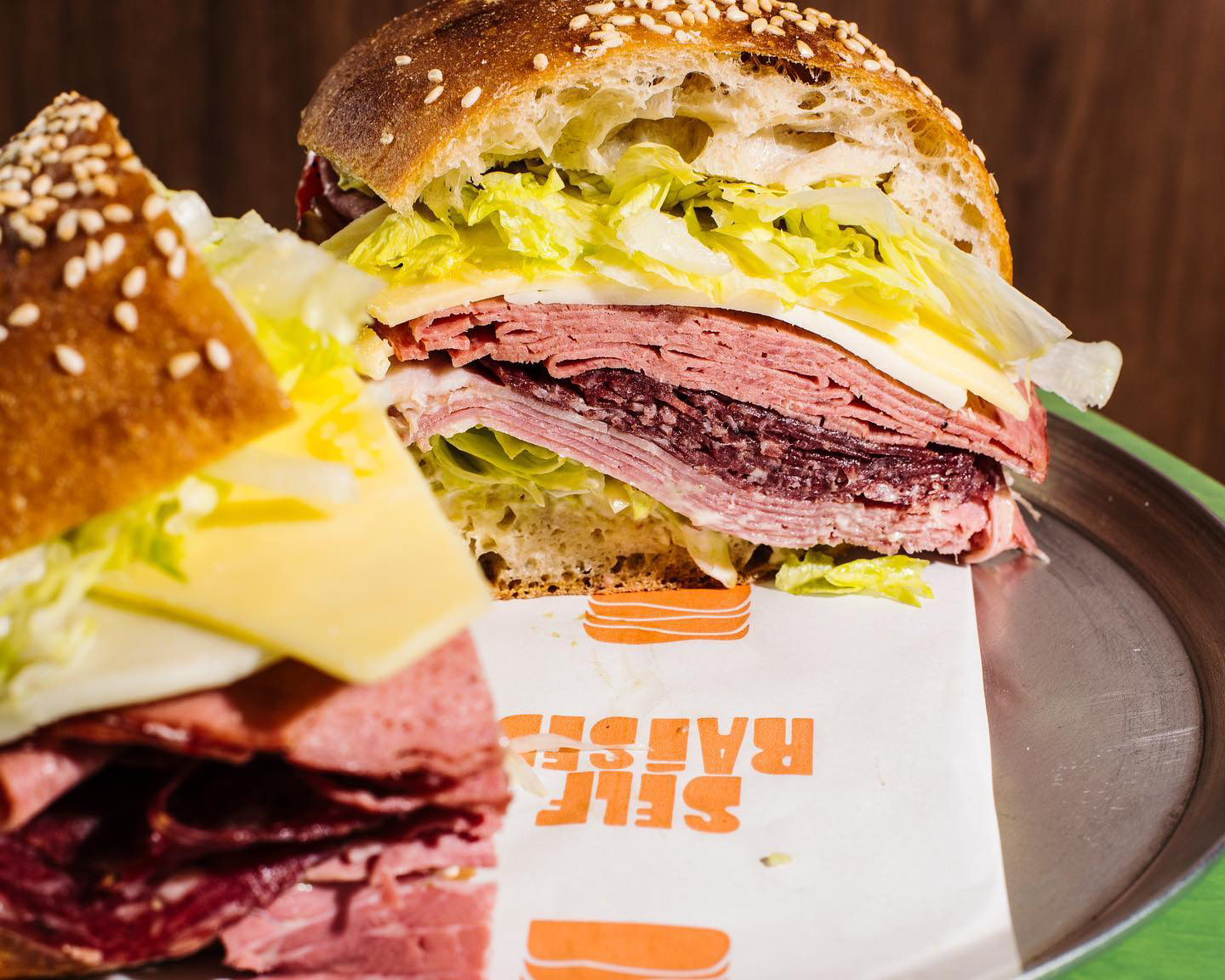 Opened in February 2023, this newcomer has already scored itself a cult following with queues out the door and down the street. From the team behind NYC-inspired pizza joint My Mother's Cousin in Bexley North, Self Raised has a similar retro aesthetic, while pumping out delicious bread (sourdough, baguettes, ciabattas, and take-home focaccias) and pastries like enormous pistachio croissants, plum danishes, and cinnamon scrolls. They also do some pretty mean sandwiches, like a mortadella foccacia, topped with wild leaf rocket, bocconcini, roasted peppers, green olives, and Parmigiana Reggiano. Or, a sausage and egg burger, a hoagie, a schnitzel sandwich, and a top-tier smoked beef sandwich.
Frank's Deli
Waverley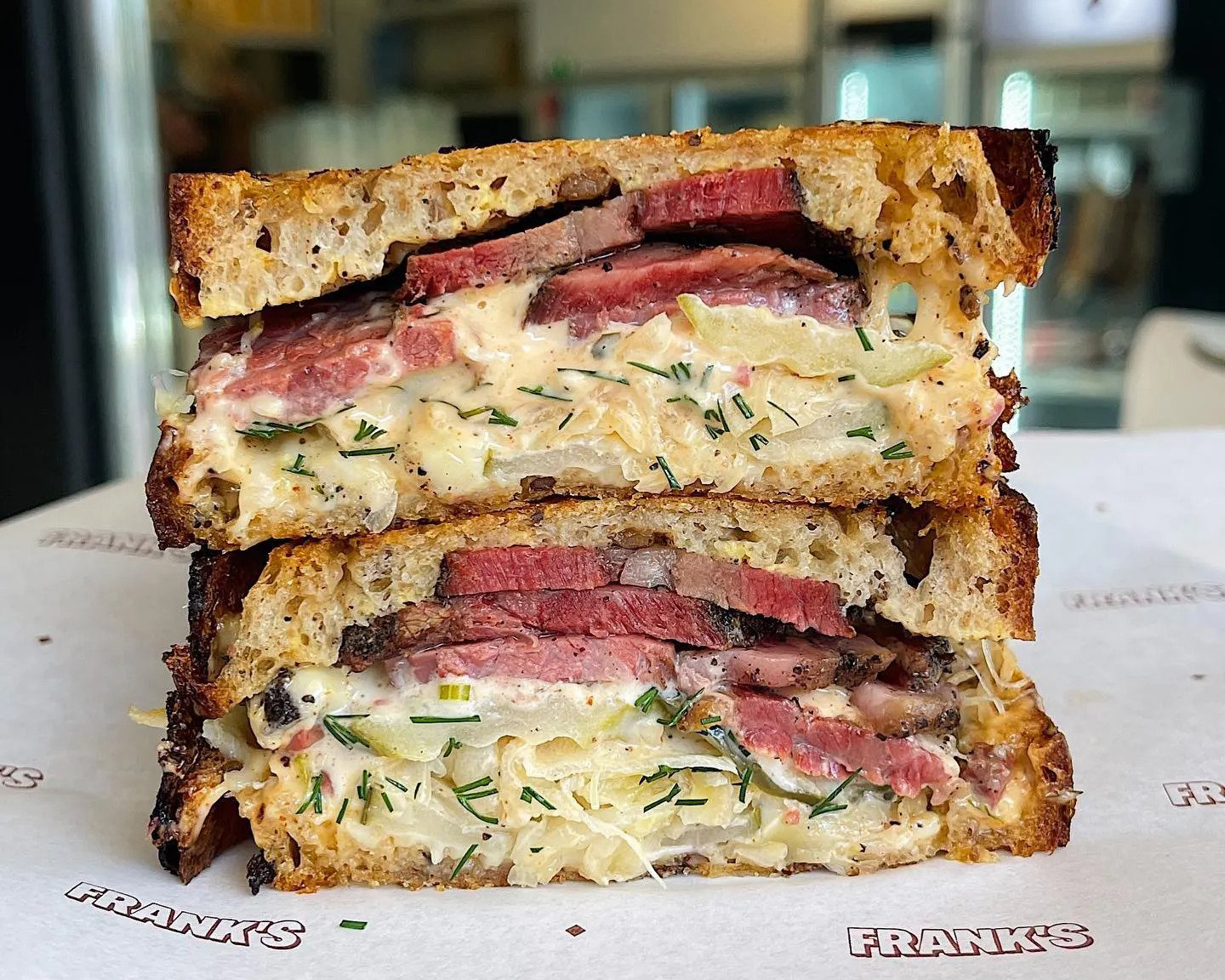 Frank's Deli absolutely exploded onto the scene when it opened in 2021, known to host a long line of hungry patrons on the daily. The delicatessen blends classic NYC deli vibes with the owner's Polish heritage, offering everything from bone broth to in-house pickled everything. But it's with sandwiches that Franks really shines.
Choose between options like the LP's Quality Meats brisket pastrami Reuben, the fennel ricotta meatball sub, the stacked three-meat deli combo, or the filling parmi crumb schnitzel sando. No doubt, of a morning, the breakfast Sammy with LP's brisket pastrami, Polish speak, egg, and cheese fold is the winner. One thing is for sure, aside from everything on the menu being a 10/10, Frank's also delivers some of the friendliest service we've experienced around town.
Tothy Brothers Deli
Wheeler Heights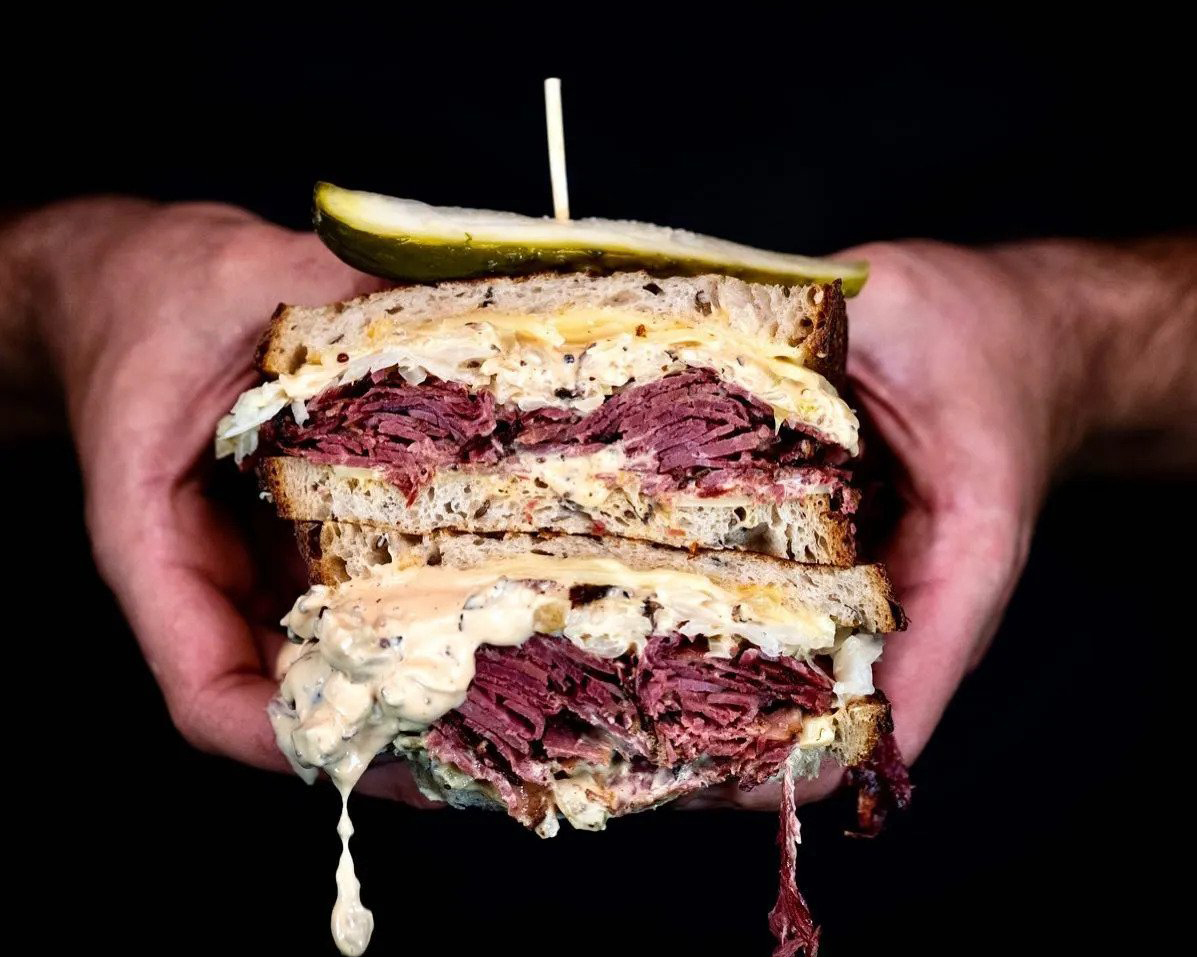 If you're around the Northern Beaches with a serious sandwich hankering, we highly recommend a pit stop at Tothy Brothers Deli. If you're not from the area, this gem is worth every millilitre of fuel it'll take to make the drive. Owned by two local brothers, these guys are all about putting together beautifully juicy and tender stacks of meat. They're best known for their 12-hour smoked pastrami, which they salt brine in 18 different spices and their own secret rub. You'll find the NYC deli meat on their hot pastrami sandwich, with the simple combo of rye, pickles, and mustard, and on their Reuben, with rye, Swiss, sauerkraut, and house Russian dressing. Other sandwiches tour around the US, including a Rangers Valley rib eye Philly cheesesteak, a Nashville hot chicken sando, a tuna melt, and a double-smoked bacon and egg roll. Good luck choosing just one.
Humble Bakery
Surry Hills and Circular Quay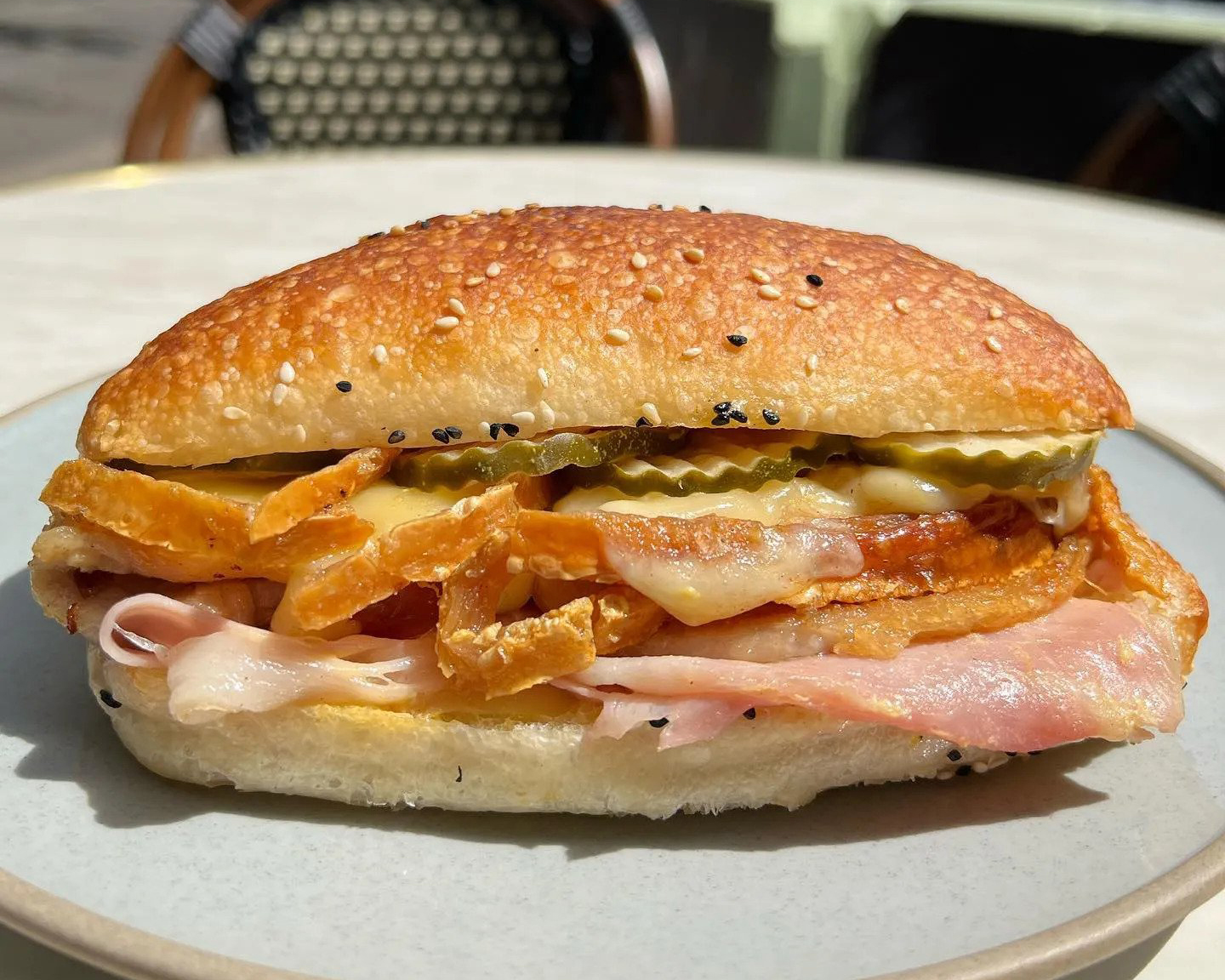 Now with two locations in Sydney, Humble Bakery serves up some of Sydney's best bread and some to-die-for pastries (their pink finger buns are legitimately famous now). Humble is owned by the same guys as nearby Porteño. That means we highly trust any meat being used for sandos. The sandwich board rotates, so we can't promise what to expect. Other than some kind of toastie (potentially filled with cheese and mushroom or pastrami and sauerkraut), a couple of special stacks (like porchetta, eggplant, or grilled short rib), and the classic "Hambo" ham, gruyere, and zucchini pickle baguette.
A.P. Bread
Surry Hills and Newtown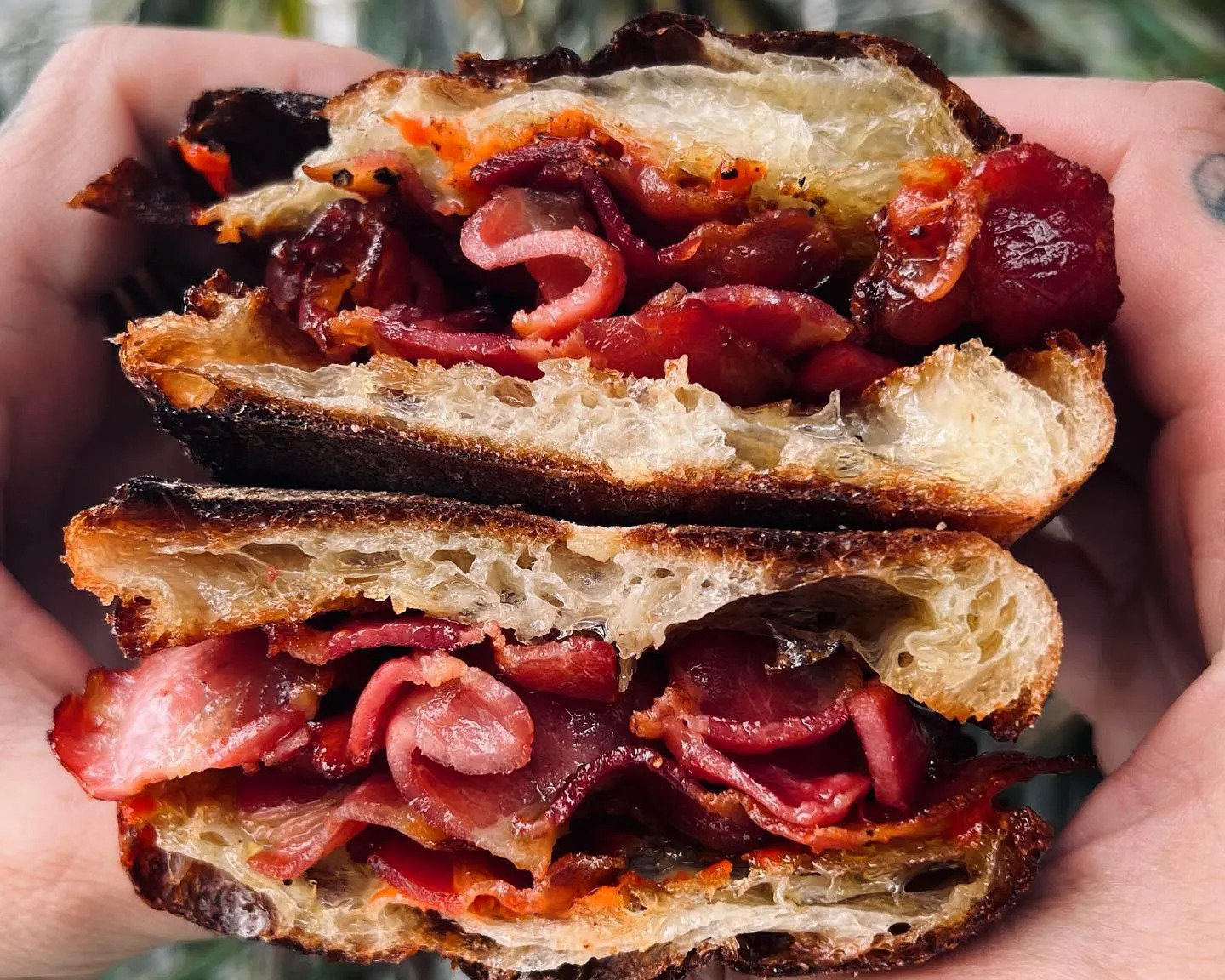 Sydney waited a long time for A.P. Bakery to open a brick-and-mortar outpost. If you've visited cafes like Paramount Coffee Project and Reuben Hills on weekends, you'll have seen the trays of incredible pastries, bread, and pies flying out of the door as A.P. gave us a taste of what was to come. Finally, Mat Lindsay (Ester, Shwarmama) and head baker Dougal Muffet answered our prayers, and you can now sit down for the goods in a semi-permanent pop-up on the Paramount Building's rooftop terrace. Of course, there are a couple of sandwiches worthy of an inner-city visit. The star of the show has to be A.P.'s bacon sandwich, with crispy bacon, hot sauce, curry leaf butter, and black pepper between a beautifully browned, fermented potato bread. This isn't your typical homemade bacon butty.
Continental Deli
Newtown & CBD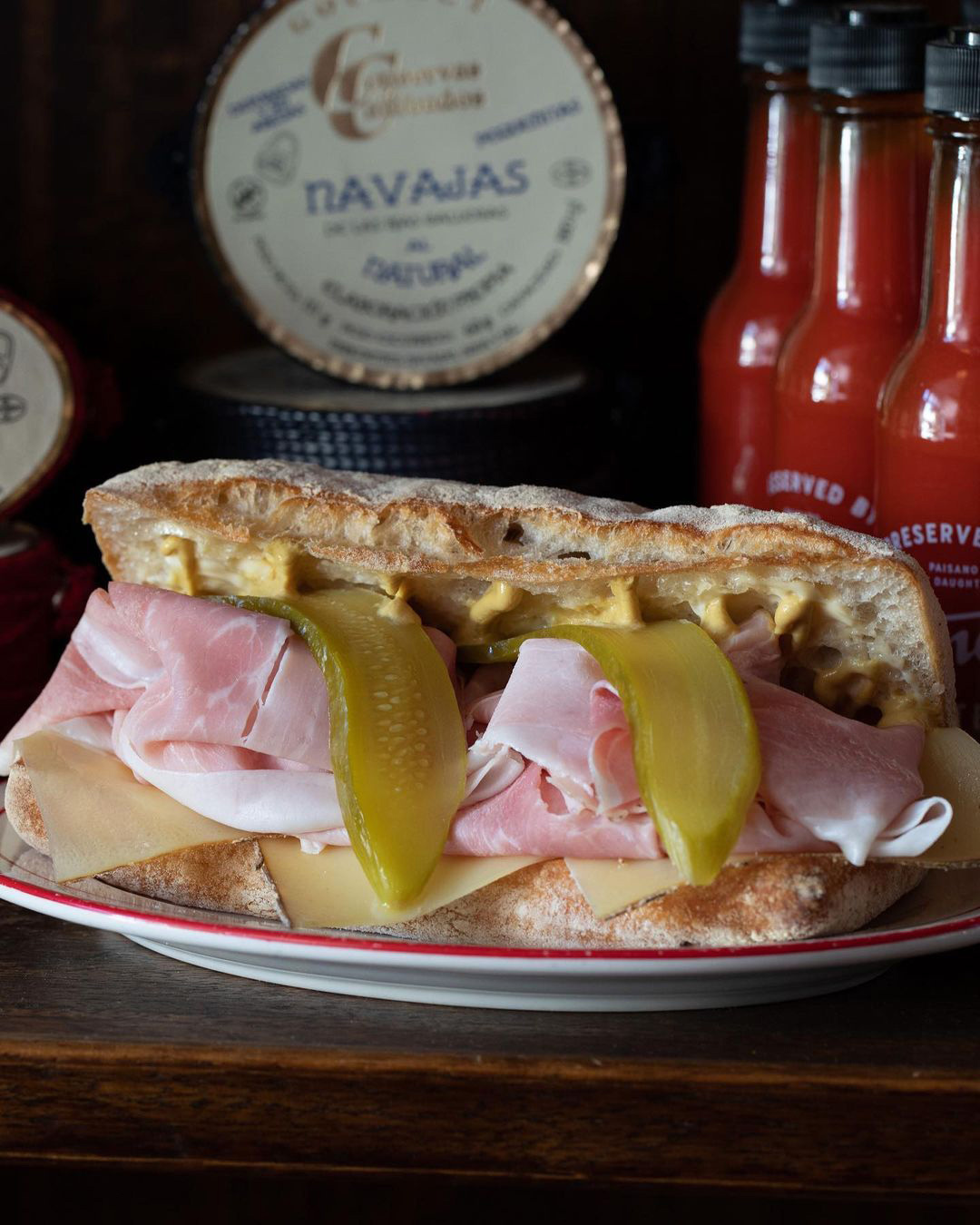 What can we say about Continental Deli other than the two locations created by the guys from Porteno and Bodega have wholly mastered delicious simplicity? There's a chance you might not head into these venues with sandwiches on your mind and that you'll be thinking firstly about their house-tinned cocktails or the impressive bistro menu filled with pasta and beautiful cuts of meat. But take it from us, the sandwiches are incredible (there's even an Insta account dedicated to them).
Like any good deli, think flavour-filled and straightforward like the country ham, cheese pickle, butter, mayo, and mustard or the "super deli sandwich" with mortadella, hot sopressa salami, country ham, iceberg, and oregano vinaigrette. If you're hankering for something warm, do not skip the famous meatball and Parmigiano-Reggiano cheese sandwich with house-made pork and fennel meatballs and sugo. Or the recently re-introduced "French dip" with Riverine sirloin, appenzeller cheese, and onion on a Brickfields Bakery baguette to dip into a bowl of jus.
Good Ways Deli
Redfern and Alexandria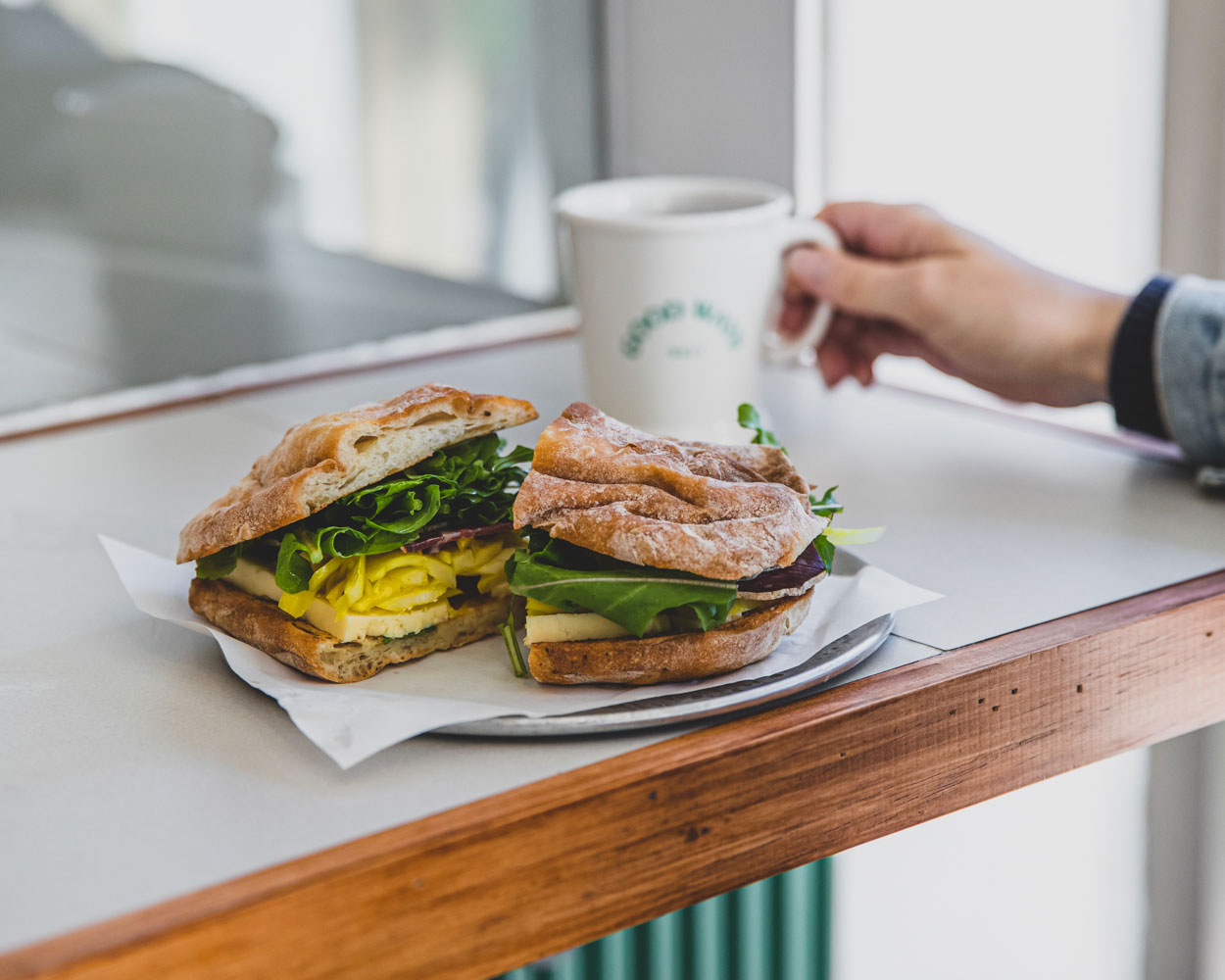 Now with two outposts in Redfern and Alexandria, Good Ways Deli is all about nailing a small menu with simple and outstanding flavour combinations. But unlike other shops around town, the primary protein you'll find in these sandwiches is kangaroo. The reason for that is simple: "using kangaroo from an environmental or sustainable perspective just makes sense. Supply chains have come a long way, and the quality of the product is great," says co-owner Jordan McKenzie.
If that's your vibe (and it should be), try the kangaroo mortadella sandwich with hot butter, white onion, and broadleaf rocket, or the kangaroo saucisson with broadleaf rocket, pickled fennel, and Maffra mature cheddar. For some mind-blowing vego options, order the cheese and apple toastie or the not-run-of-the-mill salad sandwich, chock-full of healthy and delicious things. Best of all, the bread used for the sandwiches is freshly made in-house.
Kosta's
Rockdale
Kosta's is Rockdale's punchy blue and white hole-in-the-wall sandwich joint with stacks of attitude. Painted bright blue and white, the zero-fuss menu is divided into "You Like, You Buy", "Classic, Not Basic", "Tell Your Missus", and "Best Coffee In Town", (which reveals more of Kosta's overall vibe as opposed to what they actually serve but, whatever, we dig it).
As for what you can fill up on here, the menu has been crafted by ex-Cornersmith chef Cameron Harris and Delicious magazine recipe writer, Helena Moursellas. Hero sandwiches are the Super Deli panini, with turkey ham, basturma, marinated peppers, spinach, graviera, fennel butter, lettuce, and salsa verde, and the classic poached chicken sandwich, which is chicken, avocado, slaw, chives, mayo, and salsa verde on Tuscan-style schiacciata. There's also an enormous schnitty sandwich served on an olive oil bun.
Cut Lunch Deli
Randwick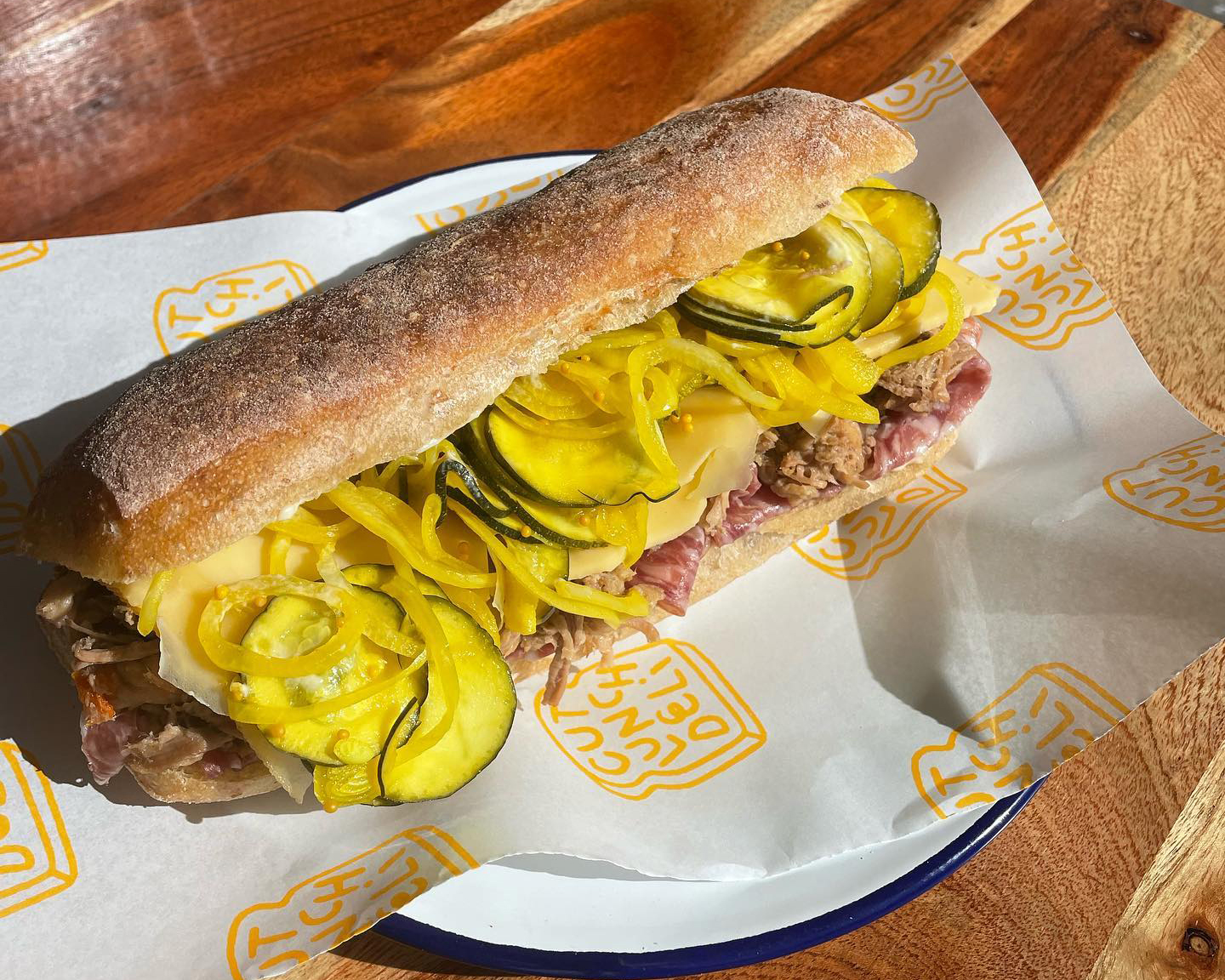 Splashed in sunshine yellow, Cut Lunch Deli is a cute sandwich spot that delivers a neat list of delectable staples and fun twists. Brekkie sandwiches are served until 11am—a BLT or BLAT or avo toast with optional chilli oil for a little kick. A series of sandos are on the bill from 10.30am; the "Schnitz" is served with sesame panko crumb and sweet zucchini pickle mayo, while the vegan "Sun Kissed" sando is topped with nectarine, halloumi, olive, almond, cucumber, pickled onion, and a mint yoghurt dressing.
The Bearded Baristaa
St Peters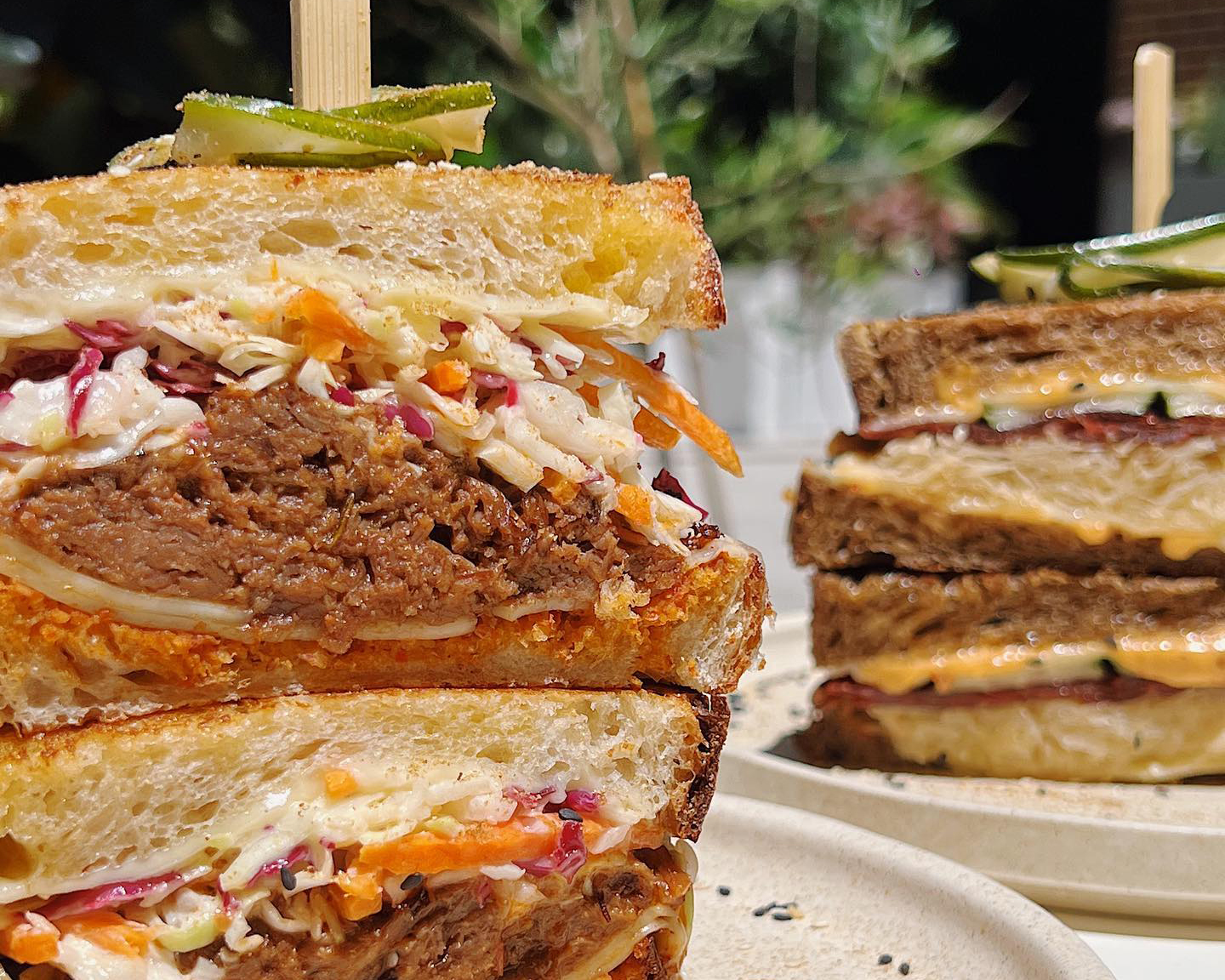 Across the road from Sydney Park, The Bearded Baristaa is a popular coffee pit stop for local pup parents. Beyond providing caffeine sustenance pre and post-dog walks, this sunny cafe has also earned a rep for serving one of Sydney's best sandwiches. The Bearded Baristaa does cafe staples with a seriously delicious Middle Eastern twist, including a set of six tasty toasties that you can enjoy takeaway in the park or in the leafy back courtyard. The crowd favourites here are the 16-hour pulled beef toastie and the towering and spicy basturma Reuben, made with beef basturma, sauerkraut, house-made pickles, cheese, and chipotle aioli.
Lucky Pickle
Surry Hills
Tucked away behind Crown Street but very visible to any local resident or worker in the area, Lucky Pickle has established itself as one of Sydney's most beloved sandwich shops. What's the secret? Keep it simple. Available for lunch between 10.30 am – 2.30 pm (or until sold out), the menu offers just five sandwiches, and you can bet any return customers have strong feelings about which is their favourite. The current menu includes beef meatballs with pickled cucumber, pickled onion, rocket, parmesan cheese, and pasta sauce or the staple pork belly with duck liver, pickled carrot, and daikon, cucumber, coriander, mayo, and sriracha. But the prize item has to be the chicken katsu with cabbage, sesame, mayo, and tonkatsu sauce served on a fresh baguette.
South Dowling Sandwiches
Darlinghurst and Alexandria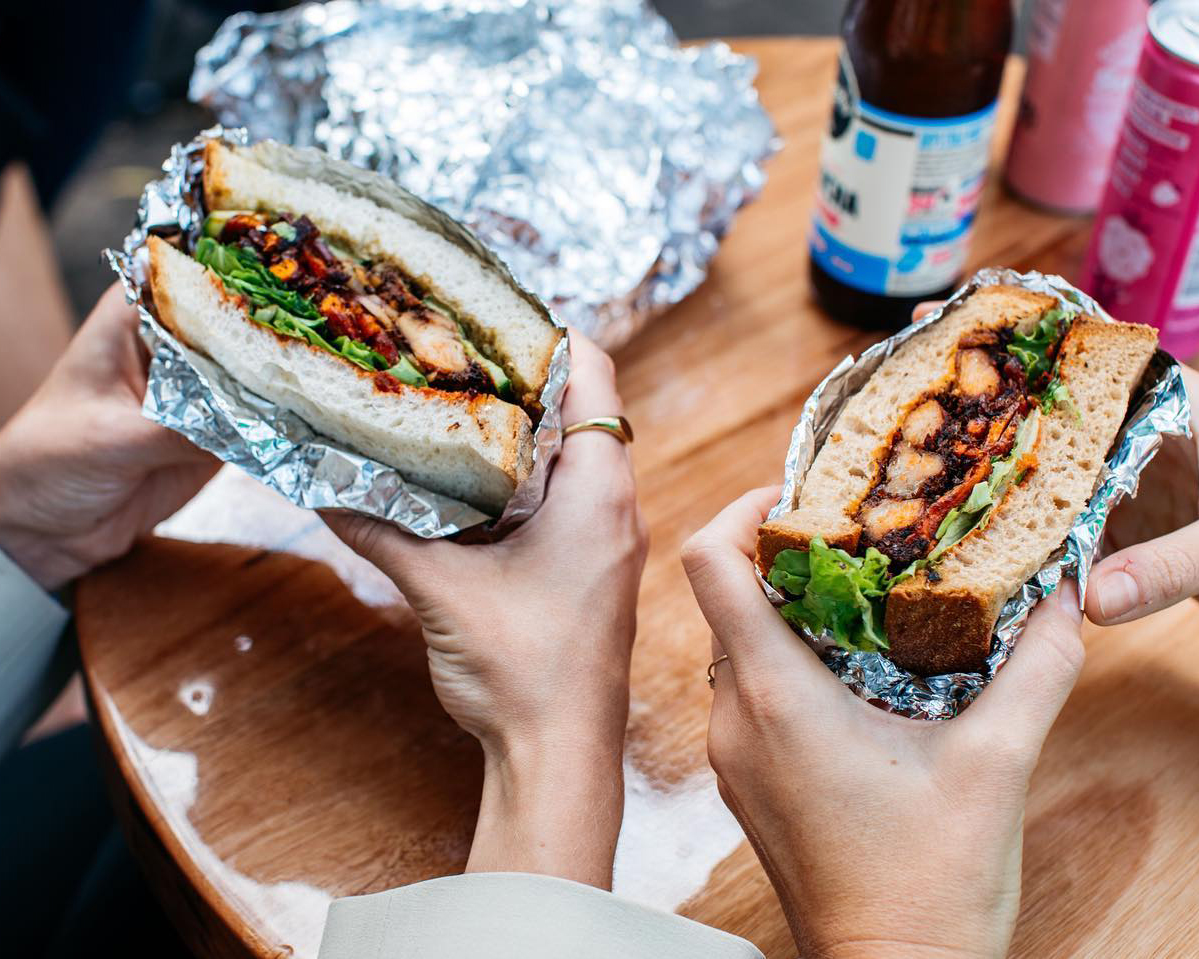 Massive sambos from another family-run Inner East institution, South Dowling Sandwiches has been serving up lunchtime staples for over 20 years now. They offer a range of thick-cut, freshly made bread options to support your stuffings and a solid selection of specials too. The Hugo is a mighty chicken schnitty, herbed mayo, and salad concoction, while The Brad Pitt (why isn't it called Bread Pitt though?) has just about everything you can fit between two slices of bread. It's little wonder the queue here normally winds down the street.
Lox In A Box
Bondi, Coogee and Manly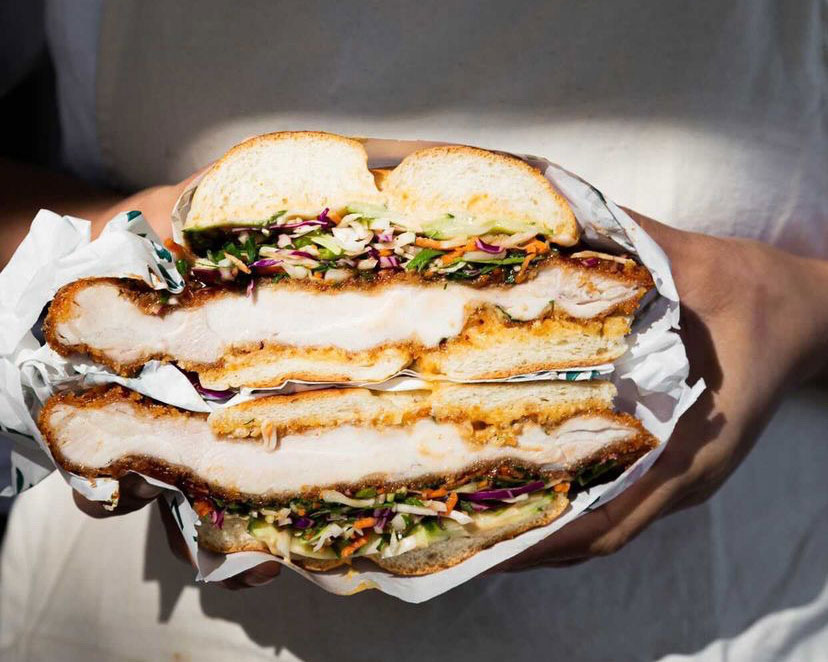 At Urban List, we're very much in the camp of bagels count as sandwiches. Plus, we'll also take any excuse to talk about Lox In A Box. Now with three locations in some of Sydney's most famous beachside suburbs, this hole-in-the-wall deli and bagel shop is pumping out some of the tastiest sandwich creations east of the CBD. Inspired by traditional Jewish delis and all your NYC food dreams, opt for the classic lox bagel with lox (brined salmon fillet), schmear, tomato capers, and red onions, or something a little meatier like LP's cheeky Reuben bagel with smoked beef cheeks from LP's Quality Meats, Russian dressing, sauerkraut, Swiss cheese, and pickles.
Fabbrica
CBD and Balmain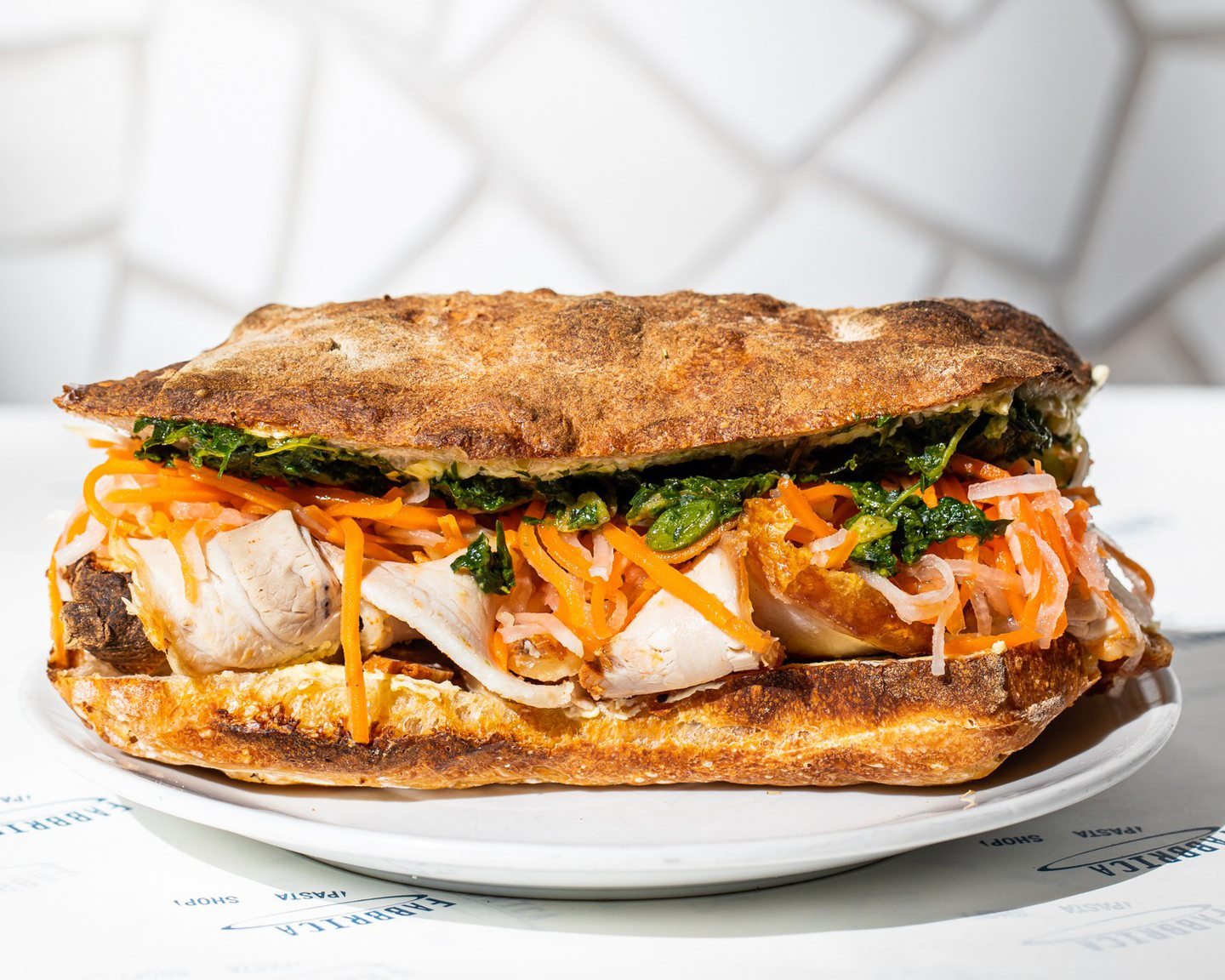 If you're a multi-tasker when it comes to lunch breaks, hit up Fabbrica for a sandwich, a spot of grocery shopping, and maybe a midday Negroni too. Led by the Ragazzi team, the subterranean spot in the CBD sells the group's fresh pasta, as well as hard-to-find pasta-making essentials, Italian and Aussie wine, cheese, and charcuterie. As of March 2023, you'll also find Fabbrica in Balmain. Sandwiches at Fabbrica are rotating specials served on housemade bread, but regulars include a standout ham and cheese baguette filled with Prosciutto Parma, Holy Goat La Luna cheese, and Meander Valley Dairy cultured butter, and a hefty mortadella and pickled artichoke panino.
Small's Deli
Potts Point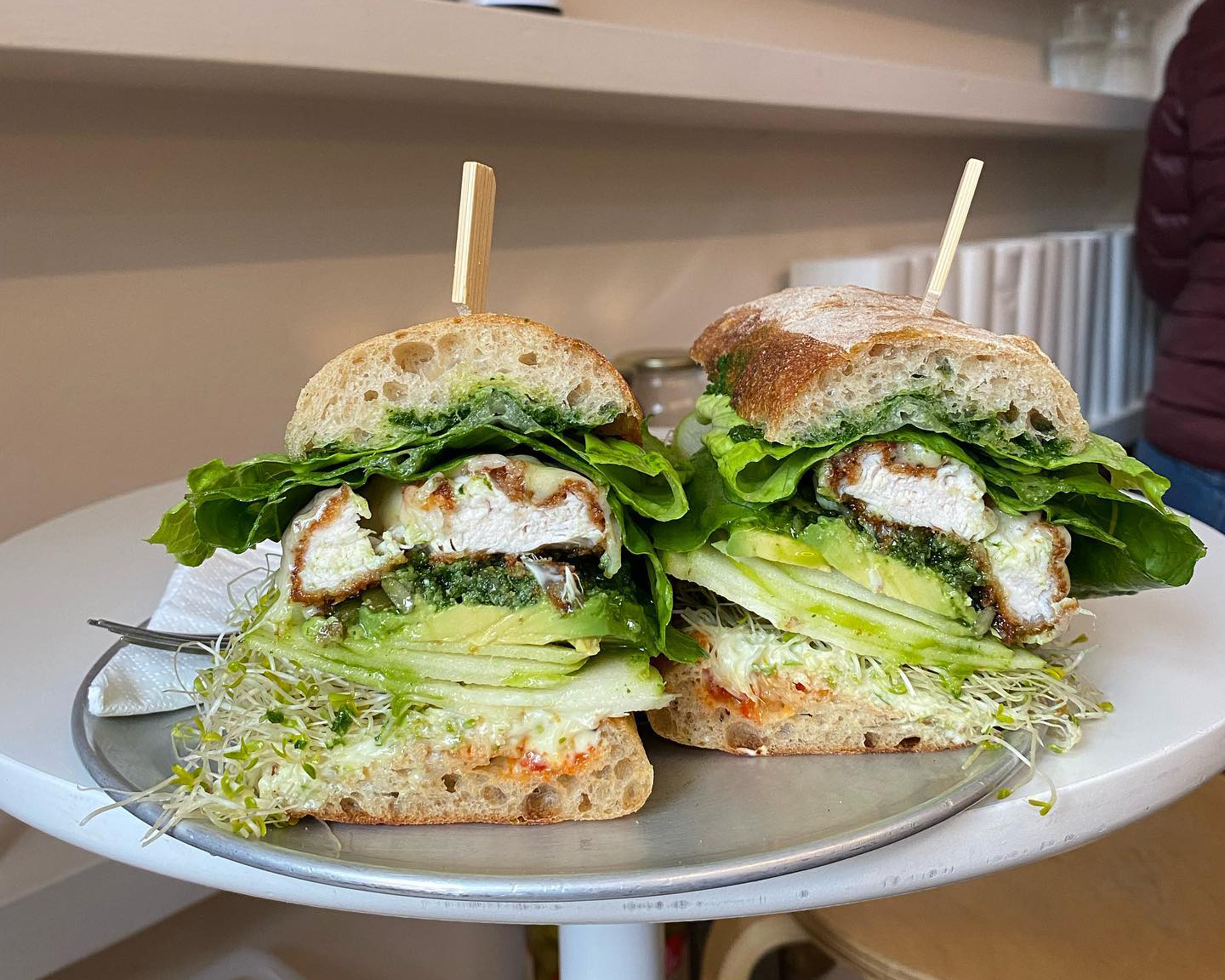 Small's is a slick, French-style deli that was opened just two weeks before city-wide lockdowns back in 2020. The fact they've managed to keep it working is testament to the quality of their output: huge, deli-style sandwiches on Iggy's iconic bread. Grab yourself a Croque Monsieur blanketed in liquid gruyere and tangy dijon mustard, or the supremely popular eggplant and salami panini soaked in cream cheese and find yourself a sunny spot nearby to devour.
Harvey's Hot Sandwiches
Parramatta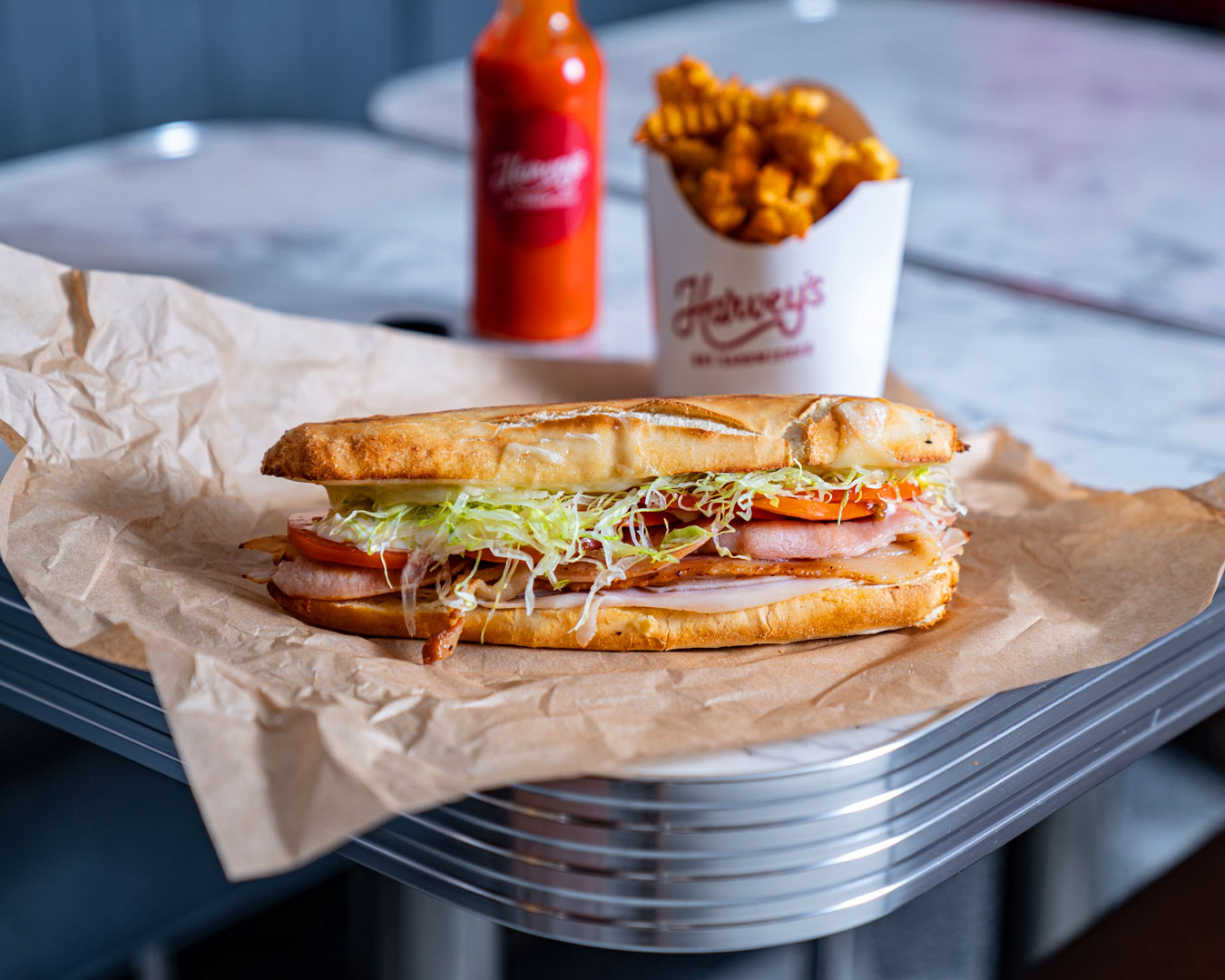 You'll find this retro-style sandwich bar in the Parramatta Square dining precinct, serving made-to-order subs served simple (with mustard and swiss cheese) or sloppy (with Russian dressing, coleslaw, and swiss cheese). There's a classic meatball sub, made with pork and veal meatballs, garlic butter, marinara sauce, and mozzarella cheese, and, in true Americana style, a Philly Cheesesteak with shaved scotch fillet steak, grilled onions, provolone cheese, and a hot pepper spread. Our favourite has to be the Muffuletta, made with mortadella, ham, salami, Harvey's olive spread, provolone cheese, and Swiss cheese. It's a lot—but that's the vibe here.
The Hungry Spoon
Oatley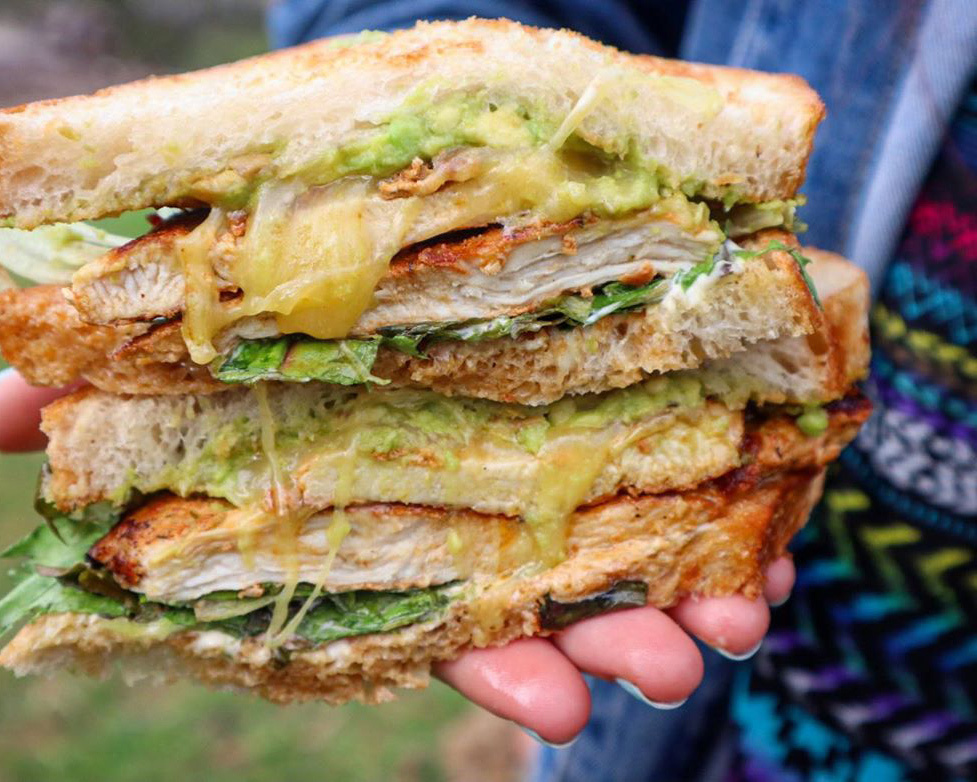 A local neighbourhood corner shop-style cafe in the sleepy suburb of Oatly is not exactly where you might expect to find some of the best sandwiches in Sydney. Don't be fooled, these guys take their bread-stuffing game seriously. Their Club House Gourmet is a definite two-hander and comes with grilled chicken, turkey bacon, lettuce, tomato, cheese, and aioli on toasted sourdough. They also do an excellent Reuben here and the staff is always friendly.
Marrickville Pork Roll
Marrickville and Darling Square
A giant in the Sydney sandwich scene (banh mi is a sandwich, right?), Marrickville Pork Roll has been serving Vietnamese sandwiches for over a decade. While they've now expanded to two more CBD locations, the charm of the original MPR is part of the sandwich experience. With barely enough room to move and a wall of ingredients to choose from, you get in, load up your crunchy white roll, and skip off into the sunset knowing you've got some of the best lunch in town in your hand. It's seriously that good.
Sandoitchi
Darlinghurst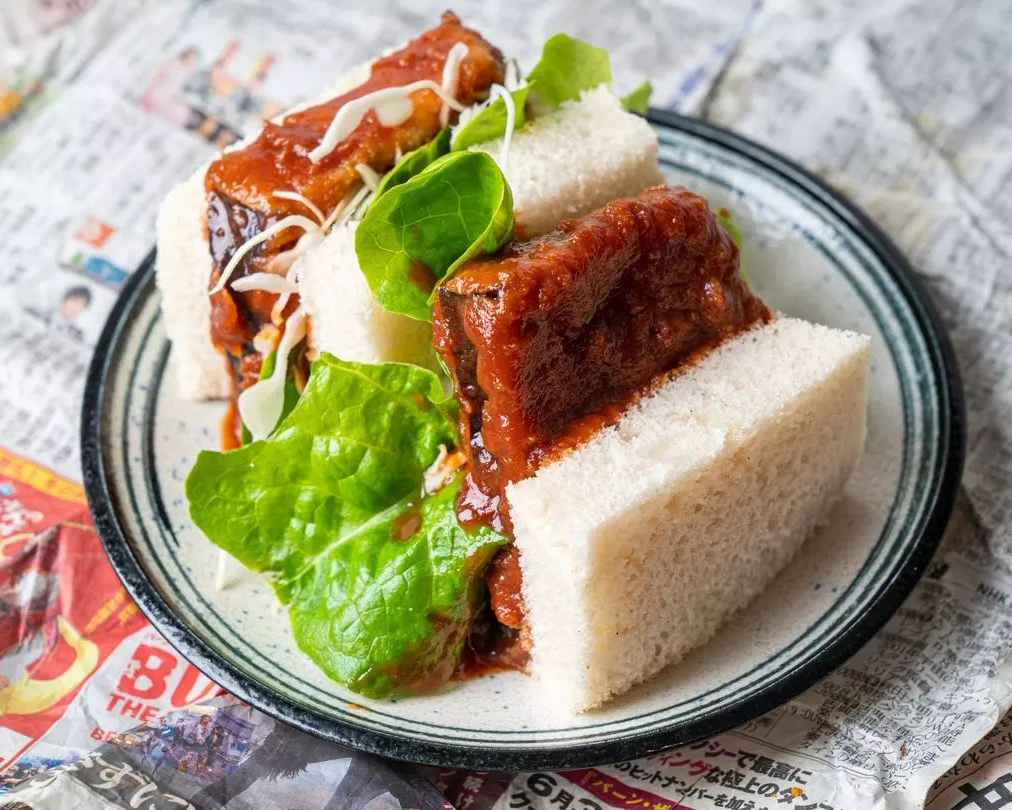 Opening in late 2018, Sandoitchi quickly made a name for itself with its coveted pork-katsu sando. If you couldn't guess, they sell Japanese-inspired sandwiches on thick-cut white bread that are simply out of this world. Their veggie eggplant katsu banh mi with apple kimchi is particularly good. If you're looking to drop a sizeable chunk of change on your lunch, this place is also the home of the Kobe wagyu katsu sando, the most expensive sandwich in Sydney.
Jo's Sandwich Bar
Wynyard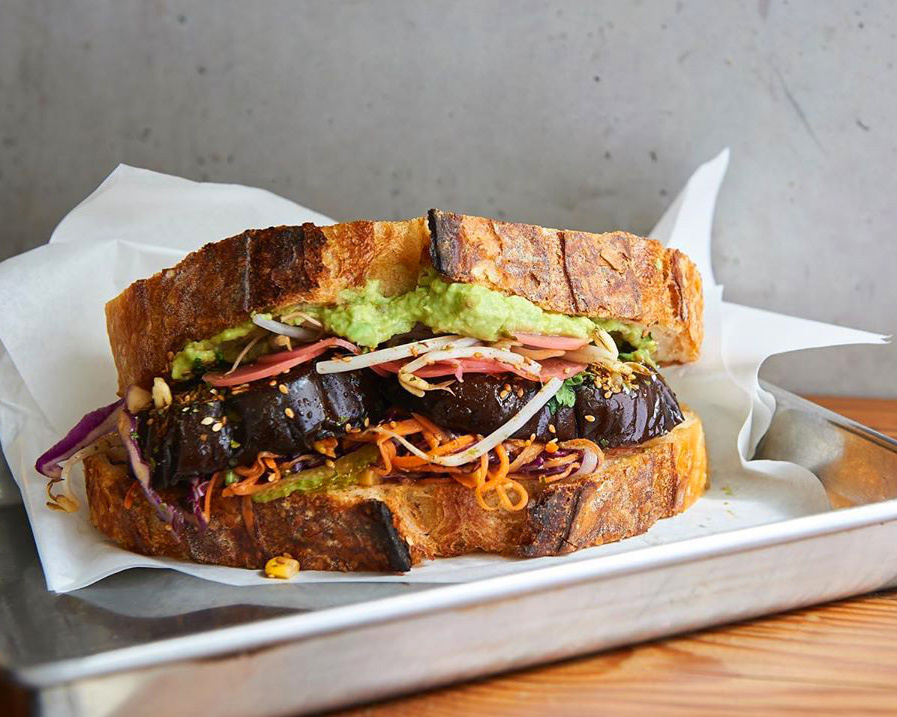 It's can be hard to find a good vegan option in the sandwich department that doesn't feel like an afterthought. Jo's Sandwich Bar fills that gap beautifully by offering up fully vegan sandos that will have even the most ardent carnivores salivating. The signature is the smoked tempeh Reuben with apple slaw, cashew cream, and mushroom pickles but the eggplant parmi is also really good. Toppings are spilling over sourdough slices of the white stuff from Iggy's Bread in Bronte.
Charc
Artarmon
And now one for all the big-time meat lovers out there. Charc slings fresh hand-cut and home-aged meats in their famous massive huge sandwiches. Having only recently opened up a second location in the CBD and being forced by the pandemic to retreat to their home base of Artarmon, these guys need some love and they deserve it because their Reuben sandwiches vie for best in the city. Grab some homemade jerky while you're there too!
Brickfields
Chippendale
If there's one kind of place we trust to get a sandwich made with the freshest possible bread—it's a bakery. An absolute local's favourite, Brickfields has been serving up amazing sandwich creations to Chippo residents since it opened its doors in 2013. If you're passing through, the bacon sandwich with manchego cheese, house-made lemon, and garlic mayo, house pickles, cavolo nero, and wombok (during the winter months) served on a lightly toasted seeded ciabatta bun is an absolute must. The famed sandwich is the only menu item that has existed since the shop's inception.
Still hungry? Check out Sydney's best banh mi.
Image credit: Self Raised, Mrs Palmer Sandwich, Sandwiches By Bootleg, Self Raised, Frank's Deli, Tothy Brothers Deli, Humble Bakery, A.P. Bread, Continental Deli, Good Ways Deli, Kosta's, Cut Lunch Deli, The Bearded Baristaa, South Dowling Sandwiches, Lox in a Box, Fabbrica, Small's Deli, Harvey's Hot Sandwiches, The Hungry Spoon, Sandoitchi, Jo's Sandwich Bar, Brickfields