There are few things more comforting in life than a heavily laden sandwich. It's the perfect food. Tasty, portable, and with endless potential for variation, the sandwich is lunchtime comfort food you can have every day and never get bored.
Invented, according to legend, by John Montagu, the fourth Earl of Sandwich, who requested his servants stick another slice of bread on top of the bread-and-toppings snacks he was usually served, making his meal easy to hold while playing cards. It was such a revelation that they named it after him.
Sandwich's sandwich became the carby template for all the generations of fillings-between-bread to come and, in Sydney, we still go mad for a proper sanga. As a city, we're drawn to those hefty two-handers that would be unwise to flop around at the poker table—packed to the brim, wrapped in foil, and designed to fill you up.
Here's where you'll find Sydney's best sandwiches.
City Edge
Surry Hills
Surry Hills has a higher than average concentration of sandwich shops catering to the office-workers who make up the day-time population and if we had to pick the best of the best, City Edge would be it. Tommy and the crew here work tirelessly to pack out each and every custom order to the brim. It's cheap, it's delicious, and you will walk away with a massive smile on your face and usually an oncoming food coma.
The Hungry Spoon
Oatley
A local neighbourhood corner shop-style cafe in the sleepy suburb of Oatly is not exactly where you might expect to find some of the best sandwiches in Sydney. Don't be fooled, these guys take their bread stuffing game seriously. Their Club House Gourmet is a definite two-hander and comes with grilled chicken, turkey bacon, lettuce, tomato, cheese, and aioli on toasted sourdough. They also do an excellent Reuben here and the staff are always friendly.
South Dowling Sandwiches
Darlinghurst and Alexandria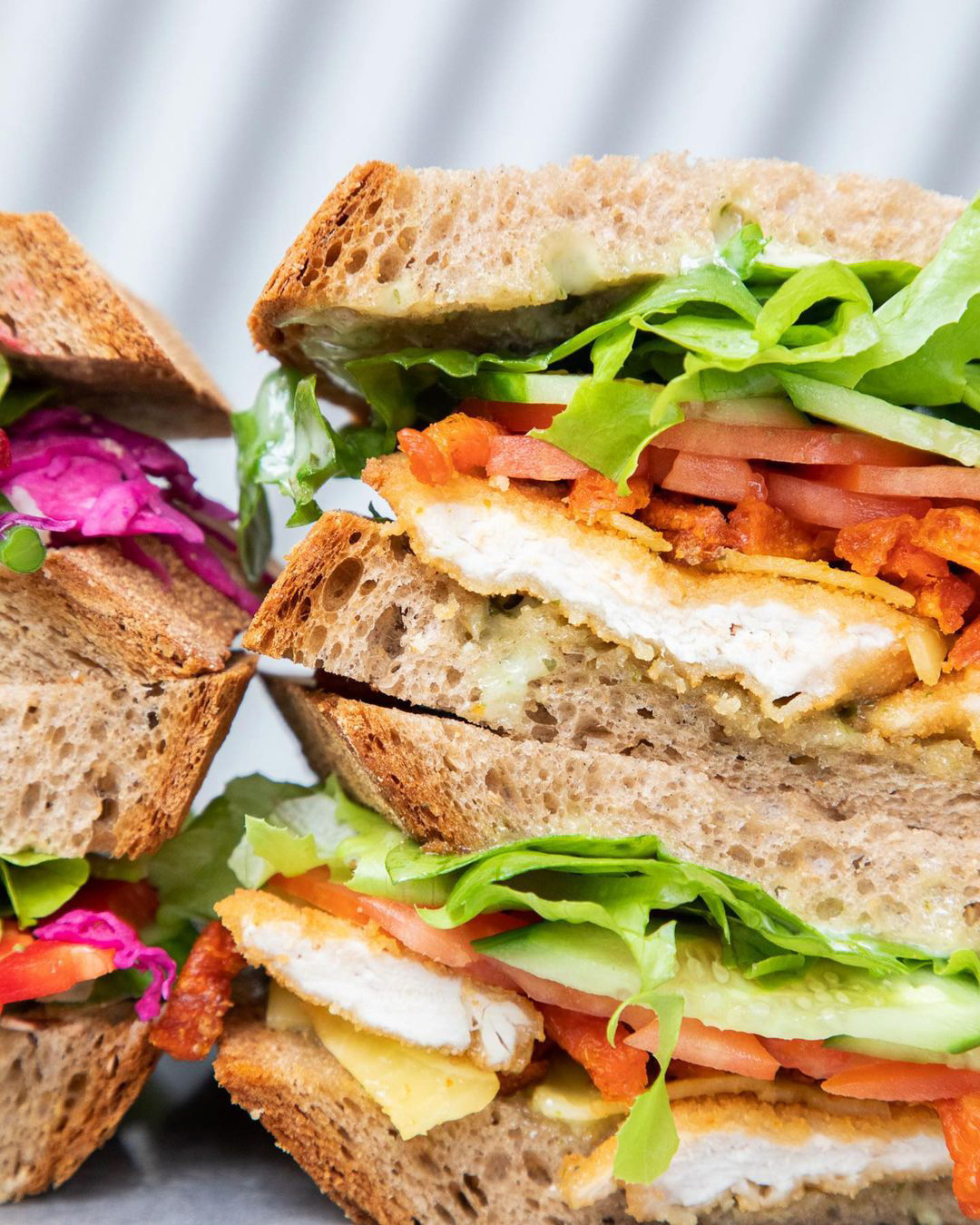 Massive sambos from another family-run Inner East institution, South Dowling Sandwiches has been serving up lunchtime staples for over 20 years now. They offer a range of thick-cut, freshly made bread options to support your stuffings and a solid selection of specials too. The Hugo is a mighty chicken schnitty, herbed mayo, and salad concoction, while The Brad Pitt (why isn't it called Bread Pitt though?) has just about everything you can fit between two slices of bread. It's little wonder the queue here normally winds down the street.
Marrickville Pork Roll
Marrickville
A giant in the Sydney sandwich scene (banh mi is a sandwich, right?), Marrickville Pork Roll has been serving Vietnamese sandwiches for over a decade. While they've now expanded to two more CBD locations, the charm of the original MPR is part of the sandwich experience. Barely enough room to move and a wall of ingredients to choose from, you get in, load up your crunchy white roll, and skip off into the sunset knowing you've got some of the best lunch in town in your hand. It's seriously that good.
Ten Thousand
Silverwater and Eastwood
Ten Thousand deals in caffeine, waffles, and toasties in slick modern settings. The place is stark white and so popular that there is frequently a line out the door. The toasties here are partway between a roll and a burger and all come dripping in scrambled egg. It's super light and fluffy and perfect for a breakfast stop.
Sandoitchi
Darlinghurst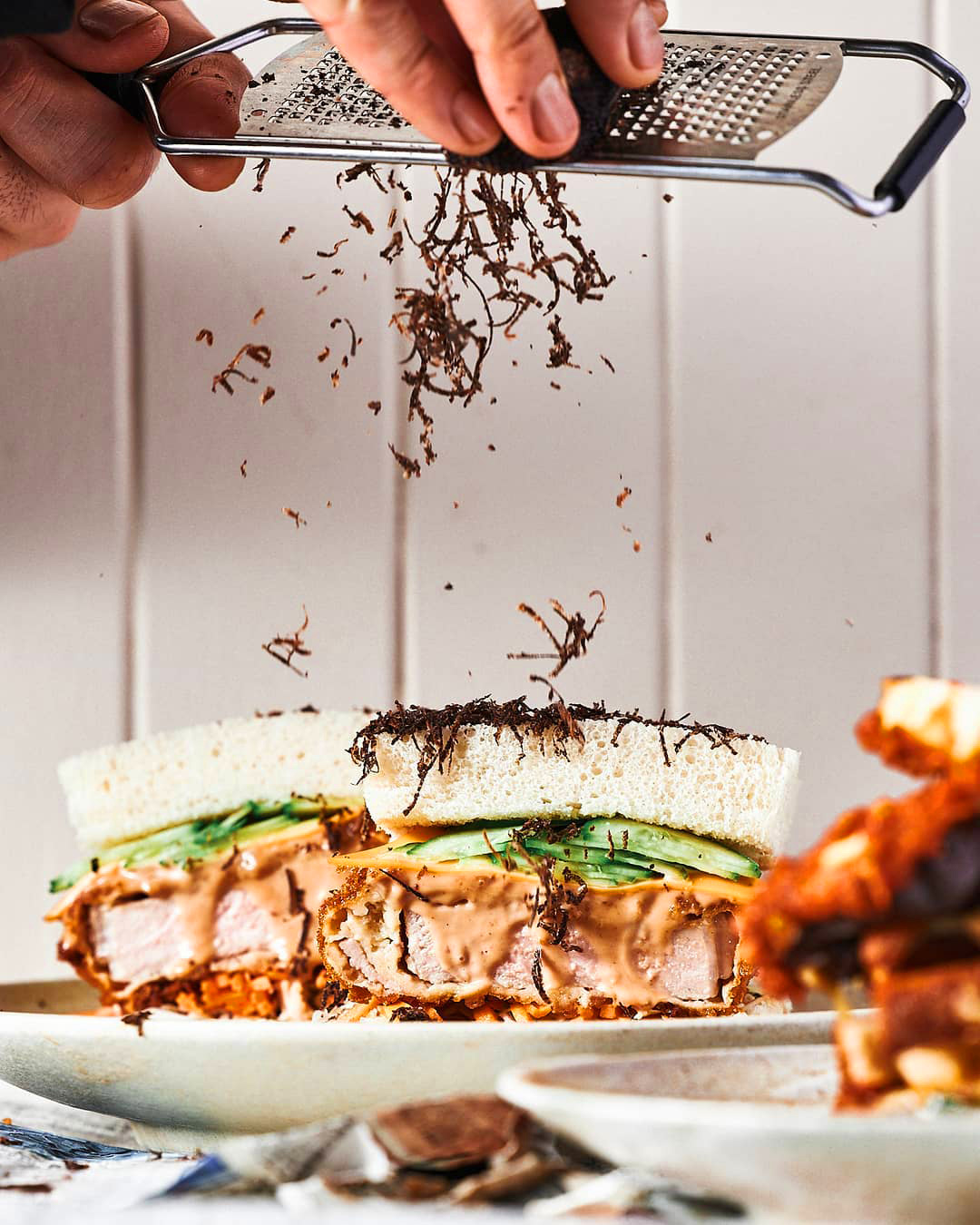 Opening in late 2018, Sandoitchi quickly made a name for itself by with its coveted pork-katsu sandwich. If you couldn't guess, they sell Japanese-inspired sandwiches on thick-cut white bread that are simply out of this world. Their veggie eggplant katsu banh mi with apple kimchi is particularly good. If you're looking to drop a sizeable chunk of change on your lunch, this place is also the home of the Kobe wagyu katsu sando, the most expensive sandwich in Sydney.
Jo's Sandwich Bar
Wynyard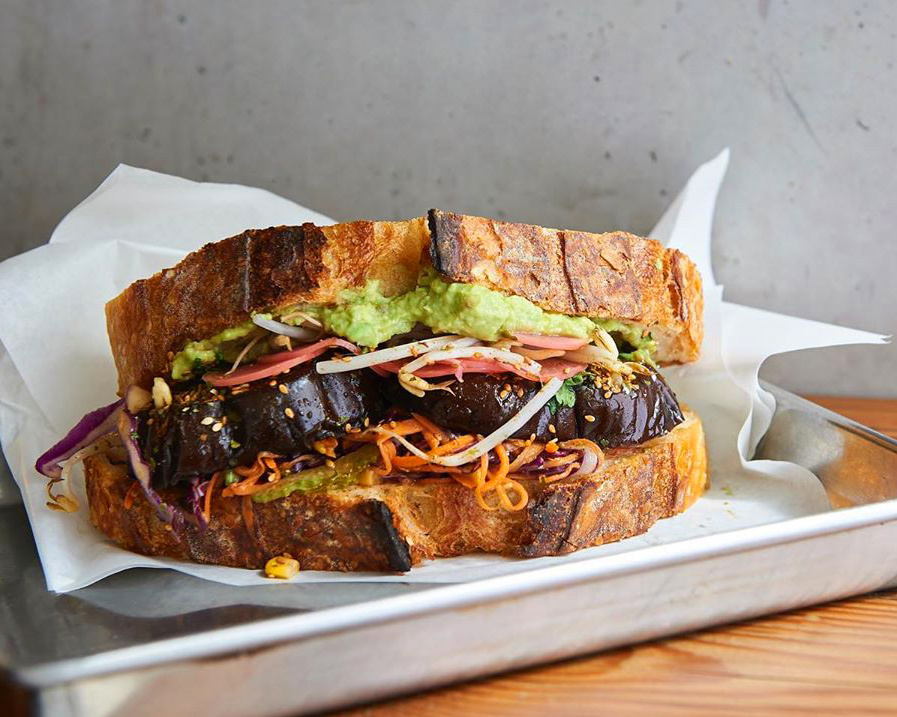 It's can be hard to find a good vegan option in the sandwich department that doesn't feel like an afterthought. Jo's Sandwich Bar fills that gap beautifully by offering up fully vegan sandos that will have even the most ardent carnivores salivating. The signature is the smoked tempeh Reuben with apple slaw, cashew cream, and mushroom pickles but the eggplant parmi is also really good. Toppings are spilling over sourdough slices of the white stuff from Iggy's Bread in Bronte.
Charc
Artarmon
And now one for the meat lovers. Charc slings fresh hand-cut and home-aged meats in their famous massive huge sandwiches. Having only recently opened up a second location in the CBD and being forced by the pandemic to retreat to their home base of Artarmon, these guys need some love and they deserve it because their Reuben sandwiches vie for best in the city. Grab some homemade jerky while you're there too!
Small's Deli
Potts Point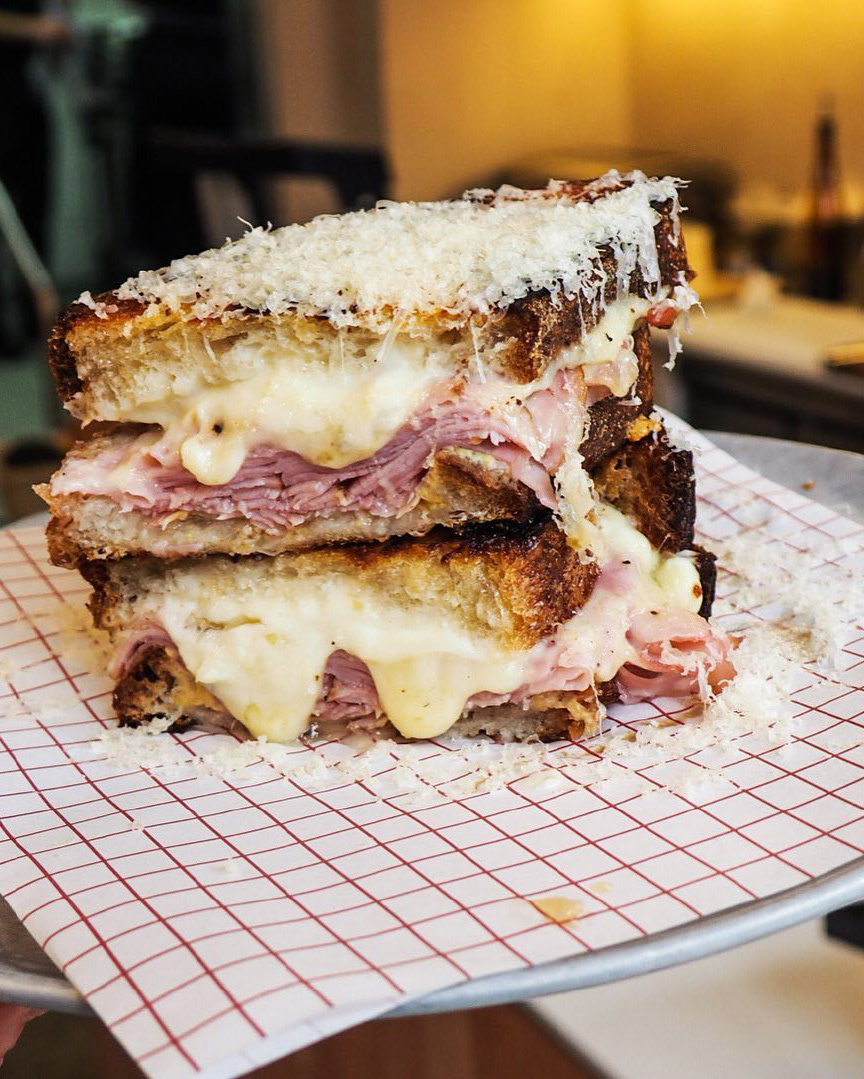 Small's is a slick, French-style deli that was opened just two weeks before lockdown. The fact they've managed to keep it working is testament to the quality of their output: huge, deli-style sandwiches on Iggy's iconic bread. Grab yourself a Croque Monsieur blanketed in liquid gruyere and tangy dijon mustard, or the supremely popular eggplant and salami panini soaked in cream cheese and find yourself a sunny spot nearby to devour.
Toastiesmith
Chatswood and Haymarket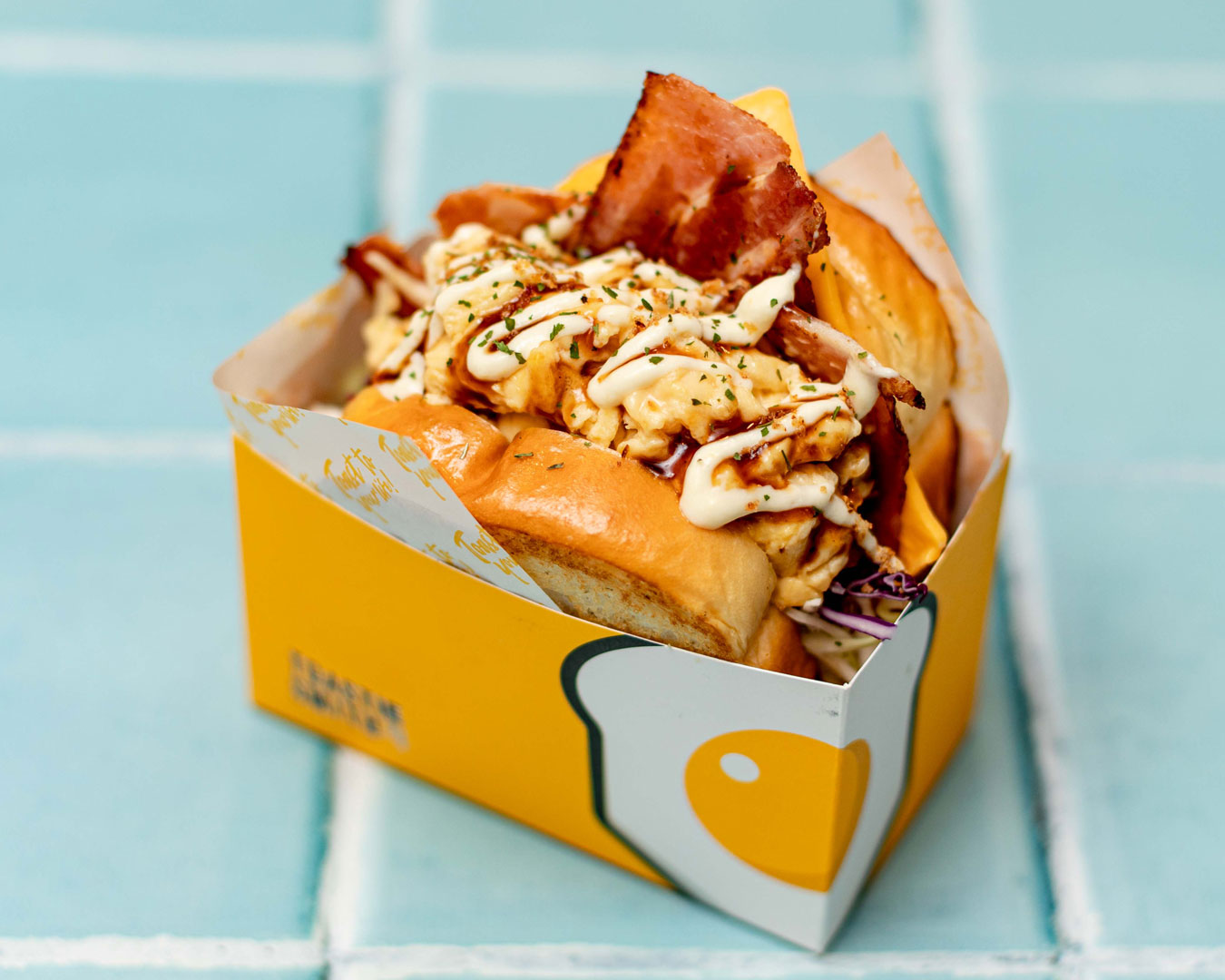 Everything Toastiesmith does is cartoonishly good. The bread they serve their fluffy scrambled egg creations in is jumbo-sized, super sweet, and unlike anything you've had before. It's Korean street food for comfort on the go and for a minute it transports you to this otherworldly place of toastie goodness. Although it's not the most sophisticated of foods, Toastiesmith has Le Cordon Bleu-trained chefs grilling the goods so you know they take this stuff seriously.
The menu is neat with just 10 loaded toastie varieties to choose from. The Signature Eggsmith is loaded up with scrambled eggs, cheese, roasted sesame flavoured slaw, spicy tomato relish, sweet corn, fish roe, chives, and chipotle. For a major brekkie vibe, the Bacon My Heart features the same egg, cheese, and sesame slaw combo, with added bacon and smoky BBQ sauce.
Mrs Palmers
Darlinghurst
Back again to Darlinghurst (seriously, you just cannot escape the sheer quality and quantity of sandwich joints here) we have the newly opened Mrs Palmers, who dish up just five sandwiches extremely well. The guys behind Wings and Tins have turned their deft hands to slicing bread and stacking toppings dangerously high. Each sandwich has a ludicrous number of mouth-watering ingredients and is liable to put you out of action for a least a few hours. Oh and there's a secret margarita bar out back if you get thirsty!
If your favourite sandwich is banh mi, you'll want to suss out this list of Sydney's tastiest.
Image credit: Mrs Palmers, The Hungry Spoon, South Dowling Sandwiches, Sandoitchi, Jo's Sandwich Bar, Charc, Small's Deli, Toastiesmith, Mrs Palmers