The magic of banh mi is in its contrasts. The crispy crust of the bread versus its fluffy centre. The meatiness of pork versus the fresh cucumber, sweet carrot, and the tangy spring onion. Top it all off with some salty soy sauce and spicy fresh chilli and, honestly, what base does this roll not hit? It's a perfect parcel!
Here are the best places in Sydney to bag a banh mi that hits all the right notes.
Marrickville Pork Roll
Marrickville, Darling Square, and Circular Quay
If you're into banh mi, you've probably already visited Marrickville Pork Roll on Illawarra Road. And if you haven't, what have you been doing?! This hole-in-the-wall takeaway spot was so popular, they have now opened a second venue in Darling Square. "We may appear to be a little more 'hip' with our friendly neon tiger, but we are exactly the same at heart," Darling Square store owner Roger Tan said, adding that the Darling Square menu is slightly smaller than Marrickville.
When it comes to the Marrickville Pork Roll secret, it may just be the venue's "special sauce". "[We put] extra care into every ingredient that goes into the banh mi, starting from the perfectly crusty bread to the perfectly paired finishing sauce," Tan said. "We make everything in-house, bar one ingredient [the Vietnamese hams in the traditional pork roll], including our bread which is a fun fact many of our customers don't know!"
Top Ryde Baker's House
Ryde
Tucked into the Top Ryde shopping centre, Top Ryde Baker's House is famous for its plus-size crispy pork belly banh mi—and for the long queues of super fans it draws on weekends. The family-run institution crams their crispy crust bread rolls to almost breaking point—with the aforementioned slow-cooked pork, lemongrass beef, meatballs, chicken, and salad all on the menu as base fillings. If banh mi balance isn't your thing and the meaty filling is the best bit no doubt about it—we reckon Top Ryde Baker's House is 100% your jam.
Hong Ha Bakery
Mascot
This 30-year-old Botany Rd establishment would be hard to find if not for the line of people permanently snaking out the door. Fortunately, Hong Ha has things under control. When it comes to their rolls, the chicken is a top choice, with both regular and schnitzel options available. However, like most people looking for banh mi, it's the pork roll that really gets you going. Don't forget to bring your cash!
Alex 'N' Rolls
Marrickville
Just up the road from Marrickville Pork Roll is Alex 'N' Rolls. Having opened in January of 2019, it's a new-ish but fierce contender for the Inner West banh mi crown. Like most spots on this list, you can expect long lines winding out of the converted cottage and down the street, with punters eager to nab their fill of one of Alex 'N' Rolls' delicious $6 roast pork rolls.
Here, the pork is cut thick and carved from hefty glazed cuts at the counter in front of you, before being squashed between a perfect fluffy bun. Got nowhere to be? Hang about in the sunny front courtyard to really enjoy your catch.
First Drop Cafe
Redfern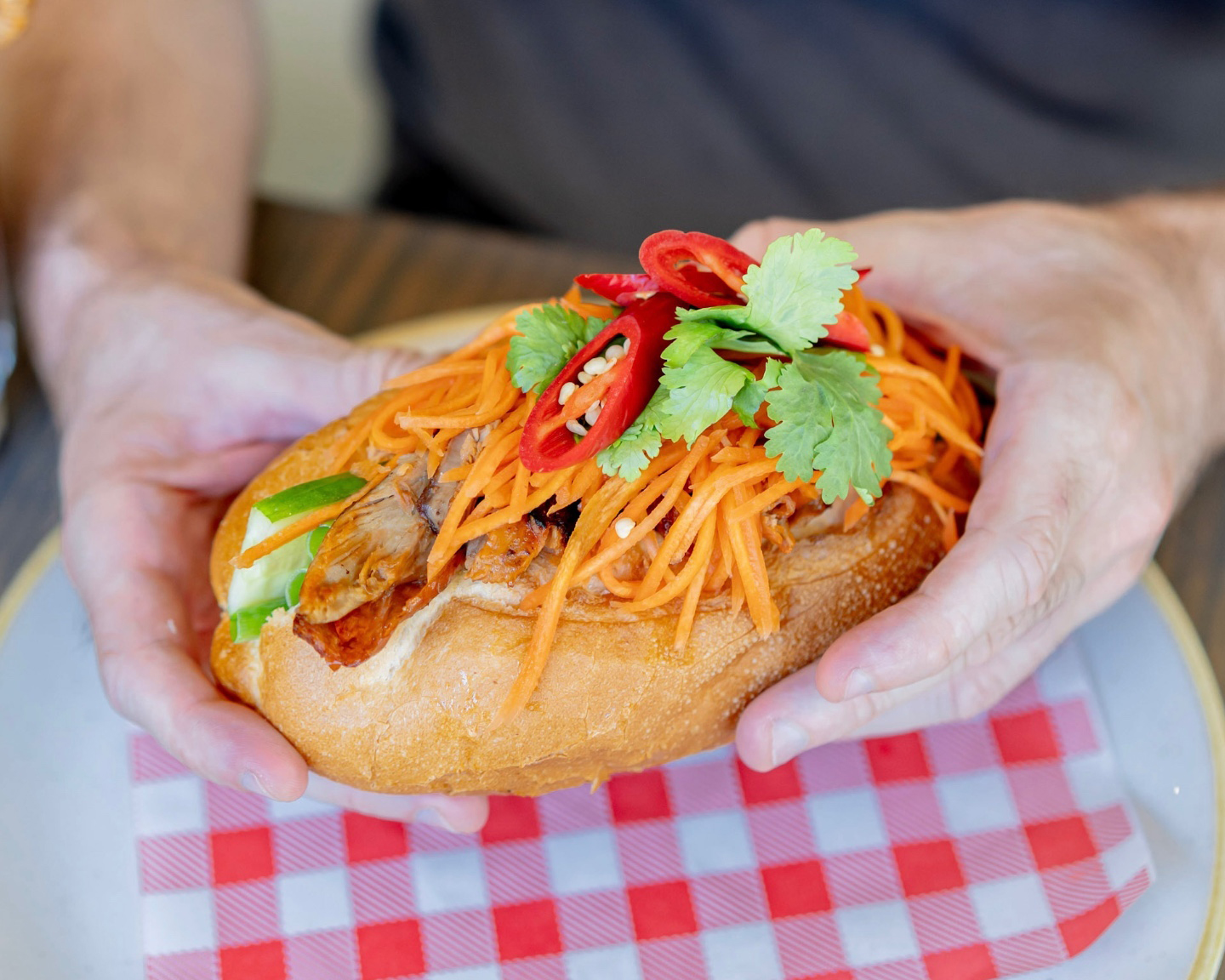 From burgers to bottomless brunch and big salad bowls, there's a lot to love about Redfern's First Drop Cafe. Since 2007, these guys have been dishing out good vibes and a fun, eclectic menu from the corner of Baptist and Telopea Streets. Alongside a greek gyros sandwich served on fluffy pita and a mortadella sando made with LP's finest, you'll also find a top-tier roast duck banh mi. Made with sweet pickled carrots and fresh cucumber packed into a perfectly crunchy banh mi roll, this is the ultimate lunchtime fix.
Lit Canteen
Alexandria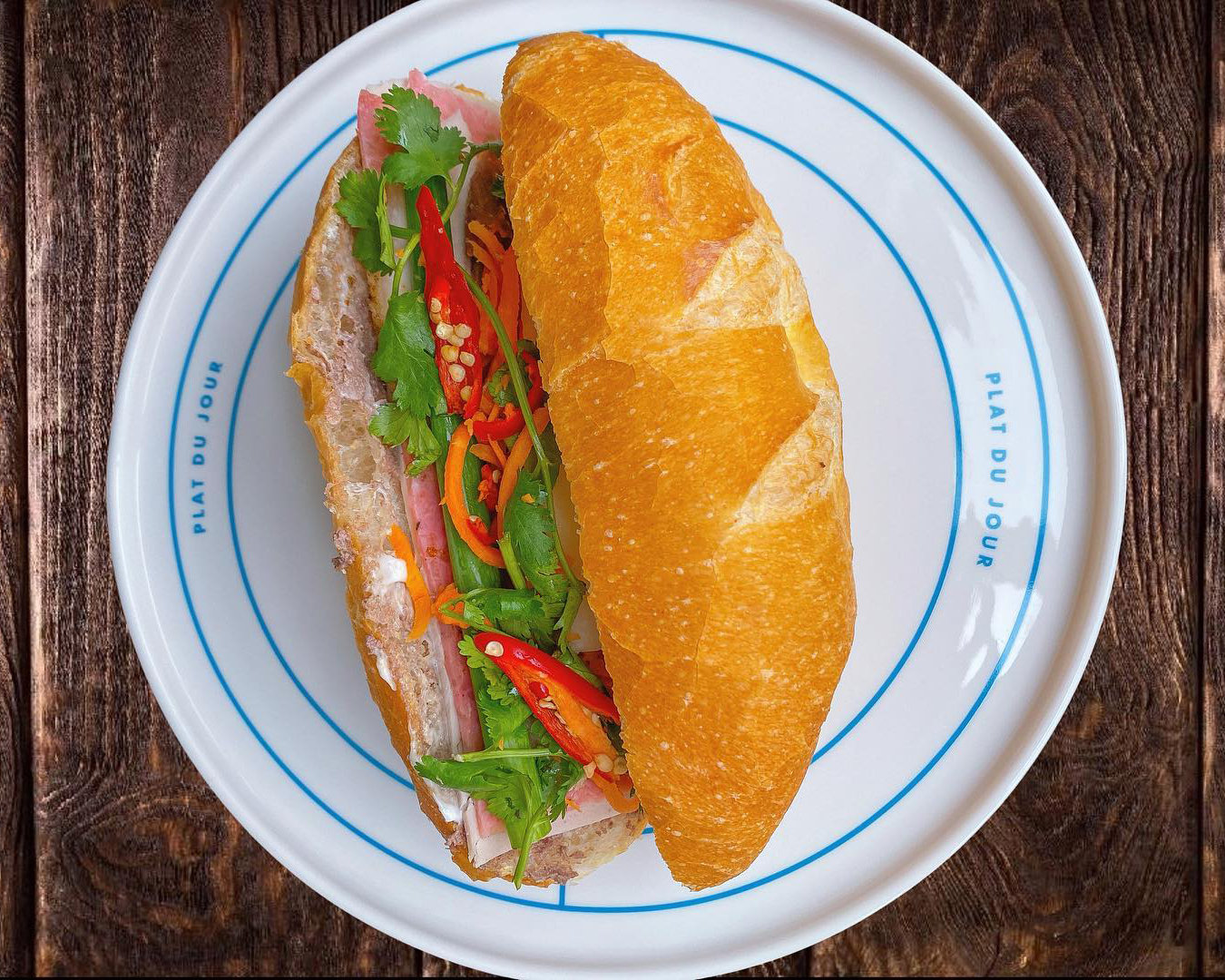 Part of what makes the humble banh mi so appealing is its freshness: made-to-order right in front of you to be devoured while everything is crisp and crunchy. But if you can't head into your local shop, keeping that freshness can be difficult via delivery services—a problem that Alexandria's Lit Canteen decided to address through their DIY Banh Mi Box. Born out of the delivery-crazy days of lockdown, boxes serve up to four or six, coming jam-packed with all the ingredients you need for a proper office or WFH lunch. That includes a range of meats like ham, bbq pork patties, marinated roast chicken, and cognac-infused pate, as well as tofu and panko mushroom. Of course, you can drop past the Alexandria Lit Canteen shop itself for a sit-down pork roll too. And yes, Lit Canteen is behind the must-try banh mi croissant.
Booth Street Bakery
Annandale
Over in leafy Annandale, Booth Street Bakery's banh mi has become a crowd favourite for Inner West locals north of Parramatta Road. The family-run Vietnamese cafe opened back in 2018, and alongside its winning BBQ chicken roll, coated in pâté and topped with ultra-fresh salad and chilli, you'll also find a selection of cakes and pastries, hot pies, and ultra-fresh noodle bowls.
Destination Roll
Various Locations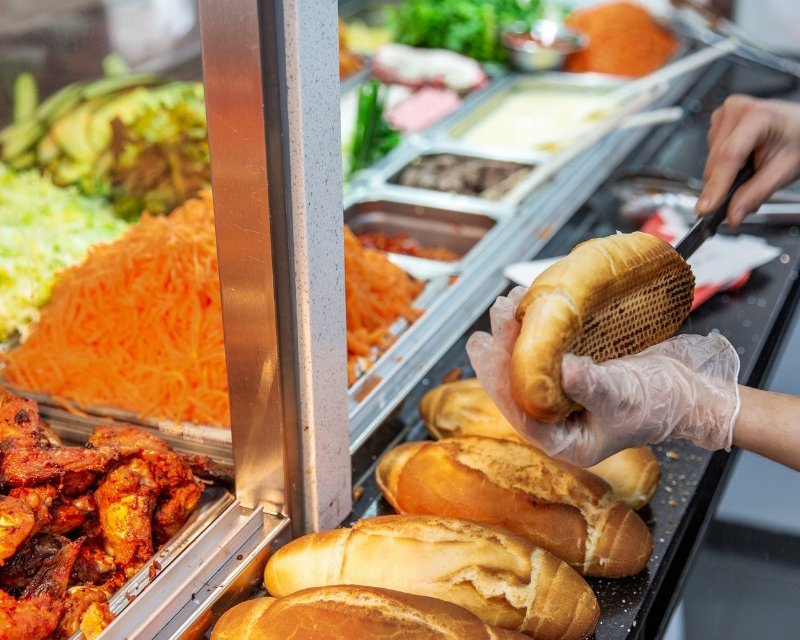 Destination Roll is everywhere in Sydney, with a handful of CBD outposts, as well as locations in Mascot, Paramatta, Cabramatta, and North Ryde, making it super easy to get your banh mi fix where ever you are. "We believe there are two main components to a good banh mi, both as equally important as the other," Delicious Roll's Thu Ba told us. "The bread needs to be fresh, crunchy on the outside yet soft on the inside. We bake bread rolls every 15 minutes. [The other component is] the fillings. The ingredients in the roll need to work well with each other. From the texture of the mayo to the tanginess of the carrot, all need to be well balanced."
Banh Mi Bay Ngo
Bankstown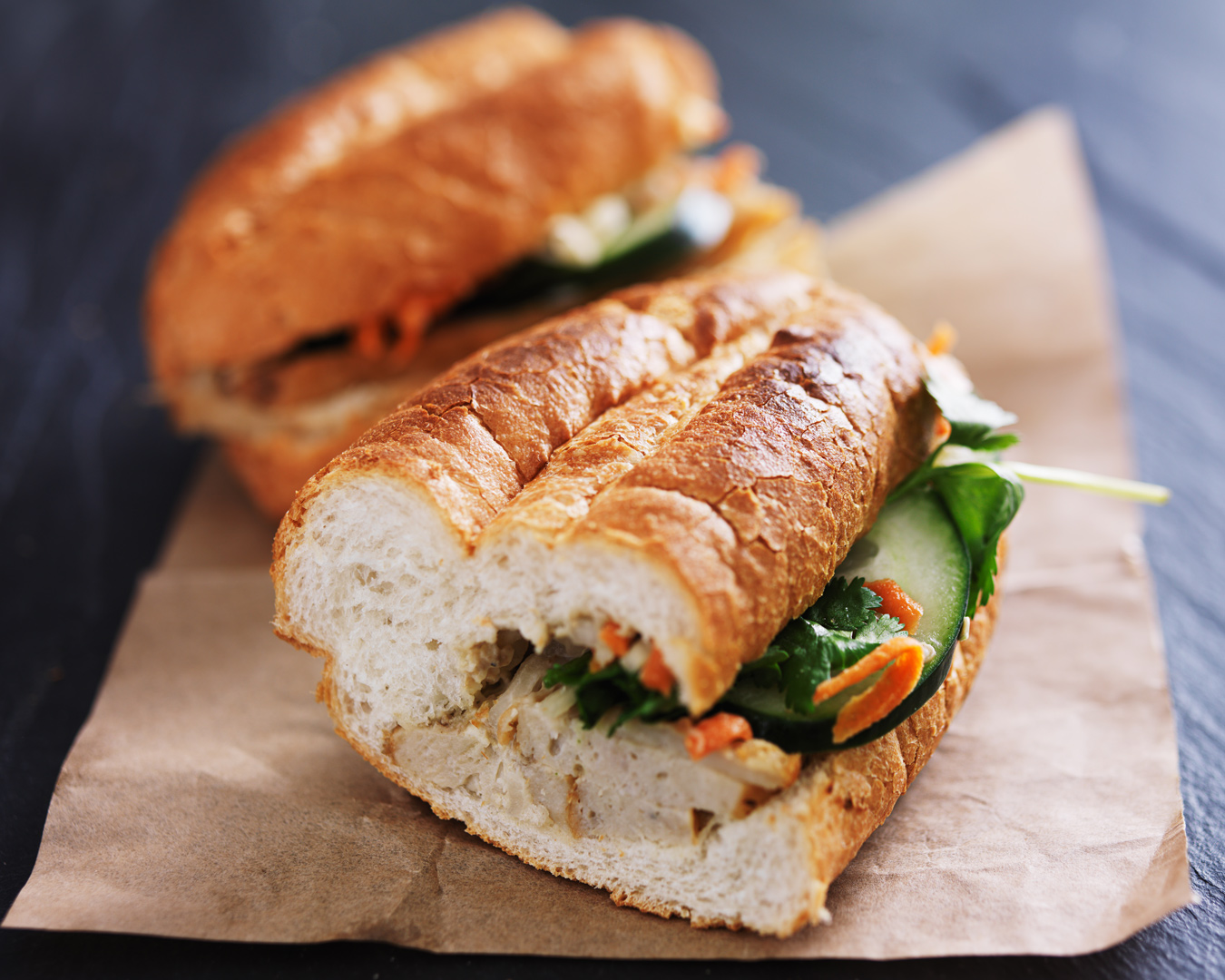 This is definitely one of the best shops for banh mi in the entire city. At Banh Mi Bay Ngo, you have the choice of pork, pork skin, chicken, meatball, fish patties, and, most vitally, the hard-to-find fried egg roll. (Why is banh mi made with fresh, fried eggs so hard to come by?!)
The bread is fresh and crispy, and the rolls are so stuffed that you will certainly feel full after one. For less than $5, you really can't get better. Like all good banh mi joints, things move pretty fast and can get a bit chaotic in front and behind the counter. It's also takeaway only, so find somewhere nearby to sit and chow down while the roll is still fresh.
KK Bakery
Cabramatta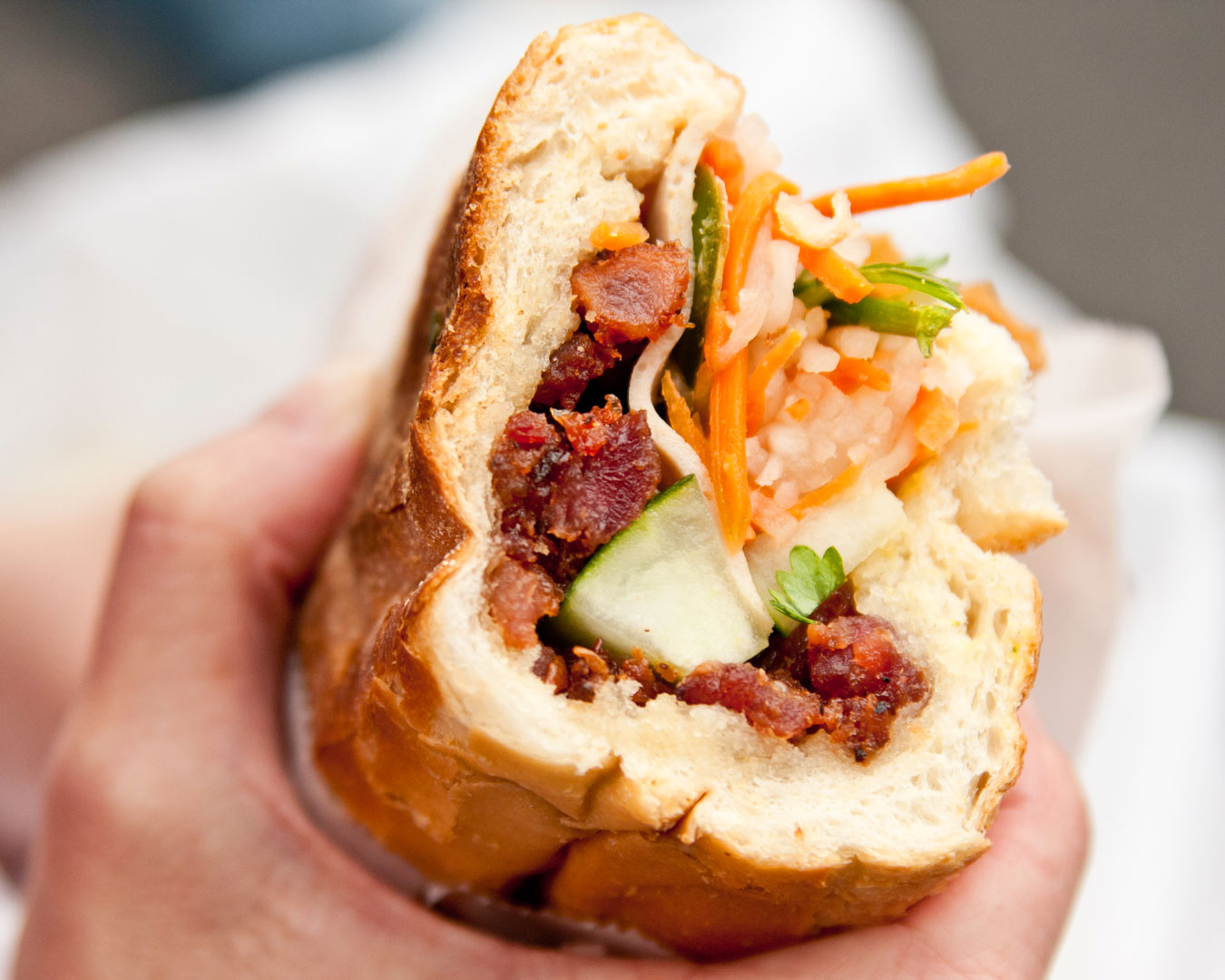 As with Bankstown, there's more than one great banh mi shop in Cabramatta, but we've chosen KK Bakery for its one-of-a-kind marinated chicken Maryland roll. The juicy, marinated chicken is stripped onto the roll and gives it an extra punch of flavour.
Also, praise be, we have another banh mi shop serving up freshly fried egg rolls. If you haven't tried an egg banh mi, we cannot stress enough how good and how rare they are. When it's on a menu, seize your opportunity.
KK Bakery doesn't have a website, but you'll find it at 2/85 John St, Cabramatta.
Obunmee
Pyrmont
Obunmee gets its name from the Vietnamese word for bread—Ổ Bánh mì (pronounced "O bun mee"). Hidden away in one of Pyrmont's heritage terraces, here the range of fillings is a little broader with lemongrass pork and a "veggie delight" option on the menu alongside traditional pork. The real MVP? Go for the chicken schnitzel banh mi—a neat mashup of spicy chilli mayo and pate with crispy chicken schnitzel and a punch of fresh carrot, cucumber, apple, and coriander.
Viet Hoa Hot Bread
Cabramatta
While we're seeing really positive signs that Sydney's late-night hospitality economy is on the rise—we're still always (pleasantly) surprised to find 24-hour shops around town. Shops like Viet Hoe Hot Bread, which literally don't shut their doors, are both amazing and staggering. That means you can walk up to the Cabramatta bakery at 4pm or 4am and grab yourself a $4.50 pork banh mi. Served up on house-baked bread for over 30 years, this is one of Sydney's most trusted pork rolls.
You'll find Viet Hoa Hot Bread at 107 John St, Cabramatta.
Sydney Pork Rolls
CBD
As good as 12-hour marinated pork belly and elevated twists on the classic sando can be, we sometimes like going back to basics and ordering a classic and cheap pork roll. All the better if we can do that near the CBD where lunch prices aren't always wallet-friendly. Sydney Pork Rolls, an authentic hole-in-the-wall Vietnamese takeaway joint on George Street, is here for us—slinging bloody good pork rolls for just $6.50. You can also get a little more adventurous with roll options like salmon, meatball, or tuna.
Great Aunty Three
Enmore
Whether you're in the mood for a wholesome bowl of pho, a cup of specialty Vietnamese ice coffee, or a rice paper roll snack, Enmore's Great Aunty Three dishes up some of the best comfort Vietnamese street food in Sydney's Inner West. Named after owner Michael Le's grandmother and using family recipes, the Enmore Road shop also puts on a seriously good banh mi. Helping this sandwich stand out among the rest of the field is Le's slow-roasted pork and extra crispy pork crackling.
Mr Crackles
Darlinghurst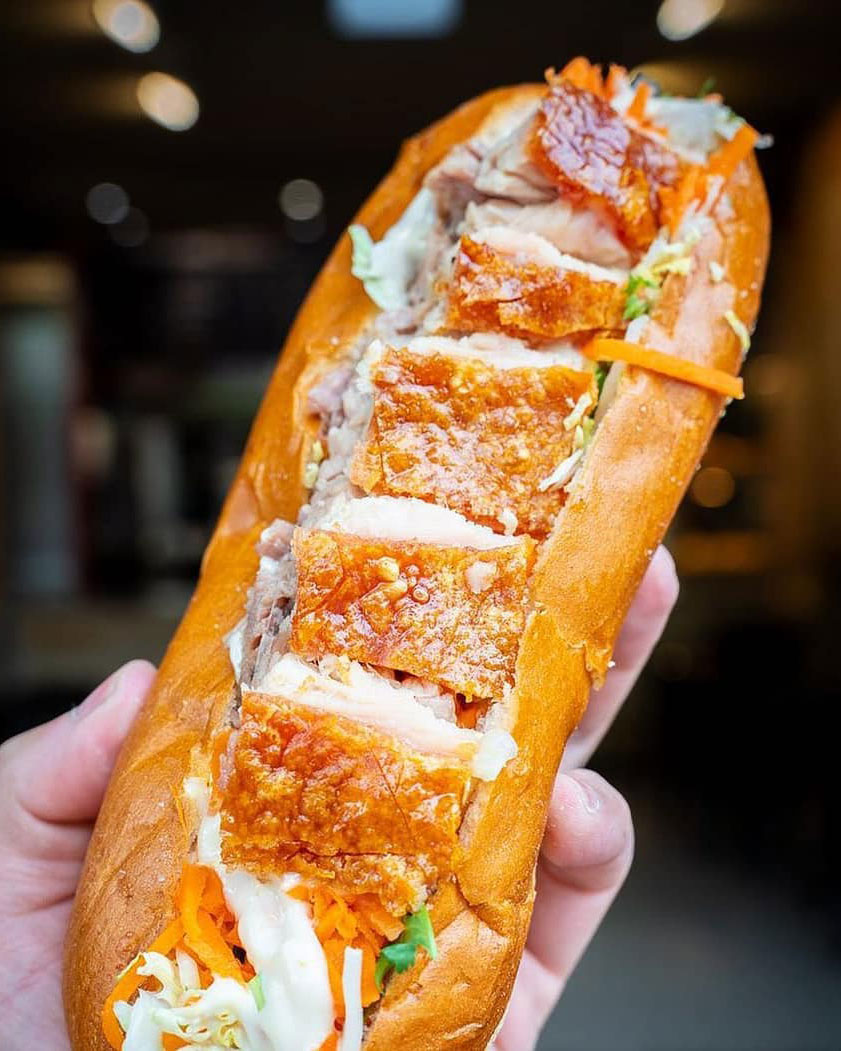 It's not unusual to see the Oxford Street footpath outside Mr Crackles crowded by eager and hungry late-night revellers at 1am on a Friday night. Well known as one of the best inner-city take-out spots to replenish empty stomachs on a night out, there's a strong chance a majority of those lining up are doing so for the "Crackles Classic"—a succulent twist on the classic banh mi and a pork lover's dream. You'll forgive the Darlinghurst shop for missing a few traditional ingredients after you bite into the soft and crispy baguette topped with Vietnamese salad and five gigantic pieces of crispy skin, slow-roasted, five-spiced pork belly. Order a cup of pork crackling on the side if needed.
In the mood for something more coastal? Check out Sydney's best fish and chips.
Image credit: Darling Square, First Drop Cafe, Lit Canteen, Destination Roll, Boon Table, Banh Mi Bay Ngo, KK Bakery, Mr Crackles