To celebrate our 10th birthday here at Urban List, we're asking you to tell us your top 10 lists over on our Instagram—we asked and you delivered on where to find Sydney's best fish and chips.
If you're looking for the Sydney fish and chip juggernauts to relive your youngin' days of running into your local seafood shack to grab a greasy and delicious paper parcel, you're going to want to keep reading.
This Australian combo nails it—deep-fried, grilled, oily, crispy, served on a plate or folded in paper. We like to think fish and chips are pretty seasonless too. While they are a summertime staple, paired with long beach days and too much sun, they also work as a hot soul-soother in colder months, best-consumed seaside, rugged up and spotting whales.
Here are the best fish and chips to swim your way through in Sydney.
The Best Fish And Chips, As Chosen By You
Charcoal Fish
ROSE BAY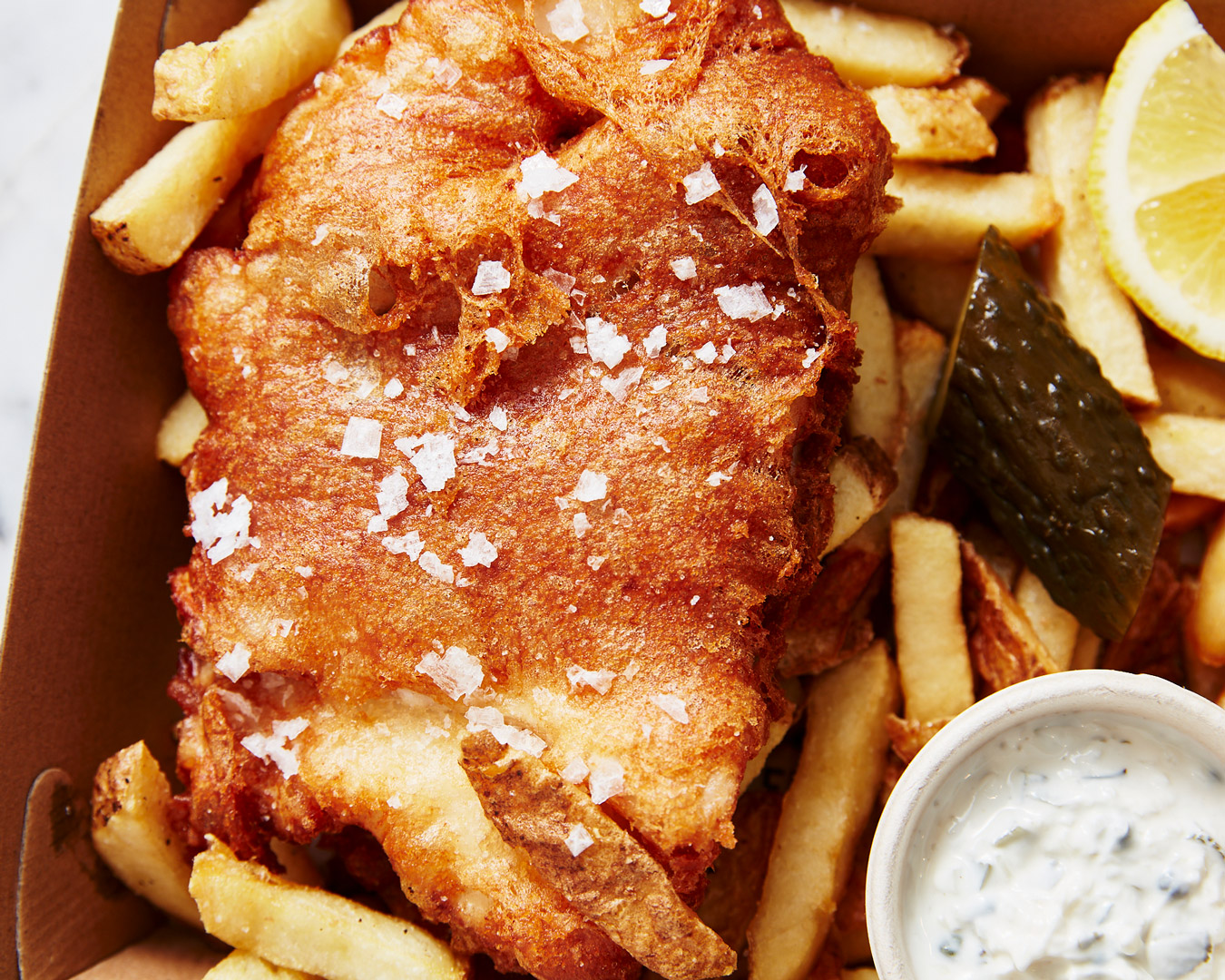 @claramccarthy_ said Charcoal Fish had feeds that were "light, not greasy and super delicious" with an honourable mention to the "great range of sides" and we mean, we're not surprised.
From award-winning chef and pioneer of sustainable seafood Josh Niland, Charcoal Fish is a totally new idea for Sydney. Think a fish and chip shop concept that pairs the nostalgia and simplicity of a charcoal chicken shop with his new school approach to seafood. The idea is to plate up accessible, restaurant-quality chargrilled fish that's both friendly but equally as impressive as we've come to expect from the renowned chef and his team.
Charcoal Fish serves just one fish—Aquna Murray Cod from Griffith in NSW. The heads, frames, and fins of the fish make gravy, which becomes the sauce for a gravy roll filled with picked rotisserie cod fillet. Fish collars get grilled over charcoal and served with a fermented tamarind hot sauce, like chicken wings, but fishier. If you're here for the standard fish and chip fare, unsurprisingly, Niland does it best. The crispy situation at Charcoal Fish looks like batter-fried Murray Cod served with salty chips, yoghurt tartare, sour gherkin, and lemon.
FICH Sustainable Fish And Chips
Petersham
You know you're in for something good when two former Bennelong chefs open an Inner West fish and chip shop which is why FICH is the fish shop of choice for @minladen.
Jose Silva and Manny Paraiso wanted to draw on the nostalgia of after-school snacks (like potato scallops and hot chips), and give it a little more polish without forgoing the casual essence of fish and chips. And, since opening in 2018, FICH has earned itself a rep for dishing out some of the crunchiest, freshest fish and chips in Sydney. We love that FICH has a sustainable mindset and their snack-sized $10 snack packs are perfect if you are in the mood for some battered goodness but don't want the food coma.
FISH SHOP
Bondi Beach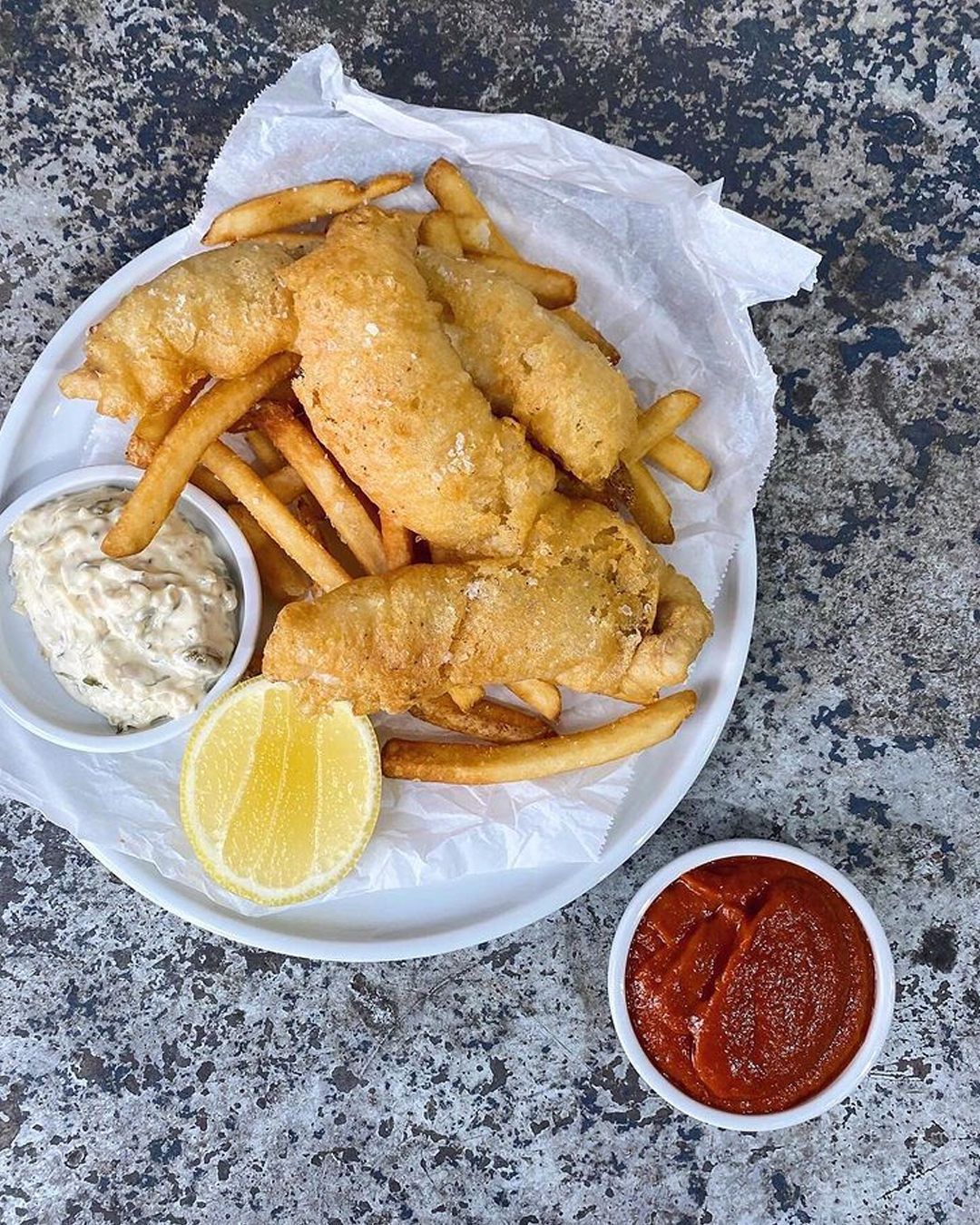 FISH SHOP is a "fine-casual" riff on the classic fish and chip shop, with the same sea breeze vibe but slightly more polished offerings on the menu, which is why @these_hungry_eyes says it's a "no surprise" on this best of the best list.
Led by head chef Joel Bennett, who you'll know from Peppe's, Bistrode, and Three Blue Ducks, the fish is sustainable and the menu is seasonal, healthier than your typical beer-battered flathead wrapped in newspaper, and with a Mediterranean mood.
Out Of The Blue
Clovelly
@jamie_cg says Out Of The Blue is "so fresh" and honestly, we back that.
Home of the famous deep-fried Mars Bar, this Sydney icon is fresh, family-run, and a little bit French. When Jean-Marc and Sophie Gubian arrived in Sydney from France in 1986 they fell in love with the Aussie way of life and the Aussie classic: fish and chips. Continued by their son Julien and his girlfriend Matiou the legend of Out of the Blue (or OTB—if you know, you know) lives on. For locals, it goes without saying that these guys do one of the best chicken burgers in Sydney but if you're here for a fish feed (and you should be), you'll want to hit the New Zealand Hoki, served with chips and add on their absolute classic garlic mayo.
Costi's
Various Locations
Costi's is a local fave known for its "famous fish", says @notchrismcniece, and affordable prices (a box of battered fish and chips from Costi's will only set you back $8.90).
They also have a whole heap of grilled fish options for those trying to keep things healthy. With locations all around Sydney—you're likely not too far away from a Costi's and a killer serving of fish and chips.
Mohr Fish
Surry Hills
Seafood lovers gather round, the delish serving of sea goods here is definitely worth sinking your teeth into with @lanacarmel_ sharing "it always tastes fresh and is so well priced".
Located on an unlikely stoop in Surry Hills, the fish and chip fare at Mohr Fish is lightly fried and fleshy, and with a team having churned out the good stuff for more than a few decades—our heart will always take us back to this gem.
Fat Fish
Annandale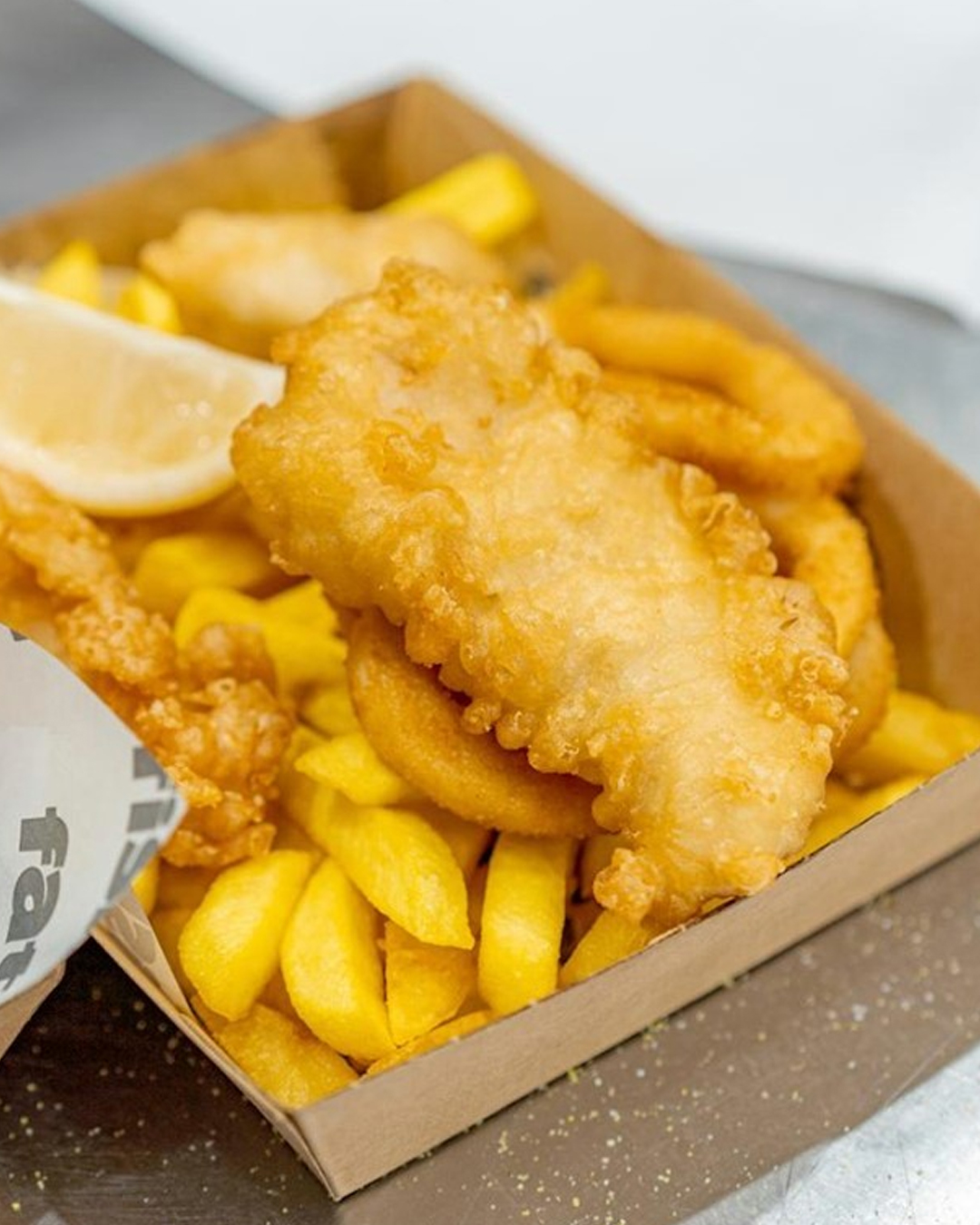 What happens when three generations of a family make fish and chips for over thirty years? Fat Fish happens, that's what. @ooobee1 says these guys have the "best chips with extra chicken salt".
In other words, you get the fried and crispy seafood combo you've always wanted. And then you start visiting on a weekly basis. And then on the daily. And before you know it, you're a fiend for Fat Fish.
Salmon And Bear
Crows Nest
Turns out, some of the best fish and chips in Sydney come straight out of Crows Nest. Headed by Joel Katz, Joe Ward, and Mark Jensen, Salmon And Bear cooks most of its seafood in a Mibrasa oven, a certified coal-fired "beast" of sorts that seals the fish on the outside, crisping fish skin to absolute perfection, while keeping everything moist on the inside.
@feather.and.flame says the fish here are "so crispy and scrumptious" and get served with homemade tartare sauce.
Fish At The Bay
Rosebay
Fish At The Bay is Rosebay's local and family-owned seafood joint serving up everything from high-quality produce to old-school fish and chips. For big gatherings, order up the prawn, oyster, and sashimi platter, a mega seafood pizza-esque serving topped with slices of lemon for extra zest.
The team here also does an 11/10 on the staples with @hugcot hailing the "great calamari" as well as the potato scallops and batter.
Southbeach Seafoods
Cronulla
At Southbeach Seafoods in Cronulla, the fish and chip snack pack reigns supreme. Taking up prime real estate in official chiko roll country, the ocean snacks you can nab up here are undisputed champions so keep your eyes out for the crumbed oysters at $2, Tasmanian scallops for $2.90, and the marinated octopus for $10.90—nothing will break the bank.
These guys have the "freshest, tastiest fish and chips with an awesome view" according to @bella2258.
More Of The Best Fish And Chips In Sydney
Just Hooked
Monterey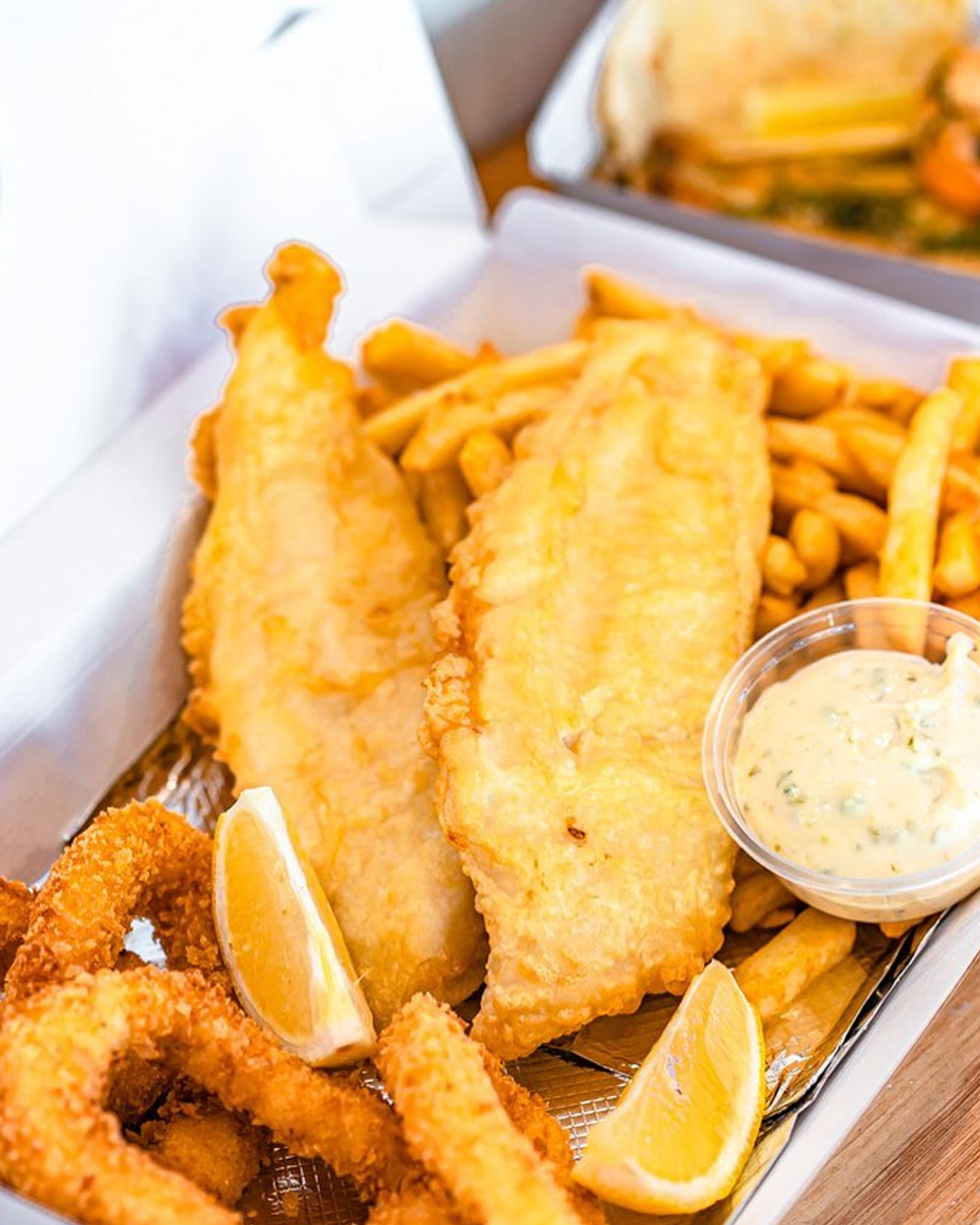 Don't be fooled, Just Hooked is not your average fish shop. Here, the sun shines brightly on this fish shop's signature golden Kataifi (a little like baklava) prawns which get drizzled in honey and it's pretty much the combo of the century. Fish cocktails will only set you back $1.80 here and we also need to shout out the potato scallops—a salty halo that goes down a treat after a beach swim. The team here officially cranks out a truckload of fish and chip packs you need to get your mitts on. The 'Old School' box is your staple for people who don't like to mess with a good thing (battered fish and chips with tartare, what's not to love?). You can also crunch into the 'Barra Schnitz' box which keeps herb crumbed barramundi with chips or brown rice and salad and look, just throw in a side of fish tacos too, just because.
Ocean Heart Seafood
Brighton Le Sands
It doesn't get much better than the underdog of fish and chip shops, churning out batches of freshly caught and battered sea critters. Ocean Heart Seafood is a family-run haunt that has been thriving in Brighton Le Sands since the late 80s. Famous for their in-house calamari (made from a secret recipe), you can order anything from a couple of chiko rolls and fish cakes to a whole lobster. Alongside this, you can go to town on fillet combos which all come with chips, squeeze sauce, a lemon wedge, and a Coke varietal to wash everything down. You can hit fried, BBQ, or crumbed fish creation of Pacific Dory, barramundi, snapper, deep-sea perch, John Dory, whiting, and flathead.
Old Fashioned Fish And Chips
Narraweena
This nostalgic little shopfront has been going hard for a solid few and sports a classic, no-frills menu bound to amp you for post-beach-day feeds. All your favourites are here, from the classic beer-battered fish and chips to potato scallops, calamari, and more. It may not be by the seaside, but Old Fashioned Fish and Chips is a favourite for a reason.
Fish Butchery
Paddington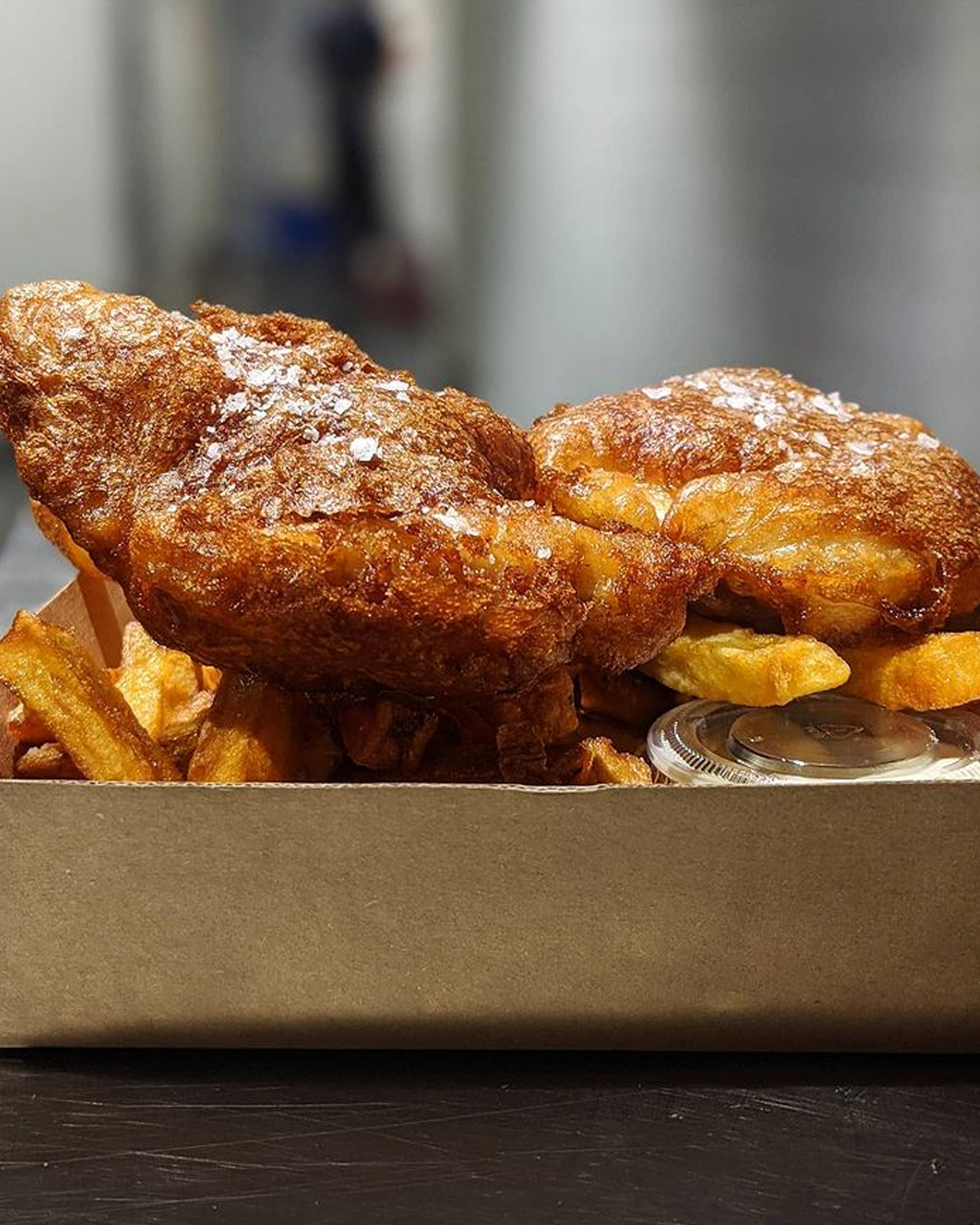 Another entry for Mr. Niland on this list—Fish Butchery is the takeaway shop (sort of) adjoined to the restaurant that started it all, Saint Peter. Just a few doors up the road, this gem serves up fish and chips just the way we love them—with a big battered piece of deep-sea bream alongside thickly cut chips, pickled gherkins, malt onions, and yoghurt tartare sauce. As well as the deep-fried deliciousness of a box of classic fish and chips, it's here you can pick up Niland's fish burger patties, cuts of hard-to-find sustainably caught fish, prawns, and so much more. A real treasure of the seas, if you ask us.
Sea Cow
Paddington
This little Eastern Suburb institution has made a name for itself making fish and chips, just the way they were intended. Because you don't mess with perfection, the menu at Sea Cow rarely changes. They've got bottles of vinegar on the tables and it's BYO—what more could you want?
The Newport
Newport
It's a truth universally acknowledged that seafood tastes better with a sea view and nowhere is the sea view better than at The Newport. This Merivale hot spot has a to-die-for panoramic view and the outdoor seating and sprawling beer garden are perfect for making the most of Sydney's sunny summertime weather. As you'd expect for a waterfront pub, The Newport is not messing around when it comes to their fish and chips. The servings are generous, the batter is light and not too greasy and the fish is fresh-as-hell.
The Nielson
Vaucluse
If you grew up in the East, there's every chance that Friday afternoon meant a trip straight from primary school with all your mates to Nielsen Park for an evening dip and a cone of fish and chips. We might have gotten a bit older and The Nielson might have gotten a little bougie, but there's still nothing like downing fish and chips on the sand. When it comes to views and ocean access they're tough to beat, and if you're looking for a good quality serving of fish and chips with a side of nostalgia and an iconic Sydney view, then The Nielson is a clear winner.
Kiwi Style Fish And Chips
Mascot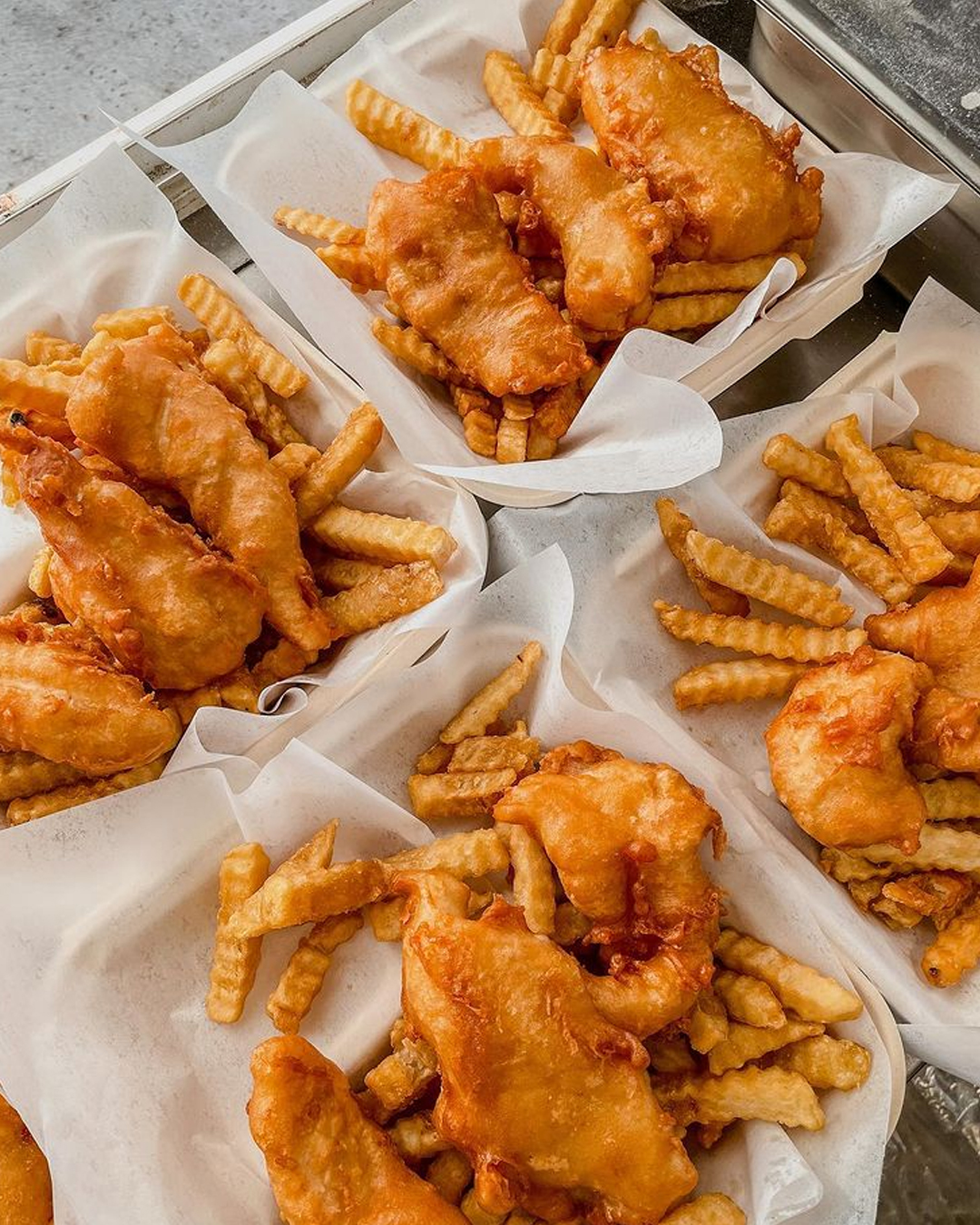 Looking for your childhood chip shop reincarnated? Look no further. The fish and chips at Kiwi Style Fish and Chips are wrapped in paper to take away (though there are a few tables and chairs) plus you can choose between potato chips straight from NZ, or freshly cut Kumara chips if you're a bit of a sweet potato lover. It's proof that across the ditch, they're actually pretty good at fish and chips too.
Fishmongers
Bondi Beach
Everybody knows that if you're looking for a quality take on ye ol' fish and chips, Fishmongers has this staple Aussie combo down pat. Order up battered or grilled Hoki with hand-cut chips and tartare sauce, or go all out and dig into an epic mongers box filled with all the battered goods.
Bondi's Best
Bondi
No surprise, Bondi's Best definitely makes the cut when it comes to smashing down crispy and juicy fish and chips. Everything here is sustainably sourced and served twice the normal size so expect long slabs of fried fish and chunky slices of sweet potato fries (and sure, you can order up a side of greens for good measure).
Now, work your way through this list of Sydney's best takeaway pies.
Image credit: Rob Palmer, Rob Palmer, FISH SHOP, Just Hooked, Fat Fish, Fish Butchery, Kiwi Style Fish And Chips