Potato cake. Potato fritter. Potato scallop. It really doesn't matter what you've decided to call these savoury crisps of happiness because the general consensus is that they're always a bonafide great time.
Shower them in salt, dip them in vinegar or ketchup, and eat them anywhere that tickles your fancy, at any time of the day, a seriously good potato scallop is no doubt what golden nuggets were during the Gold Rush. Luckily, when it comes to dishing up these deep fried discs of deliciousness, Sydney is a haven full of potato scallops—all shapes and sizes.
Read on for the best potato scallops in Sydney.
Fish Butchery
Paddington and Waterloo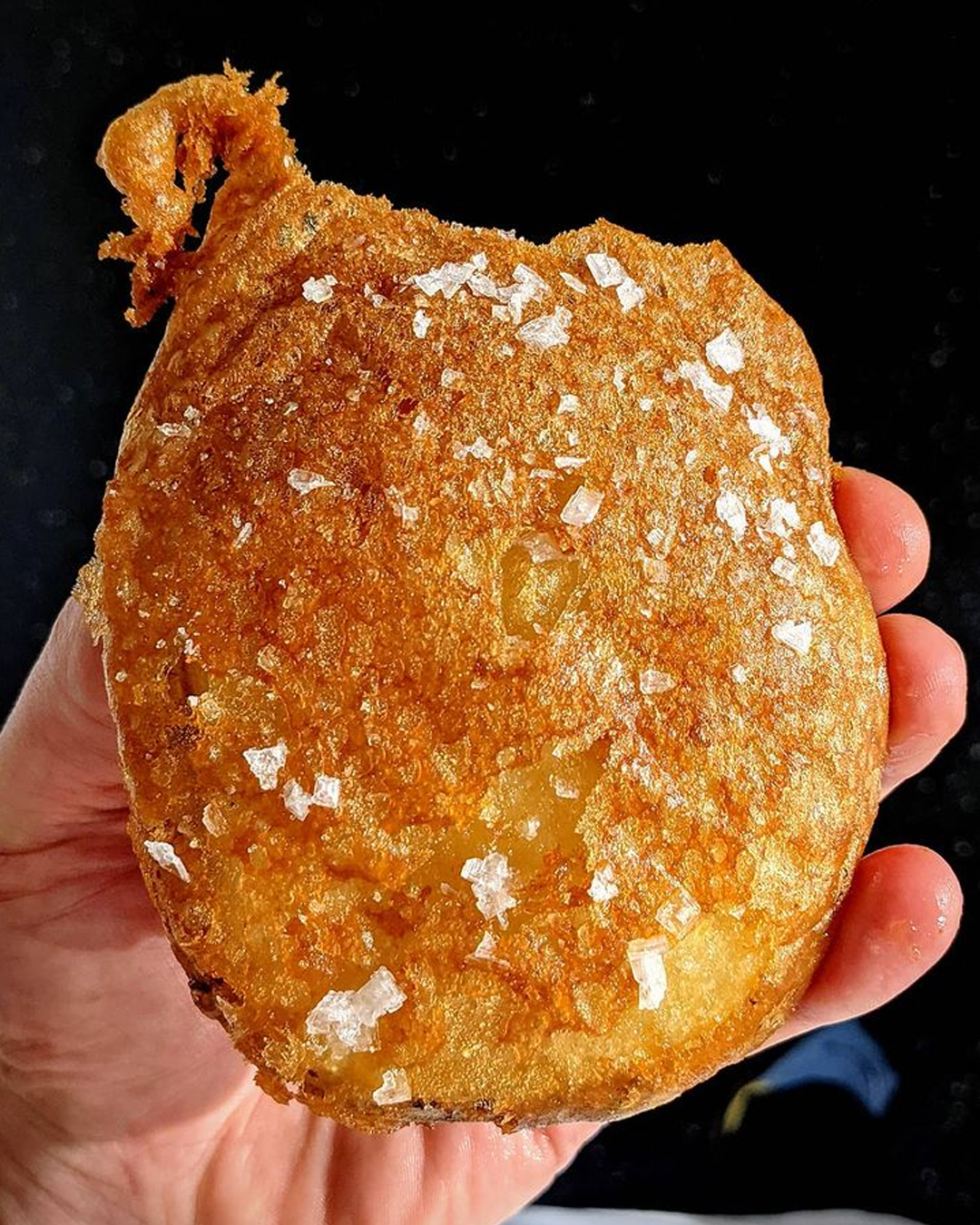 Fish Butchery churns out potato scallops with such quality control and high standards, you'd think award-winning chef, restaurateur, and pioneer of sustainable seafood Josh Niland practically invented the golden cakes. The retail sibling to Niland's MVP Saint Peter and Charcoal Fish, Fish Butchery is kind of like the over-achieving middle child that glues all Niland venues together.
It's here where all fish is stored in a static coolroom, all fish is handled dry, and where Saint Peter sources its delicious potato scallops which, much like the killer whale, hold a spot at the top of the food chain in Sydney's salty smorgasbord of scallops. Sebago potatoes get steamed to a creamy-like consistency before taking a wash in the deep fryer in a batter largely inspired during his time working at Heston Blumenthal's Fat Duck. For $4, it's a bloody fancy fried potato.
Chook A Licious
Winston Hills
If you know, you know. If you don't, let us introduce you to one of the greatest takeaway joints in the Hills and, maybe, even Sydney. Plus, with a name like Cook A Licious, you can't go wrong. Located in Winston Hills, this family-owned joint has been around since 2011 and is known for its hot barbecue chooks (duh), fresh salads, old-school burgers, fish and chips, and stacked sangas. Another hero of the menu is undoubtedly the humble potato scallop, which makes for a great snack on the ride home. At $1.40 each—or four for $5— these golden potato bites are a bargain. Throw in a Chiko Roll for a bigger dose of nostalgia.
Steve Costi's Seafood
Various Locations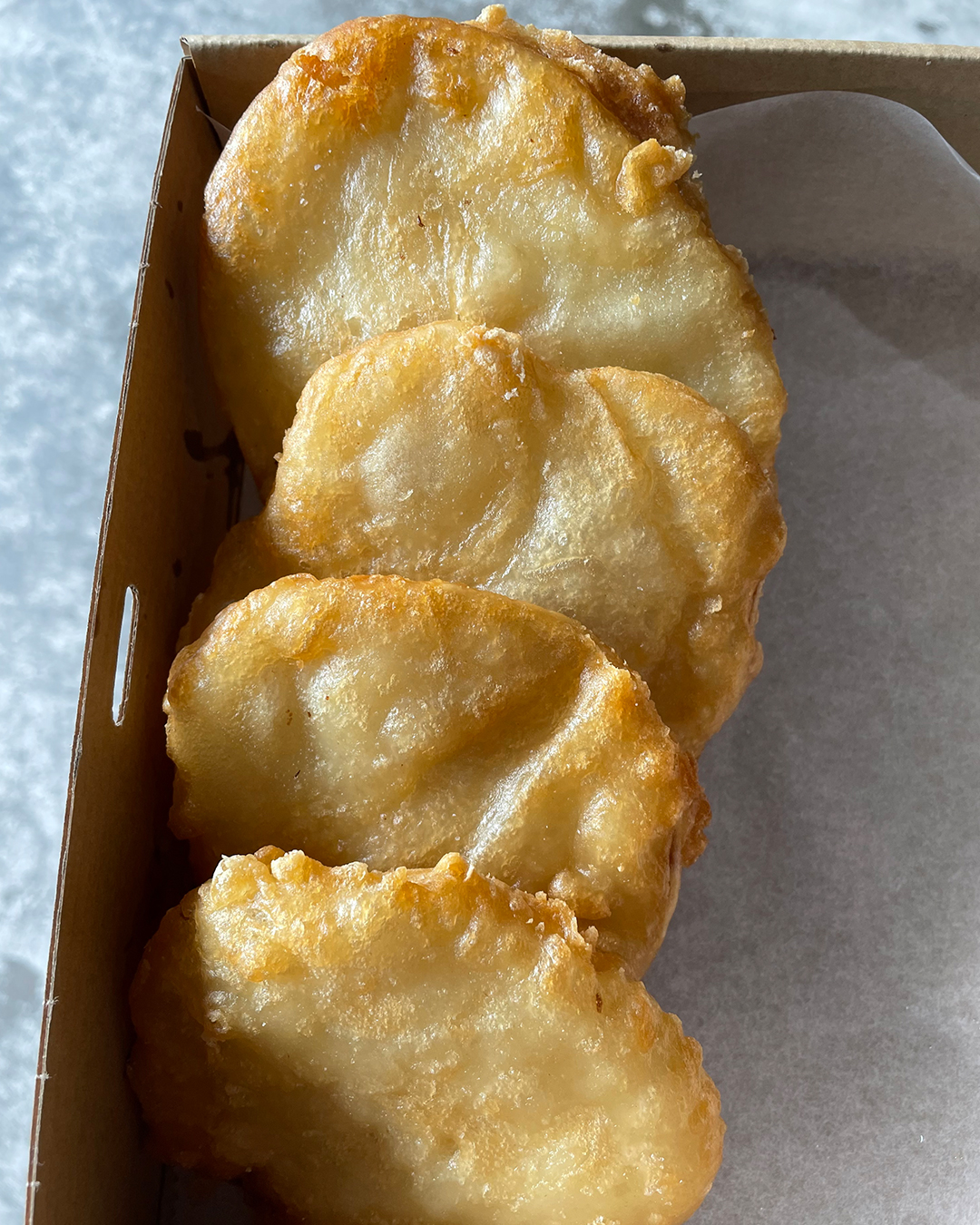 The apple, or in this case' the potato scallop does not fall far from the tree. Steve Costi's Fish Market, Steve Costi's Seafood, and Steve Costi's Famous Fish are all seamless extensions of Sydney's certified "Codfather" of all things seafood, Steve Costi. With the makings of a top-notch fish shop genetically ingrained, the Costi family were mega pioneers of Sydney's thriving seafood industry. At the heart of these venues is a moral obligation to only plate up the best of the best, starting from ensuring that all fish is sustainably caught and following through to freshly prepared salads and meals cooked to order to limit waste.
When it comes to the famed potato scallops (and damn, are they famous), the hand-cut, crunchy morsels go for just over $1 a pop. These boys get rolled in Australian canola oil to start and then it's Costi's original batter recipe and a touch of flour before frying. Sebago potatoes are used to ensure your potato scallops are generously sized.
Heathcote Fish & Chips
Heathcote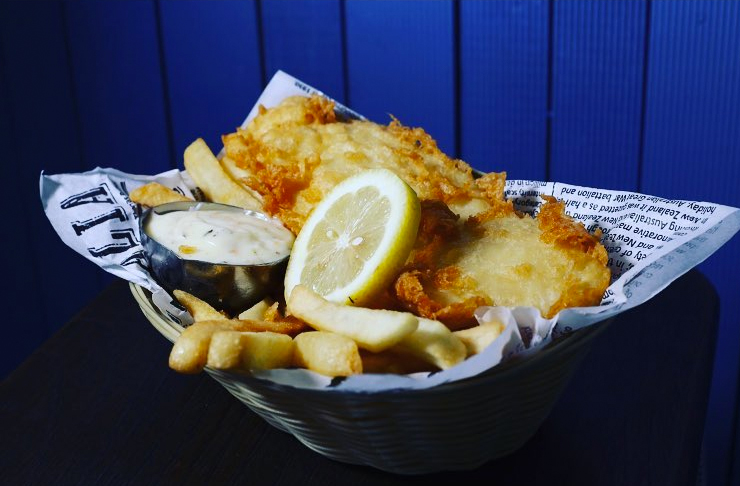 It's known, near and far, that Heathcote Fish & Chips is undoubtedly the reigning champion on Sydney's potato scallop scene. Period. Heathcote's actual site has been home to all kinds of fish shop antics for over 60 years so some might say there's a bit of salty magic in the air here. Several years ago, it was Ethan Kashi who took over the location and gifted Sydney Heathcote Fish & Chips, a goldmine of crispy nuggets so good, buying one just isn't an option.
Here, potato scallops get prepped every morning using Scorpion potatoes which have been sourced from Homebush's Flemington Markets. They then get peeled, sliced, thrown in batter for some deliciously crumbly shards of goodness.
Kirribilli Seafoods
Kirribilli
A lot happened in 1978. The world's first mobile phone was introduced, Space Invaders made its glorious debut and the Sydney Gay and Lesbian Mardi Gras was born in a wild spin of events in Darlinghurst. It also saw the establishment of Kirribilli Seafoods open its doors with one of the biggest varieties of boneless fish fillets, calamari, octopus, oysters, and burgers. Since then, it's been absolute bible to grab a stack of takeaway fish and chips from Kirribilli Seafood and have a picnic under the Harbour Bridge. When you've got potato scallops on your mind, order up the Aloys & Loreto fryer pack which stocks said fluffy discs among fish cocktails, calamari, and chips.
Golden Gully
Leichhardt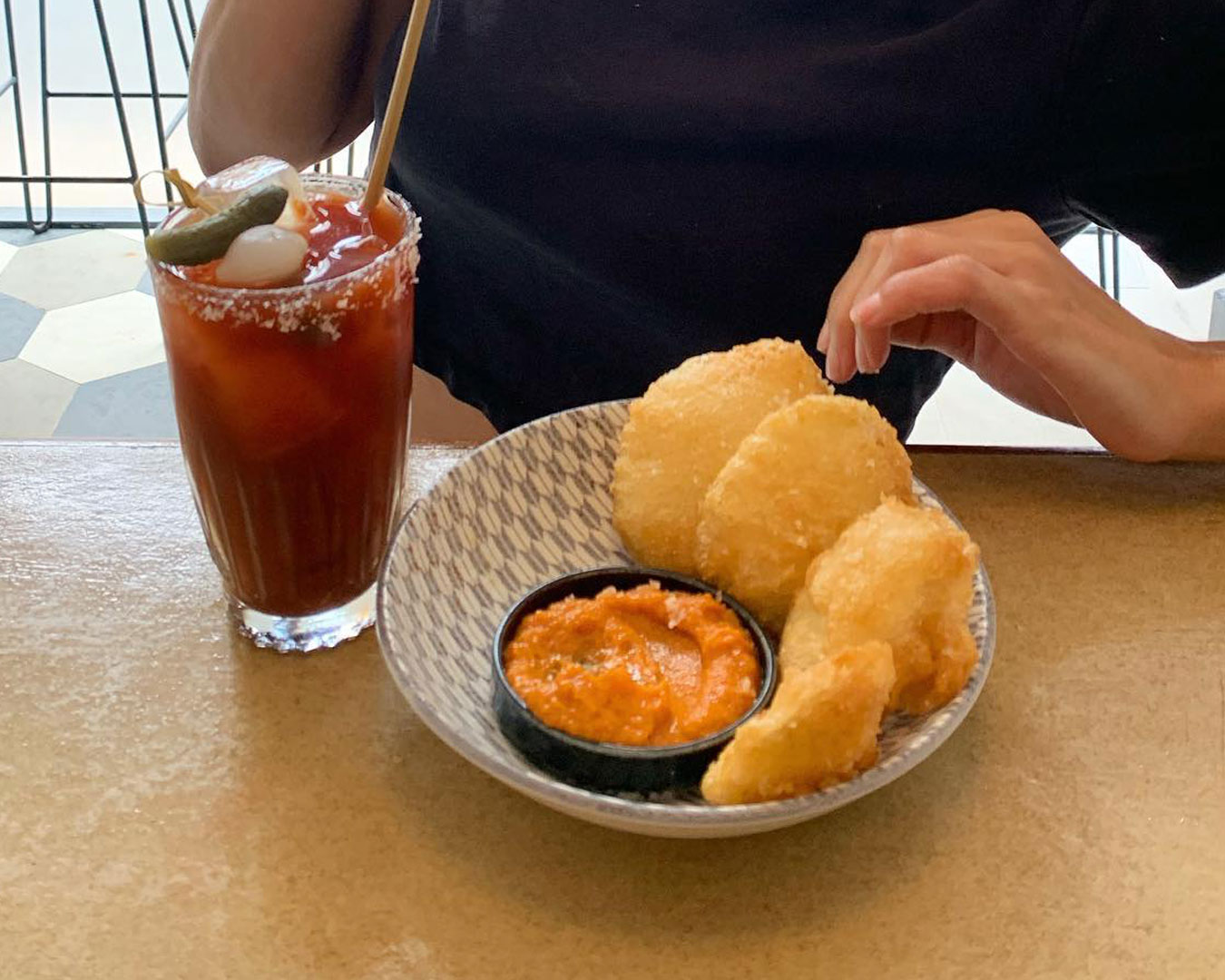 The legends at vegetarian Leichhardt bar Golden Gully fry up a mean potato scallop, folks. If you haven't tried one here, you'll want to make a beeline for Norton Street and order one on a Sunday arvo to soak up all those hangover regrets. These beauties come peppered with salt and vinegar with a generous serving of sundried tomato ketchup for maximum dipping action. Pair them with a $15 Bloody Mary and thank us later.
JP McCaffrey's Traditional Fish & Chips
Coogee
Not only is this gem of a fish and chippery close to the beach, but it also has almighty potato scallops. And, you'll definitely want to order a side of curry sauce to go with them. You can get two of these fried potato snacks for $3, and you can load them with bacon bits, cheese, or beans for an additional cost. But you cannot go past the curry sauce, which will cost another $4.50 but, trust us, it's worth it. Then take your takeaway delights to the grassy headland overlooking Coogee Beach and watch the sunset.
Harbord Hotel
Freshwater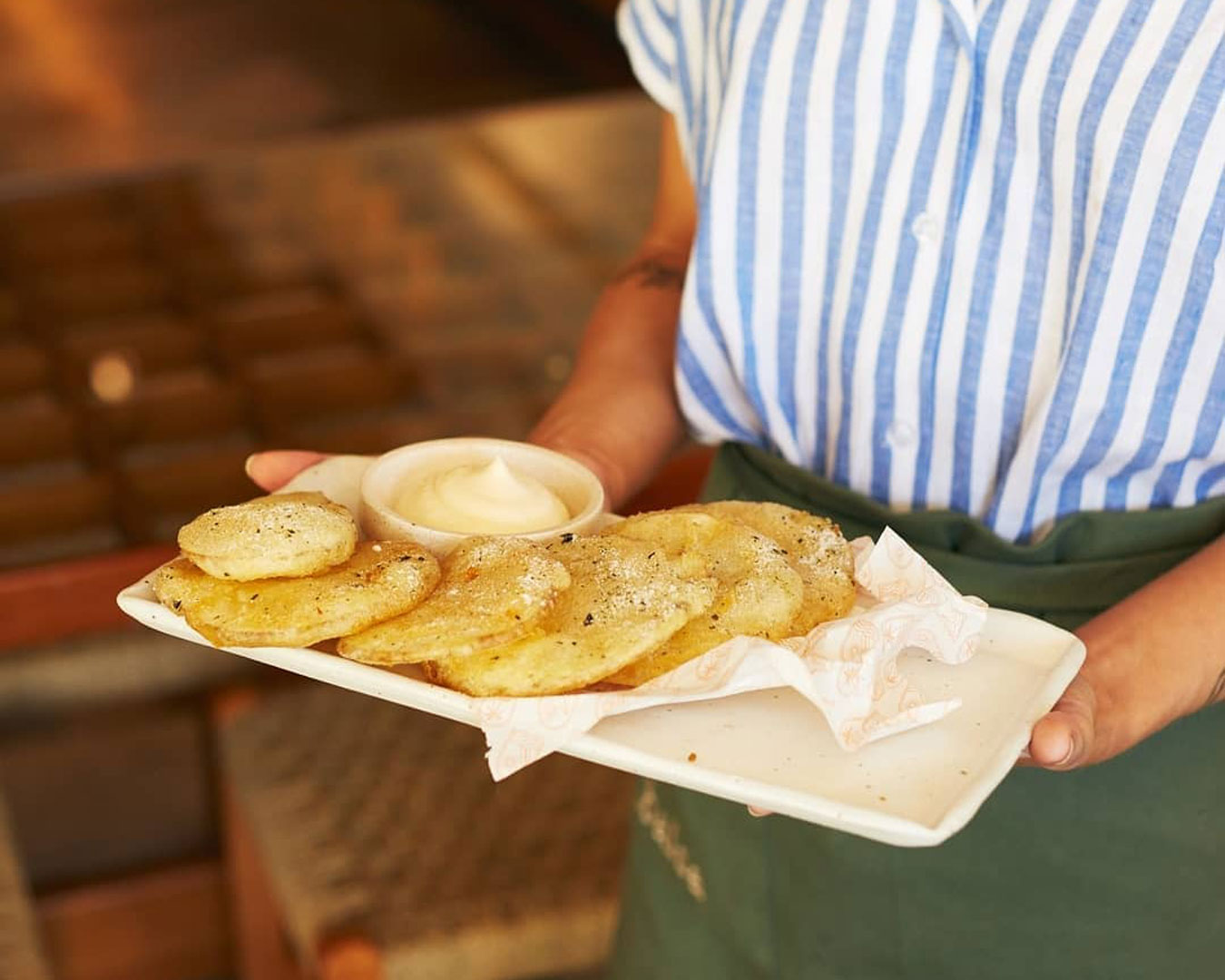 After a snazzy refurb in early 2020, the Harbord Hotel has well and truly locked in its reps as one of Sydney's greatest seaside pubs. These days, the Freshwater institution is a sprawling ground of sun-soaked terraces, canary brollies and you guessed it, potato scallops to make your tastebuds weak. The menu here looks like your favourite pub feeds, but with a coastal twist. That means when it comes to the potato-y goodness, you won't just find your run-of-the-mill carb slices. Instead, the potato scallops come with wakame-vinegar salt and aioli—genius.
Woolloomooloo Fish & Chips
Woolloomooloo
Woolloomooloo Fish & Chips takes up space on the sacred corner squished between Forbes Street and Cathedral Street. It's the unlikeliest of places to find a local fish shop, be it just below a set of train tracks and obscurely located on a densely residential street, nevertheless, it's forever proved to be a noble stead of sorts on a night out on Darlinghurst Road. There's nothing fancy about these guys but damn do they do the job.
Fat Fish
Annandale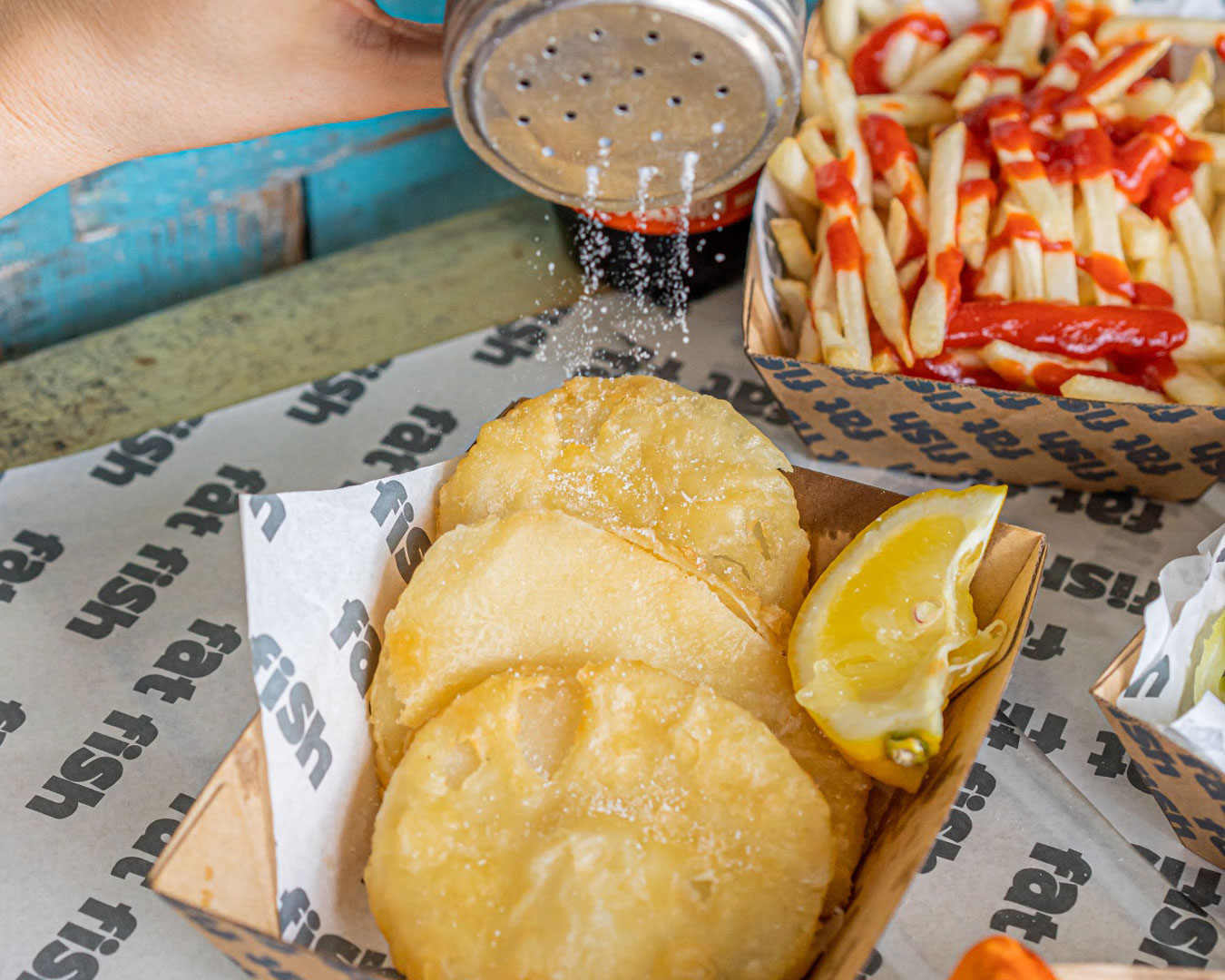 Nothing less than a royal Inner West seafood dynasty, Fat Fish has been frying up the perfect storm for decades. Fun, loud, and plating up plenty of character, this fish and chip joint is headed by two brothers, Manny and Jon Notaras. The duo has coastal feeds for all kinds of palates, gluten-free iterations, greasy slabs of fish (in the best way), and their mum's celebrated homemade potato scallops. The goldies here will only set you back $1.50 and they basically taste like clouds of buttery potatoes in your mouth.
Grills On Wills
Woolooware
South Sydney locals looking to track down this nostalgic snack will want to head to Grills On Wills in Woolooware. Known for its quality takeaway goods, this neighbourhood joint serves up everything from barbecue chooks to fried delights—and, yes, that includes potato scallops. They cost $1.50 and you can level up your order by adding other old-school snacks like Chiko Rolls and fish shop-style dim sum. Basically, fried food heaven.
FICH Sustainable Fish And Chips
Petersham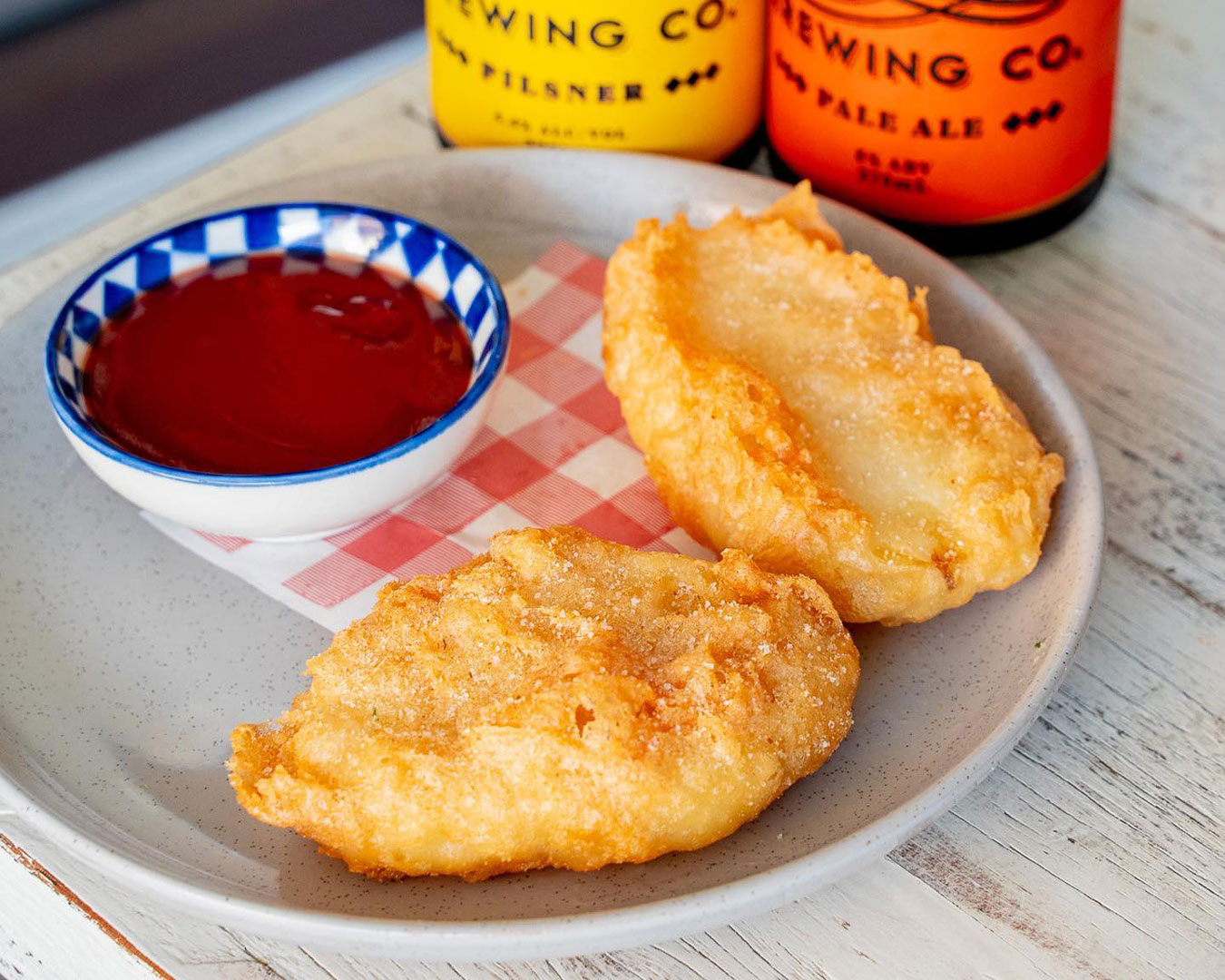 You know you're in for something good when two former Bennelong chefs open an Inner West fish and chip shop. Jose Silva and Manny Paraiso wanted to draw on the nostalgia of after-school snacks and give it a little more polish without forgoing the casual essence of fish and chips. And, since opening in 2018, FICH has earned itself a rep for dishing out some of the crunchiest, freshest potato scallops in Sydney. The scallops here hold a lot more shape and roundness than your usual potato mouthful but the real kicker? FICH mixes its very own house blend salt which makes these bad boys completely irresistible. Like Fish Butchery, FICH's potato scallops are a little on the pricey side but are worth the splurge.
Old English Fish 'N' Chips
Naremburn and Forestville
If it's a no-nonsense takeaway fish shop you're after, Old English Fish 'N' Chips knows that keeping it simple is often best. On the concise menu, you'll find a B&E roll, a few burgers, battered and grilled fish, chippies, and fried snacks like prawn cutlets, fish cakes, and, of course, potato scallops. Be sure to add a side of mushy peas, curry sauce, and a tub of homemade tartare, too.
Kiwi Fish Shop
Rosebery
Don't be alarmed. What the menu here lacks in potato "scallops", it makes up with potato "fritters" which are, more or less, the same delicious fare. This entire joint is basically your childhood chip shop reincarnated. The fish and chips at Kiwi Style Fish and Chips are wrapped in paper to take away (though there are a few tables and chairs) plus you can choose between potato chips straight from NZ, or freshly cut Kumara chips if you're a bit of a sweet potato lover. For individual takes of the potato scallops, lookout for "NZ potato fritters" which notoriously have more texture, flavour, and grit than the usual suspects.
Kiwi Fish Shop is temporarily closed.
Still hungry? Check out the best fish and chip shops in Sydney.
Image credit: Fat Fish, Fish Butchery, Steve Costi's Seafood, Heathcote Fish & Chips, Golden Gully, Harbord Hotel, Fat Fish, FICH