The beloved beer garden—a spacious habitat where humans come to meet, discuss the daily grind and, most importantly, sink glorious, golden beers amongst the shady foliage.
Although us Aussies can't claim its creation (let's give a collective thanks to Germany), the tradition has certainly made an impression, and it's one that's here to stay. We asked our followers on Instagram for their picks of the best spots to sink a cold one in the great outdoors—so here are the best beer gardens in Sydney, according to you.
Vic On The Park
Marrickville
If you like your beer garden with a little bit of action, Vic on the Park is you go-to, with a half court to throw some hoops in between brews, loads of room to spread out, a big screen to view the clashes you care about, tasty pub feeds, and a dog-friendly policy. She can get pretty steamy in the middle of the day, but come sunset, you're on.
The Newport
Newport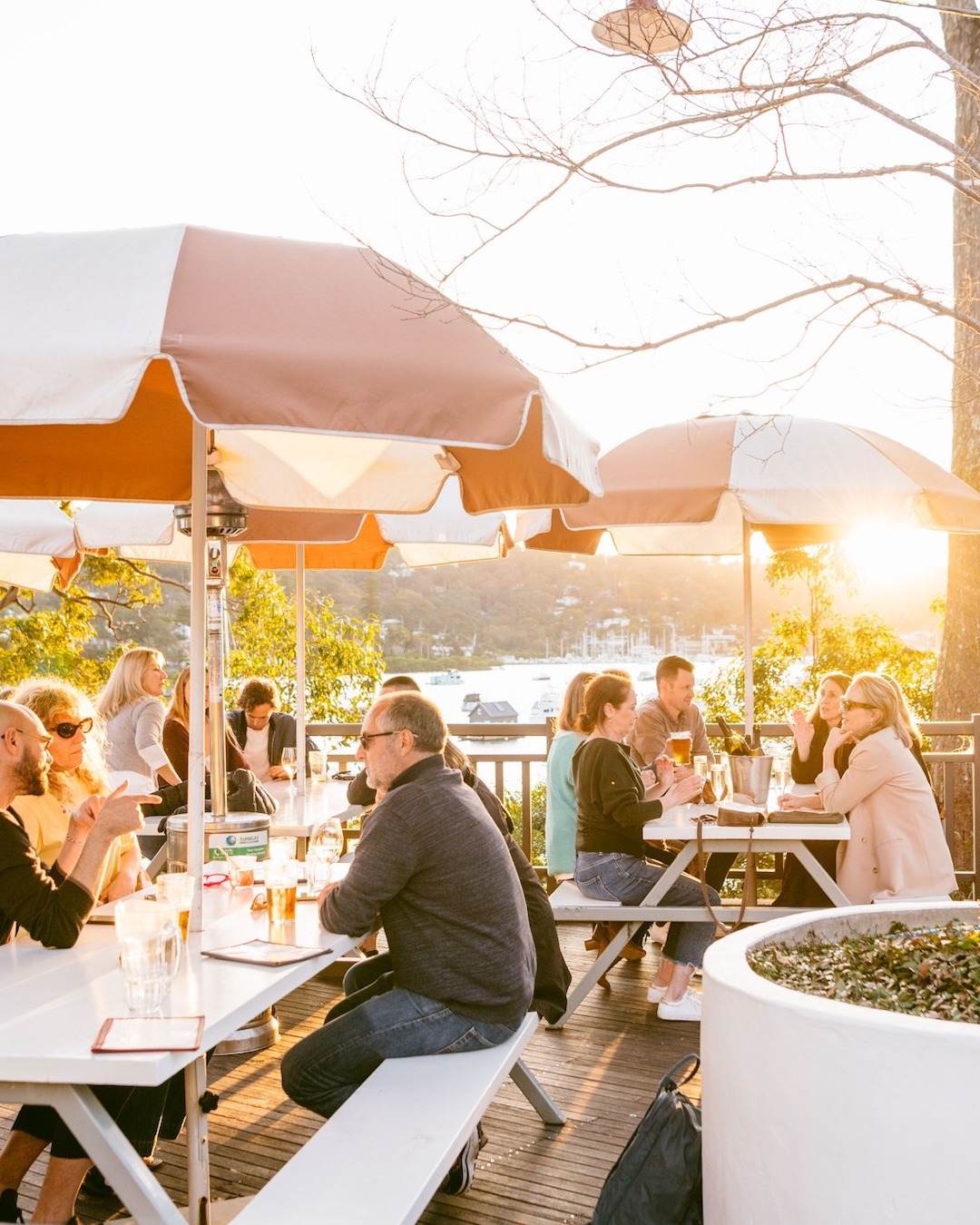 If you prefer your beer garden to have water views, The Newport is for you. Located on the shores of Pittwater, this idyllic venue offers a massive outdoor gathering space for friends and family (it's also on our list of the best family-friendly pubs in town) with a mammoth alfresco stretch where you can soak up all the marketplace feels. Dining options include wood-fired pizza, pub classics and epic seafood from The Shack, and gelato, and to make things even better, The Newport is also dog-friendly. Feeling fancy after a few brews? Head upstairs to Bert's for oysters and champagne.
The Oaks
Neutral Bay
The Oaks is home to one of Sydney's most iconic beer gardens. It's been around for a while, but it had a fresh multi-million dollar refurb, and—let's just say—she is a stunner. Home to an absolutely massive 80-year-old oak tree wrapped in fairy lights, this leafy alfresco spot has loads of welcoming nooks to explore. If you're into a more low-key vibe, drop into the front sports bar for beer tastings and $20 steak nights, and a massive screen to catch all the games.
White Cockatoo Hotel
Petersham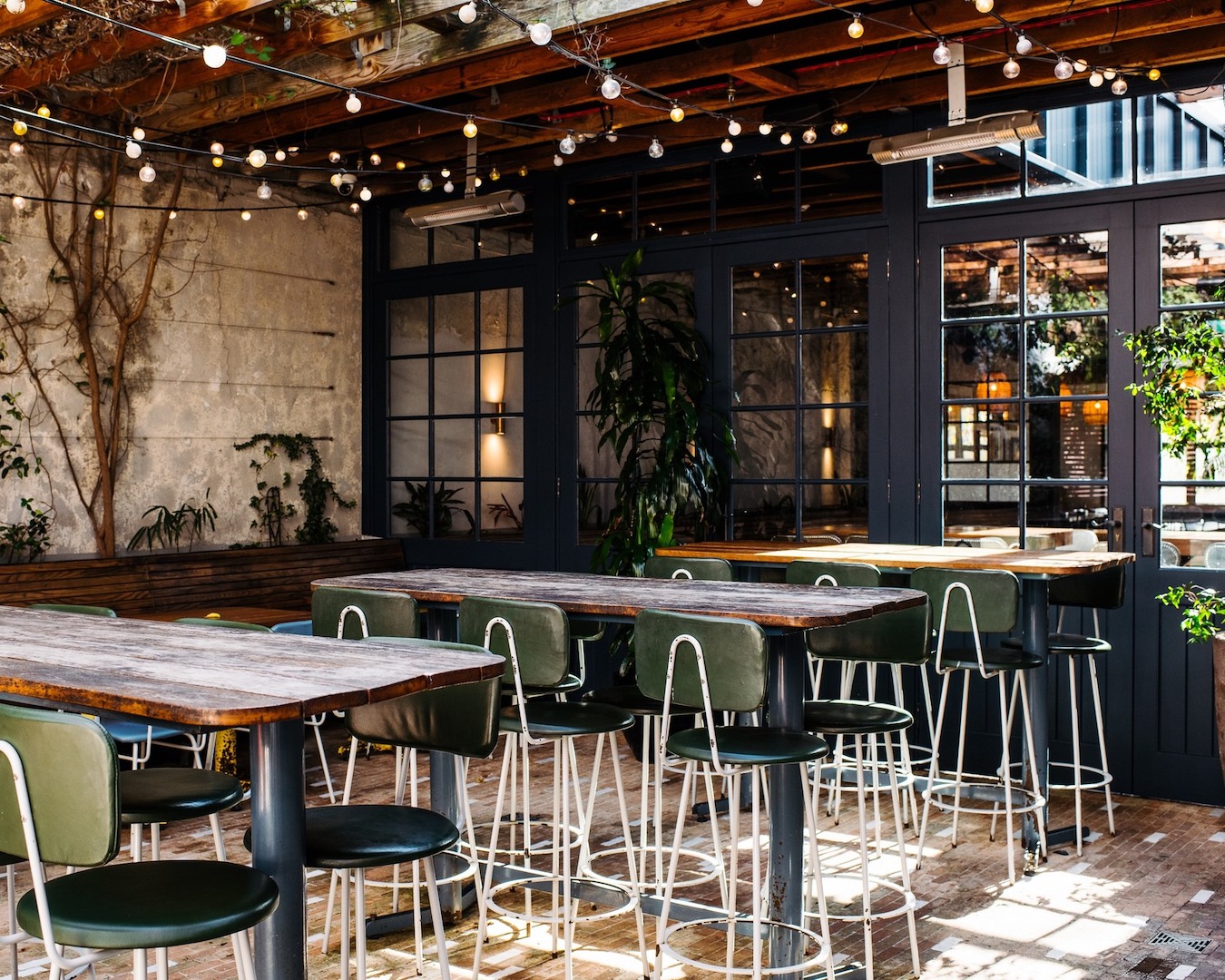 With a cool vintage vibe in and outside, the beer garden at the White Cockatoo is prime for long, lazy afternoons. Really, you have two options here with the courtyard or backyard spaces both offering the perfect spot to down a few brews paired with the pub's Italian-leaning menu that's guaranteed to satisfy.
Beach Road Hotel
Bondi Beach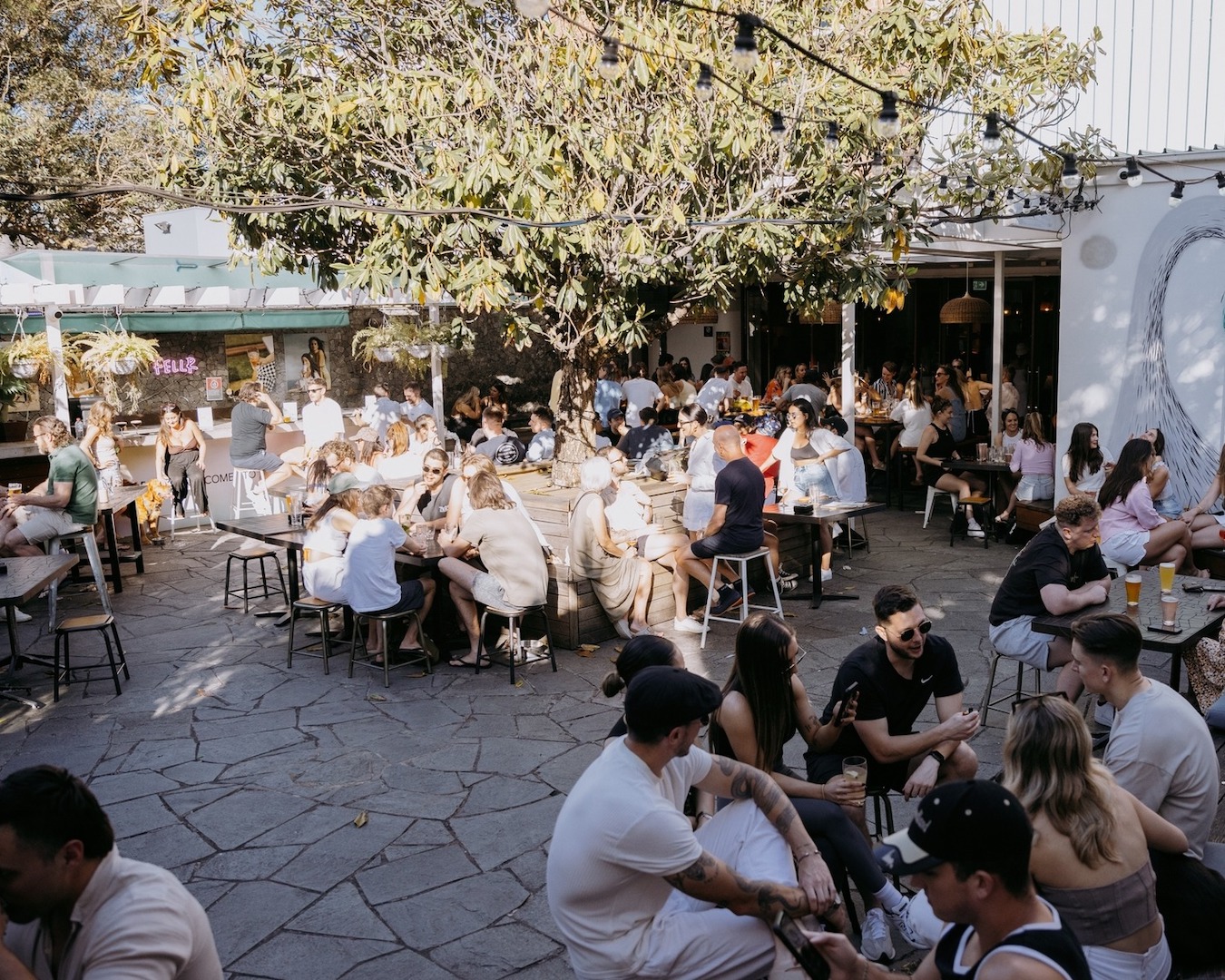 Beach Road Hotel is a shining beacon of beer garden hope in the Bondi bubble. This institution is the perfect place to grab a meal, hang out with friends, play pool, and catch some live music. The dog-friendly beer garden, otherwise known as "The Valley West Outside", has plenty of shade for a hot day, loads of tables to call your own, some comfy lounge seating if you're feeling leisurely, and a generally festive atmosphere.
The Rose Hotel
Chippendale
The Rose Hotel in Chippendale is definitely one of Sydney's most charming beer gardens. Positioned in the leafy alleyways between Sydney University and UTS, it's a firm favourite with students looking for somewhere to chill out on study breaks. As for the outdoor space itself, it's decked out in fairy lights, wooden booths, pool tables and an overhead cover, so you can make the most of weekday specials like $10 pizza, rain, hail or shine.
Sauce Brewing Co.
Marrickville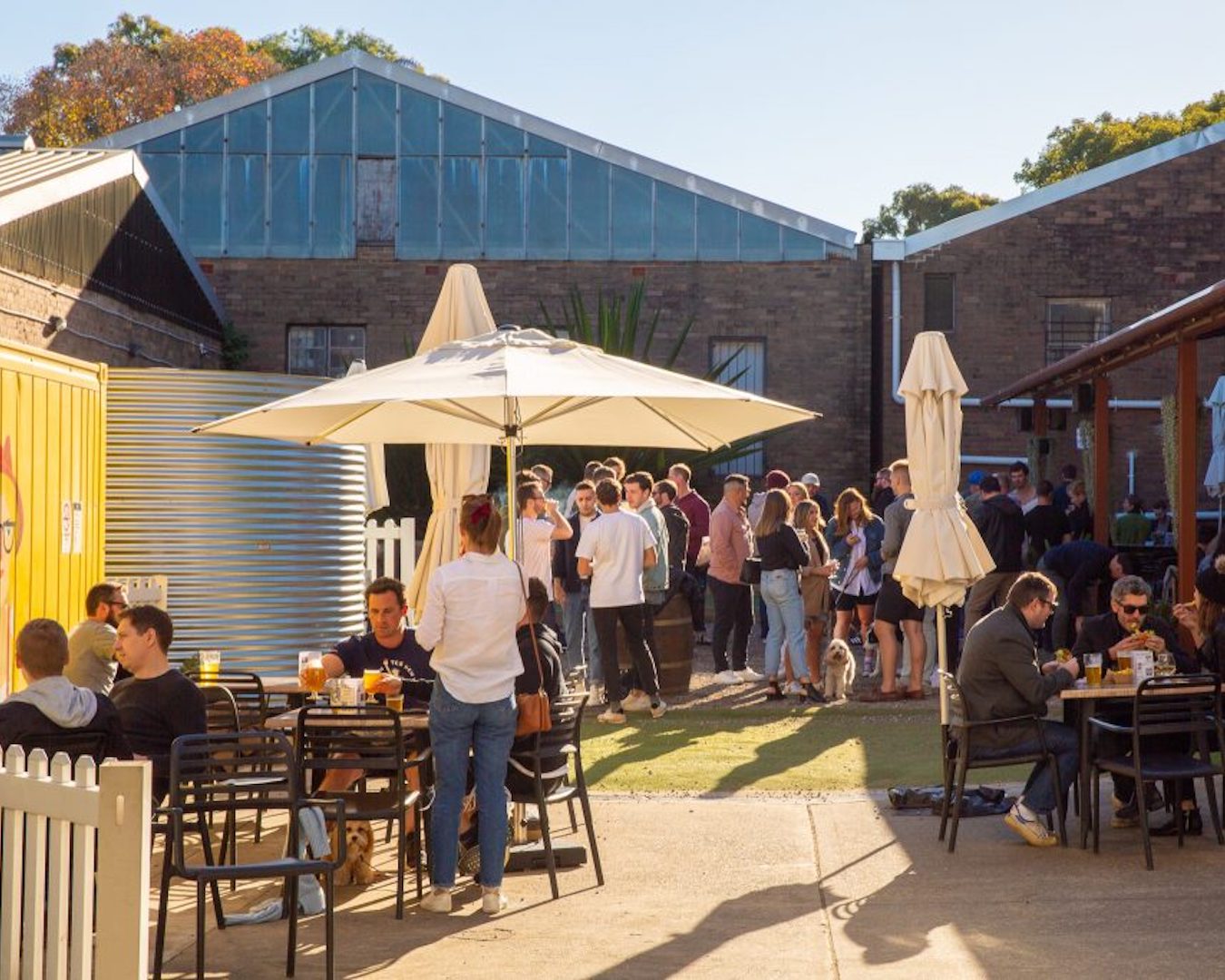 Sauce Brewing's enormous, sunny, and completely open beer garden is an epic spot to sip a fresh, frothy cold beer. This microbrewery creates a solid range of craft beers, so whether you're a hop-head, sour freak, or an ale fan, you'll be well looked after. Thursday is pizza night and you can also lap up all the food truck vibes every Friday through Sunday. And if you thought things couldn't get any better, Sauce is also super dog-friendly.
Coogee Bay Hotel
Coogee
With coastal views and beer garden brews, Coogee Bay Hotel is a heavy-hitter in Sydney with one of the biggest beer gardens boasting craft beers, wines, and cocktails. When the weekend hits you can expect a solid line-up of bands and DJs, and come Friday and Saturday, you can also hang here until 3am.
The Courthouse
Newtown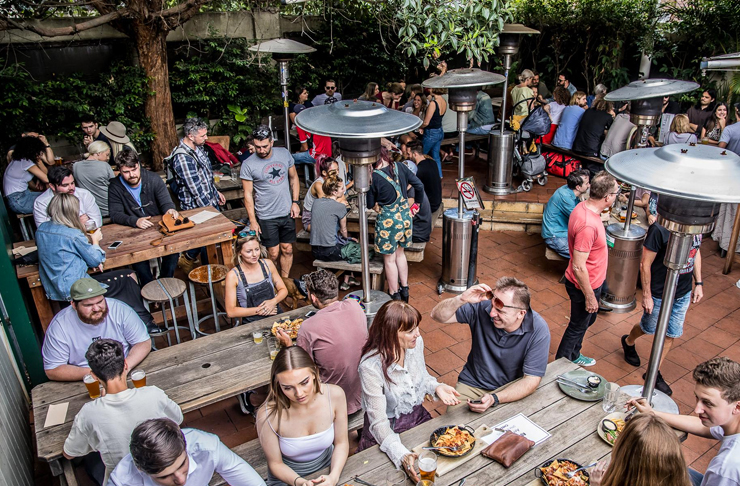 You could call the beer garden at The Courthouse a cornerstone of life in the Inner West. It is where you'll find one of the best beer gardens in Sydney, with a vibe that's more akin to your mate's sprawling backyard patio. Set yourself up on one of the long benches and settle in for one hell of a Sunday roast or classic pub grub: steaks, chicken parmies, beer-battered fish, and The Courty's famous beef nachos. And to top it all off, your four-legged mates are 100% welcome—this is Newtown, after all.
One Drop Brewing Co.
Botany
Sun, space for social distancing, and plenty of beer. If that's not a winning trifecta for a brewery right about now—we don't know what is. One Drop Brewing Co. was South Sydney's first microbrewery, with a colourful beer garden that sees a high rotation of local food trucks churn out some big feeds, and a big ol' fire pit you can warm up to in the cooler months.
Oxford Tavern
Petersham
The Oxford Tavern sports a line-up of locally owned and independent brews, live music sessions, a festival dedicated to pickles, an ongoing rotation of epic events and, yep, you guessed it, an insane beer garden. On the weekends, this courtyard beauty throws a Sunday Roast with a BBQ twist from 12pm (until sold out) that's not to be missed.
Munich Brauhaus
The Rocks
We couldn't leave off a little bit of Bavaria... Munich Brauhaus is your garden-variety Munich-style beer garden/beer hall, complete with pretzels, pork knuckles, and massive steins. If you're after a thigh-slapping good time with your bier, this one's for you.
The Henson
Marrickville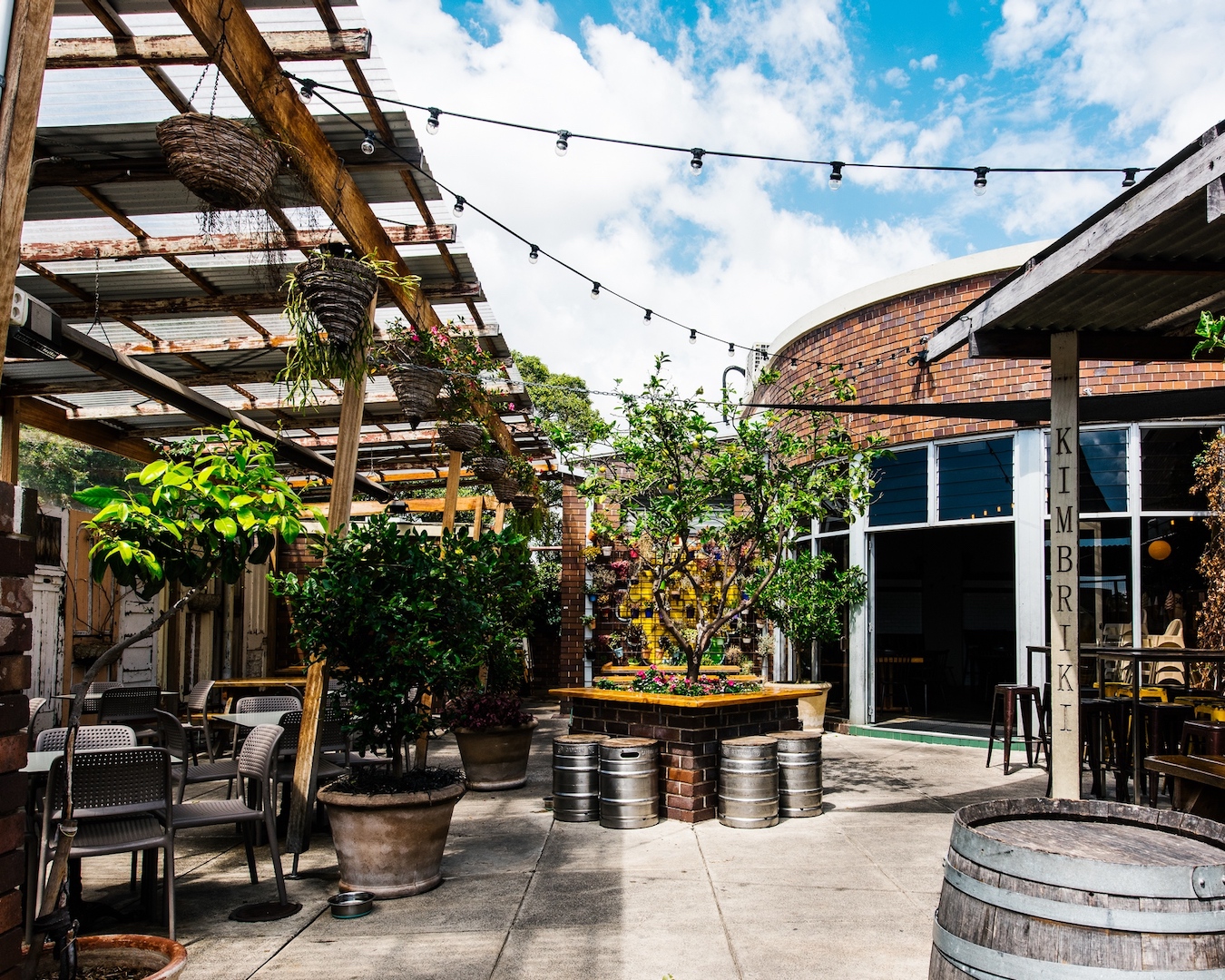 Apart from being one of the very few Sydney pubs that cures, brines, pickles, and ferments in-house, you'll love The Henson because it unravels into a funky little set-up. The beer garden is peppered over with foliage (the perfect amount so the sun still hits the pavement), festoon lights, striped brollies, and a heap of tables so you can easily set up shop with your mates with half a kilo of chicken wings and a cold one—bonus points for their gelato, too.
The Balmain Hotel
Balmain
Nestled in the cosy neighbourhood of Sydney's Inner West, The Balmain Hotel dates all the way back to 1869. The kitsch-cute beer garden here boasts a whole lot of tropical plants and the menu oozes Southern US feeds and Asian flavours. What to order? The chilled seafood platter is loaded with fresh prawns, octopus, raw fish, oysters and crab, and if that doesn't sound like the perfect outdoor feast, we don't know what does.
Keen for more boozy recs? Here's where. to sip at the best bars in Sydney.
Image credit: Vic On The Park, The Newport, The Oaks, White Cockatoo Hotel, Beach Road Hotel, Sauce Brewing Co, The Courthouse, Oxford Tavern, The Henson