It's fairly safe to say, a life without dumplings would be a sad one. Dumplings are a common feature of many cuisines, taking on a few forms—from steamed, pillowy and soup-filled to fried and crispy, there's manti, pierogi, ravioli, momo, gyoza—the list goes on.
However, for the sake of this very important dumpling hitlist—and to celebrate the Lunar New Year—we're focusing on the delicious Chinese dim sum and soupy xiao long bao. To get your fix and ring in the prosperous Year of the Rat, dive on into this list of the absolute best spots to score tasty dumplings in Sydney.
Mr. Wong
CBD
Mr. Wong, led by the legendary Dan Hong, has a dim sum menu for lunch as well as yum cha on the weekends. Like everything on the dinner menu at Mr. Wong, the dim sum delivers a perfected mix of innovation and tradition. Mr. Wong's dim sum is picture-perfect too, with the dumpling wrappers naturally coloured and artistically wrapped to showcase each type. And the xiao long bao? Definitely a contender for the very best in the city.
Any adventure to Mr. Wong feels like a special occasion thanks to the awe-inducing opulence of the space, but don't be fooled. It certainly isn't pretentious—the dim sum is reasonably priced considering you're eating at a two-hatted restaurant.
Happy D's
Redfern
Not only are the dumplings good at Happy D's, but so are the vibes! Great for a feed before a night on the town (wander down to the Bearded Tit or up to Arcadia post-meal), Happy D's will get you pumped up with fun drinks and groovy tunes.
The menu isn't strictly Chinese, especially the drinks menu, which offers an impressive range of Japanese beers and sake. However, it's this hybrid approach that makes Happy D's a great choice for dumpling-hungry vegos. There are three vegetarian and vegan dumplings on the menu, plus delicious plant-based dishes, like green tea soba noodles or blanched greens with smoky eggplant.
Chinese Dumpling Master And Chinese Noodle House
Newtown, Haymarket
Chinese Dumpling Master on Enmore Road is the offspring of the storied Chinese Noodle House in Haymarket. Many of us have been visiting the Haymarket joint for years; it's affectionately known by regulars and fans as "that place with the plastic grapevines on the roof".
Don't expect airs and graces here, this is one of those rare restaurants that enjoys a reputation based on word of mouth, which has to be the most telling testimony in our digital age.
Both Chinese Noodle House and Chinese Dumpling Master have multiple dining rooms spread across different shop fronts. They are usually crowded, loud and cheerful—but this is part of the fun, right? The dumplings have a signature flavour and a denser texture, making them a bit different to the delicate varieties you might find elsewhere. While this is a divisive feature, if you want a cheap, hearty, tasty meal (that's BYO to boot), this is your place.
Pro tip: when feasting at Chinese Dumpling Master in Newtown, pop across the road for an epic selection of natural wines from the legends at P&V Wine and Liquor.
Din Tai Fung
Various Locations
You might say the arrival of Taiwanese franchise Din Tai Fung in Sydney propelled xiao long bao into the vocabulary of the entire city. That was in 2008—relative lightyears ago in terms of restaurant openings—and people still love going to Din Tai Fung for their fresh, delicate and extra-authentic soupy dumplings. There are multiple Din Tai Fung venues across Sydney (and one in Melbourne), with large sit-down restaurants in places like The Star and World Square, and smaller shopfronts in a number of food courts across the city, which means your dumpling fix isn't too far away.
Yang's Dumplings
Burwood, Enmore
Yang's Dumplings comes to you straight from Shanghai, where the chain has been serving up tasty handmade treats for more than 20 years. The fame it has garnered in Shanghai is not lost in Sydney, where Yang's now has venues in Burwood and Enmore.
The must-try dish is the Sheng Jian Bao, a soupy mince-pork dumpling with a crispy bottom (just proceed with caution—it's hot!). If it means anything to you, and we'll assume it does, the venue is known to attract those from or familiar with Shanghai and its cuisine, so you can take that as a guarantee of authenticity and yum.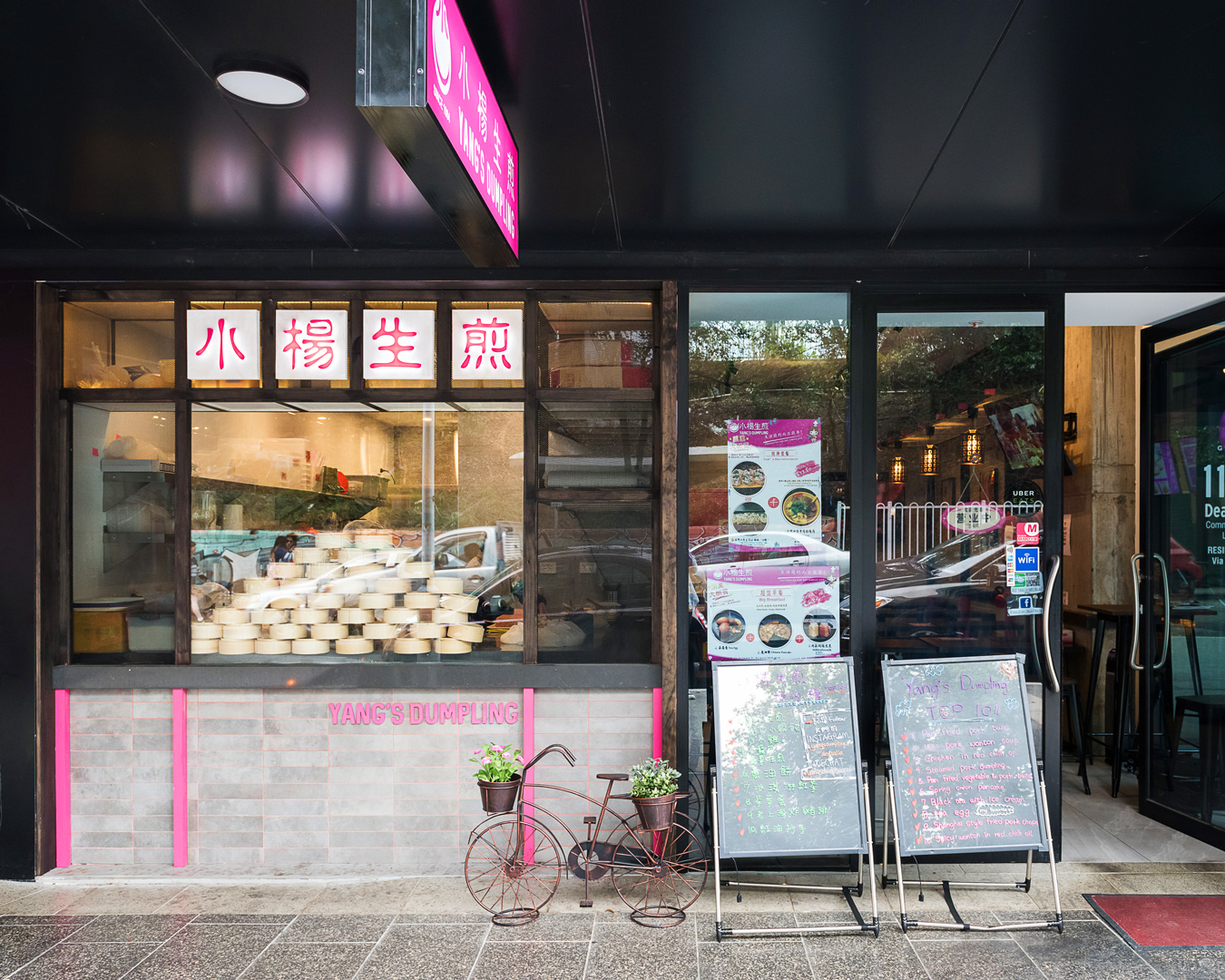 Sea Bay Restaurant
CBD
Sea Bay, not unlike Chinese Noodle House, is one of those cheap and cheerful inner-city haunts that is ideal for a post-work catch-up over a bottle of wine. It's unpretentious, inexpensive, lit by some very unforgiving fluorescents and boasts a large, lengthy and tasty menu. It's not known for dumpling variety (it mostly has pork, vegetable or pumpkin) but top it off with a tasty stir fry, hand-cut noodles and a shallot pancake and you're good to go!
Dumpling And Noodle House
Potts Point
It's hard to find cheap eats in the highly gentrified Potts Point area. However, Dumpling and Noodle House delivers (and we mean that literally too, it's on Deliveroo). The dumplings come steamed, pan-fried or boiled and in serves of eight or 12. While the pork and chive is a favourite, Dumpling and Noodle House also has surprising beef, lamb and chicken and corn options that you won't see in many other places.
Mr. Chen Beef Noodle
Haymarket
If a dumpling happy hour featuring 30c dumplings every single night of the week sounds pretty good to you, you'll want to get to know Mr. Chen Beef Noodle.
Here, chef Gary Yuen heads up the kitchen, armed with a casual 40 years experience in traditional Chinese cooking and yes, he's a dumpling king as well. Dumplings are made to order so brace yourself for generously stuffed pork morsels either boiled, pan-fried or steamed and fluffy BBQ pork buns to start your feast. Big bonus? BYO is free.
In the mood for yum cha? Here are 15 of the best places to get yum cha in Sydney.
Image credit: Mr. Chen Beef Noodle, Caitlin Hicks, Din Tai Fung, Caitlin Hicks, Mr. Chen Beef Noodle