It's fairly safe to say, a life without dumplings would be a pretty sad one. Dumplings are a common feature of many cuisines, taking on a few forms—from steamed, pillowy, and soup-filled to fried and crispy, around the world, there's manti, pierogi, ravioli, momo, gyoza—the list goes on.
Thankfully, there are a few standout Sydney joints slinging delicious dumplings in all their many formats. Here we've rounded up a list of the best, with a special focus on Chinese dim sum and soupy xiao long bao.
To get your fix, dive into this list of the absolute best spots to score tasty dumplings in Sydney.
The Best Dumplings Across Sydney
Chef's Gallery
Various Locations
Since opening in 2010, Chefs Gallery has been a major Sydney favourite—for its fresh pan-Chinese cuisine, theatrical open kitchen, creative "Chapas" (Chinese-style tapas) and signature handmade noodles, hot pot, and dim sim. When it comes to delicious dumplings, keep your eyes peeled for pan-fried prawn potstickers with seaweed and squid flakes and steamed prawn and chicken shumai. Chefs Gallery has locations in Macquarie Park, the Sydney CBD, and Parramatta.
Din Tai Fung
Various Locations
You might say the arrival of Taiwanese franchise Din Tai Fung in Sydney propelled xiao long bao into the vocabulary of the entire city. That was in 2008—which is basically aeons ago in terms of restaurant openings—and people still love going to Din Tai Fung for their fresh, delicate and extra-authentic soupy dumplings. The xiaolongbao is, quite simply, some of the best in Sydney. Keep an eye out for dumpling specials too—like truffle dumplings during truffle season, and rainbow-hued dumplings for Mardi Gras.
Lilong By Taste Of Shanghai
Various Locations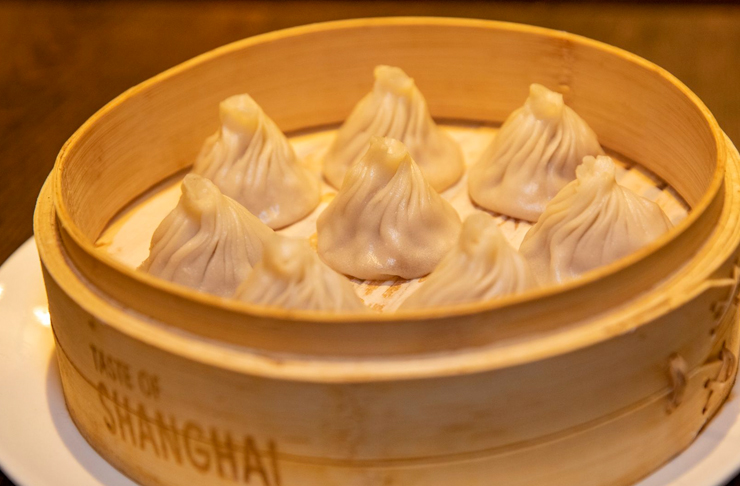 The word "lilong" describes the old street communities in Shanghai that were connected by laneways which means, unsurprisingly, most Lilong outposts across Sydney resemble terrace-like houses, traditional Chinese courtyards, and back-street haunts tucked behind big city buildings. Started by Jennifer Du, the food is a large nod to Du's heritage and focuses on Shanghai and Northern Chinese cuisines. Lilong's dumpling legacy has been going strong since 2006. Sink your teeth into everything from sticky rice dumplings and chicken and sweet corn dumplings to crispy Shangai turnip croissants and crispy fried Chinese milk buns.
Lotus
CBD, Double Bay and Barangaroo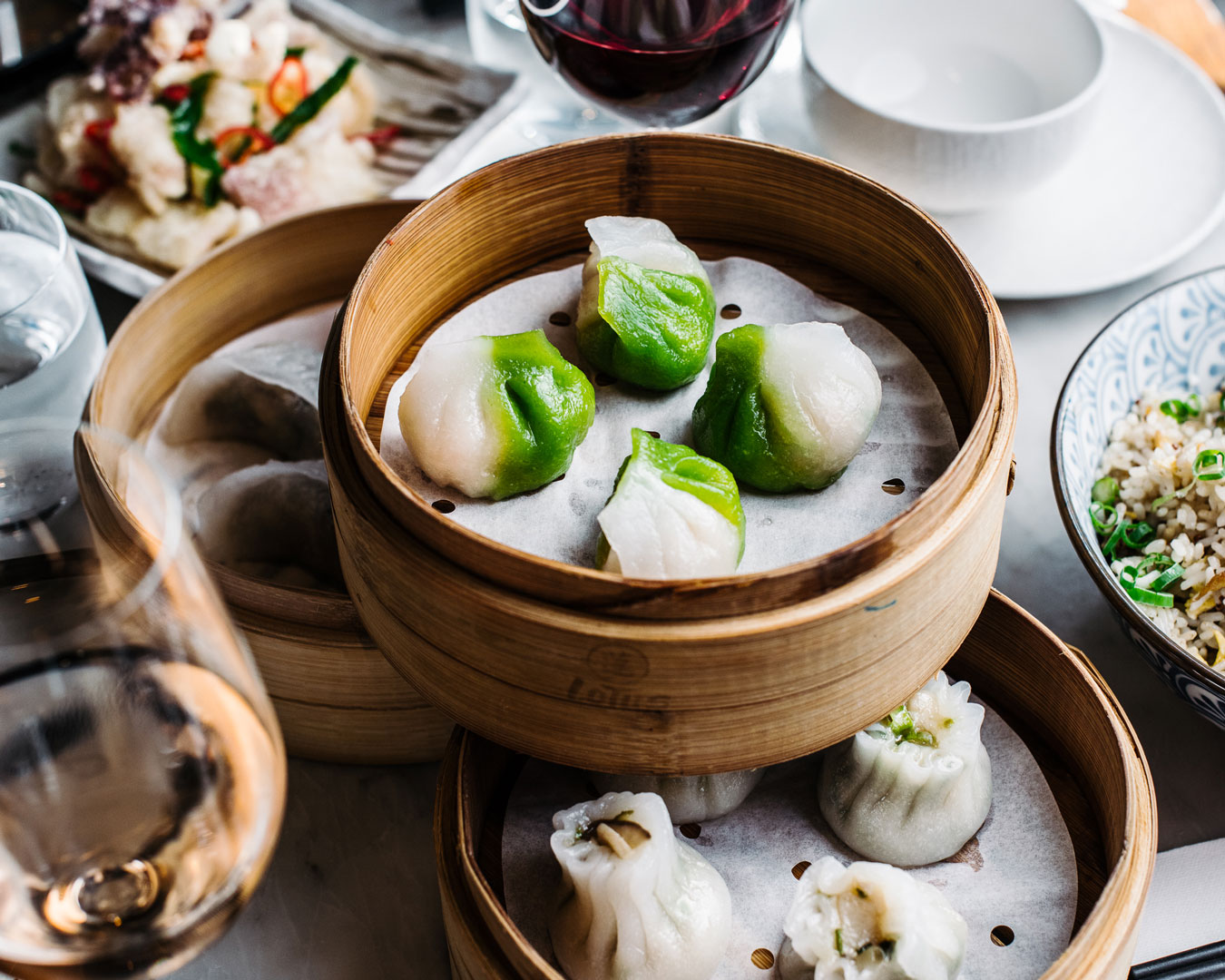 There are multiple venues under the Lotus name in Sydney, including a dumpling bar and a dumpling house set within the tranquil Chinese Garden of Friendship—but one thing remains true of the Lotus Group. Their dumplings are divine. The concept came into fruition back in 2012 when Michael Jiang put into play his dream of owning a restaurant that would bring his childhood memories of food to life. Right now, you can channel the best of the dumpling menu which looks like Sichuan style prawn and pork wonton. You'll also find chicken and kimchi wonton, pan-fried pork and zucchini dumplings and the famous duck egg york dessert dumpling.
New Shanghai
Various Locations
From the signature Shanghainese xiao long bao to prawn dumplings with peanut sauce, let's just say your taste buds are in for a vivid flavour safari at New Shanghai. It should come as no surprise that New Shanghai has outposts all over the country and the world with its Chinese dishes stemming from recipes that have been passed down through generations. There's a hefty menu dedicated entirely to dim sims and dumplings. The aforementioned Shanghainese xiao long bao is a signature, as is the crab meat xiao long bao, and the potstickers.
Chinese Dumpling Master And Chinese Noodle House
Newtown and Haymarket
Chinese Dumpling Master on Enmore Road is the offspring of the storied Chinese Noodle House in Haymarket—and both siblings serve piles (and piles) of some of Sydney's most delicious dumplings. Many of us have been visiting the Haymarket joint for years; it's affectionately known by regulars and fans as "that place with the plastic grapevines on the roof". Don't expect airs and graces here, this is one of those rare restaurants that enjoys a reputation based on word of mouth, which has to be the most telling testimony in our digital age.
Typically crowded, loud and cheerful, dumplings here have a signature flavour and a denser texture, making them a bit different from the delicate varieties you might find elsewhere. While this is a divisive feature, if you want a cheap, hearty, tasty meal (that's BYO to boot), this is your place. Pro tip: when feasting at Chinese Dumpling Master in Newtown, pop across the road for an epic selection of natural wines from the legends at P&V Wine and Liquor.
Queen Chow
Manly And Enmore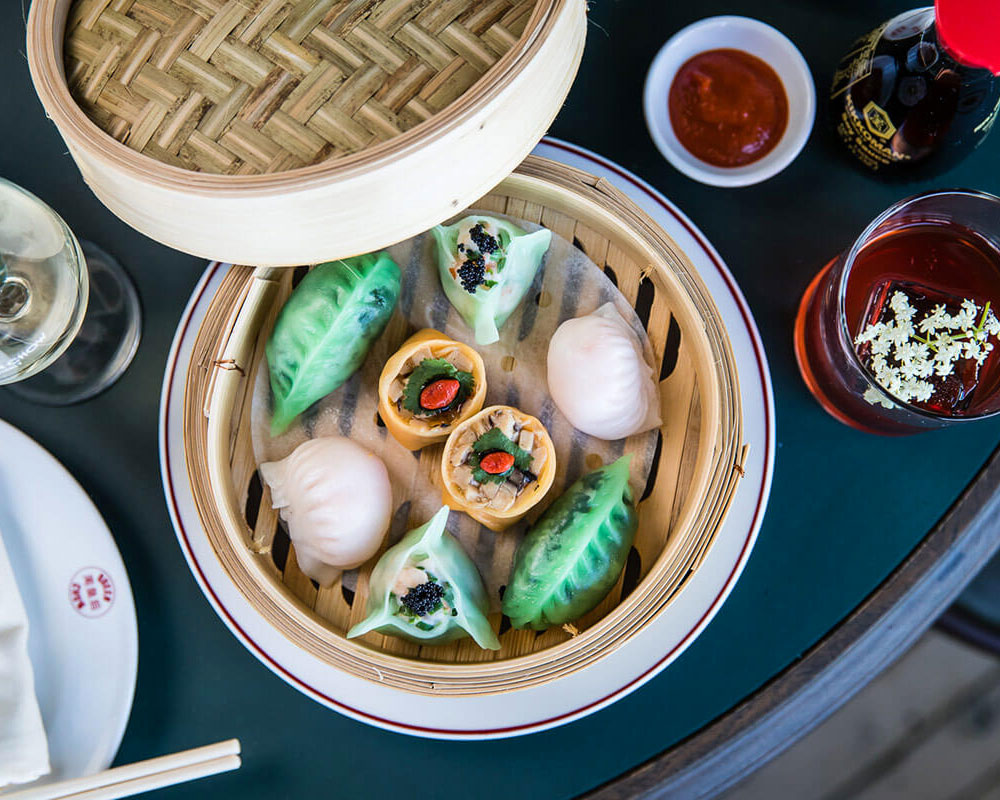 Inspired by neighbourhood restaurants in Hong Kong, Queen Chow is Merivale's take on Cantonese cuisine. Expect all the polish you've come to know and love from the Merivale family—plus seaside views (in Manly) and a slick pub refurb (in Enmore). When it comes to dumplings, you'll want to try the jade seafood dumpling, which is actually a stunning jade green hue, and the wild mushroom dumplings. Try them all and more with a dim sum platter.
The Best Dumplings In Sydney's North
Momo Bar
Manly And Dee Why
People travel far and wide to sink their teeth into the poke bowl and dumpling affair at Momo Bar. The stickler at Momo is that the dumplings are pretty much the size of your palm and come out in all kinds of variations (vegan, traditional, Nepalese, and gluten-free). There's a landslide of dumpling fillings to try too, including lamb, chicken, lentil, mushroom, pork and veggie dumplings, most of which are served with a flavoursome broth you'll want to knock back like water. The unmissable bowl here is the chicken dumplings, which are hand-rolled Nepalese momo. You'll want to load her up with paprika butter, garlic yoghurt and the elixir of life that is sriracha chilli sauce.
Mama Mulan
Chatswood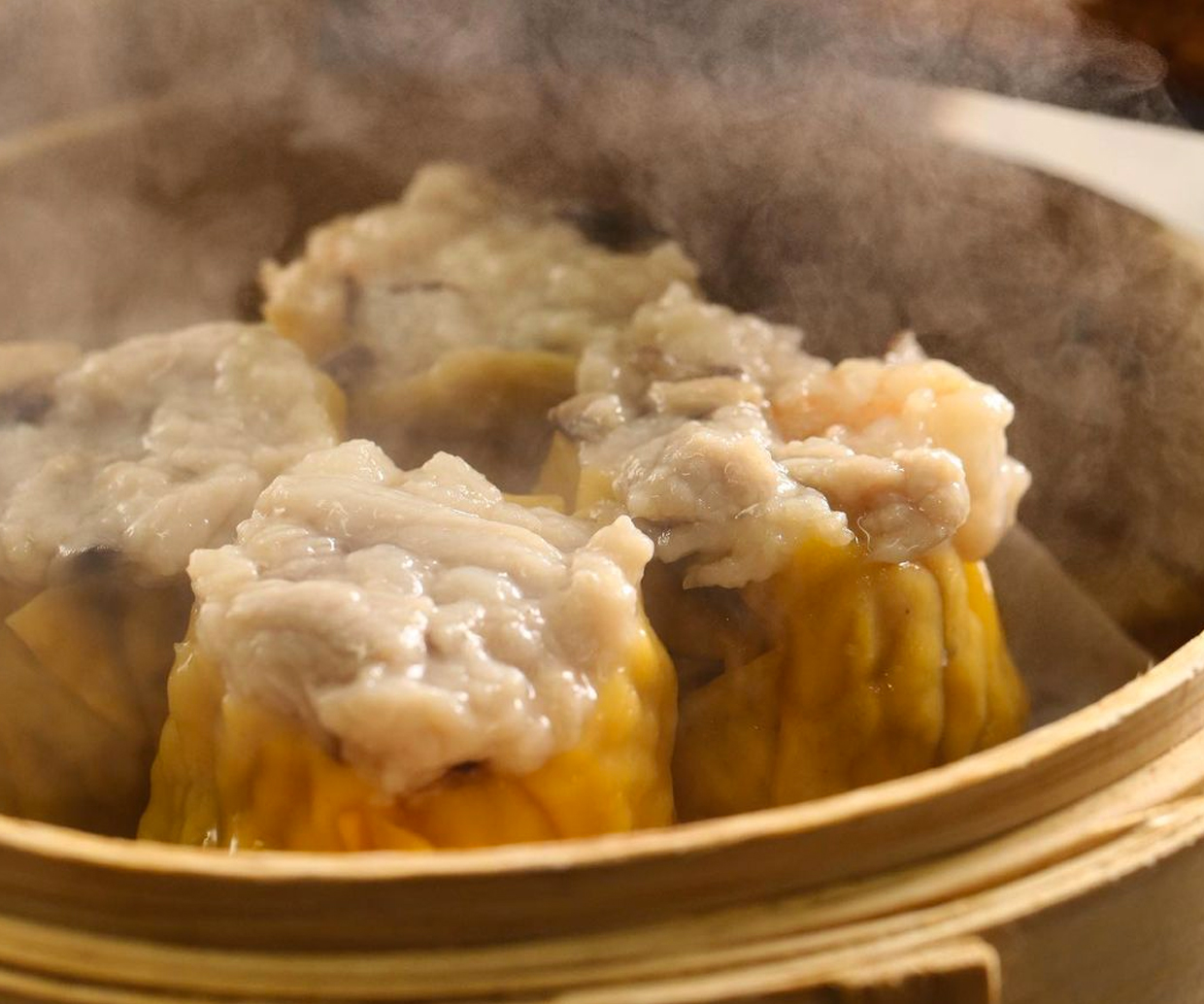 Mama Mulan is a modern Chinese food restaurant with a menu that serves up staple dishes with a fun twist. Most of the time, the people line-up at all hours of the day to hit the unparalleled yum cha on offer here, with plates of steamed, pan-fried and deep-fried dim sum dishes all mixed with fresh ingredients and a spice repertoire that can be sourced back to different places all over the world. At any given point, the mixed dumpling platter is the way to go, loaded with Mulan prawn har gau, dry scallop, pork and prawn shumai, and mushroom and veggie dumplings.

The Best Dumplings In South Sydney
Imperial Peking Restaurant
Blakehurst
Imperial Peking Restaurant is an institution, to say the least. The venue has been standing strong in the Imperial Building on King Georges Road for 20 years now and as you might guess, the Peking duck is a big must. The menu is loosely focussed on Cantonese-style dishes but you'll also find a line-up of classic Pekinese dim sim, like fried pork dumplings and steamed prawn dumplings. Pop in for yum cha to experience over 40 varieties of delicious dim sum.
Golden Sands
Hurstville
Largely hailed as one of Sydney's prodigies of yum cha, unsurprisingly Golden Sands and its dim sim situation will have you licking your lips. Located in Hurstville, which is occasionally referred to as Sydney's "Little Hong Kong", arrive early to ensure you score a table. When you're ready to order, the seafood-packed har gow are silky, crystal morsels worthy of your time. Plumper than your typical dumpling, the scallop and spinach dumplings are also a smash hit. Once you've consumed your body weight in dumplings, it'll be time for you to hit Golden Sands' karaoke room.
The Best Dumplings In Sydney's Eastern Suburbs
Golden Unicorn Chinese Restaurant
Maroubra
You could say The Golden Unicorn Chinese Restaurant is to the south-east what Totti's is to Bondi, maybe minus the Merivale sheen. Having opened its doors 10 years ago, this BYO venue has a bible-length menu where you can cop everything from mooncakes and chicken stuffed with abalone to casual yum cha and full-blown banquet menus. The steamed har gow, fried prawn and spinach and Chinese prawn dumplings are standouts on the menu.
Dumpling And Noodle House
Potts Point
It's hard to find cheap eats in the highly gentrified Potts Point area. However, Dumpling and Noodle House delivers (and we mean that literally too, it's on Deliveroo). The dumplings come steamed, pan-fried or boiled and in serves of eight or 12. While the pork and chive is a favourite, Dumpling and Noodle House also has surprising beef, lamb, and chicken and corn options that you won't see in many other places.
The Best Dumplings In Sydney's West
Vinh Phat
Cabramatta
The dumpling deal at Vinh Phat is legendary. It's famous for yum cha as much as it is famous for long queues to get a table. The dim sim, texturally, are creations above most dumpling joints in Sydney and the fried dumplings go down a treat after a big night out of knocking back cold ones.
The Best Dumplings In Sydney's CBD
XOPP
Haymarket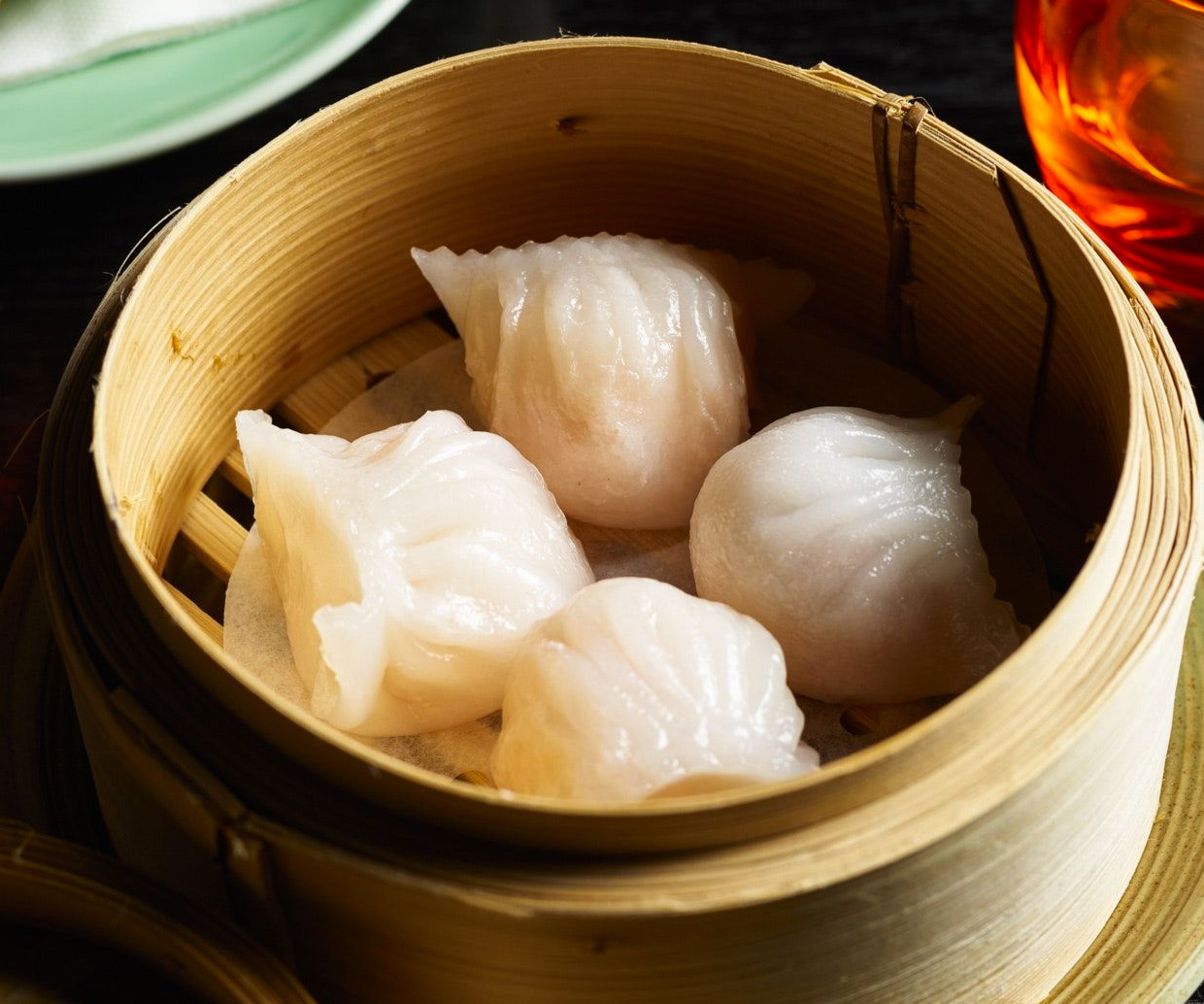 Golden Century is one of Sydney's most loved, longstanding restaurants. Thanks to the pandemic, its future is looking pretty shaky, but for now, its younger offshoot XOPP is carrying on the legacy. XOPP (a playful acronym of the dish that made Golden Century famous), churns out contemporary takes on Cantonese classics of comfort food. There's no messing with the staples here which means the silver prawn dumplings bearing a slight crunch are a no-brainer.
Mr. Wong
CBD
Mr. Wong, led by the legendary Dan Hong, has a dim sum menu for lunch as well as yum cha on the weekends. Like everything on the dinner menu at Mr. Wong, the dim sum delivers a perfect mix of innovation and tradition. Mr. Wong's dim sum is picture-perfect too, with the dumpling wrappers naturally coloured and artistically wrapped to showcase each type. And the xiao long bao? Definitely a contender for the very best in the city. Any adventure to Mr. Wong feels like a special occasion thanks to the awe-inducing opulence of the space, but don't be fooled. It certainly isn't pretentious—the dim sum is reasonably priced considering you're eating at a two-hatted restaurant.
Mr. Chen Beef Noodle
Haymarket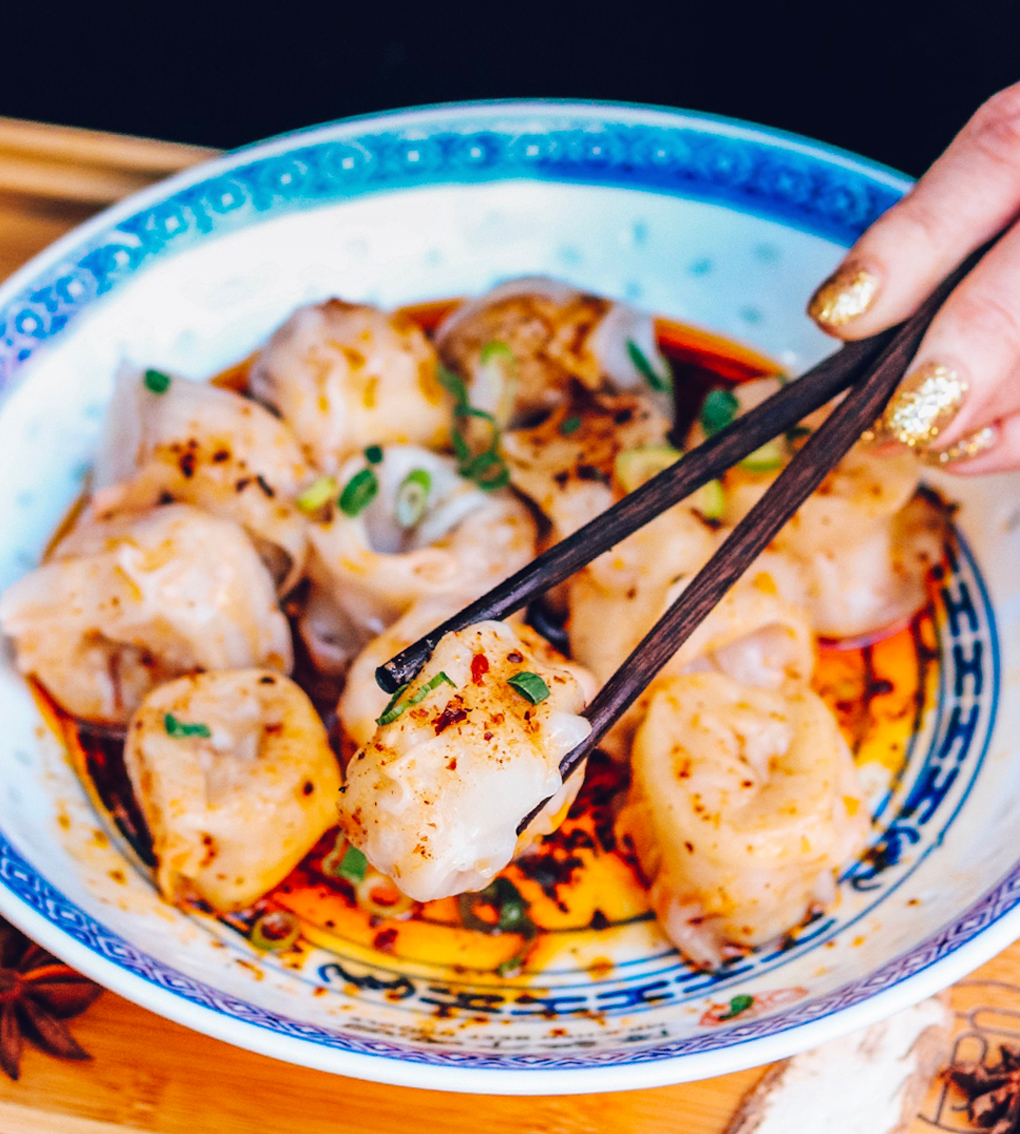 Here, chef Gary Yuen heads up the kitchen, armed with a casual 40 years experience in traditional Chinese cooking and yes, he is a veritable dumpling king. Dumplings are made to order so brace yourself for generously stuffed pork morsels either boiled, pan-fried or steamed and fluffy BBQ pork buns to start your feast. Big bonus? BYO is free.
The Best Dumplings In Sydney's Inner West
Yang's Dumplings
Burwood and Enmore
Yang's Dumplings comes to you straight from Shanghai, where the chain has been serving up tasty handmade treats for more than 20 years. The fame it has garnered in Shanghai is not lost in Sydney, where Yang's now has venues in Burwood and Enmore. The must-try dish is the Sheng Jian Bao, a soupy mince-pork dumpling with a crispy bottom (just proceed with caution—it's hot!). If it means anything to you, and we'll assume it does, the venue is known to attract those from or familiar with Shanghai and its cuisine, so you can take that as a guarantee of authenticity and yum.
Sydney Dumpling King
Burwood
Shakespeare asked "what is in a name?" and to that we say, when it comes to Sydney Dumpling King, pretty much everything. This lo-fi dumpling joint has a business model entirely fixed on making Sydney's best dumplings without all the fuss and it's something the crew have exceeded expectations on. Here, the juicy steamed pork dumplings reign supreme and all dumplings are handmade daily.
Still hungry? Check out Sydney's best Chinese restaurants.
Image credit: Din Tai Fung, Lilong, Alana Dimou, Merivale, Mama Mulan, XOPP, Mr Chen Beef Noodle