When life gives you lemons… eat burgers.
No matter the mood, time or place, wrapping your hands around the sweet buns of a burger is one of life's great pleasures, there's simply no denying it. We've been perfecting this over-the-top sandwich ever since it exploded into human history, and Sydney's burger offerings do not disappoint. From hefty American style burgers to indulge in on your cheat day, to vegan versions that out-do their meatier forefathers, we've got it going on when it comes to burgs.
So without further ado, here are nine of the best burgers in Sydney.
Mary's
CBD, Circular Quay, Newtown, Chippendale
The slogan smeared across the t-shirts of Mary's waitstaff says it all: "Mary's, get fat." From the OG venue in Newtown to the tourist pumping, vegan-optional Circular Quay drop-in and recent rooftop edition, Mary's keeps it pretty damn consistent. This is not the place to test out those super tight jeans.
Inspired by the resurgence of classic American-style burgers, Mary's menu is an (almost) decision-free selection of four gut-filling creations. There's a classic cheeseburger, a fried chicken, a veg and the now-iconic Mary's Burger. Since owners Jake Smyth and Kenny Graham bled urban energy into the site of a 100-year-old King Street warehouse back in 2013, the pair have set out to redefine the drooling standards of the Sydney burger scene. After working with chef Luke Powell (of LP's Quality Meats) the duo has matched local craft beers and natural wine with a grungy atmosphere and a burger menu that, while understated in size, is packed with salivating flavour.
Must try: The Mary's Burger
Bar Ume
Surry Hills, Barangaroo
Fusing the underground essence of an urban Tokyo eatery with what is possibly western civilisation's most beloved dish, Bar Ume in Surry Hills and its sleek Barangaroo sibling, Ume Burger, provide a delicious commentary on the evolution of international food culture. More simply, these burgers are a top-notch mashup of cultural flavours you absolutely need to try.
Since Kerby Craig and co-owner Regina Jos opened Bar Ume in 2012, the hatted chef has highlighted how food that blends cultural cuisines can be inexpensive, all the while maintaining an authentic hand-crafted approach. Craig, formerly of KOI Dessert Bar, and fellow chef Joseph Siagaan have devised a menu of burgers which pays homage to the precision and spicy fragrances of Japanese cooking, but binds them to our love of greasy American goodness.
The eponymous Ume Burger incorporates a zesty wagyu mince sauce with a quintessential burger family of beef patty, truss tomato, onion, mayo and American cheese. Meanwhile, the Osaka style Fish Katsu unites a hand crumbed fish fillet, Japanese tartare, iceberg lettuce and cheese. Enjoy your tasty creation harbourside with a Japanese craft beer brew at Ume Burger in Barangaroo, or sip on a fireball at the unsuspecting Bourke Street hangout where cherry blossom prints cascade across the walls.
Must try: The Classic Ume Burger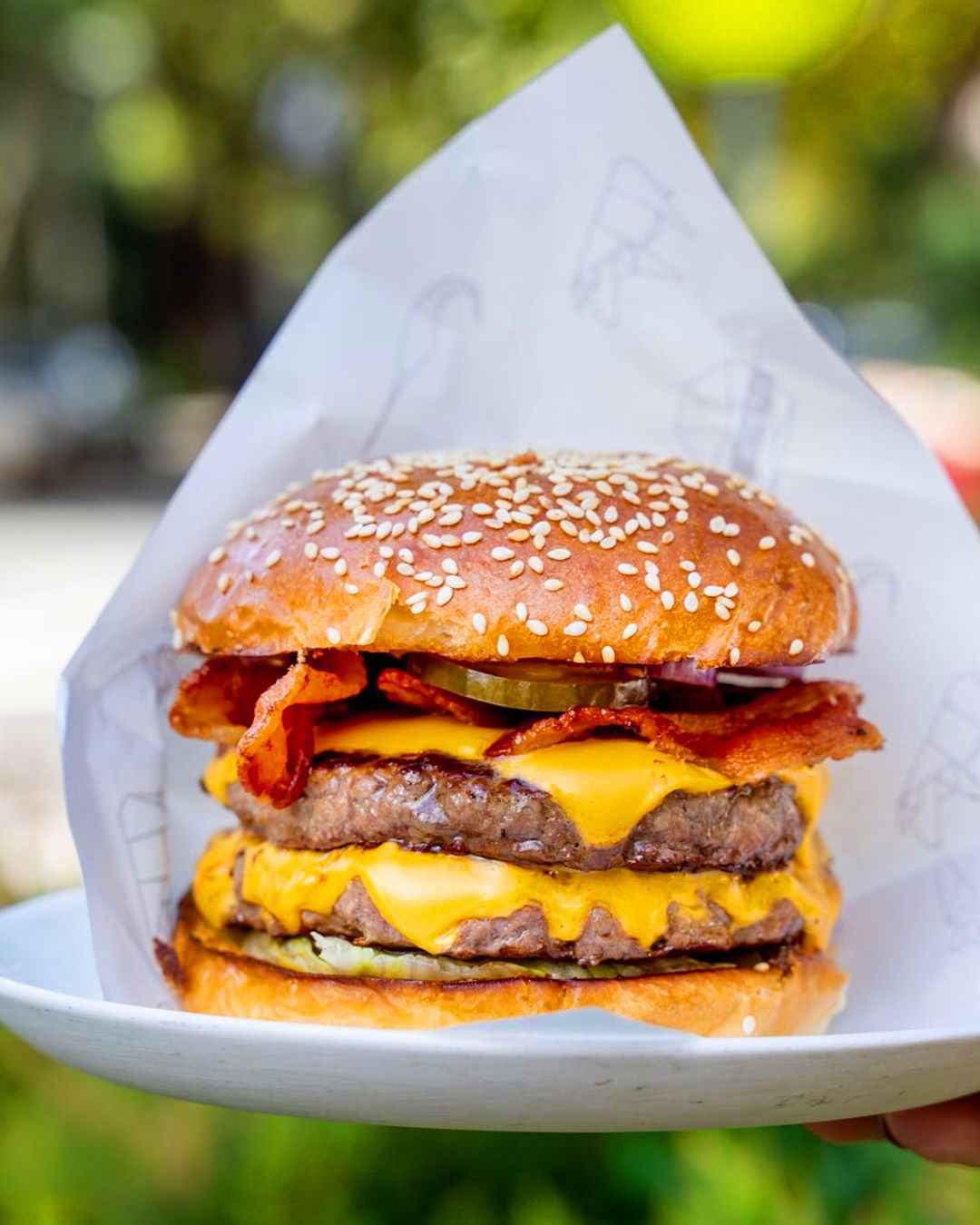 Milky Lane
Various Locations
You might want to plan your post-feed nap ahead of enjoying a burger at Milky Lane. Part 50s diner, part dude-food heaven, Milky Lane has spread its overwhelming food porn to six of Sydney's most frequented social hangouts: Bondi, Cronulla, Coogee, Crows Nest, Parramatta and Kings Cross. Working with chargrilled patties, their own secret sauces and daily-delivered milk buns, since 2016 Milky Lane stores have been smattering just about everything one can hope for into their loaded burgers.
The result is a set of stacked burgers made up of drool-inducing proportions. Director Christian Avant believes that while Milky Lane's creations may be a tad moreish, two things are clear with every cheesy bite. "We put love into everything we do," he says. Even though this burger joint is expanding, Avant maintains "flavour and freshness are two things that we cannot compromise."
Combining bacon, a double beef patty, cheese, BBQ sauce, truffle aioli, Avant recommends the cheekily named Kevin Bacon. "The flavours set your tastebuds alight," he says. "It's meaty, it's cheesy and it's a crowd favourite every single time." Wash it all down with a freakily enormous milkshake and prepare to hit peak food coma.
Must try: The Kevin Bacon
Down N' Out
CBD
You would be seriously hard-pressed to find anyone who is either down or out about Down N' Out's sizeable towers of deliciousness. Owners Ben Kagan and Archie Saliba opened their first burger joint in Ryde in 2017 and have since expanded to Crows Nest and most recently the CBD.
Reminiscent of the inner-city burger bars of the 90s, Down N' Out echoes a similarly unfazed atmosphere with exposed brick walls, a friendly wait and bar staff and banging rock tunes. Kagan and Saliba's concise list of just four burgers includes a weekly special designed to keep you coming back for more. For a first-timer, the pair suggest starting small with the Classic Single Burger before adding on a slather of extra bacon and popping dose of jalapenos. Known as the "Tower of Tinnies", cleanse the palate with a beer from Down N' Out's extensive mountain of craft blends.
Must try: The Classic Single Burger
Bar Luca And BL Burgers
CBD, Darlinghurst, Parramatta
While the dine-in Bar Luca in the CBD was their pilot project, husband and wife duo James and Sarah Robbins' have since expanded, launching their takeaway incarnations, BL Burgers in Darlinghurst and Parramatta. Their menu of all-American style burgers has generated a cult following. While it's all about the land of red, white and blue, the aptly named Blame Canada at BL infuses everything we know and love about a beef patty and American cheese with a hefty maple kick thanks to maple aioli and maple bacon. Take it one bite further and test your tastebuds with the fired-up Flame Canada, which adds jalapenos and chilli maple aioli.
Must try: Blame Canada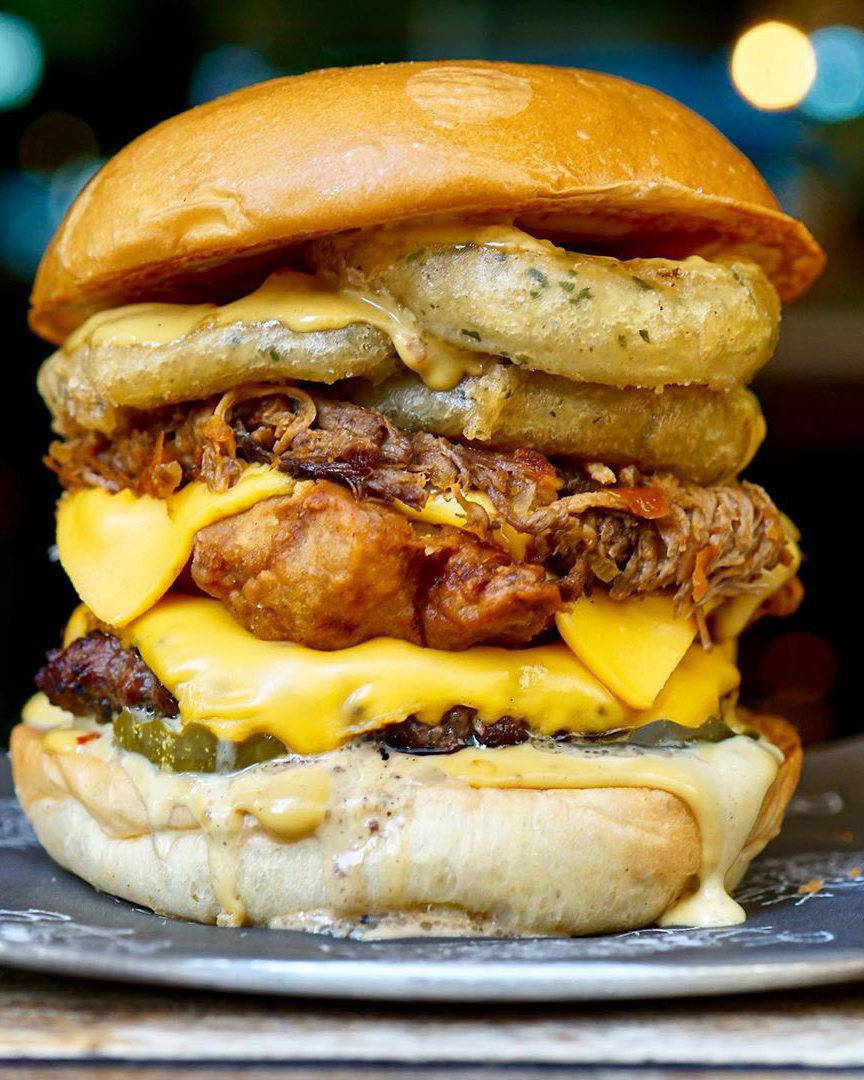 Soul Burger
Various Locations
Although Soul Burger's four plant-based burger outposts do serve up the usual vegetarian-friendly options (falafel, portobello mushroom and satay tofu), the venue is all about introducing Sydney to the exponentially accessible world of faux meats.
Before burger purists turn up their noses, listen up—these burgers are good. The pulled pork burger swaps the pig for jack fruit, and adds a layer of fresh apple slaw, perri perri sauce and aioli. Meanwhile, the BBQ Bacon uses a herbed "meat" patty and lashers of plant-based bacon with a refreshing hit of cos lettuce, tomato and bacon BBQ sauce.
Owner of Soul Burger, Amit Tewari says his meat-free menu definitely hits the mark. "Our burgers have been designed to include all of the taste of meat burgers, with no compromise," he says. "They're made to give burger eaters a healthier option and to help reduce their meat intake".
Must try: The Pulled Pork Burger
Out Of The Blue
Clovelly
Pastries, macaroons, baguettes and burgers. Is there anything the French can't perfect? Founded in 1986 by former Frenchies Jean-Marc and Sophie Gubian, for more than 30 years the couple has ensured that summertime at Out of the Blue in Clovelly is a synonymous with the season as Sunnyboys and suntans. Initially setting out to serve up the East's best fish and chips, the family-run business soon found that sun-soaked swimmers were craving something else: burgers.
While the affordable menu mightn't be perfectly suited for Instagram, the menu and flavours have been created and perfected with love. When making your beachside selection from the menu of nothing above $15, opt for a burger named after the store's owners. Sophie's famous vegan burger unites her veggie patty recipe (featuring lentils, rice, carrot, pumpkin, parsley) with handcrafted hummus, chilli, lettuce, carrot. Meanwhile, Jean Marc's beloved "Curry Chicken Burger" is a tasty, albeit drippy mix, of "yellownaise", marinated capsicum, lettuce and runny egg. Grab it in a take-away box and head back to the beach!
Must try: Curry Chicken Burger
Surly's
Surry Hills
If there is one thing the Americans both love and know how to do, it's man the piping flames of a BBQ grill. Nashville is that you? Opening in 2015, Surly's understated dive bar looks a lot like those you'd see in the movies. You know those ones where there is a montage of a protagonist drinking too much in quick succession. Despite the intentionally naff decor, the team at The Parlour Group (from Stuffed Beaver and Riley Street Garage) know a thing or two about satisfying hankerings for draught brews and ultimate dude-foods.
Served hot from Ole Hickory (yes, Surly's have named their firebox smoker), the burgers are boot-scootingly epic. All served with shoestring fries, the neat selection of burgers gives you an authentic taste of everything southern, fried and briskety. The classic Surly Burger with a wagyu patty, cheese, lettuce, tomato and Surly crack sauce is a staple. Branch out with The Nashville which pairs southern-style fried chook with slaw and more crack sauce, or get your ye-ha on with The Cowboy, which combines a burger patty with smoked brisket, cheese, caramelised onion, tomato relish and horseradish.
After chowing through your burger and addition of loaded fries (because who wouldn't), head upstairs to a wood panelled arcade game arena in Smokey's Cabin.
Must try: The Cowboy
Burgerhood
Balmain
"Burgerhood" sounds like exactly the type of neighbourhood we need to be a part of. Maintaining the ease and craveable goodness of modern American style burgers, Burgerhood elevates the stakes with traceable ingredients and free soft serves (and proves that you really can have it all).
Burgerhood is a straight-shooting burger joint. And as this is a proper burger diner, you can't go wrong with the classic Hood Burger or the Cheese Burger. Yet, why not test out the Chicken Burger with grilled chipotle brined chicken breast, lime aioli and crunchy tortilla crisps, or the Fish Burger with IPA battered fish, mushy peas and smoked tartare. There is even a vegan and vegetarian burger if you are that way inclined.
Located on Balmain's Darling Street, the venue is suitable for young and old. Hit up the Milo or peanut butter shakes, or if you're after something boozier, there's a small list of craft brews and house wines. Or, have the best of both worlds: spike a shake with a shot of vodka or bourbon.
Must try: The Chicken Burger
After something spicier? Check out Sydney's 11 best restaurants for chilli-laced goodness.
Image credit: Down N Out, Mary's, Bar Ume, Milky Lane, BL Burgers, Surlys