Whether you like your patties stacked single, double, or meatless; your chicken fried, katsu, grilled or charcoal; your buns gluten-free, brioche, milk or potato, and your toppings stacked with fresh salad, extra crispy bacon, or lots of cheese—let's just say, Sydney has a burger for you.
But while Sydney's ever-growing burger scene was built off the success of a few cult-favourites-turned-heavyweights, you'll now find a bloody decent stack in every corner of this fine city. West, North, South, East, or tucked into the inner city suburbs—there's some serious competition for whose burger is the real MVP.
To help you out, here's our best and most mouth-watering attempt at rounding up 30 of the very best places to get a burger in Sydney right now. As for who's number one? You'll have to try them all and decide for yourself.
Ready? Here's where to find the best burgers in Sydney.
Out Of The Blue
Clovelly
If you're out for a swim near Clovelly, Gordon's Bay, or honestly any eastern suburbs beach and in need of a cheap and tasty lunch—make a beeline for much-loved Out Of The Blue. This takeaway shop is so popularly frequented by sandy punters that you should more often than not expect a little wait. But it's worth it for a chicken schnitty burger reminiscent of your favourite childhood beachside feasts, smeared with house garlic mayo and topped lettuce, tomato, carrot, beetroot, and cheese—all for just $11. Or there's scotch fillet, salad, fish, and tofu burgers to go with chips served in some classic butcher's paper. Swim and a feed? Sorted.
Two Hungry Bears
Narrabeen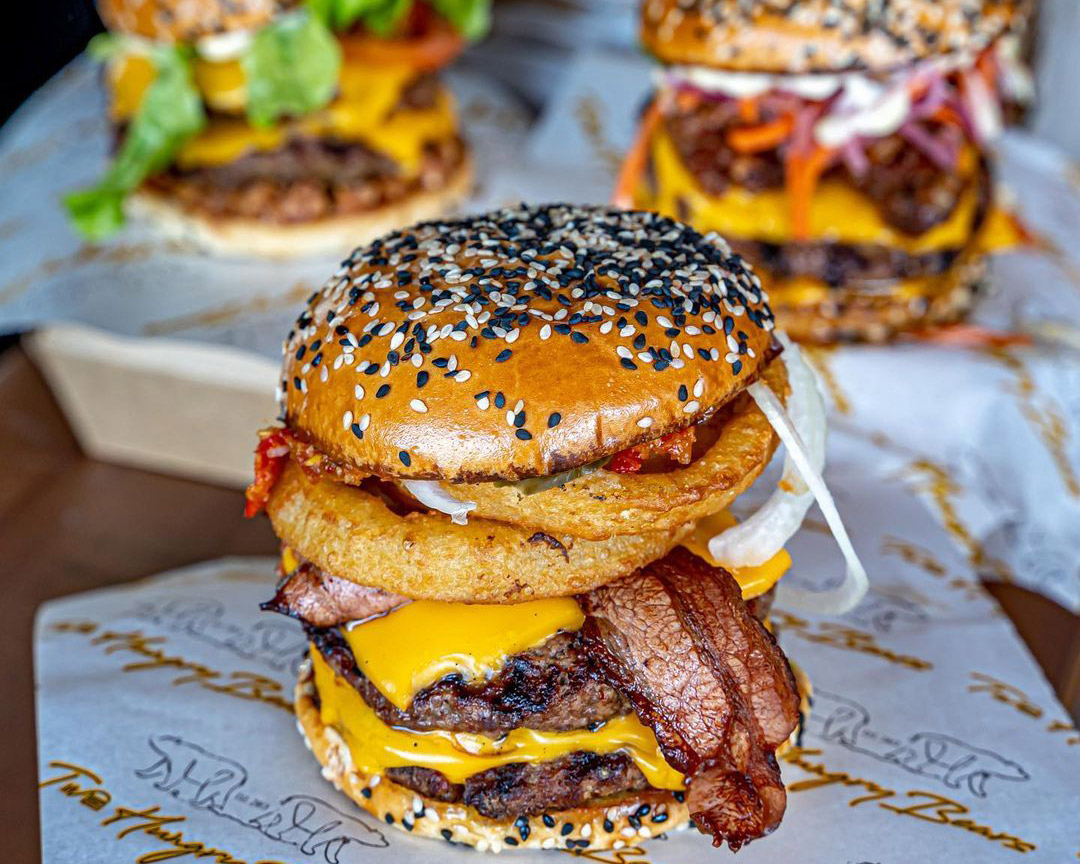 This Northern Beaches burger bar started making major waves in 2019. What began as a coffee concept with a few burger specials has quickly morphed into one of Sydney's most hyped burger joints, with burger fiends journeying big distances just to sample Two Hungry Bears' buns. If you're after a tasty Tarantino-inspired burger, try the Royale With Cheese with a thick and smoky Angus Beef patty, American cheese, McClure's pickles, lettuce, tomato, ketchup, mustard, and mayo. There are a few other staples with twist ingredients, like beef with chilli, a mac n cheese patty, or the connoisseur favourite, crispy sweet n sour pork. There's also plenty for chicken fans with Nashville hot fried chicken, Southern fried options, and a killer crispy falafel stack too.
Slim's Quality Burger
Marrickville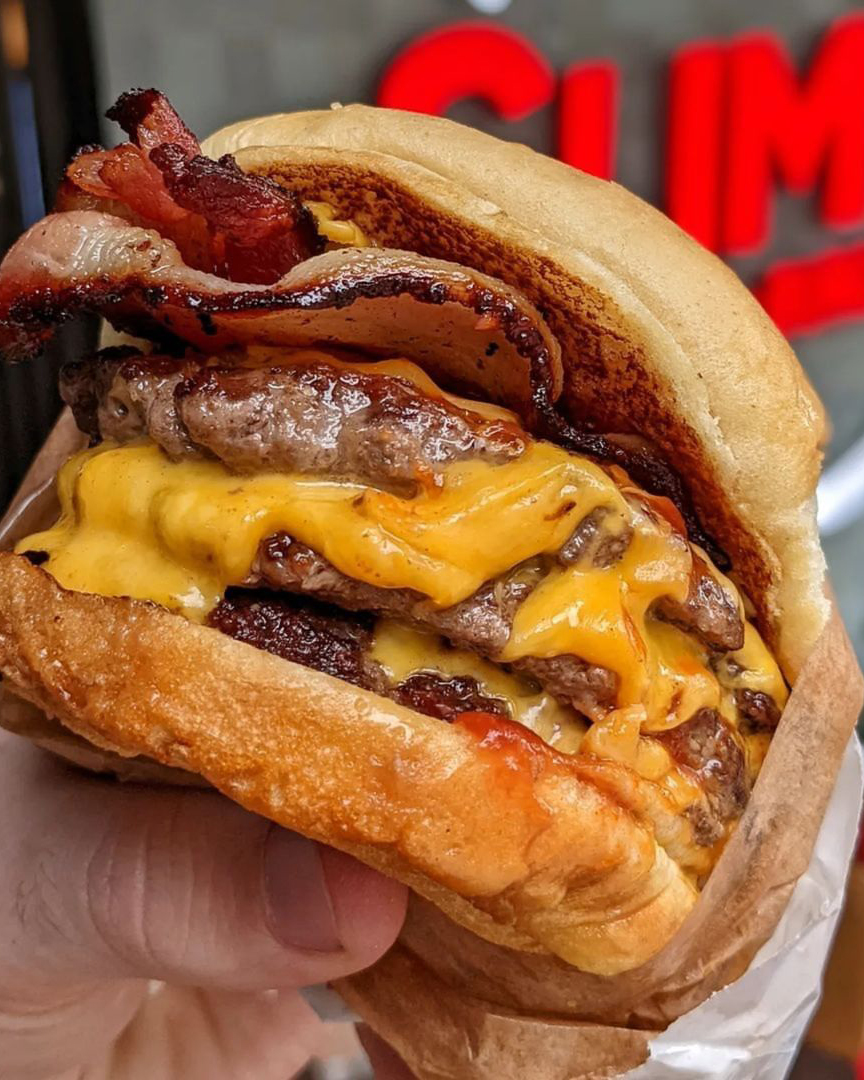 Founded by three former ex-Betty's Burgers staff, Slim's is inspired by retro American diner culture. Here, it's less about the oozing OTT stacks that have overrun the burger world of late, and more about quality no-frills burgers and sides. The menu at Slim's is simple and concise—there are 11 burgers, ranging from the classic cheeseburger to five chicken options and a vegetarian one with a plant-based patty. Our top pick? The Slim's Original, made with angus beef, grilled onion, cheese, lettuce, tomato, pickles, and Slim's special spread. Perfection.
Bar Luca, BL Burgers and Loaded By BL
Various Locations
Bar Luca has been on the burger scene in Sydney for a few years now and, in that time, achieved veteran status. First opened by Sarah and James Robbins as a CBD burger restaurant, the brand has since expanded into more traditional takeaway joints, including the build-your-own style Newtown outpost, Loaded by BL. We could go on for days about the popularity of any one of BL's creations, but none is more widely revered than Blame Canada, made with a beef patty, American cheese, maple glazed streaky bacon, maple aioli, and poutine. It's earned the title of being a Sydney classic. Make sure you also keep an eye out for the weekly specials, which quite often become social media sensations and can outdo the staple menu.
Beefy's Burgers
Penrith
Beefy's Burgers is a seriously cool spot oozing with rock'n'roll vibes—but that's not why you'll venture to this Penrith burger shop. You'll go there for a menu boasting some of the west's best burger options. Don't let the name fool you; you'll find plenty interesting in the shop's staple burger, the "Boring Bazza", made with a gourmet sirloin beef blend. Elsewhere on the nine-burger menu is the super-hot Beefy Boom Boom, the buttermilk fried chicken Chook Norris, or the grilled halloumi and sweet potato scallop I Ain't Got No Beef.
Burger Hounds
Wahroonga
If it's more options than you could eat in a year and wacky, out-of-the-box burger specials you're seeking, look no further than Wahroonga's favourite, Burger Hounds. As you can imagine, there's a bit of everything here; from thick and juicy "life-changing beef" stacks to rice bubble fried chicken. And from vegan Beyond patties for any burger to drool-worthy sides like dirty tots, popcorn shrimp, and proper traditional poutine. But before you even peruse the menu, make sure you first look at the specials board for monstrous creations pumped full of incredible combos.
Butter
Surry Hills, Chatswood, and Parramatta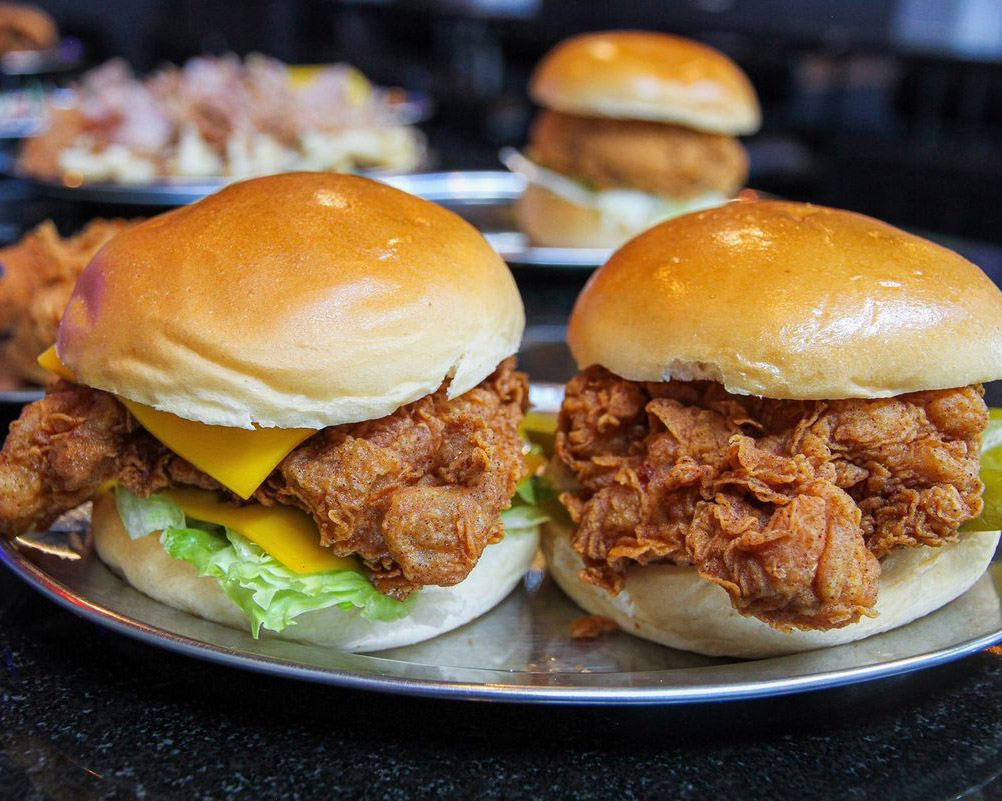 Opening Butter's original Surry Hills outpost in 2016, chef Julian Cincotta was looking to blend a few key ingredients: hip-hop, sneakers, fancy champagne, and fried chicken. The latter is now widely considered some of the best in town and sits so beautifully between two burger buns we could cry a little.
For something golden and crispy on the outside and tender on the inside, look to the classic O.G. with dashi butter and pickled cucumber or the Master Spice with spicy mayo, pickles, double cheese, and choose-your-heat fire hot sauce. There's also a charcoal chicken roll, the Biggie Shroom or spicy halloumi for vego options, a couple of classic beef burgers, and the newest addition, M.C. Chicken with an LP's Quality Meats fried smoked chicken sausage patty.
Burger Head
Penrith and Botany
Co-owners Richard Borg, Timothy Rosenstrauss, and Joshua DeLuca have spent time in the kitchens of some of Sydney's finest: Momofuku Seibo, Quay, Master, and Ormeggio. Now at Burger Head, the trio isn't trying to reinvent the wheel or whip up Sydney's fanciest burgers—they've kept things super simple and brilliantly homed in on the details to deliver a menu of six seriously, seriously tasty stacks. Now located in Penrith and Botany, we recommend opting for a classic cheese in contention to be Sydney's best, with a smashed Angus Beef patty, cheese, pickles, onions, BH sauce, and mustard mayo.
WingMill
Neutral Bay
As the name might suggest, WingMill is all about authentic, American-style wings. "Birds and brews", to be precise. Owner and chef Ahmed Kalil wanted to serve up real U.S. fare, and alongside plates of saucy buffalo wings and giant root beer floats, he's also dishing out some bloody good burgers. Made with potato buns imported from New York City, proper crinkle-cut pickles, and gooey American cheese—the staple American Smash Burger is a must-try. Otherwise, look for burger specials or ask about the 'secret menu' for your dirty stack needs.
Burger Co
Hurstville
Burger Co is quite serious about their 100% Aussie, in-house minced, whole cut beef. Their sizeable menu covers 12 different burgers: five beef, five chicken, a fish, and a vegetarian. Each to their own, but if you love a classic Australian burger, go straight for The Aussie and all those tried-and-true trimmings—pickles, tomato, onion, lettuce, beetroot, grilled pineapple, egg, streaky bacon, and Burger Co special sauce. And, if you're extra hungry, you'll be happy to know Burger Co does not tread lightly when it comes to sides. Choose from proper poutine, cheesy bacon-loaded fries, buffalo wings, thick shakes, and American sodas.
Wing Shack
Kings Park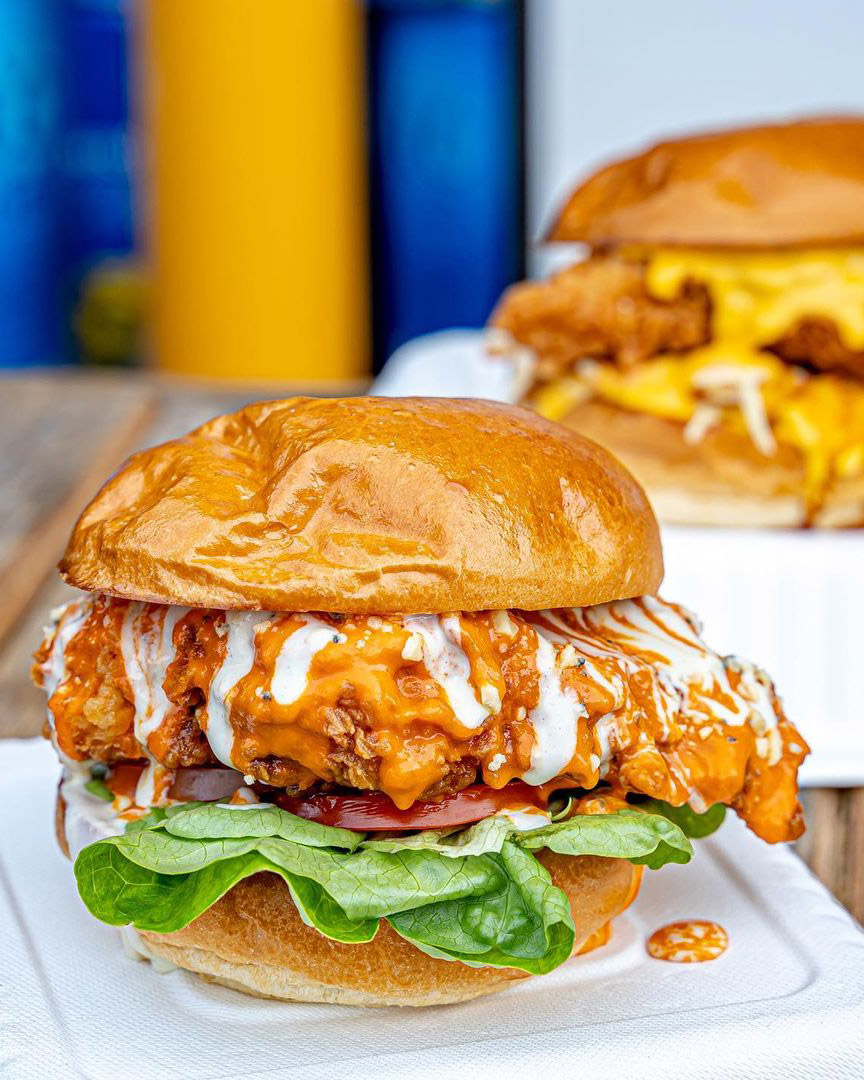 It's all about hot chicken here. Wing Shack is definitely one of those "if you know, you know" places. It's hidden away just north of Blacktown, but trust us, once you've tried the fried chicken here, you'll be back. There are only a few burger options on the menu, but that doesn't mean there isn't a little something to please any hankering. Like Cheesy BBQ, Nashville Spicy, or the crowd favourite, Buffalo Blue Cheese made with 12-hour-brined tenderloins, basted in buffalo sauce and topped with blue cheese sauce and blue cheese crumble.
Suburgia
Redfern
Billed as slinging the "best burgs in the 'burbs", no matter what part of the city you're from (or, more appropriately, what you're hungry for), there's a burger for you at Suburgia. The Epping is a classic Wagyu cheeseburger, and The Redfern is a southern fried chicken burger with smokehouse bacon, chipotle salsa, jalapenos, double cheese, pineapple, honey, and BBQ sauce. There are vegan burgers from Ultimo or Hornsby, hot dogs from Liverpool or Bronte, and fish burgers from Cronulla or Botany. Ttrust us when we say there's almost as much choice as there are suburbs in Sydney.
Jim & Harry's Cafe
Mount Colah
If we want to get nostalgic about Australia's own burger history, we'll probably tell stories about suburban takeaways, hot chips wrapped in butcher's paper, and beachside fish and chip shops. Usually, there's beetroot involved, grated carrot, and fried eggs. Jim & Harry's has all the nostalgia of that era of Aussie burgers, whilst adopting a few of the more satiating modern trimmings we now know and love. Like pillowy milk buns, American cheese, crispy streaky bacon, and that all-important special sauce.
Mary's
Various Locations
Can we really have a conversation about Sydney burgers without mentioning Mary's? The bona fide Sydney institution long ago established itself in the backstreets of Newtown as the favourite dark and dingy burger joint, serving up greasy burgers, local brews on tap, loud tunes, and some unmatched service. Since then, they've expanded into spots like Circular Quay and the Lansdowne rooftop—but the Mary's burger remains. It's a perfect and classic combination of soft milk bun, tender beef patty, cheese, tomato, lettuce, and the ever-mysterious Mary's sauce. And definitely add some trashcan bacon. Otherwise, opt for the fried chicken burger or the ever-popular vegan burger.
Stockman's Burgers Beers Desserts
Dee Why
Since Stockman's BBD stands for Burgers, Beers, and Desserts, they most certainly deserve a spot on this list and in any hungry Sydneysider's itinerary. A quick peruse through Stockman's IG will give you an idea of just how "loaded" the burgers are here. Like the double Wagyu patty Head Stockman with cheese, bacon, waffle fries, and salad trimmings, or the Hot N Clucky with jalapeno and pineapple salsa, cheese, bacon, fried avocado, and chipotle mayo. From towering double patty stacks oozing with liquid cheese to Caramilk cocktails and Reese's peanut butter cup thick shakes—Stockman's is, in a word, insane.
Burger Patch
Chatswood
We love Burger Patch for their long list of burger add-ons or hacks. Pimp out your burger with anything and everything from liquid cheese to beer-battered onion rings and buttermilk fried chicken. As for the burgs themselves, there's plenty to love like the Angry American beef with house chilli, beer-battered onion rings, pickled jalapenos, BP sauce, and chilli BBQ sauce or the Fry Me A River with buttermilk fried chicken, apple celery slaw, hot sauce and baconnaise (a deliciously self-explanatory ingredient). If the weather's fine, hang around on the grassy lawn out front, and you can even accrue "burger miles" if you're regularly dropping by for a feed.
Ume Burger
Barangaroo and Haymarket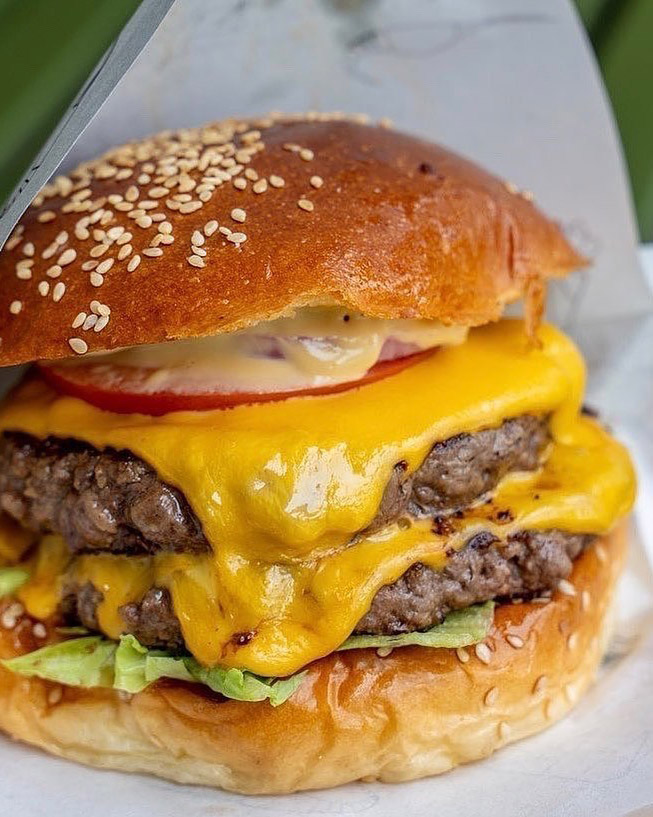 It was a sad day for all burger lovers when Bourke Street's Bar Ume announced it was closing its doors earlier this year. Originally opened as an upmarket Japanese restaurant, Ume slowly turned into one of the inner-city's premier burger destinations for its unique stacks. While the OG is gone, Ume Burger carries on the delicious legacy in Barangaroo and the newly opened Darling Square outpost. There you can grab an Ume Burger with a beef patty, Wagyu mince sauce, truss tomato, onion, mayo, and American cheese, and a chicken karaage burger with lettuce, onion, tonkatsu sauce, and spicy sauce. Or fulfill your Japanese crumbed dreams with the pork katsu or fish katsu burgers.
Sunset Diner
Avalon Beach and Lane Cove
If you like your burgers with a Miami Vice kind of vibe, jump in the car and make your way up the coast to Sunset Diner in Avalon or Lane Cove. As well as its rosé pink walls, pretty 50s-style thick shakes, and beachy location, this spot plates up some pretty legit burgers. Don't expect oozing and dripping stacks here; it's a little more refined, classic, and simple. Make sure you try the Five AM Catch with beer-battered fish, cheese, iceberg, pickles, and jalapenos for easily one of Sydney's best fish burgs.
Surly's
Surry Hills
There are countless reasons to visit Surly's: the American sports bar ambiance and decor, the BBQ plates coming hot from the Old Hickory commercial fire-box smoker, the line-up of Aussie and American craft beers, and of course, the burgers. If you're especially hungry and don't mind getting your hands dirty, the American-style burgers are aplenty.
For something classic, you can't go past the Surly Burger with an in-house minced patty, cheese, iceberg lettuce, red onion, tomato, and "crack sauce". But there's plenty more to belly-fill like the B. B. B. with smashed patty, streaky bacon, and smoked BBQ brisket, or plant-based options like the Vegan Bill with southern fried tempeh. With chilli cheese-loaded fries, cajun shrimp, and apple pie on the menu as well, be ready to unbuckle your belt.
Frango Charcoal Chicken
Various Locations
If you've never had the pleasure of living near a Frangos—our sincerest apologies to you and your stomach. The beloved chain has spots across Sydney's West and Inner West, each the source of great smells and smiling locals queuing up. We could talk endlessly about the salty, Piri Piri chilli sauce-slathered charcoal chicken or the thin-cut chips generously doused in chicken salt that we could honestly eat as a whole meal. But we can never go past one of the shop's heroes–the simple, cheap, and flavour-packed Portuguese chicken burger. Make sure you order one with house-made chilli sauce, cheese, and mayo. Combo it up and be on your way!
Five Guys
Penrith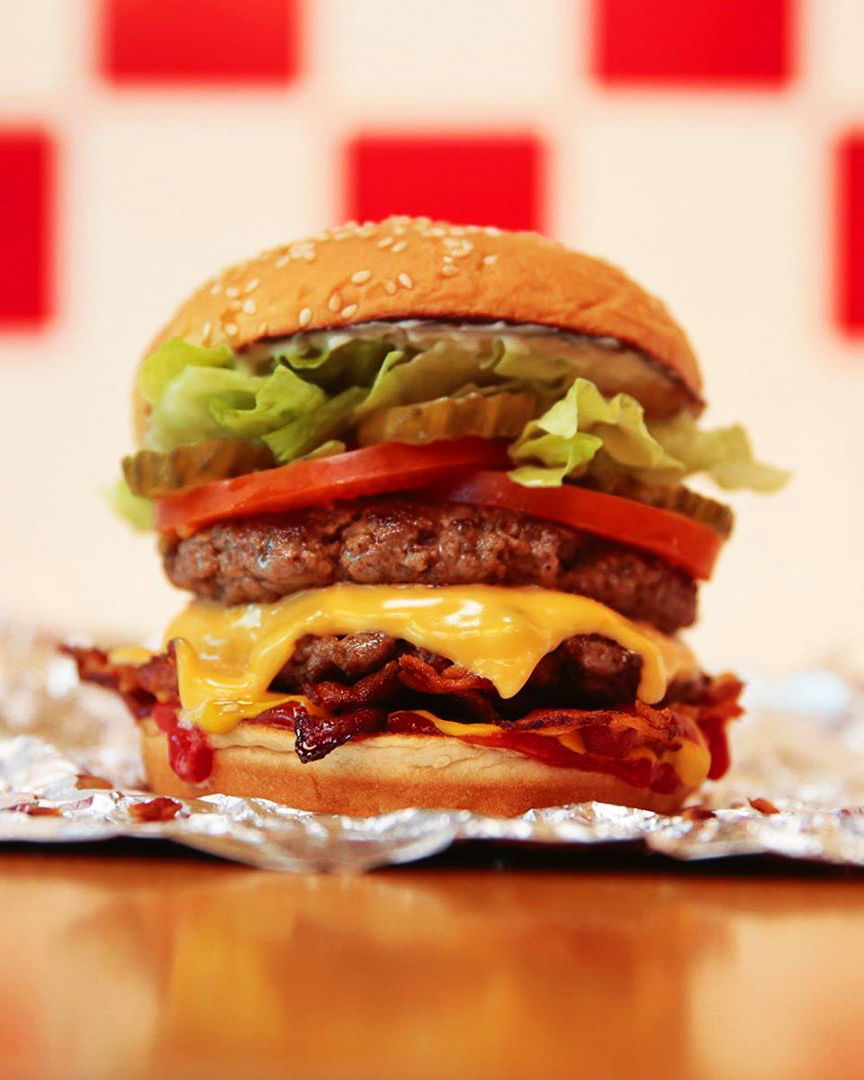 For obvious reasons, we haven't included any typical fast-food chains in this article. However, we're making an understandable exception for American giants and new kids on the block, Five Guys. The super-hyped burger joint has found its first Australian home in Penrith, and so far, the reviews and videos have been making our mouths hyper-salivate. First opening in 1986, the U.S. chain now has almost 1,500 locations worldwide, with a few more expected in and around Sydney very soon. Alongside their signature hand-cut potato fries, outrageous milkshakes and unlimited refill soft drinks are some pretty damn good burgers. It's pretty simple: choose your style of burger, then add as many toppings (salads, sauces, and options like jalapenos) as you'd like for free.
Mister Gee
Haberfield and North Strathfield
Inspired by North America's diverse food truck scene and finding a gap in Sydney's mobile food market, Gee Ozgen (aka Mister Gee) took what was then considered a risk and started up a burger truck. We can safely say that risk paid off, with Mister Gee belonging near the top of any best food truck list as well as in this article of our city's best burger joints. Rolling up hungover to the truck, we can never go past the OG Truffle with a grass-fed beef patty, Havarti cheese, caramelised onion, rocket, and Gee's truffle mayo. But there's plenty more, including the beloved Stoner's Revenge. If you've ever slowly opened that aluminium foil, you know the feeling of joy. You'll find the OG truck on Parramatta Road in Haberfield and the newer brick-and-mortar outpost in North Strathfield.
Vic's Meat Market
Pyrmont
Just how we love a good sandwich from a baker making their own bread, we're all about getting a good burger straight from the butcher, especially Vic's Meats. If you're doing your Saturday arvo fish market shopping, drop by the butcher for a cut of meat and the Smokehouse for a burg and a beer to enjoy waterside. There's a classic Wagyu cheeseburger, a 10-hour smoked wagyu brisket stack with tangy slaw and house-made BBQ sauce, or a southern fried chicken katsu burger with iceberg lettuce, tonkatsu sauce, and mayo. Pair that up with some deep-fried mozzarella balls or some tempura onion rings, and off you go, happy as Larry.
Burger Point
Various Locations
With locations across Sydney's North and West, Burger Point is the unofficially official home of the "cheese dip", a cup of liquid cheese you dunk your burger into with every bite, which in our eyes, is bloody outstanding. And the burgers with which to do said dipping are also pretty fantastic. The store's signature creation is the highly 'grammable Marvin Glaze, which comes with two handcrafted beef patties, cheese, pickles, signature burger sauce, and a doughnut glazed bun topped with grated cheddar and maple bacon bits *swallow saliva*. But there are plenty of other options, from the southern spiced fried chicken Mad Chook to the 8-hour braised pulled pork and smokey maple BBQ Smokey Porkey.
Pub Life Kitchen
Ultimo
After a four-year hiatus from feeding Ultimo locals out of the Lord Wolseley kitchen, Pub Life Kitchen officially returned this year to bring joy once more. The cult favourite headed up by founder Jovan Curic has brought back plenty of the original menu, including the OG Burger with dry-aged grass-fed beef patty, cheese, pickles, tomato, lettuce, and roasted garlic and lime mayo, as well as the fried chicken TLC with double cheese, pickles, and green sriracha mayo. Order up some thick-cut chips, a bowl of hot n sticky chicken wings, and a cold beer—it's like PLK never left.
Charcoal Fish
Rose Bay
Catering to Australia's adoration for classic charcoal chicken shops but also to his passion for sustainable seafood, Josh Niland recently opened up one of Sydney's freshest concepts: Charcoal Fish. With his partner Julie, Niland's newest Rose Bay project isn't your typical fish and chip shop, serving up rotisserie Murray Cod and gravy rolls, BBQ Murray Cod wings, and a rotation of sides to compliment the fish sustainably farmed from Griffith, NSW. But for this list, it's a burger we're interested in. For that, look no further than the double Yellowfin Tuna cheeseburger with pickles, mustard, and cheddar for a stack that'll make you re-assess entirely what a fish burger can be.
Cheatday
Peakhurst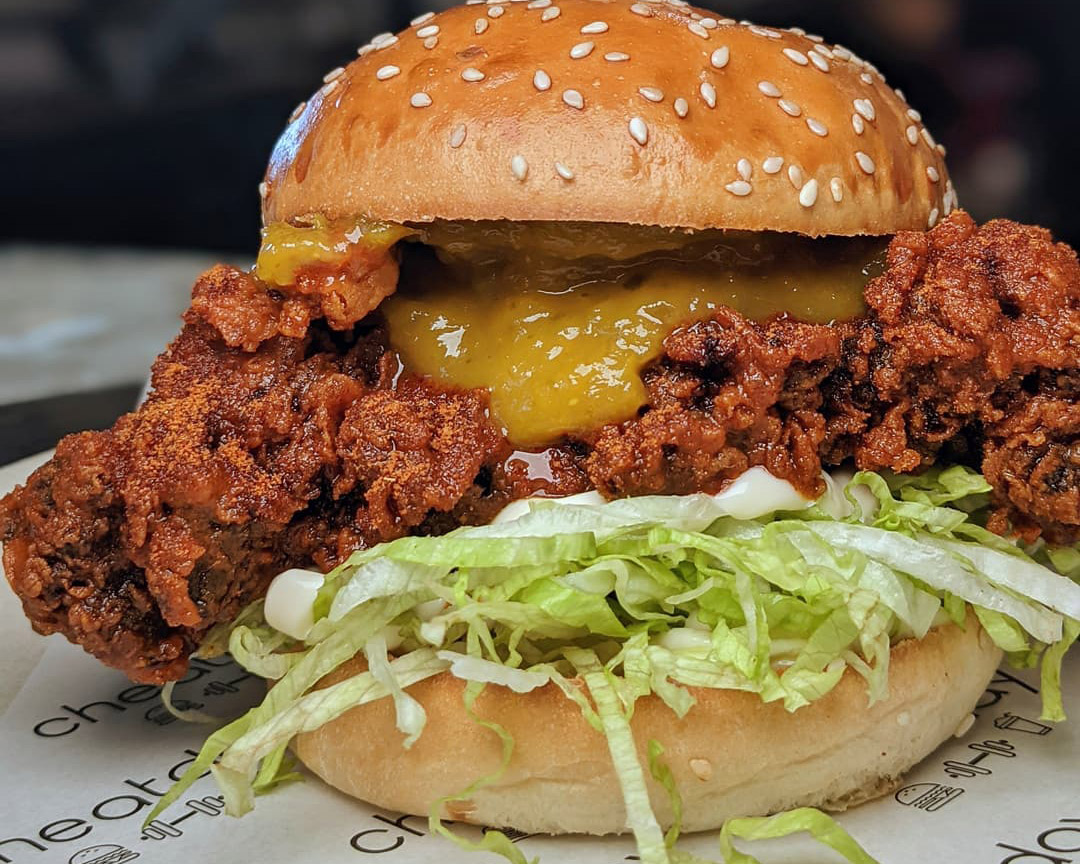 For serious gym folk, eating a burger (or three) might be considered part of the special "cheat day" ritual, where strict dietary rules are done away with, and all your favourite foods are consumed for one glorious day. Well, Peakhurts' Cheatday is basically a one-stop shop for any big, greasy and delicious meals. These guys are well known for their shakes, monstrous toasties, and giant dessert tarts with flavours like Lotus Biscoff, Golden Gaytime and PB&J–but we're interested in their extensive burger menu today. Being the home of cheat days, any and all food dreams are answered, from the Philly cheesesteak burger Quadrasaurus to a peanut butter and jelly triple cheeseburger and from the loaded bacon and egg brekky burger to The Rock, with smoked beef brisket.
Bonditony's
Bondi
If you live around Sydney's iconic Bondi Beach, then you know full well that Bonditony's is a must-do for any greasy burger hankering, from hungover as hell to post-swim refreshed. Opened in 2015, the burger spot decor is inspired by owner Tony Gosden's previous career deeply entrenched in Australia's music industry. This is also why all the burgers are named after bands Tony worked with over the years. There's the Trippin Zeahorse, with 100% grass-fed beef, free-range crispy bacon, American cheese, iceberg lettuce, and some homemade tomato relish and aioli, or the Just A Jezabel with panko-crumbed free-range chicken breast, and house-made guac, coleslaw, and sun-dried tomato infused aioli.
Classic Burger
Yagoona and Liverpool
The name basically says it all. These legends are all about making classic burgers. The philosophy at Classic Burger is all about making good food with fresh, locally sourced ingredients and doing it with a smile. Burger-wise, there are two extensive beef and chicken menus, with all stacks coming in around the $10 mark, so both your stomach and your wallet can leave nice and full. Classic Beef, Classic Leb, a Big Mac homage, a Kentucky southern fried chicken stack, Pirri Pirri chicken, or Nashville Hot. Make sure you leave some room for the outrageous dedicated loaded fries menu as well.
Smoky Sue's
Maroubra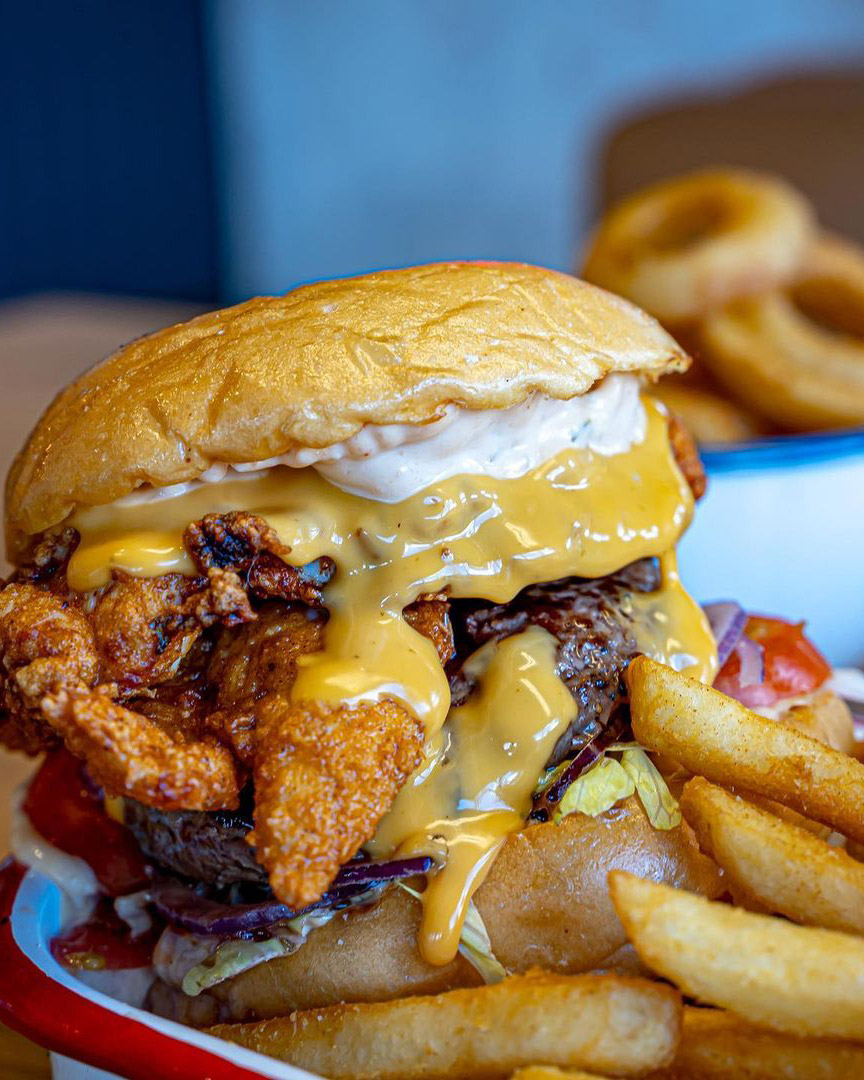 First and foremost, Smoky Sue's is all about low and slow American-style BBQ. The Maroubra joint takes its barbecuing seriously, and you'll never go wrong with one of their meat boxes with protein options like brisket, fried chicken, pork belly, or pulled pork, and mean sides like brisket beans and mac n' cheese bombs. So, imagine what those kinds of meats in the hands of experts can do when placed inside the tasty confines of two buns, i.e. a burger. Trust us, the results are every kind of fantastic.
Burgers Anonymous
Various Locations
Opening its first Darlinghurst store in 2015, Burgers Anonymous arrived on the scene with big burgers and some hip-hop/Breaking Bad theme vibes. But it's the former that has led to a bunch more locations around Sydney and has kept us coming back for more. The Anonymous folk have also branched out into tacos, but there's plenty of burger options before getting to that. The original Heisenburger is still a crowd favourite with a prime beef patty, American cheese, maple bacon, lettuce, tomato, onion, pickles, and B. A. sauce. There's plenty of other beef offerings, including a PBJ burger, as well as a few fried chicken stacks. And best of all: none of these burgers will break the bank.
Still hungry? Here's where to find Sydney's finest fried chicken.
Image credit: Burger Head, Two Hungry Bears, @isaac_eatsalot, Butter, Wing Shack, Ume Burger, Sunset Diner, Cheat Day, Five Guys, Smoky Sues, Burgers Anonymous