Once upon a time in Sydney, burgers—at least as we've come to know them—were pretty hard to come by. We're talking those hefty, layered, over-the-top, dripping, saucy, American-style stacks that currently grace your Insta feed. A few years back, these guys didn't really exist.
We've largely got Mary's, Chur Burger, and Dan Hong to thank for kicking things into gear with American cheese, milk buns, and special sauce, because these days—Sydney's burger scene is nothing short of wild.
And coming up with a list of the absolute best burgers in this city is no easy feat. So we've called in a little back up to help us rule on which Sydney burger joints we reckon you need to try. Here, Kieran Warwick and Ross Kemp, founders of Burger Collective, an app dedicated to finding and eating epic burgs, have weighed in on Sydney's best burgers.
This list is less of a 101 and more of a deep dive into our burger underground. We're assuming you've covered off the classics and the basics—you've had your Mary's Burger, Chur, and Lotus cheeseburger, and you're ready and willing to see what else Sydney's got to offer and what's new.
Hungry yet? Without further ado, here are 14 of the best burgers in Sydney right now.
Two Hungry Bears
Narrabeen
This Northern Beaches burger bar started making major waves in 2019. What started as a coffee concept with a few burger specials, has quickly morphed into one of the most hyped burger joints in Sydney, with burger fiends journeying big distances just to sample Two Hungry Bears' buns.
The menu at Two Hungry Bears really packs a punch. There's an actual Royale With Cheese for all you Tarantino fans out there, made with Angus Beef, American cheese, McClure's pickles, lettuce, tomato, ketchup, mustard, and mayo). There are a few other beefy staples, a classic cheeseburger, and a crispy fried falafel burger. There are also fried chicken burgs, the super-hyped fan faves, and some pretty insane loaded fries if you are looking to feast.
Kemp and Warwick rate 2HBs because it is, "one of the few burger joints in Sydney still doing a thick style grilled beef burger. The smokiness is awesome!"
Must try: "Everyone here talks about the Mr Miyagi," Kemp and Warwick say. "The crispy, sweet, and salty pork is unbelievably good."
Beefy's Burgers
Penrith
At Beefy's Burgers, "the burgers are epic and so are the rock n' roll vibes," Kemp and Warwick say. "Plastered with gig posters, records, and all things rock, this is a seriously cool burger joint." There are nine burgers on the menu, including the King Schnitt schnitzel burger, the Chook Norris buttermilk fried chicken burger, and the super-hot Beefy Boom Boom, which comes with two levels of spice. Beefy's has been voted best burgers in Penrith and, though the competition is strong, these guys are a hot contender for best in Sydney.
Must try: "The Boring Bazza is their staple, featuring a gourmet sirloin beef blend. There is nothing boring about it!"
Burger Hounds
Wahroonga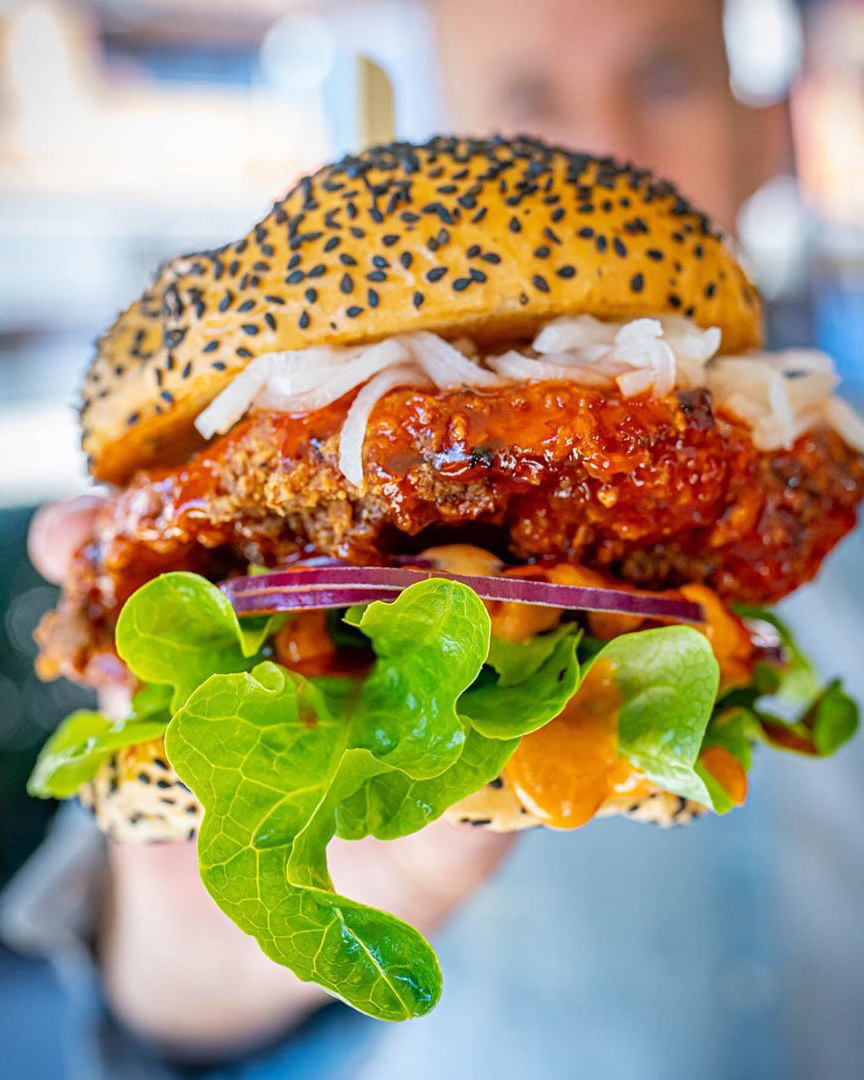 If it's wacky, out-of-the-box burger specials you are seeking, look no further. "The specials churn out of Burger Hounds like chocolate out of the Wonka factory. Creativity is never lacking and so most people come for the specials." In fact, the crew at Burger Hounds made a splash in June this year when they dropped an extra-crunchy fried chicken burger made with rice bubbles and something called "baconaise" sauce. We'll be honest, you have to eat it to believe it.
Must try: "Any of the specials are a winner. Or go for the Hounds' ode to BL Burgers' "Blame Canada", it's called "The Canuck" and it's basically a Ron Swanson-esque version of its namesake."
Burger Head
Penrith
When we ask why Burger Head is a non-negotiable on this list of Sydney's ultimate burgers, The Burger Collective crew reply simply, "Michelin star chefs do burgers... enough said". And while they're not technically Michelin-trained chefs, Richard Borg, Timothy Rosenstrauss, and Joshua DeLuca have spent time in the kitchens of some of Sydney's finest: Momofuku Seibo, Quay, Master, and Ormeggio. At Burger Head, the trio isn't trying to reinvent the wheel or to whip up Sydney's fanciest burgers—they've kept things super simple and honed in on the details to deliver a menu of six seriously, seriously tasty stacks.
Must try: "The Twisties special they have run in the past is super popular. They've brought it back a few times so keep your eyes peeled. Otherwise, the Classic Cheese is arguably the best cheeseburger in Sydney."
Jim & Harry's Cafe
Mount Colah
If we want to get nostalgic about Australia's own burger history, we'll probably tell stories about suburban takeaways, hot chips wrapped in butchers paper, and beachside fish and chip shops. Usually, there's beetroot involved, grated carrot, and fried eggs. Jim & Harry's has all the nostalgia of that era of Aussie burgers, but they have adopted a few of the more satiating modern trimmings we now know and love, like pillowy milk buns, American cheese, crispy streaky bacon, and that all-important special sauce.
Must try: "If you're down to eat a monster then look no further than the Triple Double. Triple cheese, double smashed patties, and jalapenos all inside a super soft bun."
WingMill
Neutral Bay
As its name might suggest, WingMill is all about authentic, American-style wings. Owner and chef Ahmed Kalil wanted to serve up real U.S. fare, and alongside plates of saucy buffalo wings and giant root beer floats, he is also dishing out two very good burgers. Made with potato buns imported from New York City, proper crinkle-cut pickles, and gooey American cheese—while WingMill isn't specifically a burger joint, "they have totally perfected their burgers," say Kemp and Warwick.
Must try: "The American Smash Burger is the go-to."
Burger Co
Hurstville
Burger Co is super serious about their beef. "All their beef is minced in house," The Burger Collective crew explain. Your burger pattie will be a whole beef cut with no fillers, made from 100% Aussie beef. Their sizeable menu covers 12 different burgers, five beef, five chicken, a fish, and a vegetarian—and, if you're extra hungry, you'll be happy to know Burger Co does not tread lightly when it comes to sides. Choose from proper poutine, cheesy bacon loaded fries, buffalo wings, thick shakes, and American sodas.
Must try: "It's a tough choice with so many epic burgers, but the Mac Daddy is hard to pass. Fried chicken topped with gooey mac n cheese—sign me up!"
Wing Shack
Kings Park
"It's all about HOT chicken here," The Burger Collective guys say. "It really is some of the best in Sydney." Wing Shack is definitely one of those if you know, you know places. It's hidden away just north of Blacktown, but trust us, once you've tried the fried chicken here, you'll be back. The menu does switch up from time to time, but the buffalo blue cheeseburger has been a recent smash hit. It's made with 12-hour-brined tenderloins, basted in buffalo sauce and topped with blue cheese sauce, and blue cheese crumble.
Must try: "There's only a couple of burgers on the menu but the Shackville Hot Stack is a major favourite."
Suburgia
Redfern
"No matter where you live, there's a burger at Suburgia for you. Every burger here is named after a Sydney suburb which makes things fun." The Redfern is a southern fried chicken burger, with double cheese, pineapple, honey, and BBQ sauce, go figure, while the Marrickville features beef, beetroot relish, bacon, and truffle mayo. There's also a menu of gourmet hot dogs, cheeseburger loaded fries, add-ons, sauces, thick shakes, and desserts. This place is a real gem.
Must try: "The Grand Suburgia is the winner here. Double patties and heaps of cheese. Winner, winner."
Stockman's Burgers Beers Desserts
Dee Why
A quick peruse through Stockman's IG will give you an idea of just how "loaded" the burgers are here. This burger, beer, and cocktail bar should be your ultimate cheat day hang out. From towering double pattie stacks oozing with liquid cheese, to Caramilk cocktails, and thick shakes made from Reese's peanut butter cups—Stockman's is, in a word, insane.
Must try: "The Burger Collective members are typically split on what to choose for a favourite here. Kacey (Burger Grand Master) is loving the St Elmo's Fire, but we are usually a big fans of the Maverick!"
Burger Patch
Chatswood
According to Kemp and Warwick, Burger Patch is a major contender for Sydney's best fried chicken. "Burger Patch regularly infuses Korean and other Asian influences to their burger specials so if that's your thing then look no further," they say. We love Burger Patch for their long list of burger add-ons or hacks—pimp out your burger with anything and everything from liquid cheese to beer-battered onion rings and buttermilk fried chicken. If the weather's fine, hang around on the grassy lawn out front.
Must try: "The Fry Me a River is our favourite burger on the menu. It's a buffalo sauce dipped chicken burger and we could eat 10 of them!"
Sunset Diner
Avalon Beach
If you like your burgers with a Miami Vice kind of vibe, jump in the car and make your way up the coast to Sunset Diner. As well as it's rosé pink walls, pretty 50s-style thick shakes, and beachy location, this spot plates up some pretty legit burgers. Don't expect oozing and dripping stacks here, it's a little more refined, classic, and simple.
Must try: "These guys have one of the best fish burgers going—"The 5am Catch". Super simple and super delicious."
BL Burgers
Darlinghurst, Parramatta
BL Burgers has been on the burger scene in Sydney for a few years—they're basically veterans. With outposts in Darlinghurst and Parramatta, these guys have a massive fan base, and the quality of their stacks has not dropped since they first opened up shop back in 2016.
For Kemp and Warwick it's the specials that keep BL front of mind. "BL will keep you guessing each and every week with a brand new burger on the menu, each as crazy and delicious as the last!"
Must try: "The Blame Canada, the OG special burger of the Sydney burger scene. It still stands up today almost five years later as one of the best burgers in Sydney."
While you're here, check out our favourite fried chicken joints.
Image credit: Burger Project, Two Hungry Bears, Burger Hounds, Burger Project, WingMill, Burger Co, Wing Shack, Burger Patch, Sunset Diner