Sydney loves her sushi. From dainty and deceptively simple nigiri to loaded and creative temaki, sushi is best when it's plentiful. It's perfect for a quick lunch or for a glorious, stuff-your-face-style feast, and it's equally as good when it's fancy as it is when it's cheap as chips.
Classic or creative, using chopsticks or your hands, wasabi or not, careful dunking or fish-shaped soy spraying—here's where to find the best sushi in Sydney.
Raw Bar
Bondi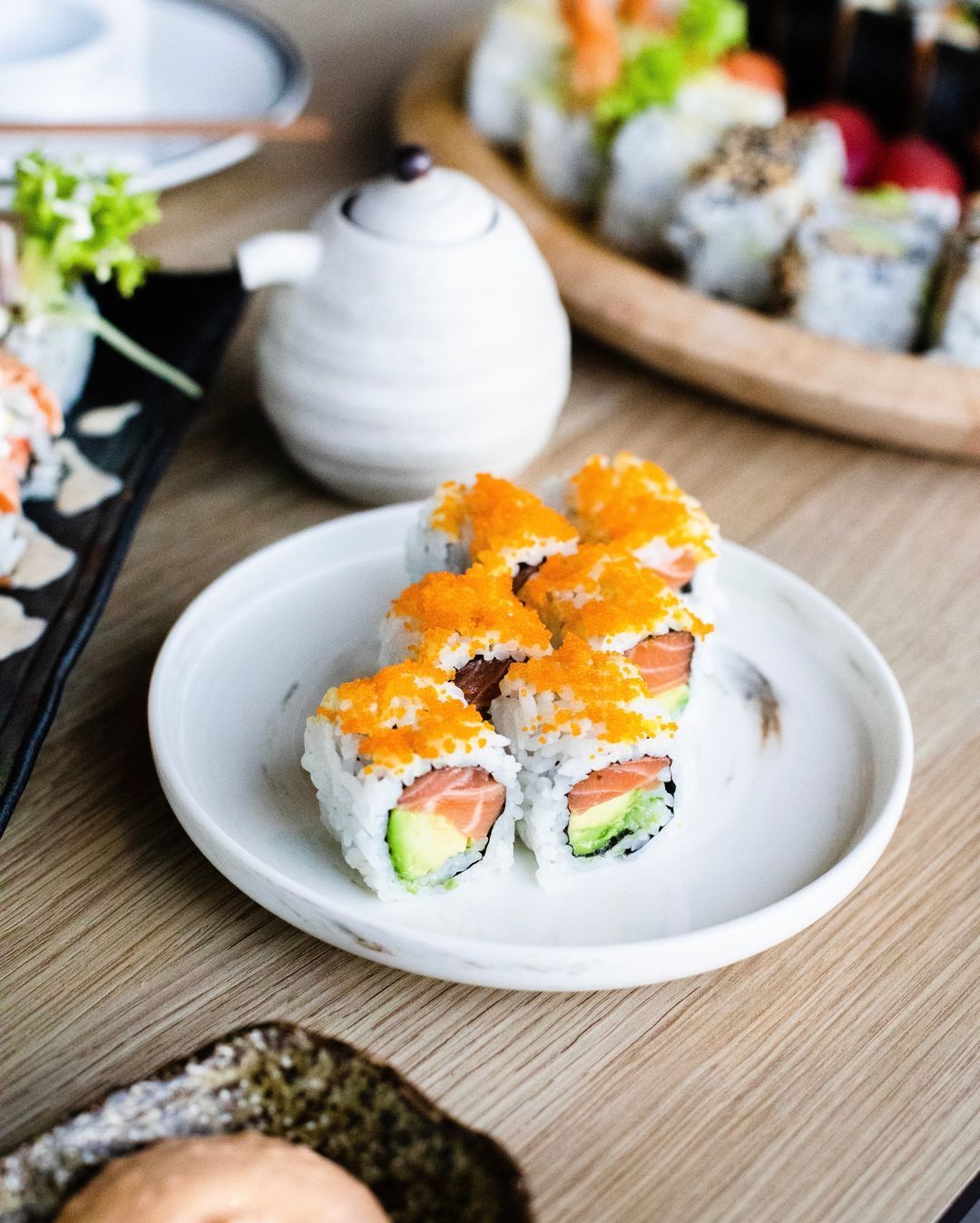 Since opening all the way back in 1995, Raw Bar has carved out an excellent spot for itself as a local's favourite for sushi in a prime beachside location. Head chef Shintaro Honda's menu offers an endless range of sushi, like classic nigiri, the spicy tuna signature roll, and the spider crab hand roll with cucumber, fish roe and jalapeño sauce. The menu also offers starters, sashimi, hot and cold snacks and larger dishes, tempura, and udon bowls—basically making Raw Bar a one-stop shop for any Japanese food craving.
Maeda
Paddington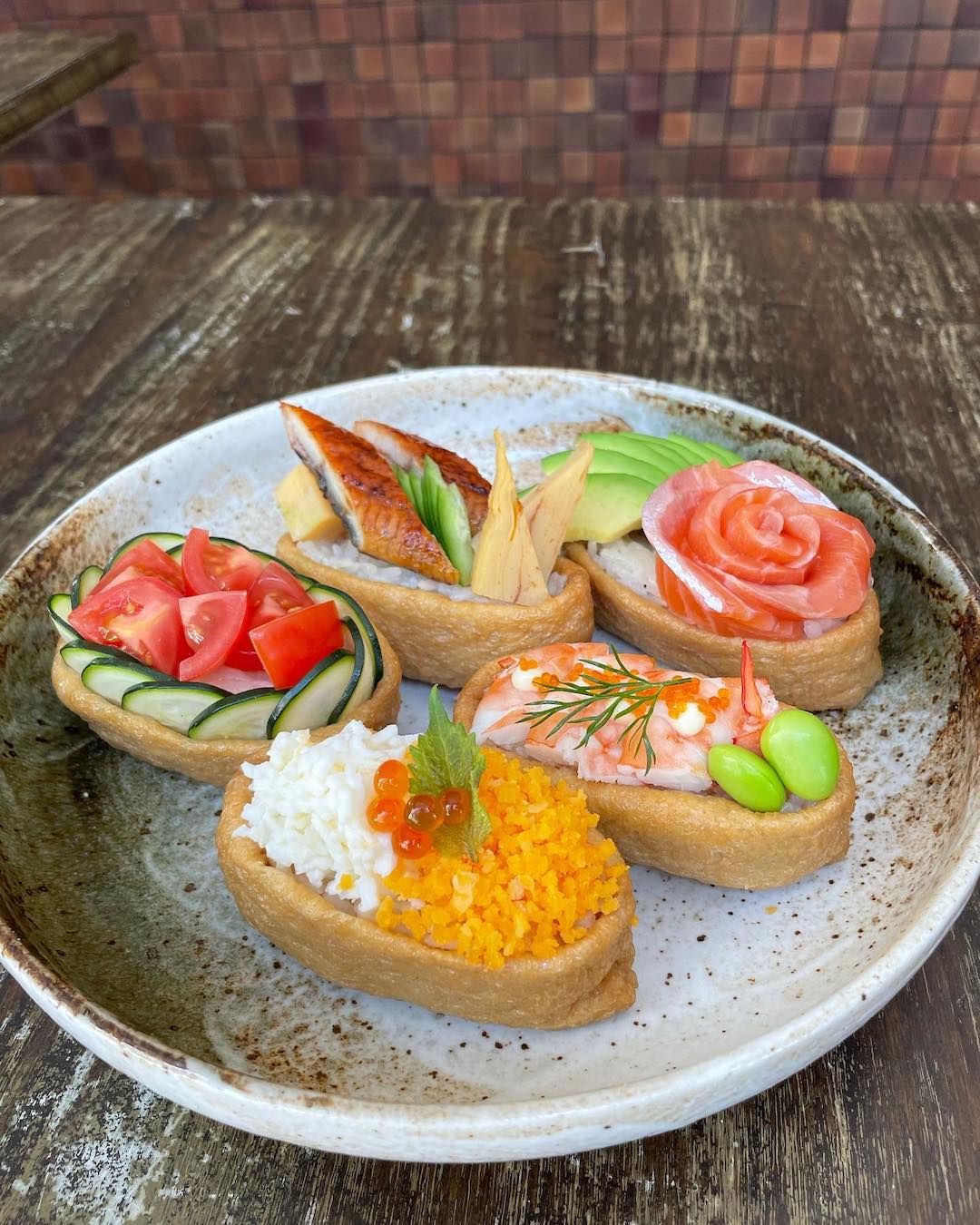 There's perhaps no more quaint inner-city escape than dining at Paddington's famed Five Ways, and if you're after sushi on one of those ways, head straight for Maeda. Opened in 2018, Japanese and French-trained chef Yasushi offers plenty of traditional nigiri, rolls and hand rolls for your sushi fix, plus snacks, udon, salads, and takeaway bento boxes at lunchtime. If you have a special bottle of wine or saké you've been saving, Maeda also offers BYO on Tuesday and Wednesday.
Sushi Oe
Cammeray
With only six guests per sitting, Sushi Oe is one of Sydney's most intimate and exclusive omakase experiences. Under the masterful craft of chef Toshihiko Oe, the small Cammeray restaurant offers an incredible 30+ course degustation, which heavily features Oe's carefully selected and crafted sushi. The menu changes every sitting, so come in with an empty belly and an open mind. Keep an eye on the Sushi Oe Instagram page, where highly sought-after bookings are released monthly and only taken by text message—good luck.
Sokyo
Pyrmont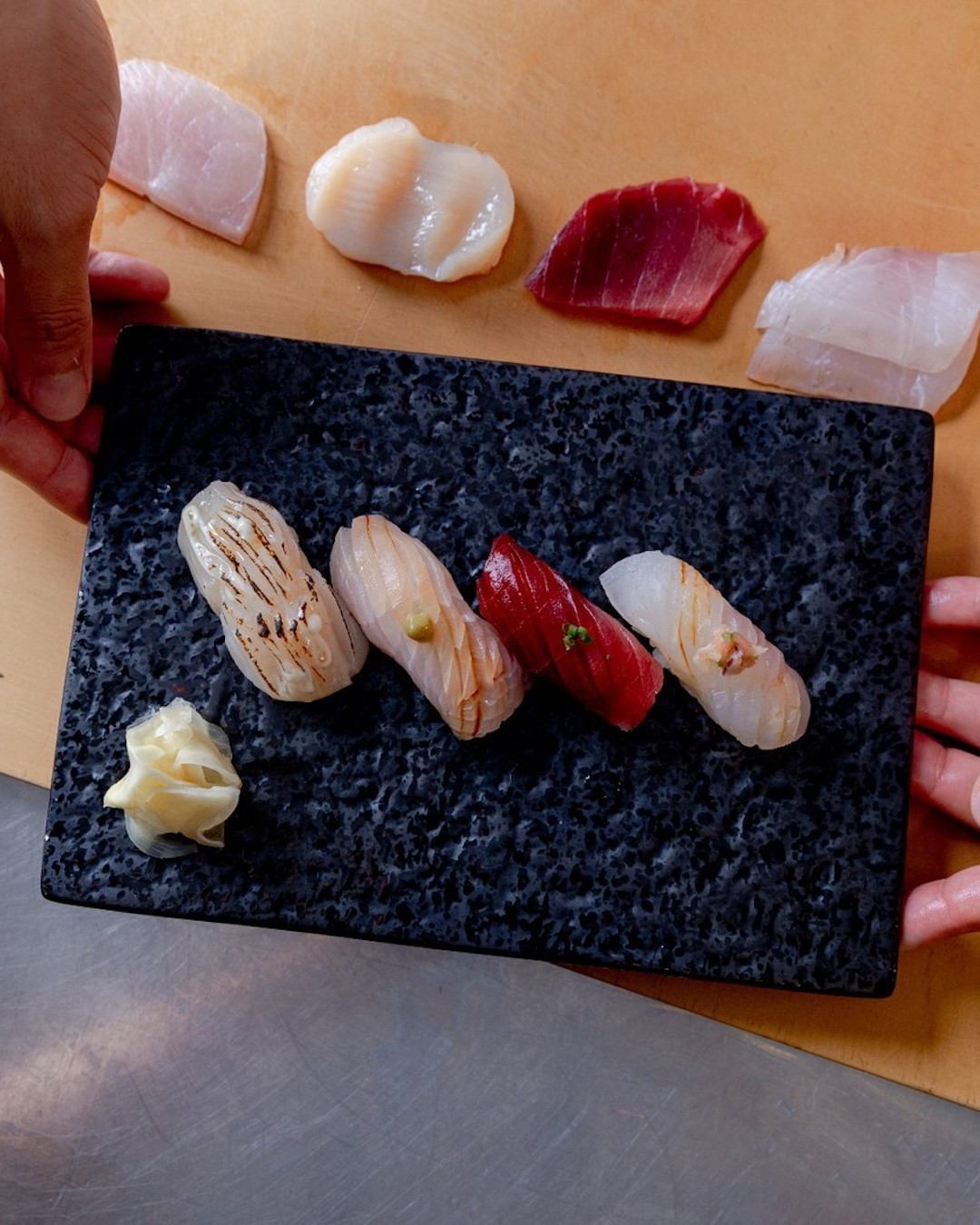 From beloved chef Chase Kojima, sushi at this Pyrmont Japanese restaurant is all about seasonality. Sourcing all their seafood from the nearby Sydney Fish Markets, Sokyo focuses on forging relationships with sustainable fishmongers. Tuck into classic nigiri like NZ scampi or red snapper, Tassie salmon or kingfish belly, or, the king of sushi, Japanese toro (fatty tuna belly). Sokyo is also known for its incredibly in-demand omakase (offered to just six guests at a time), offering 23 courses over a truly zen, delectable, sensory journey.
Saké Restaurant & Bar
The Rocks, Manly, Double Bay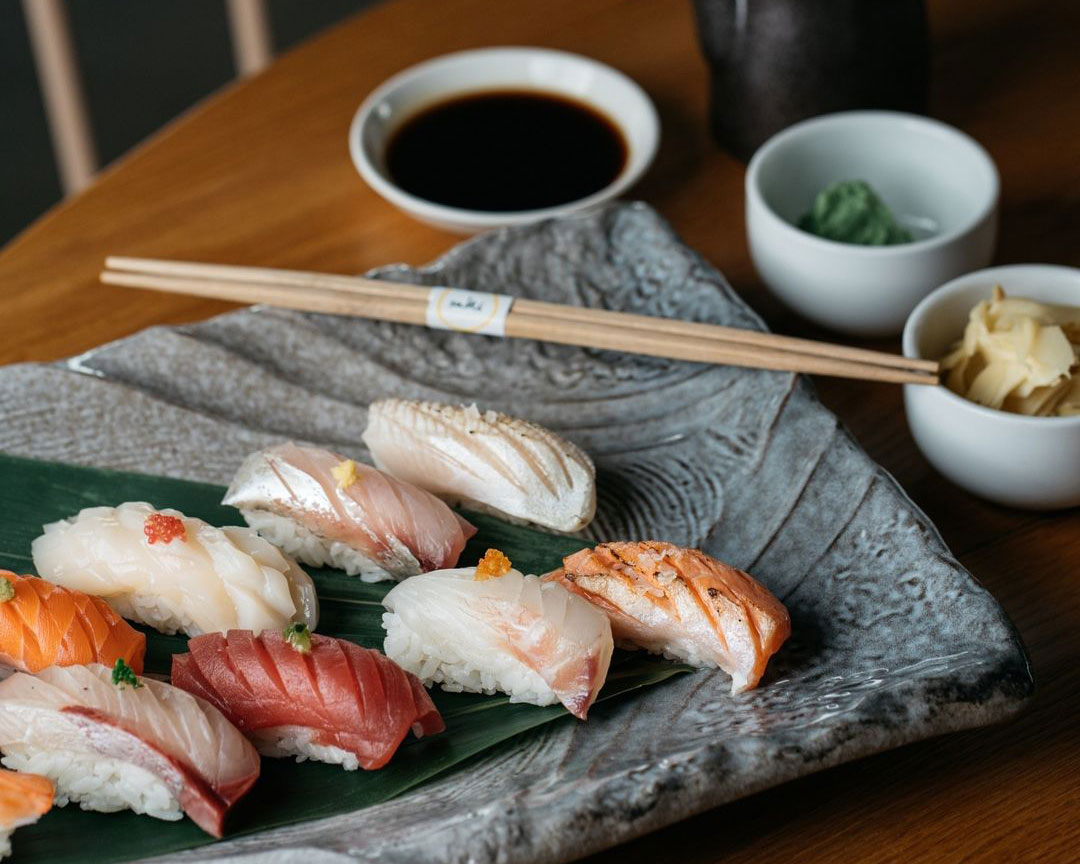 With a strong traditional foundation underpinning its expansive menu, Saké serves an array of satisfying sushi forms like the Kingfish Double Crunch with jalapeño mayonnaise, coriander, cucumber, tempura crunch, sweet soy and spicy masago, or the S Express filled with tempura scallops, jalapeño mayonnaise, cucumber, seared salmon, witlof and unagi sauce. If you can't decide, place your trust in the chef's hands with a 10-piece chef's selection nigiri set.
Toko
CBD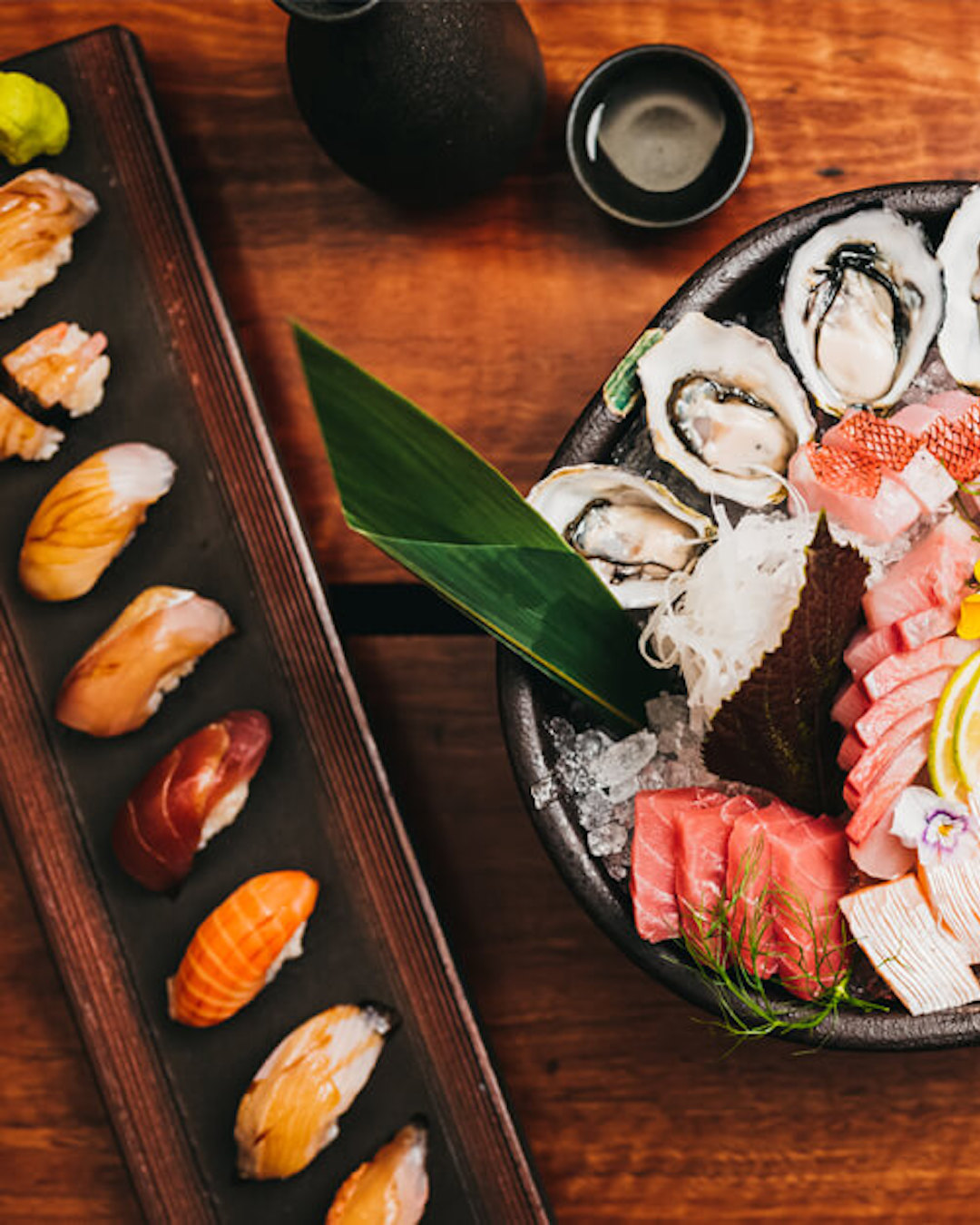 At Toko, perfecting sushi all starts with rice—specifically, koshihikari rice. This spot exclusively purchases fish killed using the ikejime method: a technique that maintains a higher quality of product. Signature sushi dishes include the scampi nigiri with truffle oil and soy jelly, and the Wagyu nigiri with eschalots and chives. If you can, book in for the omakase dining experience to dine on 24 courses including 14 pieces of seasonal nigiri.
Washoku
Vaucluse and Rose Bay
Opened in 2018, Washoku is all about locally acquired fresh produce and celebrating its loyal patrons who flocked to Vaucluse, and then the second location in Rose Bay. There's a wide variety of sushi, including some creative spins on the traditional like the Mad-Mex signature roll with kingfish, coriander, cucumber, jalapeno, tobiko, tempura flakes and wasabi mayonnaise, or the jam-packed Wild Lion King with cooked tuna, prawn, salmon aburi, tobiko, avocado, cucumber, spicy mayo and a teriyaki sauce that takes three days to make.
Sushi E
CBD
Inside The Establishment precinct sits sushi e, a Japanese restaurant blending age-old and modern techniques with an intimate, theatre-like experience. For a-la-carte, try classic nigiri like kingfish belly, unagi, cuttlefish and Wagyu with caviar, or creative uramaki (inside-out roll) like the Balmain bug tempura with spicy mayonnaise and tobiko. For a special occasion, book ahead for the 20+ course omakase experience that'll take you around three hours to devour.
Sushi Tengoku
Kensington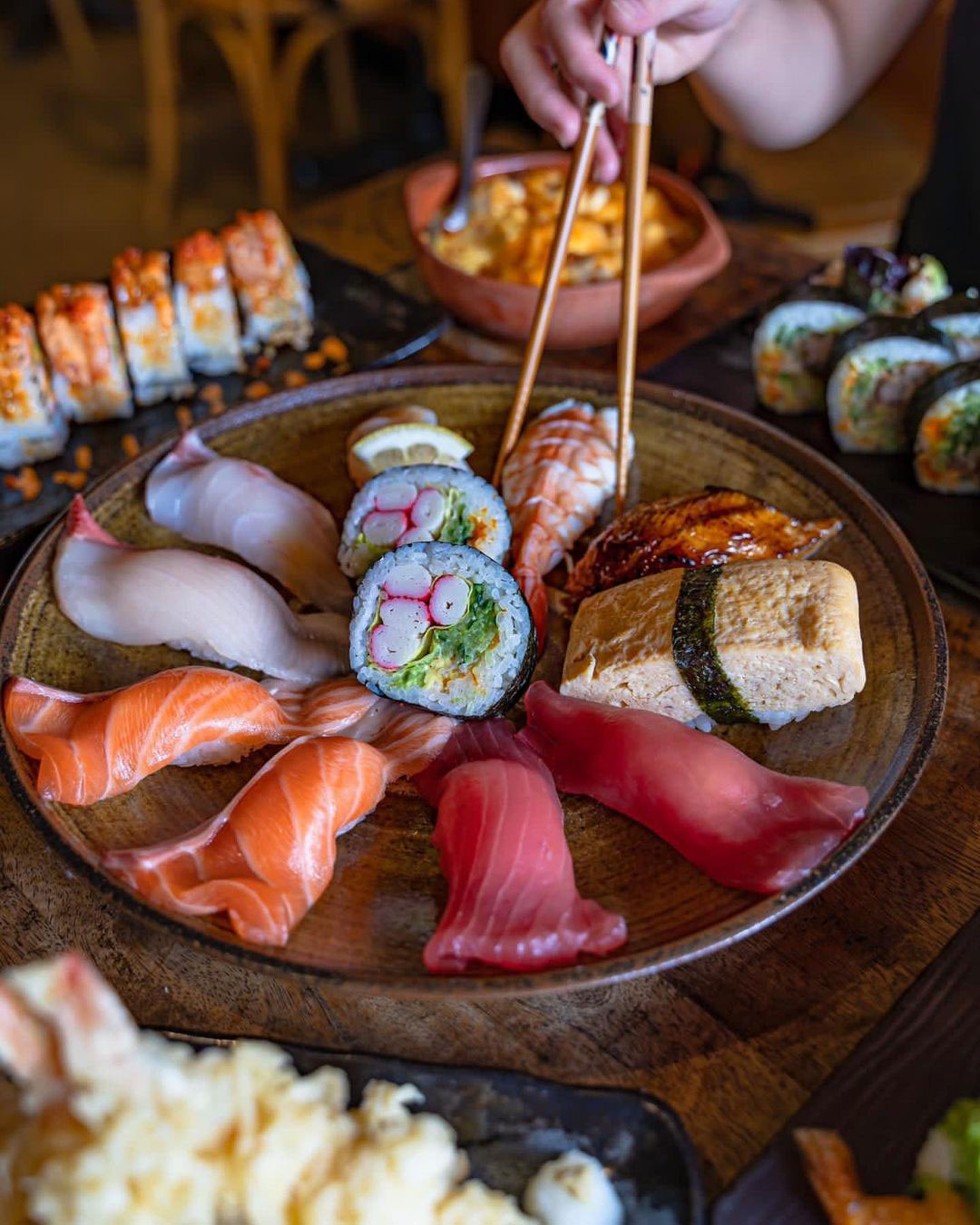 Over a couple of different locations, Sushi Tengoku has been serving up Japanese cuisine and delicious sushi to the Kensington community for 20 years. The eatery offers some of the best value for money in town, known for its ample serving sizes and generous fish cuts and sushi pieces. Looking for a crowd favourite? Try the Volcano maki with mixed seasonal fish and scallop topped with masago, crabsticks and mayonnaise.
Sashimi Shinsengumi
Crows Nest
Sashimi Shinsengumi is not your typical takeaway sushi joint. Firstly, the Crows Nest shop is owned and operated by Shinji Matsui, a sushi master with over 45 years of experience, and his wife Tomoko. Sashimi Shinsengumi focuses mainly on sushi and sashimi platters (with a few in-store offerings for the locals), which you need to order via text a couple of days in advance and pick up in-store, ranging in sizes and entirely dependent on daily produce.
Monster Sushi + Bar
CBD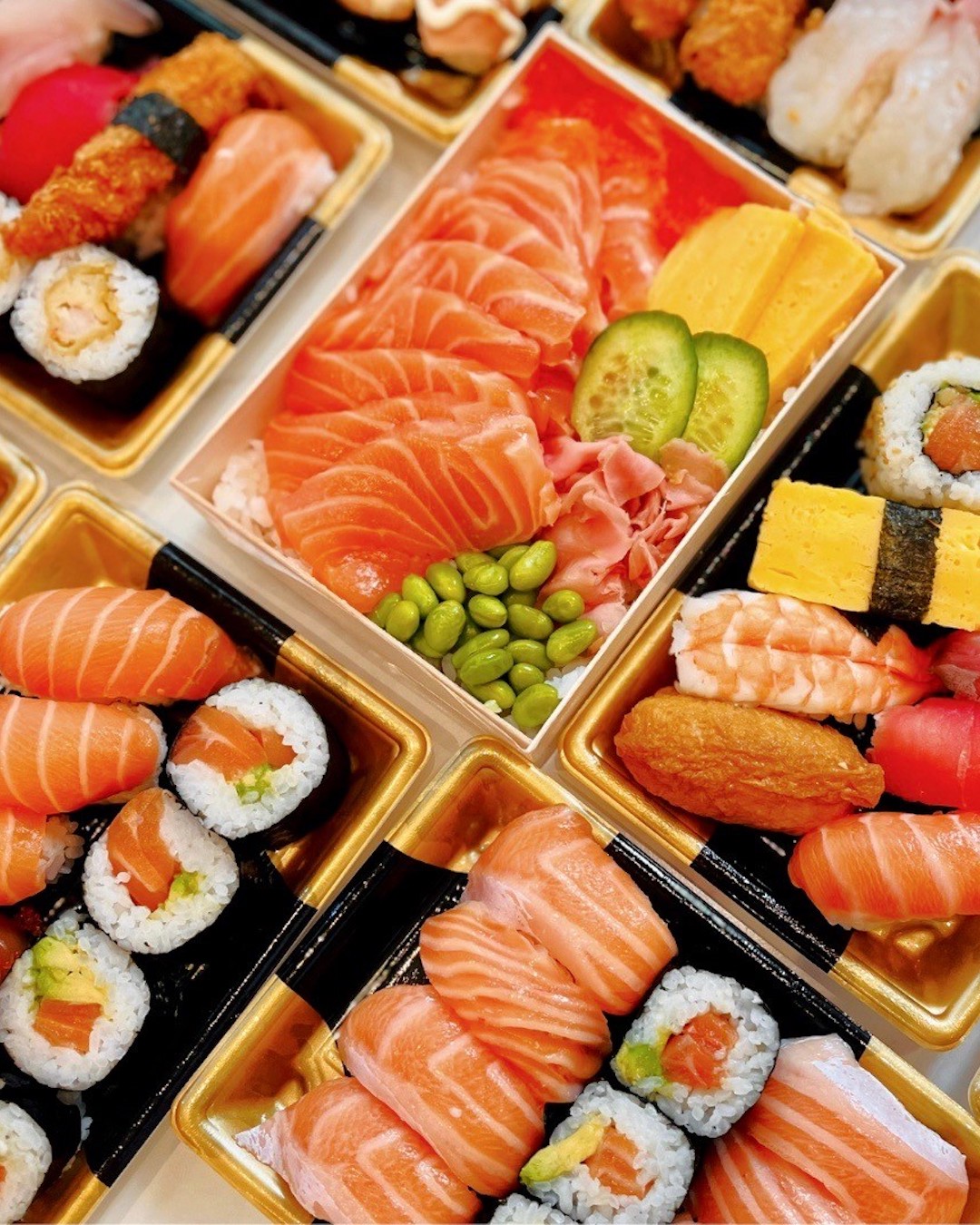 This funky eatery is making sushi culture and tradition fun, serving up all your favourite rolls and nigiri in a funky setting with great cocktails. Think extra-long nigiri topped with eel or aburi salmon, share platters loaded with all sorts of favourite combos, and super cute salmon flower-topped bites. Monster Sushi also does classic and signature rolls, and a variety of sets for one—perfect for when you can't decide.
Masuya Japanese Restaurant
CBD
Masuya has been a Japanese dining mainstay since it first opened on O'Connell Street in 1993. At the restaurant, you'll be treated to colourful bento boxes, playful wooden boat sashimi platters, and everything from tempura and karaage to hot pots and carpaccio. But the five-metre-long red sushi bar should tell you they take the dish seriously. Sit here to enjoy more than 20 different kinds of fresh fish straight from the market. Opt for classic a-la-carte or try different combination platters like Sushi Tasmania with salmon sushi, tuna, oyster, sea urchin, salmon caviar, eel, scampi and grilled scallops.
Nobu
Barangaroo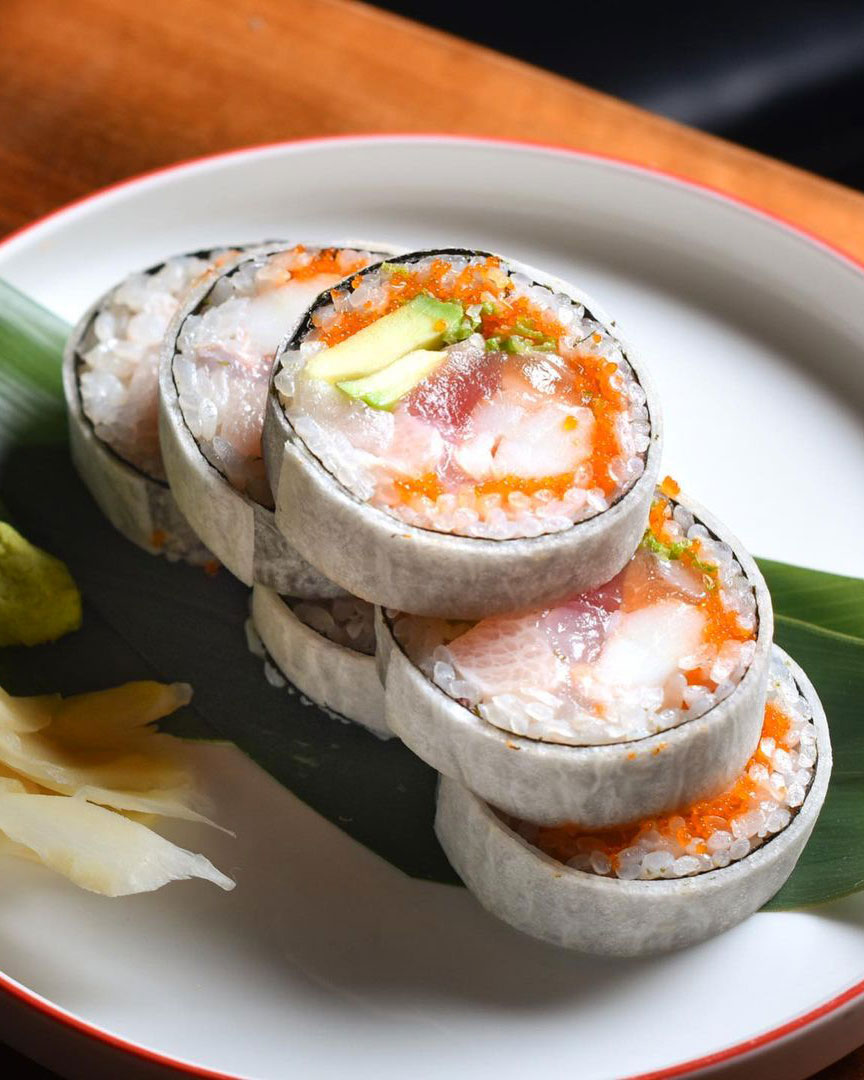 In 2020, Sydney was finally treated to its own location of the world-renowned Nobu—a Japanese restaurant first opened in 1994 by chef Nobu Matsuhisa and actor Robert DeNiro. With an enviable waterfront setting and dishes beloved across the world, this is a must-try for sushi fans. The lunch and dinner menus offer plenty of classic sushi options, with nigiri and maki rolls like toro, squid, snow crab, freshwater eel, Wagyu, yellowtail and jalapeno, prawn tempura, scallop and smelt egg, and more.
Suishin
Surry Hills
Down Fitzroy Street, just off Bourke, you'll find a little unassuming, hole-in-the-wall Japanese sushi restaurant. With often only one sushi chef and one wait staff working, Suishin is all about intimate dining, with caring, friendly service and melt-in-your-mouth sashimi and sushi. The a-la-carte nigiri sushi is quality but definitely won't break the bank. Order up some sake on the side and settle in.
Kokoroya
Maroubra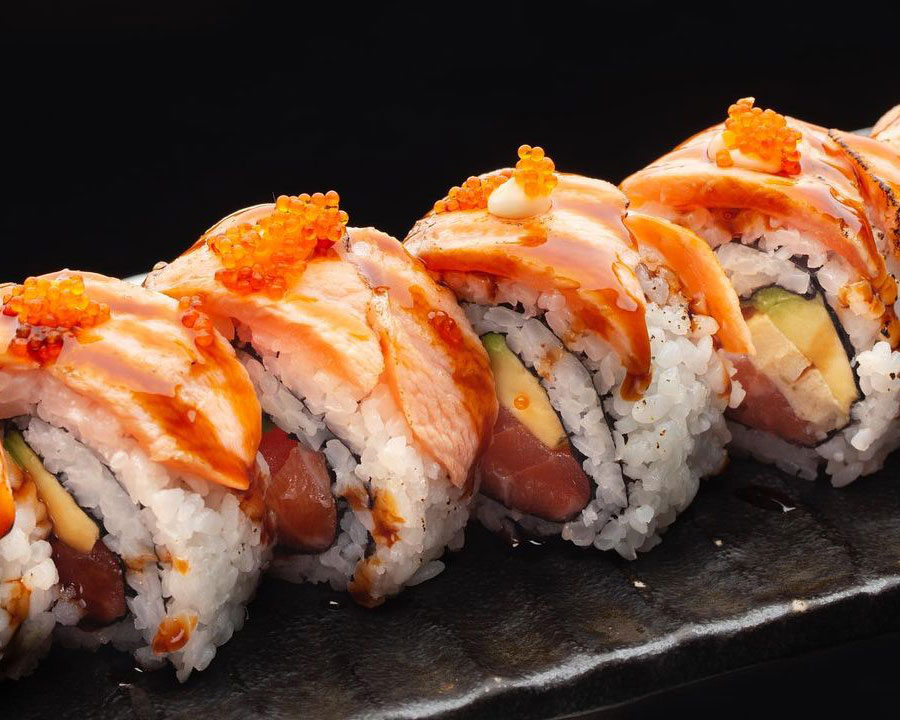 With "kokoro" meaning "heart" or "mind" and "ya" translating to "home", this family-friendly Maroubra eatery tries to create a warm and inviting dining spot for you to relax and enjoy authentic Japanese cuisine. And luckily for us, there are plenty of sushi options at Kokoroya. Go for classic sushi rolls like the crunchy soft-shell crab roll or the scallop roll with "dynamite" sauce and the use of a blow torch to create unique smoky flavours. There's also chirashi bowls: an assortment of diced raw seafood over sushi rice.
Oishi-Billi
Milsons Point
Oishi-Billi set out to redefine the meaning of takeaway sushi by bringing the restaurant experience to your home. There's no going past the "carousel of nigiri in a box", a picturesque assortment of seasonal fish nigiri you'll want to enjoy looking at before devouring into. Feeding a crew? Opt for the giant sushi and sashimi platter with every fish and flavour under the sun.
Still hungry? Check out Sydney's best Japanese restaurants, or Sydney's best omakase dining experiences.
Image credit: Raw Bar, Raw Bar, Maeda, Sokyo, Sake, Toko, Sushi Tengoku, Monster Sushi + Bar, Nobu, Kokoroya