Sydney loves her sushi. You could argue that sushi peaked in the 90s—going from a highbrow rarefied delicacy to a West Coast favourite, before ultimately hitting the mainstream as a supermarket lunch snack. But sushi is still one of our feasting forever favourites.
From fresh yellowfin tuna sashimi to fried tempura rolls, nigiri, makizushi, narezushi, temaki, and oshizushi, sushi is best when it's fresh and plentiful. It's perfect for a quick lunch or for a glorious, stuff-your-face style feast, and it's equally as good when it's fancy as it is when it's cheap as chips and fancy-free.
Classic or creative, using chopsticks or your hands, wasabi or no, careful soy sauce dunking or fish-shaped soy spraying—here we've rounded up Sydney's very best sushi. Dig in.
Raw Bar
BONDI
Opened in 1995, Raw Bar is a Japanese dining institution in Sydney's Eastern Suburbs. In a prime beachside location, it has carved out an excellent spot for itself as a local's favourite for sushi and has no plans of going anywhere.
"We're in the same spot, and that will never change," says restaurant general manager Tobias van Pel. "Or at least not for another 25 years." In fact, Raw Bar made the most of recent Sydney lockdowns to give the joint a touch-up. "We just did a whole refurb of the venue to make sure we look after our customers and can give them something back after COVID and after they've been supporting us," says van Pel.
Head chef Shintaro Honda's menu offers an endless range of sushi, like hiramasa (kingfish) nigiri, the spicy tuna signature roll, and the spider crab hand roll with cucumber, fish roe and jalapeno sauce.
Toko
SURRY HILLS
At Toko, perfecting sushi all starts with rice—specifically, Koshihikari rice. They even import a special version of the rice for their sushi omakase offering from Kawaba village, in Gunma Prefecture, Japan. "The rice must be perfectly cooked, with each grain being differentiated from the next," explains Toko general manager, Paul Birtwistle. "The rice should also 'stick' together, not be squashed, yet not fall apart."
Since opening 15 years ago, the Surry Hills restaurant has only purchased fish killed using the "ikejime" method—a more humane technique that maintains a higher quality of product. Signature sushi dishes include the scampi nigiri, truffle oil and soy jelly, and the wagyu nigiri with eschalots and chives.
If you can, book in for the omakase dining experience. A rotating showcase of 24 dishes that includes 14 pieces of seasonal nigirizushi pieces—both traditional and signature.
Oishi-Billi
MILSONS POINT
Opening during the Sydney lockdowns, Oishi-Billi saw a gap in the local market and set out to redefine the meaning of takeaway Sushi by bringing the restaurant experience to your home. "We opened during lockdown as the takeaway experience was pretty poor," says co-owner James Lee.
For sushi options, there's no going past the "carousel of nigiri in a box", a picturesque assortment of seasonal fish nigiri you'll want to enjoy looking at before devouring into. Feeding a crew? Opt for the giant sushi and sashimi platter with every fish and flavour under the sun.
Fat Panda
CANLEY HEIGHTS
Feeding Canley Heights locals for over 13 years, Fat Panda offers endless sushi options alongside sake and cocktail jugs in a casual, sushi bar-style setting. If you're after the restaurant's signature sushi, make sure you order specialty rolls like the "Spicy Rock n Roll" with spicy tuna, smashed avocado and tobiko, or the surf and turf roll with mushrooms, fried ebi and avocado, topped with seared wagyu beef.
Saké Restaurant & Bar
THE ROCKS
"We have a strong contingent of Japanese chefs in our kitchens who understand the philosophy of Japanese cuisine, including my brother Shimpei and I, who grew up with a sushi chef father who cooked for us every day," says Saké Restaurant & Bar brand culinary chef Yosuke Hatanaka. "So, you could say we've grown up on sushi, watching it being crafted from scratch and trained in the art of sushi making, which is a very specific skill set."
While classically trained, Hatanaka and Saké produce plenty of sushi with contemporary and creative spins alongside more traditional offerings. Like the "Kingfish Double Crunch" with jalapeno mayonnaise, cucumber, seared salmon, witlof and unagi sauce, or the vegetable roll of braised eggplant tempura, pickled radish and shiitake. If you can't decide, place your trust in the chef's hands with the 10-piece chef's selection nigiri sushi set.
Sushi e
CBD
Inside the CBD's famed Establishment building sits Sushi e, a Japanese restaurant overseen by executive chef and Sydney hospo legend Dan Hong. The Merivale outpost carefully blends age-old and modern techniques with an intimate, theatre-like experience. For a-la-carte, try classic nigiri like hiramasa toro (kingfish belly), unagi, ika (cuttlefish) and aji (horse mackerel). Or creative uramaki (inside out roll) like the Balmain bug tempura with spicy mayonnaise and tobiko. We'd also highly recommend booking ahead of time for the 20+ course omakase menu from chefs Ha Chuen Wai and Michael Fox.
Washoku
VAUCLUSE
Opening in 2018, Washoku is all about locally acquired fresh produce and working with and for the local Vaucluse community as a devout patron base. "Being a small village restaurant, we do not have many new customers or walk-in customers from other areas," says owner Anna Seo, who shares 35+ years of combined hospitality experience with her husband and co-owner Daniel Kim. You'll even find dishes named after locals.
As a way to bring good Japanese food to Sydneysiders, the 60-seat restaurant's name says it all. "In Japanese character, 'Wa' represents Japan and 'Shoku' means food," explains Seo. "But at the same time, 'Wa' means harmony and balance. So, our food must be balanced and create great harmony between Japanese food and Western cuisine."
As you'd expect, there's plenty of sushi variety, including some creative spins on the traditional dish. Like the "Mad-Mex" signature roll with kingfish, coriander, cucumber, jalapeno, tabiko, tempura flakes and wasabi mayonnaise. Or the jam-packed "Wild Lion King" with cooked tuna, prawn, salmon aburi, tobiko, avocado, cucumber, spicy mayo and a teriyaki sauce that takes three days to make.
Sokyo
PYRMONT
From beloved Sydney chef Chase Kojima, dishes at this Pyrmont Japanese restaurant are all about seasonality of produce and vibrant colours. Sourcing all their seafood from the nearby Sydney Fish Markets, Sokyo focuses on forging relationships with sustainability-minded fishmongers. Tuck into classic nigiri like NZ scampi or red snapper ikijime, Tassie salmon or kingfish belly, Taiwanese BBQ freshwater eel or the king of sushi, Japanese toro (fatty tuna belly). Or signature nigiri like tuna crispy rice with spicy tuna tartare, spicy mayo and crispy Hokkaido "yumepirica" rice.
Suishin
SURRY HILLS
Down Fitzroy Street, just off Bourke, you'll find a little unassuming, hole-in-the-wall Japanese sushi restaurant. With often only one sushi chef and one wait staff working, Suishin is all about intimate dining, with caring, friendly service and melt-in-your-mouth sashimi and sushi. The a-la-carte nigiri sushi is quality but definitely won't break the bank. Order up some sake on the side and settle in.
Sushi Oe
Cammeray
With only six guests per sitting, Sushi Oe is one of Sydney's most intimate and exclusive omakase experiences. Under the masterful craft of chef Toshihiko Oe, the small Cammeray restaurant offers an incredible 30+ course degustation, which heavily features Oe's carefully selected and crafted sushi. The menu changes every sitting, so come in with an empty belly and an open mind. Keep an eye on the Sushi Oe Instagram page, where highly sought-after bookings are released monthly and only taken by text message.
Maeda
PADDINGTON
There's perhaps no more quaint inner-city escape than dining at Paddington's famed five-ways. Well, if you're after sushi on one of those ways, head straight for Maeda. Opened in 2018, Japanese and French-trained chef Yasushi offers plenty of traditional nigiri, rolls and hand rolls–try the aburi salmon or soft shell crab rolls. Added bonus: you can BYO during the week as well.
Sushi Tengoku
KENSINGTON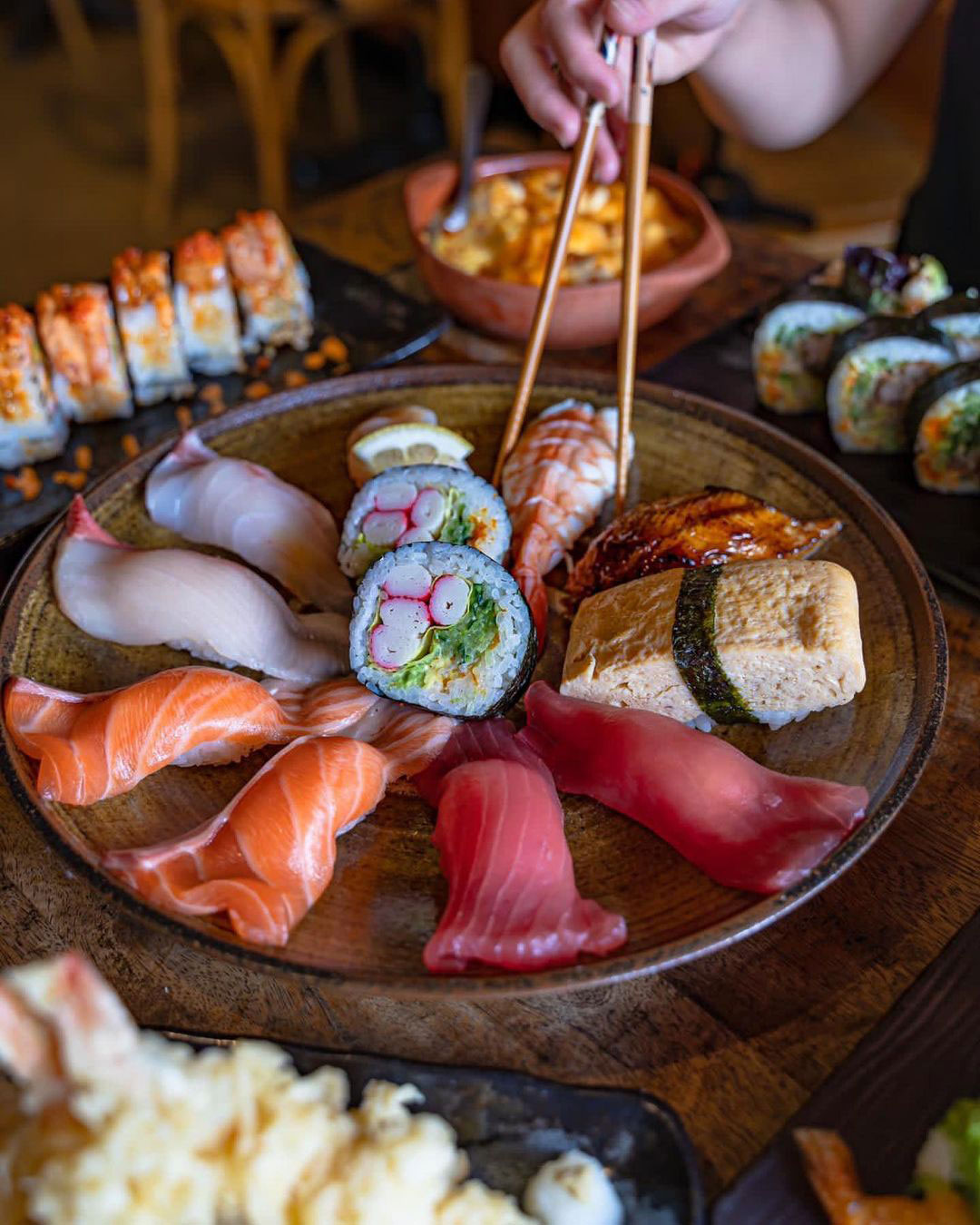 Over a couple of different locations, Sushi Tengoku has been serving up Japanese cuisine and delicious sushi to the Kensington community for 20 years. The eatery offers some of the best value for money in town, known for its ample serving sizes and generous fish cuts and sushi pieces. Looking for a crowd favourite? Anything with salmon or try the "Volcano Maki" sushi roll with mixed seasonal fish and scallop topped with masago, crabsticks and mayonnaise.
Luck Sushi
BRIGHTON-LE-SANDS
A stone's throw from the beach, Luck Sushi is a must-visit for any sushi hankering in the Brighton-Le-Sands area. Serving locals since 2005, Luck is an unassuming little restaurant bursting with passion for authentic Japanese culinary tradition. Choose from reasonably priced sushi rolls of every kind, ticking off the classics. But we recommend the sushi sashimi combination, which comes served on an ornamental wooden boat for a little showmanship.
Sashimi Shinsengumi
CROWS NEST
Sashimi Shinsengumi is not your typical takeaway sushi joint. Firstly, the Crows Nest shop is owned and operated by Shinji Matsui, a sushi master with over 45 years of experience and his wife Tomoko. With a seasoned dedication for acquiring the very best fish, you'll find Matsui every early morning down at the Sydney Fish Markets, working his fishmonger connections. This allows him to create simple, traditional sushi and sashimi—letting the produce speak for itself without the modern bells and whistles.
As well as some in-store offerings, Sashimi Shinsengumi focuses mainly on sushi and sashimi platters, which you need to order via text a couple of days in advance and pick up in-store, ranging in sizes and entirely dependent on daily produce.
One of Sydney's omakase boom pioneers (and still producing omakase-quality dishes for takeaway), Matsui had to sadly stop offering the intimate in-house dining experience due to the pandemic. But keep your ear to the ground as it could very well return, and bookings will be snapped up quick.
Kisuke
POTTS POINT
After decades of training and working in kitchens around the world, from Tokyo and Amsterdam to London and Sydney, Chef Yusuke Morita finally settled in Potts Points to open up Kisuke in 2020. Teaming up with his wife, Morita's restaurant offers just six seats for another of Sydney's most intimate and sought-after omakase experiences, showcasing a lifetime of passion for and experience with traditional Japanese cuisine. The rotating menu features plenty of melt-in-your-mouth sushi dishes, alongside soups, sashimi, grilled and steamed dishes, paired with sake and Japanese whisky.
Masuya Japanese Restaurant
CBD
Masuya has been a Japanese dining mainstay since it first opened on O'Connell Street in 1993. At the restaurant, you'll be treated to colourful bento boxes, playful wooden boat sashimi platters, and everything from tempura and karaage to hot pots and carpaccio. But the five metres long "Kabuki" red sushi bar should tell you they take the dish seriously. Sit here to enjoy more than 15 different kinds of fresh fish straight from the market. Opt for classic a-la-carte or try different combination platters like "Sushi Tasmania" with salmon sushi, tuna, oyster, sea urchin, salmon caviar, eel, scampi and grilled scallops.
Nobu
BARANGAROO
In 2020, Sydney was finally treated to its own location of the world-renowned Nobu name—a Japanese restaurant first opened in 1994 by chef Nobu Matsuhisa and actor Robert DeNiro. With an enviable waterfront setting and dishes beloved across the world, this is a must-try for sushi fans. Both of chef Harold Hurtada's lunch and dinner menus offer plenty of classic sushi options from head sushi chef Sanghhyeop Kim, with nigiri and maki rolls like toro, squid, snow crab, freshwater eel, wagyu, yellowtail and jalapeno, prawn tempura, scallop and smelt egg, and more.
Izakaya Fujiyama
SURRY HILLS
Izakaya is a type of Japanese bar dining that serves small dishes alongside alcoholic drinks—if you somehow need more reasons to visit this Surry Hills restaurant. You'll find plenty of outrageously good dishes at Izakaya Fujiyama to pair with that Japanese whisky, wine or beer, from wagyu beef cheek buns to tuna belly karaage. But it's the small sushi menu we're interested in here, with baby rolls and nigiri on the menu—what drink will you pair with your Hiramasa kingfish, yellowfin tuna or scampi?
Kokoroya
MAROUBRA
With "kokoro" meaning "heart" or "mind" and "ya" translating to "home", this family-friendly Maroubra eatery tries to create a warm and inviting dining spot for you to relax and enjoy authentic Japanese cuisine. And luckily for us, there are plenty of sushi options at Kokoroya. Go for classic sushi rolls like the crunchy soft-shell crab roll or the scallop roll with "dynamite" sauce and the use of a blow torch to create unique smoky flavours. There's also sushi chirasashi bowls, an assortment of diced raw seafood over sushi rice.
Yoshii's Omakase
BARANGAROO
Hidden inside Nobu at Crown Sydney is the tiny 10-seater Yoshii's Omakase. The $350 price tag for the pleasure of dining here may send some in the other direction, but with master sushi chef Ryuichi Yoshii working directly in front of you with over 38 years of experience and the best produce in town–it's worth every cent. There's no telling what menu you'll be eating and what sushi you'll be treated to as you sit down in the intimate space. All we can say is that you'll never forget it.
Still hungry? Check out Sydney's best Japanese restaurants, or Sydney's best omakase dining experiences.
Image credit: Saké, Raw Bar, Saké, Toko, Sokyo, Suishin, Sushi Tengoku, Nobu, Kokoroya, Crown Sydney