Small's Deli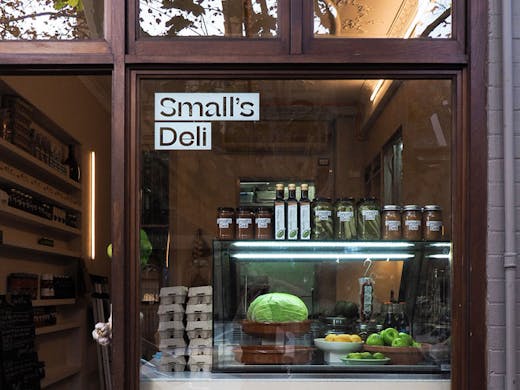 Ben Shemesh (ex-Dear Saint Eloise) and Emily Van Loon (a graphic designer by trade) opened up the European-inspired sandwich shop and deli in February of 2020, right before the world closed down. Going into lockdown two weeks after opening, the shop immediately found a devout local customer base for takeaway goods and remains a hot ticket spot for breakfast and lunch for those in the area.
Stepping inside the little townhouse shop and looking up at the menu board, you can't miss the distinct French and Italian influence—soft and hard cheeses, plenty of cured meats, baguettes and paninis, and fillings fit for any authentic European deli. The pair were inspired by the specialty, made-to-order sandwiches they ate while travelling through Bologna.
"[There] it takes about half an hour to get a sandwich, but they're slicing the meat per sandwich," Van Loon explains. "That's something that tastes incredible." Luckily, the wait time is considerably shorter at Small's, but with charcuterie and cheeses still freshly sliced daily.
On those travels, Shemesh realised that complex flavours and a dining experience could be presented in sandwich-form for a casual takeaway lunch. "That's the thing we saw overseas–people doing really tasty things that just happened to be between bread as opposed to spread out on a plate."
Pop through before 11am to get your hands on the freshly toasted Iggy's Bread Croque Monsieur and a coffee made with Reuben Hills beans. Other staple sandwiches include the "Florence & the Aubergine" with finocchiona (fennel and garlic salami), eggplant, walnut paste, creamed pecorino cheese, and rocket. Or the "Mere Catherine" with brie, serrano ham, and butter on a baguette, named after the French restaurant that previously called the Potts Point building its home for 45 years.
The walls are also lined with house-made jams, sauces, and pickles for sale. Then there are sandwich-perfect specialty items you'll never find at your regular supermarkets like Lulu's Remedy anchovy chilli, Ortiz Sardines, Quinby's Chilli Honey, or Taluca Park eggs from the Southern Highlands.
Image credit: Small's Deli
---
You May Also Like
Bars & Pubs
Sydney, NSW
Found on level eight of Swissôtel Sydney in the heart of the city, Arches on…