My Mother's Cousin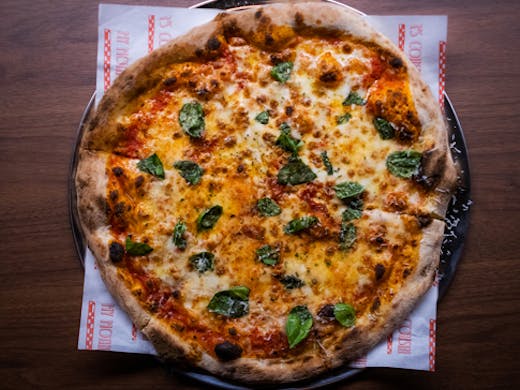 The Verdict
My Mother's Cousin is Sydney's newest (lockdown) opening paying homage to a very real but very secret, immaculately dressed relative with a receding hairline. This new Bexley pizza and wings parlour is inspired by New York's pizza culture, which means you will absolutely find a pepperoni spread made with their very own pepperoni (made by an artisan butcher).
But the big stickler is that My Mother's Cousin sold out of pizzas every night during their first opening week, which means if this joint wasn't top of your food adventure list, it should be now.
If it seems surprising a brand new venue could skyrocket to such success in its first week—things start piecing together when you find out the big foodie cred its owners harbour. The pizza slash wing parlour is headed by three hospitality greats, Amani Rachid, Huss Rachid (Amani's brother) and Sal Senan, all of whom have a 10-year foodie legacy under their belts. The three are former owners of Rockdale's Nineteen43 and soon-to-be owners of Wolli Creek's Milk And Honey cafe.
The idea behind My Mother's Cousin came to fruition after a recent visit to the US and, of course, a deep-pan love for pizza. After seeing how much a good pizzeria joint meant to local neighbourhoods in the US, the three thought that Sydney needed a different approach to pizza, one that doesn't heavily lean towards Neapolitan, Southern Italian-style or large commercial chain style pizza restaurants.
"The concept is a casual quick-service restaurant with a small dine-in element that focuses mainly on pizza and wings," says Huss Rachid, who also doubles as MMC's head baker. "The focus is on creating really high-quality pizza using the highest quality locally sourced and imported goods. The pizza takes inspiration from New York pizza culture and is strongly linked to our interpretation of what a good pizza should taste like."
While you'll also find other classics like housemade apple pie served with soft serve, shakes and a housemade lemonade too, the magnum opus is no doubt the ripper pizza menu.
"The pizza menu is pretty simple.. with classics like the OG Roni," says Senan. "At the moment, you can get a nduja and salami, a white cheese, mortadella with fermented chilli, fennel Italian sausage, and roasted veg. We also plan on doing weekly specials like square pizza by the slice."
At MMC, there's an ethos that revolves around classics made to perfection, something the three were intent on executing when trying not to reinvent a wheel already spun.
"Pizza is a classic dish," says Amani Rachid. "Everything you see on the menu is familiar but we carefully source the best ingredients to make sure that a simple product like pizza is given the respect it deserves."
In the kitchen, this means a focussed fermentation process for the pizza dough, adds Senan.
"Our dough ferments for at least 48-hours before use and we use a mix of 100 per cent Australian stone-milled flour and ultra-high-quality Italian flour. This long fermentation process gives it a savoury, crispy and slightly chewy dough."
Alongside the doughy goodness, MMC has also paired a dedicated line-up of four variations of chicken wings. Naturally, there's a hot take that looks like "Phil's Hot Sauce Wings" and brings together a coating brought to you by the likes of chef Phil Morg (ex Mary's and Porteno) which should be a crime to miss. There's also hot honey and Parmigiano Reggiano, lime and pepper and a wholesome original with decadent gravy.
As for the fit-out, it's nothing less than a timestamp of the east coast's pizza parlours of the 1940s and 1950s.
"The fit-out of the restaurant was a very crucial part of the concept," says Amani Rachid. "You'll find the walls littered with old school photos including hip hop icons, sports legends, musicians, artists and pop culture nostalgia. It has a real elevated retro vibe with upholstered booths, fluted glass, black and white checkered floors, and loud hip-hop music."
Image credit: My Mother's Cousin
---