Pancakes. Isn't it amazing that someone invented a recipe that makes it possible and socially acceptable to eat cake for breakfast without giving it a second thought?
Known by many names and prepared using many techniques, we've cast a wide net and included the best pancakes, hotcakes, and crepes (we don't discriminate) for you to drool over. Whether you're looking for a vegan version, over-the-top toppings, savoury French galettes, or of-the-moment Japanese soufflé pancakes, we've got you covered here with Sydney's must-try sweet breakfast treats.
These are the best spots for pancakes in Sydney.
Happyfield
Haberfield
If you live in or around Haberfield, you know full well that diner-style cafe Happyfield makes some of the best pancakes in Sydney. Opened in 2020 by Jesse Orleans and Chris Theodosi, the bright yellow corner cafe serves up amazing food and a genuinely (as the name suggests) happy vibe. Alongside friendly service and menu items like the "McLovin Muffin", a brekky burger that will put your weekend Maccas order to shame, and an "NYC Reuben" with grilled New York-style pastrami, Happyfield is known best for its pancake stacks.
You can keep it simple with a short stack, served with Pepe Seya butter and Canadian maple syrup. Or keep it traditional with the sweet stack and charred banana, passionfruit, strawberries, whipped cream, and maple syrup. But our pick is the savoury stack, with a couple of fried eggs, crispy bacon, and maple syrup. If you fancy yourself a big eater, take on their unofficial "pancake challenge" by demolishing 15 pancakes (or more, if you want to beat the current Olympic-level record of 50) in 45 minutes for a spot on the wall of pancake fame.
SOUL Deli
Surry Hills
When Daero Lee and Illa Kim opened up SOUL Deli in 2020 as the younger sister venue to nearby SOUL Dining, there were high expectations. And let's just say, the cafe, deli, and homewares store has not disappointed. Fast becoming a local's favourite, the Campbell Street eatery is pumping out some incredible dishes with Korean twists, like the pork belly kimchi cheese sandwich or the omelette with Korean "caviar".
But if you're swinging past for brekky, the buttermilk hotcakes are an absolute must. The breakfast dish comes with maple syrup and Tasmanian salted cultured butter. But we highly recommend adding some extras like KFC (Korean fried chicken), bacon and hash browns, or fruit salad and vanilla cream if you want to keep it light.
Air Lab
Cabramatta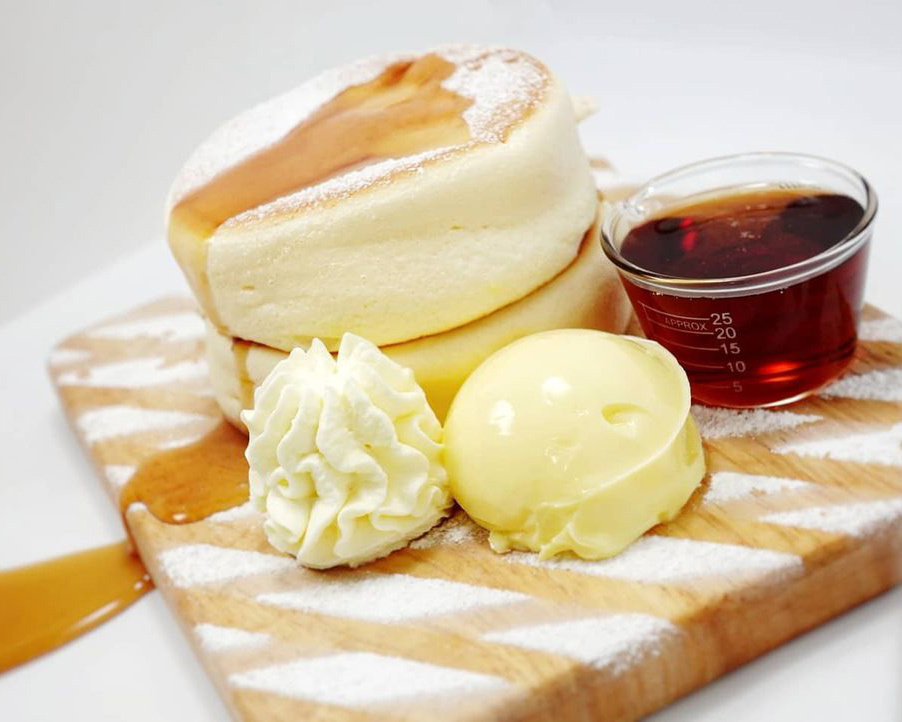 If we told you Cabrabatta is home to some of Sydney's lightest and most airy pancakes—you'd probably expect them to come from a place called Air Lab Soufflé. Light and fluffy is precisely what the dessert bar is dishing out in delicious spades. As you peruse the menu, let yourself wander to the Lotus Biscoff cheesecake, milkshakes, crepe cakes, cheese tarts, Oreo chocolate ice cream eggette, crème brûlée choux pastry or soft serve parfaits. But make sure you don't leave without ordering Air Lab's famed soufflé pancakes. The Japanese-inspired pancakes get their fluffiness (a word only fit for this article) from the air bubbles inside the pancake batter. These are then topped with flavours like crème brûlée, tiramisu, matcha chocolate, Nutella coffee and lychee rose.
Bay Vista
Parramatta and Brighton Le Sands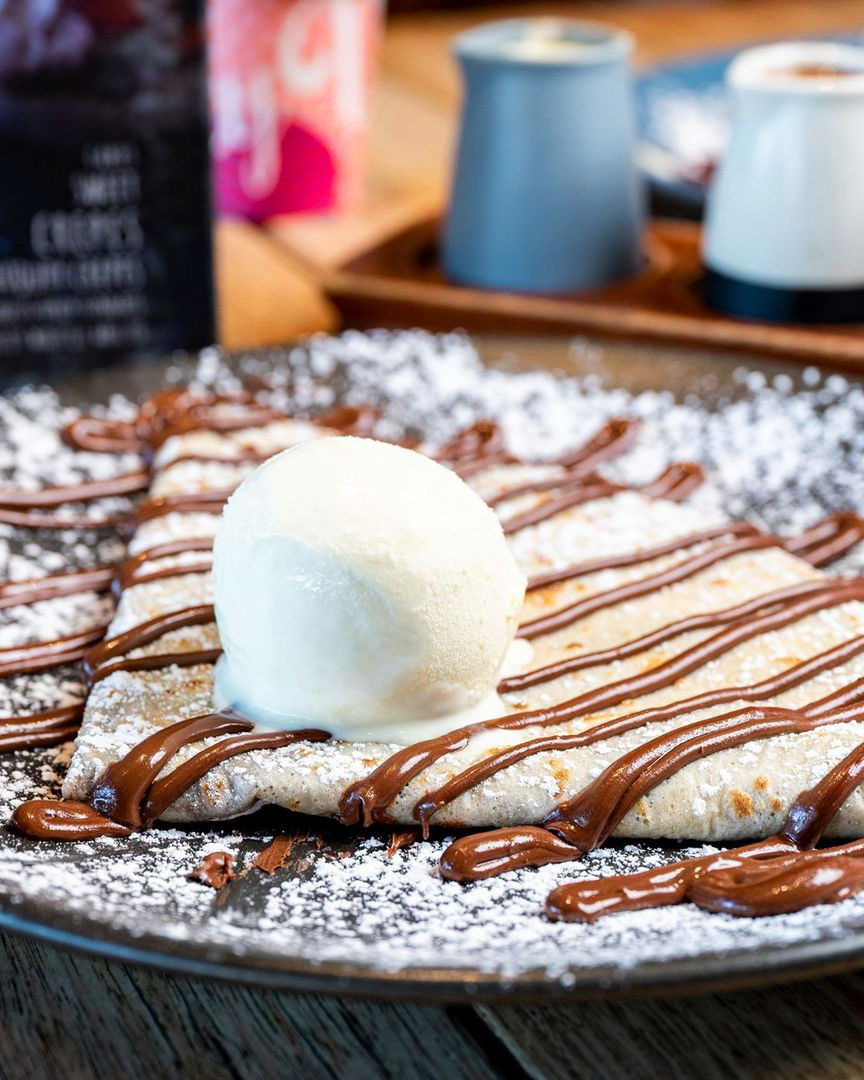 At Bay Vista, desserts and sweet treats aren't tucked away at the end of the menu—they are the menu. So, it won't be a surprise to hear that you can score some absolutely delectable pancakes when you visit. Serving Brighten-Le-Sands sweet tooths since 1991, the dessert bar opened a second Parramatta location in 2017 with menus boasting crepes, waffles, scrolls, cakes, and "adults-only sundaes".
In keeping with a traditional dessert-focussed eatery, pancake topping options are nice and sweet. Cover yours with blueberries and sweetened ricotta, New York cheesecake pieces and strawberry puree, or smashed chocolate honeycomb and caramel sauce. Although, good luck scrolling past the Belgian fountain chocolate option.
Porch And Parlour
Bondi Beach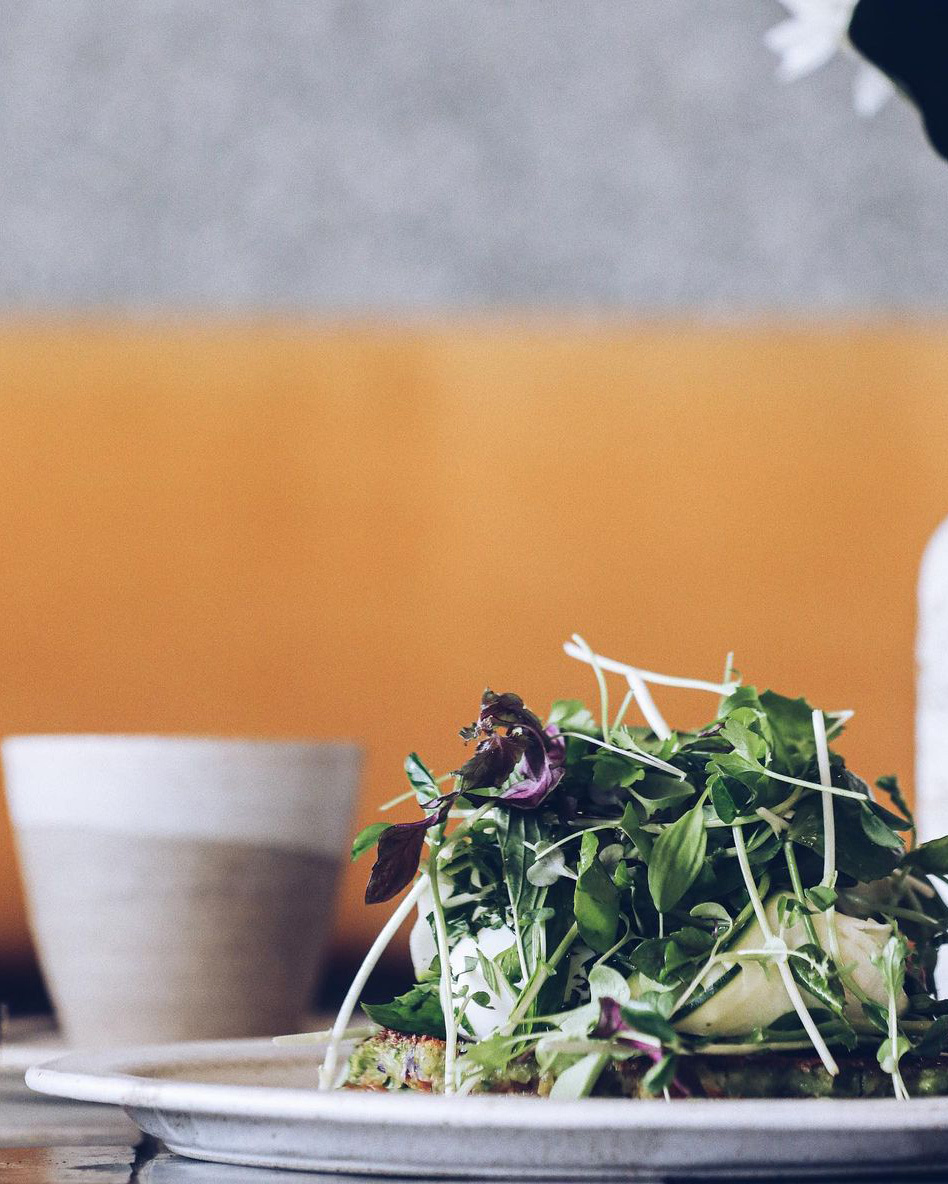 Porch and Parlour has a well-deserved reputation as one of the best cafes on Sydney's East. The Bondi Beach-facing eatery offers a full brekky and lunch menu all week long, with a "sundowners" snack menu and plenty of cocktails for its extended weekend trade. But there's one vibrant green menu item in particular that has made a name for itself. As this list makes clear, pancakes come in all shapes, sizes, flavours, and colours. Porch and Parlour's cult favourite "Pea Pancake" comes served with avocado, feta, relish, a poached egg, zucchini, herb salad, and lemon oil, with the option to add bacon. The 'pancake' itself is made from peas, GF cornflour, egg, red onion, salt, and pepper. Order up for brekky, brunch, or lunch.
Cafe Bella Dee
Sans Souci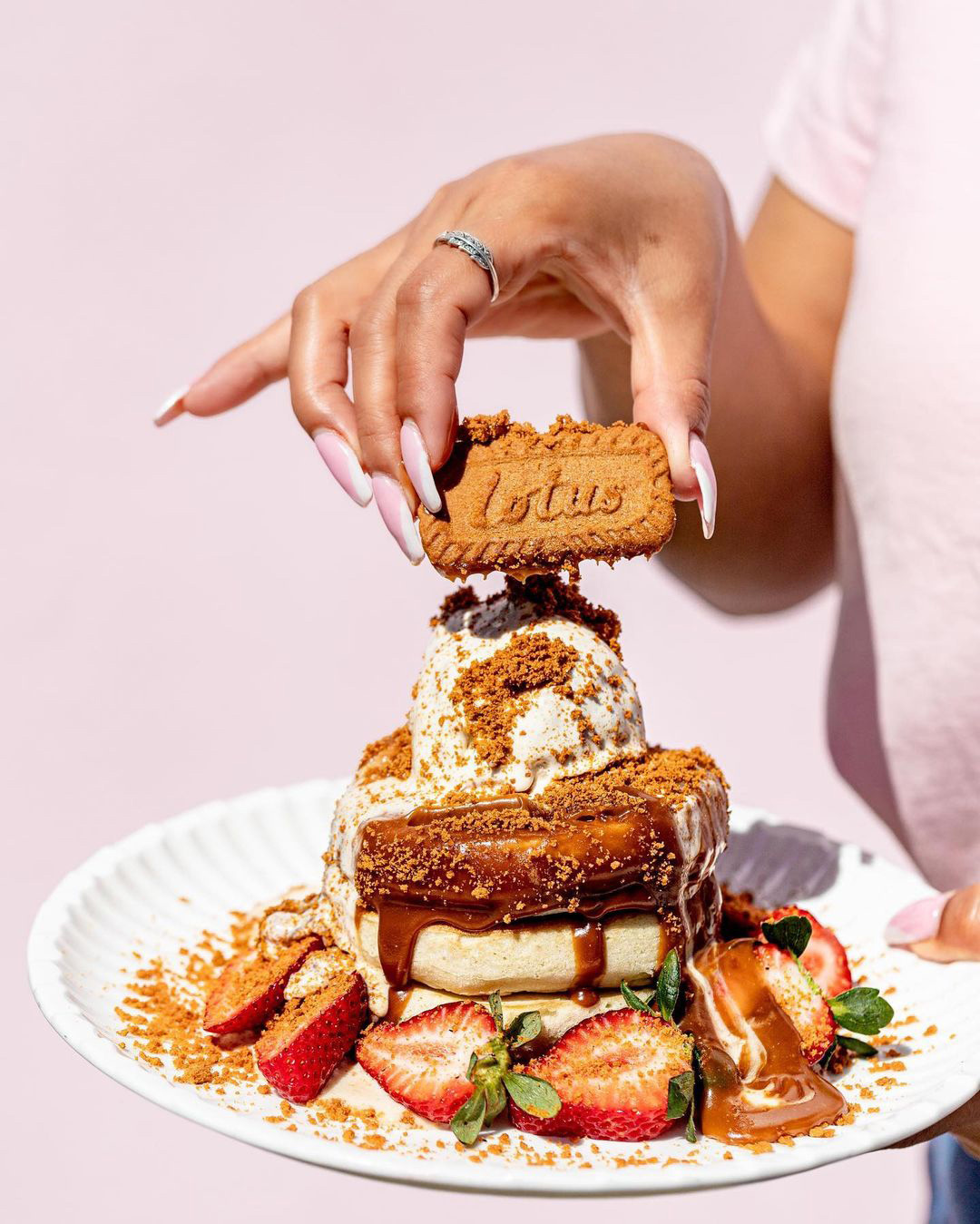 Named after brother and sister owners and Sans Souci locals, Stella and Dimitri, this Southside cafe takes its place in the pancake game very seriously. While it's fair to say that plenty of the brekky and dessert options on this list stand out because they look fabulously mouth-watering, Cafe Bella Dee is on its own level for pretty pancakes. If you don't believe us, go take a look at their Instagram. These picture-perfect, round-shaped pancakes are thick, fluffy and altogether scrumptious. Now imagine them artfully decorated with maple roasted nuts, Italian ricotta, berry compote, seasonal fruit and Canadian maple syrup–that work of art won't survive long. Other topping options include Lotus Biscoff sauce, honeycomb biscuit crumb, mascarpone cream, banoffee ice cream and Nutella.
And to help us all get through the current lockdown, Cafe Bella Dee is offering a create-your-own pancake stack box ($70) which feeds four, with eight buttermilk pancakes and all the toppings your heart desires.
The Brothers Cafe
Haymarket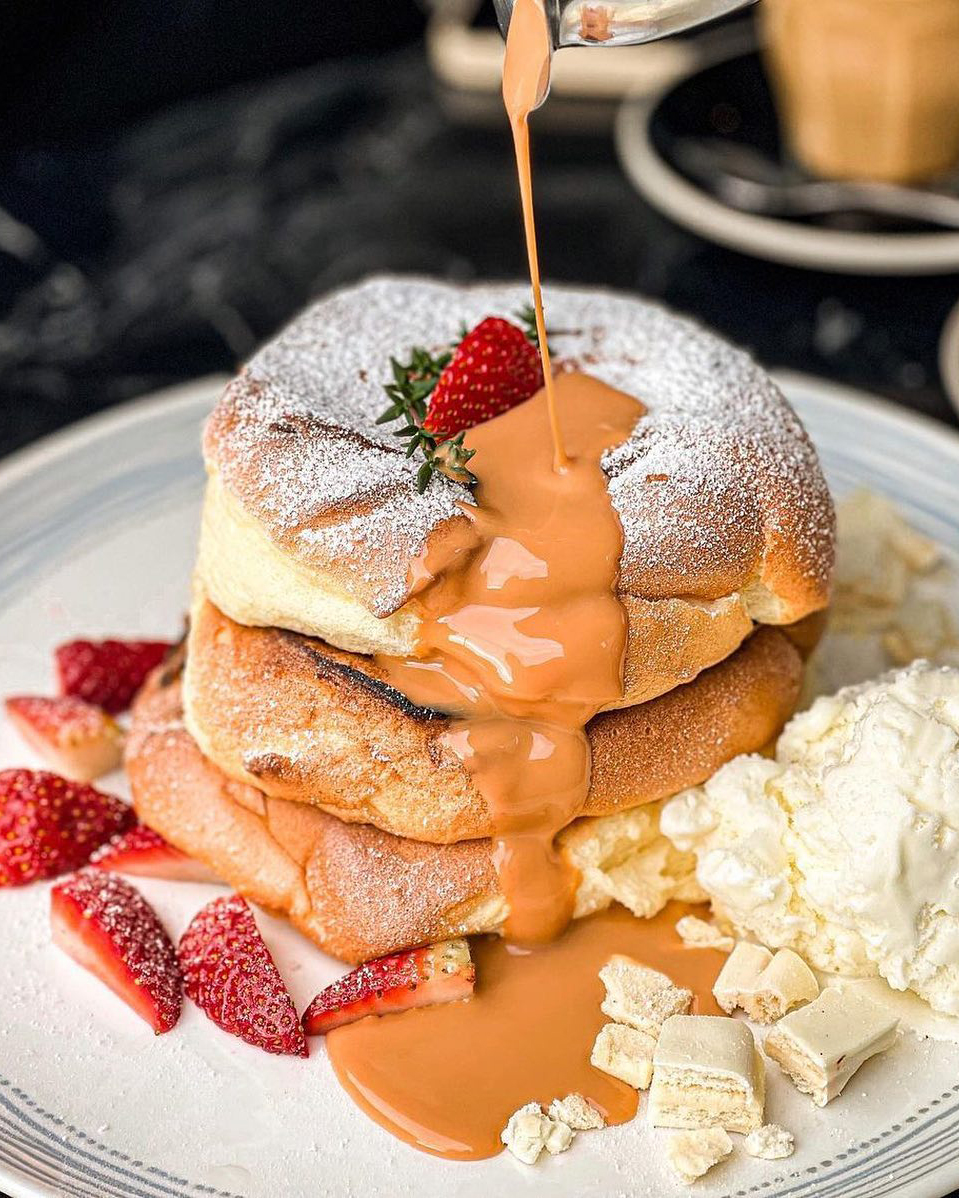 Between Chinatown and Central Station sits The Brothers Cafe, an eatery that serves up tall smoothies, big burgers, and saucy pasta. And much to our delight, some cracking souffle pancakes as well. These beautifully soft and light creations take 20+ minutes to make, but you can believe they're more than worth it. The stacks of airy goodness come topped with flavours no sweet tooth could pass up. Like Thai tea cream, white chocolate crumble, fruit and ice cream, with tiramisu cream, chocolate ice cream, and a generous chocolate dusting, or matcha cream sauce with mascarpone cream, strawberries, and pearls. Cutting through these pancakes like hot butter is as 'Gram-worthy as it gets.
Blackwood Pantry
Cronulla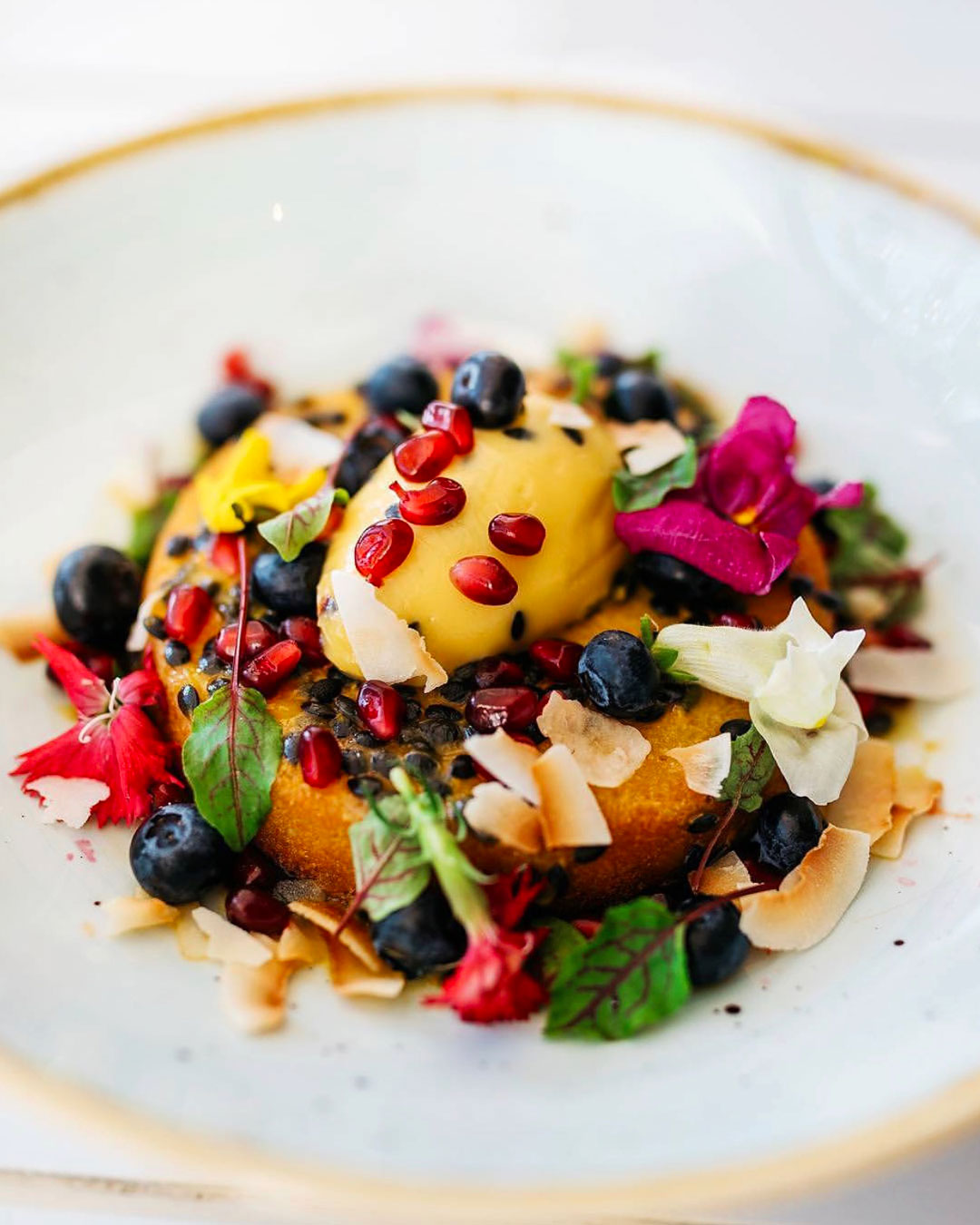 Cronulla's Blackwood Pantry is a much-loved brunch spot for its relaxed, beachside vibes and its hefty all-day breakfast menu. Here, the oven-baked coconut hotcakes are topped with fresh blueberries, pomegranate, passionfruit curd, and sliced coconut. The team loves the flavours and the balance of sweetness and slight acidity from the fruits, making the hotcakes a permanent fixture on their menu.

Head chef and co-owner Robert Lechowicz reveals that the secret to an airy, fluffy pancake is to pass all the dry ingredients through a fine sieve. "If you're making pancakes at home, make the batter fresh on the day, ensure your ingredients are at room temperature, and rest the batter for two hours to ensure the glutens have time to do their thing. Maintaining a consistent temperature when cooking is equally important as altering it during cooking could result in a collapsed pancake."

If you're looking for a fancy version, Blackwood Pantry's truffle-laced ricotta hotcakes, with caramelised bananas, truffle-infused maple syrup, coconut dark chocolate, fresh whipped cream, and freshly sliced truffles, are here to indulge in for truffle season.
Speedos Cafe
North Bondi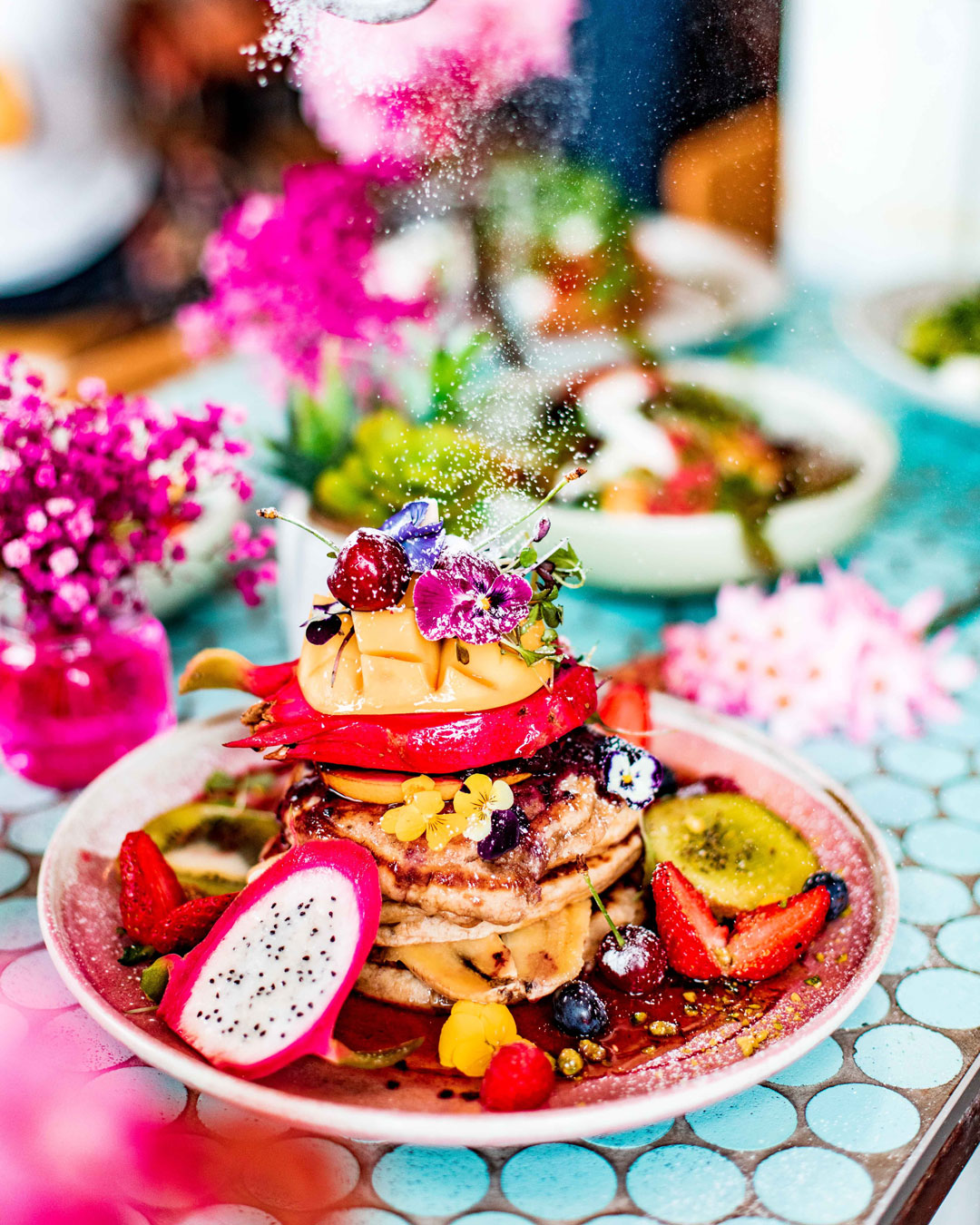 If you're in it for the 'Gram as much as the taste (no judgment), Speedos Cafe in Bondi matches its colourful asthetically pleasing pancake plating with breath-taking, hard-to-beat Bondi Beach views.

Speedos caters to all sorts of dietary requirements and the chefs are no strangers to vegan substitutes (the pancakes underwent vigorous recipe testing and were shared with Sydney's top vegan bloggers before becoming a permanent fixture on the menu). And so, their vegan chia pancakes topped with sticky, caramelised banana, fresh figs, seasonal berries, and pistachio crumble and drenched in maple syrup are a must-try.
Speedos says the secret to the incredible pancakes is making sure that every stack leaving the kitchen is a show-stopper. When we asked owner Suzy Dan if she had some tips for making awesome pancakes at home, she said "Don't! Who wants to clean up?". We have to agree.
Gram
Chatswood
Credited with creating some of the best soufflé stacks in Tokyo, Gram opened in Sydney last year. Gram's fluffy, cloud-like signature "premium pancakes" are made using an intricate and complex technique, carried out by practiced hands. The entire kitchen team went to Japan for vigorous 10-day training, followed by another 10 days of perfecting their skills at the Chatswood store.
The characteristic jiggle of a Gram pancake is created by whipping egg whites into a meringue-like consistency, that is gently folded into the batter. Once combined, they are steamed in small batches under metal domes, then popped onto a hot pan till golden. The menu warns diners that they face a 40-minute wait for their coveted stack of fresh pancakes, but if you ask us—the wait is totally worthwhile.

At Gram, there are eight different pancake flavours to choose from. Go simple with classic pancakes topped with berries, the more luxurious route with sweet, mascarpone-filled Tiramisu pancakes, earthy matcha pancakes, or one of the many seasonal varieties the menu offers.
Gram's secret ingredient? Culinary confidence, of course. "The secret behind making soufflé pancakes is not to be anxious," Gram CEO, Scarlett Zhao tells us. "Steam the pancakes low and slow over the lowest flame. If the flame is high, the outside layer will overcook but the inside will be under".
Four Frogs Creperie
Mosman, Randwick, Circular Quay, and Lane Cove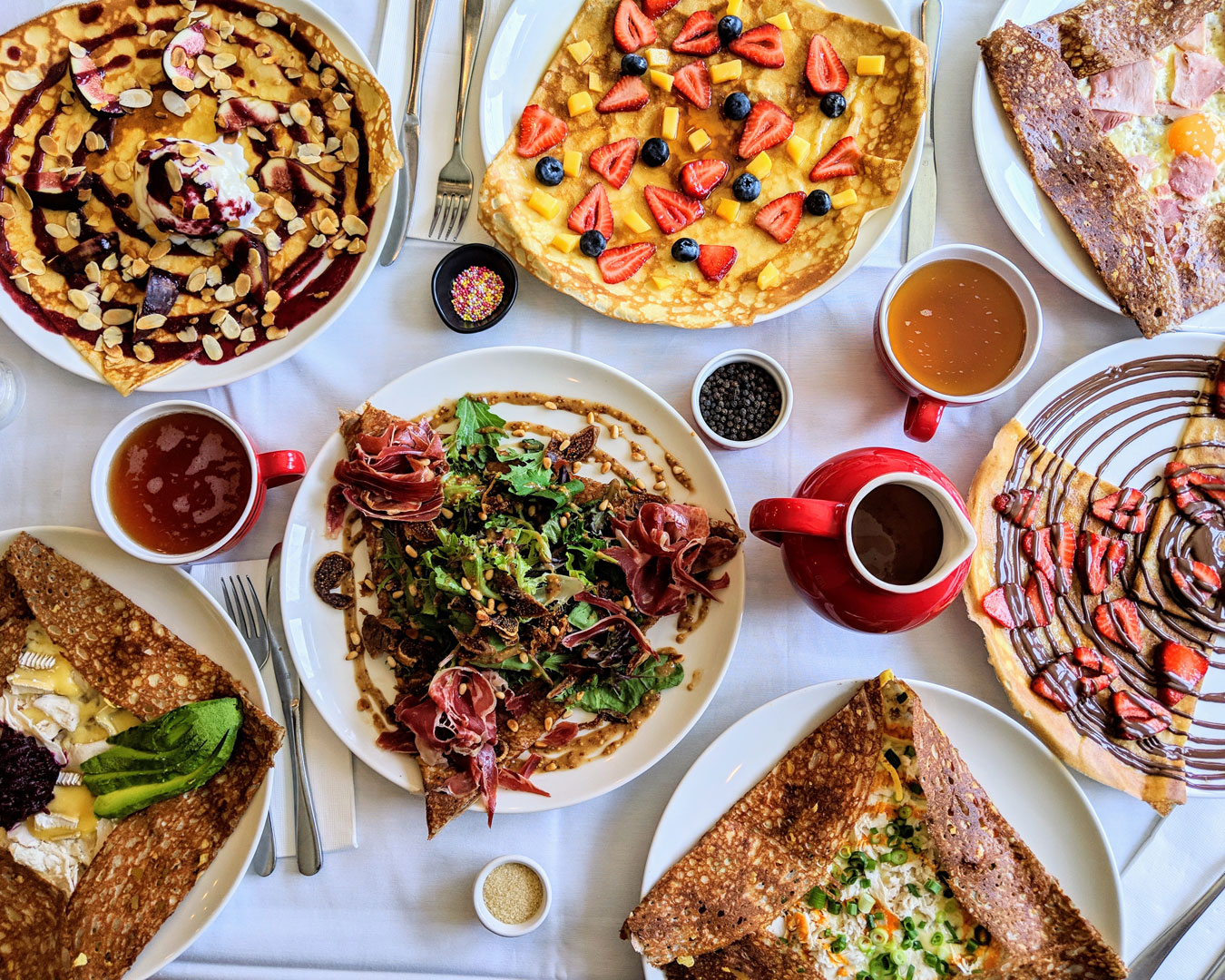 It's no secret that the French are pancake pros. Four Frogs is an ode to the traditional French crepes, hailing from beautiful Bretagne in the Western part of France. Founded by four Frenchmen who fell in love with Sydney but missed the pancakes of their homeland, Four Frogs uses recipes passed down by the founders' grandmothers and it's one of the only spots in Sydney that you can sample authentic Bretagne-style buckwheat crepes, otherwise known as galettes.
The creperie uses sustainable buckwheat grains sourced from organic cooperative farms in New South Wales, then mill the naturally gluten-free flour in-house, to optimise taste and maintain their high standards.

Four Frogs menu boasts of over forty varieties, and both the sweet crepes and savoury galettes are made to order, served fresh and delicious. The fillings change seasonally, for instance, you can expect warm galettes filled with Raclette cheese in the winter, and salad-style galettes with fresh figs, goats cheese, and locally made prosciutto in the warmer months. Finish your meal with a bit of sweet indulgence, keeping it simple with popular Nutella strawberry, or homemade salted caramel crepes.
If you're looking at mastering crepes at home, Four Frogs has you covered. They sell DIY crepe kits you can make at home, complete with their delicious sauces. Pro tip? Put some butter in the pan and make the crepes as thin as possible for the best results.
Left of Field
Rhodes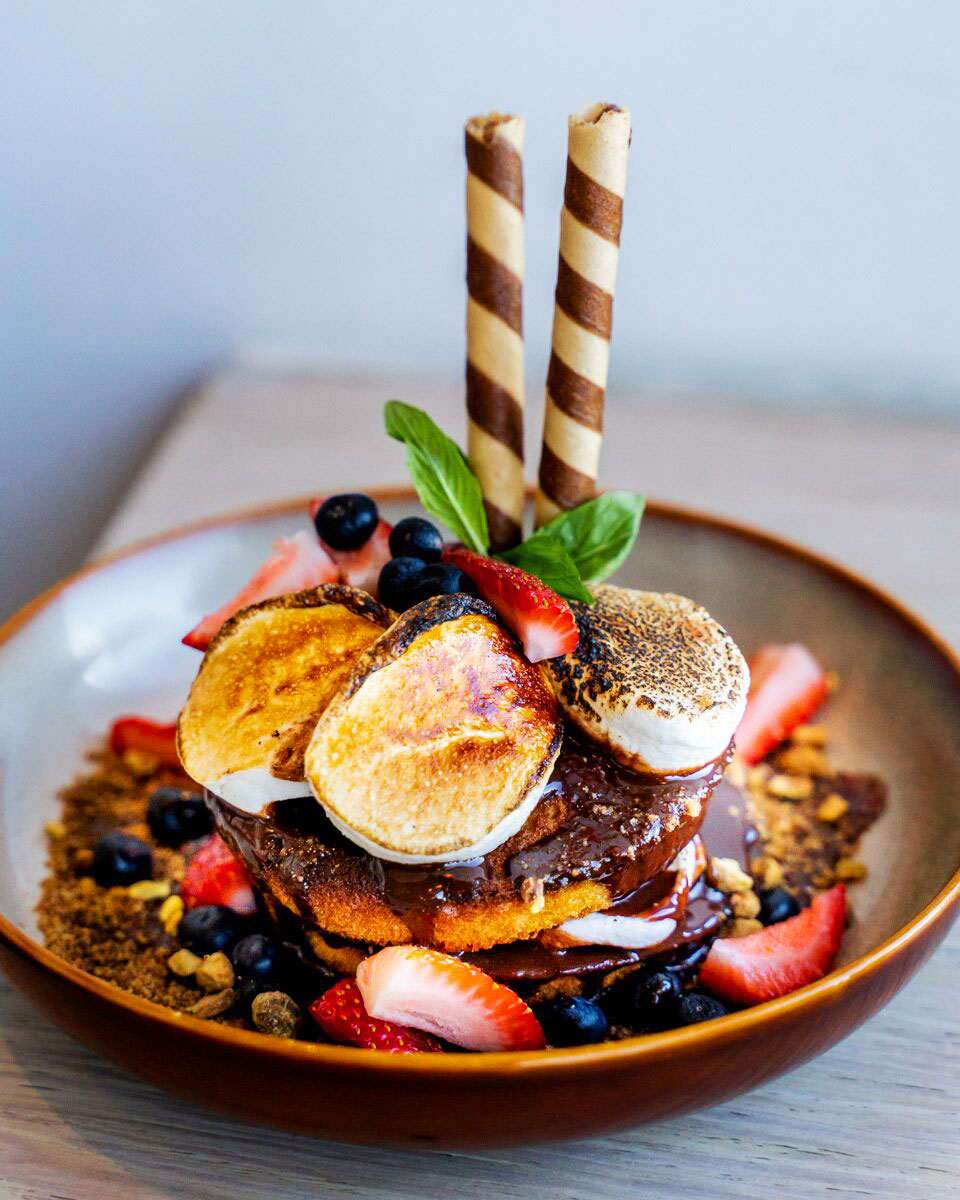 This cosy cafe, tucked into an alcove by the river in Rhodes, is known for its inventive, seasonal hotcakes and fun toppings. The winter hotcake for 2020 is a warming combination of sweet potato hotcakes with gluhwein glaze, seasonal fruits, honey yoghurt, topped with pistachio and hazelnut crumble.
With many hotcakes tried and tested over the years, owner Matthew Abi-Arrage says 2018's pavlova hotcakes, dropped on Australia Day, have been a hard style to match. "We launched them for a bit of fun and Sunrise on Channel 7 got a hold of them and aired it that morning. We didn't know until later in the day but we sold a lot of hotcakes. They have returned to the menu most summers since then."
For Left of Field, the secret to this fluffy breakfast treat is the use of fresh eggs, good quality self-raising flour and the actual finesse behind the process, which includes weighing the ingredients, sampling and taste testing each batch to ensure consistency and amazing quality. Their pro tips for making awesome pancakes include a good non-stick pan, a lump-free but not overworked batter, and allowing the batter to rest for at least 30 minutes, letting the gluten do its thing for more height and stability.
bills
Surry Hills And Darlinghurst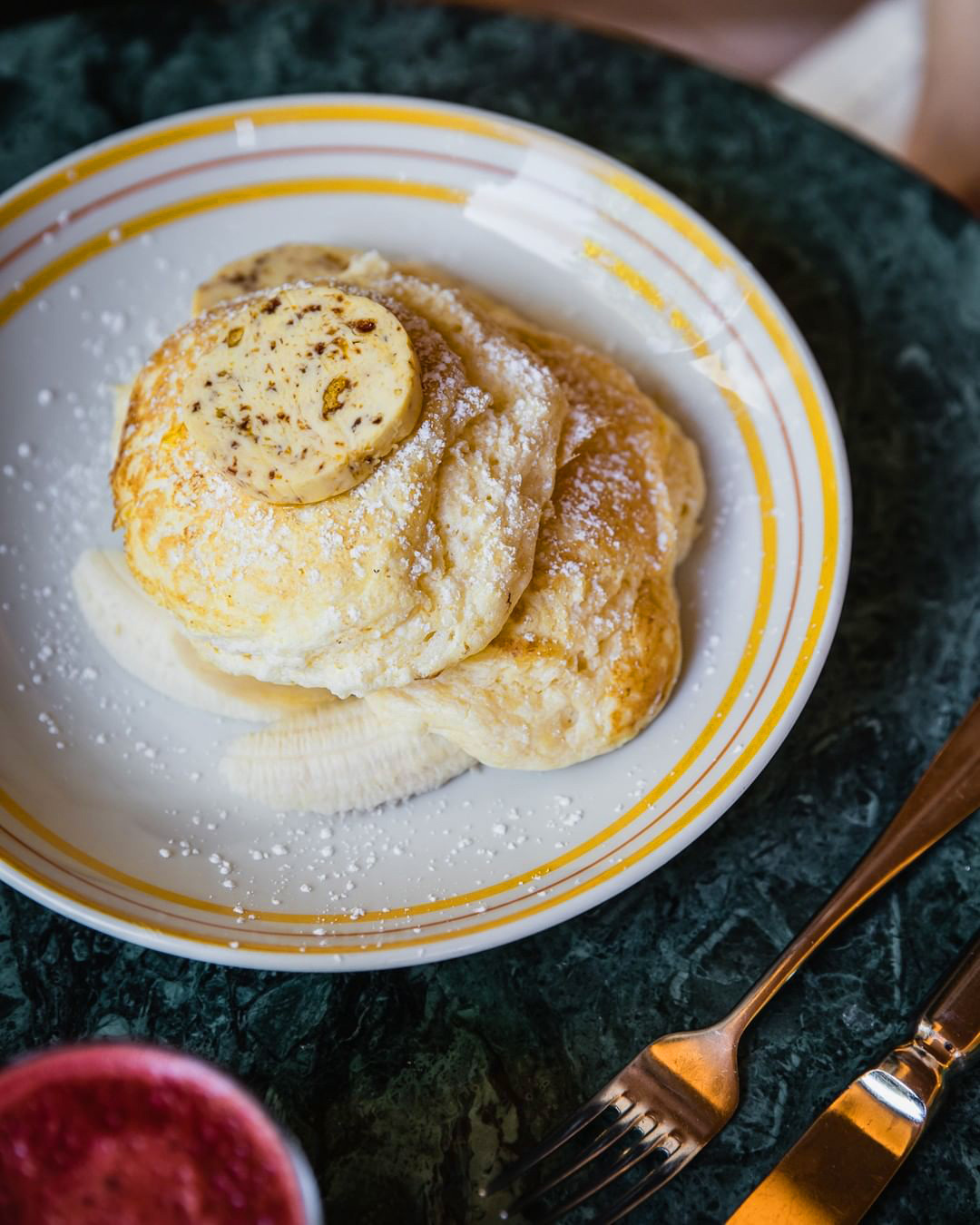 Finally, his list simply wouldn't be complete without including Bill Granger's iconic ricotta hotcakes with honeycomb butter. A staple on the Sydney brunch scene, from the chef that pretty much invented brunch in Sydney, these ricotta hotcakes are a cornerstone of the menu at bills.
One of the most popular items and a permanent fixture on the all-day breakfast menu, these classic hotcakes aren't as dressed up as the Instagram-friendly pancakes making the rounds at most Sydney cafes these days, but they're still rich, fluffy, and ultimately delicious, combining fresh banana, a slab of honeycomb butter and a drizzle of maple syrup. Dusted with powdered sugar and served warm, if you're looking to satisfy mid-work or lazy Sunday pancake cravings, bills is definitely the place to do it, and you can hardly call yourself a Sydneysider until you have.
Now, check out Sydney's best bottomless brunches.
Image credit: @Justin_time2eat (Happyfield), Air Lab, Bay Vista, Cafe Bella Dee, The Brothers Cafe, Blackwood Pantry, Speedos, Gram, Four Frogs, Left of Field, bills