It must feel good to be a pub. Everyone's always excited to visit you, you're always in good company, and your taps have beer coming out of them. Everyone knows that the best pubs in the world are in Australia—and though Melbourne will try to fight us on this—the best of the best are really in Sydney.
From Newtown to Darlinghurst and over the bridge to the Northern Beaches, raise your schooner or order another cold one, here are the best pubs in Sydney right now.
Now Open: Woolly Bay Hotel
Woolloomooloo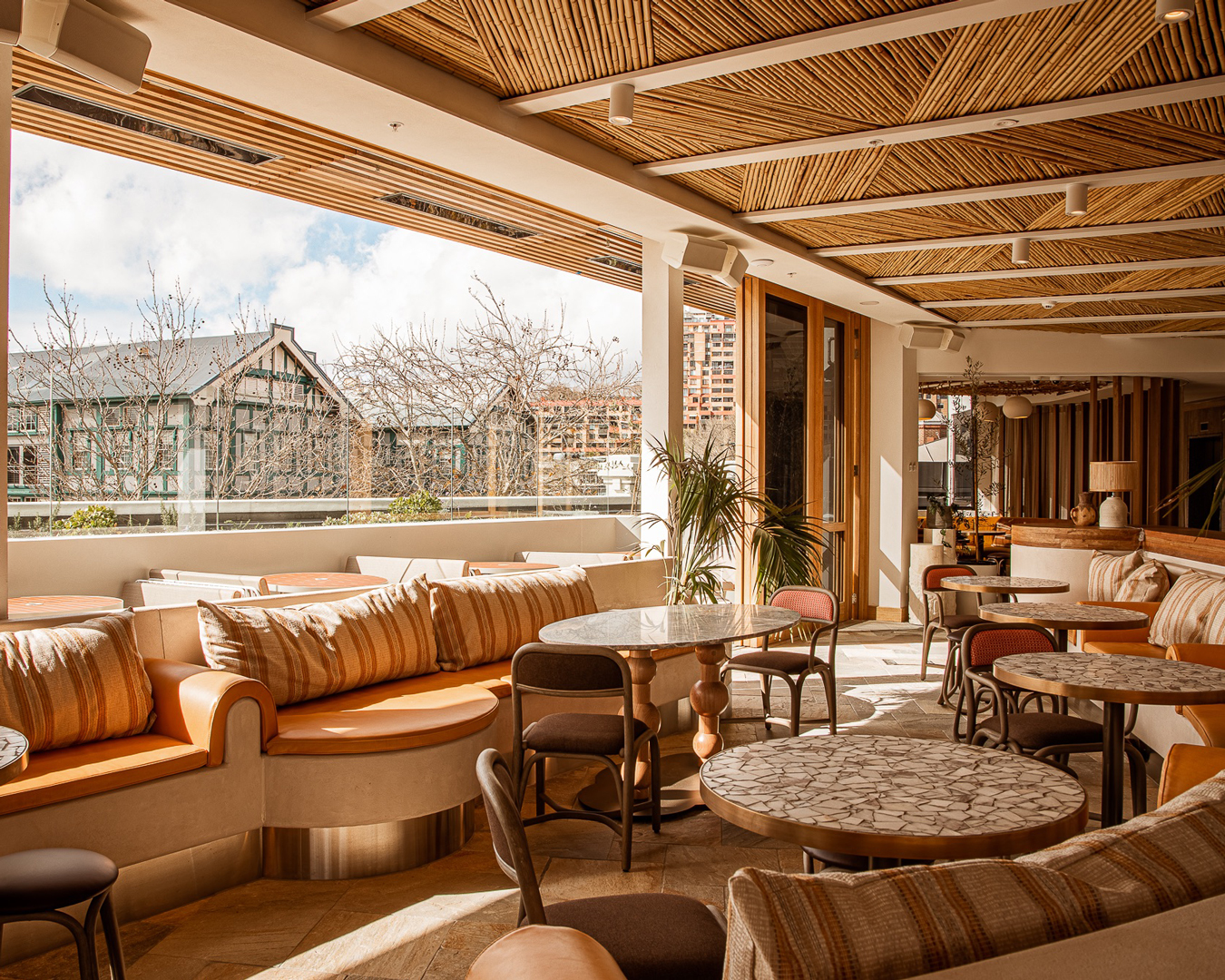 With views of sparkly Woolloomooloo Bay, this three-storey 19th-century-era pub already has a lot going for it. The Woolly Bay Hotel has stood strong through Woolloomooloo's docklands heyday and into its current, more glamorous era. In 2022, thanks to the Laundy Hotels hospitality group, the pub had a $14M renovation, complete with a new Mediterranean restaurant and rooftop bar. On the ground floor, you'll find the breezy waterfront public bar, which features cozy lounges, a central fireplace, and a discreet sports bar.
Upstairs is where you'll find the Mediterranean menu and a 100-person casual dining restaurant, led by Laundy Hotels executive chef, Jamie Gannon and head chef, Adam Holt. To eat, you'll see things like lobster rolls topped with chives and smoked salmon pearls, an 800g Bistecca Fiorentina served with salsa verde, and burnt Basque cheesecake for dessert. Finally, upstairs is Arturo's Rooftop—a glass-enclosed bar serving up share plates, martinis, and slick city skyline views.
The Royal Albert
Surry Hills
On the corner of Reservoir and Commonwealth Street sits a true institution of Sydney craft beer. The Royal Albert fiercely supports independent craft breweries and has long ago earned our trust as a showcase of the best local and international brews. If you find a seat at the front bar or in the back courtyard, choose between a classic pub menu with plenty of burgers, hot dogs and pies, or the "pub cha" menu with dumplings for days.
Courthouse Hotel
Newtown
Affectionately dubbed "The Courty", this pub is one of Newtown's most cherished taphouses, complete with one of Sydney's best beer gardens. The Courty serves up a classic pub menu with generous portions and a host of lunch and dinner deals, too. Perched in the suburban streets of the Inner West, The Courty's main pull is, indeed, its huge paved beer garden out the back, and its welcoming attitude to all walks of life—including four-legged friends. Oh, and its cheap beer jugs. Definitely revered for those, too.
Lord Dudley
Woollahra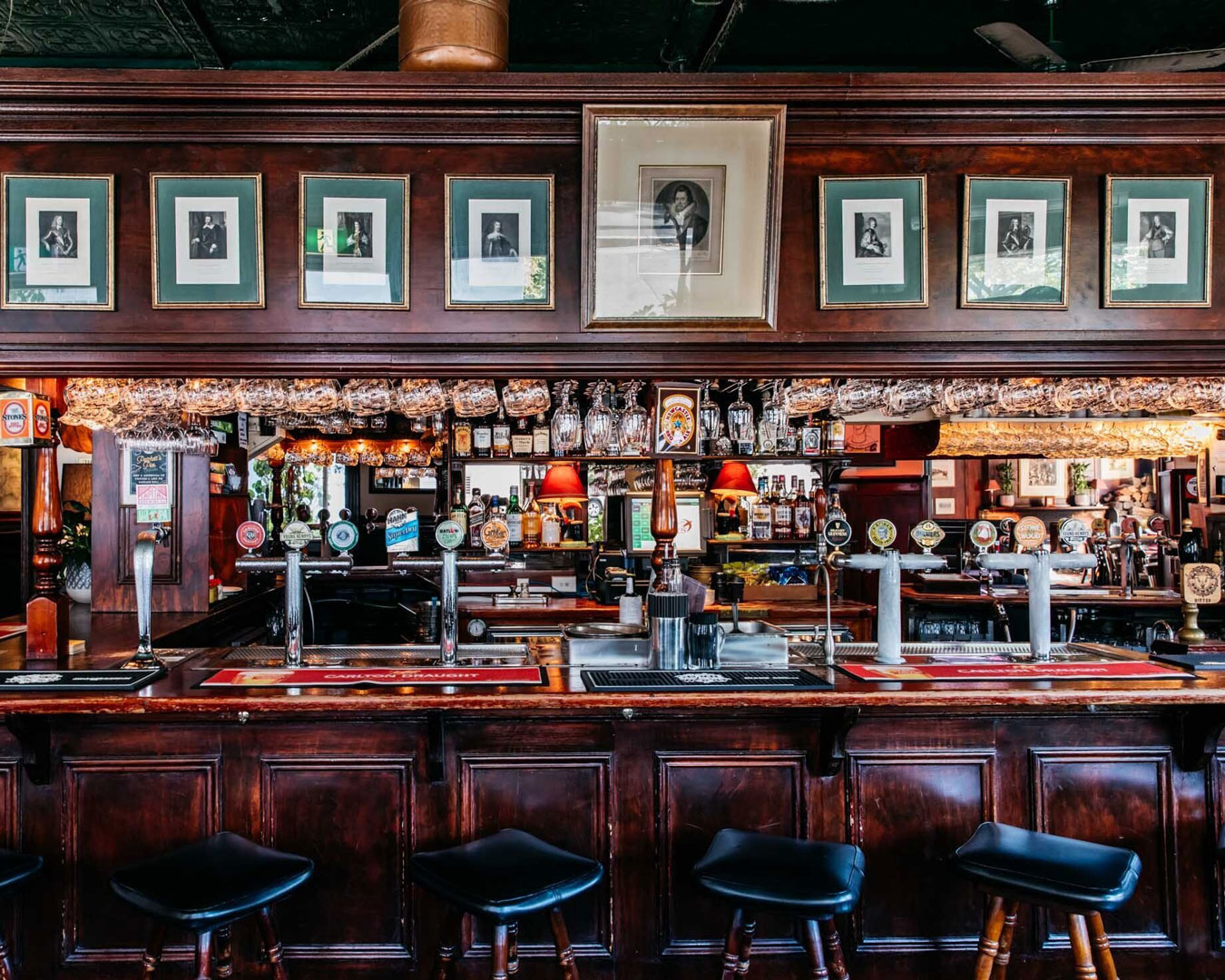 Essentially, the Lord Dudley is the legendary great-grandfather of Woollahra. Founded in 1896, the Dudley is about as old-timey England as a pub can get, with mahogany wood and open fireplaces scattered throughout its maze-like floor plan. Ivy climbs the walls out front, while Rugby-loving locals fill its suburban sidewalk with a smoke in one hand and a pint in the other. The food is rustic and hearty—think meaty steaks and chicken potpies—and the atmosphere is cosy and familiar, like sharing Sunday dinner with your folks.
Sydney Park Hotel
St Peters
At the end of South King Street, across the road from stunning Sydney Park and seconds from St Peters Station, the Sydney Park Hotel is the perfect mix of old and new. The heritage-listed pub has been done-up inside—but not in a way that erases that good old pub soul. You'll find crafts alongside Reschs on tap, sports on the TV, classic counter meals, trivia on Wednesday nights, a vegan roast, and heaps of gluten-free-friendly options (yep, even gluten-free parmi).
The Old Fitzroy
Woolloomooloo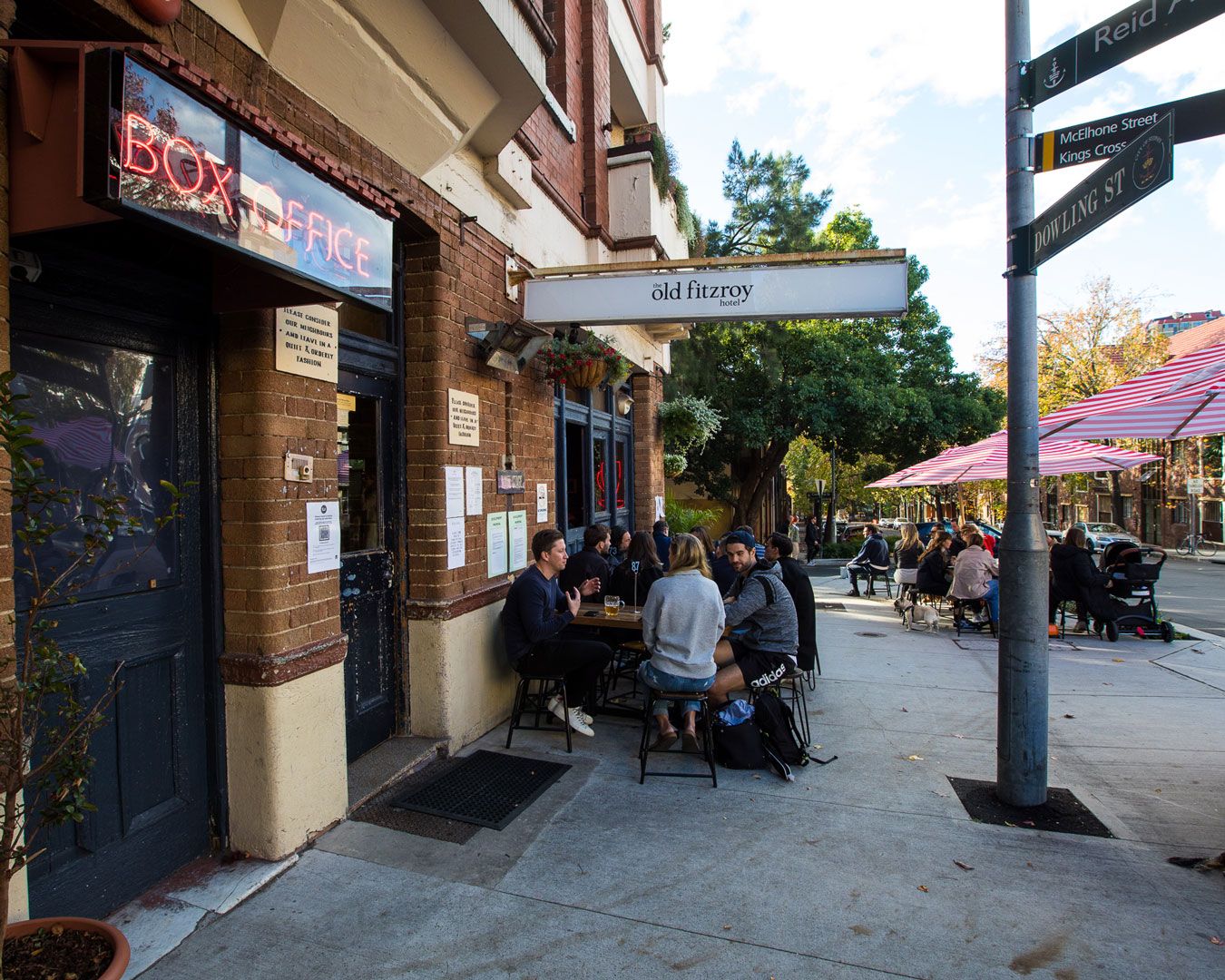 Tucked into a quiet corner of Woolloomooloo, somewhere beneath the sparkly lights of Kings Cross, The Old Fitz delivers on maximum character. The old-timer has passed through a few owners in recent years, but now rests safely in the hands of the Odd Culture hospitality group, whose collection of top-notch pubs also includes The Oxford Tavern and The Duke of Enmore. The character comes from the pub's classic interior, its storied past and its theatre, which to this day hosts a lineup of Sydney's best underground theatre. The kitchen is helmed by award-winning chef Anna Ugarte-Carral, so expect all your faves with a Basque twist.
Cricketers Arms
Surry Hills
Everyone's got a story about the Crix. From the fireplace to the pool table, the leafy courtyard, the Pink Parrot cocktail bar, and the trippy upstairs bathroom, this iconic no-frills Surry Hills boozer means something different to everyone—just as a good pub should. Maybe you played Two-up out the back on ANZAC day, won a round of boozy pool with friendly strangers, or danced around the front bar to the vibing sound of local DJs. To drink here, there's a neat handful of craft beers and more standard brews on tap, and to eat, you'll find all your pub classics like fried chicken burgs and chicken parmi.
Vic On The Park
Marrickville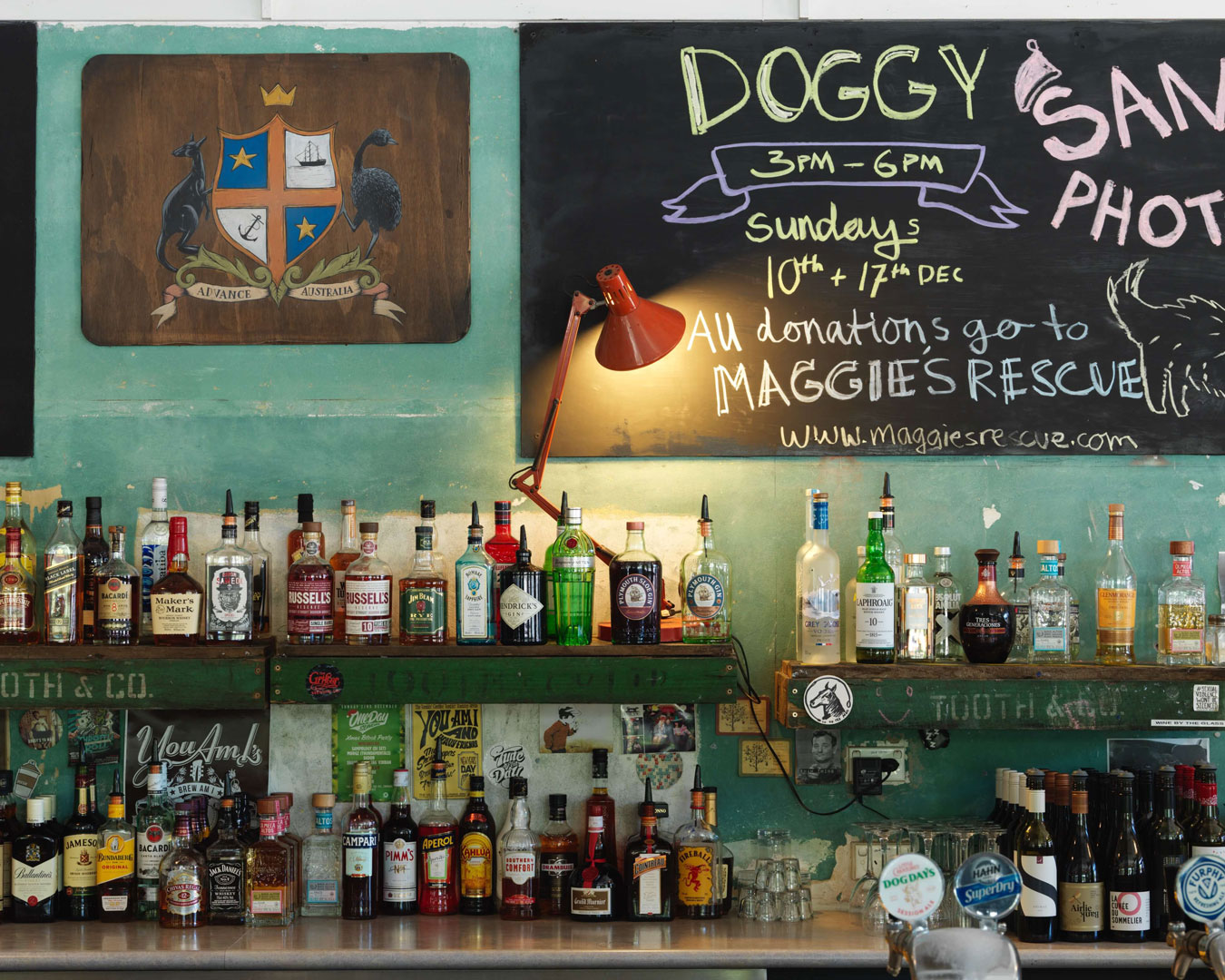 Putting together a list of reasons why Marrickville's The Vic is one of the Inner West's most beloved pubs is pretty simple. The dog-friendly Enmore and Addison Road pub is cosy on the inside, open on the outside, pours fresh craft brews from neighbouring Grifter Brewery, has a usable basketball court, heaps of live music, a killer bottle shop, and an outstanding menu. For food, choose between the usual pub feed or the rotisserie aromatising the courtyard out the back. There's even a late-night menu weekend serving up grub 'til 1am.
Lord Gladstone
Chippendale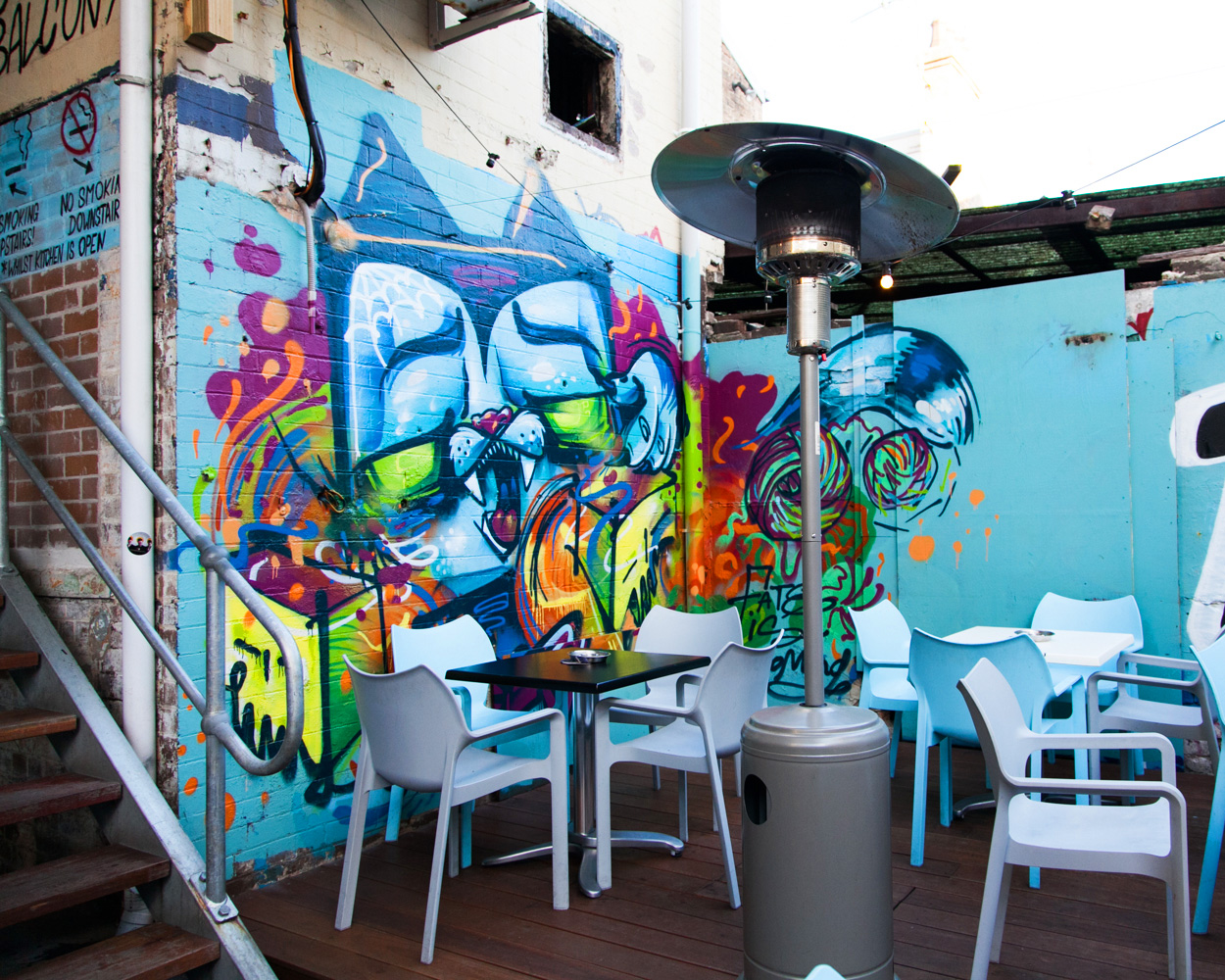 Chippendale's Lord Gladstone has an almost cult-like following. Renowned for its boozy, wild live music nights and its support of local artists (we see you, Scott Marsh), it comes as no surprise that this is where all the cool kids congregate. Throughout the pandemic, these guys have kept it real too, rebranding as the "Lord Jabstone" to encourage punters to get vaxxed, and most recently, "The Gladsong Hotel" as a comment on NSW's no dancing and singing restrictions for venues. With cheap eats and an event on almost every night of the week, the Glady is most definitely where the party's at.
The Unicorn
Paddington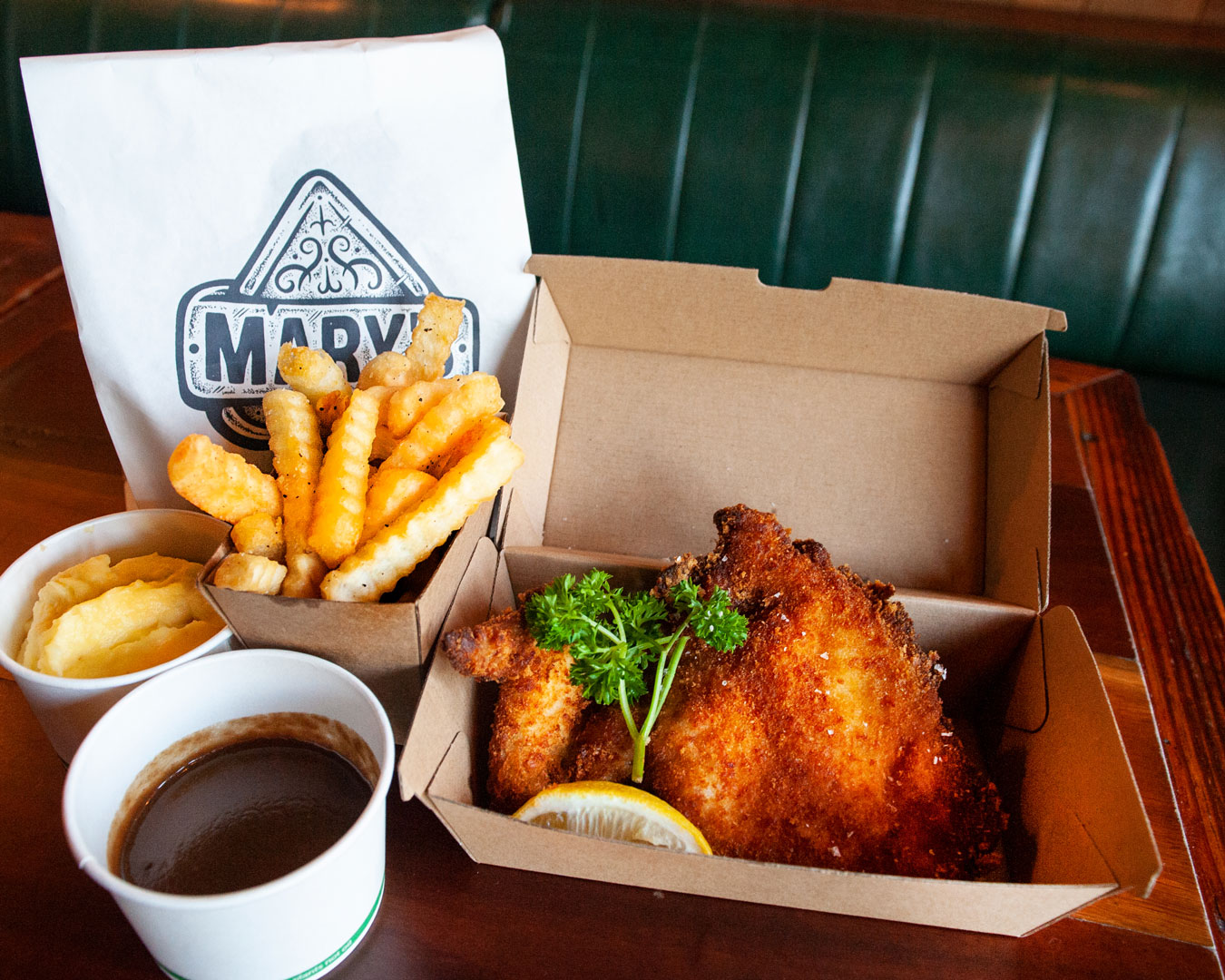 Home to some of Sydney's best chicken schnitzel, The Unicorn in Paddington pays tribute to the classic Aussie pub, but steps things up a notch or two when it comes to food, beer, and wine. With a huge mural of Australia on one side and a wooden pool table and dartboard on the other, this two-storey Oxford St institution gives off some strong Australiana vibes. Not only does the menu include Mary's burgers and their famous schnitty with the wing on, but the wine list also boasts some of Australia's best natural and biodynamic blends. Owned by Jake Smyth (of Mary's Burger, The Landsdowne, and The Basement fame), it's no wonder there's a line out the door here every Friday and Saturday night.
The Newport
Newport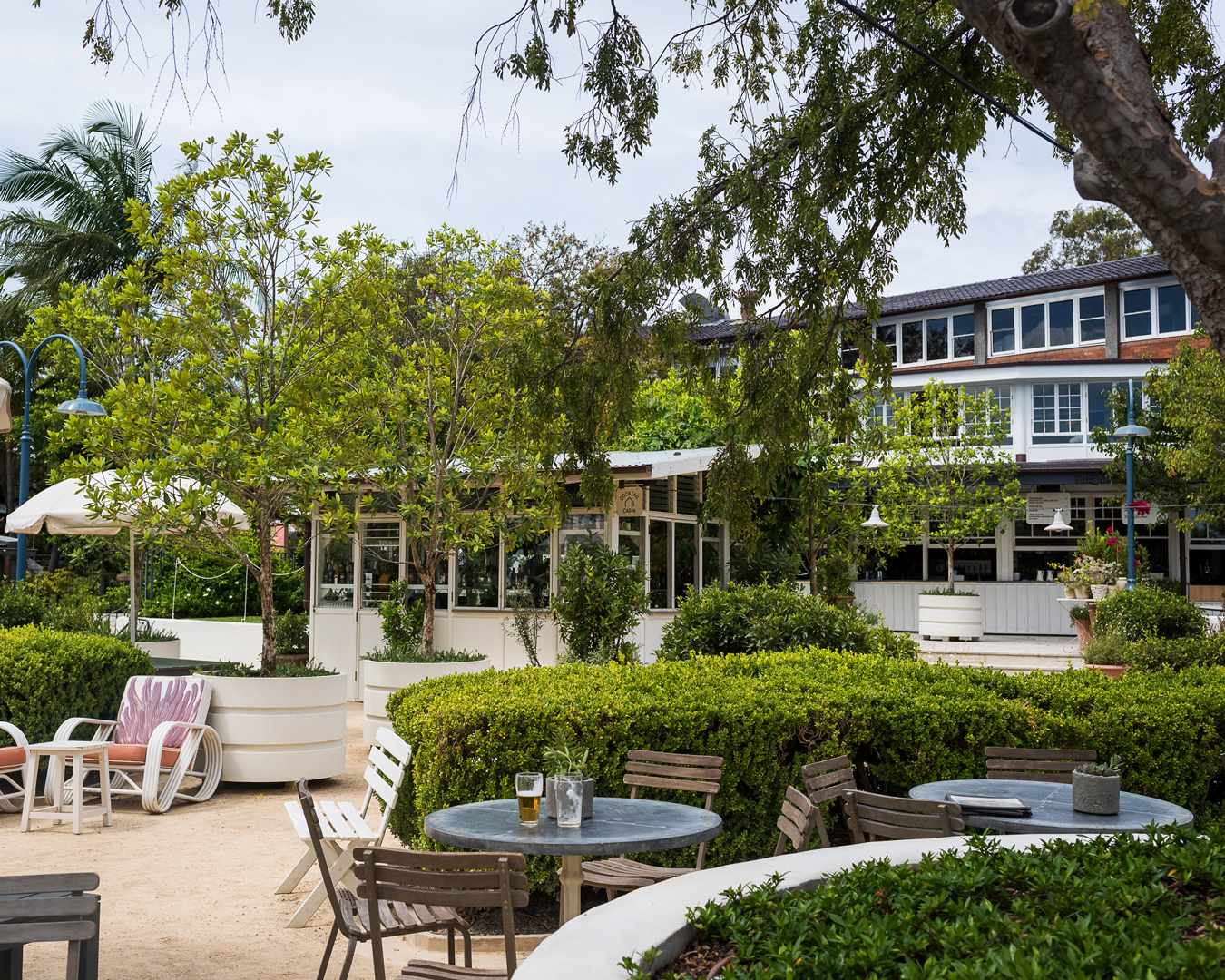 Over the bridge (but not so far away), The Newport (previously The Newport Arms) offers incredible waterfront views and a modern Australian menu in a sweet, trendy setting. Merivale has done an incredible job retaining the best parts of this much-loved Northern Beaches pub, whilst injecting new life into its ageing decor. As we've come to expect from Merivale, the menu consists of local fresh produce with innovative twists and zesty cocktails to enjoy amidst a cool and contemporary atmosphere.
Public House Petersham
Petersham
If you're looking for a pub that screams "COMMUNITY!", head to Public House in Petersham. With a big focus on craft beer and classic rock tunes, this dog-friendly spot is a favourite among laid-back Inner West locals. The spacious courtyard lined with festive striped umbrellas is where all the action's at, with a wood-fired pizza oven pumping out some of Sydney's best cheesy pies. Feeling the heat? Allow the outdoor mist machines to cool you down as you sip on something by Marrickville's Batch Brewing Company, located out the back.
The Henson
Marrickville
The Henson belongs in the upper echelon of any "local's pubs" conversation and certainly deserves a spot on this list. The family-friendly, community-driven pub is tucked away in Marrickville's back streets, just a stone's throw away from Henson Park—making it the perfect before-and-after stop for any and all footy matches. The pub sports a pool table, an arcade room, a relaxed bistro area, and plenty of space out back in the beer garden.
Harbord Hotel
Freshwater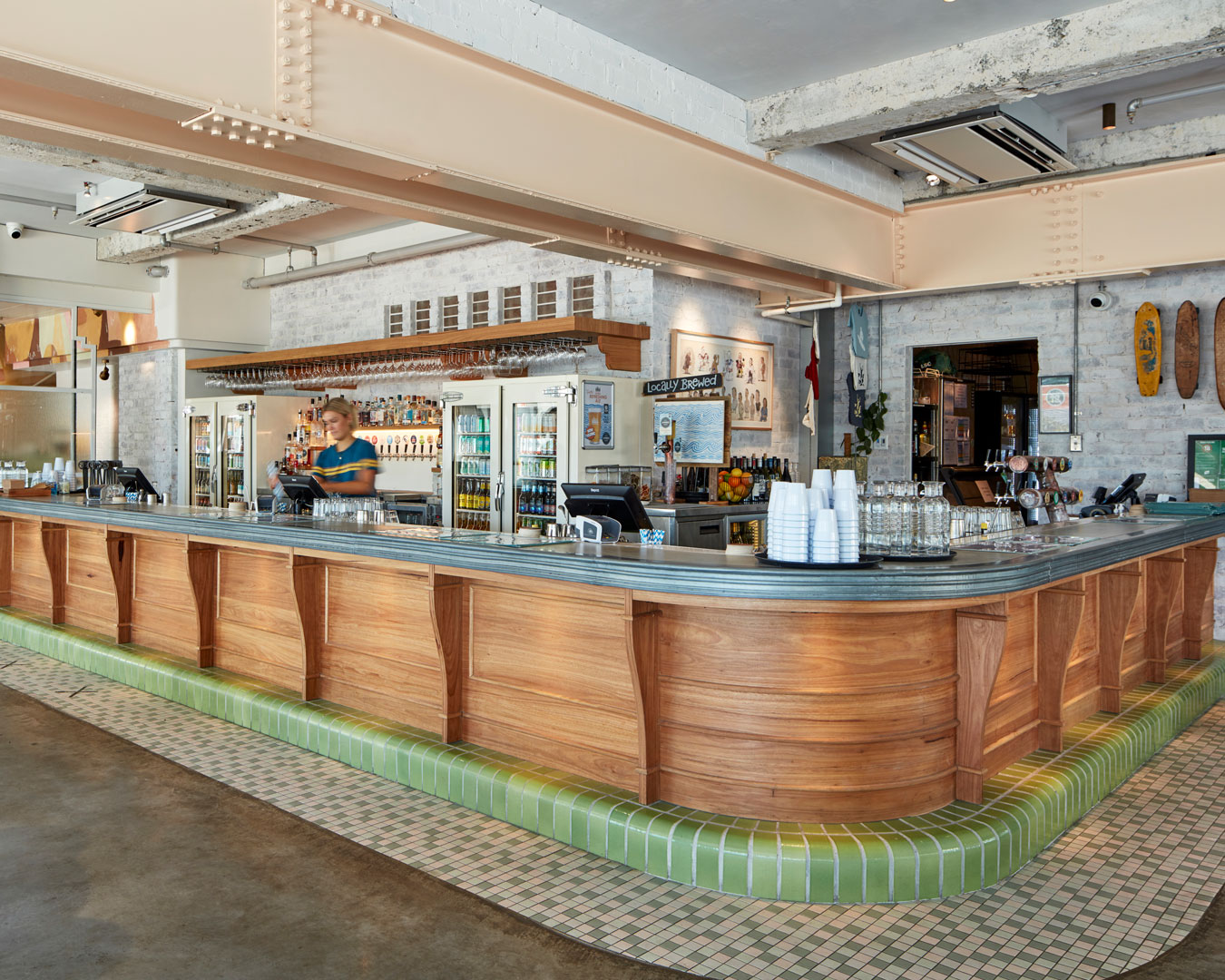 If you live on or near Sydney's Northern Beaches, you most certainly know the Harbord Hotel. Formerly known as the Harbord Beach Hotel or the Harbord Hilton (if you know, you know), the century-old pub had a major refurb last year after being bought by local Northern Beaches resident Glenn Piper. The result? A surfy, California-inspired pub that soaks up the sun, pours fresh local beers and sits just 200 metres away from Freshwater Beach–what more could you ask for.
The Trinity
Surry Hills
Sitting on the corner of Crown and Devonshire Street, The Trinity is one of our favourite places to grab a feed and a drink around any SCG sport. The two-story Surry Hills joint has two very different offerings for local patrons. Downstairs, you'll find a cosy sports bar with TVs in every direction, plenty of craft beer, a courtyard overlooking Crown Street, and a great pub menu. Pro tip: make sure you try the beef and Guinness pot pie with a pint of the Irish dry stout. Upstairs, you'll find Tilly May's, a charming bar sitting under a giant retractable ceiling ideal for Sunday roasts with a Bloody Mary or Friday night cocktails.
The Prince
Kirrawee
Tucked away on the side of the Princes Highway, The Prince is home to 25 different beers on tap, with plenty of craft, a huge list of wines, plenty of colourful cocktails, an eclectic bistro menu, and a pretty magnificent outdoor area. You wouldn't know you were perched up next to a major motorway–entering the indoor/outdoor pub is kind of like stepping into an oasis. Be sure to make it in for one of the pub's numerous happy hours, like their $6 craft beer' crafternoons' or $10 cocktails.
The Rose Hotel
Chippendale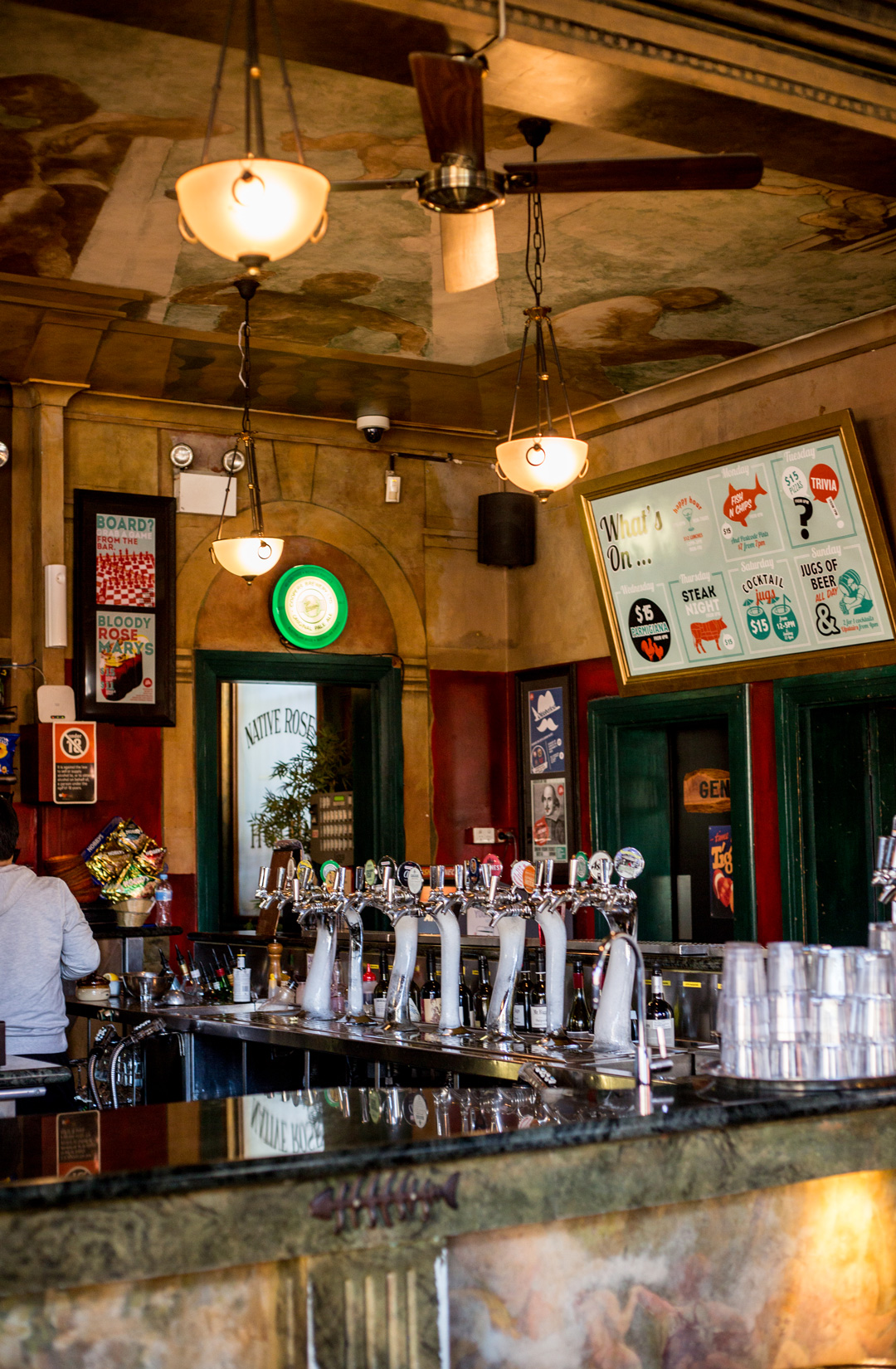 Would a pub by any other name smell as sweet? The Rose is a true local's pub—attracting neighbouring uni students and Chippo residents in equal measure, lured by their tasty menu and cheap drinks. Out the back of this Cleveland St corner pub, you'll find arguably the most splendid beer garden in all of Sydney, lined with picnic tables and benches to perch upon on a balmy summer's afternoon. With a range of craft beers and ciders on tap, The Rose is the perfect spot for a laid-back afternoon bevy with mates.
The Oxford Tavern
Petersham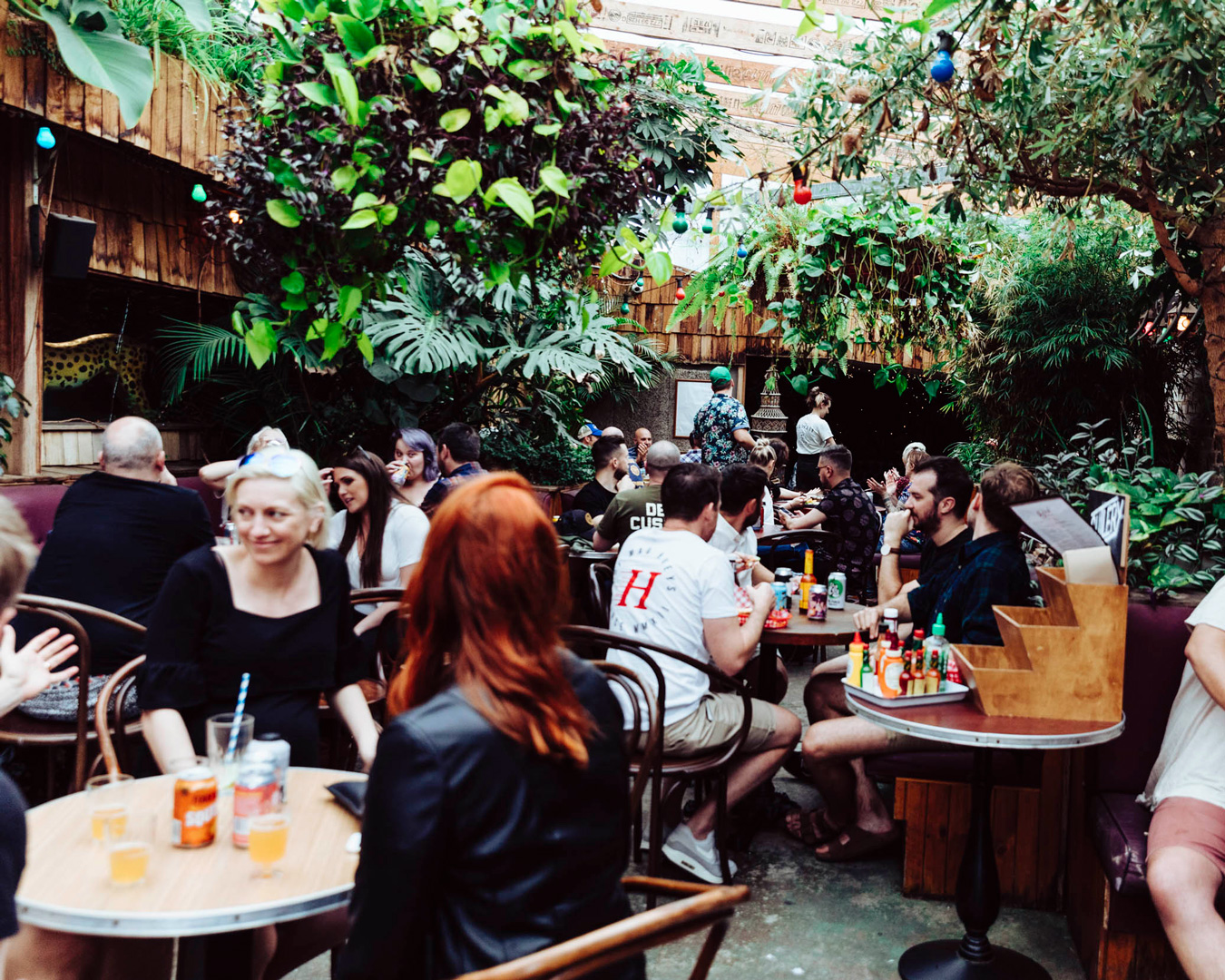 Petersham's Oxford Tavern recently came under new management, but you can bet your bottom brisket that The Black Betty barbeque is still smoking its way into your belly by way of delicious Wagyu brisket, pulled pork or pulled jackfruit. Aside from the food, you'll find beer here that you won't find anywhere else, as the new owners (James and Josh Thorpe) specialise in rare ales with unique flavours.
The Lansdowne
Chippendale
The rebirth of Sydney live-music institution The Landsdowne in 2017 was both a blessing and a curse for this town. On the one hand, we finally have a place to completely let loose whilst watching some incredible bands, but it's also single-handedly responsible for 75% of Sydney-sider's weekly hangovers. The outcry that resulted when it looked like The Lansdowne would be permanently closing its doors earlier this year showed how much this live music pub means to the people of Sydney. Where the Mary's Group left off, you can now score gyros and burgers alongside your helping of live and loud local gigs.
The Glenmore
The Rocks
Plenty of pubs can claim to have one of the best views in the city, but The Glenmore Hotel in The Rocks may actually have THE best view in all of Sydney. We suppose it must be nice (must be very nice) to directly overlook Sydney harbour and offer people the chance to drink a schooner in view of the Harbour Bridge and the Opera House. Keep an eye out because the rooftop also sometimes hosts early morning fitness and yoga classes. But if you haven't booked a spot upstairs, nestle in at the cosy cocktail bar or find a spot downstairs at the main bar and sprawl out onto the street.
The Imperial
Erskineville
Erskineville's famous LGBTI+-friendly Imperial pub reopened early last year after getting a much-deserved makeover, and the results are fabulous. Low-key locale it is not—if you're heading for a night at the Imperial, be prepared to dance, sing, and drag your heart out. Offering good times and delicious food via the ground floor restaurant Priscillas and debaucherous party vibes by way of The Basement, this pub puts the extra in extraordinary.
Friend In Hand
Glebe
Taking it back all the way to 1858, Friend in Hand has been satiating the thirst of Glebe and Pyrmont residents for centuries. Old school and a little eccentric, this local watering hole boasts a classic bistro menu and some pretty eclectic décor. With a charming clientele spanning all ages and creeds, you're bound to make a friend here—and that includes George, the resident sulphur-crested cockatoo who has called the pub home since she was two years old.
Darlo Bar
Darlinghurst
You'd be hard-pressed to find a Sydney-sider who hasn't started or ended a night at Darlo Bar. It's a classic "what-you-see-is-what-you-get" style pub, with tables and chairs scattered out onto the bustling sidewalk of Darlinghurst Rd. Prepare to mix with some colourful clientele if you take a seat here—otherwise head to the open-air rooftop bar for a cocktail, or order some takeaway from nearby restaurants that'll deliver straight to your table.
Keg And Brew
Surry Hills
The Keg and Brew (KB for short) has long been known as a top destination for craft beer and rare bourbons. But since getting a snazzy $10M refurb a couple of years ago, it's now so much more. The ground level is still the spot to make the most of the pub's 50 beer taps, with a huge selection, plenty of TVs for sport and some cosy leather-seated booths. Level one is now a dedicated gin bar Thursday through Saturday for cocktails and a bite to eat. Finally, the rooftop sports prime city views, a gigantic TV, a woodfired pizza oven, and plenty of space for you and your mates.
The Erko
Erskineville
Tucked away down the street from bustling King Street, The Erko is a tried-and-true local's joint. And you can immediately see why, with plenty of furry friends roaming around, a hot contest around the pool table, plenty of beer garden space, craft beer taps aplenty and a friendly crew behind the bar. Food is definitely a drawcard too, with a classic pub menu meats American eats, 'Smokehouse Sundays' and a hot wing challenge if you fancy yourself against some serious heat.
East Village
Darlinghurst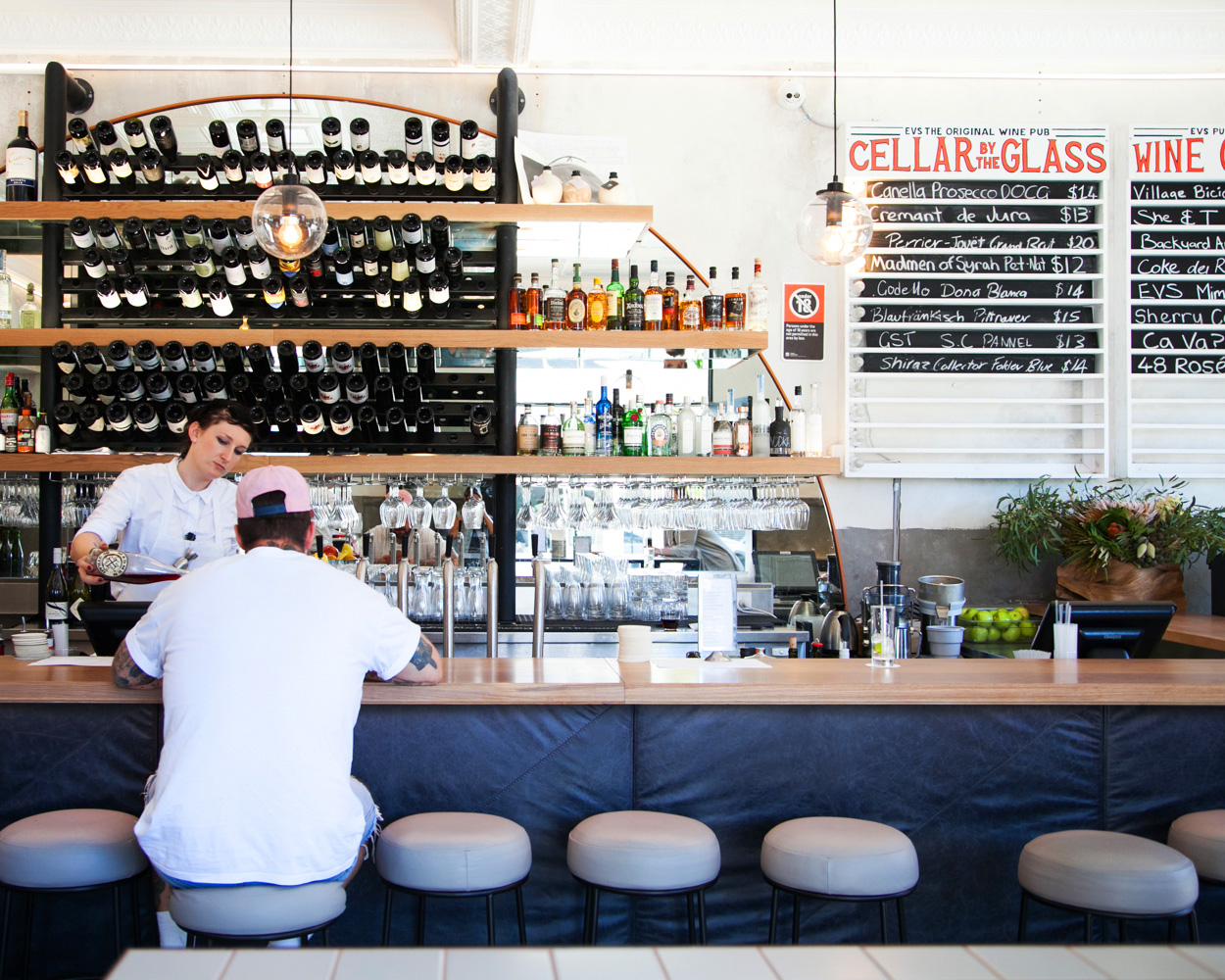 Who doesn't love a good multi-storey pub vibe in the heart of Darlinghurst? If you're looking for something a little swanky (thanks to a huge refurb a few years back), East Village offers you no less than three tempting options. Head down the stairs for a glass of vino in the classy wine bar, keep it cool at the luxe Athletics Club mid-level, or climb your way to the top and devour a delicious meal on the rooftop terrace (easily one of Sydney's greatest rooftop spots).
Now, check out Sydney's best rooftop bars.
Image credit: Adam Crews, Lord Dudley, The Old Fitzroy, Merivale, Lord Gladstone, The Unicorn, Merivale, Harbord Hotel, The Rose Hotel, The Oxford Tavern, East Village