There's no set formula to living a fulfilling life but if you ask us, it most definitely includes pups, pints, and parmis.
There are plenty of options in Sydney when it comes to pubs that pour best, but it's a whole other ball game figuring out which pubs truly paw best. To make life easier for the dog fathers and furry godmothers, we've sniffed out Sydney's best dog-friendly pubs that encourage you and your barking better half to come! Sit! Stay!
Australian Heritage Hotel
The Rocks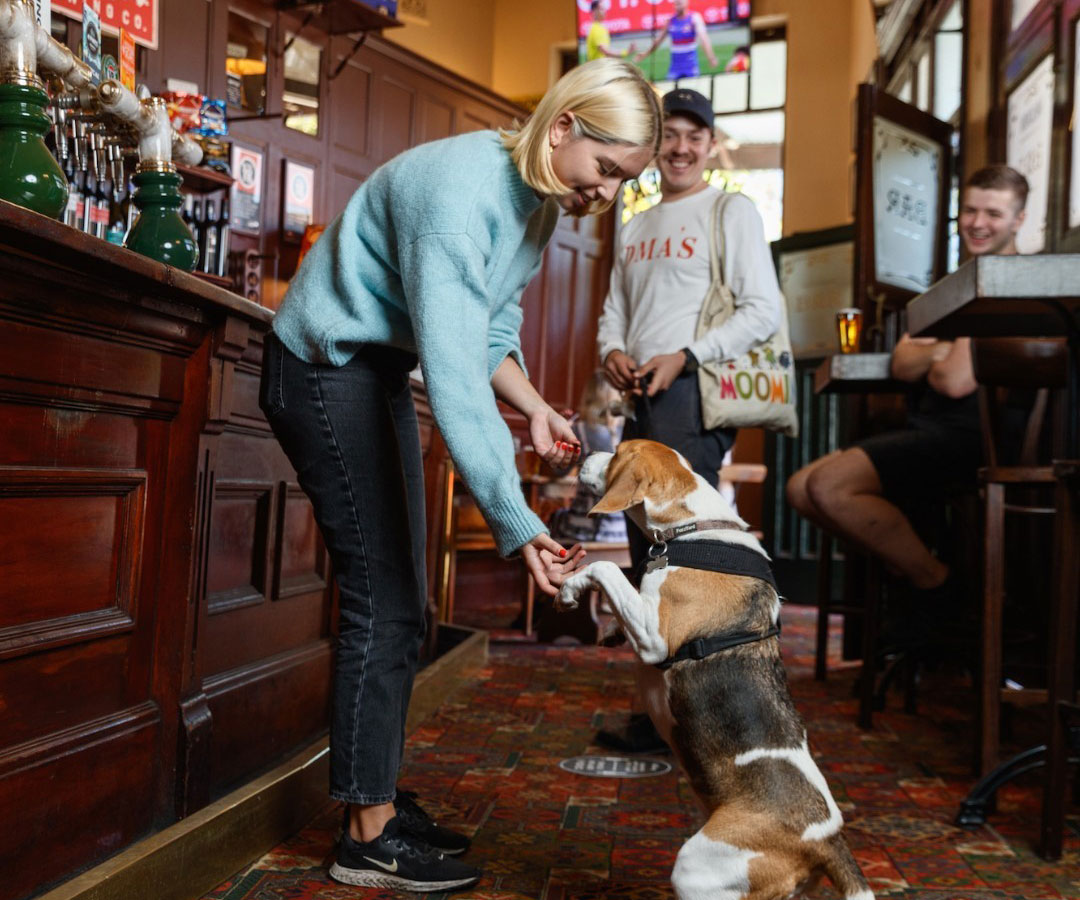 Among Sydney's oldest pubs, the Australian Heritage Hotel welcomes you and your dog with open arms. The classic pub menu has tried-and-true favourites like bangers and mash, fish and chips, schnitzels, and parmis.
Be sure to take a gander at the pizza menu too, which features traditional favourites, plus crocodile and kangaroo-topped creations for something a little bit different and uniquely Aussie. You're likely to find the venue pretty packed on any given day, so this is a great place to take your pup for a social outing where they're likely to make new furry friends of their own.
The Clock
Surry Hills
It's about time you added The Clock in Surry Hills to your list of places to go with your four-legged family member. The Surry Hills icon serves French-inspired eats with weekly specials and cocktail takeovers. Lunch specials are available every Monday to Friday, and the kitchen offers a Sunday brunch menu from 10am-12pm for your weekend wind-down.
And don't think twice about Fido joining the fun! Dogs are welcome in the sunken courtyard, and at the front tables on Crown Street—the perfect place for an afternoon of people-watching with your pooch.
East Sydney Hotel
Woolloomooloo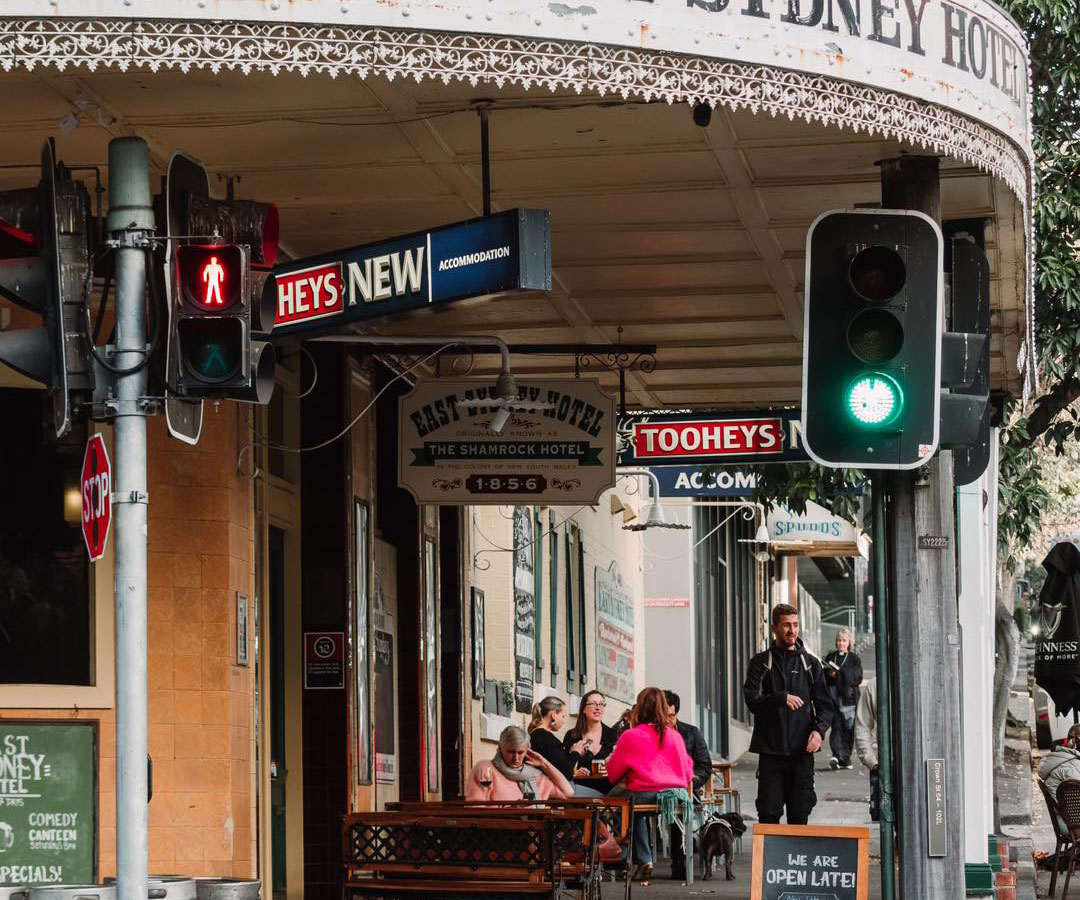 One of the best things about the East Sydney Hotel is the locals—and their humans aren't all that bad, either! The dogs of the East Sydney are just as much part of the community of locals as their human companions.
You're likely to strike up some quality banter with the punters in the pub, who echo the charm and character of the venue itself. With your dog by your side, your beer in hand, and a warm spot by the fire, it doesn't get much better than the East Sydney's country pub feels in the middle of our buzzing metropolis. Whether enjoying the Sunday live jazz sessions or moseying down for a mid-week meal from the classic pub menu, the East has you and your pooch covered.
Glebe Hotel
Glebe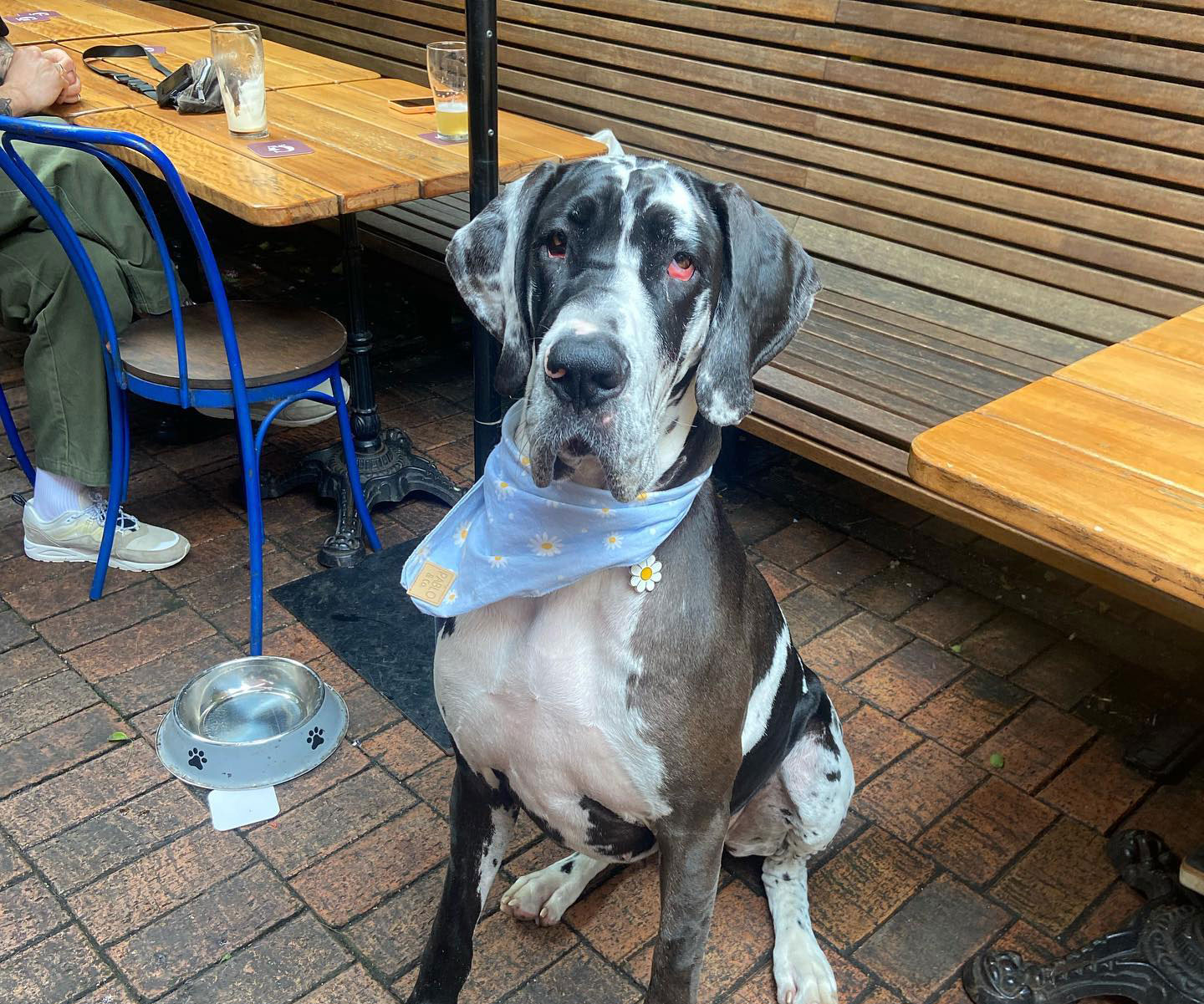 The former Australian Youth Hotel may have a fresh look, but has hung on to all of its old-Sydney charm. The Glebe Hotel's long history proudly adorns its walls and gives the feeling that it's more community hub than simple pub.
Extending that feeling of community to canine companions, leashed dogs are welcome in the public bar and beer garden, and you can even grab a treat for your dog at the bar so that no one is left out. With treats for hounds and humans alike, the food deals and weekend cocktail specials will have you wagging your tail, too.
Lord Wolseley Hotel
Ultimo
The Lord Wolseley is one of Sydney's oldest pubs, built around 29 years ago (in dog years). Backing on to Quarry Green, the best time to head down is for the Sunday jazz sessions in the park with your pooch.
Fetch a fantastic feed from Pub Life Kitchen, who serve filling meals that won't break the bank. Whether you're gearing up for the week ahead or still recovering from Saturday, the timeless classic roast with all the trimmings is a great Sunday arvo option. This fantastic combination of mutts, music, and munchies might just be the definition of true happiness.
The Henson
Marrickville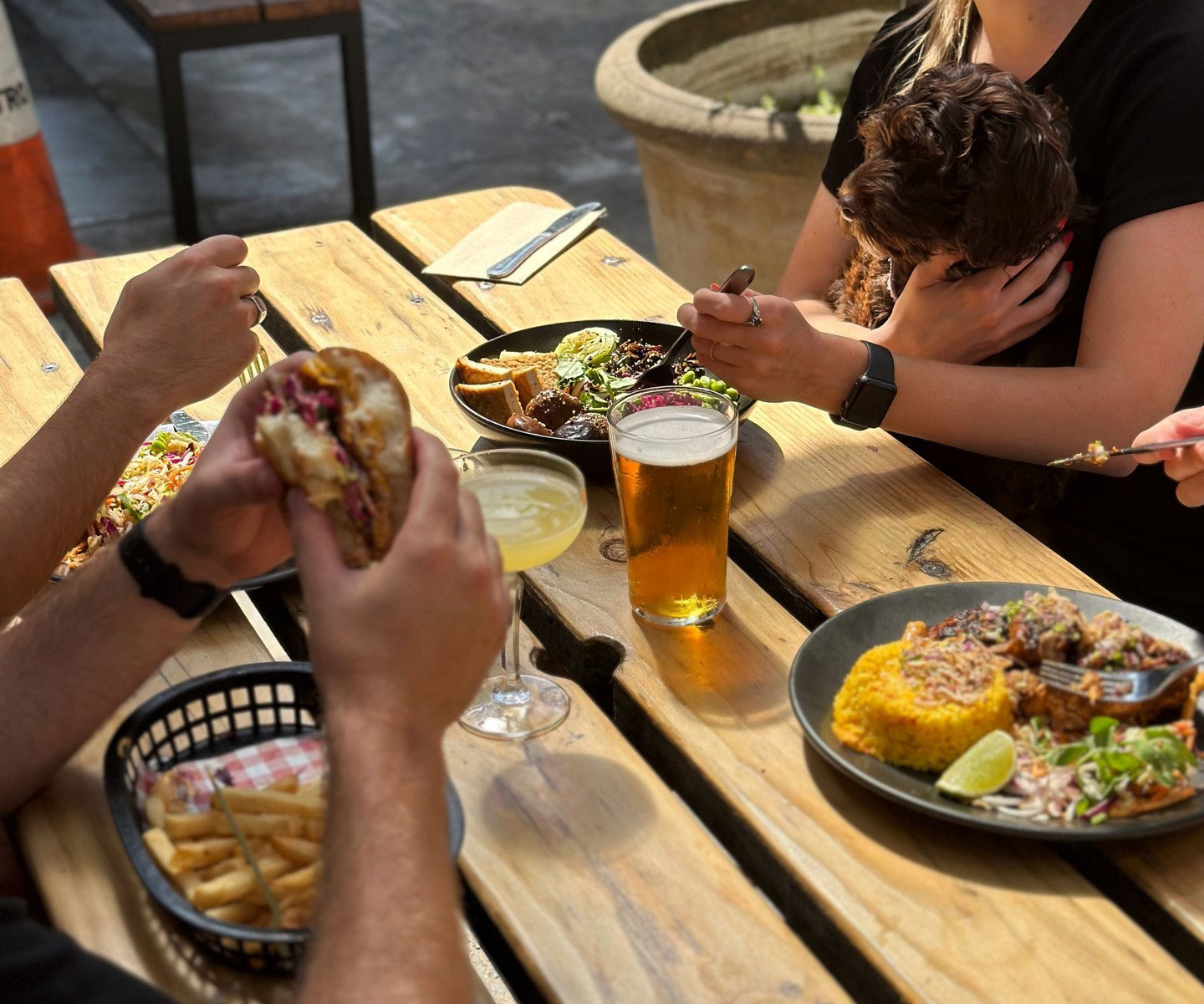 For pawrents, the love of animals often doesn't stop at home, and animal-conscious choices can extend from the park to the plate. That's where The Henson in Marrickville comes in. The focus is on quality produce—all meat is free-range, organic, hormone-free, and chemical-free, which can be big factors for fur parents who are trying to eat ethically.
The Henson also contributes to community collectives closer to home, and supports a number of inner west initiatives that guests can really get behind. The canine community won't miss out either, and The Henson welcomes your dog to join you in the outside areas of the pub.
The Erko
Erskineville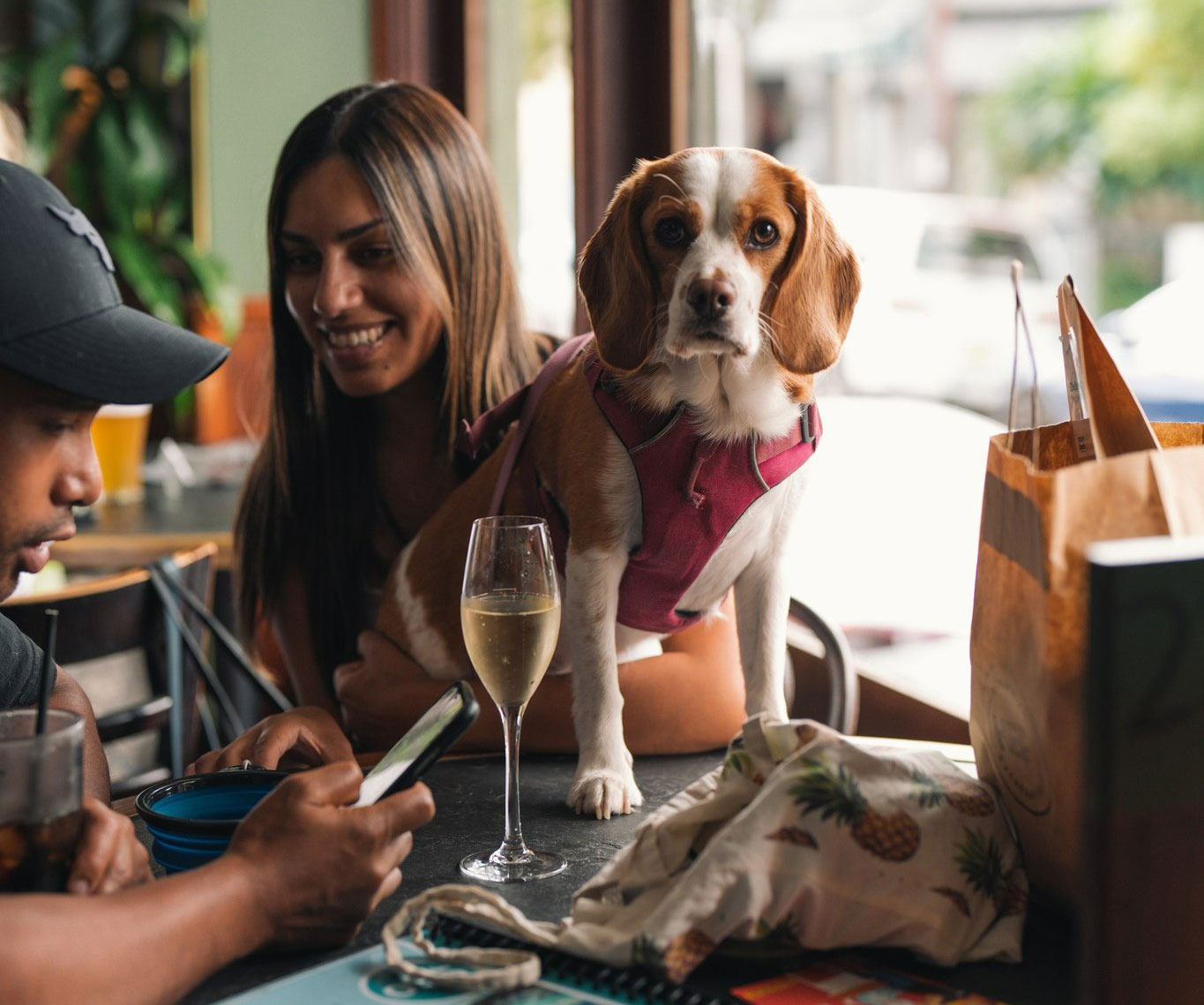 The Erko is an unpretentious Inner West icon who really wants your pup to join the party. And don't worry if you left the treat pouch at home—the special dog menu serves as a true testament that our furry friends deserve a place at the table.
Raw beef tartare, dog muesli bars, and homemade dog biscuits are available across the bar—and we wouldn't be surprised if it's the most appreciation you ever get for shouting a round. Dogs are just as welcome as their humans in all areas of the pub, which is just as well because this community hub can fill up fast, so get in early for a good seat and a tasty treat!
The Regent
Kingsford
Though it may be more commonly known as a sports bar, The Regent in Kingsford is also a dog-friendly delight. The "Doggo Wall of Fame" features Polaroids of pups who visit the pub, and the staff and locals are always keen to lavish attention on any dogs who come through the door.
For furry friends who love a bit of a fuss, this is the place to be. On the human side of things, the daily food specials are an absolute treat that will keep some extra cash in your pocket for you to spend on your pooch pal.
Forrester's
Surry Hills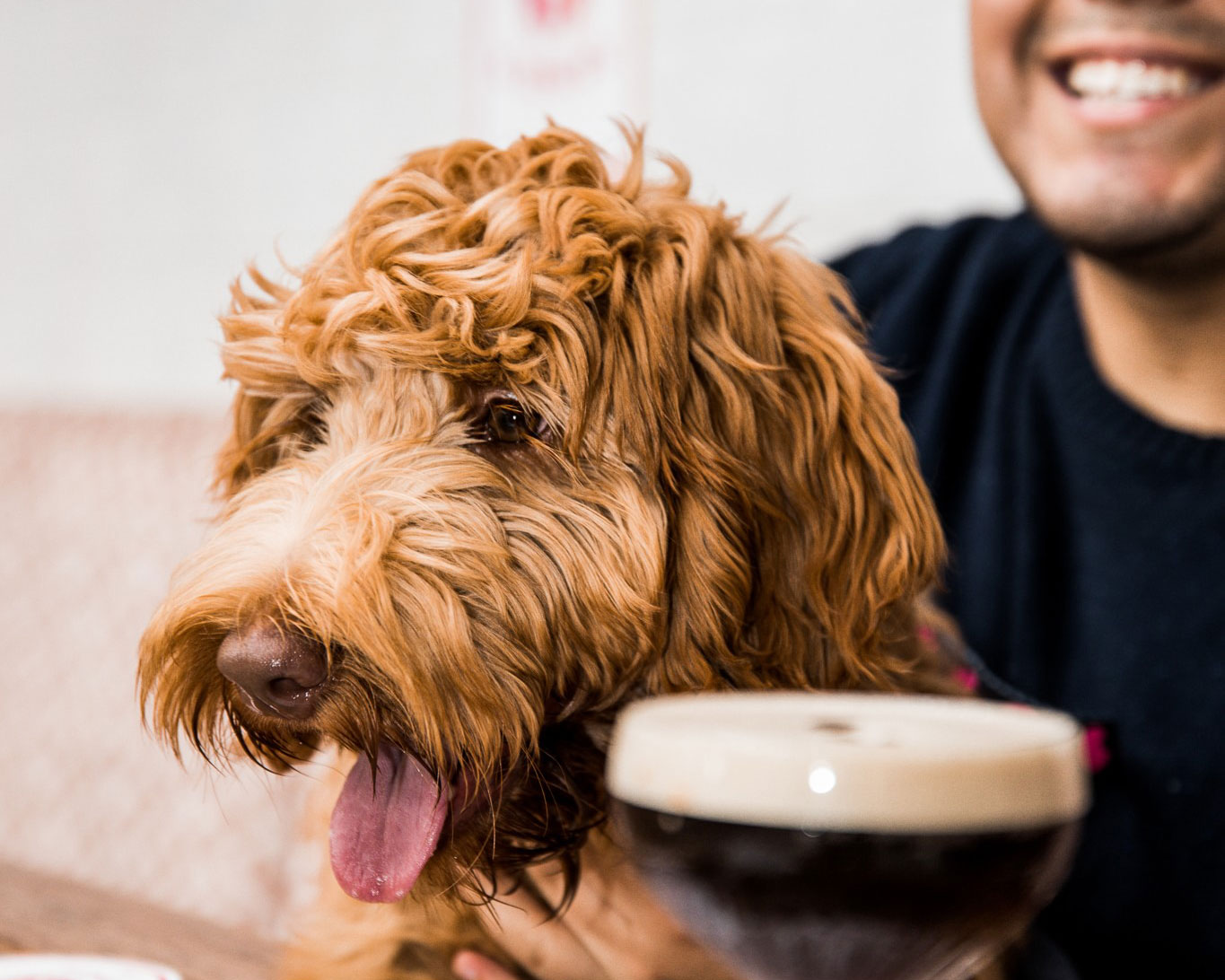 Enjoy all four fabulous spaces with your furry friend at Forrester's. Woofers are welcome in the public bar where you can take in a game on the big screen, or in the Art Room, an Insta-worthy space boasting a massive mural by local artist Pilar Basa. Enjoy locally sourced produce on the seasonal menu from Phylli's kitchen in the garden and cocktail bar, or let Lassie languish with you in the upstairs event space. No matter where you decide to park yourself at Forrester's, make sure you get a pic of your pooch to be displayed in pride of place on Forry's Dog Wall of Fame.
Cricketer's Arms
Surry Hills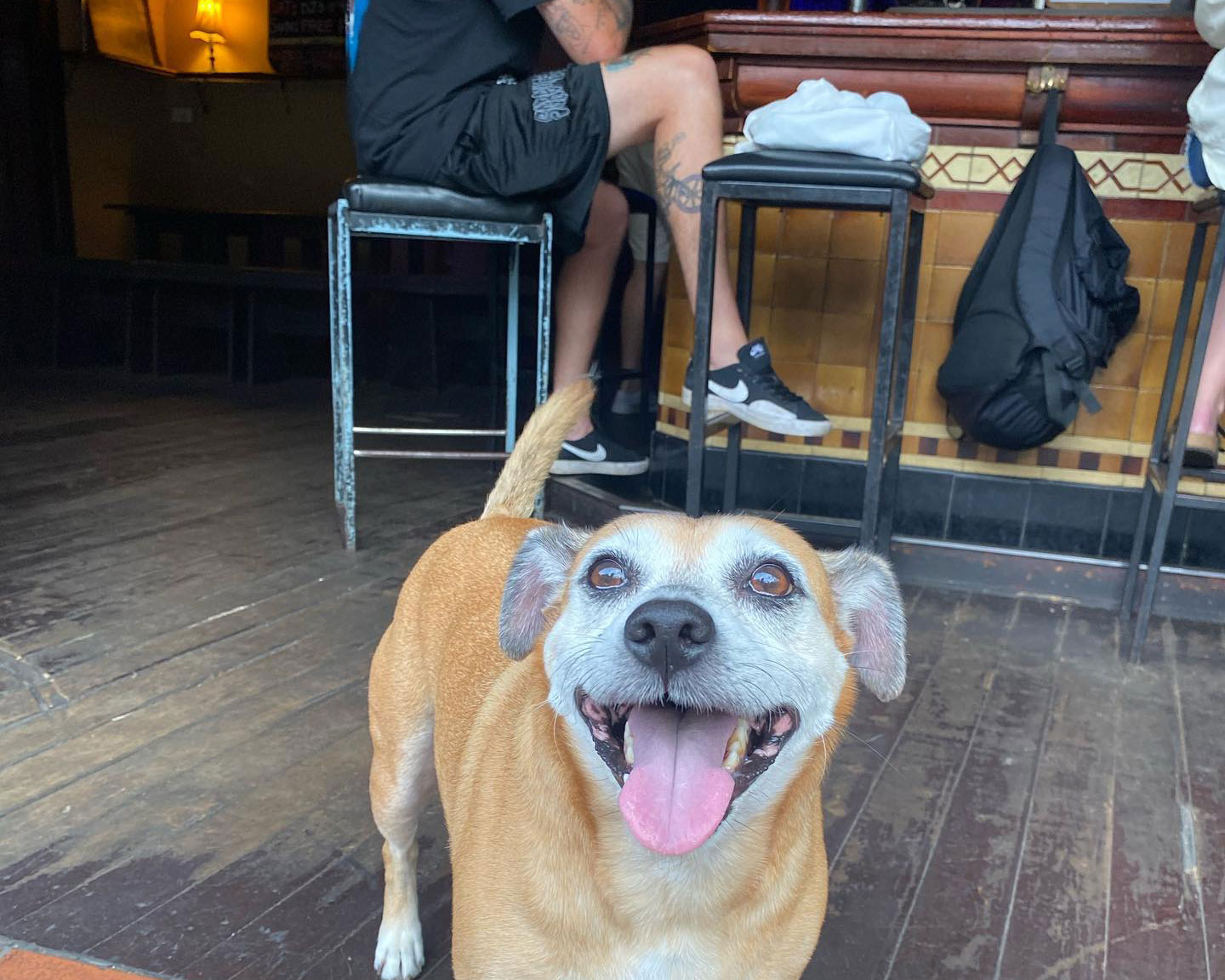 Loyal, lovable, and just a little bit scruffy, you're always guaranteed a good time at The Crix. The Surry Hills classic hang spot has a laid-back, welcoming vibe, and extends that welcome to your furry better half. Snag pub classics in Chez Crix, the natural wine-focused upstairs bistro with a (yep, you guessed it!) French-inspired menu. You might even get to meet resident dog Woody, a happy little barrel with a smile that lights up a room. If the Crix were a dog, you'd be saying "It followed me home, can we keep him, pleeease?"
Courthouse Hotel
Newtown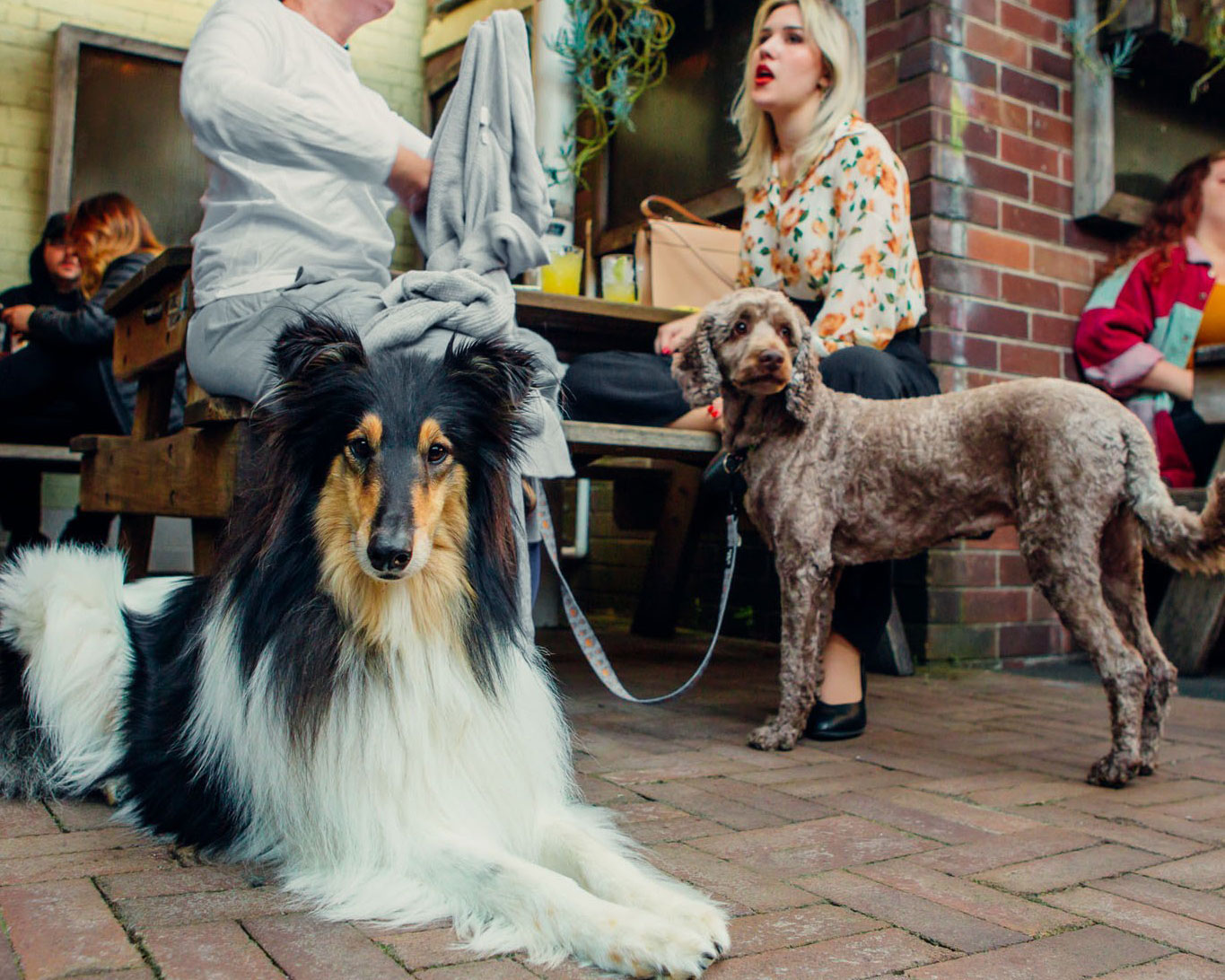 The Courty is probably already on your radar for its trivia nights, bonza beer garden, raffles, games, DJs, affordable eats and general awesomeness - but did you know that you can bring your pooch for a slice of the fun? Dogs are encouraged at this favourite Newtown neighbour, and it's just as well - with so much going on, you could be in for extended stays and very long lunches. Upsettingly, few other venues boast pinball and pooches, but it sounds like a winning combination to us!
Vic On The Park
Marrickville
The Vic really does have a bit of everything: live music, great food and bev specials, and all your favourite beers on tap. The best thing about the Vic is the massive beer garden and deck, with room for all your mates - furry friends included! Leashed dogs are welcome in all outdoor areas, which is definitely the place to be, since that's where you can take in a game on the big screen or go head-to-head with your mates on the half-court.
The Newport
Newport
There's only one thing that could make alfresco dining overlooking Pittwater better: and that's your dog by your side! The Newport has an in-venue kids gym full of activities to keep the (human) ankle-biters occupied, a seafood market menu, and coffee or gelato available from 10am Friday to Sunday. This means you could very easily spend a whole day in the venue—so it's just as well your four-legged friend can come along for the sesh. The perfect combo of lush and laid-back, leashed dogs will enjoy hanging at The Newport as much as you.
Public House Petersham
Petersham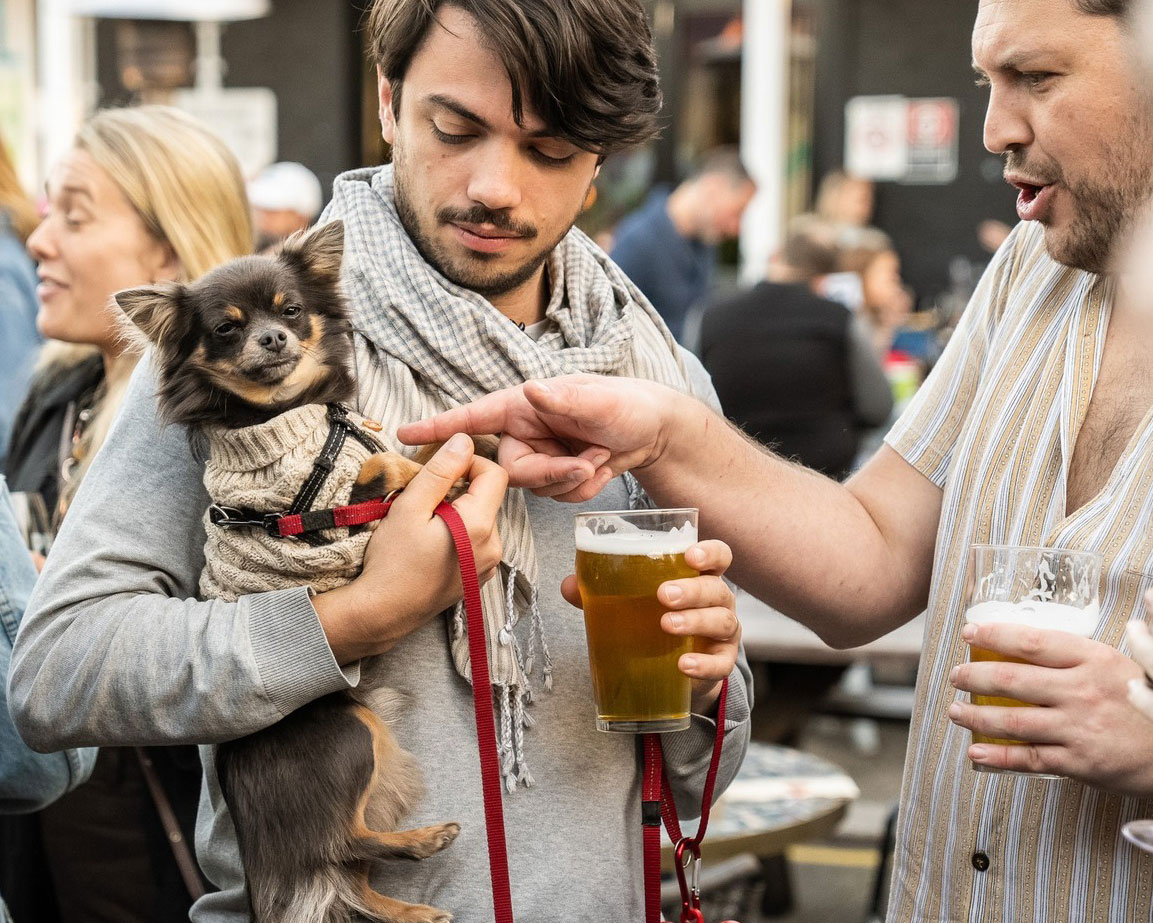 The historic inner-west watering hole, Public House Petersham, has everything you could want in a pub. Live music, a nano brewery and wood fire pizza are the human highlights, but the icing on the already fabulous cake is that dogs are welcome in both inside and outside areas. With water bowls in the beer garden and treats behind the bar, dogs will feel just as welcome as their humans. They've just launched their Spring menu, so now is the perfect time to get down there and sample the latest from the Italian-inspired kitchen.
The Old Fitz
Woolloomooloo
Tucked in a corner of Woolloomooloo, you'll find The Old Fitz. Downstairs spaces are dog-friendly, and the outdoor areas pair perfectly with pooches and pints. If you bring your furry friend, they just might be featured on @dogsofthefitz—an Insta account that showcases all the canines upping the cute factor of the pub (dutifully managed by the excellent staff who have a soft spot for dogs and would love to meet yours). Dog bowls and excessive pats available on request.
The Beresford
Surry Hills
Leashed dogs are welcome in the courtyard at The Beresford, and it's just as well—the sun-filled space is the perfect place to pass a lazy afternoon with a $20 weekday lunch special. Like a pup-friendly staycation, the leafy outdoor oasis in art deco surrounds with an Italian-inspired menu that will make The Beresford your new favourite inner-city getaway. Keep your eyes peeled for the one-off events, and food and drink specials that make the venue the place to be, to sink a cold one with your canine.
Golden Barley
Enmore
Bring your bestie to the Barley beer garden. Something's happening on any given day at the Barley-themed trivia, free pool and jukebox on Wednesdays, live music, sports, and a menu of affordable pub classics. Thankfully, there are plenty of cosy corners to eke out in the beer garden with your fur baby. The warm and welcoming family and friends-owned pub passionately supports the local community, and considers your dog very much part of that community's beating heart.
The DOG Hotel
Randwick
What's in a name? Well, in this case—everything. The DOG Hotel in Randwick touts itself as a surrogate living room for the local community. And they've really committed to the bit, because no living room is complete without your four-legged friend curled up at your feet. The menu is stacked with classics, and they don't skimp on the serving sizes, which means there just might be a bite or two saved for your pup! A great pick for a long lunch with mates (and, of course, that includes your best mate).
Darlo Bar
Darlinghurst
Soak up the atmosphere in the rooftop garden courtyard or downstairs public bar at Darlo Bar, a Sydney favourite that invites pooches to join the party. Local four-legged legends have their photos displayed proudly on the Pup Wall Of Fame, and the venue hosts pooch parties and dog-themed events—just make sure to sign up to their newsletter so you don't miss the action! A light menu of snacks and toasties is available, and they keep a supply of doggie treats behind the bar.
Northies
Cronulla
Sun-drenched seaside luxury is the order of the day at Northies. Breath-taking views of the beach are best enjoyed with a signature cocktail, and the fruity flavours of the Man-Go Coconut or Limoncello Spritz make it feel like summer all year long.
The kitchen serves a modern Australian menu from midday every day, with pizzas, tacos, snacks, and classics for a lazy lunch or delicious dinner. Dogs are welcome in the bistro, and the heated balcony means you won't be left out in the cold with your canine companion.
Rag & Famish
North Sydney
Rag & Famish is a pub with a rich history, and a potentially misleading moniker. Far from leaving famished, the menu offerings are hearty and will no doubt fill you up. Classics, pizzas, and a sharing menu will satisfy any appetite, and a range of traditional and craft beers on tap will thwart your thirst.
You could also reasonably trade rag for wag, as the historic pub is dog-friendly and happy to host your hound in the outdoor areas.
The Park House
Mona Vale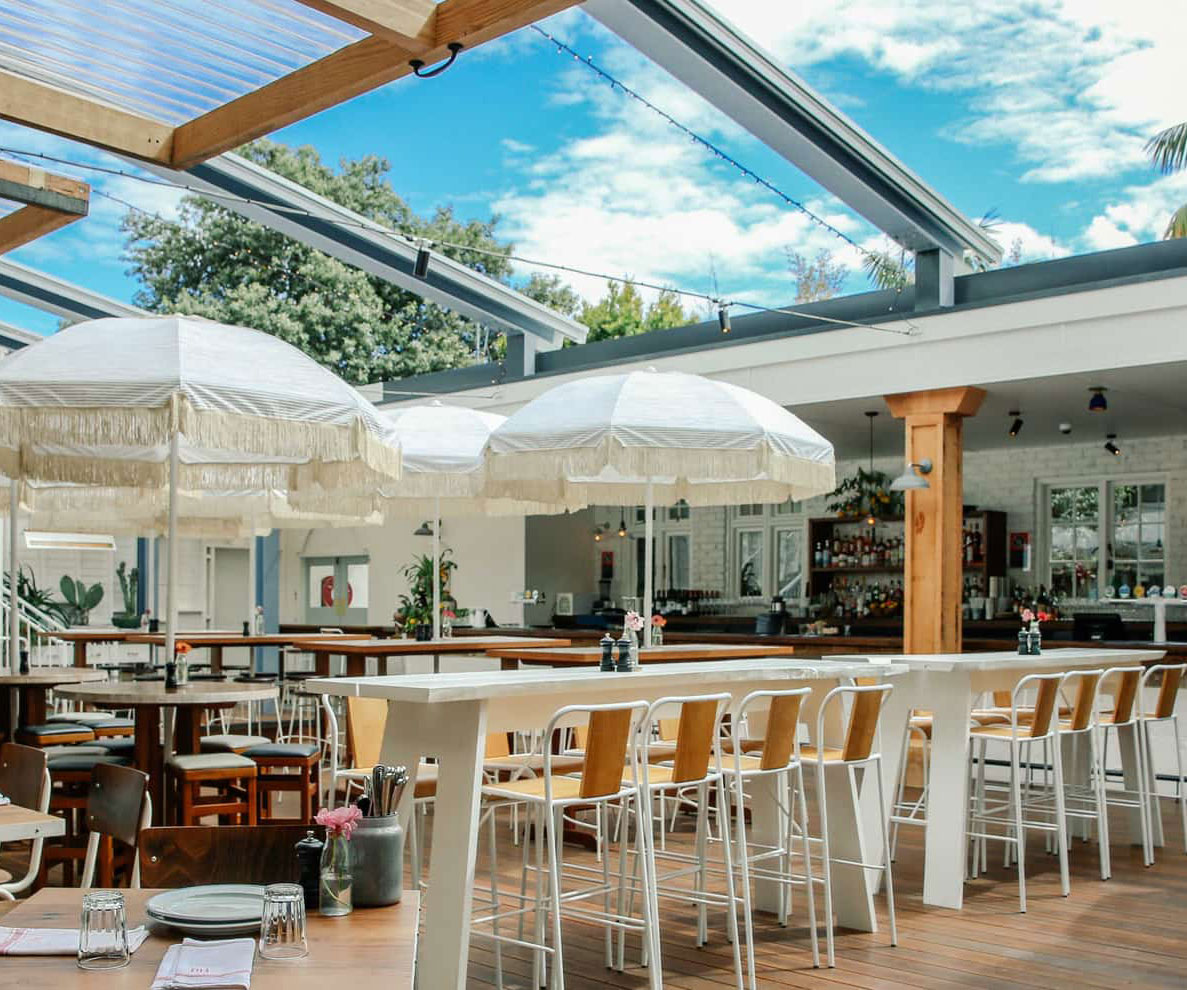 A stone's throw from Mona Vale Beach is the sunny, sprawling Park House. The venue warmly welcomes all members of the family. There's a great kids' menu that goes beyond the expected offerings, and dogs are permitted in the garden bar area. Enjoy casual beachside dining in a sun-drenched garden bar with a well-rounded wine list, and even some magnificent mocktails to cater for the dry July crew.
Albion Hotel
Parramatta
The Albion in Parramatta would love to meet you and your dog! As the night wears on and DJs hit the decks, a curfew kicks in for pets. So keep in mind that after 8pm, the only party animals allowed are those of the human persuasion.
Up until then, bring your best buddy to the beer garden while you munch on a meze plate or sample the burgers, pizzas, and sharing plates that will make you feel like top dog.
Now, check out:
Image credit: Forrester's, Australian Heritage Hotel, East Sydney Hotel, Glebel Hotel, The Henson, The Erko, Forrester's, The Cricketers Arms, Courthouse Hotel, Public House Petersham,The Park House