There's no set formula to living a fulfilling life but if you ask us, it most definitely is filled with
pups, pitchers, and parmis. Welcome to your ultimate guide of Sydney's best dog-friendly pubs.
Yep, it may be hard enough trying to cipher out which pubs pour best but it's a whole other ball game figuring out which pubs truly paw best. To make life easier for the dogfathers and furry godmothers, we've gone and found Sydney's best dog-friendly pubs, with bona fide pup crazed staff on hand, wide open beer gardens, and hey, even the occasional dedicated doggo menu from time to time.
Read on for the best dog-friendly pubs in Sydney.
The Best Dog-Friendly Pubs In North Sydney And The Northern Beaches
Rag And Famish
North Sydney
Rag And Famish is one of North Sydney's oldest pubs, trading hard and pouring cold ones since 1860. It's a good old-fashioned vibe here with parmi and schnitzel nights starting out the week on Mondays for $15, Tuesday pizza nights, and steak night every Thursday. In terms of where you can take your four-legged friend, the entire bottom level is a dog-friendly zone which means Fido is not only welcome in Rag and Famish's cosy courtyard but also the pub's bistro for lunch and dinners.
The Newport
Newport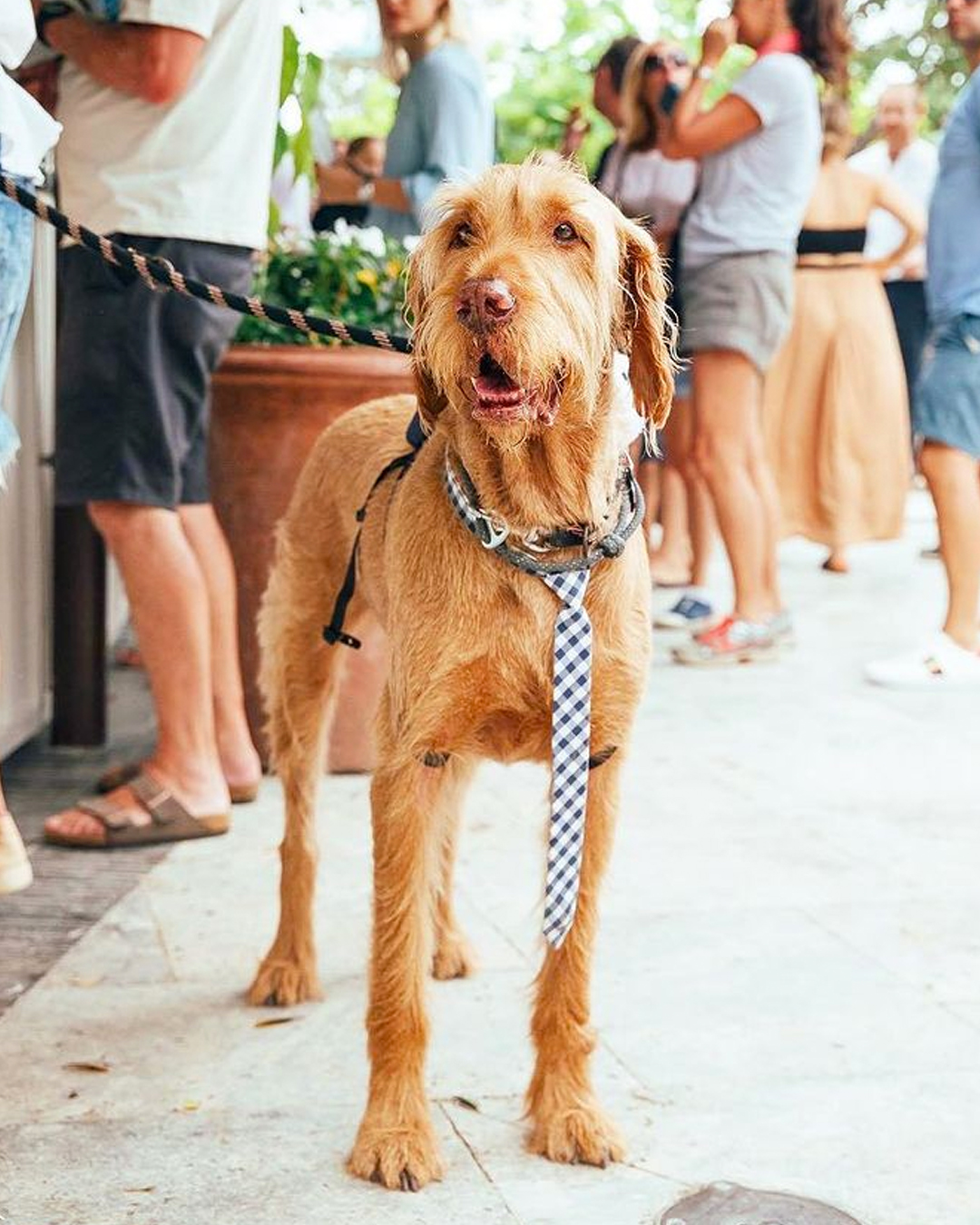 We mean, The Newport is any dog owner's little slice of paradise. While dogs are widely welcome here, there's just a few areas they are barred from including inside The Pavilion, Gymnasium or the Arms Bar. Everywhere else is a certified canine green zone. The beauty of The Newport for pup parents is most notably the expanse of its al fresco dining offering too, making it the perfect place for a Sunday session, family get-together or weekend hang with your mates where you don't have to leave your furry friend at home.
The stunning outdoor areas (calling it a beer garden just doesn't cover it) are literally all you need in your life, with multiple spots serving every kind of food. Want fruity cocktails? Asian stir fry? Pizza? All of the above? Yeah, they got you. The garden is fitted out with fire pits in winter, tables with views over the water, and cabanas for the squad.
Commodore Hotel
McMahons Point
While the pub food here at Commodore Hotel is definitely the selling point, it goes without saying that its dog-friendly factor plays a huge part too. As proud pup parents will know, outdoor seating is a massive plus when you've got your loyal furry companion by your side so make way for Commodore Hotel's outdoor terrace and surrounding garden, the perfect pub setting for your pooch. Dog-friendly vibes aside, you can nab $10 schnitzels here on a Monday, $10 burgers on Wednesdays, $1.50 Sydney rock oysters on Thursday, and $10 cocktails on Fridays.
The Best Dog-Friendly Pubs In The Eastern Suburbs
The Carrington
Surry Hills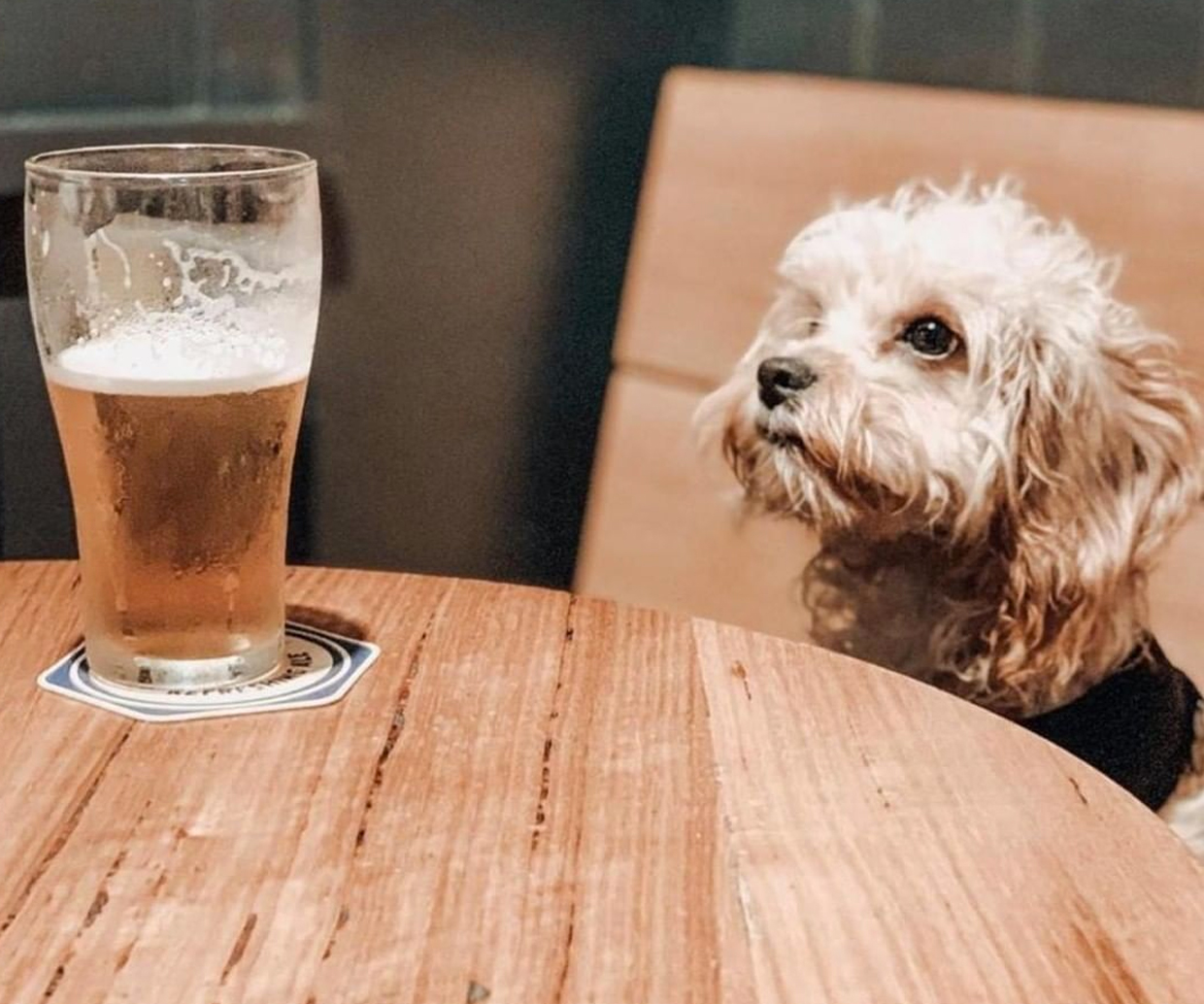 Possibly one of the most well-known dog-friendly pubs in Sydney, The Carrington is an absolute institution. More affectionately hailed as "The Carro", this dog palace and pub in one sports both indoor and outdoor dog-friendly spaces—set yourself up on the outdoor pavement for a spot of people watching, bunker down inside at the front bar or head out the back for a casual dining situation your special mate will truly froth over.
For you, there's a cracking beer range showcasing independent breweries and classic brands on tap, plus an all-Aussie line-up of vino from across the country. For pooch, there's a dedicated doggy menu (truly) which will only set you back $4-$6 with the likes of brown rice and veggies, steak and veggies, beef tartare or even pupcakes.
The Beresford Hotel
Surry Hills
Another puppy pub paradise includes that of the staple "Bero". This Merivale locale serves neighbourhood pub vibes (especially during a Sunday session or weekday lunch) meets modern-Italian trattoria and boasts one of the best beer gardens in Sydney which just so happens to be dog-friendly too.
Dotted with trees, cobblestone pavement, and very spacious, it's hard to beat this art deco pub when it comes down to the dog-friendly cred. Home to everything from a simple bowl of fries, woodfired pizza to homemade pappardelle, The Bero is a classic in any 'dogfather's' weekly pub repertoire.
Sir Joseph Banks Hotel
Botany
For sport fanatics who don't want to miss the next grand final or UFC screening without their doggo, Sir Joseph Banks Hotel is a no-brainer. The bar and covered beer garden here are decked out with numerous screens so you don't have to miss a beat but the dog-friendly zones also pop off every Sunday. There's a winning $20 Sunday roast plus live music to close out the week.
The Best Dog-Friendly Pubs In The Inner West
The Vic On The Park
Marrickville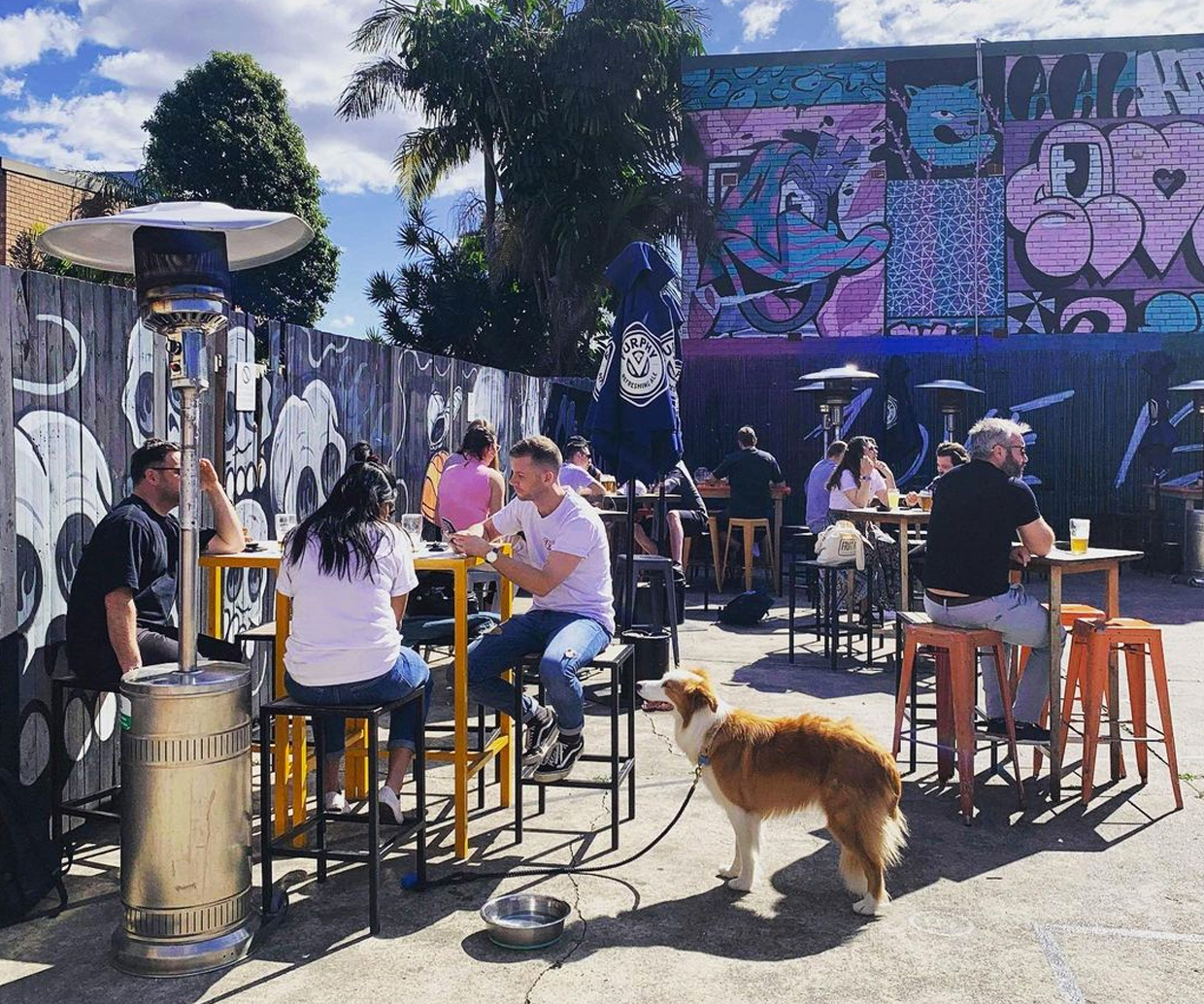 Anything pretty much goes at The Vic On The Park so when it comes to bearing dog-friendly spaces, you can bet this pub throws down some serious paw. Located right at the beating heart of Marrickville, The Vic has long been a pilgrimage for dog-owners and live music enthusiasts alike. Dogs are welcome at all outdoor and indoor areas provided they are on-leash at all times, not to mention, there's also a half basketball court should you feel the need to slam-dunk your way out of buying a few rounds for your mates.
If this already sounds epic, we're not even at the best bit yet because the menu here is the real MVP. Take note of the rotisserie and charcoal grill which churns out lamb flatbread, half chickens and grain-fed rump. The Public Bar whips up Berts beef pie serves with creamy mash and schnitzels while the Deck menu pulls together spicy lobster rolls and thick-cut slabs of porchetta.
The Henson
Marrickville
The Henson belongs in the upper echelon of any "local's pubs" conversation and certainly deserves a spot on this list. The family-friendly, community-driven pub is tucked away in Marrickville's backstreets, just a stone's throw away from Henson Park—making it the perfect before-and-after stop for Fido. Dogs aren't allowed inside the pub but they can indeed join you for some outdoor bevvies in the stunning beer garden.
The Courthouse
Newtown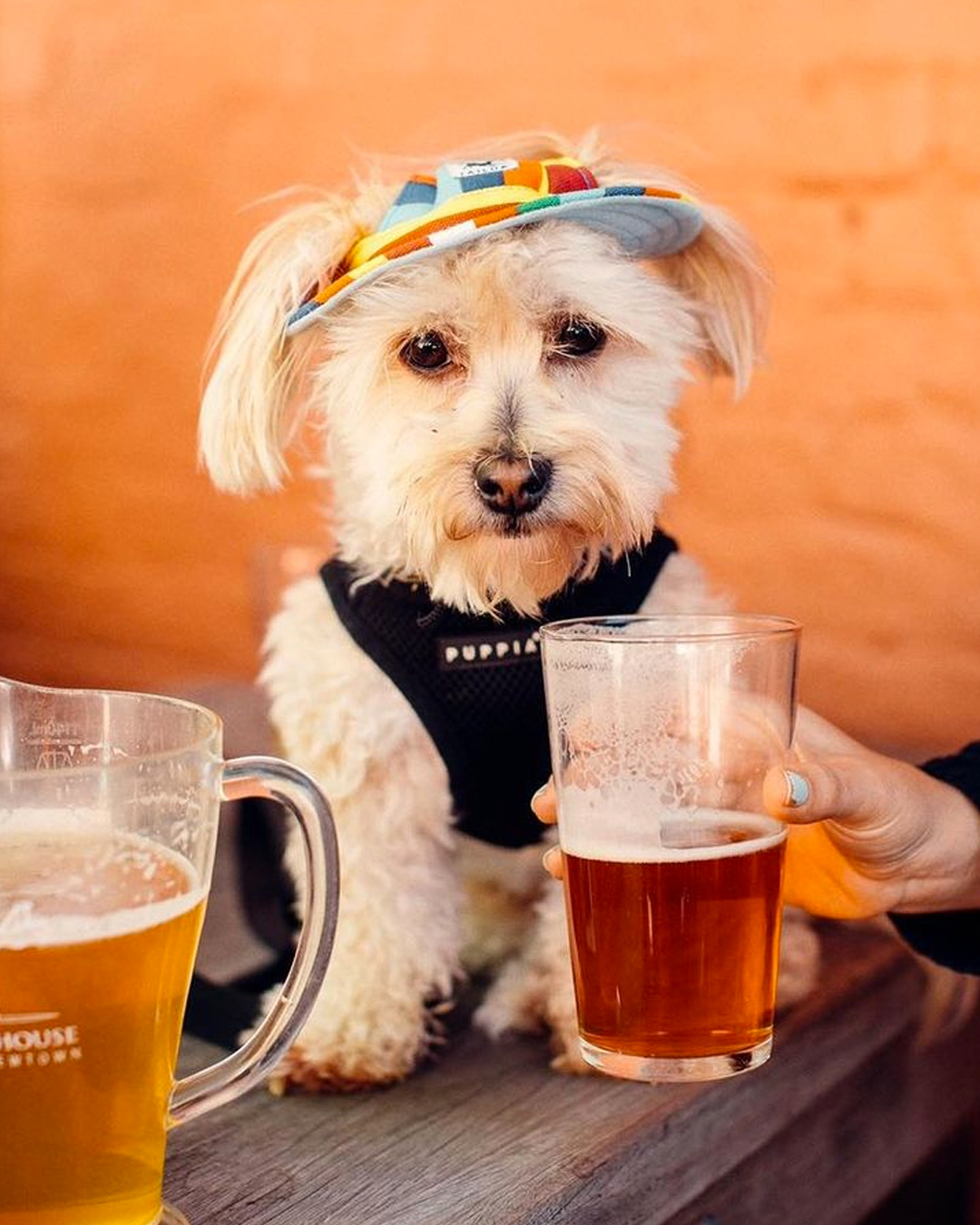 We mean, The Courthouse quite literally says "dogs always encouraged" on its website so if that's not a sure sign that you and your pooch need to get here, stat, we don't know what is. From red kelpies to collies wearing cravats and pugs to poodles with personalised leashes, The Courty is a stopover for all dogs of Sydney. There's an extensive wraparound courtyard slash beer garden which means whatever time of day, there's always a spare seat available.
It's simultaneously the number one spot to pull up for a couple of beers and 'the' pub with quite a bit going on. Wednesday is Inner West trivia night, Tuesdays have a badge draw from 6pm, and Friday cops bingo by the locals, for the locals. Dogs invited, obviously.
The Erko
Erskineville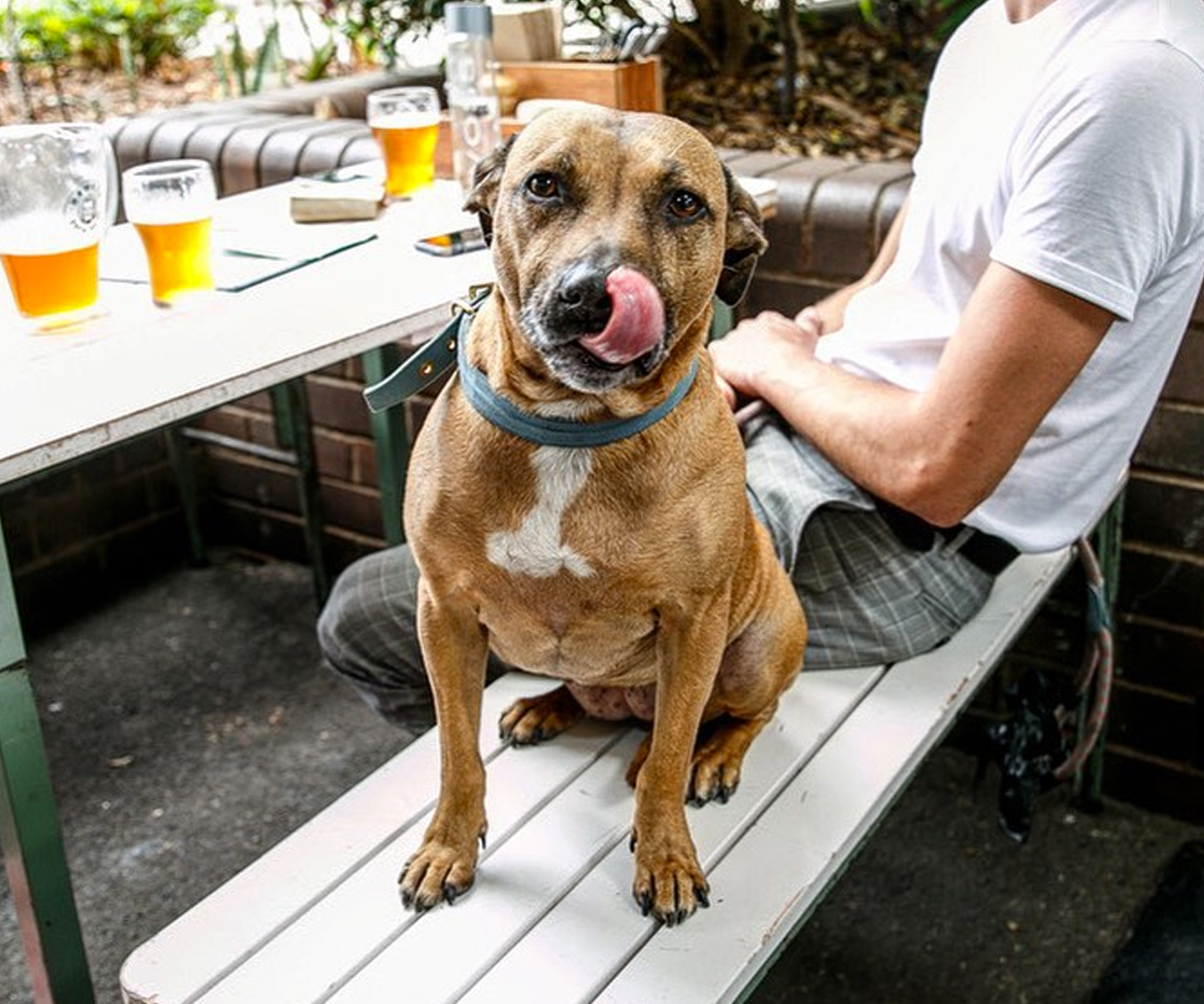 Tucked away down the street from bustling King Street, The Erko is a tried-and-true local's joint. And you can immediately see why, with plenty of furry friends roaming around, a hot contest around the pool table, plenty of beer garden space, craft beer taps aplenty, and a friendly crew behind the bar. Food is definitely a drawcard too, with a classic pub menu meats American eats, 'Smokehouse Sundays' and a hot wing challenge if you fancy yourself against some serious heat.
The Best Dog Friendly-Pubs In South Sydney
Bangor Tavern
Bangor
Hit up Bangor Tavern for a mammoth dog-friendly beer garden that's bursting with lush greens, bright festoons, street art, a luxe garden bar, and all the live sport. This outdoor stretch is constantly buzzing and sees DJs light the space up every Saturday, and there are $10 espresso martinis from 4pm - 7pm and sneaky $5 house beers from 3pm every day of the week.
Northies Cronulla Hotel
Cronulla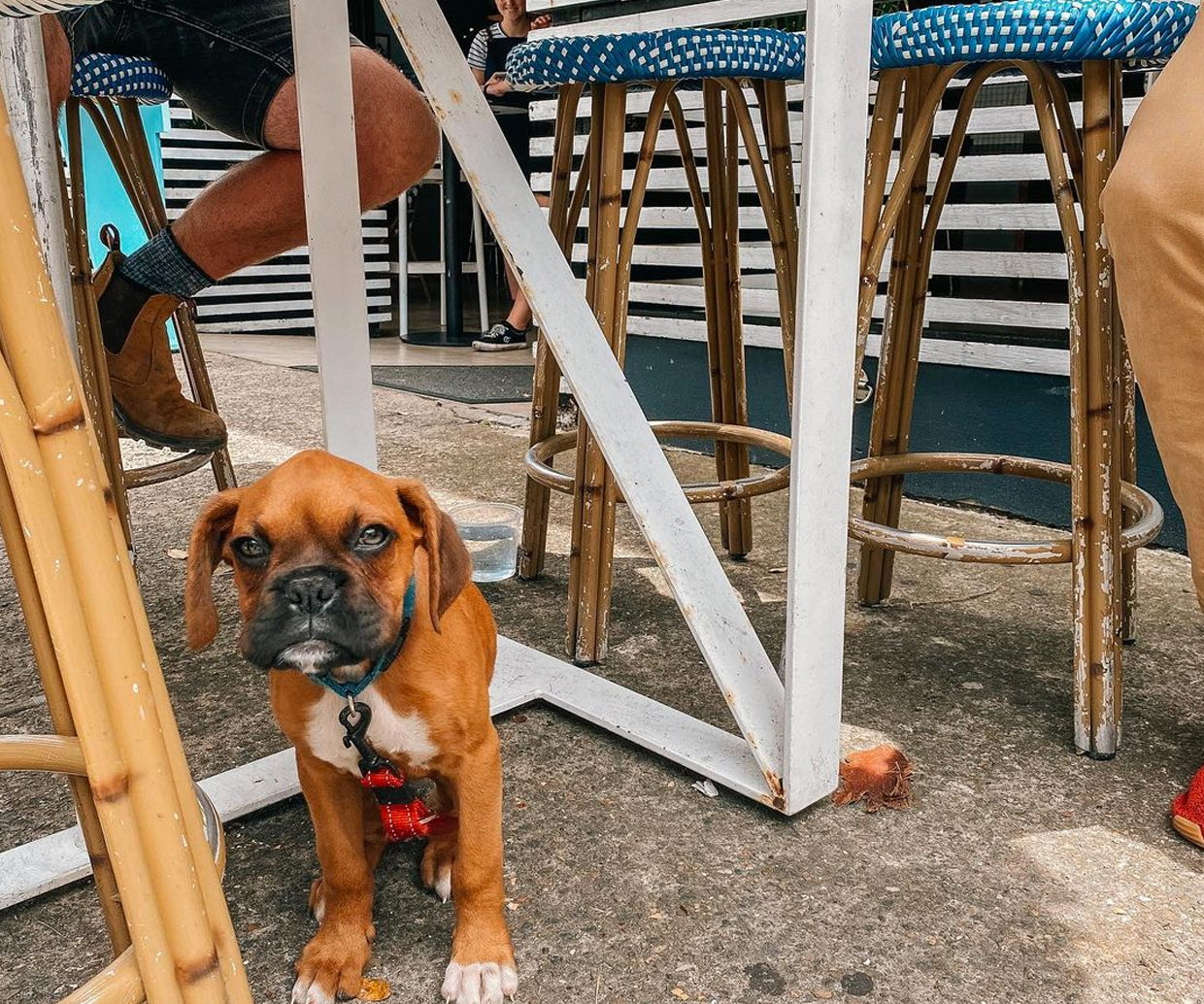 It doesn't get more perfect than a dog-friendly pub overlooking Cronulla Beach. Northies is a mega pub with multiple dining and drinking areas but when you've got a big-eyed and floppy ear member of the family with you, the outdoor seating has your name on it here. Blaring a whole lot of atmosphere and live music, this colourful pub is nothing less than a big dopamine hit—cue panoramic coastal views and Aussie pub fare with a touch of Italian influence.
The Best Dog Friendly Pubs In The West
Albion Hotel
Parramatta
A true Parramatta watering hole, Albion Hotel wears a lot of venue hats but most importantly, it's an enduring pub classic for when you want to step out into the sunshine and knock back a cold one with your doggo. First up, the dog rules—your four-legged friend is very welcome in Albion's beer garden but there is a pup curfew at 8pm. To the good stuff, the Albion Hotel has three bars spanning its indoor and outdoor spaces with a mega cocktail list you'll naturally want to work your way through. Hats off to the legend who voted for cocktail jugs as well, you'll find Porn Star Martini and Lychee Mojito pitchers which is always a good sign.
Good news, we've also made dog-friendly camping in NSW easier for you too.
Image credit: The Erko, Newport, @rufus.the.toy.cavoodle, The Vic At The Park, The Courthouse, The Erko, Northies Cronulla Hotel