The task of jamming all the best eateries in Newtown is no doubt a big one. From garage workshops and laneway burgers to gourmet cheese bars and delis, Newtown is studded with some solid restaurants hosting all the juicy feeds.
We've rounded your heavy hitters from King Street and everywhere in between. Here are all the best restaurants in Newtown.
Hartsyard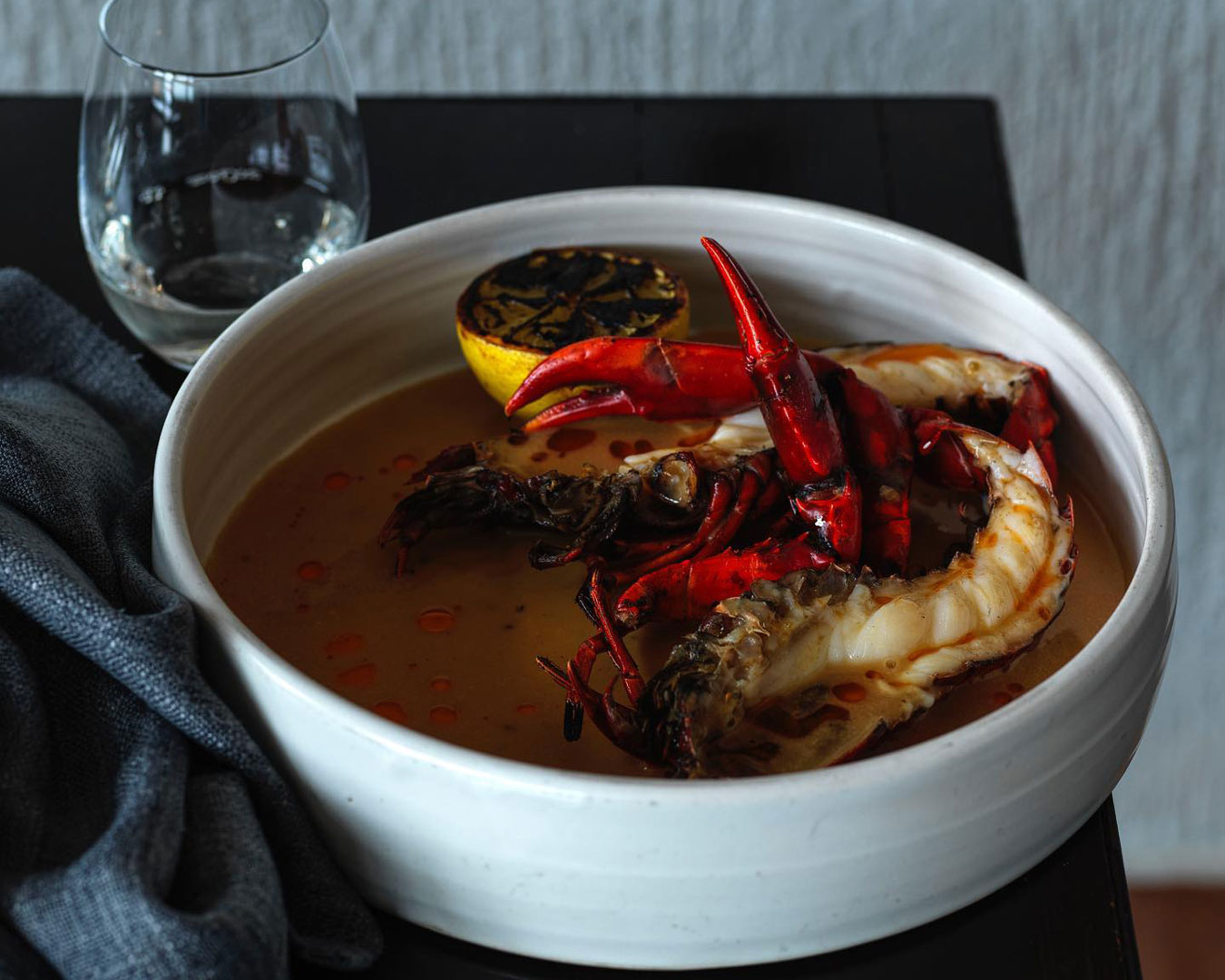 Head chef and co-owner Jarrod Walsh led Hartsyard's 2019 transition away from fried foods toward fresher fine dining with a Modern Australian twist. Having said that, the restaurant and bar has a trendy, relaxed vibe that many wouldn't associate with a white table cloth-style venue. The menu changes seasonally and features locally sourced ingredients infused with Asian-inspired cooking techniques. The wine menu is also 100% Australian. Book here.
Hartsyard is moving on 29 August. We'll be sure to keep you posted.
Continental Deli Bar & Bistro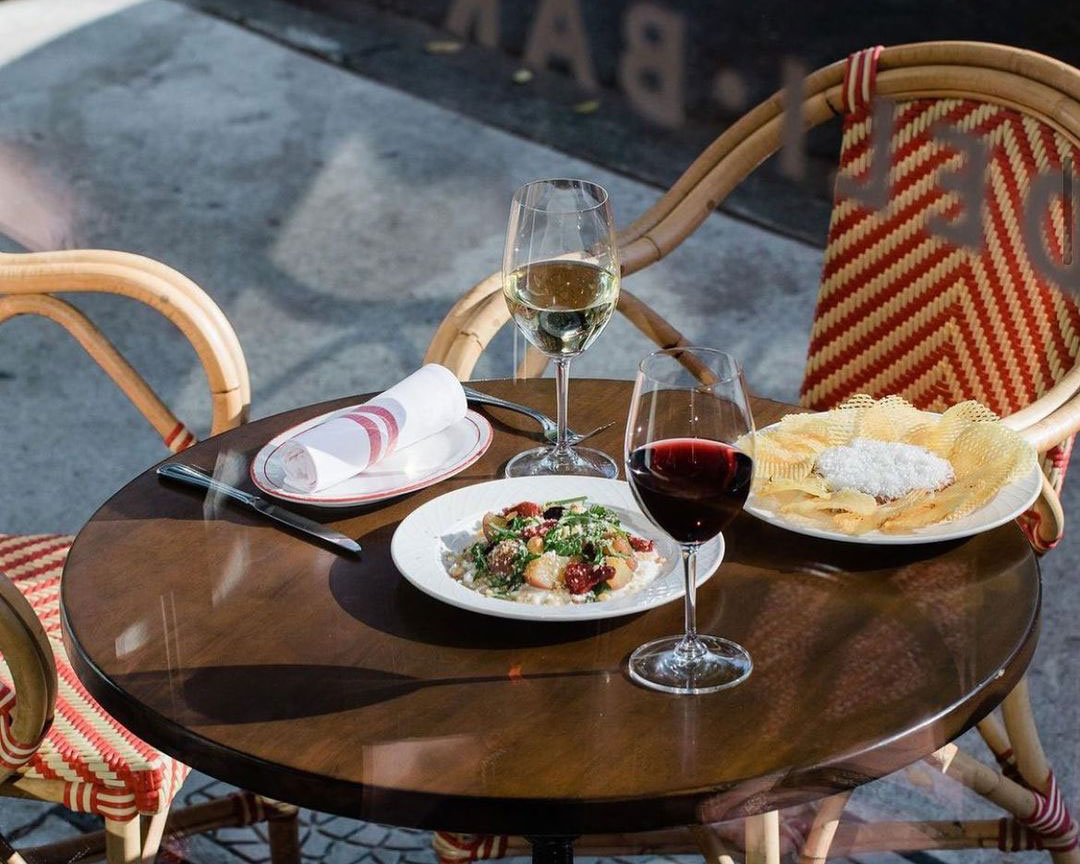 Take a seat at the deli counter and indulge in a fine selection of cheeses, fancy caviar and cold cuts, or opt for the whole dine-in bonanza in their bistro—which of course features many a deli ingredient. From the guys that brought us Porteno and Bodega, you can't go wrong at Continental Deli. Share some scallops with bottarga butter and salted chilli, or grilled king prawns with lardo, coconut and lime. For dessert polish off the chocolate mousse with mascarpone cream, blood plum and coffee jam. Oh, and you can't leave without trying Continental's iconic "Mar-tinny"—a martini served in a tin can. Book here.
Cafe Paci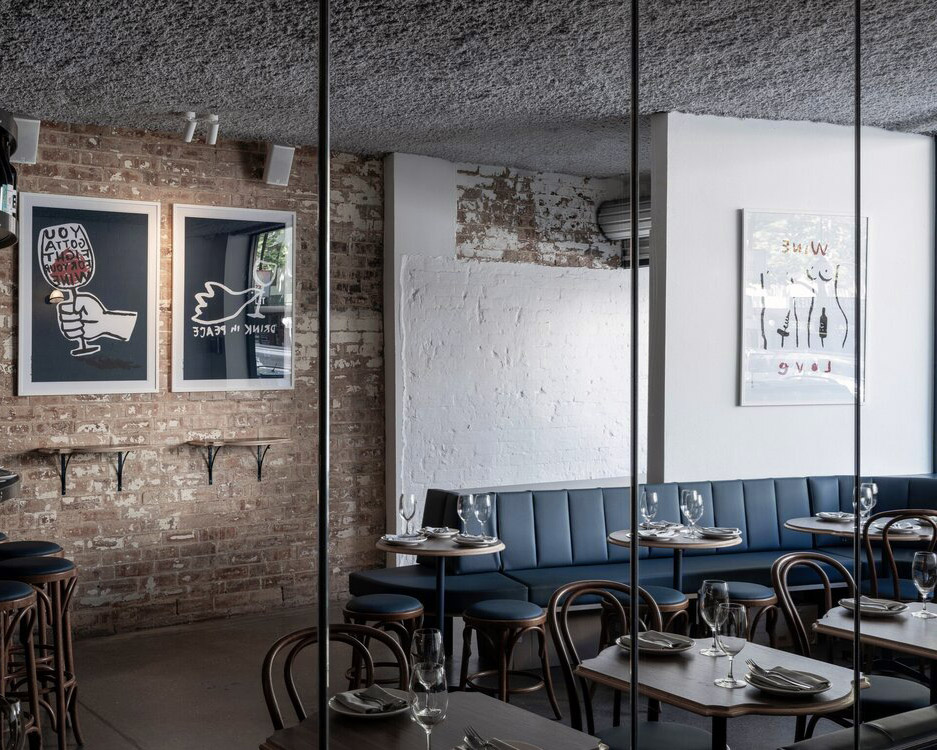 Award-winning Finnish-born chef Pasi Petänen's Cafe Paci on King Street is a top example of Sydney's ever-growing upscale-casual restaurant trend, walking the line between midweek dinner spot and fine diner. Here, you'll find an a la carte menu filled with dishes that follow Petänen's signature European sensibilities—think fermented carrots with 'nduja on rye, gnocchi-like potato dumplings with XO trout, and the aforementioned ox tongue tacos with sauerkraut. Head in for a cocktail and a snack, or stick around for a full night of feasting. Book here.
Bella Brutta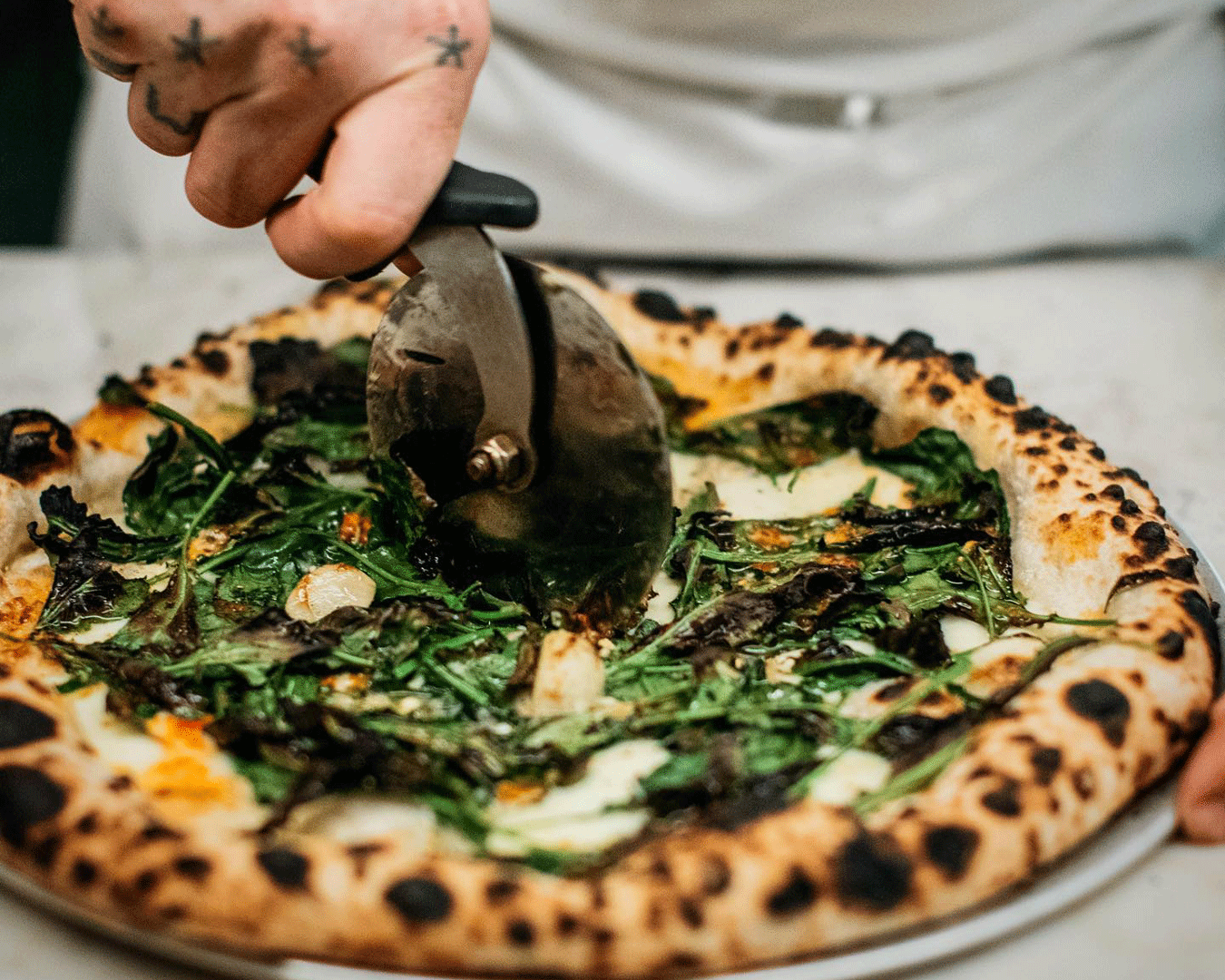 The brains behind LP's Quality Meats and Porteno have formed a holy alliance to bring to life this wood-fired pizza joint. With pizzas adorned with meats courtesy of LP's, cheese sourced from nearby Marrickville cheesemakers Vanella, and fermented pizza dough with puffy edges, this place is up there with the best. The pizza menu is limited to around 5 choices, which is a win when you're indecisive. Try the mortadella pizza topped with fior di latte, garlic, parmesan, green olives and, of course, LP's house-made mortadella. Book here.
Westwood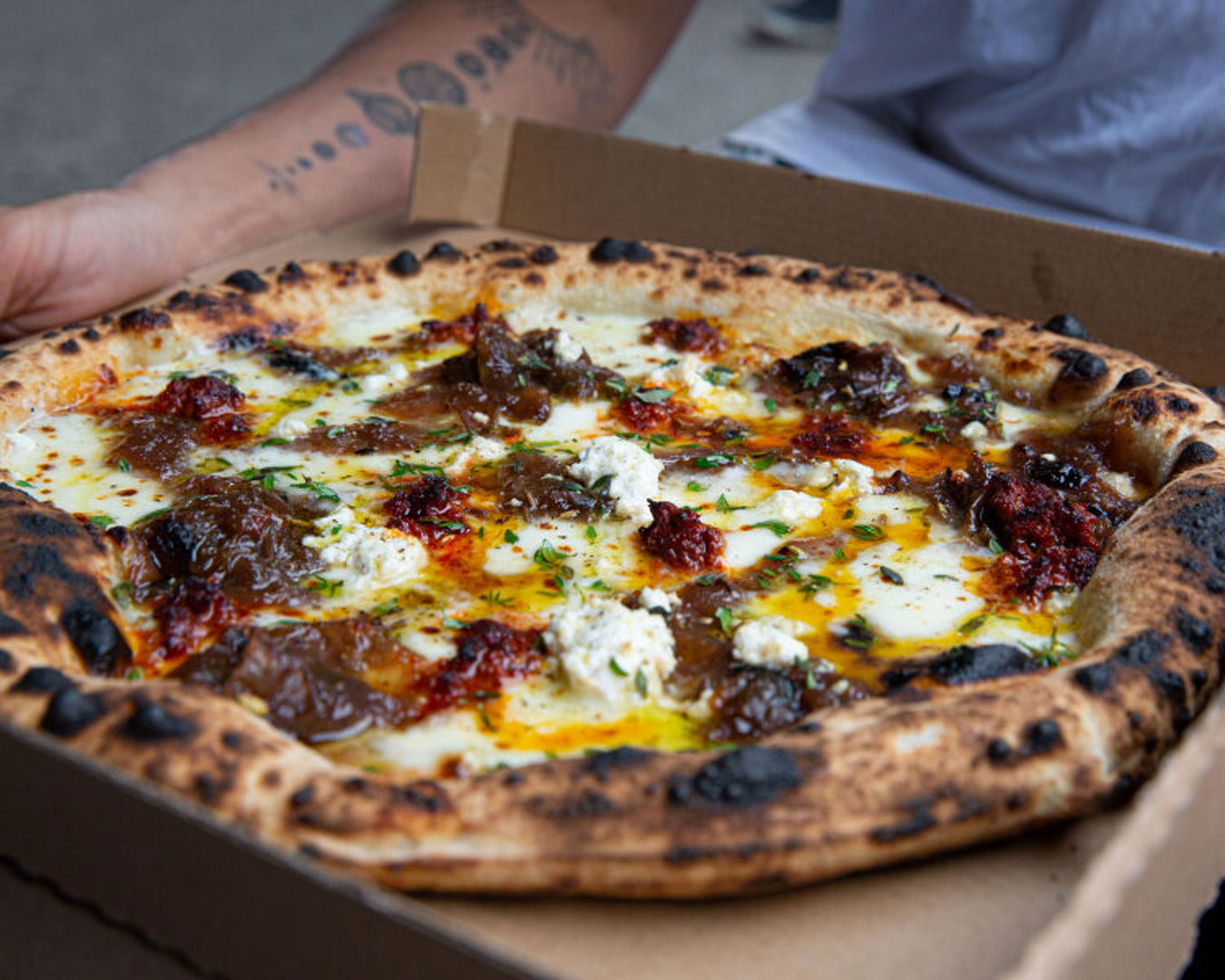 It was a tough call, but Westwood just misses out on placing above Bella Brutta because it's more geared for takeaway. But, don't be fooled, the pizzas here nobly rival its neighbour's. This hole-in-the-wall on Australia Street is the brainchild of Mitchell Westwood, whose Sydney resume includes other top-billing pizza joints on this list like Queen Margherita of Savoy and, yes, Bella Brutta. As for what you should try from the flavour-packed, minimalist menu? Definitely order the garlic-honey pizza made with confit garlic oil, fermented garlic honey, fior di latte cheese, and sheep's milk pecorino. Or, you could go for the spicy spanner crab one with shellfish oil. But really, you can't go wrong with any of them. Walk-in only or takeaway.
Thai Pothong
Thai Pothong is an Inner West institution—and it dishes up some of the best Thai food in Sydney. Service is top-notch here, with super-speedy delivery of mains despite it being packed most nights of the week. Try the betel leaf prawn or the classic chicken satay to start. Choose from all the usual suspects for the main event—green, red, yellow, massaman and penang curry.
Rising Sun Workshop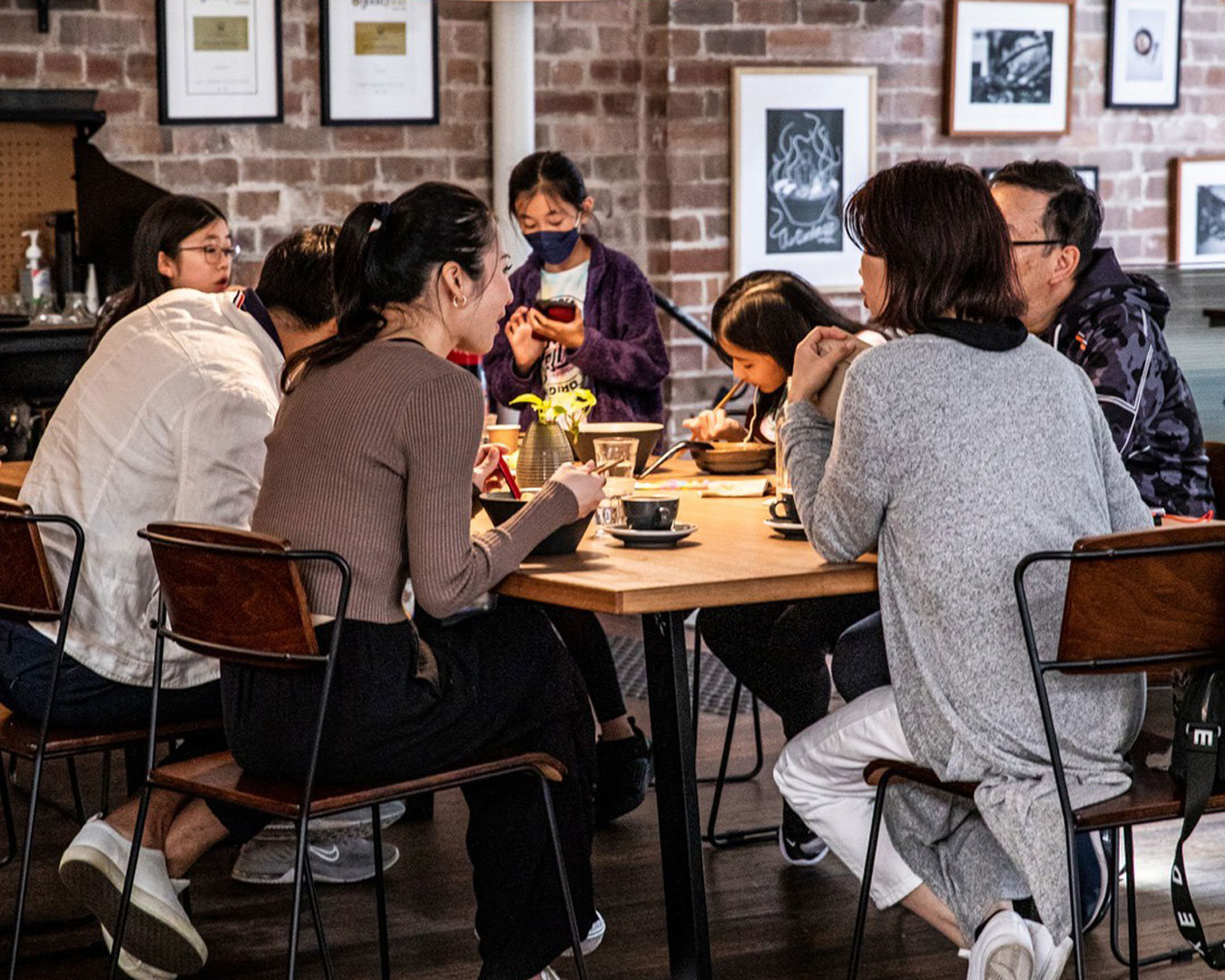 This neat little back alley joint is an eclectic haven for coffee, baked goods, motorcycles and ramen. Part communal workshop, part ramen house—Rising Sun was dreamt up by a collective made up of former coffee legends, motorbike enthusiasts, a baker, a chef and a designer. The ramen here is the stuff typical of what you would find in Tokyo and it is the only place in Sydney to do breakfast ramen—onsen egg, buttered toast broth, crispy bacon bits and smoky tomato. Come dinner, the restaurant becomes a moody izakaya-style space. Book here.
Little Lagos
Now, whether Little Lagos is in Newtown or Enmore is up for debate, but it's so good it doesn't matter. At this 58-seat Nigerian dining gem, the walls are painted a warm ochre red and a mural of Fela Kuti, an iconic West African activist and musician, welcomes you at the door. The menu is made up of traditional recipes passed on from generation to generation. Jollof rice, a rich combination of long grain basmati rice, cooked in a spicy tomato and pepper sauce with traditional Nigerian spices, is the most loved dish on the menu (it's suitable for vegans and vegetarians too). Spice fiends will love the super hot pepper soup with beef parts (skin, meat and tripe), but when it comes to sweet—you need to try Little Lagos' spongey, plus-size Nigerian doughnuts or Puff-Puffs. Book here.
Mary's Newtown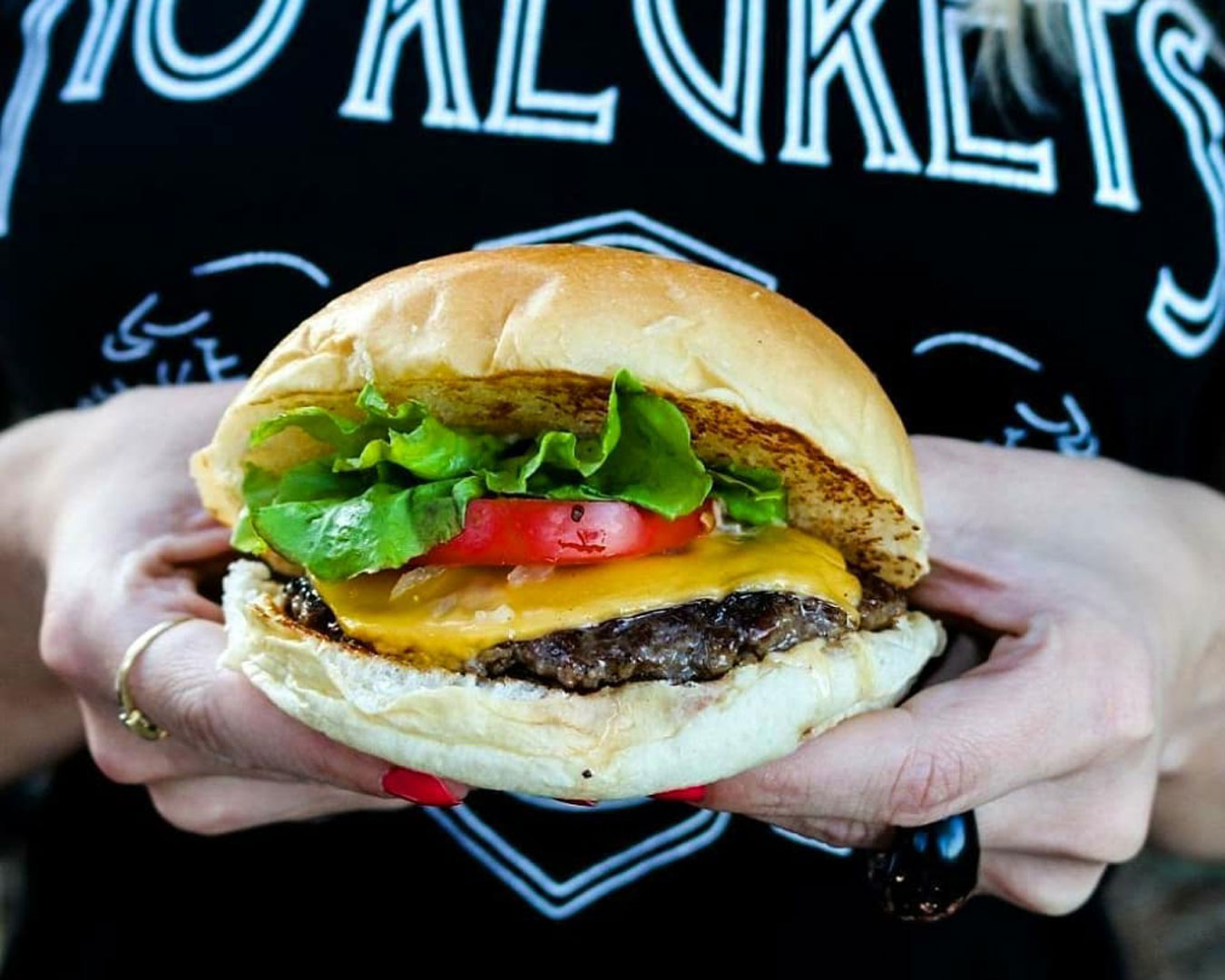 It's been hailed as one of Sydney's best burger joints, and for good reason. Located in an old dingy church with walls covered in writing, gothic chandeliers, candle wax and loud punk music, Mary's Newtown has set the bar for goddamn good burgers. The legends at Mary's serve up a cheeseburger on steroids with a grass-fed beef patty, American-style cheese, in-house smoked "trash-can" bacon, crispy lettuce and some secret sauce that has us drooling just thinking about it. Walk-in only.
Gigi's Pizzeria
We first encountered Gigi years ago, before she made her full vegan transition. The rustic wood-fired Neapolitan pizzas and calzones (this time sans cheese) remain some of the best around Sydney and the team here have even developed vegan cheese for those that think a pizza without cheese is blasphemous. Walk-in only.
Bloodwood
With a trio of hospitality heavyweights and chefs, you know it's going to be good. The menu at Bloodwood is seasonal and designed for sharing. Since opening its doors, this place has been inundated with food and wine awards. Get the ball rolling with golden polenta chips and cheesy gorgonzola dipping sauce. Share a classic charcuterie board, spiced beef brisket and maple fried chicken and sip on seasonal fruit bellinis. Book here.
Cairo Takeaway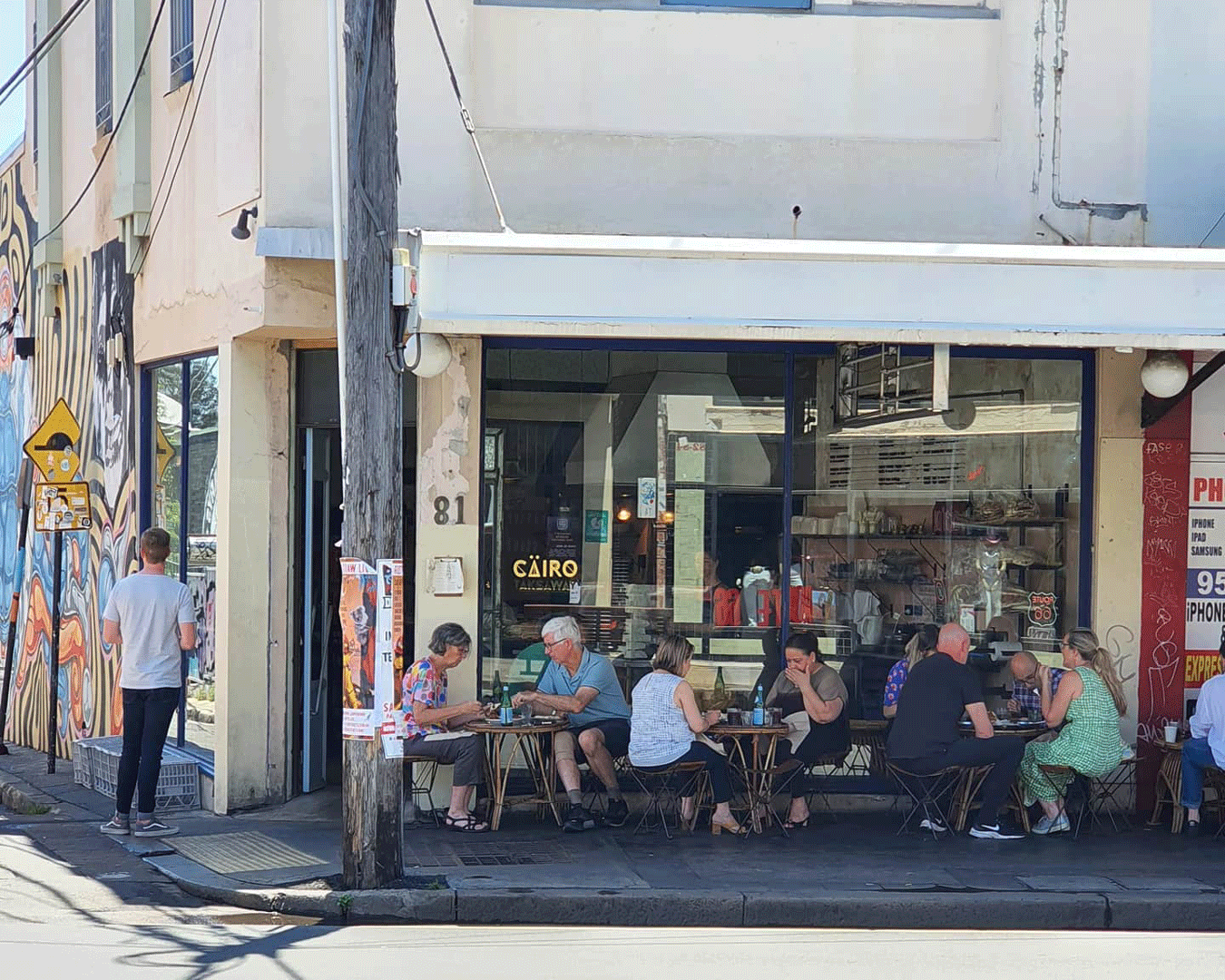 As you probably could've guessed, this Enmore Road favourite specialises in Egyptian street food—and clearly, this was a gap in the market begging to be filled. Any night of the week you can find keen Inner Westies lined up out the door. The vibe is fun and unpretentious, and the food is flavoursome and of high quality. Our pick? Any of the packed-to-the-brim pita pockets. Oh, and did we mention it's BYO? You can see why this is a local favourite. Walk-in only.
Maiz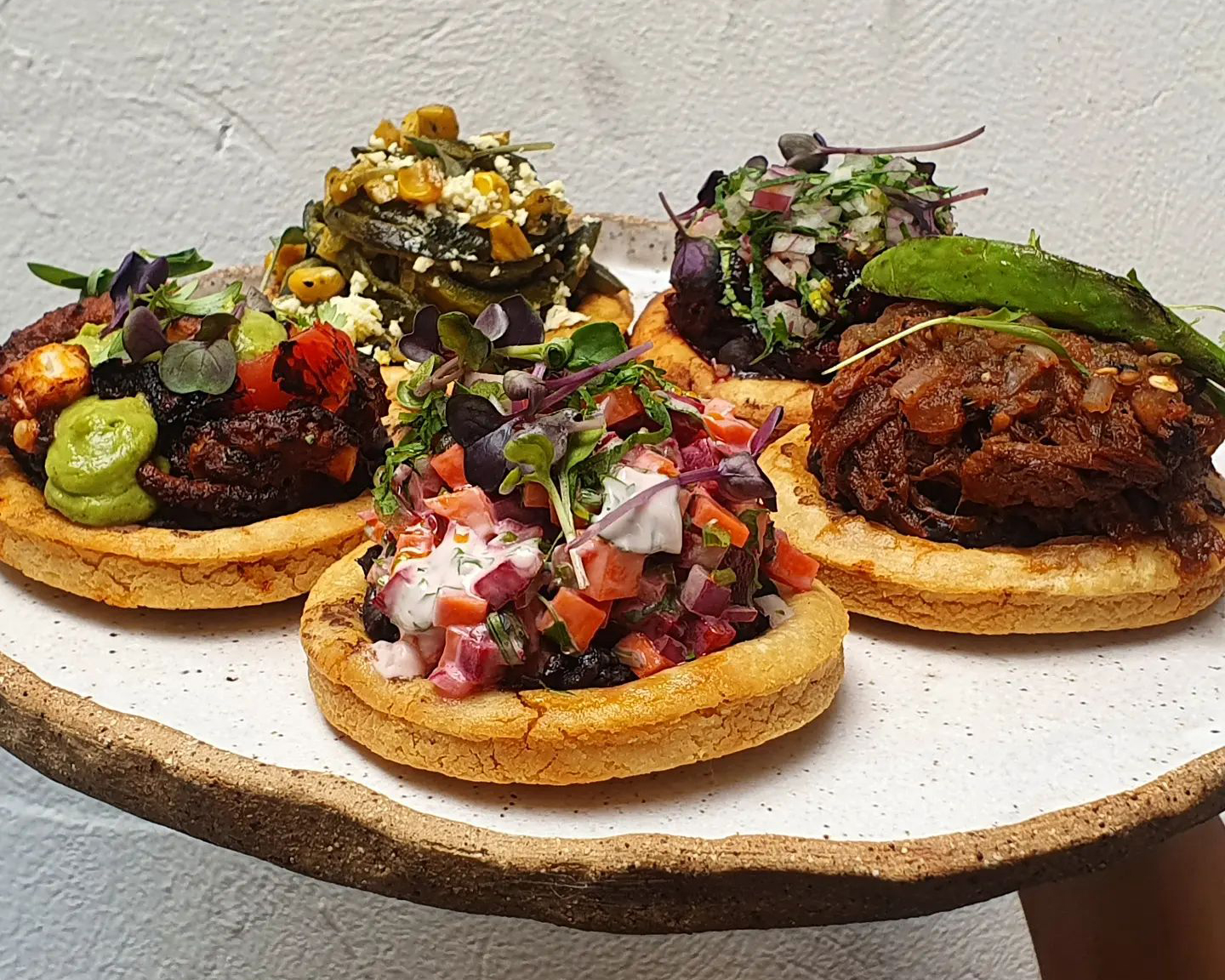 Walking into Maiz feels like you're in a courtyard in Oaxaca or Puebla. It's a new Mexican joint that breaks away from the typical taco offerings to serve up Mexican brunch with a vision of linking authentic food to the Aussie culinary scene. Head chef and owner, Juan Carlos Negrete, is philosophically dedicated to this mission, describing food as "a language we use as family to express care to our close ones connecting generations, culture, and traditions". The passion is evident in their hand-pressed blue and white corn tortillas, their chilaquiles breakfast bowls, and their heavy use of prickly pear. Book here.
Odd Culture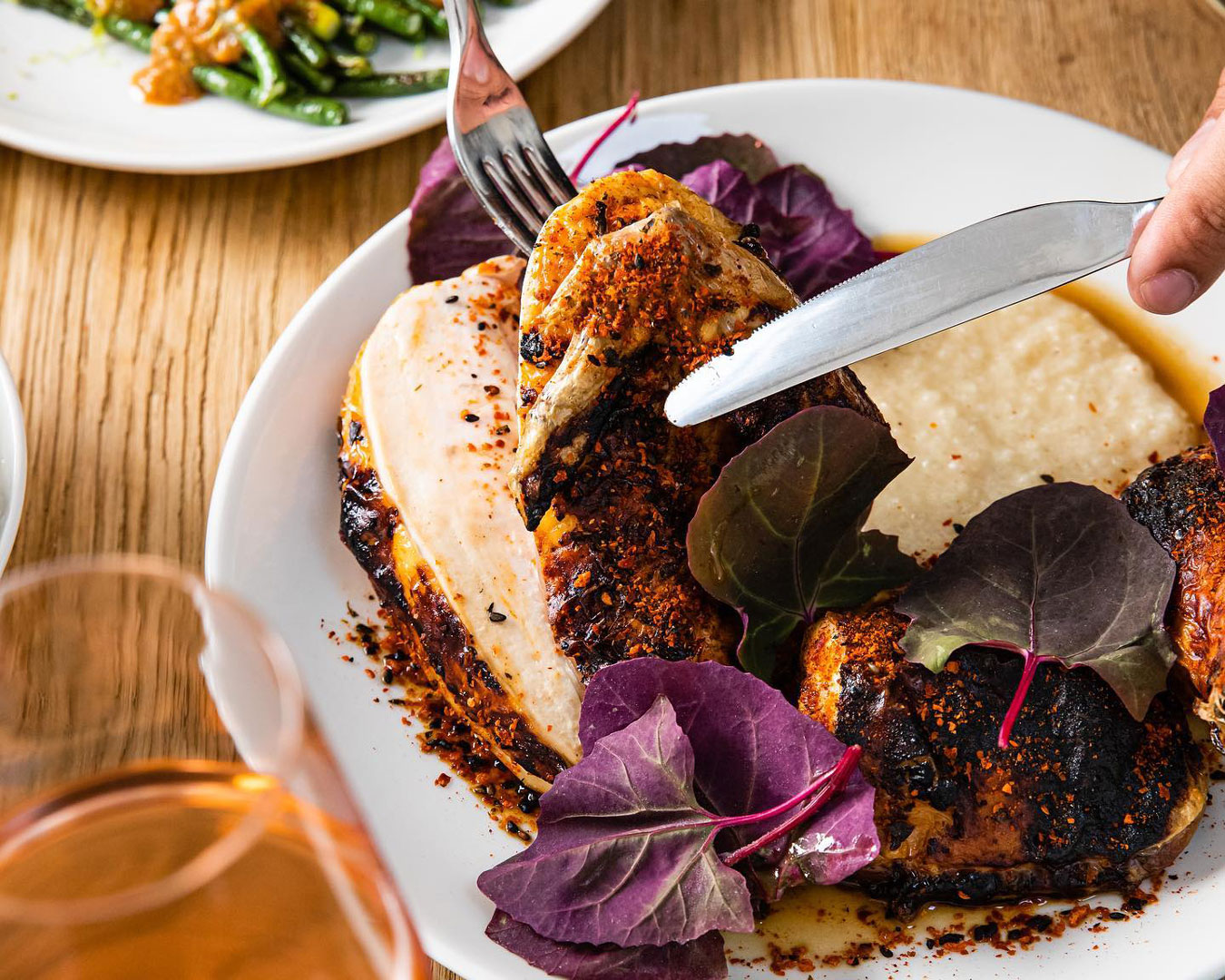 Odd Culture is an all-day eatery and bar dedicated to all things fermented, complete with an adjoining bottle-o. Dreamt up by the Odd Culture Group, which also owns The Oxford Tavern in Petersham, The Duke of Enmore, and Woolloomooloo's Old Fitzroy Hotel, this unique but cool and casual King Street establishment is the first in the area allowed to trade from 7am until 2am.
In the kitchen, a pair of former Continental Deli chefs are heading up the menu with the help of James MacDonald, former head chef at Restaurant Hubert, and now executive chef for the Odd Culture Group. Under a broad fermentation theme, the food here takes inspiration from all over the globe, but if we had to pick a cuisine we'd say it's European-leaning.
If you love sour beers, you won't be disappointed here with an extensive range of wild ales on offer and 12 rotating taps at the bar. There's also an extensive range of organic and biodynamic wine and natural ciders and sake too. Book here.
Stinking Bishops
Stinking Bishops is a gourmet cheese bar with over 40 varieties of cheese on offer. Saddle up to a charcuterie board, made up of two, three or four types of cheese and pair with local wines. If you're wanting a meal of the heftier sorts these guys also serve up a slow-cooked lamb shoulder with fennel, cashew and mint. Then there's the very (very) indulgent mac and cheese. Book here.
Pistou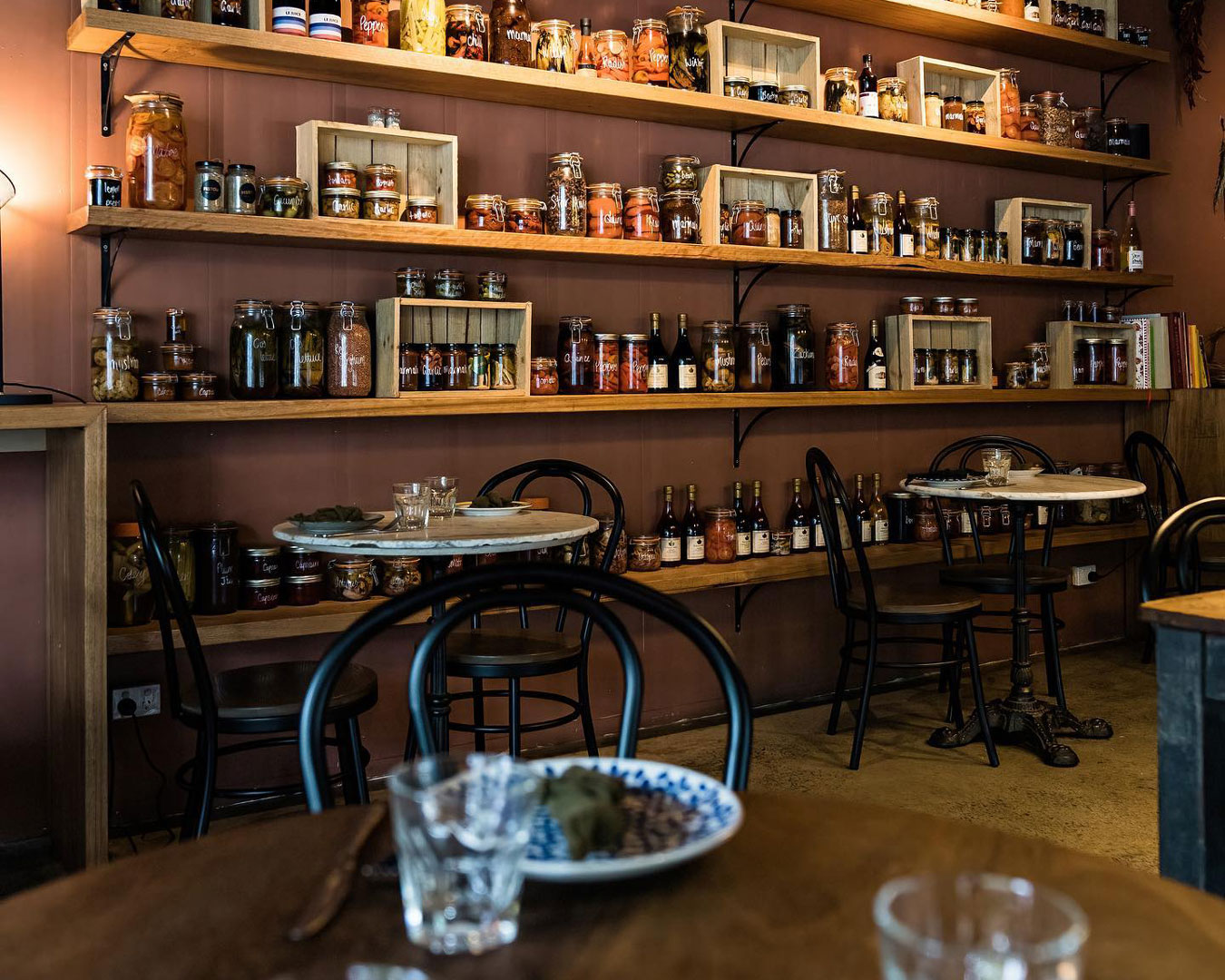 Pistou is a fresh, romantic, French-inspired spot from Jules Bouillon, whose experience includes being a part of the team that opened the legendary Balthazar in London and, more locally, NOLA Smokehouse and Bar and Glorietta in North Sydney.
Designed by Amy Mcleod, Pistou is rustic with rosewood pink walls, baskets of fresh bread, and a large cabinet stocked with charcuterie and pickles. In the kitchen is former Glorietta Head Chef Katie Morris and the menu heroes a weekly rotation of seasonal cheeses, charcuterie, freshly made dips, and sandwiches—the sort of things you'd expect to snack on while rolling around a French vineyard, of course. Pick something up to take away (Sydney Park is a short stroll away), or pull up a seat and stay awhile. Book here.
Belly Bao
This little hole in the wall specialises in (yep you guessed it) bao. It seems that the traditional Taiwanese street food has crept onto menus Sydney-wide, offering staples such as pork belly and the likes. But Belly Bao likes to push the envelope with their bao offering, serving up their specialty "baogers" (burgers with a bao bun), slow braised beef short rib bao, bao noodles and, wait for it—a Golden Gaytime bao decked out with Gaytime ice cream, salted caramel, fresh banana and coconut. You're welcome. Book here.
Now, check out all the best new openings in Sydney.
Image credit: Pistou, Hartsyard, Continental Deli, Cafe Paci, Bella Brutta, Westwood, Rising Sun Workshop, Mary's, Cairo Takeaway, Maiz, Odd Culture, Pistou