Poor Toms Gin Hall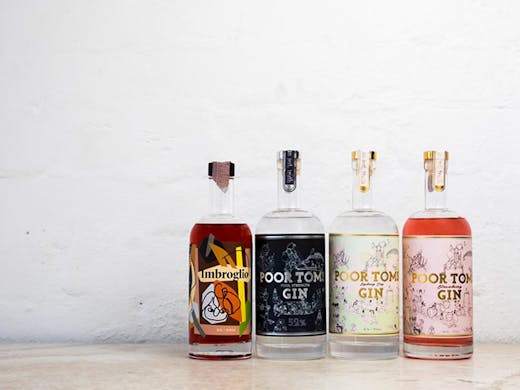 Aussie gin label Poor Toms was kicked off by a couple of housemates who loved their gin but were bored with their day jobs. So, they decided to start making their own version of the botanical spirit. Housemates and co-founders Jesse Kennedy and Griff Blumer successfully crowdfunded their idea, enlisted the help of veteran distiller slash gin mastermind Marcel Thompson and, well, the rest is history.
Their Marrickville HQ is open three nights a week for gin shenanigans and is 100 percent dog-friendly. Situated smack-bang in the centre of Marrickville's brewery trail (it's minutes away from Sauce Brewing, Grifter, Wildflower and Batch), it offers a little respite from all that beer should you need it.
The sunlit warehouse-style space features hanging plants, a custom-built marble-topped bar and custom bar tables and stools.
Naturally, cocktails hero the Poor Toms gin range. They're then built out with only fresh and seasonal produce, meaning the drinks list follows a weekly evolution. You'll also have access to rare releases and experimental blends the Poor Toms crew have been cooking up in the bar's stunning still.
Food-wise, there's nothing served in house here, however on Fridays and Saturdays, you can order pizza from neighbouring Pizza Madre, and on Sunday you're in for Poor Toms' "Scat Sundays" where you can nurse your hangover with a sweet sausage sizzle and soothing DJs on decks.
Image credit: Poor Toms
---