Picture this, you're sitting on a wraparound verandah, boots kicked up, cold beer or a glass of wine in hand, watching the sun go down. You've just spent the entire day feeding farm animals, going for bushwalks, having a picnic lunch, living your best kidult life swinging off rope and swimming in a nearby dam.
It's not hard to see why farm stays in Australia are an increasingly popular way to escape the hustle and bustle of the city. Whether it's to slip out of your usual routine, take in some bigger surroundings or just a change of scenery, farm stays are a truly magical experience.
Check out the best farm stays in NSW.
Jervis Bay Farm Stay
Jervis Bay
Prepare yourself for one of the most beautiful farm stays in NSW. You'll love this one because it's one of the best spots to hit when you're keen to get out of the city with your best mates and lap up some wholesome weekend goodness.
As soon as you arrive, you'll all be in for country-meets-coast charm as the property sits on 19-acres of gorgeous pasture, scenic bushland and it's only about a 10-minute drive from Huskisson (for your mini day trip). It's also entirely dog friendly, so you can absolutely bring your fluffy family members. For afternoon drinks and cheese board antics, Jervis Bay Farm Stay sports one hell of a huge back patio.
If you're a foodie at heart, there's a solid-gas pizza oven, BBQ and original 1920s chopping block so you can whip up the feast of your life. For those who love to live and let loose a bit, the outdoor games area equipped with bocce, giant Jenga and dominos has your name written all over it. The best thing about this stunning farm stay is that you can really do as much or as little as you like. Make a day out of feeding the two miniature goats, feeding carrots to the mini ponies, saying hi to the free-range ducks and geese, checking the chicken coops for eggs, scoping the veggie patch, or lay low by the fireplace and get stuck into a good book.
River Ranch
Mudgee
Here's the thing, Mudgee is always a good idea. And one of our favourite places to visit in the area has to be the mighty farm stay known as River Ranch. It's the ultimate place for a digital detox as this luxe barn-like property doesn't spare a thing. Apart from its mighty architecture, which packs an open-plan living area, fireplace, 360-degree veranda that overlooks the Riverlea Valley, and a clawfoot bathtub, you'll also be in complete awe of your surroundings. There are alpacas, horses and a river you can hike on down to with a rope swing, tire swing, and nearby fire pit.
The Barn
Heathcote
This rural warehouse is basically heaven on earth. Taking its design from American-style timber barns, this sunlit stay sits on a big six-acre property, which is also home to a resident family of kangaroos (and you'll probably catch these beauties skipping right outside your door around 6am).
The barn itself is loaded with all the rustic trimmings including big couches, a wood fireplace, an outdoor BBQ, and of course, what every road trip is really for, a tonne of board games. You and your crew will also find a growing library equipped with the comfiest cloud chair fit for hours upon hours of page-turners. During your time at The Barn, you'll be able to lounge up next to the dam and you're more than welcome to bring your pets so long as you notify the owners.
Orchard Escape
Blue Mountains
This beautiful stay is located on an apple orchard and hobby farm and yes, that means all the picturesque views to boot. You'll be free to explore the farm's entirety and even its secret lookout.
Orchard Escape is a restored machinery shed with a ceiling adorned with fairy lights and has been set up to be one of the most romantic getaways in NSW. The house faces the iconic Blue Mountains cliffs and overlooks the Kanimbla Valley, which you'll be able to lap up while you kick back in the freestanding stone bath. On top of this, the farm is filled with free-range chickens, alpacas, sheep, and Lottie, the farm's resident dog.
Warramba Farm Retreat
Warramba
If the idea of an 1890s homestead doesn't get your heart going, we don't what will. Situated on 100-acres of regenerated farmland in the Greater Blue Mountains, this farm stay sees kangaroos, wombats, goannas, and birds (including the endangered Regent Honeyeater).
This stunning three-bedroom homestead has major design cred—it's been featured in Country Style, Marie Claire and, just casually, Dezeen.
If you're after a night under the stars, you can also book swags and stay on the swag deck on the top of the hill with your very own campfire, whisky, and marshmallows (told you this place would get your heart going). The historic Rylstone and Wollemi National Park are also just a 25-minute drive away.
Kumbogie Cabin
Daruka
There are lots of reasons as to why Kumbogie Cabins ticks all the boxes on being one of the best farm stays in NSW. This guy is eco friendly (off-grid and powered by solar), there's an outdoor fire pit equipped with tables, chairs and blankets for the most wholesome night of stargazing, and, if you don't fall in love with its natural bush surroundings, it'll be the sounds of all the wildlife that set your heart ablaze.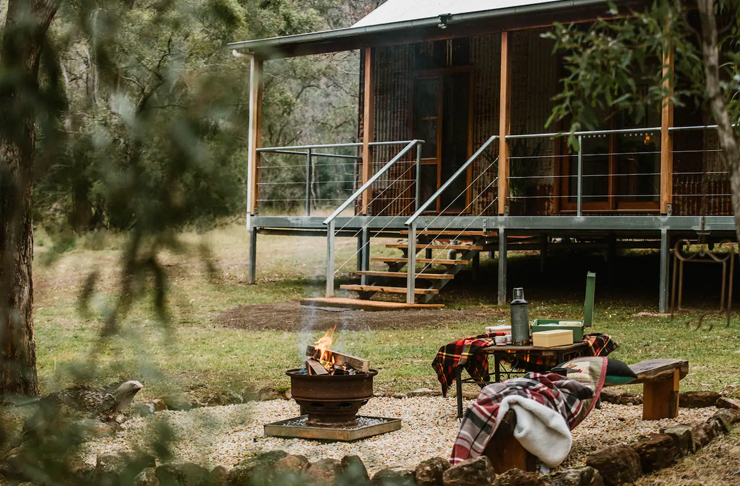 The Shearing Shed
Lachlan Valley
If waking up in the morning with a horse literally right outside your window is high on your travel list, look no further than The Shearing Shed. This charming renovated shed is about five kilometres outside of Cowra and features all the country-living vibes with high beam ceilings, a corrugated iron structure, festoon lights, and cast-iron detailing.
You can play glass chess on your own personal outdoor table set up (while you sip on the good stuff), plus there are a couple of dogs on the property that will melt your heart when they swing by for a couple of pats and belly rubs.
Corynnia Station
Carathool
Corynnia Station is the pinnacle of farm life. This 17,000-acre working station is a busy-as-hell property producing high-quality Merino wool and meat from Corynnia's cruisy flock of 8,000.
This epic farm stay draws in stunning homestead gardens, a pool, tennis court, all of the cute animals, and all of the delicious food. Located in the Hay Plains, in the Riverina region of South-Western NSW, this 1930s oasis is pet-friendly and home to some beautiful sunrises. And good news, if you're not a fan of a lengthy road trip, there's an airstrip if you'd rather take to the skies. Plus, if you're a nomadic couple or individual, you can hit up owners Bruce and Julie for a short or long stay in exchange for helping them out on the property for a few hours a day (absolutely worth it out here).
Kimo Estate
Gundagai
To put it bluntly—Kimo Estate is a bucket list farm stay everyone needs to do at least once in their lives. This luxurious country homestead sees everything from weddings and romantic proposals, to proper farm life sheep and cattle. Accommodation here falls into three categories with Kimo's ever-popular A-frame eco huts, cottages and its shearers quarters.
Kimo Estates hits the 7,000-acre mark and you can go full Yellowstone here (or City Slickers) with dedicated "cattle station experiences", which usually run for about a week at a time. You can be sitting at any horse-riding level for these including complete and utter rookie. You'll be guided by one of Kimo's stockmen and horse professionals, learn some cattle working skills and proper horsemanship, and all your meals will be provided with wine and beer too after a hard day's work.
Little Valley Farm
Laguna
Some stays in NSW are just too good to be true and Little Valley Farm is absolutely one of them. Located about 90-minutes north of Sydney in Laguna, this charming farm brings together two great concepts: getting off the grid and alpacas. Little Valley Farm is all about getting in touch with your surroundings and the stays here operate in a way that minimises your environmental footprint. The owners are also registered alpaca breeders (so yes, you could potentially go home with one of these fluffy beings).
There are two rustic accommodation options to choose from and each gives you the freedom to be completely surrounded by bushland, paddocks (filled with the aforementioned fluffy 'pacas), and fresh produce depending on the time of year.
The T4615 Red Rattler is a converted 1950s train carriage. This guy packs a spacious bedroom with a queen bed, a camp-style kitchen, an outdoor wood-fired pizza oven, an outdoor bath with hot water, hammocks, and two yoga mats that you can roll out on the deck.
Love glamping too? Here are the best glamping sites to hit in NSW.
Image credit: Kumbogie Cabin, Jervis Bay Farm Stay, River Ranch, The Barn, Orchard Escape, Warramba Farm Retreat, Kumbogie Cabin, The Shearing Shed, Kimo Estate