If shopping at Kathmandu, wearing hiking boots (not the fashionable sort), tripping over pegs and poles, sleeping on the floor and waking up to the sweet smell of condensation inside a cramped one-man tent are all absolutely not your vibe but you do want to reconnect with nature and disconnect from crazy city life—this list is for you.
Whether you are planning a romantic vacation, a long weekend with your crew or a family adventure, we have dug up some of the best glamping getaways located in and around Sydney. Think sweeping properties, bubble tents with uninterrupted views of the night sky, waterfront views and giant free-standing baths.
Here are the 12 best glamping spots near Sydney.
Turon Gates Mountain Retreat
Turon Gates, Blue Mountains
Turon Gates Mountain Retreat is a 6,000-acre property in the beautiful Blue Mountains where self-catering glamping tents are dotted beside15km of crystal clear trout stream. Tents come with a four-poster bed, lounge area and a fully-fledged contemporary bathroom and kitchenette. Only a two-and-a-half-hour trip outside of the city, this pet-friendly retreat offers their guests a myriad of outdoor and indoor (no judgement) activities, like horse riding, bushwalking, canoeing and in-tent massages.
Distance from Sydney: 2 hrs 30 mins
South Coast Retreat
Greenwell Point, South Coast
Located in the Shoalhaven region just south of Batemans Bay, you won't need to pitch a tent or unravel a sleeping bag at South Coast Retreat's glamping set up. Your stay here has the added bonus of sparkly waterfront vibes and sea breeze, as the property's six African safari-style tents front up to the shores of the Crookhaven River. Inside your tent, you'll find a Tasmanian Oak queen or king bed, warm alpaca blankets and twinkling fairy lights. Fully equipped with all kitchen appliances, a large modern bathroom and BBQ fire pit, this is an ideal home away from home when you just want to escape Sydney.
Distance from Sydney: 2 hrs 50 mins
Paperbark Camp
Jervis Bay, South Coast
At the forefront of ecotourism and glamping in Australia, Paperbark Camp, fuses together luxury tent accommodation and delicious food and wine within a peaceful bush setting. This hidden gem is tucked away near the sandy beaches of Jervis Bay, and there are four different types of tents to choose from (including a king deluxe suite with a sunken bathtub).
Here, you can embrace a safari-style camping experience amongst the beautiful eucalypts and towering paperbarks. Shower in an open-air private ensuite while watching kangaroos, and be lulled into a peaceful sleep in a king deluxe bed without the fear of (literal) bed bugs biting. Forget canned beans and other regular camping snacks, Paperbark's onsite restaurant, The Gunyah, has you covered for fancy chef-prepared three-course meals (market fish, duck, lamb rump and more are regular features on the seasonal menu).
Distance from Sydney: 2 hrs 40 mins
The Escape
Clyde River, South Coast
Pitched along two kilometres of the Clyde River, The Escape is a glamping getaway that's completely immersed in the Australian bush. With the options of the luxury tents or a luxury studio (both fitted with bathrooms), you have the opportunity to embrace the traditional elements of camping, but without compromising on any sense of style, sophistication or comfort.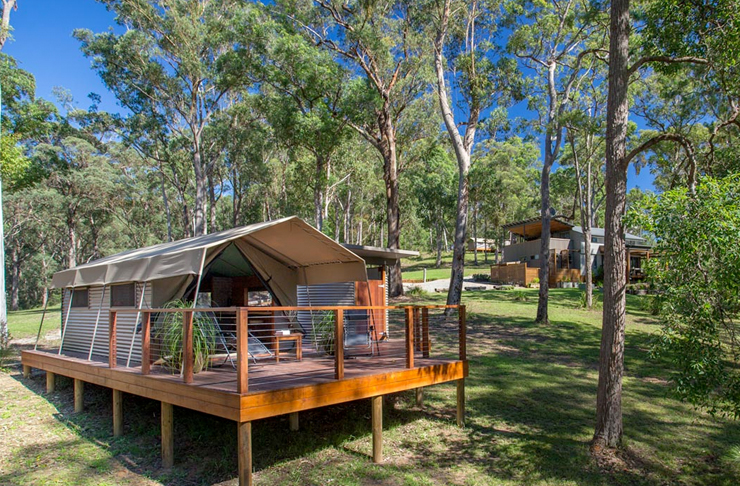 Nashdale Lane
Orange
If you think glamping and drinking wine goes hand in hand (of course you do) then this one is for you. Nashdale Lane is one of Orange's fully-fledged vineyards (and one of our favourites). Here you'll be glamping right beside the vines and Nashdale Lane's incredible cellar door, pitched on the rolling green hills that rise up to the mysterious Mount Canobolas. Each tent is decked out with a verandah, kitchenette, couch and dining area plus there's a BBQ area where you can cook up your own dinner.
Distance from Sydney: 4 hrs
Roar & Snore
Taronga Zoo, Mosman
Ever fancied waking up to the sound of a lion's roar or having a sleepover with a giraffe? Taronga's glamping experience means you can get up close and personal with the zoo's exotic animals as well as their incredible native Australian residents, as you relax in award-winning tents, situated perfectly with the spectacular views of the Sydney Opera House and the Harbour Bridge. This once in a lifetime experience includes an all-you-can-eat buffet dinner, an exclusive night safari and two fabulous behind the scenes tours of the zoo. You'll also have the opportunity to learn more about Taronga's extensive conservation programs, including their Australian wildlife appeal and the work they are doing to help our native animals recover from the recent bushfire disaster.
Distance from Sydney: 20 mins
Tandara
Lane Cove National Park
Situated 10km north of Sydney's CBD at Lane Cove River Holiday Park, at Tandara you will be surrounded by an abundance of flourishing gardens and the serenity of the natural world. Tandara offers a fabulous and luxurious alternative to the conventional way of camping, incorporating sustainable initiatives and eco-friendly principles. Who knew that you could simultaneously enjoy the picturesque views of the national park, while also relaxing in your safari-inspired tent that has its very own private ensuite, plasma screen TV and outdoor, deluxe kitchen. You really can get the best of both worlds.
Distance from Sydney: 30 mins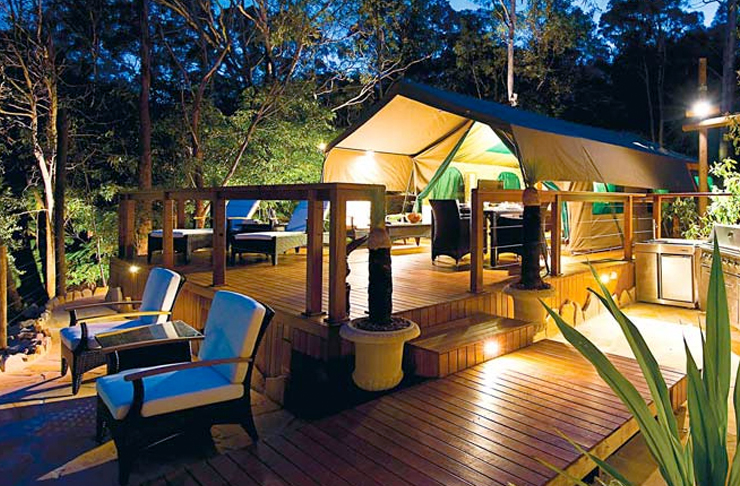 Sierra Escape
Mudgee
If wine, relaxation and 110 hectares of rolling hills is your glamping cup of tea, you'll want to add Sierra Escape to your local escape bucket list. Located just 20 minutes outside of Mudgee and home to all your fave Aussie wildlife (kangaroos, anyone?) this is the perfect location to take in the sunset after visiting all of Mudgee's incredible wineries. You could barely call them tents, but the humble abodes include everything from king beds to wood fireplaces, baths and even a private deck. Not to mention these are fully-fledged eco tents, so live it up in nature knowing that you aren't even leaving a footprint.
Distance from Sydney: 4 hrs
Bubble Tents Australia
Capertee, Blue Mountains
For one of the best "slow stays" around, Capertee's insane Bubble Tents are an absolute must. There are only three tents to stay in (each with a bespoke offering) but each tent gives you panoramic overviews of the second biggest canyon in the world. Aside from lapping up all the luxury of outdoor baths and a transparent tent made for all the midnight stargazing, you'll be in the prime spot to watch the sunset, go on a number of hikes, use the on-site telescope to spot your favourite constellations or take a helicopter tour.
Distance from Sydney: 2 hrs 50 mins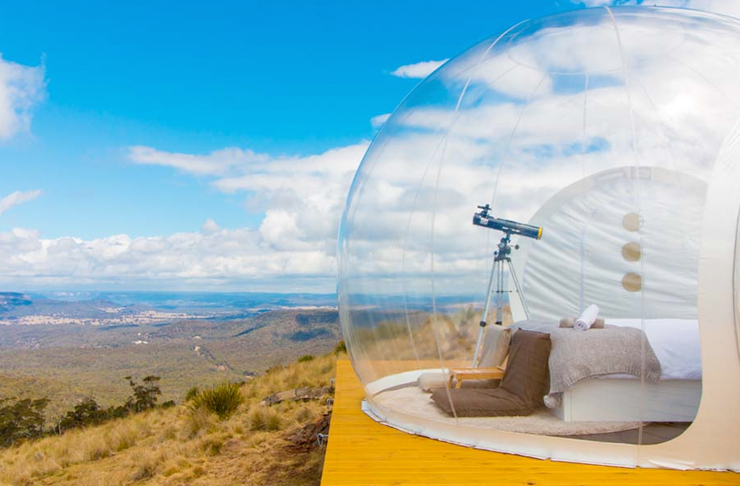 Cockatoo Island
Sydney Harbour
Don't want to travel too far? Only have one night to spare? No worries. Cockatoo Island, the largest island in Sydney Harbour, offers some pretty spectacular, award-winning glamping options. With full views of one of the world's most famous harbours, you're in for a real treat. Tents come furnished with Appelles Apothecary toiletries included.
Obviously, New Year's Eve on the island would be life-changing (front row seats for the fireworks), but with lots of events being hosted on the island, it pays to check what's on to see if it's worth adding in a stay-cay. For the next few months, you'll be able to take in the 22nd Biennale of Sydney and fuel up at an extra-special Mary's pop-up bar.
Distance from Sydney: 25 mins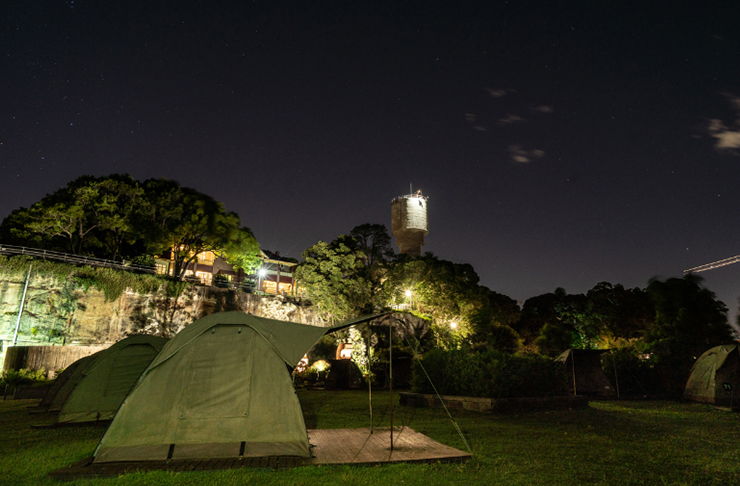 Flash Camp
Coolendel
In spite of the devastation of this summer's bushfire season, Flash Camp has re-established its Coolendel glamp site. Both "Camp Hollow" and "Camp Nest" feature six spacious six-metre bell tents, and both sites are perfect for individual tent bookings or a big group take over. Both also have their own communal areas and cooking facilities—including custom made campfire brazier with flat-plate grill (so pack your BBQ skills).
With plenty of recent rainfall, you'll be able to witness the regrowth of the Australian bushland. Flash Camp are also offering the opportunity to purchase native flora plants to sow yourself on the site, so you can help the bush grow and heal.
Distance from Sydney: 3 hrs 10 mins
Simple Pleasures Glamping In The Garden
various locations
Simple Pleasures offer pop-up glamping experiences—meaning they'll pitch a fancy five-metre bell tent on your behalf and pack it down after you leave. Inside the tent, you'll find everything ready to go—from fancy linen and duck feather pillows, cookware, a two-burner gas cooker and gas bottle, lighting and an outdoor table and chairs. Simple Pleasures service eight campsites including Mayfield Garden, Seal Rocks, Booti Booti National Park, the Central Coast and Forster.
Distance from Sydney: 2 - 4 hours (location dependent)
If you're ready to rough it, check out our favourite camping spots in NSW right here.
Image credit: Simple Pleasures, Turon Gates, South Coast Retreat, Paperbark Camp, The Escape Clyde River, Pauline Morrissey, Roar & Snore, Bubble Tents Australia, Tandara, Sierra Escape, Cockatoo Island, Flash Camp, Simple Pleasures