When it comes to choosing a coastal getaway in NSW, we aren't exactly short on options. Very high on our list of standout beach escapes is the Eurobodalla seaside town of Batemans Bay on the NSW south coast.
A four-hour drive south of Sydney, Batemans Bay is home to some of the best oysters in the country, pristine white sandy beaches, migrating humpback whale watching lookouts, national park bushland, waterfront restaurants and snorkelling trails.
If you're looking to pack up the car and escape to the beaches, this is your ultimate guide to holidaying in Batemans Bay.
Where To Eat And Drink In Batemans Bay
The Boatshed
You can't really discuss seafood or Batemans Bay institutions without mentioning The Boatshed. The waterfront eatery and fresh seafood hotspot has been owned and operated by the Innes family since 1955, spanning three generations of trawling nearby waters and serving up a local's favourite. Either pop past for some historic fish and fish and local oysters or book in The Boatshed's three-hour lunch cruise aboard The Escapade departing daily, letting you take in the region's beauty from the sea.
The Sandbar
Book a table at The Sandbar if you're looking to trade the casual fish and chip dinner for modern dining. Chef David Tinker's hatted coastal restaurant offers an intimate dining experience by the water, with a rotating tasting menu entirely dependent on seasonality and produce availability. That means while you can guarantee refined French techniques, Japanese inspiration and a damn delicious experience, what's on the plate depends on when you pop through. But it's safe to say you're in good hands.
Sam's Pizza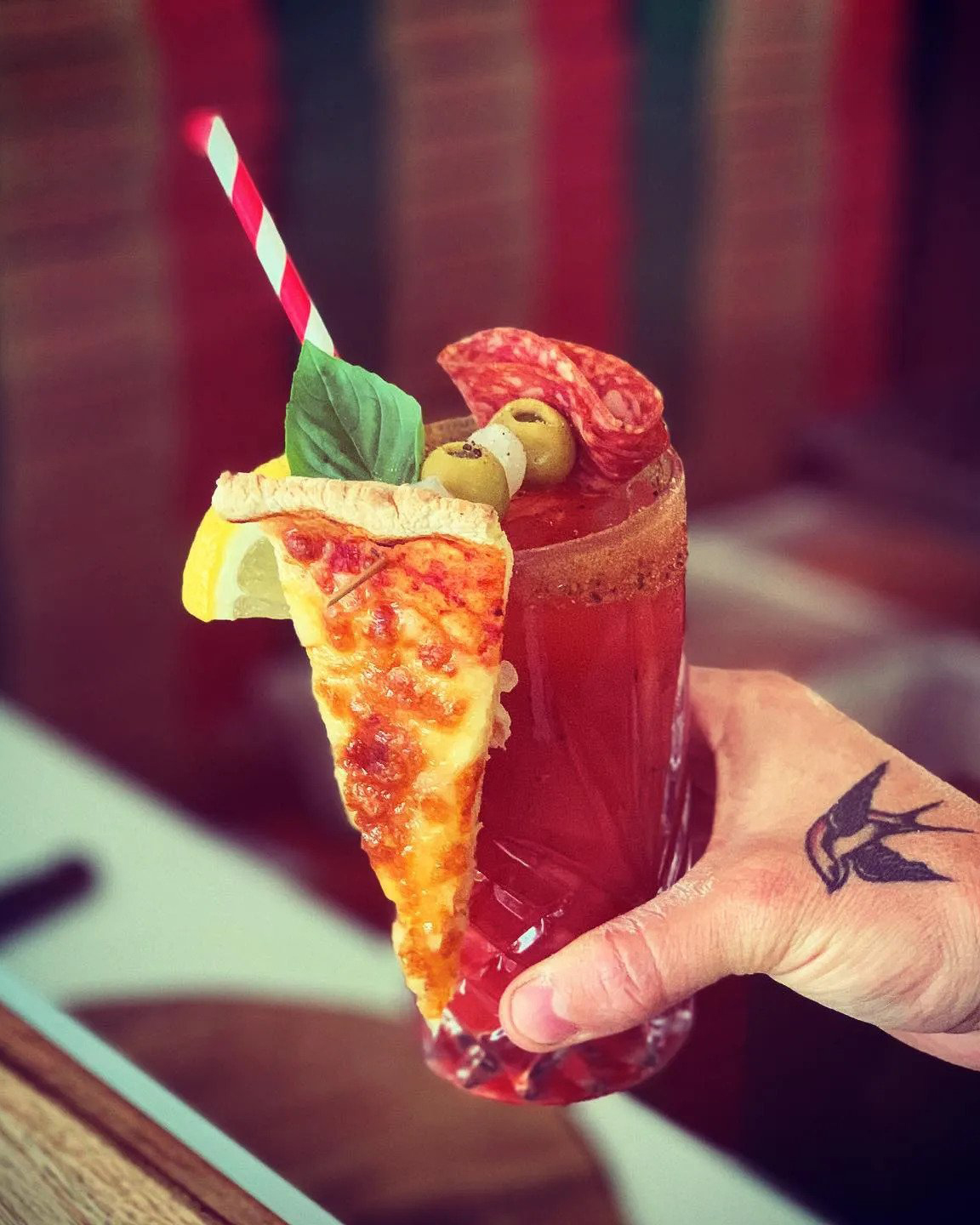 We're delighted to announce that a waterfront location may just be the absolute norm in Batemans Bay—no complaints here. Sam's Pizza has been slinging pizzas, cold beers and a spot to enjoy them on the Promenade under the sunshine since 2010. The alfresco Italian restaurant also serves vino, cocktails, pasta, salads and antipasti. But like all good Italian joints, you must leave space for dessert in the form of tiramisu, gelato or a dessert calzone—a pizza base filled with toppings like dark chocolate and hazelnuts, folded over and topped with sugar and ice cream.
Mami's Bar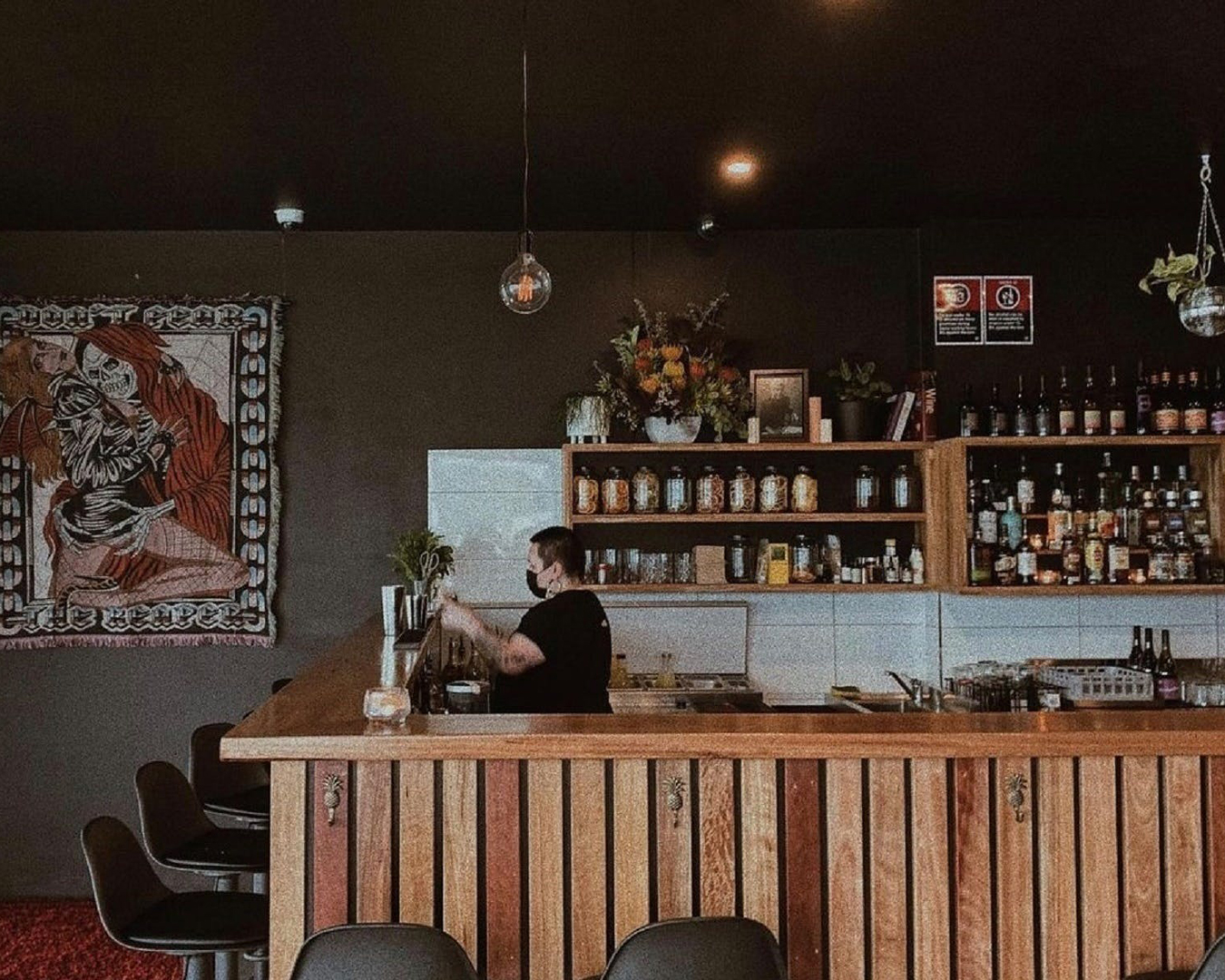 Travelling Sydneysiders should feel right at home at Batemans Bay cocktail joint Mami's Bar. Of course, this small bar sits on the water's edge with its intimate and friendly vibes. Grab a stool at the bar and order yourself a glass of natty wine, a craft brew tinnie or a classic cocktail. For food, you can expect snacks and shares like dumplings, tacos and oysters to go along with that highball or Tommy's margarita.
Things To Do In Bateman's Bay
Clyde River Oyster Tasting Kayak Tour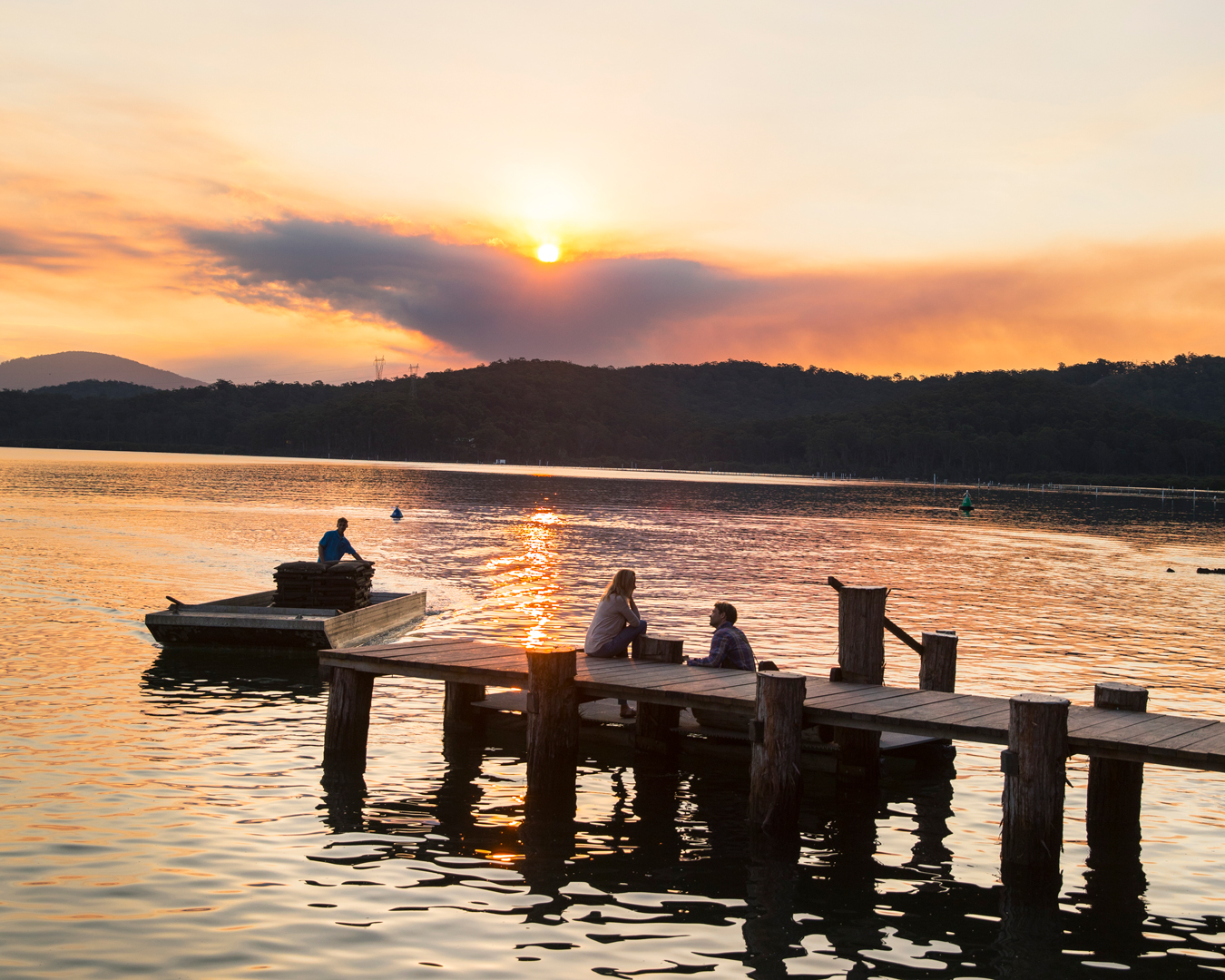 It's no secret that the Batemans Bay region is home to some of the best oysters on the NSW coast as a major culinary reason for visiting in the first place. It's also safe to assume that these parts are prime for kayaking. But whoever came up with the idea of kayaking around and sampling oysters essentially right out of the water—fresh as fresh can be—is an absolute genius. Oh yes, doing an oyster tasting kayak tour is on the cards in the bay as you explore the Clyde River Estuary system and National Park and paddle through live racks of marine farmland. You'll not just eat but learn a thing or two from famed local's spot, the Oyster Shed on Wray Street. Book here.
Spot Whales From North Head Lookout
Depending on what time of year you're visiting Batemans Bay, you might be fortunate enough to catch some of the 30,000 odd whales migrating up the NSW coast for warmer waters between May and November. You'll find plenty of whale-watching cruises up and down the state, but the Batemans Bay region is ideally peppered with prime watching spots you can perch up at. For something nearby, our pick has to be North Head Lookout in Murramarang National Park, an ideal vantage point for catching whales, dolphins, albatross, sea eagles and peregrine falcons. If you're keen to explore a little further north, head to Snapper Point Lookout. Both are easily accessible via walking tracks.
Eurobodalla Regional Botanic Garden
Don't assume that everything to do in Batemans Bay is linked to its pristine coastal location because the Eurobodalla Regional Botanic Garden is a must-add on your getaway itinerary. Discover easy walking tracks like the 1km Aboriginal Heritage Walk, which explores Indigenous use of local Eurobodalla plants or the 2km Forest track that leads you to a viewing platform overlooking Deep Creek Dam. You can explore the 2,000+ species of native flora and the extensive fauna roaming about for yourself or hop on a free guided walk. But more than just gardens to wander, the botanic gardens also host live music events and workshops that look at bush-friendly gardening or group art classes.
The Batemans Bay Snorkelling Trail
If you think the vast big blue that surrounds the Batemans Bay region is pretty to look at from the shoreline, wait until you pop on some goggles and check it out from the inside. Of course, you can jump in any body of water and explore what's beneath but aiming for a few famed spots will guarantee a mind-blowing experience. Start on the bay's north end at Maloneys Beach, easily one of our favourite NSW stretches of sand, for an underwater gander and a killer picnic spot. Next is Sunshine Cove Beach, which offers plenty of colour, rocky reefs, fish and even lobsters. Finally, go south to Guerilla Bay with a rocky island sheltering plenty of marine life.
Where To Stay In Batemans Bay
Coming Soon: The Isla
Motel glow-ups are definitely becoming a thing in NSW, and we are all the way here for it. The latest is The Isla in Bateman's Bay, which is due to open in early April 2022, is a stone's throw from Corrigans Beach. This aesthetically pleasing coastal motel offers 18 rooms, with some major nostalgic nods to its 1980s history. Think of an off-white, light terracotta orange and faded khaki green colour palette with bespoke vending machines serving up local goods and produce instead of minibars. If it's available, we highly recommend booking the Grande suite for your own private pool. Book your stay here.
Lincoln Downs Resort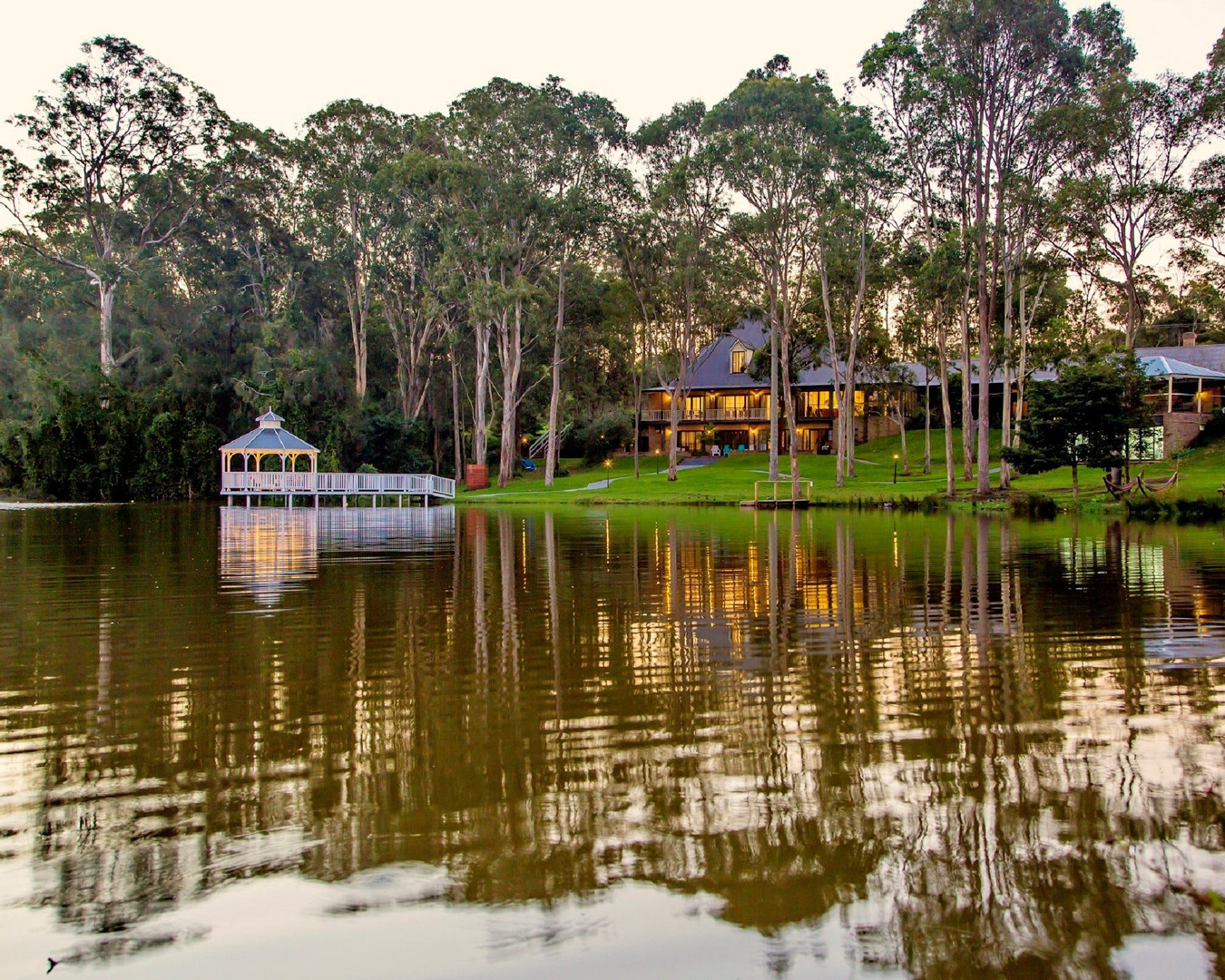 Admittedly, we're suckers for accommodation that employs the word "resort", but this lakeside spot is certainly deserving of consideration for your Batemans Bay stay. Lincoln Downs Resort is a boutique country retreat perched on a private lake amongst luscious green gardens in North Batemans Bay. Although you're not far from the beach, you'll probably be sticking around a bit for the hotel's outdoor pool, tennis court, gym, restaurant and lakeside hammocks. Book your stay here.
Beachfront Couple's Retreat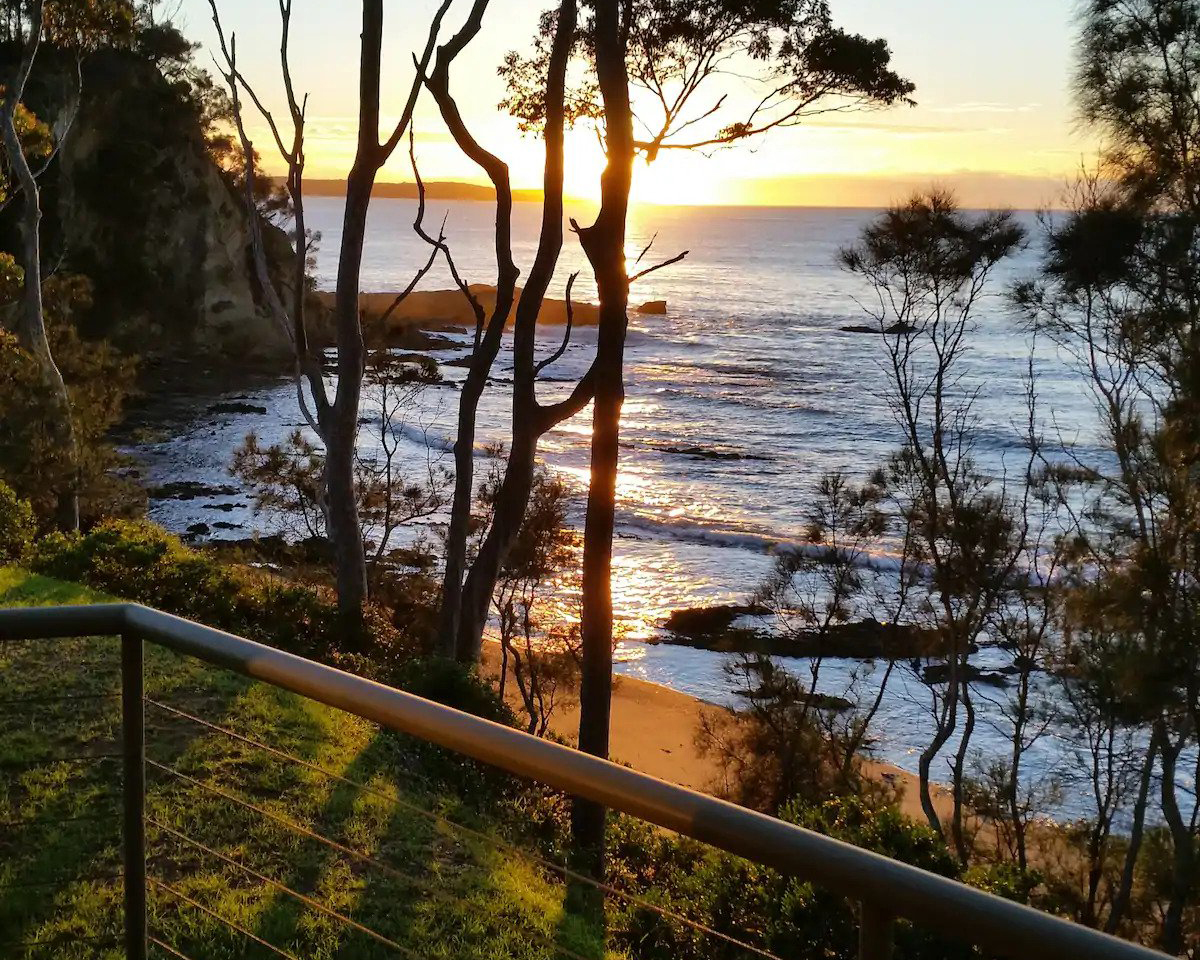 If you prefer to go down the Airbnb route, Batemans Bay has you covered. You might not find a more picturesque beach property or couple's retreat than this Sunshine Bay gem with its three levels of prime waterfront views, so close you might as well jump straight in the water from the balcony (definitely not recommended—we're exaggerating for effect). Enjoy the secluded beach below, relax on the outdoor deck or snuggle up by the fireplace if you're in town during the colder months. As you can imagine, this is a rather popular option in the area, so get on top of it and book early. Book your stay here.
Long Beach Home
Another Airbnb worth checking out sits just north of Batemans Bay in Long Beach. This two-bedroom home's biggest appeal is its outdoor area–a true entertainment paradise not too far from the beach. The villa-style back courtyard is kitted out with a heated pool, a spa, plenty of day beds, a BBQ area with an outdoor bench (big Love Island vibes), a wood-fired pizza oven, a large Balinese dining table and the bush as the perfect backdrop. Book your stay here.
For even more great coastal getaways in NSW, check out our guide to the best beach towns in NSW.
Image credit: The Isla, Sam's Pizza, Destination NSW, Destination NSW, The Isla, Lincoln Downs Resort, Airbnb
Editor's note: Urban List editors independently select and write about stuff we love and think you'll like too. Urban List has affiliate partnerships, so we get revenue from your purchase.