This is not the year that anyone had planned. Maybe you wanted to be romancing your way down Provincial cobblestoned lanes like Meg Ryan in French Kiss. Perhaps you wanted to be sipping Chianti and wearing linen, like Diane Lane in Under The Tuscan Sun. Perhaps your very specific fantasy was to find your doppelganger and become an accidental Italian pop-star like Hilary Duff in the Lizzie McGuire Movie.
Regardless of what your holiday dreams have been across 2020 and 2021, it's safe to say that this pandemic has thrown a major spanner in the works. Right now, we're crossing our fingers and toes that restrictions will ease up as the temperature soars, and we can hit the road for a well-earned, much-need summer escape.
Dare to dream with us and start scheming a post-lockdown beach holiday. To help you out, these are the prettiest beach towns in NSW (yes, even prettier than Santorini).
Avoca
Central Coast
Just an hour and a half from Sydney, you'll find the charming coastal town of Avoca. Soak up the sun at sandy Avoca Beach, a curved stretch framed by heroic headlands, Avoca is home to one of NSW's most stunning natural rock pools. Serious divers can even take in the stunning sea life that dwells in the artificial reef formed by the scuttled HMAS Adelaide that rests less than 2km from the shore.
We could certainly spend all day on the beach but luckily Avoca's got a lot more to offer than just her beautiful beaches. The Avoca Beach Picture Theatre has been screening blockbusters and indie pictures alike since 1948 and is one of the prettiest cinemas you'll ever see (plus it's licensed!). Avoca is also home to some of the best Italian food you'll find this side of Italy with Bombini, famous for its wood-fired pizza and fresh take on modern Italian cuisine.
Where To Stay
For groups, try this breezy beach house at neighbouring Copacabana Beach, or go all-in with this holiday rental smack bang on the sands of Avoca Beach.
Eden
Sapphire Coast
How beautiful is this town? Lovers of landscapes will be taken by the dramatic coastline, sun-glinting off sand dunes, and majestic forests all within reach. If you're heading down to Eden you'll need to pack your sea legs because it's home to the deepest natural harbour in the Southern Hemisphere and, consequently, home to a lot of boats—and whales.
If you're a fan of whale watching you can't go past the Eden Whale Festival, one of the best opportunities on the globe if you're looking for a front-row seat to the humpback whale migration season. Biblical beauty, small-town charm, and actual whales—need we say more?
Where To Stay
Ocean views from bed? That's a yes from us. Try your luck at booking this loft apartment that has both views of the beach and the river mouth.
Bundeena
Sutherland Shire
Just spitting distance from Sydney, Bundeena boasts some of the most stunning natural beauty you can find within a few hours from the CBD. With turquoise water, the epic beauty of the Royal National Park, stunning cliff sides, and some of the best walking tracks the state has to offer, this is a must-visit coastal spot.
Beach-wise, you can check out popular spots like Horderns, Gunyah, Jibbon and Shelly, or more secluded beaches such as Bonnie Vale or Marley. If you're looking to get your steps in with a walk, you can enjoy any of the major walking trails in the Royal National Park and check out the Figure 8 Pools and Insta-famous Wedding Cake Rock (please be safe here, guys). You could also walk to Jibbon Point and witness the majesty of the Dharawal Engravings, First Nations rock platform carvings located just 700m from the eastern end of the beach.
Where To Stay
We love this sleek modern apartment (the bath?!) and this sunny treehouse.
Palm Beach
Northern Beaches
What NSW beach town could be more iconic than the home of Home & Away itself? The jewel in the crown of the Northern Beaches, Palm Beach is less than an hour from Sydney (traffic permitting, of course). With gleaming blue water and very fancy houses propped on a cliffside, chances are this is as close as you're going to get to Positano this year.
The best thing about Palm Beach is its amazing versatility, you've got space to surf and sheltered swimming alcoves, and, just over the road on the Pittwater harbourside, you've got otherworldly beauty with headlands emerging from the water in a way that might remind you of Ha Long Bay. To get the best views we recommend doing the lighthouse walk, heading to The Bible Gardens or eating lunch on the deck of The Boat House, the latter has some damn amazing food as well so it has absolutely got to make the list.
Where To Stay
Palm Beach might be glitzy, but a beach getaway doesn't have to cost the earth with this cute beach shack at nearby Avalon Beach. We love the nautical theme at this sunny studio, this sustainable clifftop residence, and, if you're keen to splash some cash, check out the pool at this luxury villa.
Byron Bay
Northern NSW
Ok—Byron is hardly an under the radar spot but there's no damn way it wasn't making the list. For all the jokes we could make about her hippie culture and kombucha swigging millionaire surfer dude types, we've got to show some respect for the one Aussie town that's consistently luring A-Listers away from the States (we see you, Zac Effron).
If you're looking to indulge in foodie bliss, then you best believe that Byron will provide, The Farm from the Three Blue Ducks crew is all about paddock to plate eating, The Mez Club will give you the Mediterranean vibes that you'd want from a Greek Island holiday and The Balcony Bar and Oyster Co. will have you instantly thinking "Hamptons". The beaches? Well, they speak for themselves. Head here to check out our weekend guide for the entire Byron-Ballina area.
Where To Stay
You're spoilt for choice when it comes to cool accommodation in Byron Bay. Raes on Wategos is one of the country's best boutique hotels, while The Sunseeker is an 80s-era brick motel glow-up worthy of your attention. The Surf House has Byron's only rooftop bar, but we also love this cute couple's hideaway.
Jervis Bay And Shoalhaven
South Coast
The NSW South Coast might not have the glitz and glamour of the Côte d'Azur, but it sure does have some of the prettiest beaches in the world. Drive down to Nelsons Beach in Vincentia and engage in dolphin spotting while you stand in clean white sand. Explore the Jervis Bay Marine Park and the beautiful natural environment which is home to seals, penguins, dolphins, and seabirds galore. Plus, you can never look past Hyams Beach, which legitimately has the whitest sand in the world (they've got a plaque and everything to prove it!) and flat, clear water perfect for paddleboarding.
Where To Stay
This designer beach house can host up to nine and this classic 70s-style beach house has a backyard firepit.
Kingscliff
Northern NSW
Just about as close to Queensland as we can get right now, Kingscliff on the NSW's far north coast is a sleepy fishing village with one of Australia's most stunning coastlines. Located in The Tweed, this is a nature lover's paradise with clear blue water and fine white sand. Suit up in your best lycra and cycle out to Fingal Head and you're practically guaranteed to see some dolphins. Keep the endorphins flowing with fishing, surfing and kayaking and, if you're willing to strap on a snorkel, you might just catch a glimpse of a green sea turtle. Winning.
Where To Stay
You'll find us at this beautiful rustic beach house, complete with sun deck, firepit, BBQ, and all the chill vibes.
Patonga
Central Coast
The most southerly beach on the Central Coast, Patonga is sheltered from the open ocean waters meaning there are not just stunning views but sensational, peaceful swimming. If you're looking to work up a sweat before you go in for a dip you can't go past the Patonga to Pearl Beach walking track lined with beautiful native flora and bordered by two beautiful beaches—it doesn't get much better than that.
On the food front, check out The Boat House Patonga, owned by the same great team that brought us the Palm Beach and Balmoral editions, the Patonga outpost offers something a little different. There's accommodation for those looking to make a weekend of it, a traditional restaurant, and a classic fish and chip shop that will instantly bring back childhood memories with a crunchy potato scallop for just $1.50.
Where To Stay
Soak up the sea breeze at this sunlit cottage, or gather your mates together for a stay at the eclectic Rock Davis Beachhouse, perched among the trees and only about 100m from the beach.
South West Rocks
Mid North Coast
South West Rocks truly rocks (awful pun regrettably intended). Filled with foodie fun, opportunities to explore, and plenty of beaches for sunning oneself on the sand, South West Rocks has it all. Go all-in for action by making the trek to the gorgeous Mermaid Pools, enjoying one of the world's best cave dives at Fish Rock Cave, or hiking up to the Smoky Cape Lighthouse to drink in those sweet ocean views. Then peel off the athleisure gear and treat yourself to some well-deserved maple-glazed bacon French toast at Malt & Honey.
Where To Stay
Love the lighthouse? You're in luck—you can book a stay here. Camping is really where it's at in these parts—try the Trial Bay Gaol camping ground.
Yamba
Northern Rivers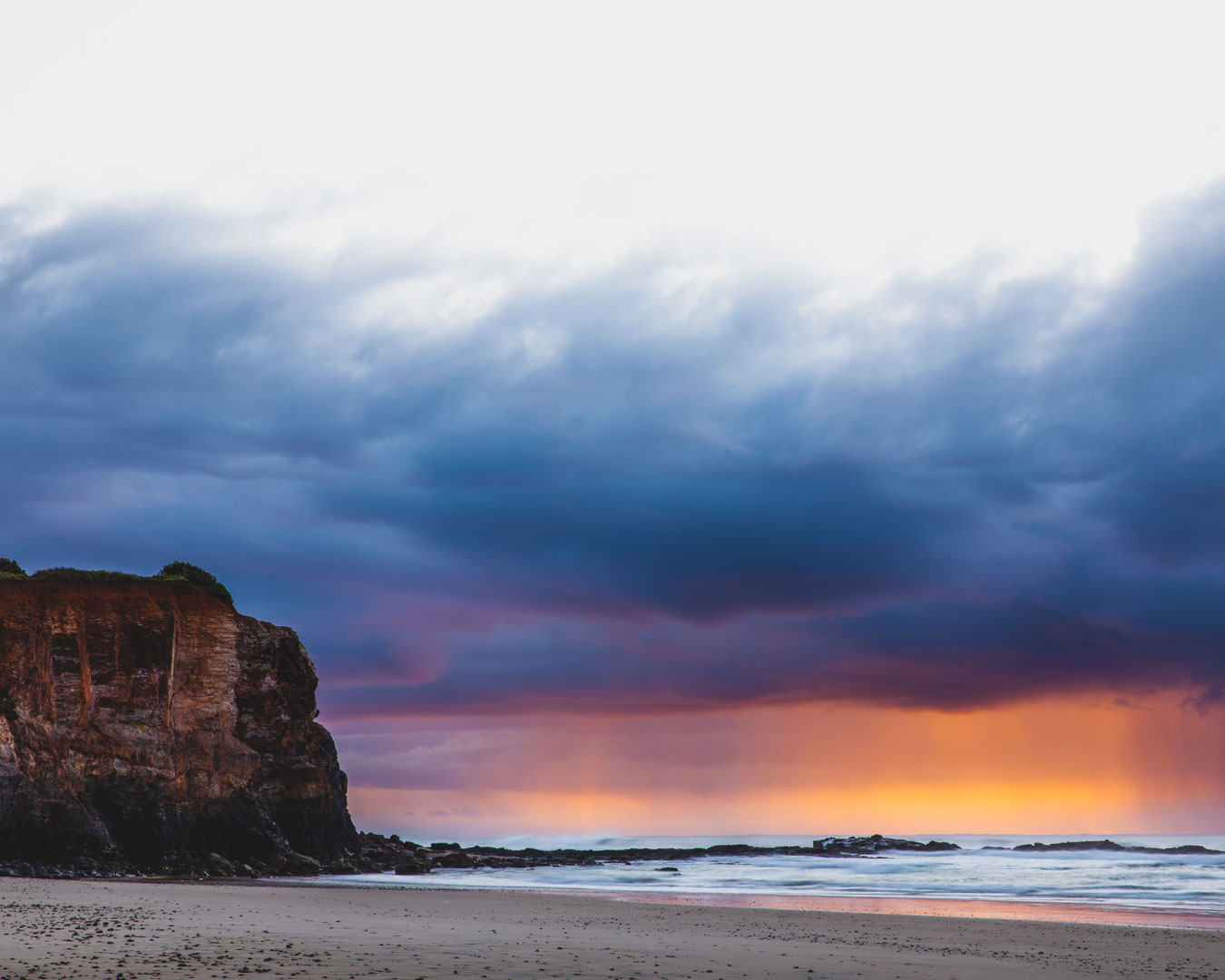 When you're heading up to the Northern Rivers region of NSW you might be tempted to go straight to Byron, but honestly, Yamba is giving Byron a run for its money these days. Yamba is filled with chilled-out vibes, dreamy turquoise beaches, an epic foodie scene—it's everything you love about Byron minus the hoards of backpackers and super-rich yogis.
And, as you'd expect from a town three hours from Brisbane, there are more beautiful beaches than you could poke a stick at. Main Beach is great but our personal pick is Spookys in nearby Angourie, which is a bit of a local's secret. Formerly a sleepy fishing village, Yamba has become a bit of a haven for foodies with a bunch of drool-worthy restaurants and some truly gourmet food markets.
Where To Stay
Try this coastal apartment with sweeping ocean views located just 5 minutes from the beach and 10 minutes from the Pacific Hotel, this renovated, stylish granny flat just 200m from the Clarence river, or this sprawling waterfront villa complete with pool, BBQ, and alfresco dining area.
Keep planning your summer getaway with our guide to the best oyster huts in NSW.
Image credit: Destination NSW
Editor's note: Urban List editors independently select and write about stuff we love and think you'll like too. Urban List has affiliate partnerships, so we get revenue from your purchase.