Tiny homes, glamping and eco-retreats may still be going strong but we'd like to introduce you to Australia's newest weekend escape obsession—the beach shack.
Decked out with nautical finesse, secret hot-tubs, loft-style bedrooms, open fire-pits and all the privacy and seclusion you could want for an easy weekend getaway—beach shacks are the perfect post-iso escape.
With that in mind, here are a few of our favourite beach shacks to rent near Sydney.
The Little Black Shack
Mackerel Beach, 1 hour drive
Pittwater is an absolute goldmine when it comes to scoring rustic beach shacks with pretty water views for days. The Little Black Shack, once an old fisherman's shack, has been transformed into a private eco-retreat and great news, it's only an hour from the heart of Sydney. If it's no roads, no cars and no shops you're after, this beauty is perfect. Surrounded by bush, it's a mecca of relaxation.
A weekend away at this cabin means you'll get to soak up the bubbles in a giant stone bath, read a good book on the window box couch, warm up in front of the fireplace, crack some oysters and down champagne at the sandstone terrace, go kayaking, bushwalk to Resolute Beach and even go fishing on the shoreline.
Hamptons Shack
Dangar Island, 1 hour 10 minute drive
For something a little more laid-back, hit up Hamptons Shack. Located on a private beach on the Hawkesbury, this little shed made of dreams features a mini-bar (stocked up with beer, wine and soft drinks) and an actual hot tub with views of the river. And dare we mention, this guy is pet-friendly too.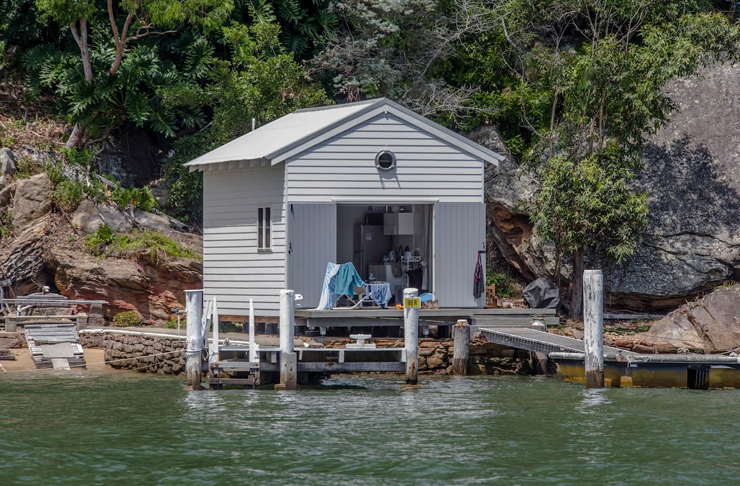 The Boatshed
Dangar Island, 1 hour 10 minute drive
This restored, waterfront cabin sends out all the rustic vibes you need for a no-frills getaway. Ready for all kinds of weather, The Boatshed features air conditioning and electric blankets. You can also expect a number of vantage points for water views. The upstairs balcony overlooks the Hawkesbury, while the shady deck beneath has tonnes of room for lounging. Make the most of the jetty (if fishing tickles your fancy), head over to Bradley's beach, or take to the water in one of the kayaks.
Pittwater Boatshed
Morning Bay, 1 hour 30 minute drive
For plus size jetty vibes, you're going to want to draw your attention to the rustic dream that is Pittwater Boatshed. This beautifully crafted waterfront cabin brings you plenty of seclusion but hey, if you're more the adventurer, you can also go for a bush-walk at Kuringai Chase National Park, or kayak while the sun rises. There's a couple of deck chairs to down your morning bacon and eggs, sliding doors so you can really let nature in, and a wooden ladder to take you up to your loft-style bedroom.
Private Boatshed
Sylvania Waters, 40 minute drive
If you're keen to wake up to sweeping bay views, we're thinking you should book this shack stat. Sorted with all the nautical vibes, wooden fixtures and a wide-open deck and entertainment space to boot, this Sydney boatshed is a complete dream. You'll also be a short drive from Sydney's Royal National Park which, if you're big on nature, means adventure is on your doorstep.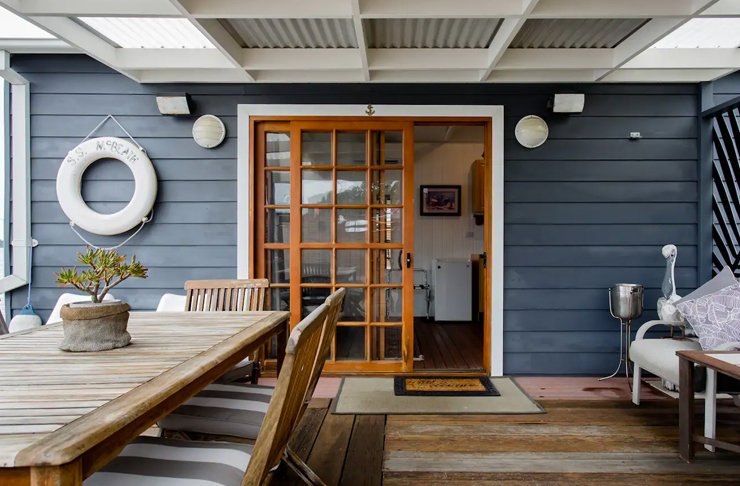 Secluded Waterfront Cottage
Lovett Bay, 1 hour drive
This sprawling waterfront beach shack is a total weekend getaway dream come true. We love it for lots of reasons: river views and loft-style bedroom, to the outdoor lounge with fire pit, the roaming chickens, beach access, long jetty and ample kayaking opportunities.
Oxley Boatshed
Bar Point, 1 hour drive
If you and your mates have successfully consolidated your annual leave, you'll want to hit up this beach shack (which to be honest, is more like a full-blown beach barn) for one hell of a staycay. This place boasts an original boatshed fit-out, a sandstone fireplace, kayaks, a private jetty and a private beach—so there's really no need to leave at all. If you are keen to explore though, we suggest heading to Peats Bite for a river lunch or even Spencer Village Store which will give you some of the best burgers, pizzas, juices and freshly brewed coffee around.
The Timber Boathouse
Scotland Island, 1 hour 20 minute drive
Say goodbye to the world and get cosy because this timber beach shack means a whole lot of island vibes. Designed by award-winning architect Richard Leplastrier, this beach shack has been crafted to shipwright standards featuring timbers and beautiful sandstone. The upper level has a winding sandstone staircase leading up to the open-plan timber studio, which overlooks a grass lawn below. You'll also have direct access to a sandy beach, a perfect place for swimming or to enjoy the added waterfront facilities of your private deep water jetty and pontoon.
For more ideas on weekend getaways, secluded getaways, tiny homes and cabin stays—hit up our local escapes section.
Image credit: The Little Black Shack, The Little Black Shack, all other images via Airbnb