Winter is the perfect time to bunker down and recharge. Instead of charging up your morning with an early start, or having a midday rumpus in a rooftop bar, the cold weather calls for long, pensive walks in the woods, and snuggles under a comforter with Netflix. Agree? Time for a cheeky little stay in a cottage near Sydney.
Hot on this list is a collection of cosy cottages in NSW perfect for your next getaway, filled with toasty fireplaces, secluded vibes and comfy couches to kick back on so you can work your way through that winter reading list.
Check out the best cottages in NSW.
Tailor's Cottage
Kangaroo Valley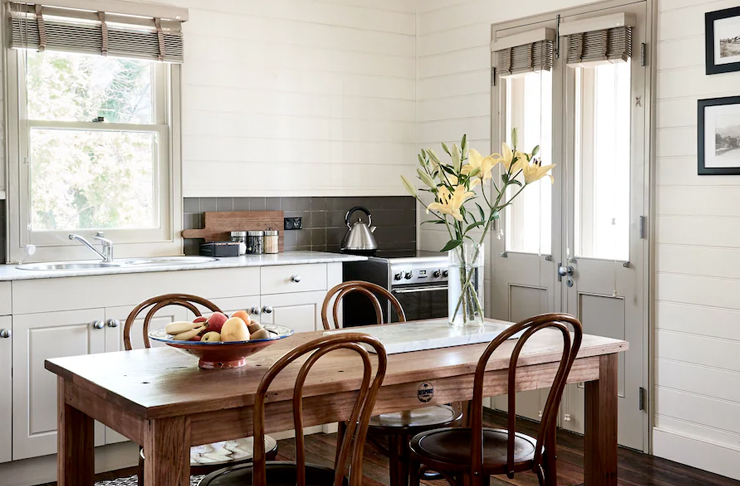 Fully self-contained, renovated, and a short stroll from local cafes and restaurants, Tailor's Cottage preaches cosy winter vibes within its heritage setting. This is the kind of accommodation you've been dreaming about staying at during icy nights and frosty mornings so pack your bags and don your best Ugg boots. Featuring a roomy front and back verandah, this cottage is perfect for the crew that loves to seriously stop and smell the roses with a bit of old school charm, not to mention it also sports a fireplace for all the post-dinner rug-ups.
When you stay at this cosy cottage in Kangaroo Valley, your booking also includes a heap of necessary supplies like local jams, eggs from the resident chickens, milk, sourdough, muesli, butter, spreads, and more.
The Cottage
Nashua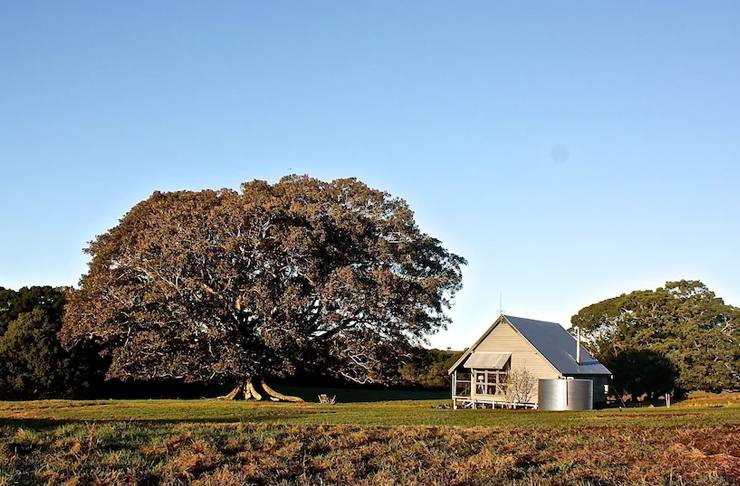 Picture yourself wandering this 120-acre farm on a misty morning. Heaven, right? The Cottage is located between Byron Bay and Bangalow and is a renovated 1890s coach house sporting cathedral ceilings, exposed beams, and polished floorboards—in other words, it's the quintessential cottage accommodation in NSW for when the mercury takes a dive. While you can definitely head out and make the most of a number of hikes and bike tracks, The Cottage has been designed so you'll never have to leave. Filled with everything you could need to make a wholesome meal (like an array of fresh produce and artisan products from the region) and a fireplace, this cottage is the kind of place we wouldn't mind being stuck in.
On the property, you'll also find an on-site restaurant (just casually) called Frida's Field, which offers up lunches every second Saturday of the month, as well as some prime fishing spots at the intersection of Byron Creek and Wilsons River.
Weatherboard Garden Cottage
Exeter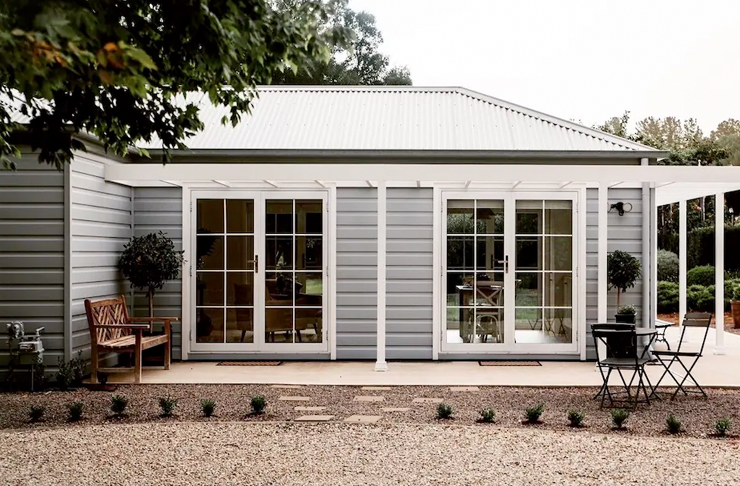 For those looking for a cottage that is equal parts luxury and quaint, look no further than the Weatherboard Garden Cottage in Exeter. If you've never made the trip to Exeter before, it's one of the hidden gems of the Southern Highlands region. About a 20-minute drive from Bowral, Weatherboard Garden Cottage is an open plan Hamptons style property with French doors and sitting on five acres of stunning gardens so get ready for a picture-perfect winter stay.
The Guest House
Hill End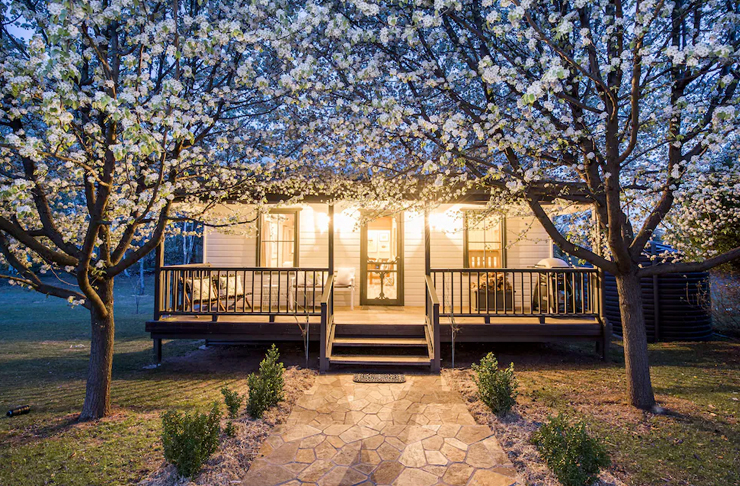 If you're about that morning coffee ritual set against the backdrop of that iconic country scenery, it's time you hit the road and took a weekend getaway to The Guest House. If you're keen to stick around the grounds, this secluded cottage keeps a fireplace and a fully stocked woodshed, a sprawling garden and an orchard where you can actually go and pick and eat whatever is in season.
Should you wish to branch out, you'll have the likes of the Royal Hotel for a classic pub feed, a General Store stocked with all the basics and even the Hill End Heritage Centre or History Hill Museum for your dose of Gold Rush history.
Mountain Cottage
Blackheath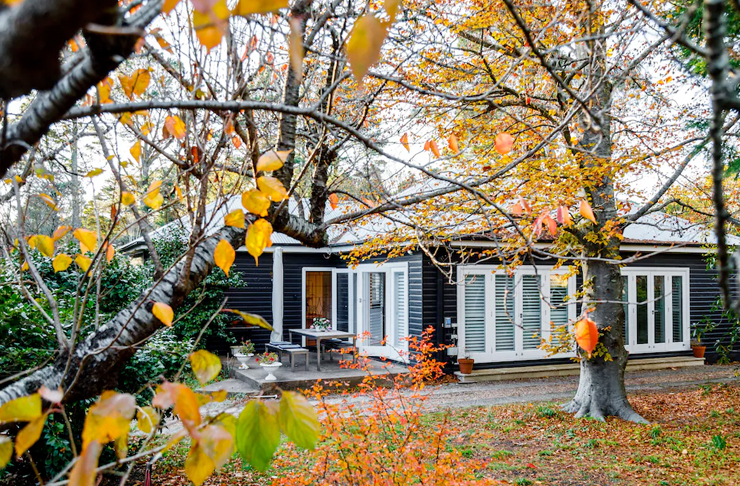 Dog parents can rest assured they'll get both the cottage and pet-friendly feels at this one. At Mountain Cottage, there's a whole lot of garden for your furry companion to make the most of and while Fido spends his day frolicking around the leafy surrounds, you'll be rugged up reading some fiction on the cosy couches, getting toasty around the fireplace or playing some scrabble and downing fresh croissants on the outdoor dining table. However you spend your time here, just make sure you soak up the golden glow of the red and yellow pine trees at this cottage.
Now check out this guide to the charming town of Boorowa.
Image credit: Stayz
Editor's note: Urban List editors independently select and write about stuff we love and think you'll like too. Urban List has affiliate partnerships, so we get revenue from your purchases.