Sydney is a coastal city that isn't short of sparkly beaches, ocean rockpools or a national park dotted with underrated swimming spots.
And, when it comes to absolutely jaw-dropping waterfalls, well, Sydney is practically surrounded by them. We're talking breathtaking gorges hundreds of metres high, prehistoric pools and all the lush rainforests you could ever want to immerse yourself in.
Here are the best waterfalls you can actually visit in and around Sydney.
West
Wentworth Falls
Head towards the Blue Mountains for your dose of one of the best waterfalls in NSW. Yeah, this bad boy is boasting some serious Lord Of The Rings vibes and a vista that's nothing short of jaw-dropping.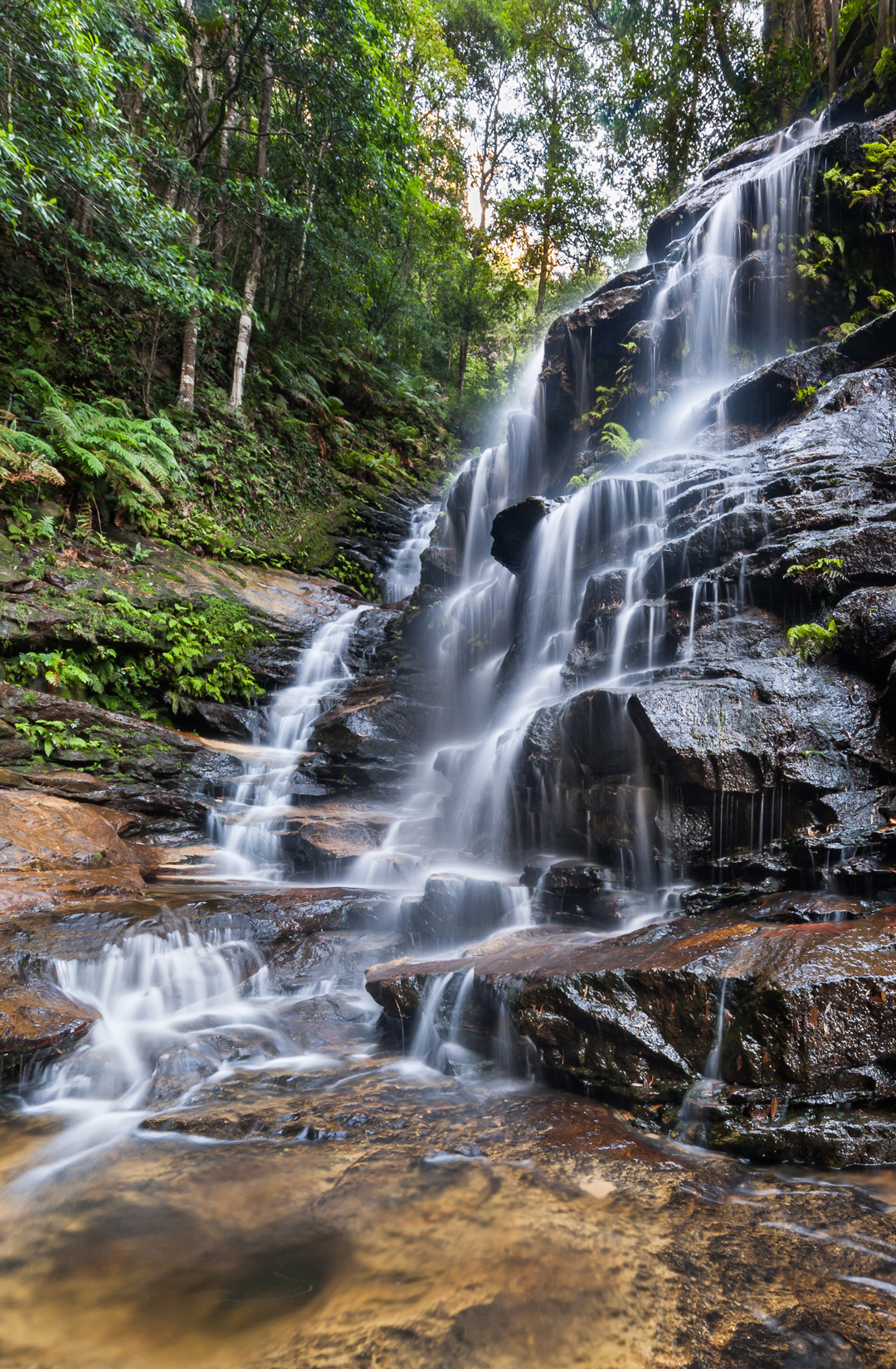 Katoomba Falls
This one forms part of the Kedumba River and the best way to get here is to park up at Scenic World and following the Round Walk Trail. And you'll want to stop at Juliet's Balcony—that's your first chance to check out the falls and a swift panoramic view to match.
Minnehaha Falls
For something a lot more private, Minnehaha Falls is your go-to. It's a dreamy little place with a swimming hole so beautiful no ludicrous Hollywood set could ever rival it. To get there, drive through Katoomba to Yosemite and walk 15 minutes down from the car park. Be brave, breathe deep and take the plunge—this is one of Sydney's best hidden waterfalls and you won't regret it.
South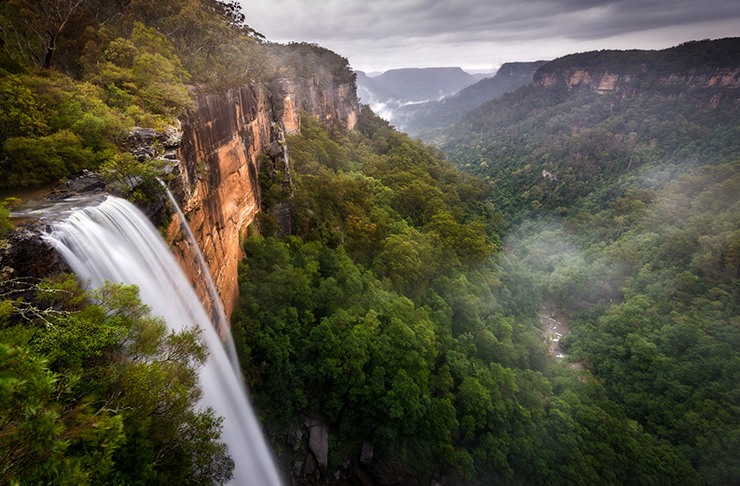 Wattamolla Falls
Nearby, you'll also be able to set your sights on Curracurrong Falls because when it comes to the Royal National Park, the falls are endless (well, kind of). You'll also be within reach of Winifred Falls, which you'll find if you take the mildly challenging 4km walk from Audley.
Paddy's River Falls
Even further is Paddy's River Falls, which has carved itself into the landscape to the west of the Australian Alps and therefore benefits from the melting snow. Time this one right and you'll be onto a winner—you can stand behind the water and feel like you're the Last of the Mohicans).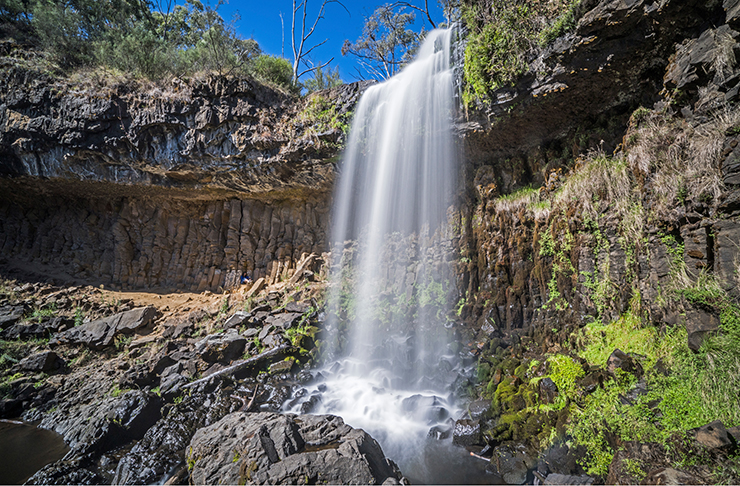 Minamurra Falls
Follow the elevated Falls Walk in Budderoo National Park to take in some stunning rainforest surrounds—think trickling streams, moss-covered rocks and feathered ferns beneath you. Catch butterflies and lyerbirds along the way, then take in the picturesque lower and upper Minnamurra Falls.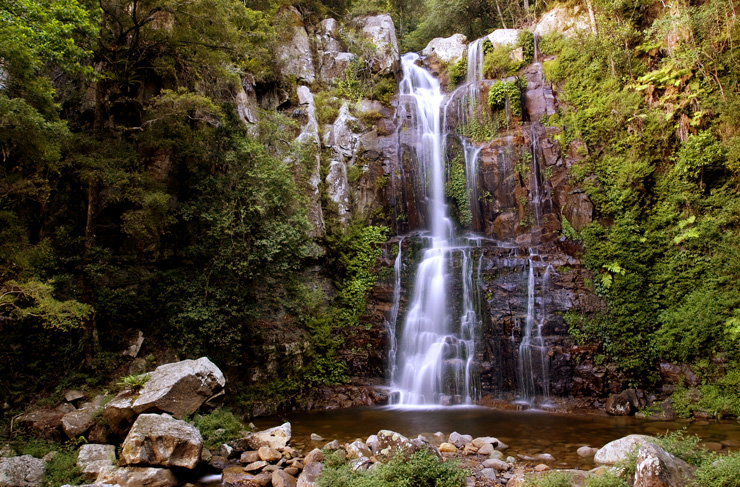 Fitzroy Falls
If you've still got a bit of time up your sleeve, there are a couple of magnificent falls a little further south in the Southern Highlands and shout out to Fitzroy Falls in Morton National Park (definitely one of the best waterfalls in NSW). Basically, this is nature's version of dropping it real low. You'll also find the Fairy Bower Falls around here which is just a mossy rainforest dream.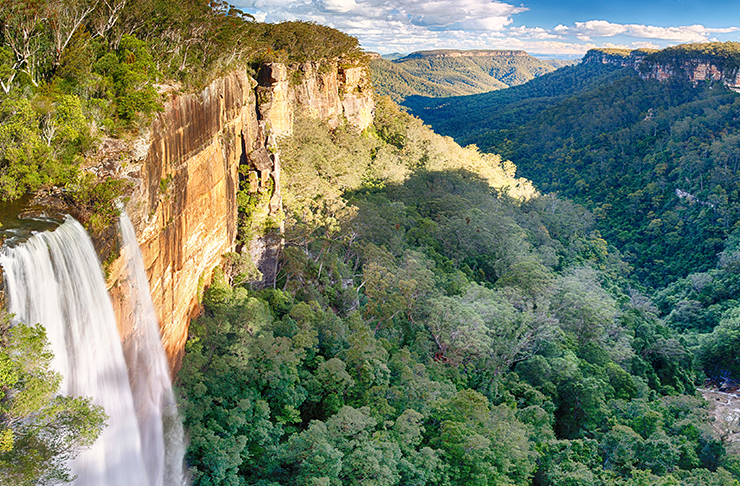 Carrington Falls
Located in Budderoo National Park, Carrington is the real deal when it comes to cascades, waterholes and rockpools. Yep, the Kangaroo River plunges over 50 metres and you can watch this epic shower at Thomas Place, the resident picnic area. Honourable mention must go to the hidden waterfall known as Nellies Glen as well (which lies just a touch upstream from Carrington) for being one of Sydney's most glorious swimming holes.
North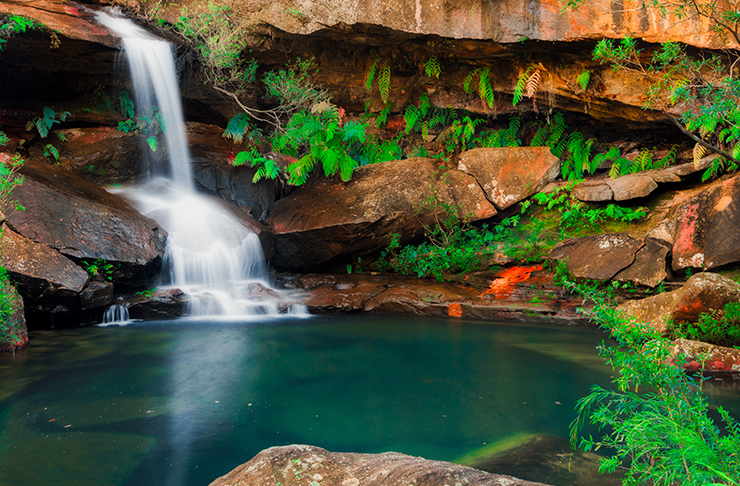 Waterfalls Way
Finally, Waterfalls Way should well and truly be on your adventure bucket list. Cue a 191km drive that weaves through the lush varying landscape of the New England Region. The tumbling waterfalls you'll witness along this almighty road trip include Apsley, Ebor, Tia and Wollomombi Falls.
Collins Beach
If following lane dividers at your local swimming pool is getting more than a little bit tedious, then it's probably time you headed north on a waterfall chasing road trip. FYI this one really takes the biscuit. If you're feeling lazier than a hungover sloth, or you don't trust your car's ability to do the kilometres, then a dip under Collins Beach waterfall near Manly may be just the ticket to paradise. Let's be real—it's an easy win which we're all about.
Gledhill Falls
Head up a little further to Ku-ring-gai National Park where the elusive Gledhill Falls sits because she's most definitely one of the most magical hidden waterfalls around Sydney. This beauty is home to a swimmable 10-metre pool beneath one charming as hell waterfall and you'll also find a small sandy strip too on one side.
Meanwhile, these are all the best hidden beaches in Sydney.
Image credit: Destination NSW, Destination NSW, THPStock, Leelakajonkij, Destination NSW, Destination NSW, Andre Distel