One of the better things to come from the year 2020 is the new and improved "staycation" or rather—the "workation". It's an office sea change of sorts, where you ditch your usual desk situation and for greener pastures and basically, holiday while you work. Yep, it's now totally acceptable to relocate yourself for a week or two and continue your nine to five WIPs, deadlines, and creative brainstorming sessions, just with some new surroundings.
To help you upgrade your Zoom backgrounds with a more real change of scenery, we've searched high and low for some of the best places to shack up for a week with great phone connection, Wi-Fi, power, and charging points so you can have a change of work scenery with minimal hassle.
These are the best places for a workation in NSW.
Barefoot Bay Cottage
Byron Bay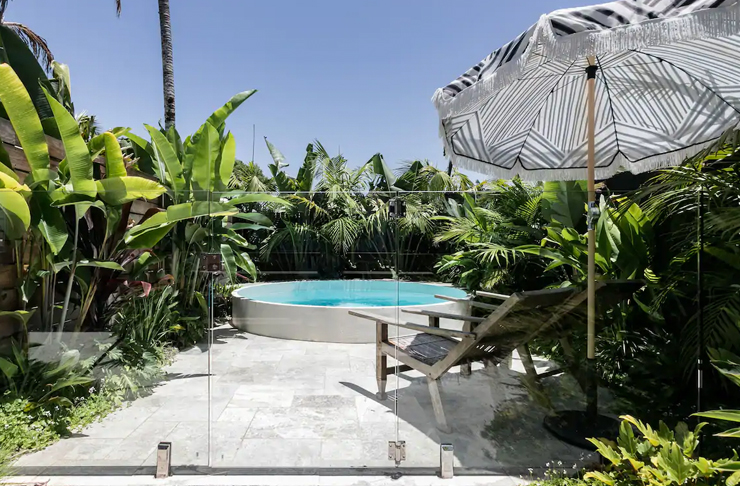 Let's just say if you have a mammoth team brainstorm coming up, Barefoot Bay Cottage would be the absolute best place to hit. Capable of accommodating up to eight people, this coastal cottage houses a number of spaces to get your work-mode on. Check your emails on the hanging chair, let your creative ideas fly in the outdoor bath, and trade your next big project thoughts on the outdoor long table. The coffee maker here is also just as good as your usual daily trip to your local cafe.
Bliss Cottage
The Pocket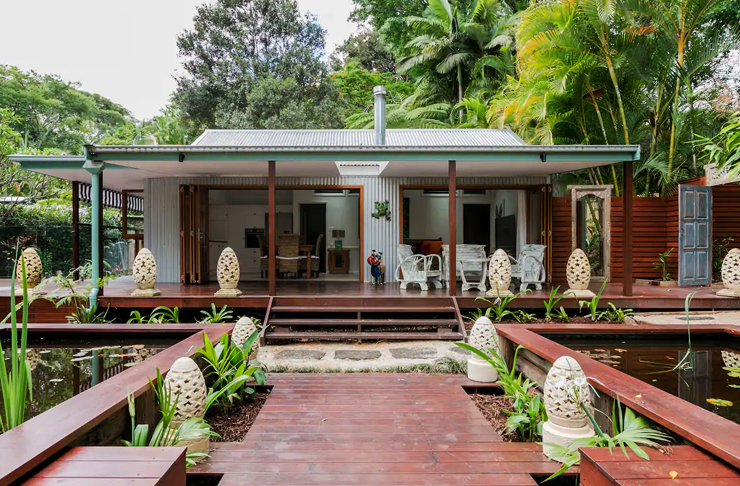 You'll never find a creative sanctuary quite like Bliss Cottage. This absolutely stunning two-bedroom cottage sits on a comfy five acres of sub-tropical gardens (equipped with rainforest greenery and a running creek). While this beauty is secluded, you'll still have all the specs to make this one epic workation worth the trip. That means Wi-Fi at the ready and a sling of beaches, restaurants, cafes, farmers markets, and parks just a short drive away. Your morning WIPs can be taken on the covered deck and your lunchtime break has to be spent in that ever-beautiful private pool straight from the travel pamphlets of Bali. In a place like this, you won't mind working overtime.
Drop-In
Bendalong
We mean, who wouldn't want to take a workation in a seriously beautiful restored 1950s beach cottage? Exactly. At the Drop-In you'll be a cruisy 400-metre stroll from Bendalong Beach and an even shorter stroll from the OG Bendalong General Store & Cafe to grab those work snacks and pre-meeting caffeine hit. The indoor fireplace is a vibe during those cooler nights, the espresso machine speaks for itself, and the Bluetooth speaker is there to blast your favourite work playlist. You'll also want to make the most of the outdoor deck (your go-to every sunrise and sunset), the private backyard, and the outdoor bath.
Carrie's Cottage
Nelligen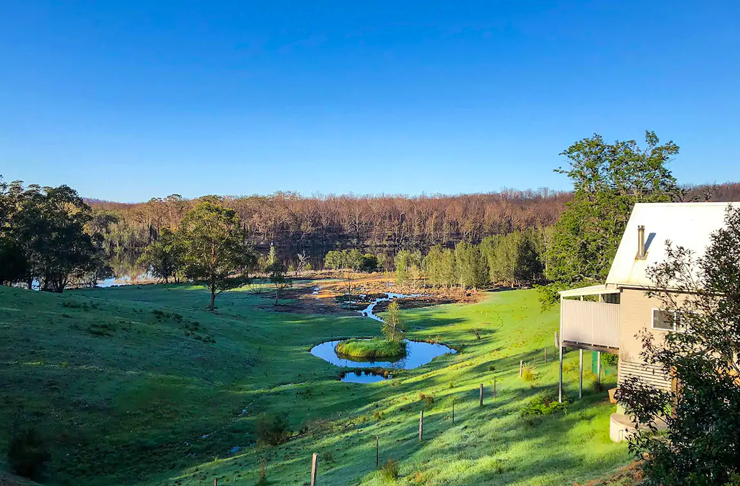 Carrie's Cottage takes into account you might have a fur baby of sorts (that is, your four-legged companion is more than welcome here) and gives you some of the best views to spark that next business idea. Totally self-contained, you'll be able to pop those focus goggles on and immerse yourself in all those tasks you've been putting off with ease all thanks to those a dreamy view of the Clyde River. Around your nine to five hours, you can go for a kayak, fish, chill on the pontoon, or wander around the 40-acre property.
The Shed
Blue Mountains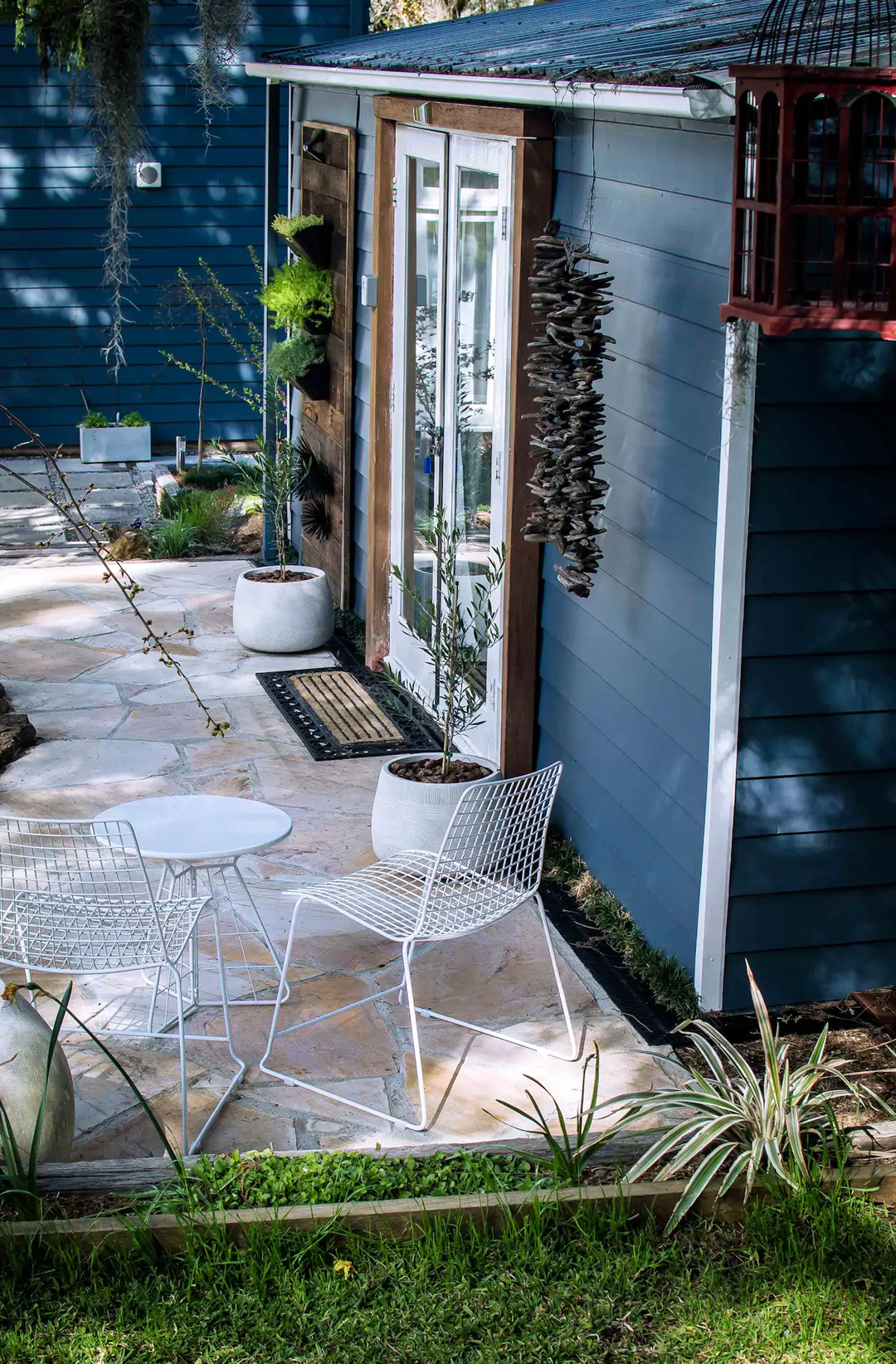 It's pretty handy having the Blue Mountains just a short drive away. It's even handier that you can reconvene your workstation to this beautiful and enchanting converted shed. The Shed spans 36 square-metres of studio space and packs a king bed, a lounge suite with great natural light for your Zoom calls, a ripper dining table to work from, an espresso machine (like we need to explain), and, when you clock off after 5pm, a bar fridge.
You'll find some solid Wi-Fi here and USB charging stations at your bedside too. The outdoor seating game is also pretty next level, so you'll want to make the most of the sandstone terrace and rock garden when you do some pre-work cardio sessions at sunrise.
Historic Timber Barn
Mullumbimby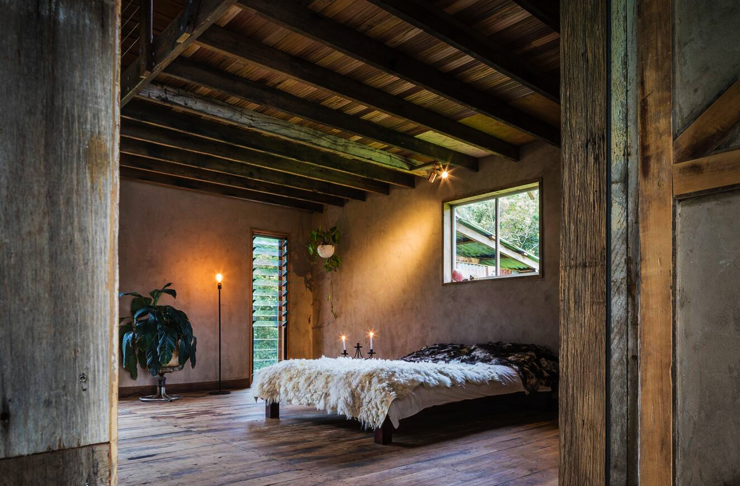 For the creatives out there, in a lull or working dang hard to meet a deadline, Mullumbimby's Historic Timber Barn is a match made in heaven. Because what sparks creativity more than a secluded barn that opens up into an exposed deck that overlooks the floodplains of the Brunswick River?
This guy is completely furnished with a queen-sized bed, lounge, and desk so you can set up your workstation to the epic soundscape of the surrounding forest, and you'll find decent power, Wi-Fi, and heating here to make your stay a cruisy one. Plus, after you've put in the work, you can explore the town, head to Wandana Brewery, hit Brunswick Heads Beach, go fishing on the Bruns River, go kayaking, or even take a sneaky hike to Minyon Falls.
The River House
Hawkesbury River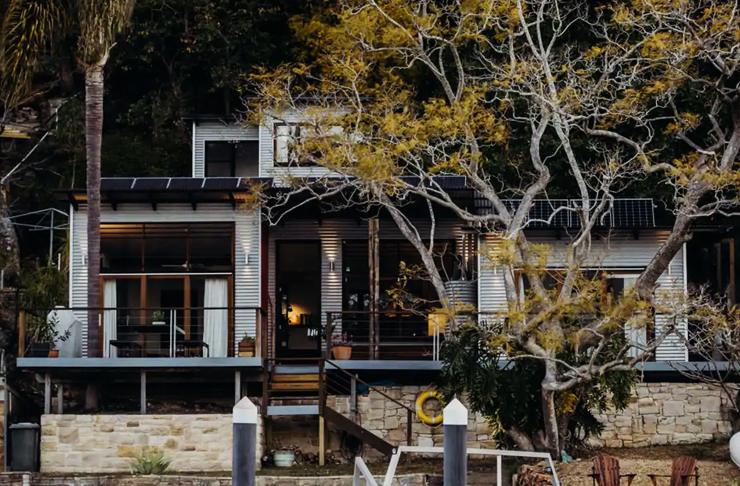 This off-grid house is the perfect oasis if you just need a change of scenery to crank out some big projects. Located 45 minutes north of Sydney on Berowra Creek, it backs onto Marramarra National Park, for all your pre or post-work adventures.
The River House features an open plan living space so you can spread your workstation into every nook and cranny and there's a private beach, grassy front garden, and a hammock to amp your lunch break vibes. You'll have great Wi-Fi here, but the hosts aren't on an unlimited plan so if you do use a lot of it, you'll just be charged an additional fee to cover the cost.
Frog Hollow Lakehouse
Lillian Rock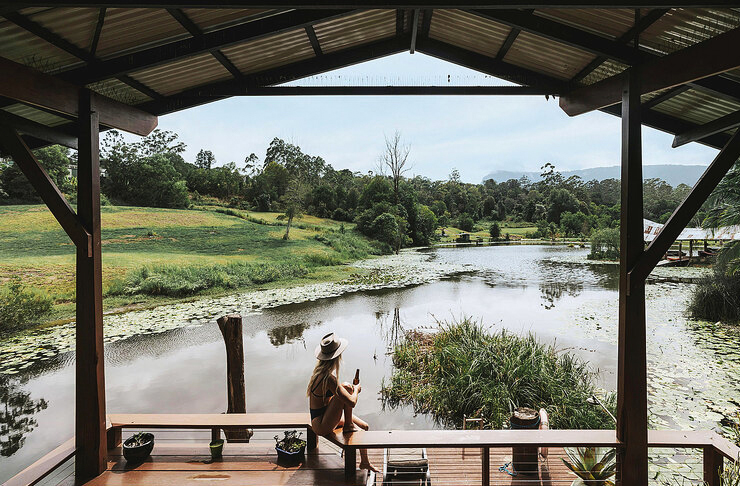 If you're keen to hit the double-whammy of winding down while working (it is possible), then grab your laptop and make haste to Lillian Rock in Northern NSW. Frog Hollow Lakehouse unfolds into a pretty pond and contains big nature views to backdrop your weekly client meetings. There's Wi-Fi access across the entire property, a coffee machine to fuel your day, and private massages or yoga sessions to make your workation really worth it.
Bush Getaway
Jervis Bay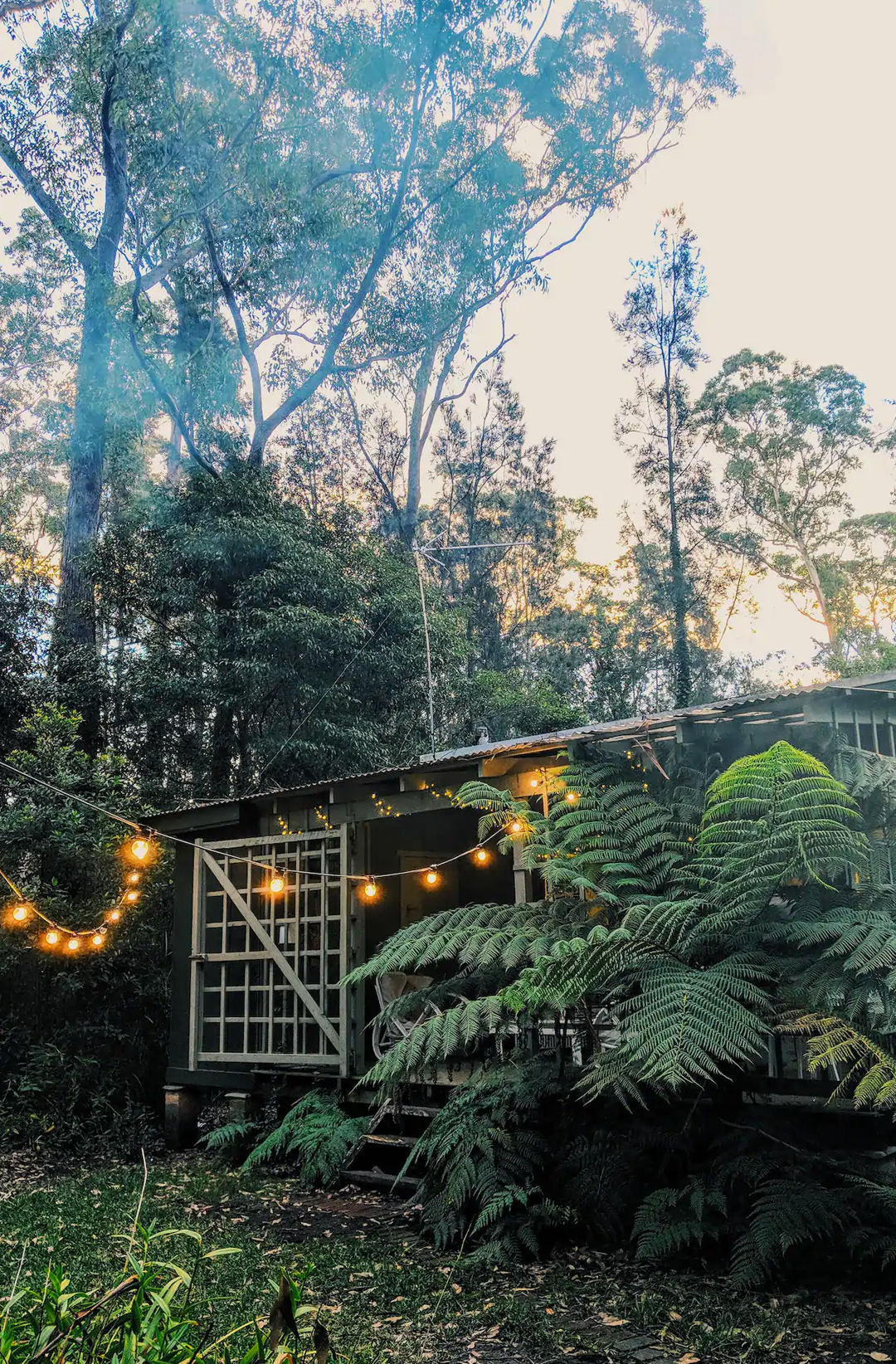 This cosy bush getaway is a 10-minute drive from the best beaches in Jervis Bay. The place has been decorated with art from communities in the Northern Territory, and there's a heap of indoor plants, nice lighting, and comfy furniture that will make your workation a real treat. You'll also get a tasty dose of nature here, in case you've been riding the hectic city wave a bit too much of late. Slow down with resident Kookaburras, finches, ferns, and towering gums.
The living and dining area is probably better than any office you've actually worked in with a well-stocked kitchen, fridge, kettle, coffee, tea, and a SodaStream. There's also a cute front deck that catches a few rays from the morning sun, the perfect setup to run through those morning emails.
Charming Australia Holiday House
Patonga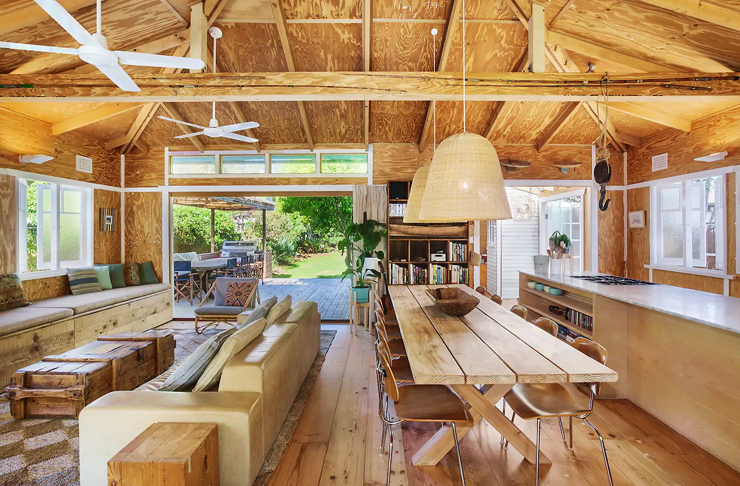 This quintessential Aussie holiday house is sure to make any workation feel like an epic vacation. Once an old bungalow, this guy has undergone an epic open-plan renovation, which means the world is really your oyster when it comes to where you could set up your temporary "WFH" situation.
There's a long dining table if you need space sprawl, an outdoor entertainment area, which will no doubt make working Photoshop a breeze, and a number of grassy knolls to hit for any brainstorming sessions.
Prefer a staycation instead? These are our favourite hotels in Sydney.
Image credit: Barefoot Bay Cottage, Barefoot Bay Cottage, Bliss Cottage, Drop-In, Carrie's Cottage, Airbnb, Airbnb, Airbnb, Frog Hollow Lake House, Airbnb, Airbnb