Making a dash from Sydney to the Central Coast for a cheeky weekender is almost always a good idea. Serving up a satisfying mix of creamy barista-made coffee, boutique accommodation and tasty, seafood-driven menus—with a backdrop of sweeping coastal views, endearing jetties and lush bushland—the Central Coast undeniably grows more gentrified with each visit yet simultaneously keeps its relaxed, small-town charm well intact.

Whether you're seeking a few days of solitude, a day trip far away from your laptop or simply something different to do to keep boredom at bay, we've teamed up with Destination New South Wales and Destination Central Coast to bring you a trove of delights just waiting to be uncovered.
So, it's about time you plug the Central Coast into your Google maps and hit the road—here's everything you need to eat, see and do.
EAT
The Glass Onion Society
If you're particular about your beans, milk and barista-made brew (we're with you), there are a few great places to kick-start your day. The Glass Onion Society in Long Jetty is a crowd favourite, dishing up exceptional, honest and hearty dishes with a side of live music, art and culture. Offering all-day breakfast and lunch until 3pm, you can expect tasty plates like The Hangover Burger with smashed avo, roasted field mushroom, hash browns, lemon kale and homemade beans (need we say more?), or the Cheeky Chicken Burger made with crispy buttermilk spiced chicken, smashed avo, halloumi, slaw and Sriracha mayo. The warm and welcoming decor is brimming with vintage accents, local art, leafy plants and comfy couches bound to make you feel at home. It's a total vibe.
Like Minds
Taking a similar approach to fresh produce and cafe dining is Like Minds in Avoca. With a focus on sustainability and zero waste, this cosy, relaxed cafe is awash with eclectic art and boasts an on-site garden and buttery beans from one of Australia's first female-led roasters, Fat Poppy Coffee Roasters. While their menu is forever changing to align with the best seasonal produce, you can expect unpretentious, delicious and flavourful brekkie faves like curried eggs, smashed avo and Vegemite toast, and eggplant kasundi with poached eggs.
Lords Of Pour
Speaking of tasty beans, you'll find a few speciality hotspots in Ettalong including Lords Of Pour. Serving up brews, booze and housemade fresh food with a modern twist, Lords Of Pour is a friendly hole in the wall-style cafe right next to vintage go-to Tiki Lala. Order up an all-day breakfast like the cheesy Chorizo Scram or the Avo Deluxe 2.0 made with hummus, fried chilli and pomegranate balsamic pearls and peruse Tiki Lala while you wait. Just moments from the sand, Lords Of Pour is also around the corner from both The Box On The Water and Coast Cafe. They're a hop, skip and a jump from the Sydney fast ferry and all walking distance from one another dishing up delicious bites and coffee that could give Sydney's best a run for their money. Dine-in or takeaway and soak up stunning water views with a stroll along Ettalong's bustling esplanade.
Sasa Sicilian Street Food
One of the peninsula's best-kept secrets is Sasa Sicilian Street Food. The blink-and-you'll-miss-it tiny artisan bakery buried underneath Ettalong Cinema Paradiso is dedicated to European-style sweets and savoury treats and is a must-try. Load up on Sicilian-style cannoli, freshly baked sourdough bread loaves, flakey homemade almond croissants and chunky focaccias—their ever-changing menu means there's always a delicious new treat on the shelf to wrap your hands around.
The Oyster Shed
While oysters can sometimes divide a table, if you're looking for the freshest, you must swing by Hawkesbury River Oyster Shed in Mooney Mooney. Nestled at the southern foot of the Central Coast just before the Mooney Mooney bridge, this charming, little oyster farm has recently undergone a renovation, transforming it into an all-round oyster farming experience with the option to tour, dine-in and takeaway. Priding themselves on shucking quality oysters with environmentalism at the core, The Oyster Shed plates up some of the freshest and creamiest oysters in New South Wales—but for a fraction of Sydney prices.
But, seriously… that's just the tip of the Central Coast's culinary iceberg. If you're looking to lean into a sit-down dining experience, check out our guide to the Central Coast's best restaurants, including Saddles, Tropicana Pizza, The Boathouse and The Box On The Water, here.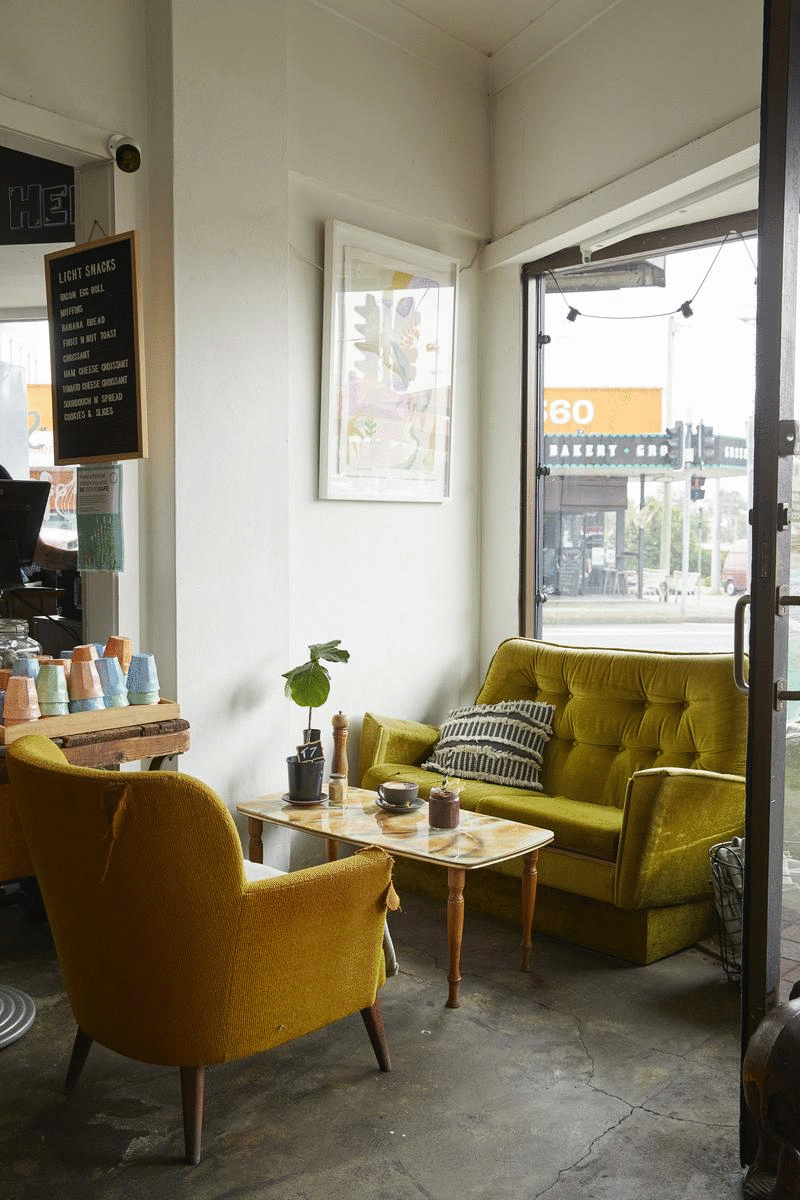 Images: Fish and chips from The Boathouse Patonga, couches at The Glass Onion Society Long Jetty, oysters from Hawkesbury River Oyster Shed, neon sign at Lords Of Pour.
DRINK
Mumbo Jumbos
While it may have its relaxed, small-town charm intact, the Cenny Coast (as it's affectionately referred to by locals) does bring the night-life goods when you're keen to kick back and sink a couple of bevvies, and Mumbo Jumbos in Terrigal is where it's at. A Caribbean-style rum shack rooftop overlooking Terrigal's sandy shoreline and crashing waves, Mumbo Jumbos serves up a tasty mix of chilled vibes and spicy, Jamaican flavours. Load up on Grifter Brewing tins and local brews while sharing some jerk fries with aioli and cheerful, crispy tacos plates with a few mates.
Pocket Bar
Generally regarded as the centre of the nightlife action by locals, Terrigal is home to a few standout small bars and Pocket Bar is one of them. Bringing bespoke, crafty cocktails to salty-haired "coasties"—and a revolving door of bands and comedy shows—Pocket Bar is perched directly opposite Terrigal beach and dishes up a relaxed atmosphere and a $12 daily cocktail happy hour from 4-6pm.
Rhonda's Rooftop
A block around the corner from both Mumbo Jumbos and Pocket Bar you'll find Rhonda's Rooftop—a no-fuss two-story restaurant and bar offering a feast-worthy selection of wood-fired pizza, Italian-style spritz all with a modern Italian twist. Expect hearty pasta downstairs, like the tasty squid ink fettuccine with blue swimmer crab and the pumpkin, macadamia and ricotta ravioli, and build-your-own antipasti boards with octopus, sopressa and creamy burrata upstairs.
Shady Palms
While Terrigal offers a fail-proof slice of coastal nightlife, it's not the only after-dark hero 'burb on the coast. A short drive from Terrigal lives Shady Palms, Avoca. Hailed as an eclectic surf shack inspired by Hawaiian and Californian surf culture, the sprawling restaurant and bar really is a destination in itself. Taking a laid-back approach to casual dining, the venue is adorned with fairy lights, floral umbrellas and lush leafy surrounds—no two spots are the same. We recommend grabbing a few share plates in the downstairs restaurant—like the chicken schnitzel, avocado, tomato, aioli and cheese pizza—and then migrate your way up to the rooftop for a cocktail or two to keep the night going.
The Savoy
About a 20-minute drive north of Avoca you'll hit The Savoy in Long Jetty. What was once the Central Coast's biggest movie theatre in 1956 is now a vibrant, multi-purpose bar and restaurant bursting with historic charm. From retro movie nights (the cinema is still operating, which we absolutely adore) and DJ sets, there's pretty much something happening most nights of the week—and it has a solid cocktail and drinks menu to boot. Our advice? Head to The Savoy if you're after a vibing Sunday session and tuck into the $10 Margherita pizzas and $10 margarita cocktails special.
Six Strings Brewery
Launched by locals, Six String Brewery in Erina is one of the first independent breweries launched on the Central Coast, and the team's passion for music and ice-cold beers is glowingly evident. Brewing up something consistently new, Six Strings Brewing's impressive Tap Room invites visitors to explore the extensive range of beers and ciders. From the regular crowd-pleasers like the fruity pale ale and 'Coastie' lager to the limited experimental editions like the 'Pinoy Fiesta' pineapple gose, Six Strings Brewery promises cruisy afternoon vibes as chilled as their taps.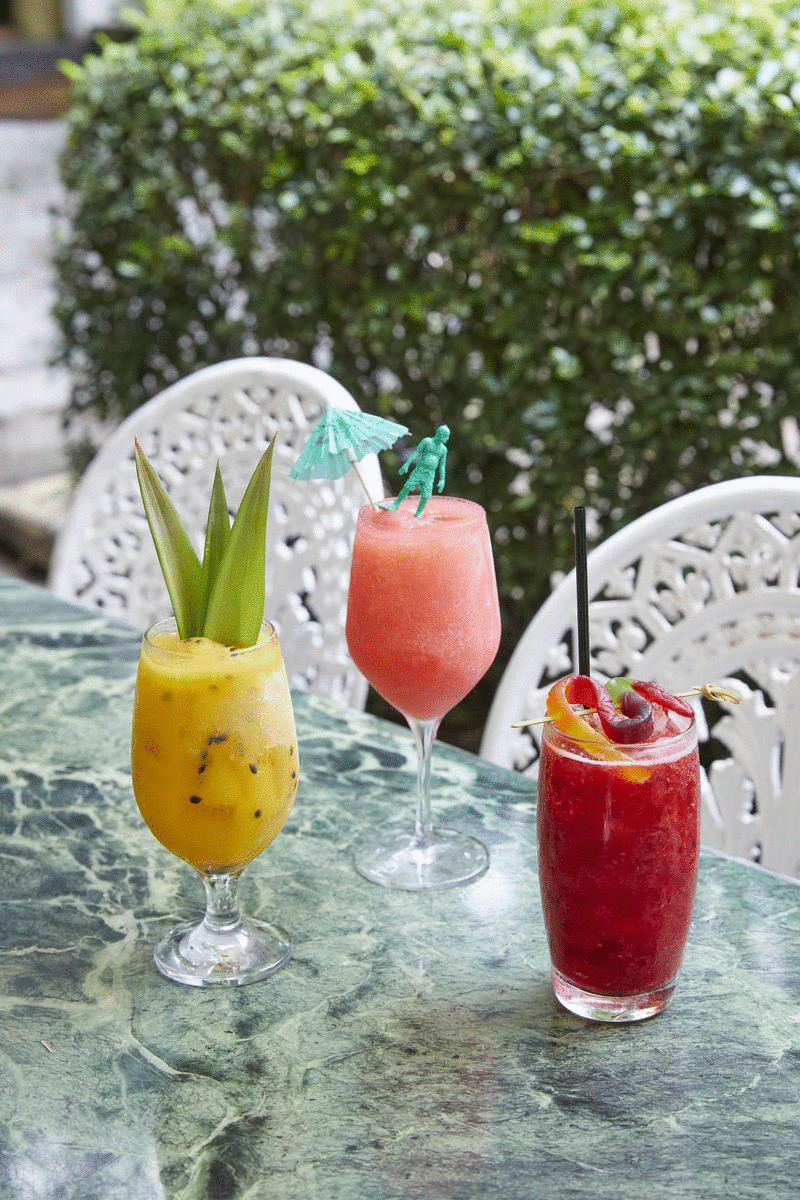 Images: Shady Palms three cocktails, back bar at Pocket Bar Terrigal, two Pocket Bar cocktails and two cocktails from The Boathouse Patonga.
PLAY
Shop Your Way Around Long Jetty
While there are many quirky homeware stores, local boutiques and alluring vintage shops peppered along the coast (Tiki Lala in Ettalong, we're looking at you), Long Jetty is home to a handful all conveniently located a stone's throw from one another. Whether you're unearthing vintage scores at Plain Janes, hunting for forgotten vinyl at The Sound Exchange, sifting through bohemian thread at Shadow Bang Therapy & Supply or stocking up on surf gear at Lucky Surf And Supply, you're bound to pick up a few treats for yourself. But gifts aside, Long Jetty's strip of boutiques is even worthy of a driveby with each store awash with kaleidoscopic hues, patterns and eye-catching murals.
Explore The Great Outdoors
Cloaked in dense bushland and surrounded by turquoise water, it's safe to say you won't be short of outdoor activities on the Central Coast. From SUP boarding and learning to surf to horse riding and bushwalking, there's plenty of ways to tap into Mother Nature and embrace the great outdoors. If you're unsure of where to start, check out our curated list of the best outdoor activities on the Central Coast here.
Dig For Treasures
Taking it easy on a weekend morning while perusing local markets is a surefire way to experience the hospitable Central Coast community spirit. Famed for their extensive range of quality homewares and aromatic, homemade produce, there's a wide range of local markets to choose from depending on the time you visit. Catch the Avoca Markets every fourth Sunday of the month at Heazlett Park from 9am-3pm, Long Jetty Markets on the last Saturday of the month from 9am-2pm at Tuggerah Parade Foreshore and Umina Beach Markets on the third Sunday of every month from 9am-2pm next to Umina Surf Life Saving Club. All dog-friendly, vibrant and bursting with character, chances are you won't come home empty-handed.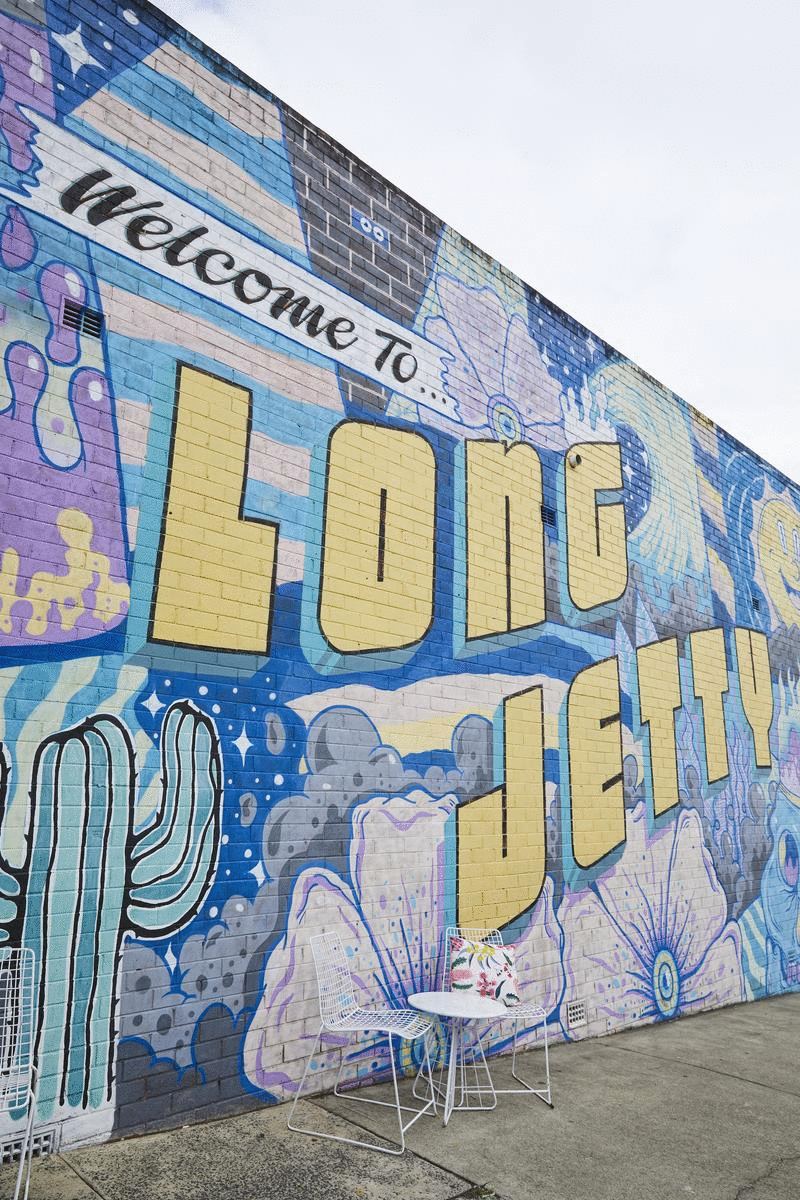 Images: Long Jetty Mural, Tiki Lala Ettalong, Shady Palms Avoca and Shadow Bang Therapy & Supply Long Jetty.
STAY
The Boathouse, Patonga
Soaked in coastal charm and calming nautical hues, The Boathouse Hotel Patonga is one of the chicest places to unwind and watch the world go by. Idyllic for couples and small groups, the boutique accommodation offers one, two and three-bedroom luxe apartments ripe for a chilled weekend away with friends. Plus, The Boathouse team has just unveiled the newly opened Patonga Cottage which accommodates up to 10 guests and boasts an adorable plunge pool under a canopy of Norfolk pines—like we needed another reason to book.
Kim's Beachside Retreat
If you're in need of a little solitude, Kim's quaint cluster of deluxe timber beach bungalows is the coastal escape you never knew you needed. Nestled within a lush bamboo rainforest and overlooking Toowoon Bay, wake up to the sounds of wildlife and crashing waves, allowing any worries to wash away. Featuring private pools, plush king beds, inviting spa baths and in-room pampering at the touch of a button, Kim's Beachside Retreat will undoubtedly leave you feeling fresh, restored and rejuvenated—the only hard part is leaving.
Anchor Avoca Beach
With so much to eat, drink and do in Avoca, relaxing into a home away from home is just the thing—and Anchor Avoca Beach is just the place. An ode to Coastie life and just a cruisey stroll from Avoca Beach, Anchor is a bright, four-bedroom house situated on Avoca's Round Drive and the perfect place to check in to check out. Bring a book, soak up the dappled sunlight on the wrap-around balcony, and drink in the sweet saltwater breeze. We can assure you, you'll want a permanent sea change after a short stay at this laid-back, luxe stay.
Glamping At Glenworth Valley
If you're unafraid to set up camp underneath the dazzling stars and chasing an unforgettable experience, Glenworth Valley's glamping is a must-try. Blending luxury and style with practicality, the team at Glenworth Valley provide you with a picturesque backdrop and tee you up with some of the best glamping tents on the coast. All you have to do is contact one of the glamping providers on the Glenworth Valley site then book your Glenworth Valley glamping site for an incredibly hassle-free stay—it's as easy as that.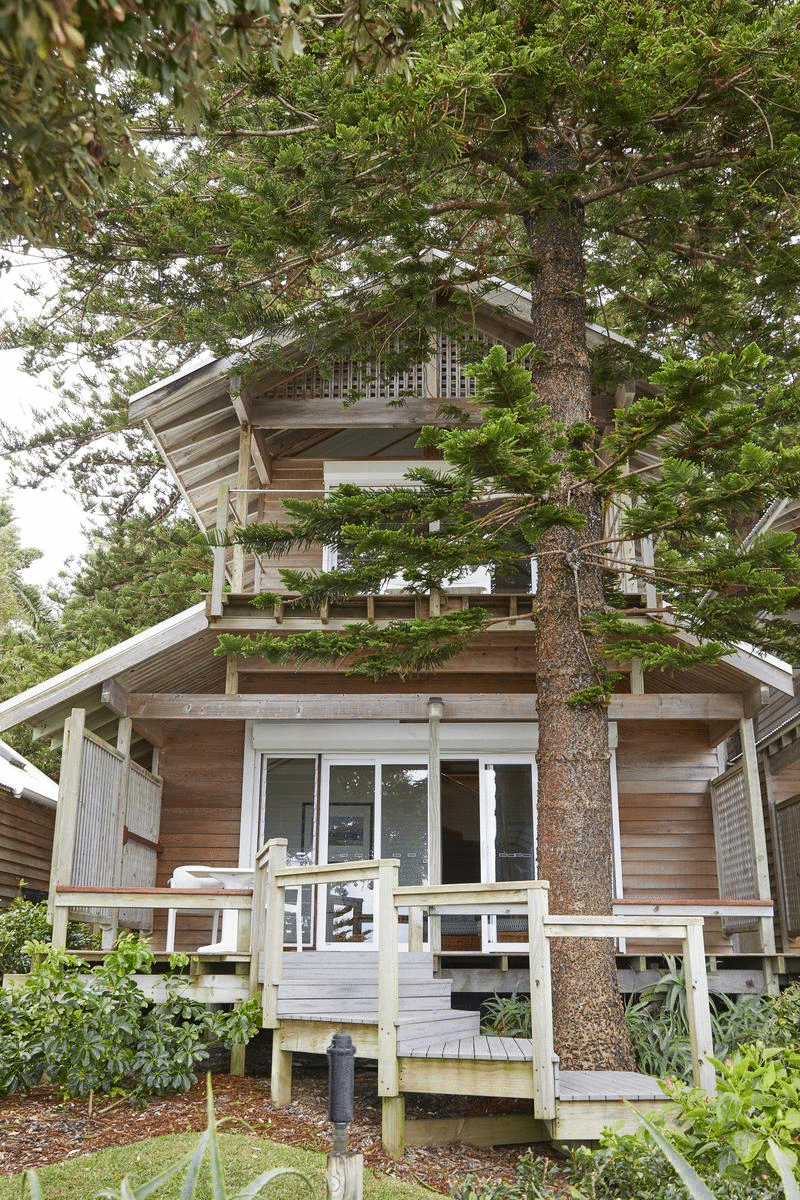 Images: Kim's Beachside Retreat bungalow, bamboo forest at Kim's Beachside Retreat, Anchor Avoca Beach and The Boathouse Hotel Patonga.

Editor's note: This article is sponsored by Destination New South Wales and Destination Central Coast and proudly endorsed by Urban List. Thank you for supporting the sponsors who make Urban List possible. Click here for more information on our editorial policy.