The Australian outback can sometimes feel like an overwhelming expanse of land to explore. How do you make your way around? Where do you even start from? All great questions, to which we'd like to put forward the stunning regional city of Dubbo. It's a historical town meets country charm meets absolute gold-mine for all kinds of outdoor adventures. Basically, if it's not top of your travel bucket list, it really should be.
While you're no doubt well-versed with Dubbo's Taronga Western Plains Zoo and the Old Dubbo Gaol, this city has a lot more going on. There's accommodation with 12-metre outdoor mineral pools, wholesome farmer's markets and hidden river beaches to stop off at while you're pedalling your way through Wiradjuri Country.
Read on for everything to see, eat and do in Dubbo.
Everything To Know About Dubbo
With roads from Sydney, direct flights from the likes of Sydney, Newcastle, and Melbourne and trains straight from the centre of Sydney, there has never been a better time to visit Dubbo. The city itself lies at the intersection of a trifecta of highways—Newell, Mitchell and Golden, and it takes up some serious space in the Orana Region of NSW. This area is a famous spot for all kinds of quintessential Aussie road trips, the kinds that will have you rolling down the windows and turning up "Frogstomp" to max volume. It's the best of the Australian outback and boy, does it hit different to your usual coastal road trip.
Today, Dubbo is endearingly known as the "city of smiles", a place to hit when you're after some good old fashioned, laissez-faire adventuring through bushland, magnificent sunsets and arts and culture too. While Dubbo is definitely a thriving outback entity now, it's the traditional home of the Wirumdhah people of the Wiradjuri Nation, one of the largest Indigenous groups in NSW not only by area but population too, of Wilay Country.
How To Get To Dubbo
As mentioned, there's a plethora of routes—road, rail or air, that can take you straight into the heart of Dubbo, the only question is how much do you enjoy the transit?
If hitting the road is your style, there are the aforementioned three main highways, Newell, Mitchell and Golden. If you're cruising straight from Sydney, you'll be coming through Mitchell Highway, which levels out to be almost a 400km drive from the CBD.
Driving isn't for everyone though and for those folk, might we direct you to soar the skies direct from Sydney airport, with flights only setting you back two hours. Elsewhere, you can also opt in to ride Sydney's Trainlink, which features an onboard cafe for the six hours of sailing through NSW's regional vistas before you land in outback heaven.
Where To Stay In Dubbo
Callubri Station
While technically not in Dubbo, Callubri is a picture-perfect property offering up stays of a lifetime. About an hour's drive from Dubbo (it's worth it), Callubri is probably one of the coolest farm stays you'll find in Australia. Hidden within the remote towns of Nygan and Tottenham, the 28,000-acre property stacks up over 140 years of family history steeped in Merino wool and lamb production. As of recent, "The Sky Suites" have just been added as accommodation here, and they're the kind of stays that bear outdoor decks, a 12-metre mineral pool with swim jets and hanging chairs. It's luxury in the western plains and it honestly doesn't get much better than this.
Taronga Western Plains Zoo
We mean, staying at Taronga Western Plains Zoo is self-explanatory in terms of wow-factor. There are three main types of accommodation styles here. The Zoofari Lodge is meant to mimic actual African safaris and includes two-day zoo entry and bike hire, The Savannah Cabins are situated in sprawling grasslands and the Billabong Camp is glorified camping right next to the Lion Pride Lands.
The Best Airbnbs In Dubbo
In recent years, Dubbo has become more and more populated with epic Airbnbs, so no matter what you're looking for, there's an Airbnb for you. For a somewhat romantic stay for you and your significant other, hit this pond-side charming cottage. For an Airbnb in Dubbo with some serious design clout, take a few days of respite at this repurposed heritage workers cottage built back in 1904. Finally, for those of you who like to stick central and where all the action is, Arthur is a Danish-inspired cottage with close ties to Dubbo's very famous cafe known as Press.
Things To Do In Dubbo
Topline, you'll want to make sure you grab some goods from Farmer's Bakehouse, The Monkey Bar for your nighttime antics and Quentin Park Alpacas and Studio Gallery for actual meet and greet sessions with local alpacas nearby. Milky Daze is also another nearby must, a 1950s diner in the Wellington area with a jukebox, classic burgers, milkshakes and colourful booths. Lake Burrendong will satisfy any ol' hankering for Mother Nature, it's no natural lake but she's a beautiful one at that.
Taronga Western Plains Zoo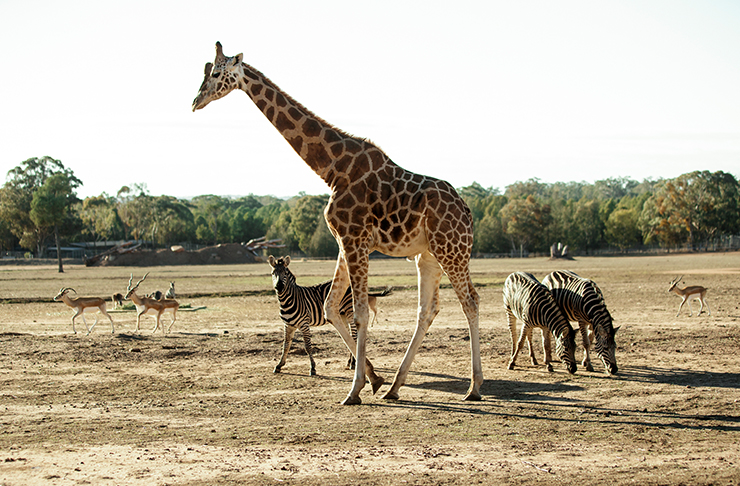 From savannah safaris to bike hire, Taronga Western Plains Zoo is one of the most immersive zoo experiences around. Here, you'll come across African lions, Asian elephants, cheetahs, Sumatran tigers, giraffes, zebras, meerkats and koalas, all of which are part of Taronga's programs and efforts to save species on the brink of extinction.
Dubbo Farmers Market
Open on the first and third Saturday of every month, the Dubbo's Farmers Market is all about celebrating seasonal and local produce with fresh bread, local pork, fruit, herbs, plants, award-winning olive oils, preserves, jams, honey, wine, nuts and more.
First Lesson Cultural Tours
While you're out here, nurture your knowledge of the history of Wiradjuri culture. First Lesson Cultural Tours takes visitors to hugely significant ancestral sites including a scarred canoe tree, an axe-grinding site, bush medicine plants and bush tucker plants too.
Press Cafe
Located inside a 1930s house in Central Dubbo, Press Cafe is all about cosy seating with a wholesome menu. There's a number of breakfast and lunch bowls, an all-day menu packed with bacon and egg rolls and a breakfast box, burgers and toasted sandwiches too.
Macquarie River
Hike, cycle and swim at Macquarie River, Dubbo's main portal for outback adventuring. You can hire kayaks and stand up paddleboards from Adventure Craft Hire or take the river's best access point for a dip at Sandy Beach.
Feel like something more coastal? Check this ultimate guide to Nambucca Heads.
Image credit: Destination NSW
Editor's note: Urban List editors independently select and write about stuff we love and think you'll like too. Urban List has affiliate partnerships, so we get revenue from your purchases.