It's been a year like no other and you know as well as we do, your dear old dad probably needs a bit of celebrating. With Father's Day coming up this week, we've created a perfect list of activities you can do with your old man right here in Sydney.
Covering everything from an out of this world degustation inspired by fatherhood memories to an adventurous hike across the Harbour Bridge, blending a signature whisky with Archie Rose, a yum cha brunch at Chin Chin, or a feast from Three Blue Ducks in your own dining room—you can choose to stay home or head out and enjoy the sunshine with dad for an action-packed weekend.
Here are all the best ways to celebrate Father's Day in Sydney this year.
"Father's Memory" Degustation At Metisse
Fatherdom is pretty integral to the kitchen at Metisse. This beautiful fine diner is led by chef and author Opel Khan and his super-talented daughter Lucinda. For Father's Day, Opel and Lucinda have created a seven-course degustation called "Father's Memory".
On the menu is Opel's mind-blowing, zero-waste "Texture of Tomato" dish (pictured above)—which really has to be tasted to be believed. "Every single part of the tomato is transformed into a beautiful and unique shape, flavour and gastronomic experience," Opel tells us. Created over three days, Texture of Tomato includes tomato marshmallow, tomato sorbet, crumble and tomato chips, and no part of the tomato is left unused. Also on the menu is a caviar tart, duck à l'orange hay-smoked at your table, and a wagyu beef Rossini with black truffle périgord glaze. If your dad is a bit of a foodie—wow him with this next-level feast. Book here.
Father's Day Bridge Climb
Very recently, the Bridge Climb crew revealed a brand new climb. If you've donned a jumpsuit and hiked up the iconic steel frame of the Harbour Bridge before, you'll know that Bridge Climb only scales the southern half of the Bridge. Now though, it's possible to walk across the full length of the arches towards the north-side Pylons, covering about 3.3km. Book your spot here and you and dad could be one of the first people to scale the entire Sydney Harbour Bridge. We can confirm, the top of the Bridge is one of the best sunset-watching spots in the city.
Send Dad On Staycation At Paramount House Hotel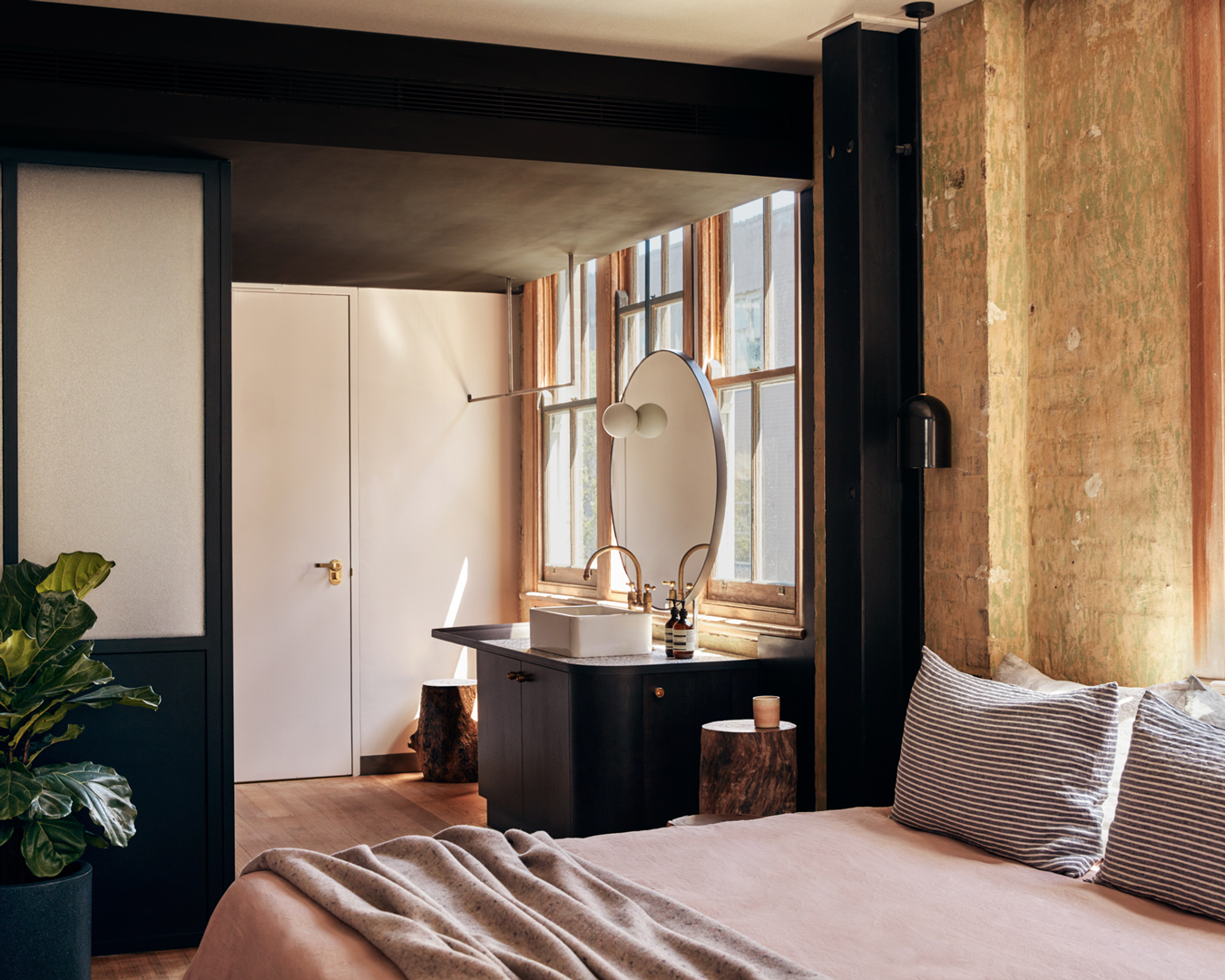 Big holidays and overseas trips are off the cards, but a city staycation can be just the thing for a little R&R. The beautiful Paramount House Hotel is offering 20% off (use the code TREATYOSELF while booking) if you book for two consecutive nights. Gift dad the ultimate relaxing treat, with all Father's Day eats and activities a hop, skip and jump away. We can confirm the room service is boss too. Book here.
Yum Cha Brunch At Chin Chin
Chin Chin's weekend yum cha has become the stuff of legend—and they are set to step things up a notch or three for Father's Day. On Sunday 6 September, from the bright and early time of 9am and for just $55 per person, you and dad can feast on delicious prawn spring rolls, chilli salt squid, prawn and crab dumplings and Nutella buns.
Still hungry? Add on stir-fried egg noodles, wok-fried spanner crab omelette or banana roti. There's a couple of dad-inspired cocktails too—"Smokey Daddy" is a mix of Woodford Reserve bourbon, sweet vermouth, fino, orange shrub and bitters, and "Sugar Daddy" is a refreshing concoction of Reposado tequila, yuzushu, peach, lime leaf and lime. Bookings are essential, head here.
Blend A Signature Whisky With Archie Rose
Yes, Archie Rose is known for their epic gin—but did you know they produce some award-winning whisky too? The Archie Rose rye whisky has been named world's best rye whisky in a series of different competitions, and their soon-to-release single malt has also been racking up accolades. If dad is into his whisky, we recommend checking out one of Archie Rose's awesome whisky masterclasses. From a single mast whisky tour to a blend your own signature whisky class, virtual chats and hands-on distillery workshops, there are heaps of whisky sessions to choose from. Jump over here.
Stay In With Three Blue Ducks
Prefer to stay in this Father's Day? The Ducks has you covered with a Father's Day feast that can be assembled with minimal effort in your kitchen.
For $65 per person, you will get a selection of shared entrees, including pork rillettes and mustard Burrata with marinated beetroots and a macadamia beetroot crumb. For mains, choose between the vegan offering of harissa glazed pumpkin with cashew cream and mixed leaves, Chermoula spiced whole roasted snapper, or coffee-rubbed slow-cooked beef brisket. For dessert, there's a wickedly decadent flourless chocolate and almond cake with whiskey cream to finish. The kid's menu starts at $20 per person, and includes a beef lasagne and chocolate brownie.
Orders are open until Monday 31st August for delivery on Saturday, 5th September (the day before Father's Day). Find out if your suburb is included in the delivery list and order here.
Treat Dad To A Movie At Golden Age
Golden Age is hosting three socially-distanced screenings on Father's Day. Debate Wes Anderson's colour palette in The Grand Budapest Hotel, marvel at the before-its-time brilliance of the OG Blade Runner (Final Cut Version), or step back in 70s era Los Angeles with Inherent Vice. Grab your tickets here.
If it's a movie night at home you're scheming, we love Golden Age's Wes-themed virtual candy bar, Bottle Rocket. From fancy choc-tops and luxury popcorn and pre-mixed cocktails—all home delivered—it was one of our favourite things to come out of lockdown, and we reckon your dad will love too. Check it out here.
Score Dad A Free Beer At These Three Venues
The hospo legends over at Applejack are upping the ante for Father's Day this year with free beer for dad. Applejack is behind The Botanist, SoCal and The Butler—and each venue will be offering gratis tinnies for thirsty dads on Sunday 6 September. At The Botanist, book for four or more and score a free Young Henrys Newtowner. We also recommend tucking into their $29 Sunday roast (book here). At SoCal, order a smoked meats platter, and dad will cop a can of Moon Dog (book here). At The Butler, it's a free tap beer—plus those unbeatable views of the city skyline (book here).
Prefer to treat dad to a few cold ones? These are our favourite breweries in Sydney. And if you're shopping for a gift, here's our Father's Day gift guide.
Image credit: Steven Woodburn, Metisse, Bridge Climb, Paramount House Hotel, Steven Woodburn, Archie Rose, Three Blue Ducks, Blade Runner,