Big news Sydney, your brewery scene isn't just confined to the streets of Marrickville (though there are a number of heavy hitters in the Inner West).
We've searched far and wide for the best beer meccas across our glorious city, each venue with its own mission and purpose, but all with a collective goal to quench your thirst. From the decorated and the sustainably-minded to the nomadic and locally-inspired, there's a big line-up of Sydney breweries just waiting for you to step through their doors.
Here are the best breweries in Sydney.
Freshwater Brewing
Brookvale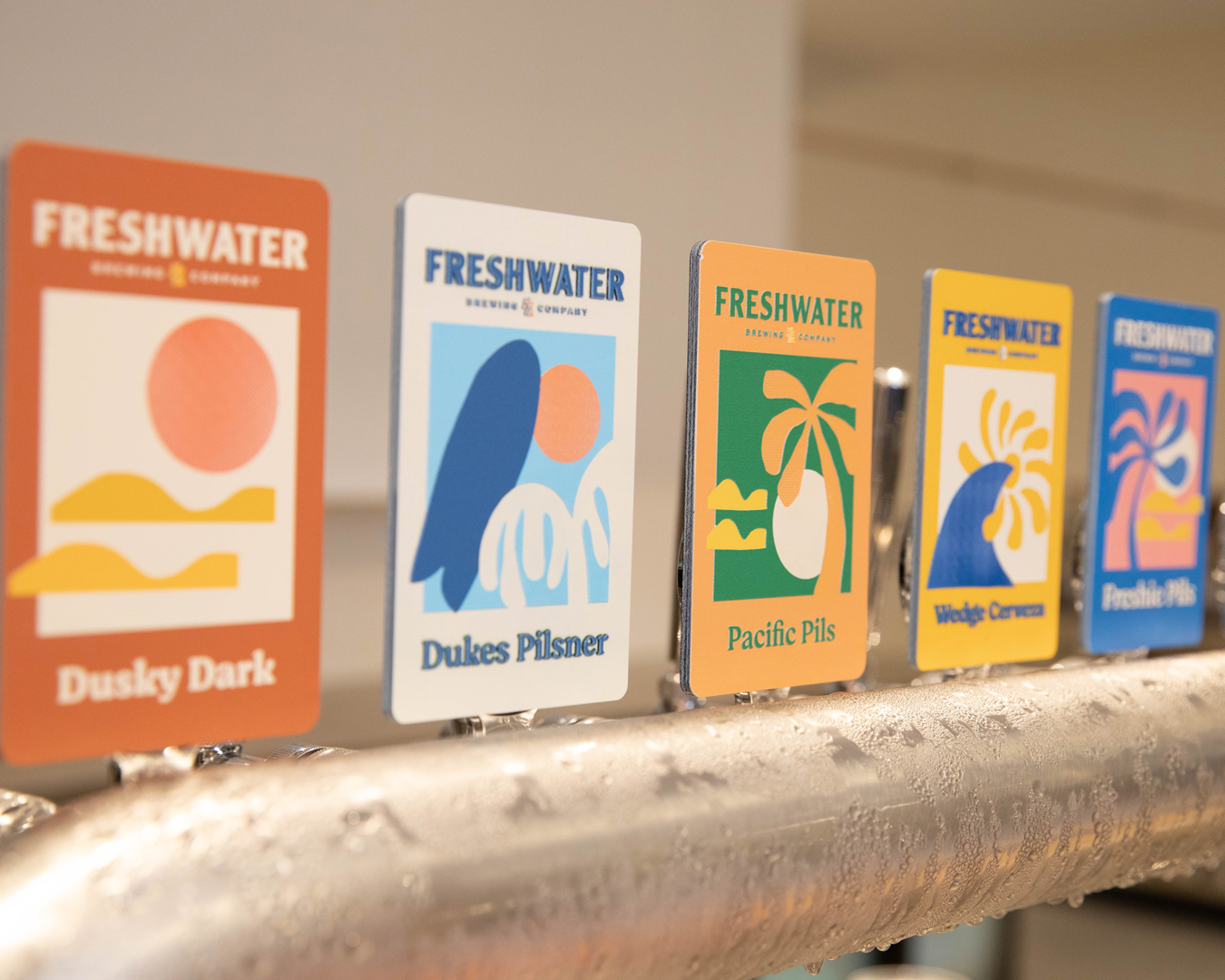 Gelato colours, natural wine, a Michelin-trained chef, and easy-drinking "chill, not craft" beers. Freshwater Brewing is doing (and brewing) things a bit differently, flipping the stereotypical Inner West warehouse-style brewery concept on its head. You'll find the new Northern Beaches brewery in Brookvale, joining the suburb's growing collection of brewhouses (like Bucketty's, Nomad, and 7th Day).
The roomy open plan taproom has space for 120, complete with a horseshoe-shaped bar and 14 taps pouring Freshie Brewing's bright and summery pils, hazy pale ale, and Cerveza. The brewery also has a fully-fledged restaurant helmed by Daniel Wilson (ex-Dandy, London). The MO for the menu is "relaxed backyard meets beachside bliss"—so expect to see things like Sydney Rock Oysters with finger lime vinaigrette, BBQ prawn skewers, Swallow Rock pork sausage rolls, and fish finger sandwiches.
As well as the line-up of house brews, you'll also find non-beer drinks like fizzy Pet Nat, spritz, and even alcohol-free wines if you're on the wagon. It's pet-friendly, child-friendly, and there are DJs spinning tunes on Friday and Saturday nights—basically, there's something for everyone even if beer isn't your vibe.
Curly Lewis
Bondi Beach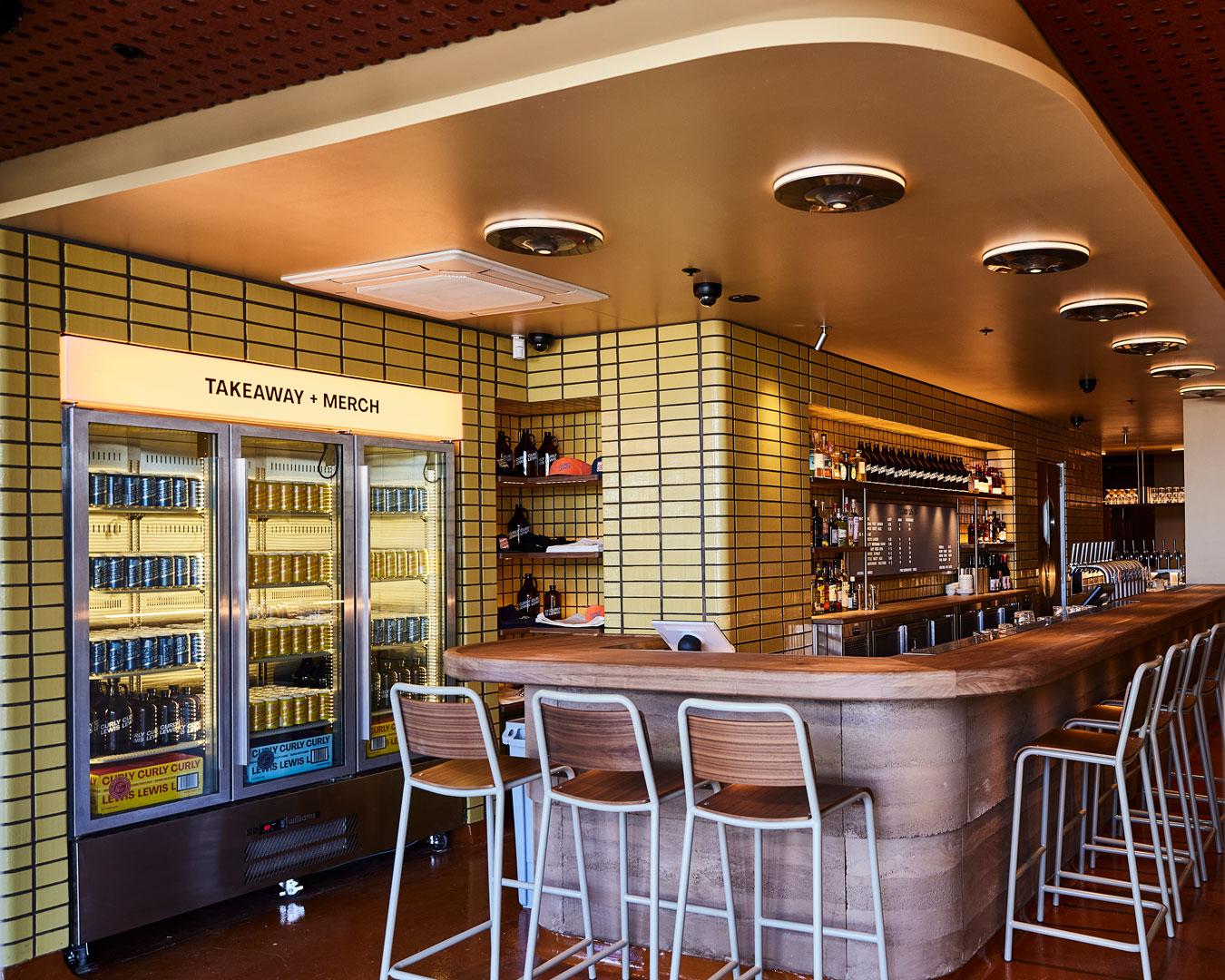 Huge news for beer lovers in the Eastern Suburbs—the area's first-ever brewery is opening in Bondi, right across the iconic beach, this week. Bring on summer arvo dips and sunset sips, stat. Founded by a group of mates—Adam Richards, Oliver dos Remedios, Gareth Morton, Loren Morton, and Scotty Morgan, Curly Lewis opened in August 2022.
"We felt there was a gap in the market for beer lovers in the Eastern Suburbs. You have to go to the Inner West or Northern Beaches for a brewery experience. So we wanted to change that and create a local brand and brewery in a location that has a lot of significance to us as founders," said Curly Lewis Co-Founder and Head of Brand Oli dos Remedios.
The 120-person venue features a working brewery, dining area, and bar—with a whopping 20 taps pouring the brand's two core brews, Clean Cut Lager and Bondi Hazy Ale, plus a rotating list of "wildcard" beers like a salty gose, a coffee stout, and a red IPA. There's also a selection of cocktails, plus small-batch spirits and Aussie wines.
As for the food, much-loved Waverley deli Frank's Deli is heading up the kitchen—so think European-style snacks like meatballs and deli platters, plus epic sambos (yes, including Frank's famous Reuben sanga).
The space has been designed by interior architect firm ACME (also behind venues like Archie Rose Distillery, Fred's, and Margaret), who set out to capture Bondi's "coastal vibe". Punters can choose to pull up a stool at the long timber bar, in the dining area overlooking the huge stainless steel tanks, or outdoors watching the surf. We know where we'll be on sunny days.
Bob Hawke Beer & Leisure Centre
Marrickville
While we're of the opinion that breweries don't need all the whiz-bang bells and whistles, sometimes you want more than just mismatched furniture in a warehouse. And when that's the case, you want to head straight to the Bob Hawke Beer & Leisure Centre. It's a tribute to the beer brand's namesake and all things nostalgic about Aussie beer culture and Australia in the 80s.
Expect Old Parliament House-style wood panelling throughout, an Australian-Chinese bistro called The Lucky Prawn, and an actual pool room modelled on Bob Hawke's own pool room and stacked with memorabilia and photos of the former PM. As for the beers, the full-service bar features 10 taps, showcasing Hawke's core range, as well as a special tap on rotation reserved for "One Hit Wonder" limited release styles. You beauty.
Bucketty's Brewing Co.
Brookvale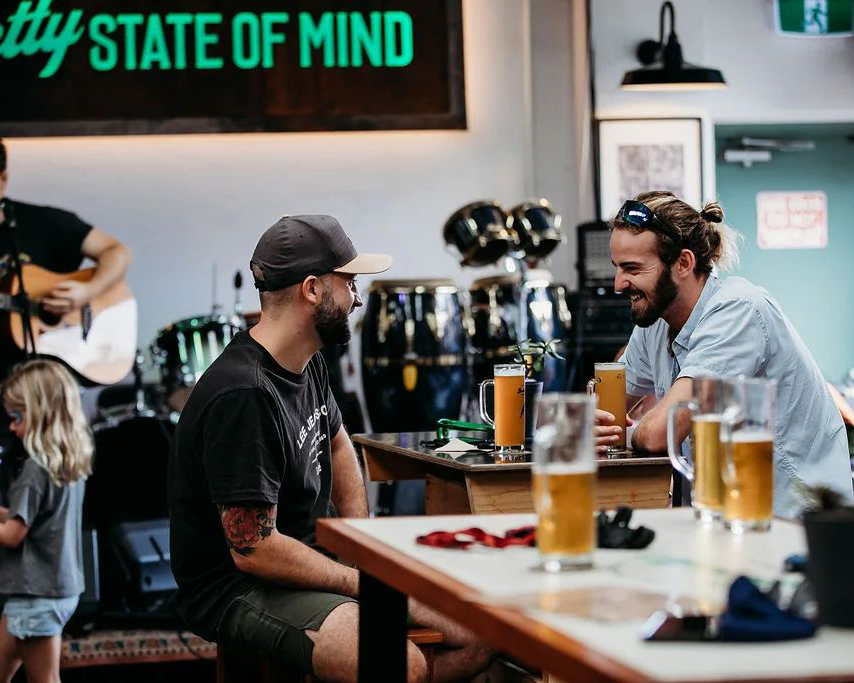 Before visiting Bucketty's, it's worth checking out the blog on their website to see the story of how they've gone from purchasing a rural plot of land in the Hunter Valley to being a great success in Brookvale, and the myriad problems they've encountered in between! Now though, the brewery and bar are enjoying their moment, with queues to get in on some evenings.
There are burgers, tacos, wings, and more on the menu to go along with their extensive selection of signature brews, which includes a habanero ale and a Mexican lager alongside classics like IPAs, stouts, and hazy ales. If that wasn't enough, there's a packed schedule of live music, ranging from local acts to ARIA-nominated national names.
Wildflower
Marrickville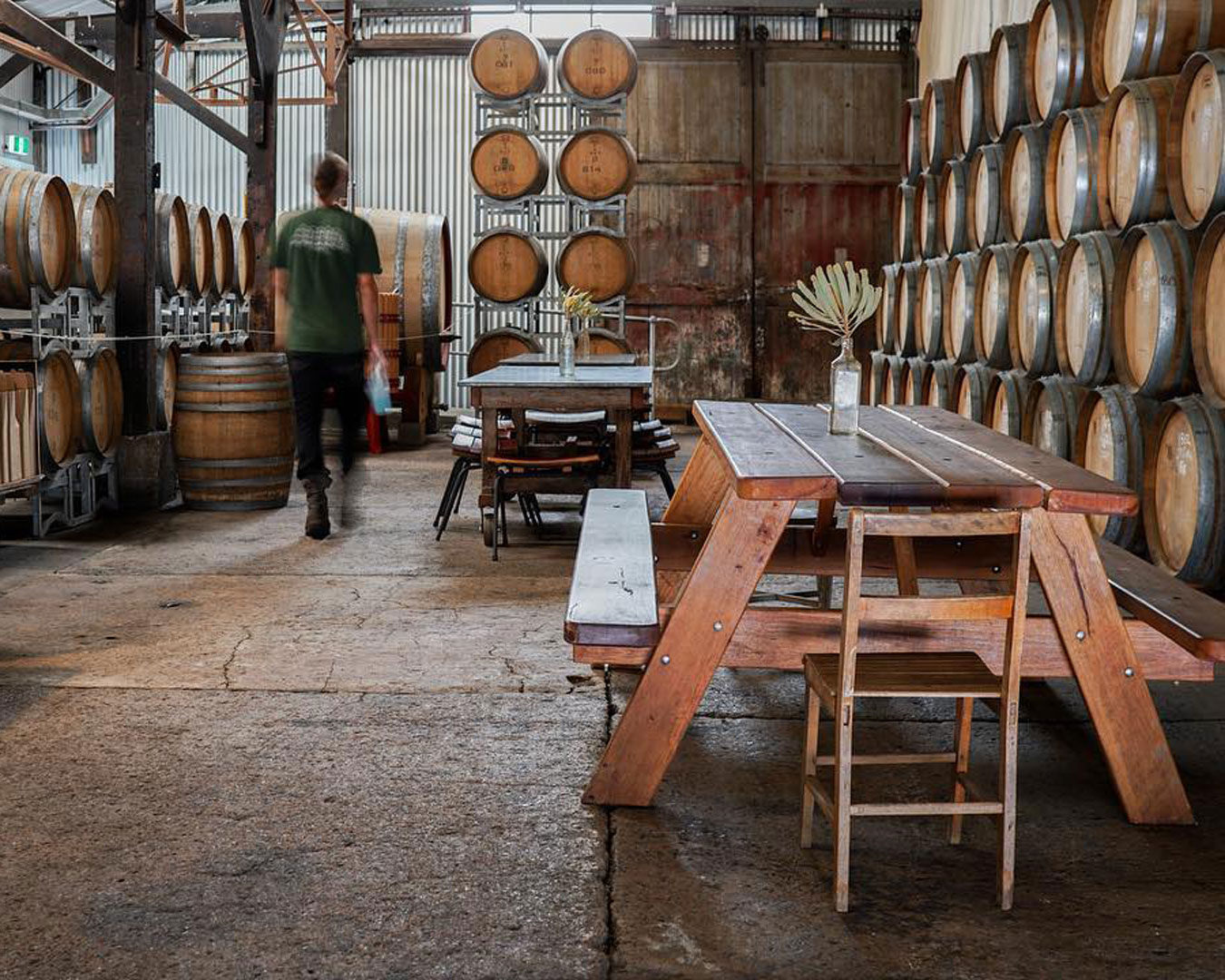 Cult Marrickville brewery Wildflower is heaven on earth for any craft brew aficionado. Here, it's all about the wild ale (hence the name—Wildflower), and the crew has a big focus on fermenting beer with a diverse culture of brewers yeast, wild yeast and bacteria (also known as "mixed fermentation").
"We serve between eight and 10 of our mixed culture often barrel-aged Australian Wild ales," says co-owner and brewer Topher Boehn. "These vary with the seasons but you will always be able to find our most recent Gold and Amber blends."
One of the differentiating factors between Wildflower and other breweries in Sydney is the old-world process of mixed fermentation, with yeast and bacteria foraged from around New South Wales. And the brews here are mighty tasty because of it. Drop in and try one—the cellar door is open every Friday–Sunday.
Yulli's Brews
Alexandria
After dropping their first batch of beer in 2014, James Harvey and Karl Cooney were pretty damn eager to go large and brew beer that could stand alone in your everyday pub and also ramp up any meal in a fine dining feast. And so, Yulli's Brews came into being.
This Alexandria brewery isa bit of everything with a restaurant, pub, bar, tasting room and music vibes all rolled into one. As for what's on tap every week—don't expect to try the same thing twice. "We have a selection of Yulli's Brews beers and cider on tap including our latest releases and seasonal batches so there's always something new to try," says co-director at Yulli's Brews, James Harvey. And in true Yulli's fashion, you can expect the food game here to be just as strong. Try shish kebabs, gyros, nachos and southern fried cauliflower, which all just happen to be plant-based.
Batch Brewing Co.
Marrickville, Petersham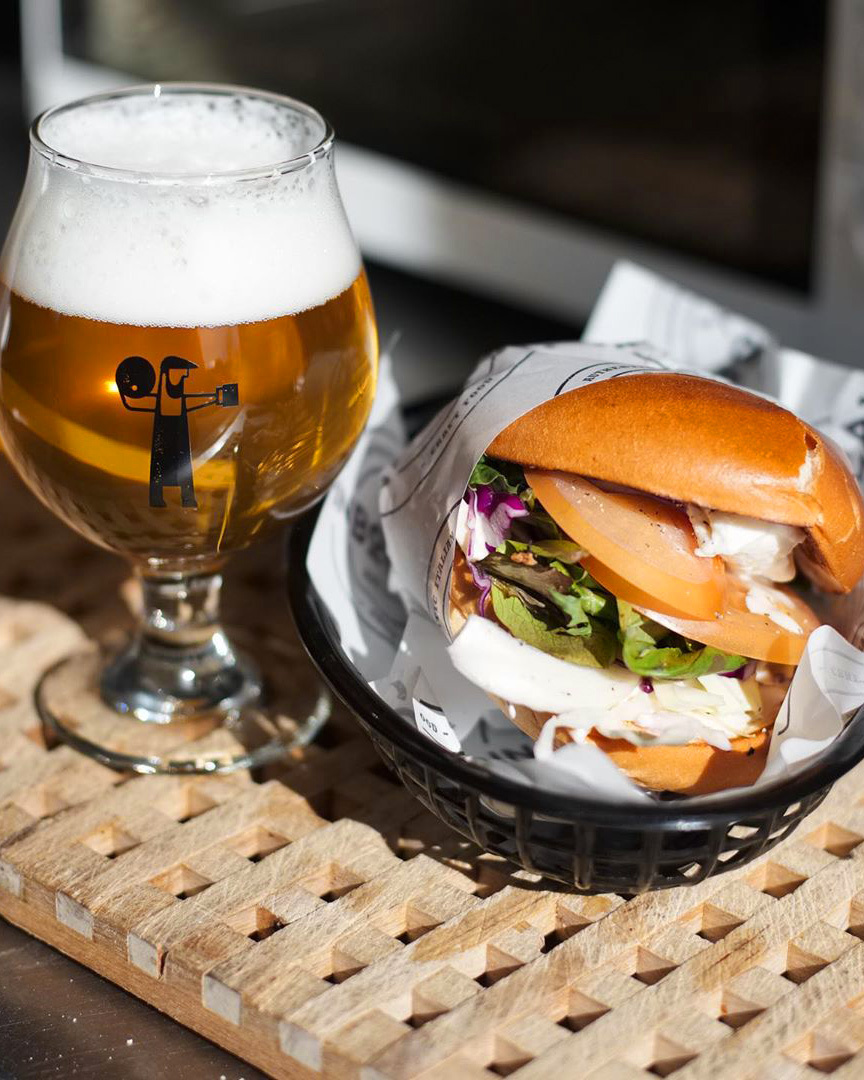 Batch Brewing Company (BBC) is staunchly traditional in the trendiest way. Handcrafting beer, batch by batch, the boys here brew with the TLC that this beer-loving nation needs. Marrickville is home to BBC's original brewery and tasting room and you can wet your whistle at the bar, or take away anything from a couple of tinnies to a bomber (640ml), or treat yourself to a growler (1.9L). You can also school yourself on all things brewing by booking one of the weekly tours.
Its Petersham location is hidden inside the epic Public House Petersham pub and this small-batch brewery is where the team (much like Wonka) produce experimental flavours, test, refine processes and work to create some stellar collaborative brews. As for what they're brewing? Well, how much time do you have?
Basement Brewhouse
Bankstown
This hidden goodie is located inside Bankstown Sports. Basement Brewhouse makes more than13 of its own beers on-site with four 1000L microbrewery tanks and multiple small-batch offerings too, which are all exclusive to the brewery.
Sample the best of the lot with the social brewing experience, which includes a brewhouse paddle, checking out how Basement's brew is made and chatting to brewers too. If you're keen to amp things up a notch, a private tour will see you join one of the brewers to sample their core and limited release beers.
And while the beer is most definitely why you need to visit, Basement Brewhouse also rocks some sick feeds. Think a big range of burgers (with options for veggos too) and Reuben sandwiches with corned wagyu and silverside sauerkraut.
Modus Operandi Brewing Co.
Mona Vale, Newcastle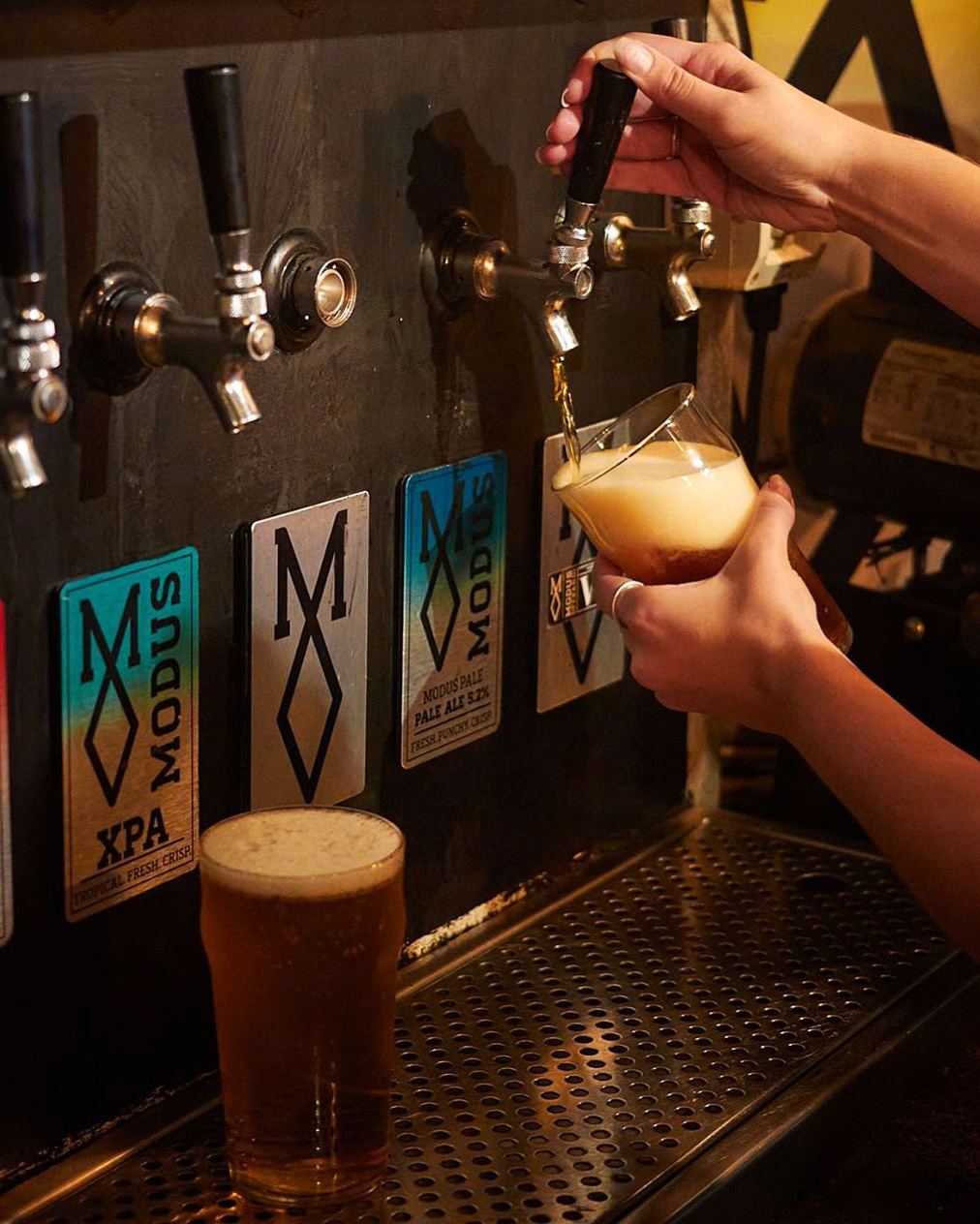 Modus Operandi Brewing Co. is like Sydney's instant portal to the US craft brewery scene. The beer here is always brewed with fresh, live yeast flown in from the US and speciality malts and hops sourced from all over the world. Plus, it recently opened a brewery in Newcastle (did someone say weekend getaway?).
As for its core beer range, there's a Modus XPA, which is basically Hawaii in a tinnie, a crisp cult classic Modus PA, the Silent Knight Porter sporting nine malts and blends of chocolate and caramel, the Former Tenant Red IPA (another cult classic), a Sonic Prayer IPA, which is the best example of a heavy-hitting American IPA and, finally, a Wippa Snippa Session Pale—big on flavour and light-bodied. And yep, all of these beers are available on tap.
Sauce Brewing Co.
Marrickville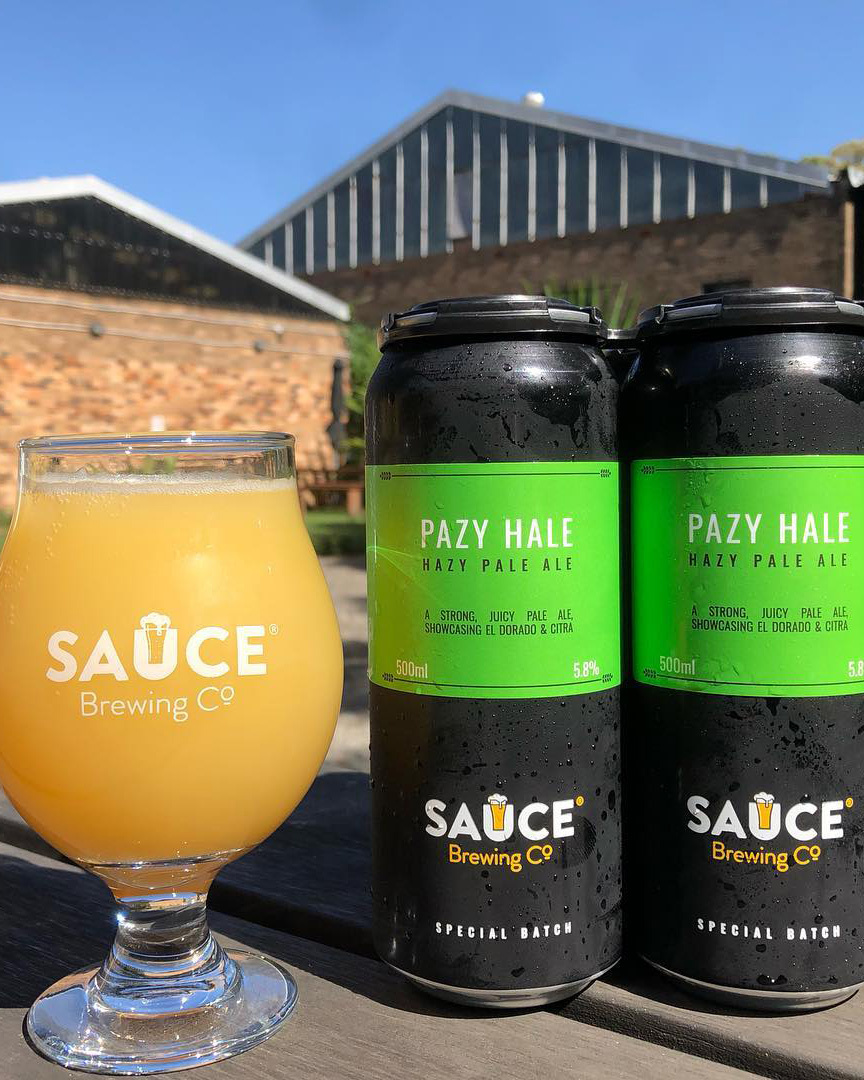 We're not going to lie, you could very well get your beer and tan on in Sauce Brewing's completely open beer garden (which makes it an absolute 10 out of 10 location on any hot day). This microbrewery creates a solid range of craft beers, so whether you're a hop-head, sour-freak, or an ale fan, you'll be well looked after here.
This independent craft brewery is all about creating flavoursome beers and the Marrickville outpost (there's also a Cairns brewpub in the works) is the home of all its beer production. You'll find this guy tucked away at the end of a small laneway and its sports a taproom and the aforementioned sun-drenched beer garden (open to the public from Fridays through to Sundays), which is the ideal place to be on a lazy afternoon with a tasting paddle or pint by your side.
Dad & Dave's Brewing
Brookvale
Brewing on the Northern Beaches for over a decade, Dad & Dave's is, as the name suggests, a family affair. Their brewery and taproom in Brookvale are spacious with plenty of tables both inside and out, and it's dog-friendly. As if to pre-empt the hunger pangs that come from immersing yourself in their delicious hoppy creations, there's a Dad & Dave's branded food truck permanently ensconced out front serving up moreish burgers, loaded fries, and popcorn chicken. As well as the range of brews you'd expect, you can also sample spirits from Wildspirit: a distillery run by the Dad & Dave's extended family.
One Drop Brewing Co.
Botany
Next stop: South Sydney's first microbrewery. The name One Drop Brewing Co. is inspired by the same founding ideas behind reggae music (with its signature "one drop" beat) and the concept of bringing people together in a creative space to connect over all the good stuff. The microbrewery unravels itself in a mammoth warehouse space, with high ceilings, a central bar area, suspended lights, high tables, DJs on the weekends, all the lush plants and murals. If you walk all the way to the back of the brewery, there's a colourful beer garden that sees a high rotation of local food trucks churn out some big feeds, and a big ol' fire pit you can warm up to in the cooler months.
Expect big and weird beers here. Sure, you could get the lager, but One Drop is all about innovative beers, from fruity sours to milkshake IPAs. Not a fan of suds? One Drop also has whipped up a gin.
Willie The Boatman
St Peters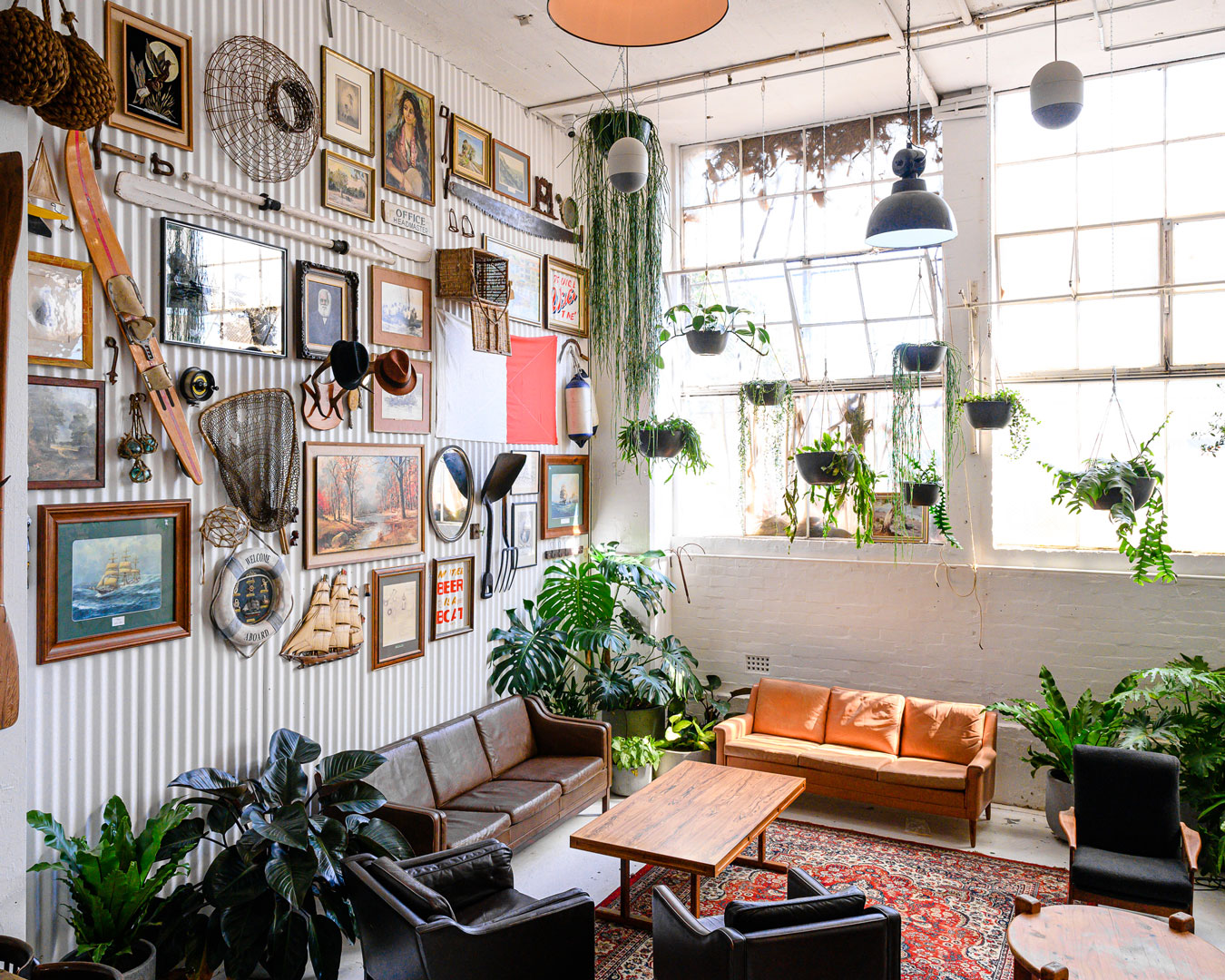 This laidback brewpub offers a whole range of beers ready for the taking and gourmet food truck bites like bacon-wrapped hotdogs to satisfy every belly. Aside from the opus magnum of craft beer, Willie The Boatman boasts some serious interior game. There are a whole lot of suspending green plants, long beer hall-style tables, wooden booths, and a sweet lounge area too. In other words, it's a great place to sit back and hang out for a while.
Though Willie micro-brews, there's always more than enough locally-brewed beer to go around. Standout brews with tonnes of character include the Albo Corn Ale, Old Salty Melon Gose, and the iconic Tempe Tim pale ale. Every Thursday, Willie's also does $5 core range beers and Wednesday calls for $5 schooies across the board.
7th Day
Brookvale
The motto of 7th Day is "Drink Good, Do Good", and they combine running a taphouse with supporting causes in the local community and beyond. Not that you need an extra excuse to hand over your hard-earned to them because their beer is so damn good in the first place. From starting out as a crowd-funded operation back in 2016 to where they are today, 7th Day has continued to expand its range which you can enjoy in the brewery's spacious surroundings. There are over a dozen of their creations on tap and, if you're really a fan, you can buy kegs in either 10 or 20 litres to take home with you.
Nomad Brewing Co.
Brookvale
Nomad Brewing Co. is an independent brewery that set up shop in an abandoned carpet warehouse on Sydney's Northern Beaches way back in 2014. If the name doesn't give it away, the team behind this brewery are entirely committed to beers of the world and they've travelled far and wide to bring the best of these styles, techniques and flavours back home.
There are 16 taps of constantly rotating craft beer featuring Nomad beers brewed and packaged on-site, plus an eclectic range of craft beers that showcase rare and hard-to-find cold ones from all around the world.
The Grifter Brewing Co.
Marrickville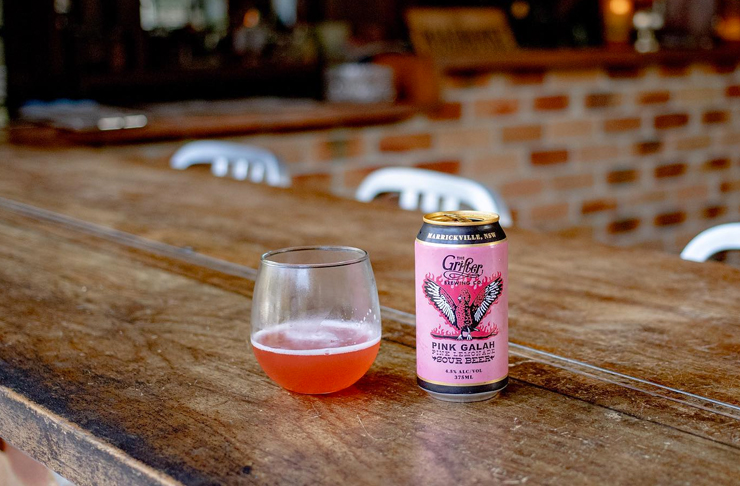 If you love craft beer like a kid in a candy shop, you've come to the right place. The Grifter is the brainchild of Matt King, Glenn Wignall and Trent Evans—a couple of mates who are all about making good and honest beer.
On the line-up here, you'll find everything from the far-out and fruit-driven to classic styles and new-world spin—with every Grifter beer boasting the best-quality hops, malts and sheer drinkability.
The Grifter PA is a big classic and a golden pale ale with a light malt body and a zesty hop-forward finish. Coming in at a close second, and for anyone with a keen palate for the fruity stuff, is the ever-iconic Pink Galah Pink Lemonade Sour. This mix is inspired by a sour that's secondary fermented with fresh raspberries and blended with 100% Australian lemon juice.
The real fun though? The Grifter Brewing Co. lets you customise your own beer case so you can pick n' mix from the likes of Grifter's Acid Drop Hoppy Sour, C-Boogie Cucumber Kolsch, Grifter Pilsner, Horses Head American Red, Serpents Kiss, and The Omen Oatmeal Stout.
Young Henrys Brewery
Newtown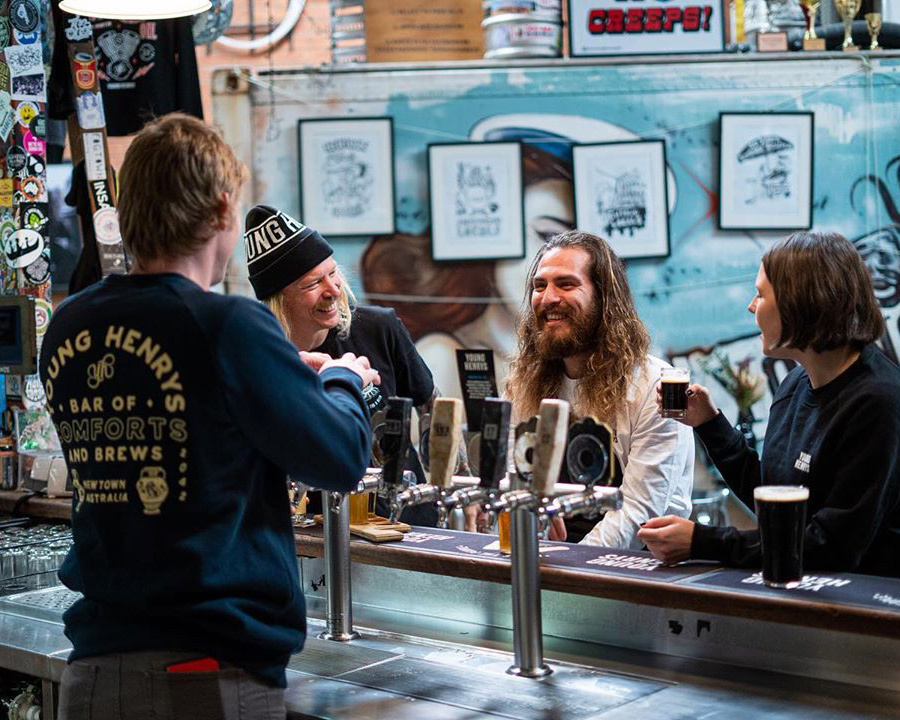 Possibly one of Sydney's most iconic homegrown heroes, you'll find Young Henrys HQ in the heart of Newtown. If you're not yet familiar, Young Henrys specialises in craft beers and ales brewed on-site. Complete with a cellar door-style tasting service in the middle of the brewery, and a multitude of award-winning brews, Young Henrys is a place where beer lovers can unite.
The story starts all the way back in 2012 when the team behind Young Henrys found a home in a warehouse in the backstreets of Newtown. And though Young Henry's impact surpasses more than just beer these days, it's still independent. The Newtown brewery has upgraded to a high-efficiency brewing system and kegs, cans, and bottles are sent out to watering holes across Australia, including its own tasting bar. The core range oozes well-balanced and easy-drinking beers and no matter what collab these guys are able to come up with (be it a lager for The Foo Fighters or a session hemp IPA that uses a world-first water-soluble hemp oil with Byron brand Afends), Young Henrys transcendent Newtowner—a pale ale and homage to the place it first called home, is an ever-giving classic.
We're also super-impressed by Young Henrys' "Algae Project"—a sustainable beer meets science mashup created in partnership with climate change scientists at UTS. Check it out here.
Wayward Brewing Co.
Camperdown
For some seriously off-the-beaten-track beers, you're going to want to hit up Camperdown's Wayward Brewing Co. The big stuff here is inspired by classic Euro styles with a twist and the result? A beer and a place you'll want to hit on the regular.
There's a big focus on flavour at Wayward, a kind you won't find elsewhere, making this brewery an absolute destination visit. Ingredients are sourced from all over the world and there's not a whole lot of rush in the brewing process which means the beers here take a little longer to make. The team operates a modern 20hL, four-vessel brewhouse (mash tun, lauter run, brew kettle and whirlpool), plus a combination of 40hL and 20hL fermentation vessels. Beer is sold in draught by the keg, mostly to Sydney's local pub and restaurant scene and there's also an in-house bottling line running twice a week out to boutique bottle shops.
There's a whole lot happening here so buckle your seatbelts—think 24 taps that are constantly changing, a rotating food truck line-up (some frequent wheels looking like Chef's Kitchen and The Satay Brothers), weekly live music, and even a hop-on hop-off bus that'll take you on a beer safari of Mariickville's big breweries.
4 Pines Brewery
Manly, Brookvale, Darling Harbour, Newport
This Northern Beaches-born microbrewery churns out seven bottles of goodness and a classic summer tinnie, which looks like a number of ales, Kolsch, hefeweizen, and a nitro stout that'll knock your socks off.
On top of this, 4 Pines also throws down a pretty huge commitment to working towards reducing the impact it has on the environment. 4 Pines is always reducing its water usage, eliminating plastics where possible from its supply chain, sorting waste, combining electricity and natural gas to power these breweries and in 2018, a 100kW solar system was installed to power its Brookvale venue.
Sticking to Marrickville? Here's how to do the ultimate Inner West brewery crawl.
Image credit: Luisa Brimble, Luisa Brimble, James Evans, 4 Pines Brewing Co., Yulli's Brews, Batch Brewing Co., Modus Operandi, Sauce Brewing, Wildflower Brewing Co., Willie The Boatman, The Grifter Brewing Co., Young Henrys