One of the best things about being a Sydneysider? Living so close to one of the world's most beautiful harbours. As any proper Sydney local will tell you, it doesn't get much better than a harbour cruise, bobbing across the sparkly waters of Port Jackson Bay at sunset, cocktail in hand. Cradled by a few famous icons—the Sydney Harbour Bridge and the Sydney Opera House—the view is always spectacular and the vibes are always immaculate.
Frankly, it'd be rude not to cruise the waters of Sydney Harbour on sunny summer weekends. Whether you're looking to live it up on a party boat with Sydney's best DJs or you're keen to book a private cruise for a special occasion, there's a boat moored somewhere in Sydney waiting to make your seafaring dreams come true. Grab your sunnies and lace up your boat shoes, here's a list of our favourite Sydney Harbour cruises, from boozy party rafts and floating parties to boats for hire and themed dining charters.
The Best Sydney Harbour Party Cruises
Coming Soon: Seadeck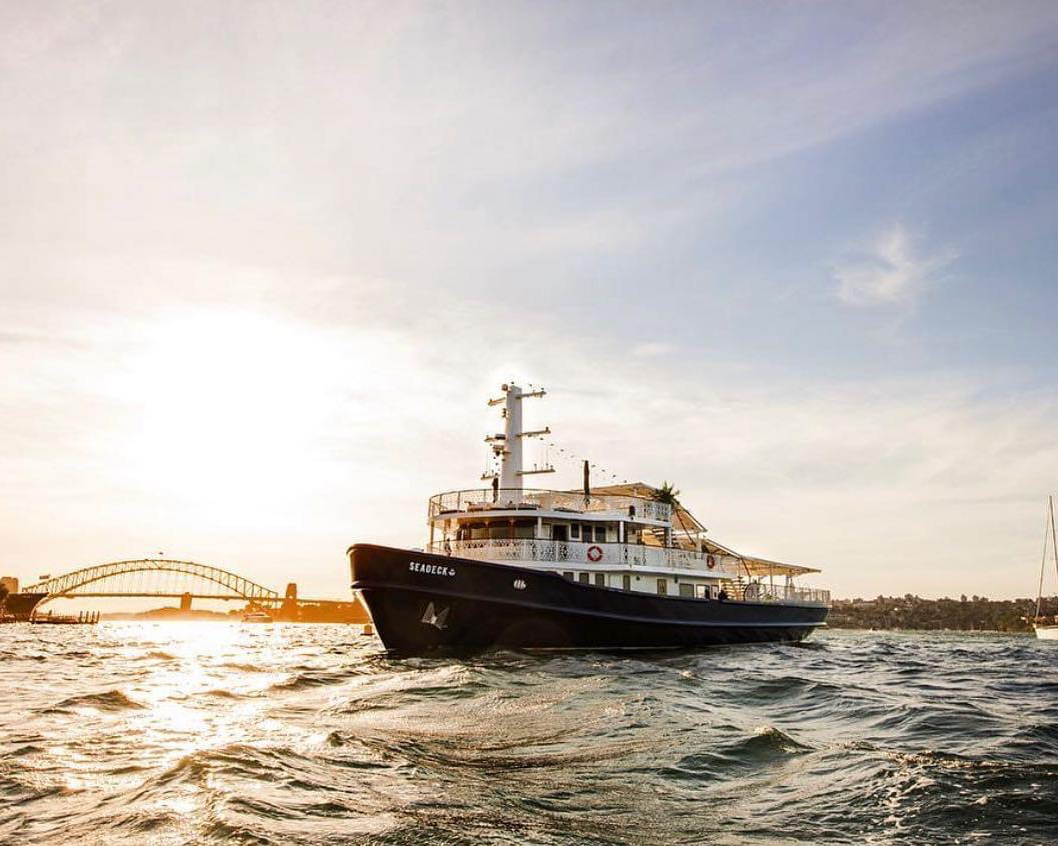 Seadeck is a three-storey floating club, perfect for weekends on the harbour. After an extensive renovation, the 42-metre, 450-passenger handcrafted boat will officially back on the harbour for the 2022 summer season from Saturday 29 October.
Onboard, you're in for ocean-inspired cocktails like the First Mate Daiquiri or the High Seas Gin Sour, alongside fancy snacks like dry-aged Wagyu beef burgers, grilled prawn tacos, and southern-style fried chicken. Bringing the vibes are local and international DJS, with Yolanda Be Cool and friends and Jackmaster already queued up for this season. Lock yourself in for a Friday or Saturday sunset cruise, or opt for daytime cruises on Saturdays and Sundays. Seadeck is also available for private hire Monday through Friday and can hold 100 - 400 guests. More info is here.
Seadeck will reopen on Saturday 29 October.
Glass Island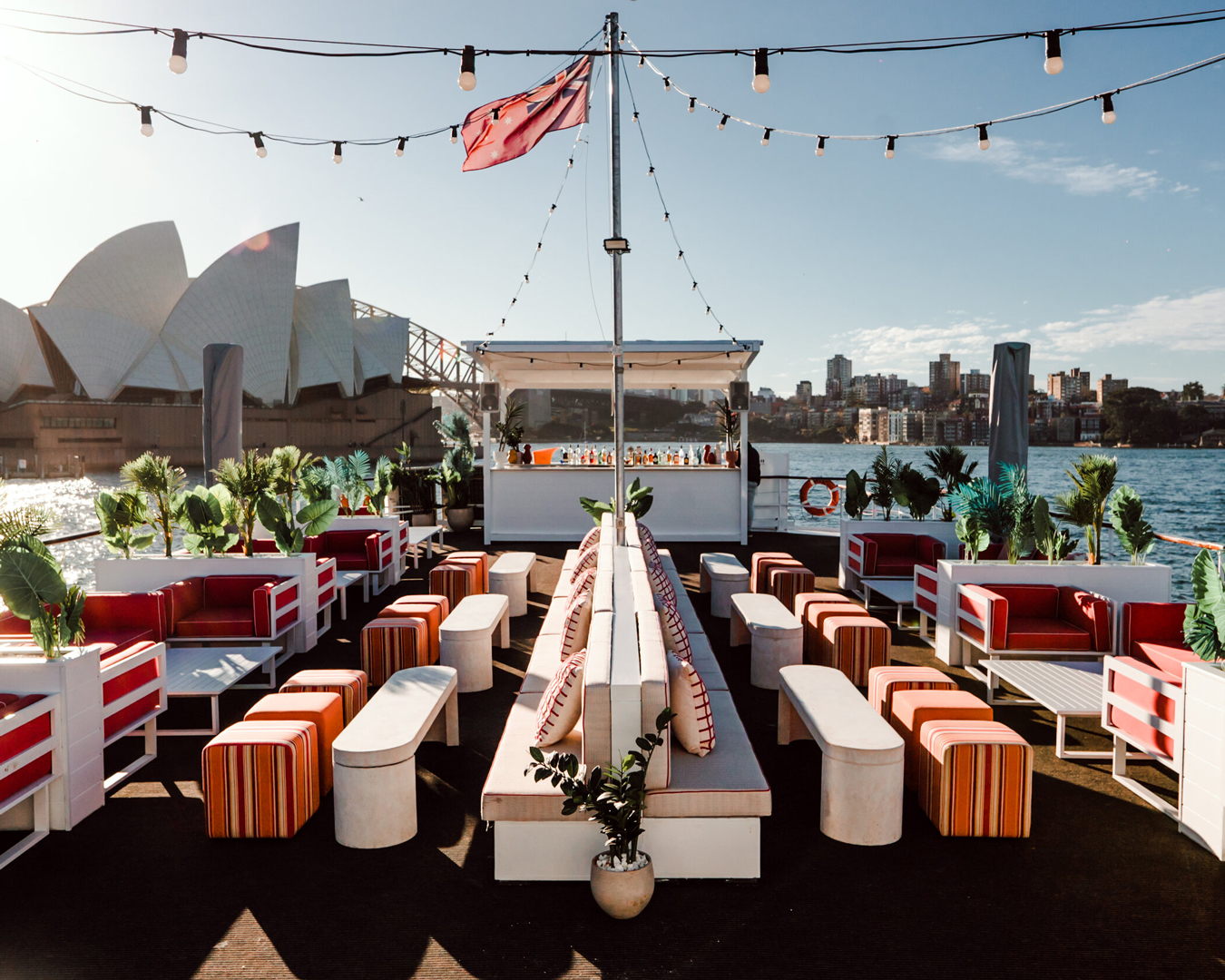 Glass Island is Sydney's multi-level floating champagne bar. Unlike some of the other party boats on the scene, Glass Island has left the nautical theme behind and opted for a tropical oasis vibe. Each of the three levels has been designed to feel like a different paradise location—the top deck bar will teleport you to the beach clubs of the Med, and the middle deck takes its cues from Miami pool clubs and beachfront hotel lobbies. Down below is a chilled champagne and cocktail lounge, where you're in for Glass Island's own signature cocktails as well as a set of natural wines exclusive to that level.
Sneaky Sound System has a Sunday residency on the boat, POOLCLVB and friends are on the decks on Saturdays, and there are heaps of pop-up parties on the program too. As for what's on the menu, Glass Island has installed up-and-coming mixologist Chis Turvey (Employees Only). Turvey has dropped 10 fresh new signature cocktails on the menu, including "Tan Lines & Tequila", the "Riptide", "Harbourside Sour" and the "Floral Reef". To eat, Simon Ekas Catering has taken over the menu with a cheeseburger made with Shake Shack's iconic Martin's Potato Bun (drool) and a slow-roasted beef brisket roll. More info is here.
Clearview Glass Boat
The words "party boat" aren't often uttered without the reverent whisper of "Clearview '' followed soon after. We're not exaggerating, either. Fully air-conditioned and decked out in sky-high wrap-around windows, the pillarless main deck makes the perf destination for occasions of any kind—from classy corporate functions to magical maritime weddings, this 105ft king of a vessel gives every other upscale party venue a run for its money. To make a booking, head over here.
Sydney Showboat II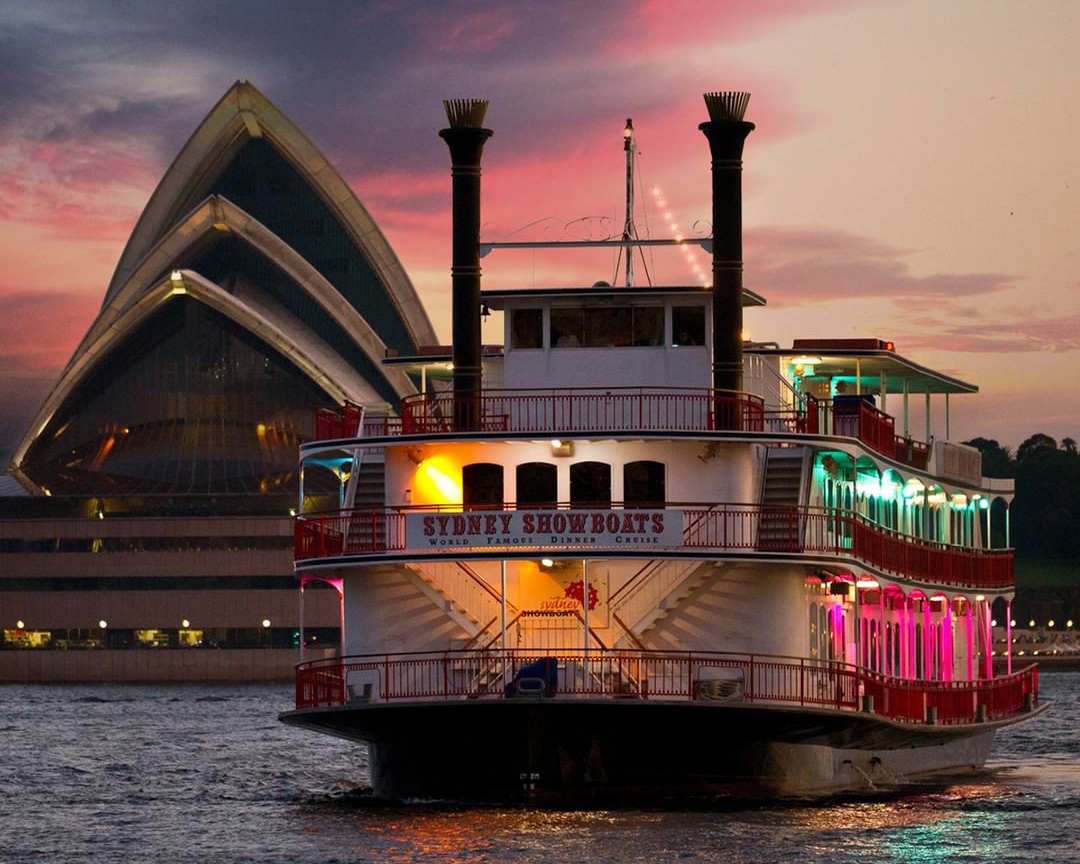 If you've ever found yourself stopped in your tracks along the harbour by the surreal sight of a boat chugging swiftly along with psychedelic lighting, you know you've just met the Sydney Showboat. This theatre-style vessel is built for performance and entertainment. Yep, you don't know you need a fully equipped bar and lounge, three huge dining spaces and an interior resembling an auditorium until you've heard it. The iconic Showboat will sweep you away on a glamorous cruise against a backdrop of Titanic-esque cathedral windows and wrap-around verandas. Head over here for a spot on the showboat.
Pub Crawl Cruise
Take your next pub crawl to the next level (or two) on this double-decker boat set on a one-way course to inebriation. Sydney Harbour Party Cruises has put together an itinerary that includes stops by some of the city's best pubs. Here's the deal: a hearty all-you-can-eat buffet, live music entertainment, your own host or hostess, and—our personal fave—a complementary tee to help you remember your booze cruise escapades and flex on people getting out of their Ubers. To book a package, head over here.
The Best Private Sydney Harbour Cruises
Starship Sydney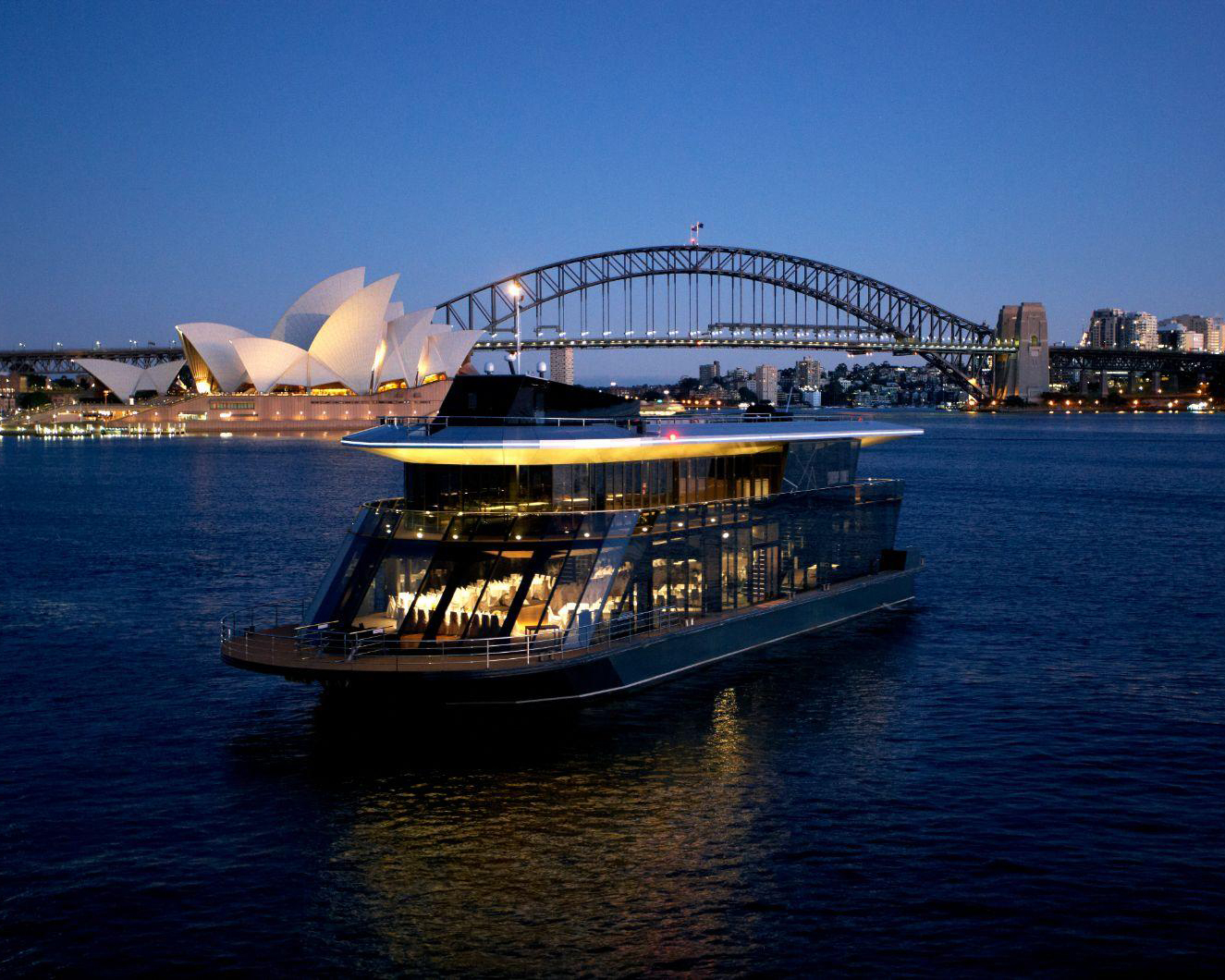 When it comes to luxury functions, Starship Sydney always delivers. This beast is equipped with a dance floor ready to keep you grooving through the night, three bars stocked full with only the finest pours, and three-metre-high surrounding glass windows that offer an unobstructed view of that iconic city skyline. The ship accommodates up to 500 seated and 950 cocktail guests, making it top of our list for big events and weddings. Book here.
Blue Room
Perhaps you're in the market for a slightly smaller affair. That's all well and good because Blue Room has got you covered. Once again, we're seeing a vessel outfitted with impressive wrap-around windows giving you front-row seats to those killer harbour views. The highlight here, though, has got to be the sky deck's retractable roof that puts you right under the stars and gives you access to the sea breeze. Seating up to 280 for dining and 380 for cocktail functions, the commercial galley here will be catering fresh meals and unparalleled service. Head over here to hire Blue Room.
Seascape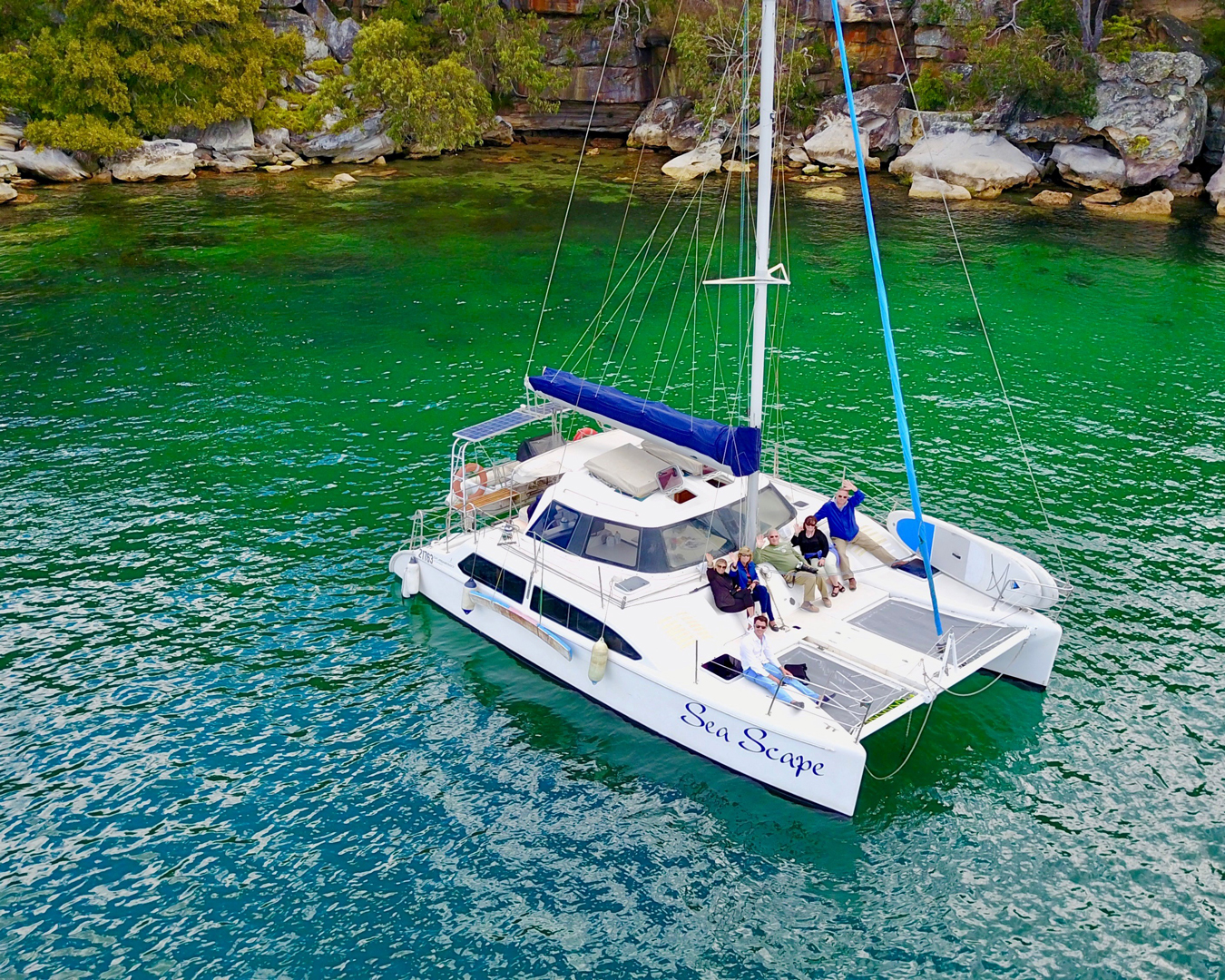 We've been talking big, but we've prepared a couple of cosy boats suited for more intimate gatherings as well. Perfect for an afternoon BBQ sesh with your crew, Seascape is a catamaran that brings all the comfort of your own home out into the big blue. She's got plenty of space for lounging, a kitchen, an in-built sound system, and a BBQ set up that will keep dad entertained for hours. But wait, there's more. We've also got the whole range of sea toys ready for you to take a spin on—see: floating trampolines, paddleboards, and lily pads. To hire Seascape, head on over here.
Moon Glider
Got a birthday coming up? Book yourself a day on one of Sydney's hottest private boats. The unassuming Moon Glider has seen its fair share of celebrations and reunions, and it's no big shocker why. The humble vessel offers a peaceful getaway from the hectic buzz of city life. With a roomy saloon, impeccable sound system, and pristine BBQ area, the boat is well equipped with amenities and service that'll get an approving nod from Captain Lee himself (Below Deck fans, we see you). Head over here to book.
The Best Sydney Harbour Lunch And Dinner Cruises
Vagabond Cruises Seafood And Jazz Lunches
If you have a boo who adores a taste of the ocean (literally), then this is really the only acceptable way to treat them. Take them on a romantic lunch date for two on the harbour while digging into a seasonal selection of fresh seafood and carvery dishes, plus fruit platters and biscuits to snack on along the way. A stunning view of the Opera House to your left, amazing company by your side, and seafood delicacies in front of you? Sounds like bliss. Make a booking here.
We have another seafood and carvery fest for you, but this time, we're adding jazz to the mix. This three-hour affair for two includes live performances by Sydney's own talented musicians, providing aural accompaniments to the scenic view of the Harbour Bridge, Fort Denison, and Opera House. Three-course seafood luncheon aside, your package also offers a flow of tea time beverage and mini bites. For good food, good views, and good tunes, book here.
Sydney Tall Ships Twilight Dinner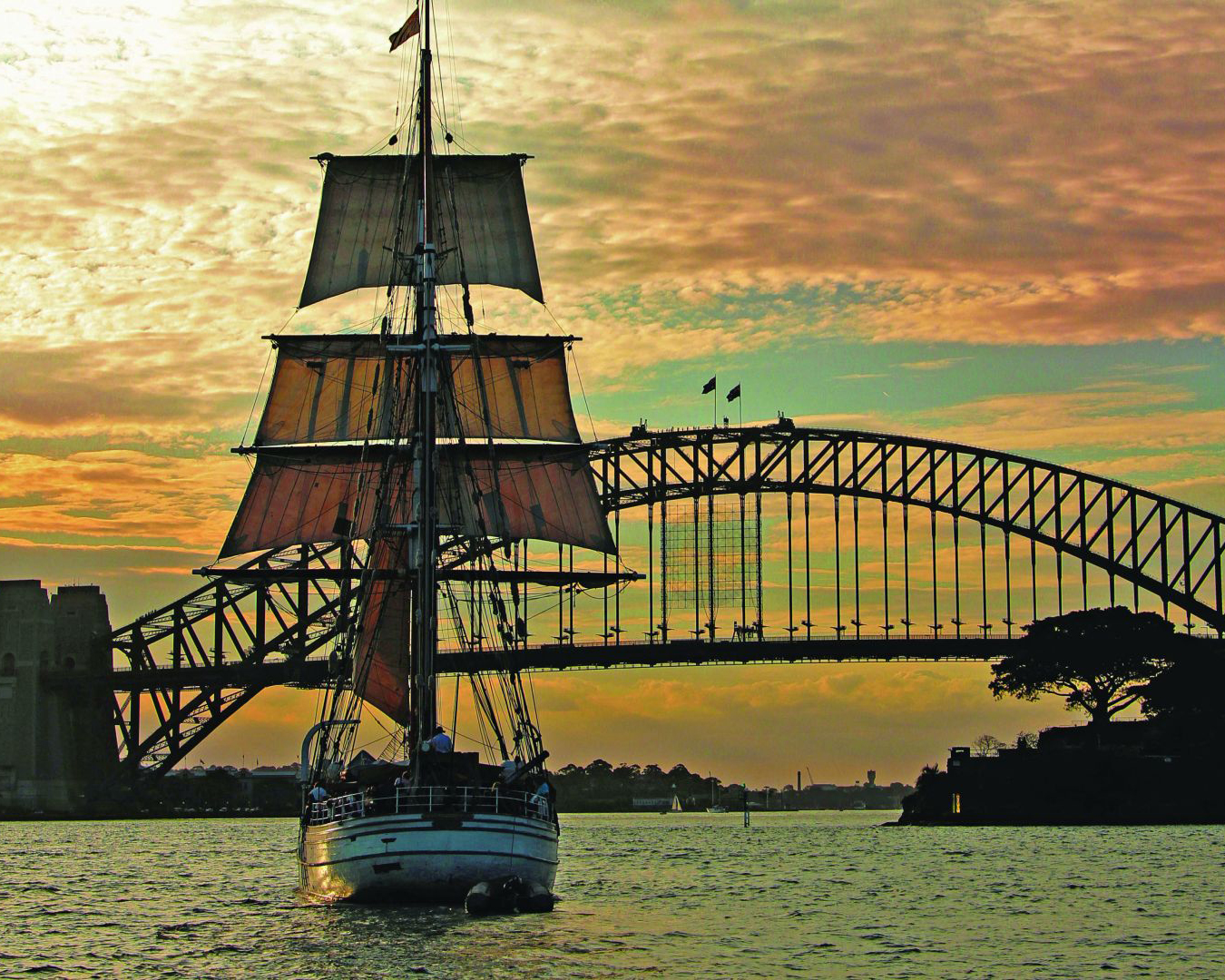 For all you Pirates of the Caribbean or Peter Pan fans out there, we've saved the best for last. Behold: Sydney's one and only authentic timber tall ship that lets you live out your childhood fantasies onboard. Set during the hour of twilight, the experience gives you a magical dining experience including a delicious array of starters, mains, salads, and desserts. Oh and did we mention, this cruise lets you beef up your captain's resume as it gives you a chance to help steer or set the sails. All ahoy. Book your dinner here.
For even more great ocean views, check out Sydney's best waterfront restaurants.
Image credit: Seadeck, Seadeck, Glass Island, Clearview, Sydney Showboat, Starship, Seascape, Sydney Tall Ships
Editor's note: Urban List editors independently select and write about stuff we love and think you'll like too. Urban List has affiliate partnerships, so we get revenue from your purchase.