Acknowledgement Of Country: Urban List respects and honours Aboriginal and Torres Strait Islander Elders past, present, and future. We acknowledge the stories, traditions, and living cultures of Aboriginal and Torres Strait Islander peoples on this land.
There's nothing quite like exploring your own backyard—and discovering NSW in all its glory is something we've all been enjoying more of thanks to 2020. Once you've had your beachy escape, your wine-tasting adventure, and a camping trip or three, trust us, there's still more to see. If you're looking for somewhere new, consider one of our state's historic towns.
Whether you're just driving through for a lunchtime pit stop, or hoping to spend a couple of nights at a B&B before exploring and learning about Australia's rich First Nations culture and colonial past, there's a township in every corner of NSW worth a visit. Wineries, country pubs, chocolate and jam factories, national parks, hot springs—these historic spots are definitely worth the drive.
Get ready for a breath of fresh air with some of the best historic towns to visit in NSW.
Carcoar
Drive Time: 3.5 Hours From Sydney
The historic National Trust-listed town of Carcoar, also known as the town that time forgot, sits on either side of the Belubula River in Blayney Shire just outside of Orange. It's the third oldest colonial settlement west of the Blue Mountains, and in the 2016 Census, Carcoar's population sat at just 301, so, when we say small country town, we mean it. The town's name is a Gundungura word meaning either "frog" or "kookaburra".
The best way to take in the small town of Carcoar's history and charm is on foot. You can start at Carcoar's general store where you'll find a town map with everything you need to know. After that, take a wander through Tomolly—here you'll find dreamy Southern Wild Co candles and an edit of hard-to-find homewares that will no doubt have you dreaming up your own countryside manor. Afterward, grab a classic country pub meal with the locals at Carcoar's iconic Royal Hotel, or grab a cheese hamper, a meat pie, or a coffee from The Village Grocer and picnic beside the river.
Gundagai
Drive Time: 4 Hours From Sydney
Located on the Murrumbidgee River in the Riverina, Gundagai is a town steeped in First Nations and colonial history. The word "Gundagai" is said to come from the Wiradjuri language, meaning "to cut with a hand-axe behind the knee". The colonial village of Gundagai was officially established in 1840 on the Murrumbidgee floodplain, despite repeated warnings from local Wiradjuri of the area's proneness to dangerous flooding. On June 24, 1852, the small town was overwhelmed by a flood, killing more than one-third of the 250 residents and destroying 71 buildings. The death toll could have been higher if not for the heroic actions of local Indigenous men, Yarri and Jacky Jacky, and their efforts to ferry those left stranded to safety with bark canoes. A bronze statue of the two men, titled The Great Rescue of 1852, was erected in 2017 on the town's main street.
If you're hoping to take in the fresh air on your country escape, Gundagai has plenty to see and do outdoors. Make sure you visit the famed statue of "The Dog on the Tuckerbox", which has stood since 1932. The wishing well donations still contribute to the local hospital. There's also plenty of walking and cycling trails, as well as spots for kayaking and fishing. For an elegant and cosy stay, book a room at the town's new luxury boutique motel, Flash Jacks of Gundagai, located just off the town's main strip.
Moree
Drive Time: 7 Hours From Sydney
The town of Moree, whose name is believed to come from a Kamilaroi word meaning "long waterhole" or "rising sun", is situated in Northern NSW's Gwydir Valley. The town is known as Australia's artesian spa capital since tapping into the hot springs of the Great Artesian Basin and its mineral-rich waters way back in 1895.
You can't stay in Moree without visiting the Moree Artesian Aquatic Centre, with its day spa, sauna, pools, and thermal springs naturally heated to 41 degrees Celsius. After a therapeutic and relaxing day, explore the town on the guided Moree Heritage and Art Deco Walk, taking in Moree's unique buildings and architecture, or visit the Bank Art Museum to see its significant collection of Aboriginal paintings. The Gwydir wetlands and delta waterways are also the perfect spots for fishing, kayaking, or simply exploring nature. The Moree Water Park has been designed for watersports—from waterskiing to dragon boat racing. Most of all, make sure you stop by the Yaama Ganu Centre, an Aboriginal cafe and art gallery that showcases and sells works from local Kamilaroi people and other Indigenous artists around Australia.
Junee
Drive Time: 4.5 Hours From Sydney
The railway town of Junee, whose name means "speak to me" in the local Wiradjuri language, is situated just 30 minutes north of Wagga Wagga in NSW's Riverina region. The village then known as "Jewnee" was gazetted in 1863 by European colonists. Besides Junee's general lovely country town allure, there are three strong reasons to visit: trains, chocolate, and, if you're game, a haunted house.
When constructed in 1947, the Junee Roundhouse (used to service locomotives), now turned railway museum, was the largest in the Southern Hemisphere. Start your visit at the Junee Roundhouse Museum by delving into the town's and Australia's railway history. Then head over to the restored Junee Flour Mill, built in 1934, which today is home to the Junee Liquorice and Chocolate Factory. Surely, we don't have to sell you on an iconic local specialty chocolate shop any more than that. Finally, what better way to end the day than at the Monte Cristo Homestead, also known as Australia's most haunted house. You can take a guided tour of the Victorian-era mansion at 6pm every Saturday or visit during the week. And yes, if you were wondering and you love being spooked out of your wits, there is the option to stay the night.
Scone
Drive Time: 3 Hours From Sydney
Known as the horse capital of Australia, Scone is located in the Upper Hunter Shire of the New South Wales Hunter region. Originally inhabited by the Tullong and Murrain First Nations communities, the town was established in 1837 by white colonists. Scone, which gets its name from the Scottish town and home of royal coronations, claims to be the world's second-largest horse breeding area, after only Kentucky in the US.
Home to everything horses, this is a must-visit for any equine lover, especially in May during the annual Scone Horse Festival. The town's greater area is also surrounded by outdoor adventures and escapes like national parks, and nearby Lake Glenbawn, perfect for fishing, canoeing, swimming, and water skiing. Just north sits Towarri National Park where you can take a couple of days to camp, swim, and hike through the natural bushland. If you need a place to stay in Scone, there's plenty of quaint B&B's and country homesteads and cottages on offer.
Corowa
Drive Time: 6 Hours From Sydney
The town of Corowa sits on the Murray River bank between the NSW and Victoria border. Its name is believed to drive from the Bangerang word, "currawa", either referring to the local curra pine or meaning "rocky place". The NSW border town is well known as the birthplace of Federation, the home to many early federation meetings and speeches in the late 1800s, and the 1893 Federation Conference.
There's no better way to spend a few hours in town than on the Murray River Corowa foreshore, fishing for some Murray cod, swimming, or just relaxing with a picnic and a BBQ. If you're looking for a drink or a bite to eat, we recommend heading straight for Corowa Whisky and Chocolate (genius combo), housed in a flour mill built in the 1920s. For dinner, grab a table at the local's favourite, D'amicos, a family-owned Italian restaurant with a wine list showcasing the nearby Victorian North East Valleys wine region.
Young
Drive Time: 4 Hours From Sydney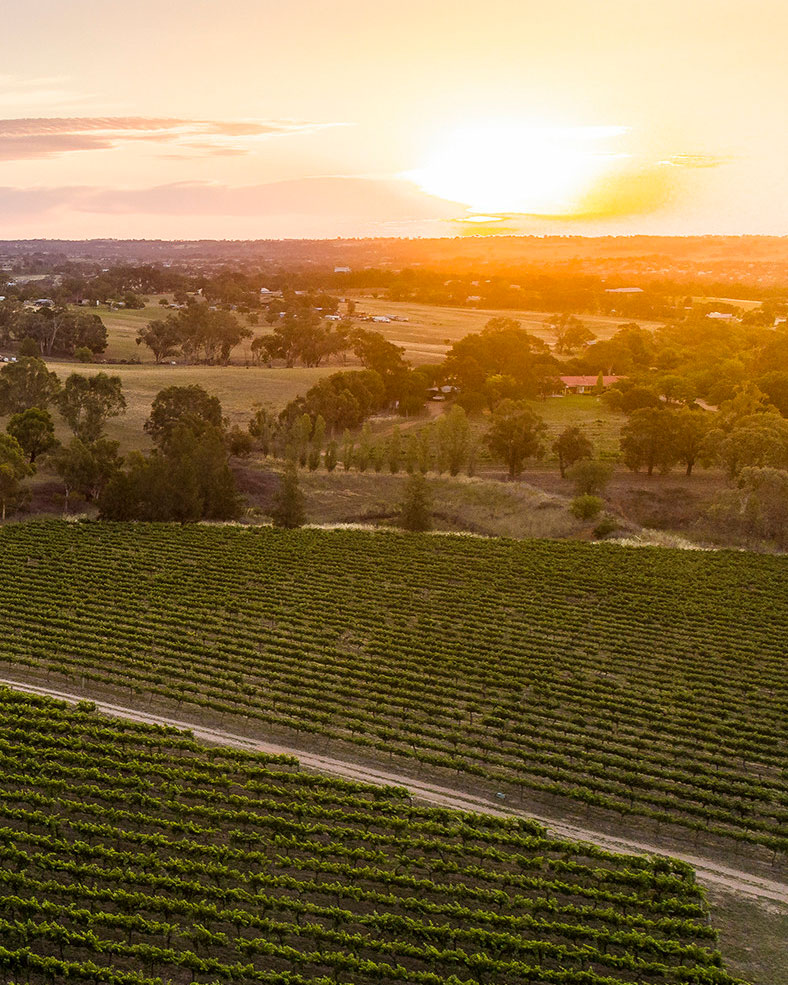 Located on the south west slopes of the Great Dividing Range in NSW's Hilltops region, Young is known as the "cherry capital of Australia". You'll immediately know that driving in because the town sign, known as The Big Cherries, says so. Before cherries, this region was home to the Burrowmunditory tribe, a family group of the Wiradjuri Nation. Later, when gold was discovered in the area in 1860, it became known as Lambing Flat. You can learn about the infamous Lambing Flat riots at the Lambing Flat Folk Museum, housed inside the former Young Public School building built in 1883.
Planting Australia's first commercial cherry orchard in 1878 coupled with its fertile red soul and ideal cool climate, Young has established itself as the home to some of the country's best stone fruits and winemaking. Visit the township during cherry-picking season (October through January) for the annual December National Cherry Festival or Spring for the breathtaking sea of pink and white cherry blossoms. If you're after some sweet local flavours, make your way to Poppa's Fudge & Jam Factory. Then choose from the many local wineries and cellar doors like Grove Estate Wines or Chalkers Crossing Wines to sample some of the region's best local vino.
Looking for somewhere to stay? These are the best regional hotels in NSW.
Image credit: WalkerPod Images, Destination NSW