Manly Pavilion is waterfront dining at its best—sitting on the wharf side of one of Australia's most iconic beaches with uninterrupted views all the way to the heads. Manly Pavilion is a Goddamn institution and the perfect place for afternoon aperitifs as the sun begins to set, a long Sunday brunch or your next big event. Oh, and did we mention the view? Because it's damn good.
Last year the venue underwent a substantial revamp, restoring a lot of its original heritage appeal. We entered at the side of the pav and the first thing we noticed was the homely feel. Here you'll find a big chill out space with comfortable couches, cosy fireplace and obviously the view is also peeking through.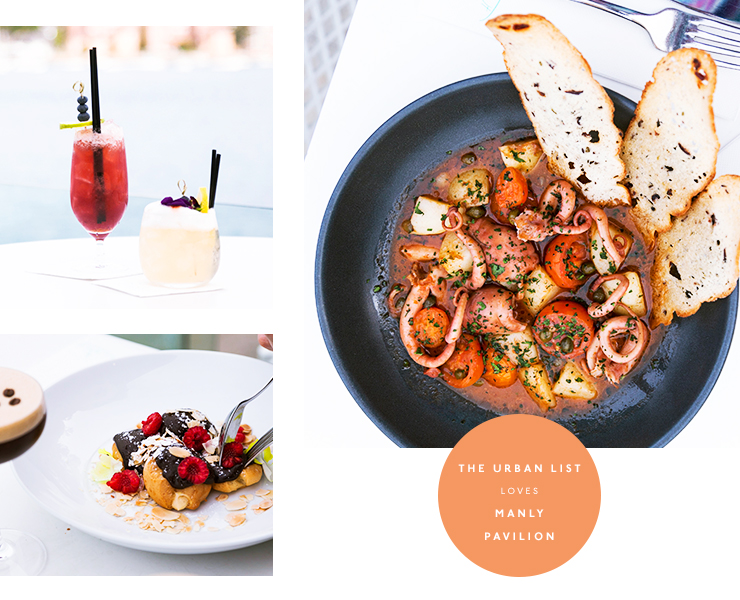 We made our way to into a sleek dining space, with an open-air balcony hanging off the back (FYI this is where you'll be spending summer—allllll of summer). The dining room is wrapped (yes wrapped) with floor-to-ceiling bifolds to let the sea breeze flow, while hanging plants surround the dining room. Let me tell you, whoever is responsible for watering the plants is absolutely killing it.
Okay, less about the plants and more about the food. Head Chef Andrea Corsi is fresh on the scene at Manly Pavilion and he's brought everything he learned from growing up in Tuscany, plus years of experience on Sydney's fine dining scene with him—and the result is more than a little bit delicious.
We have many top picks on his menu, each made better by the addition of wine (obviously), but one thing you absolutely must order is the gnocchi. Pillowy soft potato gnocchi is topped with a rich pork ragu and ricotta—you'll have polished off the plate in two minutes flat. Other honourable mentions are dark chocolate mousse with plums poached in sparkling Shiraz and the antipasto board piled with Serrano prosciutto, salumi, pate and the other usual suspects
Choosing between cocktails and wine will probably be the most difficult decision you make all day, at least until the third where all decisions will be easy—the answer is yes. The espresso martini is obviously a classic and if you're heading here for their all day Sunday brunch, then you might just need a pick me up. Our hot tip is to skip the latte and go straight for this bad boy—yes we're a bad influence and we're proud of it, okay.
You also need to check out this inner west cafe STAT.
Design credit: Gabrielle Stjernqvist