When it comes to outrageous eats—the sort you find unbelievable but also feel the need to try—Milky Lane is where it's at in Sydney. In the past, this crazy burger bar has cooked up oozing burger stacks involving Flamin' Hot Cheetos and boozy concoctions featuring Zooper Doopers and Bueno bars.
Well, plan a cheat day in the near future because Milky Lane is back at it with a brand new menu of 12 mind-blowing, can't-believe-they-actually-did-that creations.
From this week, the new menu is heaven for big burger fiends and mega sweet tooths. On it, the "Hail Caesar" is a schnitty burger with a parmesan dusted bun filled with a parmesan deep-fried mozzarella patty, fried egg, and Caesar salad with garlic croutons and crispy bacon pieces. There's also a chicken parmi burger packed with smashed potato gems and a house-made Napolitana sauce on a bun slathered in mozzarella cheese.
If you're a fan of Caramilk and Lotus Biscoff but are also pretty indecisive, you'll want to order up the Caramilk and Biscoff cookie skillet for dessert. What's that you ask? It's a baked Caramilk, Biscoff and cookie dough skillet topped with Caramilk chips, crushed Lotus biscuit, vanilla ice cream, and icing sugar. It also comes served with a Biscoff shot that's basically a concoction of 42 Below Vodka and Fireball with Biscoff sauce and crushed Lotus biscuit—not kidding.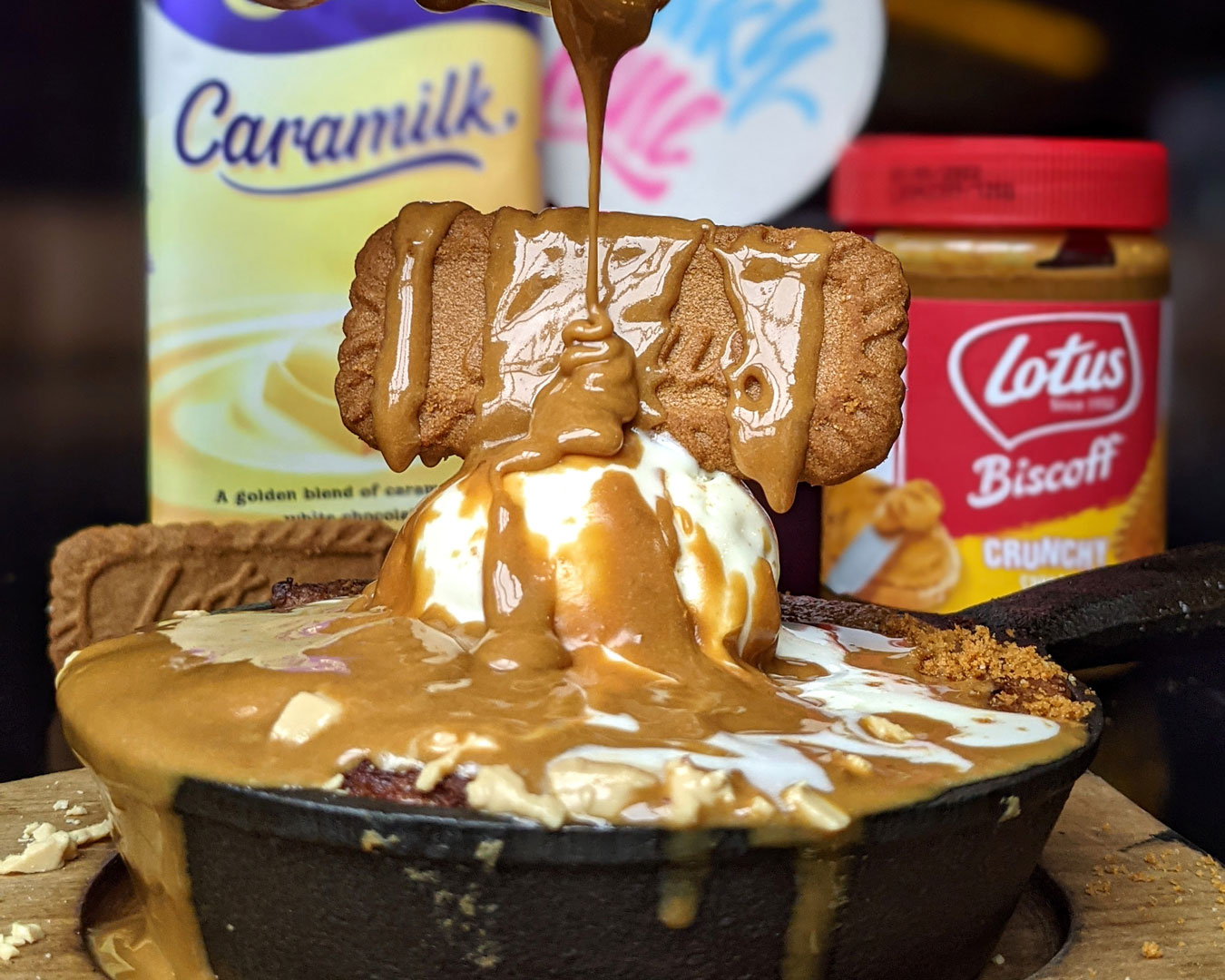 As always, Milky Lane brings major A-game when it comes to loaded shakes—and the new menu features both a Caramilk shake, topped with Caramilk pieces and Caramilk sauce and a Biscoff shake loaded with crushed Biscoff pieces and Biscoff sauce.
The pièce de résistance here, if we had to pick only one, would be the boozy Biscoff Espresso Martini. Dubbed the "Biscoff Espresso" this creamy, sweet delight is a blend of 42 Below Vodka, Fireball, and cold drip coffee with biscoff sauce and crushed Lotus Biscuit.
Keen? Find your local Milky Lane over here.
The Details
What: Milky Lane's new menu
When: From Monday11 October, 2021
Where: All Milky Lane venues in NSW
Love Lotus Biscoff-laced treats? Try these Biscoff custard tarts.
Image credit: Milky Lane