Picture this—despite your best efforts to avoid ever seeing that so-bad-it's-kind-of-good super shark movie, The Meg—you've caved. Only, instead of being cozied up on your couch at home, you're sitting in a rowboat, at a floating cinema, with the inky depths of the night-time harbour beneath you…
Sound like your kind of jam? Well, at Sydney's new floating cinema, this is precisely what you can be doing this summer. Brought to you by the same crew that gave us an outdoor bed cinema (Mov'in Bed), and a rooftop drive-in cinema (Mov'in Car), Mov'in Boat is set to hit Darling Harbour in December.
A little like the Paris Plage floating cinema, at Mov'in Boat, cinema lounges have been swapped for rowboats, which will be dotted around the harbour in front of a big screen. Book one for you and your date (it does sound pretty romantic), or bring along three mates—the boats can hold up to four ($119.90 per boat).
If you're worried about comfort, each of the rowboats has been kitted out with plush seating, and, if you get in early, you can take your boat for a paddle around the harbour too.
As always, Mov'in has a tasty food and drink program to match its novelty cinemas—this time you'll be able to order pizzas, fish and chips, prawn buckets, Nutella Belgian waffles, and bottomless sweet or savoury popcorn—all of which will be ferried over to you by jet ski. At the bar, you'll be able to order up slushie cocktails, as well as beer and wine.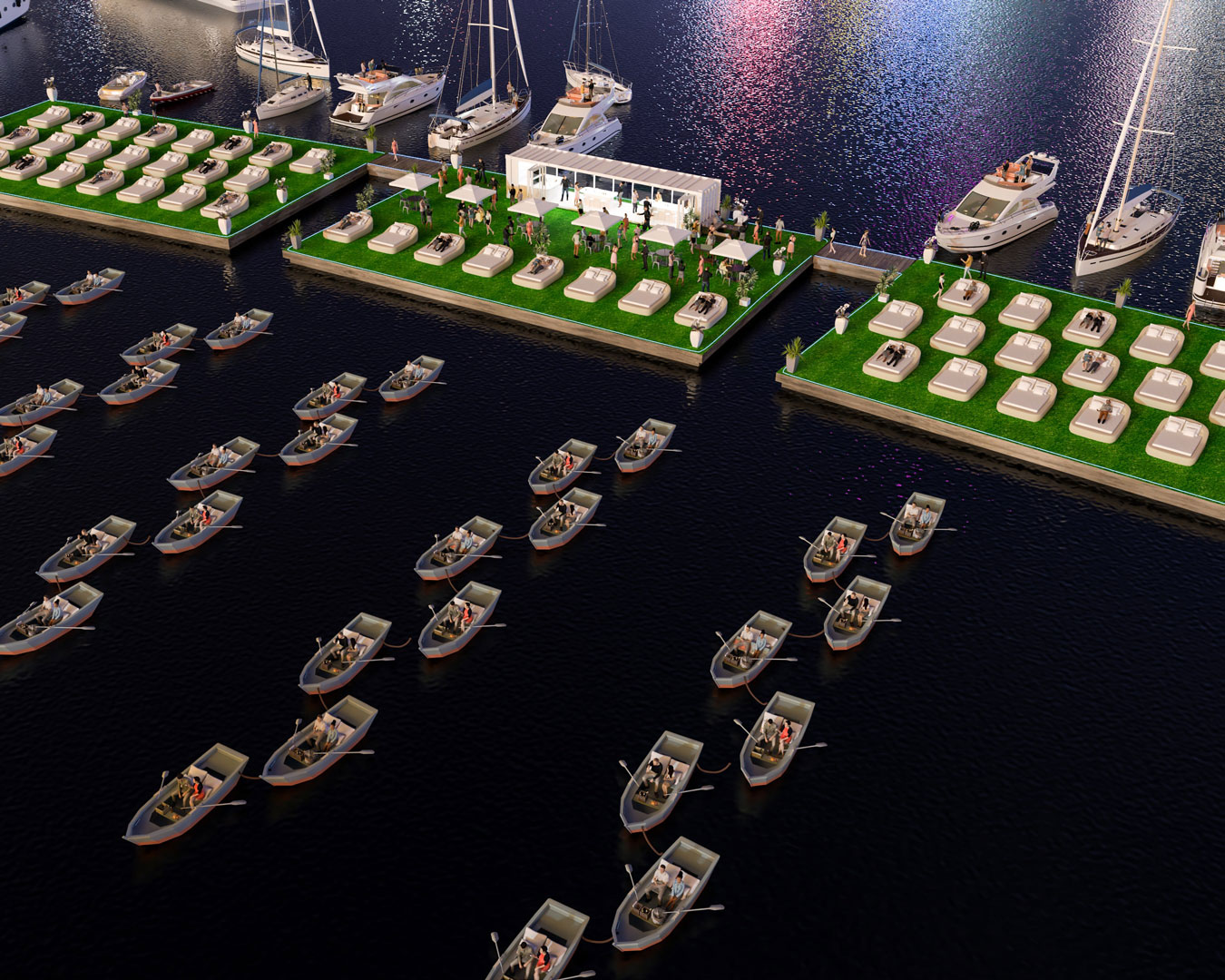 If the thought of going overboard mid shark movie is all a bit much, Mov'in Boat also has three 1000 sqm floating pontoons, which have been decked out with socially distanced, queen size daybeds ($99.90 for two people and $109.90 for three). Feeling like a baller? Go for the VIP option. You'll be able to pre-order dinner and drinks from The Star's Sokyo, Fat Noodle, Black Bar and Grill, and Flying Fish.
If you're the sort of Sydney human that has your own vessel, there's also the option to park up and tune in from the BYO boat area ($49.90 per boat).
As for what's showing at Mov'in Boat, yes—you can watch The Meg (Friday 4 December), but if you're after something that's still on-theme, but slightly less terrifying, Free Willy is also showing on Saturday 12 December.
Otherwise, Christopher Nolan's epic sci-fi movies Interstellar and Tenet are also on the lineup, alongside Knives Out, The Matrix, and, for all your rowboat bliss, The Notebook.
Tickets are on sale right now—jump over here.
The Details
What: Mov'in Boat floating cinema
When: Thursday 3 December, 2020 - Sunday 21 March, 2021
Where: Darling Harbour
The Bon Fromage cheese festival is back this month—here's how you can order half a kilo of free cheese.
Image credit: Mov'in Boat