Coming into the warmer months, there's nothing better than escaping the city and taking a road trip to explore our state's scenic backyard and the many beach towns along its coast. While your first thought for a beach getaway in NSW might be to head for popular spots like Byron Bay or Yamba—we think it's to consider going in the other direction.
About a five-hour drive south of Sydney, past Batemans Bay, sits the small beach town of Narooma in the Eurobodalla Shire. Not only is the area blessed by pristine beaches, lush national parks, and some awesome waterfront spots to drink and dine—you'll be sharing the experience with fewer crowds than some of the more well-known beach town spots.
To help get you excited for a trip to the NSW South Coast and to start your itinerary checklist, we've rounded up some of our favourite things to do in Narooma, as well as the best places to drink, dine, and stay.
Imagine pairing a cocktail and a local oyster with sand between your toes. Here's your complete guide to Narooma.
Where To Eat In Narooma
Queen Chow At The Whale Inn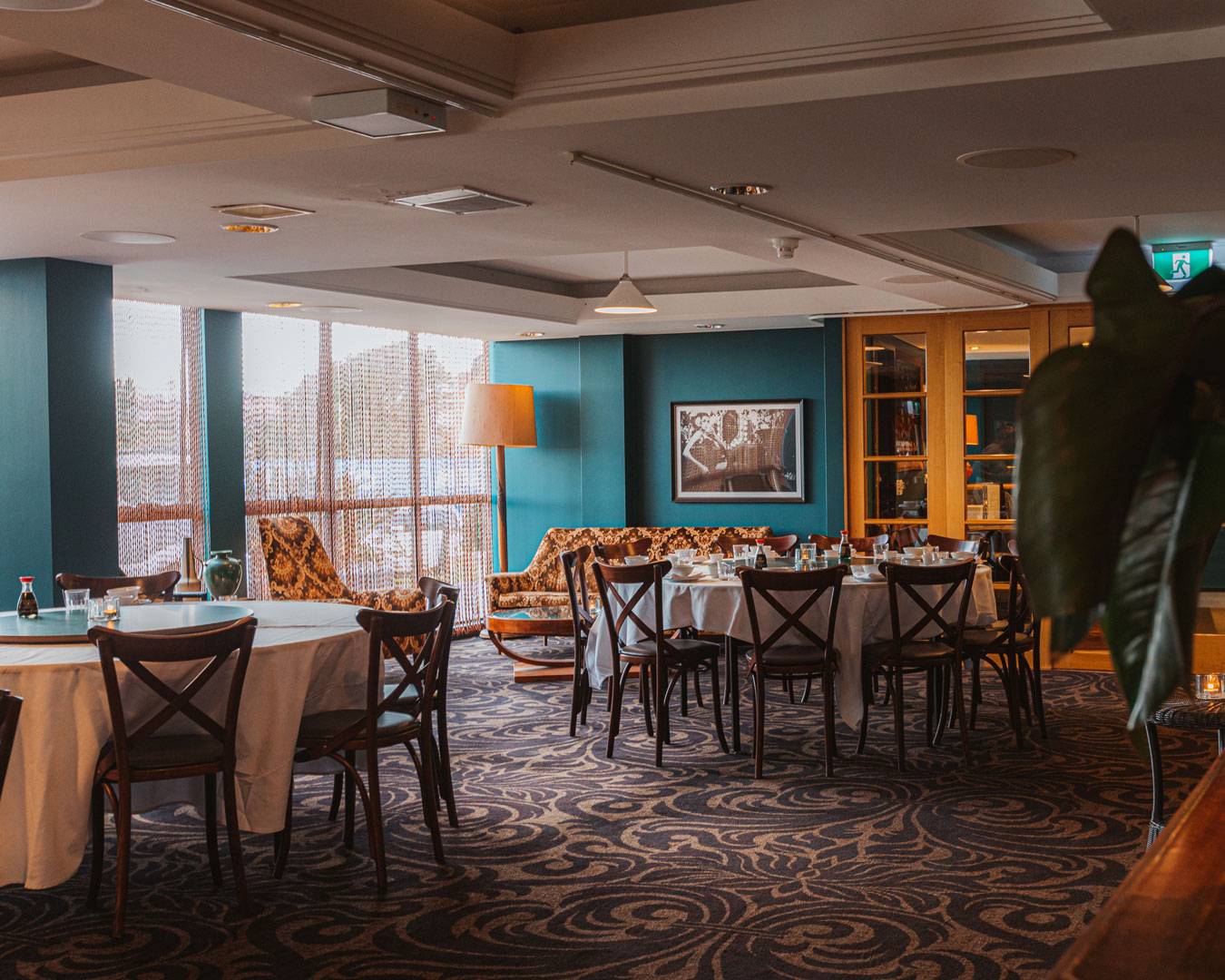 It turns out that one venue in the beautiful Eurobodalla town wasn't enough for Merivale boss Justin Hemmes because after purchasing Quarterdeck (see below), Merivale also acquired Narooma's The Whale Inn—and he's transplanted a Sydney dining gem within it. Unlike its stylish Sydney counterparts, Queen Chow Narooma looks like it's stuck in the 80s, which unequivocally suits its laidback coastal setting. There's old-school carpeting, no-frills furniture, round tables with lazy susans, and an adjoining cocktail bar in a leafy sunroom. As for the food, expect Queen Chow favourites like barbecued duck pancakes, honey king prawns, and plenty of dumplings alongside seafood dishes like local crayfish in XO sauce and sashimi with mandarin ponzu. Come hungry.
The Inlet
Merivale has been extremely busy looking for opportunities out of Sydney, and it seems they found another Narooma-based one when they bought The Inlet. However, some things are different with this shop, like The Inlet focussing on nailing some of the best takeaway food in town. We're talking burgers, fisherman's baskets, local oysters, and, of course, fish and chips. And some things are very much the same as they were before Merivale's ownership, like the breathtaking waterfront views which you can enjoy as you eat.
The Oyster Farmers Daughter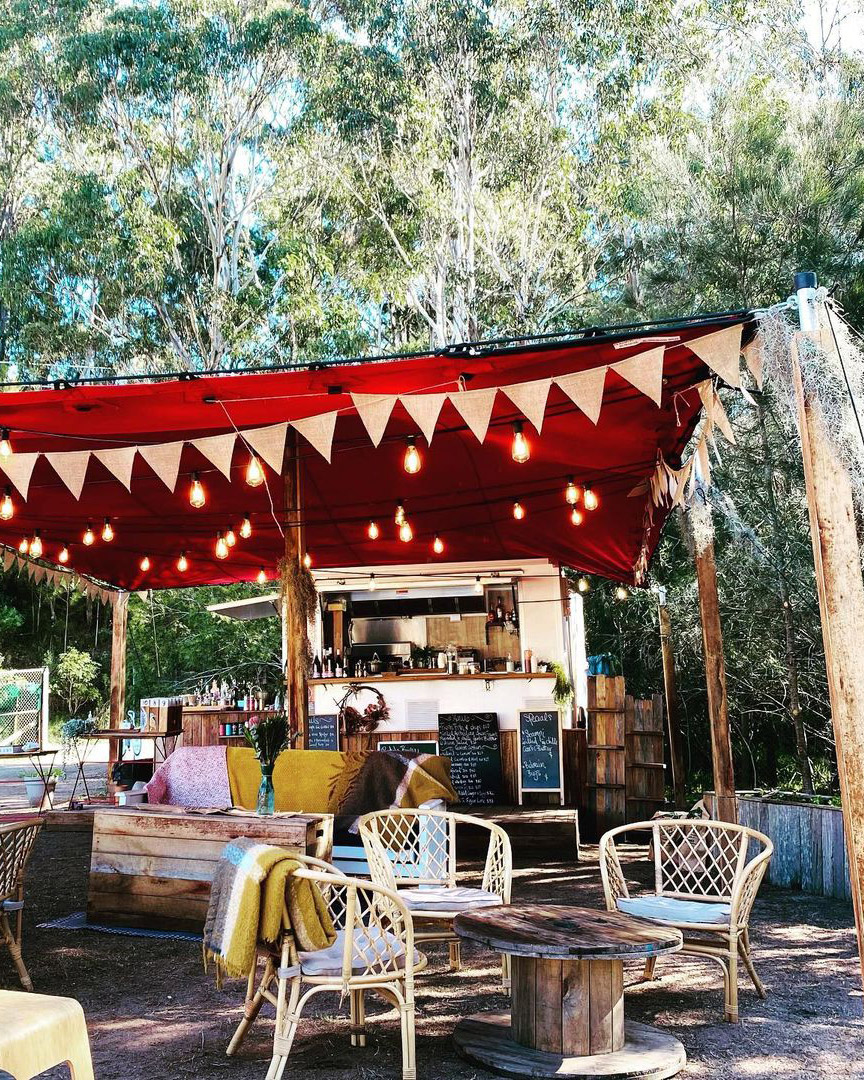 You can't leave Narooma without trying some local oysters, and The Oyster Farmers Daughter is one of the most beautiful spots to indulge. Sitting on the shore of Wagonga Inlet's Barlows Bay, the small bar/restaurant offers a uniquely casual outdoor dining and drinking spot where you can tuck into Narooma Rock Oysters caught with over 40 years of experience. Think freshly shucked oysters, prawn buckets, local lobster, cocktails and cold-pressed juices, and even a taco Tuesday.
Salt
If you're looking for a casual brekkie spot, you can't beat Salt. It's located right on the water at the Narooma Marina and has plenty of outdoor tables so you can soak up all that serenity. Just make sure you get there early enough to nab a spot—this spot fills up quickly. Here, it's all about championing local and seasonal produce. The coffee is by way of Guerrilla Roasters, which is located in nearby Moruya, and is excellent. As for the food, there are regularly changing toasties, stacked bacon and egg rolls, house-made granola, seasonal bowls, and pastries from local bakery Wild Rye's. There's also a takeaway window if you're in a hurry.
Where To Drink In Narooma
Bend And Sip Bar
If you love to get a quick yoga session in during your holidays but also love a good place to unwind with a glass of wine, we've got some good news for your Narooma stay. With a space that offers yoga classes, coffees, and smoothies during the day and cocktails, wine, and tapas at night, Bend and Sip Bar is the definition of a win-win for holiday vibes. What better way to earn that spicy margarita than with a power flow session?
Quarterdeck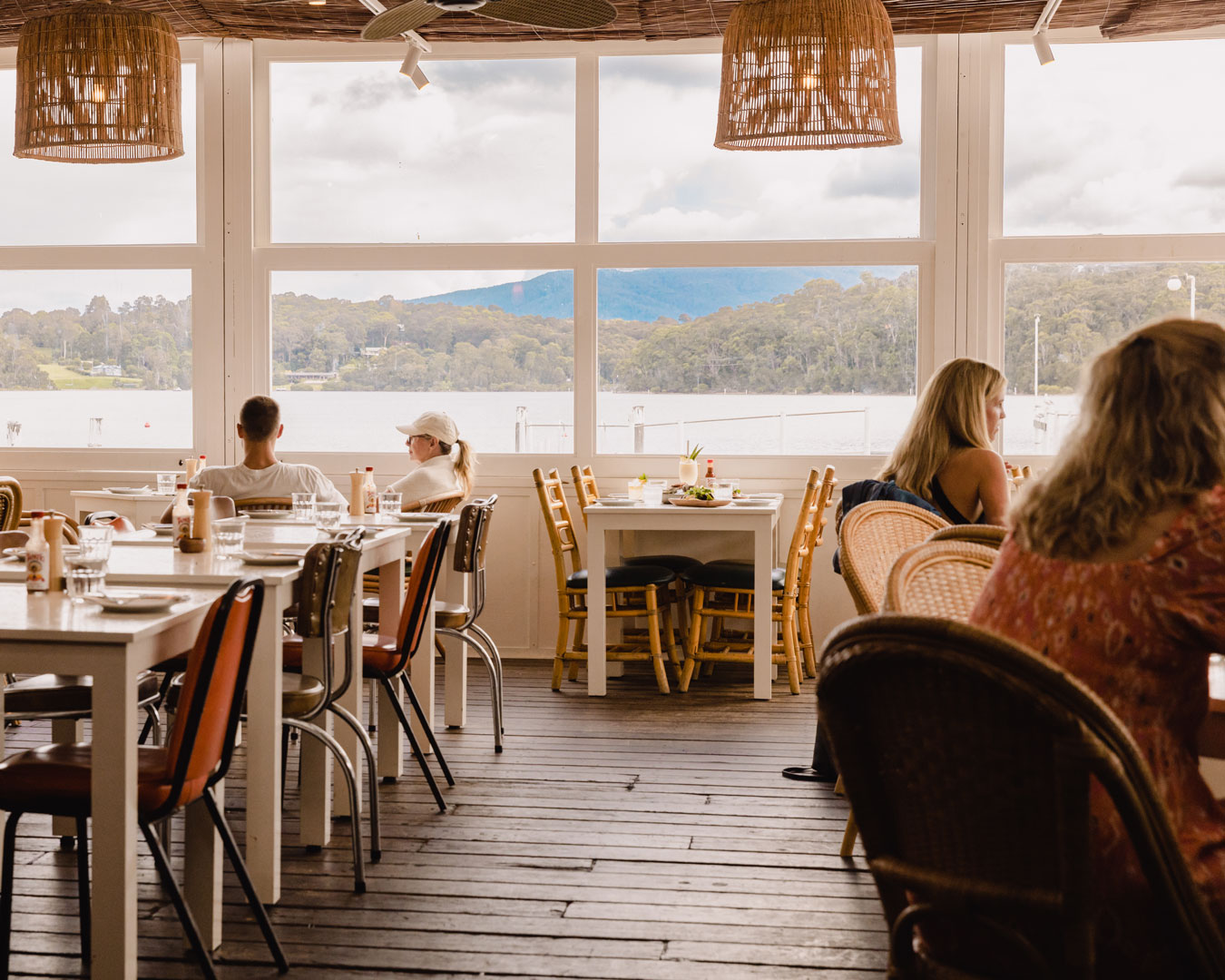 Aside from its incredible waterfront views and tropical vacay vibes, Quarterdeck is a significant venue as the first venue purchased outside of Sydney by hospitality giant Merivale. A frequent visitor to the Narooma area, Hemmes bought the Wagonga Inlet foreshore bar and restaurant in early 2021. Originally built as an oyster grower's shed and, for the past decade and a half, operating as a Tiki cocktail bar, Quarterdeck now continues to serve a range of beachside-inspired cocktails with plenty of snacks, share plates, and tacos. Hot tip: order the soft serve sundae with salted caramel, chocolate sauce, hazelnut and pretzel praline for dessert—it's a winner.
Tilba Valley Winery And Alehouse
If you're after a locally made beer or wine, head to the Tilba Valley Winery and Alehouse located just south of Narooma. The picturesque venue sits between the foothills of Mount Dromedary and Gulaga National Park and the shores of Corunna Lake. With 40 years of winemaking experience behind them, the Tilba Valley team also started brewing beers in 2019, sure to please any and all visitors. There's a rotating food menu and plenty of options like a cheesebox to match your vino and enjoy by the winery or to the sound of live music playing from the custom-built stage.
Big Niles Brewing Co.
Less than a five-minute drive north of Narooma, you'll find a local brewery and a must-visit spot for any craft brew lovers, Big Niles Brewing Co. The small Dalmeny brewery was opened in 2019 by former BMX rider Cam White. Head into the 500L brewhouse for a pint from the core range or one of White's seasonals. Throw in some live music and a spot in the beer garden under the sun—your arvo is well and truly sorted.
Lynch's
Rounding out the Merivale venues in Narooma is Lynch's. Built way back in 1895, the historic pub boasts plenty of character and old-school charm—in fact, it is one of the oldest buildings in town (and is yet to undergo a facelift). What has changed is the food. Expect exceptional pub grub here, with classics like beef pies, schnitties, and steaks as well as many seafood and veg-heavy dishes in the mix. As for the space, there are indoor and outdoor dining areas, pool tables, warm timber accents and a classic bar serving plenty of tap beer.
Things To Do In Narooma
Gulaga Mountain Walk
The Gulaga Mountain (Mount Dromedary) walk starts in Tilba Tilba, roughly 15 minutes south of Narooma, and is absolutely worth the short trip if you're looking for a serious way to stretch your legs and earn a refreshing swim. Originally built as a path for gold miners, the steep track is a 14-kilometre return up the ancient forested volcano, with a pretty damn good view of the coast when you reach the peak. Make sure you leave yourself a good five hours for the full trek and pack a big bottle of water.
Snorkel With Seals And Hang Out With Penguins At Barunguba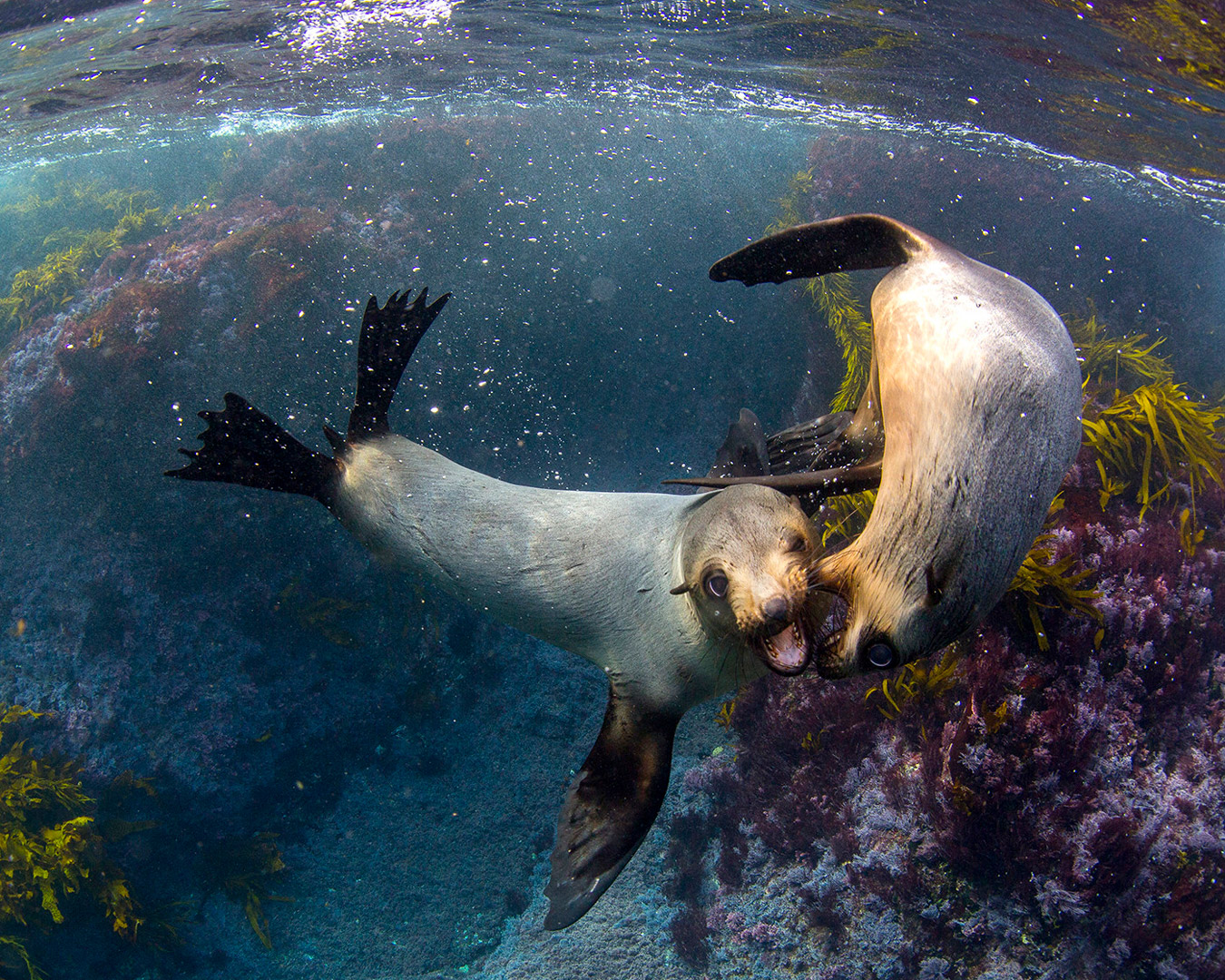 Directly off the coast of Narooma sits Baruguba (Montague Island), a must-add destination to your visit, especially if you love swimming with seals (and who wouldn't). Charter boats regularly make the 20-minute journey from Narooma to Montague Island, where depending on the season, between 400 and 2000 New Zealand and Australian fur seals live in and around. The waters around the island are quite deep, so if you're a confident swimmer, go for it and hope you get lucky with the wildlife! There are also options for scuba diving if you've got the experience, opportunities to see whales on the boat ride over, and in season, a chance to see penguins on the shore too. Organise your underwater exploration with local companies like Narooma Charters, Montague Island Discovery Tours, Island Charters Narooma, or Montague Island & Penguin Tours.
Cycle From Narooma To Dalmeny
If you're looking for a way to properly take in the coastline and explore beaches outside of Narooma, the Narooma to Dalmeny cycle route is the way to do it. The 21-kilometre coastal track follows the Pacific Ocean, as well as picturesque Wagonga Inlet and Mummaga Lake. Along the way, safely keep a firm eye on the water for any wildlife, especially whales in the right season, who could make it the ride of a lifetime. If you didn't pack your own, you can hire a bike here.
Wagonga Inlet Cruise
Everyone holidays differently, and you might be far more inclined to opt for something relaxing rather than strenuous. If so, try a calming cruise around Narooma's Wagonga Inlet. Hop aboard the 115-year-old Wagonga Princess ferry, sit back, and take in the surrounding flora and fauna at a leisurely pace. Options include two or three-hour day (with a picnic stop-off) cruises, an evening sunset cruise, or even private charters. Throw in some locally farmed oysters and BYO drinks to be happily on your way.
Where To Stay In Narooma
Beachfront Camping
Maybe you like staying in nice hotels or Airbnbs when you travel, or maybe you much prefer getting in touch with nature by whipping out the tent, camping chair, and gas cooker for a good old camping holiday. If the latter sounds up your alley, there are plenty of perfect waterfront sites for you to set up camp in Narooma. Whether you're bringing a tent, swag, or a caravan, you can get comfortable and sleep in view of the ocean or the Wagonga Inlet. Head here and here to check out available campsites.
Airbnbs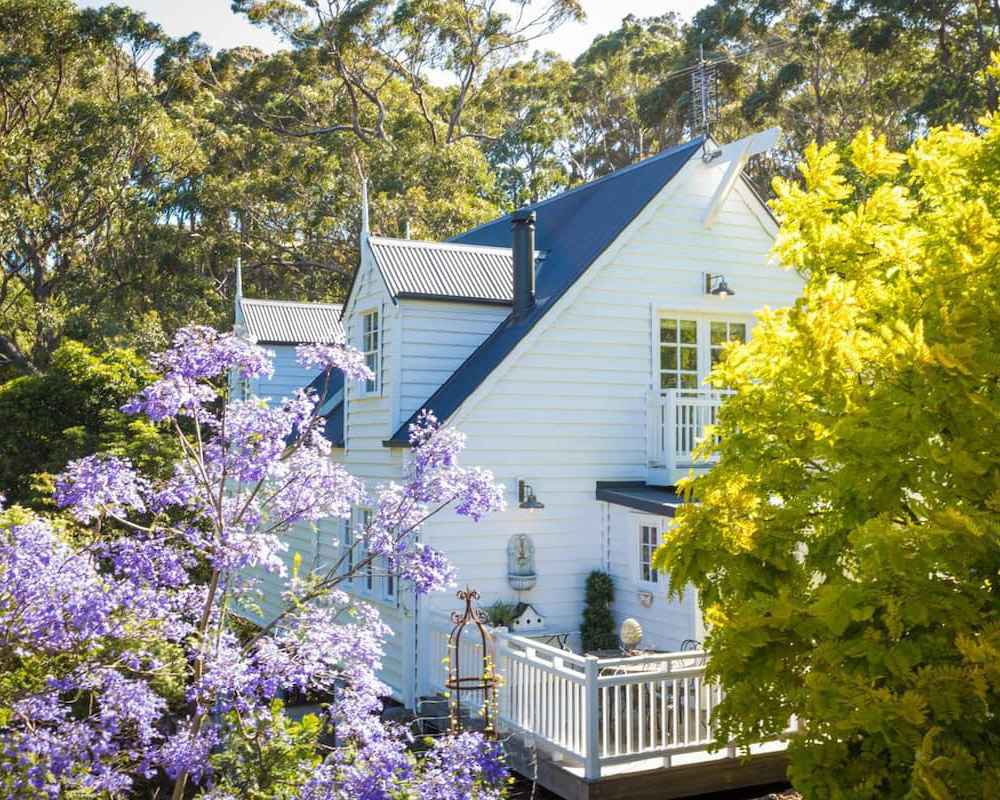 If you're looking for a home all to yourself for your beach getaway—we love this stunning renovated cottage. Just a few minutes' drive from the heart of Narooma, it's surrounded by rainforest and features a magnificent timber-lined cathedral ceiling, two large private bedrooms, and is frequented by wallabies, lyrebirds, and echidnas.
For more Airbnbs in and around Narooma, head over here.
Montague Island Head Lighthouse Keeper's Cottage
If you're loving the idea of Montage Island and its unique animal visitors, how about staying a night out there? Well, you can do just that—in style too. Built in 1881, the heritage Montague Island Head Lighthouse Keeper's Cottage has five bedrooms and can sleep up to 12 people. Book out the historic home to explore the island's wilderness or just to relax, cook up a barbecue and take in the view with the ultimate privacy. Don't worry if it's already booked, you can also stay in the smaller Montage Island Assistant Lighthouse Keeper's Cottage which can sleep up to seven people. Boat transfers and a guided tour of the island are included in the accommodation package.
Black Bream Point Cottages
The plenty mentioned Wagonga Inlet's natural shape means a few ideally water surrounded sections of land that give off a welcoming sense of privacy. Waterfront Black Bream Point Cottages are one such example. Although, if we're being fair—most of the accommodation in Narooma is smack bang in front of some kind of waterfront view, so it's hard to go wrong. Check for cottage availabilities here.
Road tripping? Why not check out the beautiful Southern Highlands on your way down.
Image credit: Destination NSW, Eurobodalla Coast Tourism, The Oyster Farmers Daughter, Eurobodalla Coast Tourism, Honey Atkinson, Destination NSW, Airbnb
Editor's note: Urban List editors independently select and write about stuff we love and think you'll like too. Urban List has affiliate partnerships, so we get revenue from your purchase.