About 90 minutes south-west of the city and almost 700m above sea level (with buckets of that sought-after fresh country air), the Southern Highlands, and the region's charming township of Bowral, offer up a perfect city day trip or weekend escape.
There's a good chance you've briefly visited before, maybe for a wedding, a Canberra pit stop, the yearly Tulip Time Festival in Corbett Gardens, or even just to see Robertson's kinda wacky Big Spud. Regardless, anyone who has spent time in the area knows it's a place for relaxing, exploring, eating, and drinking—and when it comes to the weekend, what more could you ask for?
While some spots in the town centre are well known to travelling Sydney folk, others a little further out and more off the beaten track are also well worth your time. So, next time you need to get out of the city for a couple of days, roll on down to the Southern Highlands—and follow this guide for a great time.
Before you travel into regional NSW, remember to be COVID safe and protect regional communities. Follow NSW Government health advice and restrictions, wear a mask when you are required to do so, and do not travel if you are unwell or required to self-isolate.
Here's how to do the Southern Highlands right.
Where To Eat In The Southern Highlands
Harry's On Green Lane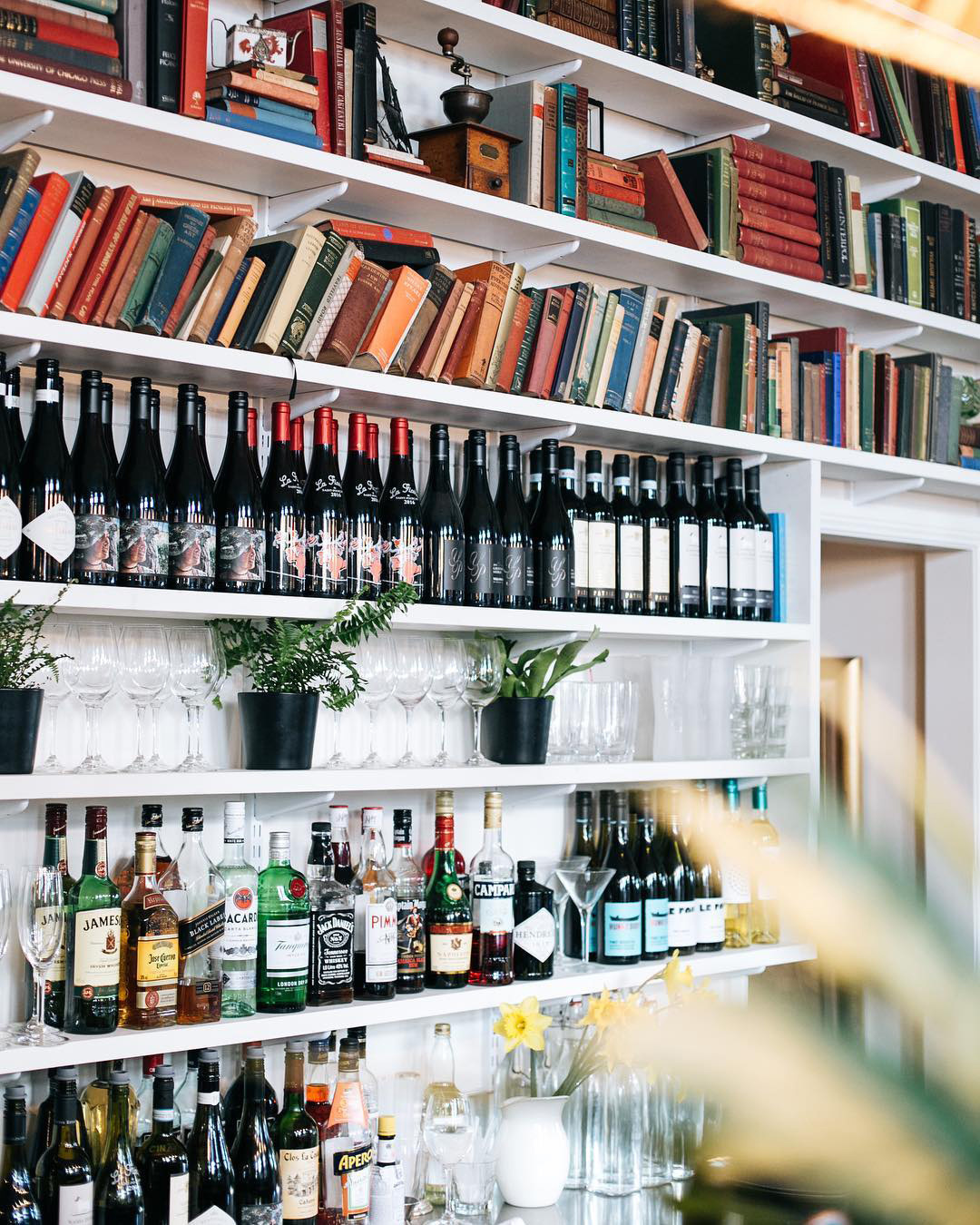 If you're looking for a warm and cosy place to enjoy an incredible meal, then head to Harry's on Green Lane at the southern end of Bowral's main strip. Floor to ceiling brimming bookshelves, old furniture, framed painting covered walls, and a healthy dose of plants and flowers make for the perfect lunch or dinner spot. Sit down for your choice of a two or three-course set lunch menu, or a three-course dinner menu—all of which change regularly to match seasons and local ingredients. After lunch, pop around the corner to Green Lane's The Potting Shed and The Orangery for all things plants and garden related, or just to walk around for a super sensory overload.
Burrawang Village Hotel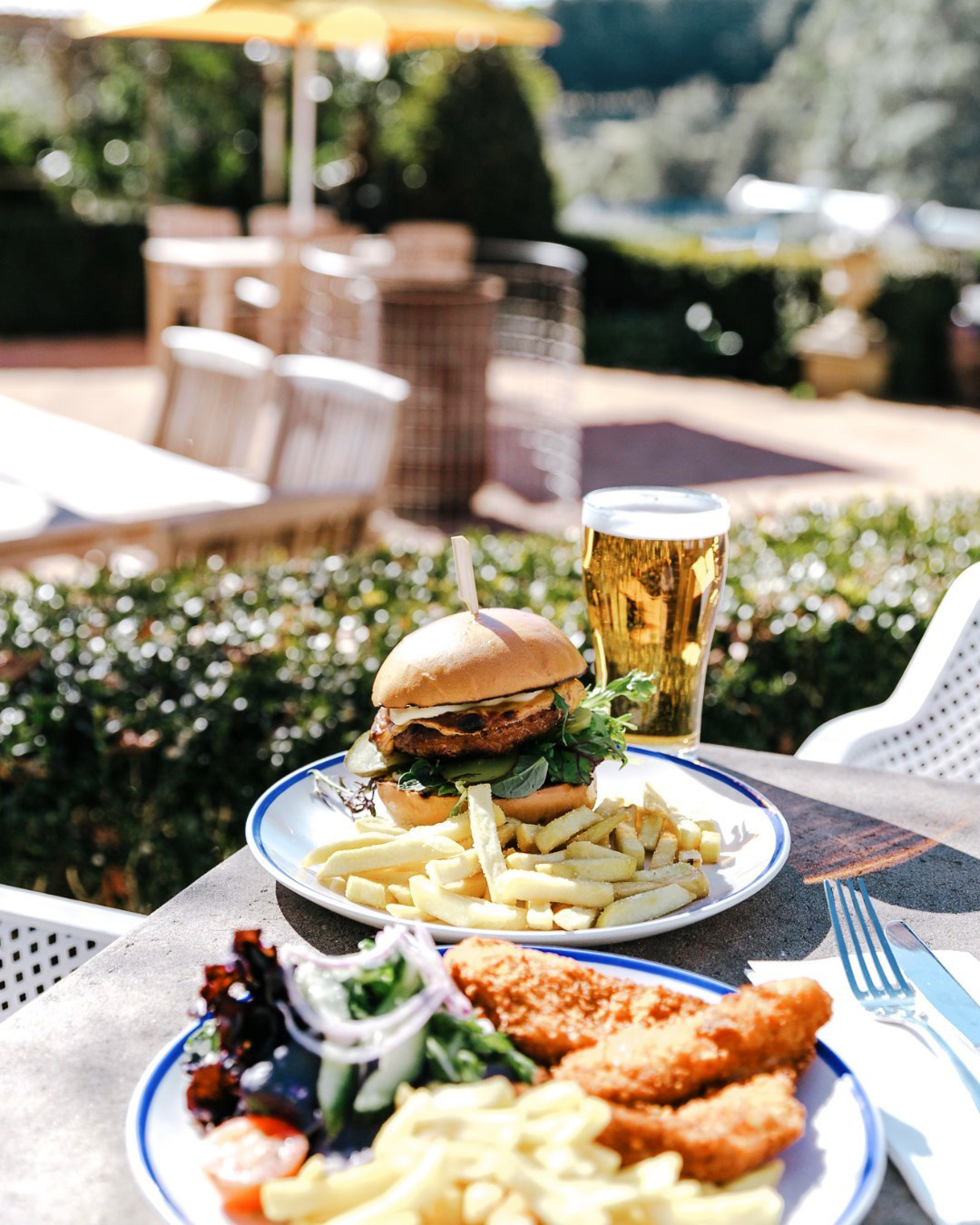 If you've got a car, this lunch spot is well worth the little drive. Imagine the Burrawang Village Hotel as a country town mansion, with a picturesque green garden, turned into a pub. Inside, you'll find a gorgeous 360-degree old wooden bar, an old brick fireplace, and some friendly local faces serving up cold schooners. Then step outside to a large courtyard and a beautiful long garden overlooking Burrawang paddocks where you can soak up some sun with your feet in the grass. We guarantee you'll never smell fresher country air whilst sitting back with a freshly poured beer. The bistro menu is top-notch as well, with all the country pub classics you'd expect made from local ingredients. This pub is picture-perfect.
Gumnut Patisserie
This award-winning local patisserie has a bit of a reputation for being a must-stop in the area, and let us tell you, it's well deserved. Driving down Bong Bong Street on a cold Bowral morning, there's a strong chance you'll see a long line of people who look like they really want a warm sausage roll and a coffee. Whether it's meat pies, fresh pastries, mini tartlets, or a particularly stand-out banoffee pie—let's just say you'd be a fool to skip it. Make sure you get in early in the day, so you don't miss out on the full range. You can find Gumnut Patisserie shops in Bowral, Mittagong, and Berrima.
Raw & Wild Market and Cafe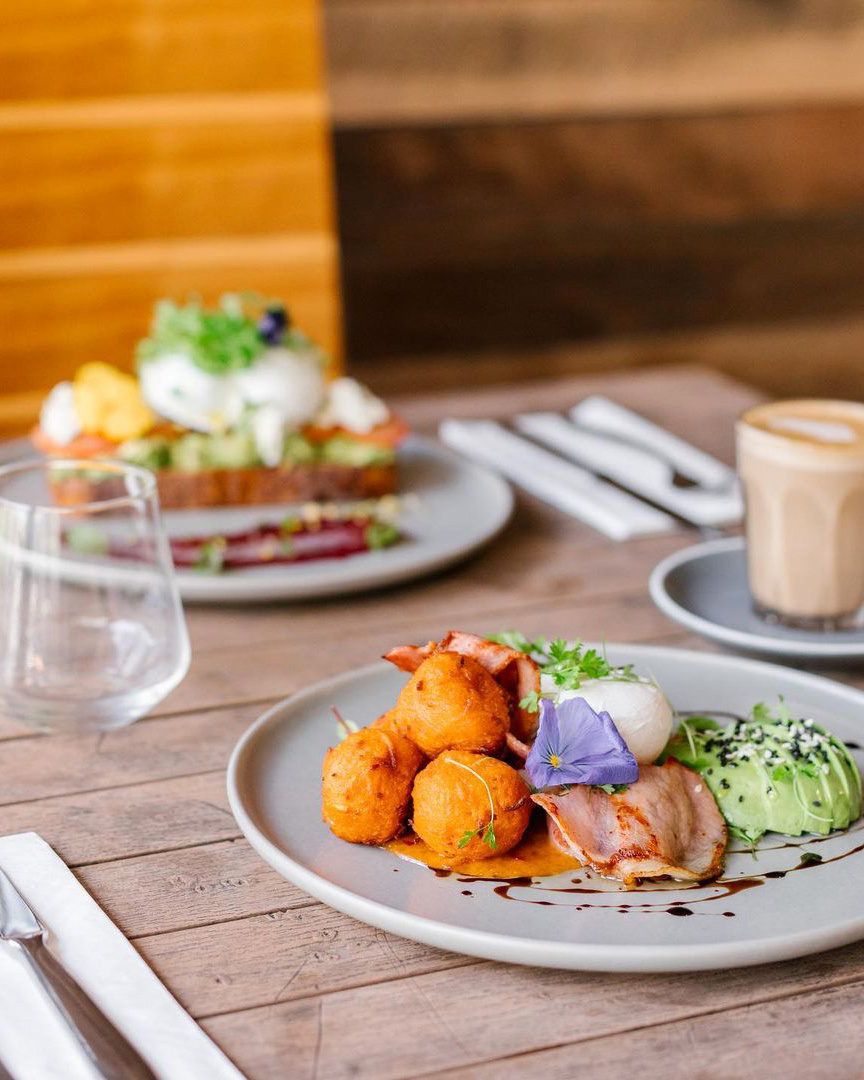 First opening in 2006 in Bowral as an organic grocer, Raw & Wild has since expanded into a cafe serving breakfast, lunch, occasional high teas, and dinner during the summer months. Separated by tall bi-fold doors, the dog-friendly spot opens up between a large indoor space into a spacious courtyard under the sun. As you can probably guess, the menu is overflowing with healthy options made from organic and local ingredients, many of which you can find in the attached shopfront once you're done eating.
Birch Restaurant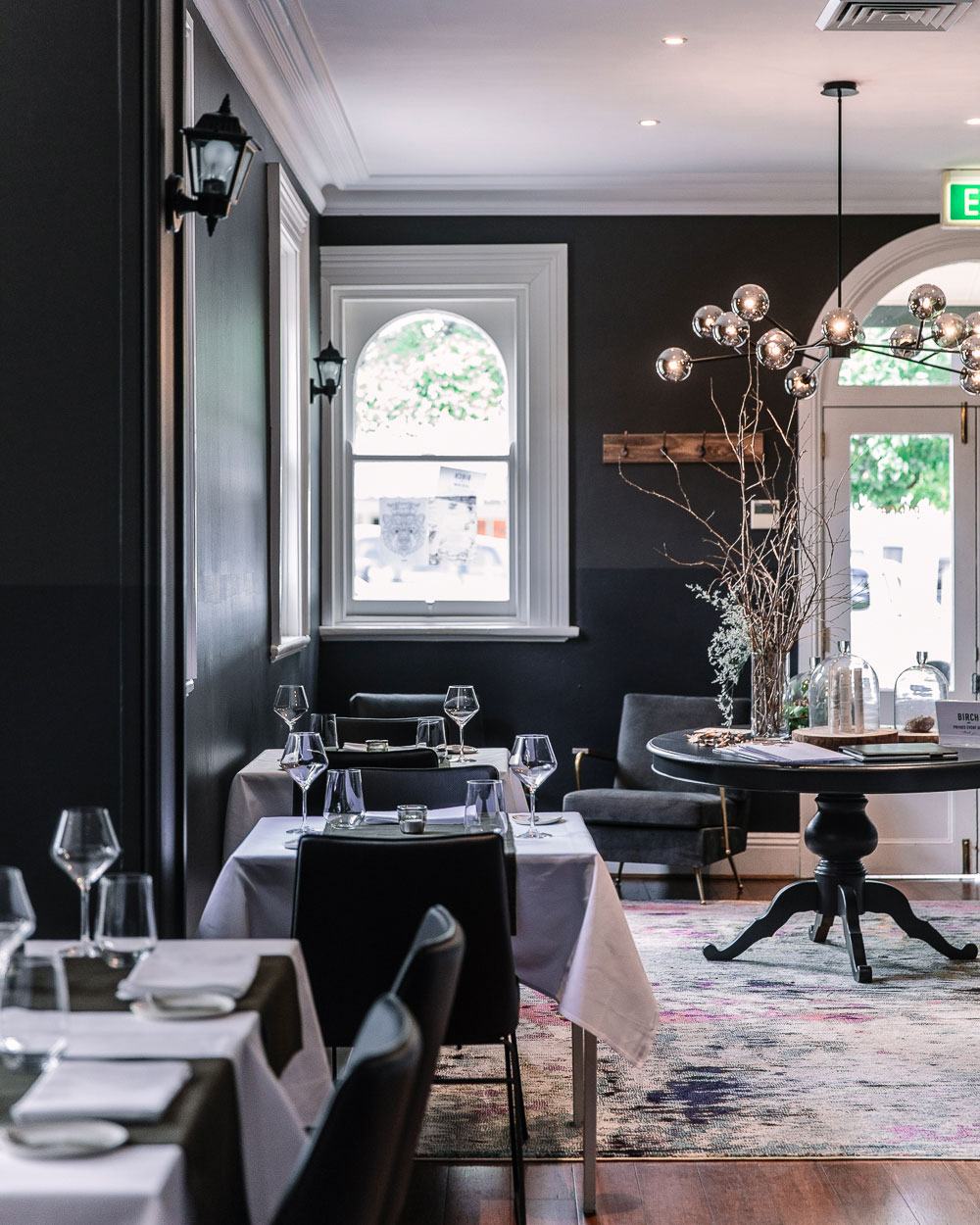 Adjacent to Bowral, Moss Vale has slowly turned into one of the area's best culinary spots over the past few years. Nearby the historic Moss Vale train station sits Birch Restaurant, a casual fine dining country restaurant with a creative and colourful menu that might just be the highlight of your trip. Head chefs Ben Bamford and Daryl Laver have put together a fresh, rotating menu for locals and travellers. Each dish on the menu also comes with its own wine recommendation. Birch is the perfect option if you're looking for a polished country dining experience without completely breaking the bank. They're currently only offering dinner service, but if you're planning to be down at the right time, you can book a spot at their Sunday Long Lazy Lunch for $85 per person.
The Press Shop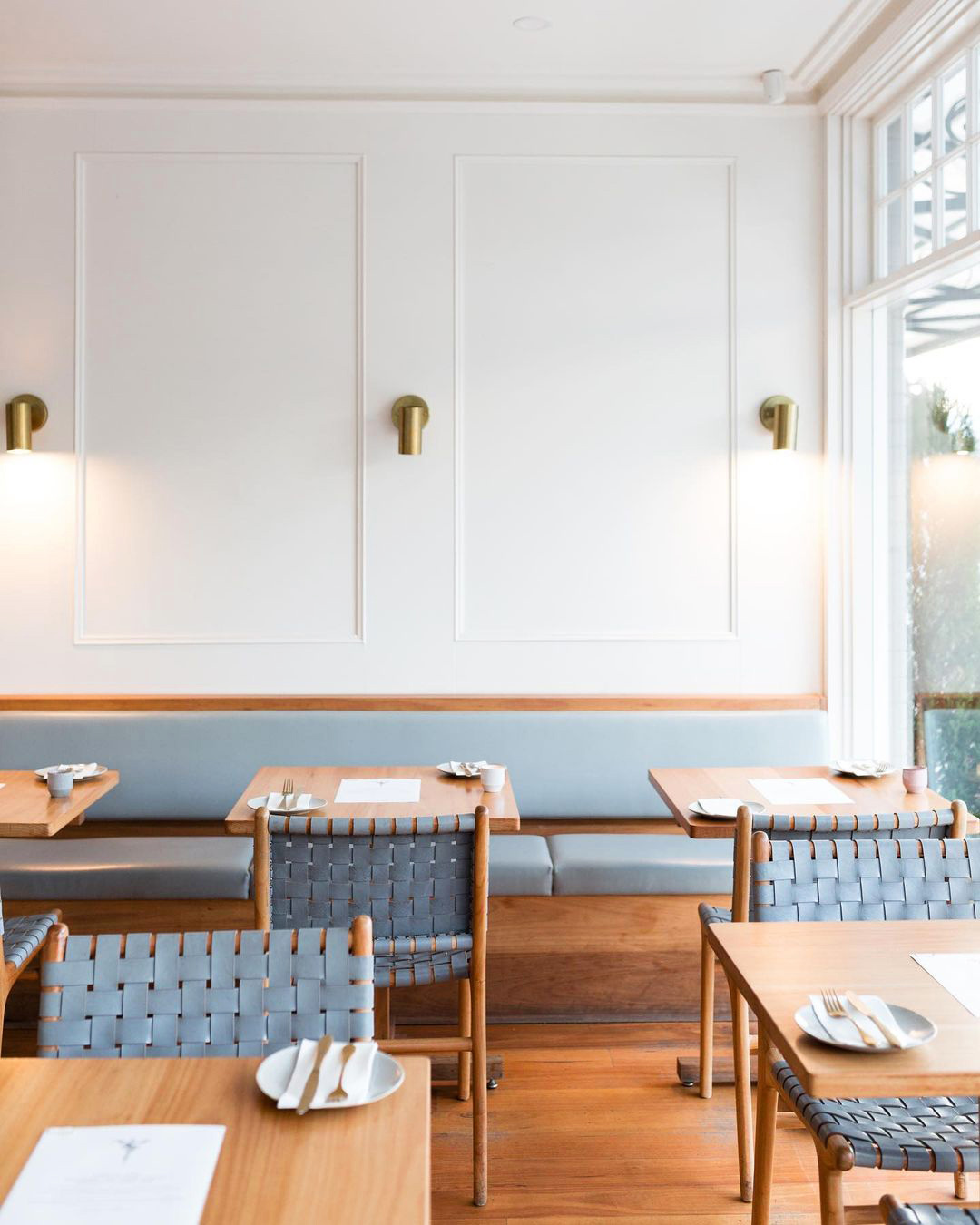 The support for and showcasing of local growers and producers is one of our favourite things about restaurants and cafes in the Southern Highlands. And perhaps none do it best than Bowral's The Press Shop. With a menu of aesthetically-tuned dishes and an interior dressed in shades of serene sapphire blue, pristine white, and natural timber, this cafe is one of our favourite spots for a highly 'Grammable pitstop and coffee. The Press Shop finds its local produce from all over the Southern Highlands—Exeter free-range eggs, Colo Vale olive oil, Thirlmere organic vegetables, Robertson truffles, and Burrawang meats, to name a few.
Where To Drink In The Southern Highlands
You probably associate a drink in the Southern Highlands with the area's now famed cool-climate winery choices. An impressive and diverse range of well-documented wineries indeed inhabit Bowral and its surrounding suburbs, but we'd like to show you some lesser-known places to kick back with a drink in hand. As well as, of course, a couple of our favourite cellar doors to enjoy a vino …or five.
Eden Brewery
If you feel like you've tried every Sydney craft brewery, you don't have to travel far for a brand new, and legitimately delicious, country town alternative. Nestled at the very edge of Mittagong, just before you reach Bowral, is Eden Brewery. Choose from the brewery's extensive range of craft brews including a few rotating special releases, then pull up at one of the long tables, sitting right next to the giant fermenter tanks. As for what to drink, the local favourite (which we 100% agree with) has to be the core-range Ponderosa IPA.
Bendooley Estate & Berkelouw Book Barn
You've probably visited a Berkelouw Books in Sydney, but did you know the cafe-meets-book store originates from the Southern Highlands and its HQ is located inside a winery in Berrima? Yep, at Bendooley Estate, we're talking rare books coupled with wine tours—dreams do come true. You can dine inside the restaurant or have a casual drink with a book outside in the courtyard overlooking the country sunset, before taking a stroll through the vineyards. If you don't see yourself ever wanting to leave, you can even stay overnight in one of their luxurious cottages. Or, like most places in the area, have your wedding there.
Southern Highlands Brewing & Taphouse
Another much-loved brewery you might find on tap at local pubs around the area is Southern Highlands Brewing. The best place to get their beers is their own The Taphouse bar and restaurant in Moss Vale. Born and bred local head brewer, Cameron James has been pumping out delicious craft brews in the Highlands since 2015, with The Taphouse opening its doors in 2017. Pasta, pizzas, and lovely cuts of meat are all on offer for lunch or dinner, alongside the brewery's full range of beers and a huge selection of wine, overlooking Moss Vale's main street. If you're going down for the weekend, we highly recommend you get to The Taphouse on a Friday between 3 - 6pm for "tappy hour" where you can nab schooners for middy prices.
Joadja Distillery
Located a good 30-minute drive from the Bowral town centre, Joadja Distillery is one of the area's best-hidden gems. Out in the real nature and bush hides a small distillery making and bottling a range of spirits. Using its natural surroundings like natural spring water and locally harvested barley, Joadja Distillery offers you a taste of their award-winning spirits like their single malt whisky, gin, brandy, or anise.
Artemis Wines
Located in Mittagong, Artemis Wines is the perfect small cellar door experience for everyone on the wine appreciation spectrum. Known as the Pinot Noir pioneers of the area, owners and brothers Anton and Mark Balog have been making wine in the area since 1996. They offer a wide range of wines to suit any drinker, at any price. And don't worry if vino isn't your cup of tea, because they also offer their very own cider, and as of 2020, their own in-house distilled spirits. The winery is hidden away off the main roads, with a beautiful and natural background to pair with a slice of woodfired pizza or spit-roasted local meats. We guarantee you won't regret spending a few hours of your day there.
What To Do In The Southern Highlands
Dirty Janes Antique Market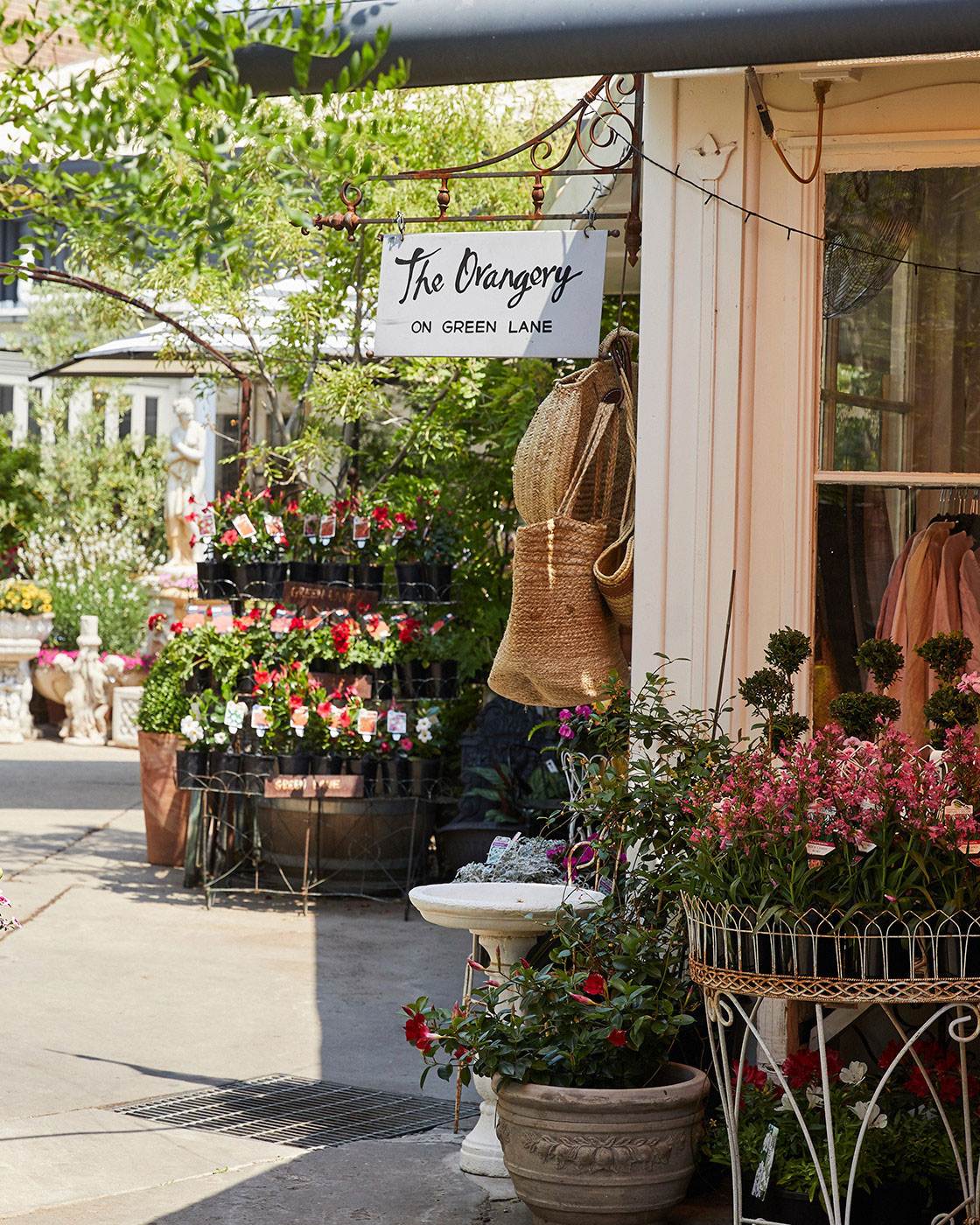 Right next to the already mentioned Harry's on Green Lane and The Press Shop cafe is one of the area's more famous must-dos for exploring Sydneysiders—Dirty Janes. Don't be fooled, this is no ordinary antique market. The 1600 square metre warehouse space is an absolute maze of beautiful vintage items, from clothes, homewares, art, furniture, rare and unique decorative pieces, books, plants, local cosmetics, and more. Every item on display for purchase comes from local vendors and producers. There's a good chance you'll get lost wandering about for 20 - 30 minutes before you realise you lost the rest of your group. If all that walking around makes you peckish and parched, head into the Dirty Janes Tea Salon for a cuppa and a scone.
Fitzroy Falls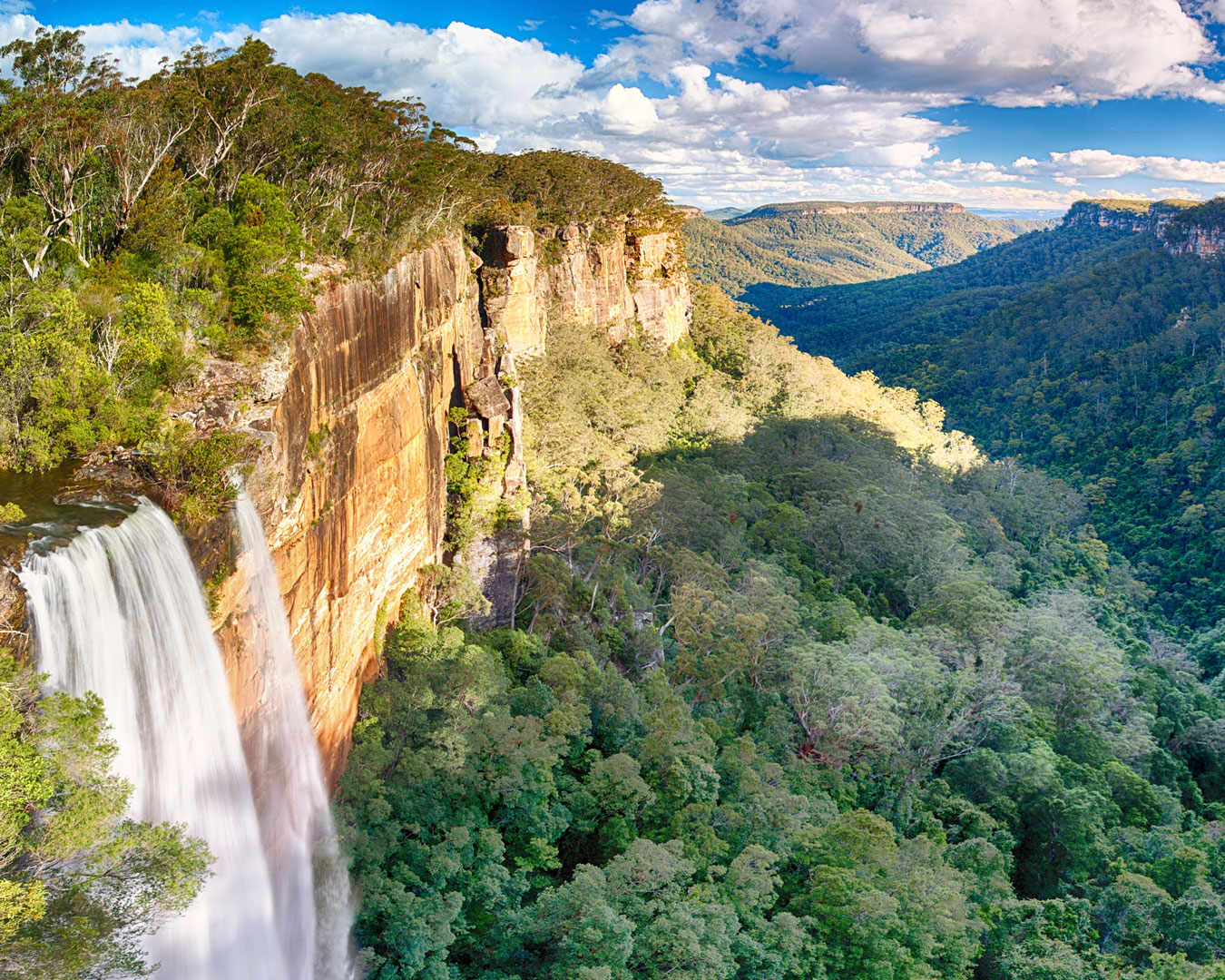 Just a 20-minute drive from the Bowral town centre inside Morton National Park, Fitzroy Falls are a sight to behold. Make your way to the Fitzroy Falls Visitor Centre, which offers an insight into the First Nations history of the area, before taking the short walk to a lookout and gazing on the magnificent 81-metre high natural plunge of water. There are plenty of hiking trails to take you to more lookouts and to explore the surrounding forest bush. The West Rim walking track is a 3.5km return hike and the East Rim and Wildflower walking tracks are a 6.7km return.
Bradman Museum & International Cricket Hall of Fame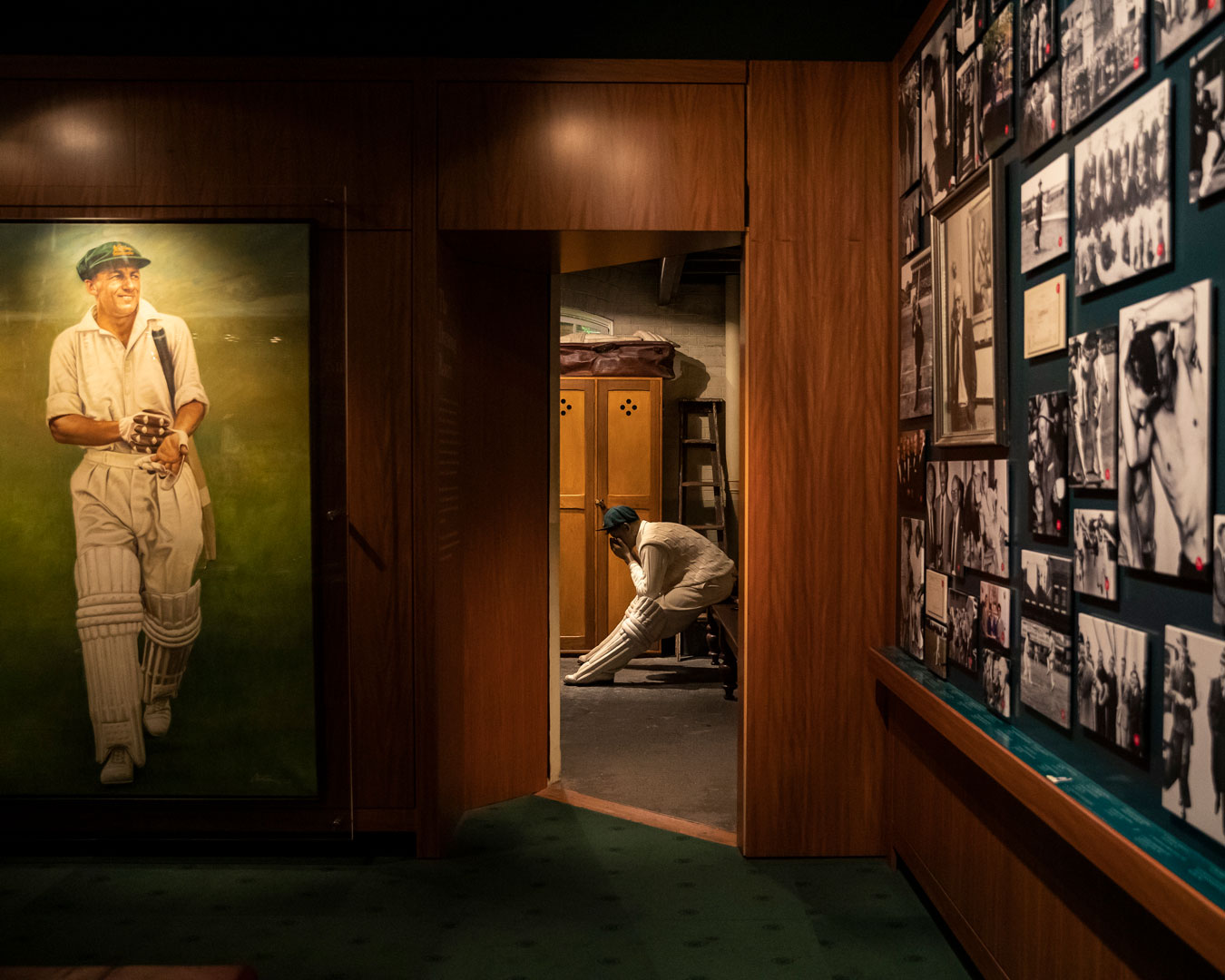 The first thing you'll notice driving into Bowral is the town sign, proudly painted over an image of history's greatest cricketer, Sir Donald Bradman. If you're any kind of cricket fan, it wouldn't be a trip to Bradman's hometown without visiting the Bradman Museum and International Cricket Hall of Fame and the beautiful Bradman Oval. You can even take a tour of Bradman's childhood home on Shepherd Street across from the oval and see where the Australian sporting icon famously learned to get his eye in with a water tank, a golf ball, and a stick. To not ruffle any local feathers, just make sure you don't bring up that the Don was actually born in Cootamundra before moving to Bowral at the age of two.
The Mill
The Mill in Bowral is a collective of business workspaces attached to The Mill Cafe, where you can grab an excellent breakfast or lunch. But out the back lives The Mill Courtyard, a small and permanent outdoor marketplace with an array of food, beauty, creative, and fashion stalls. If you're a little stuck on where to go when you first arrive in town, this is a pretty good jumping-off point with a bit of everything you might come to Bowral for. Organic wines and smoked meats at Tractorless Vineyards, healthy eats at The Veggie Nook, local beauty products at Bare Body Beauty Co., and ice cream at Sweet Retreat Gelato.
Box Vale Walking Track
If you've woken up with a classic Southern Highlands wine hangover and you're after some fresh air and exercise to balance it out, look no further than the Box Vale walking track starting in Welby. The 4.4km walk follows an old railway line through bush terrain, guiding you to a visually impressive and historic 84m long tunnel, as well as an opportunity to take a 1.8km spur track to a lookout below Forty Foot Falls. The Box Vale walking track takes approximately three hours return.
Exploring the best of NSW? Check out more of our local escapes guides:
Image credit: Destination NSW, Harry's on Green Lane, Burrawang Village Hotel, Raw & Wild, Birch Restaurant, The Press Shop, and Destination NSW