Think of a typical picturesque Australian rural town, the kind of place where life moves slow. It's probably got some strong heritage architecture, likely nestled amongst rolling hills, and, ideally, surrounded by wineries.
What you're picturing right now—that's Mudgee. It's essentially the archetype of the rustic town. It's three-and-a-half hours from Sydney (if you gun it) and perfect for a weekend away nosing excellent wines and fresh country air.
And you are coming to Mudgee for the wine, no doubt. It's long been said that Mudgee is the new Hunter Valley and while it doesn't have as many wineries, it is an actual town. That means you've got somewhere to centre your operations around and a little more action in the evening once the wine tasting packs up.
If you're gearing up for a getaway, this is the place to go and the below is all the info you need to get the most out of Mudgee.
The Best Wineries In Mudgee
Let's talk wine first because that is very important. There are over 40 cellar doors in Mudgee, the majority of which are little family-owned affairs. They've been producing wine here since the 1850s and specialise in chardonnay, shiraz and cabernet sauvignon. It's also the country's third-largest grape-producing region and there's a lot of grape juice to get through here but you know what, we believe in you.
Most of the tastings in the area are paid tastings with online booking essential at this time. Some will give you the cost of your booking off wine purchases as well so win-win.
Lowe Family Wine Co.
Headed by legendary Aussie winemaker, David Lowe, this small-batch, organic winery uses biodynamic principles to produce exceptional vino. The attached Zin House is run by David's wife Kim Currie and offers degustation and wine pairing unlike anything else in the area. This place should be top of your to-do list.
Huntington Estate Wines
Huntington Estate is one of the oldest wineries in the region focusing on high-quality reds made entirely on-site. The cellar door is set in a ramshackle tin outfit surrounded by lush gardens and offers 5 x 15ml tasting flights for $10.
Short Sheep Micro Winery
Short Sheep is a quirky boutique winery run by a husband and wife team and a whole lot of small sheep. Diverse and delicious wine selection grown sustainably that you will definitely want to stock up on.
Pieter Van Gent Winery & Vineyard
This is one of the top wineries in the region. Close to the centre of town and featuring a lush old-world barrel room, this place has some of the best chardonnay and a famous white port you won't want to miss.
The Cellar By Gilbert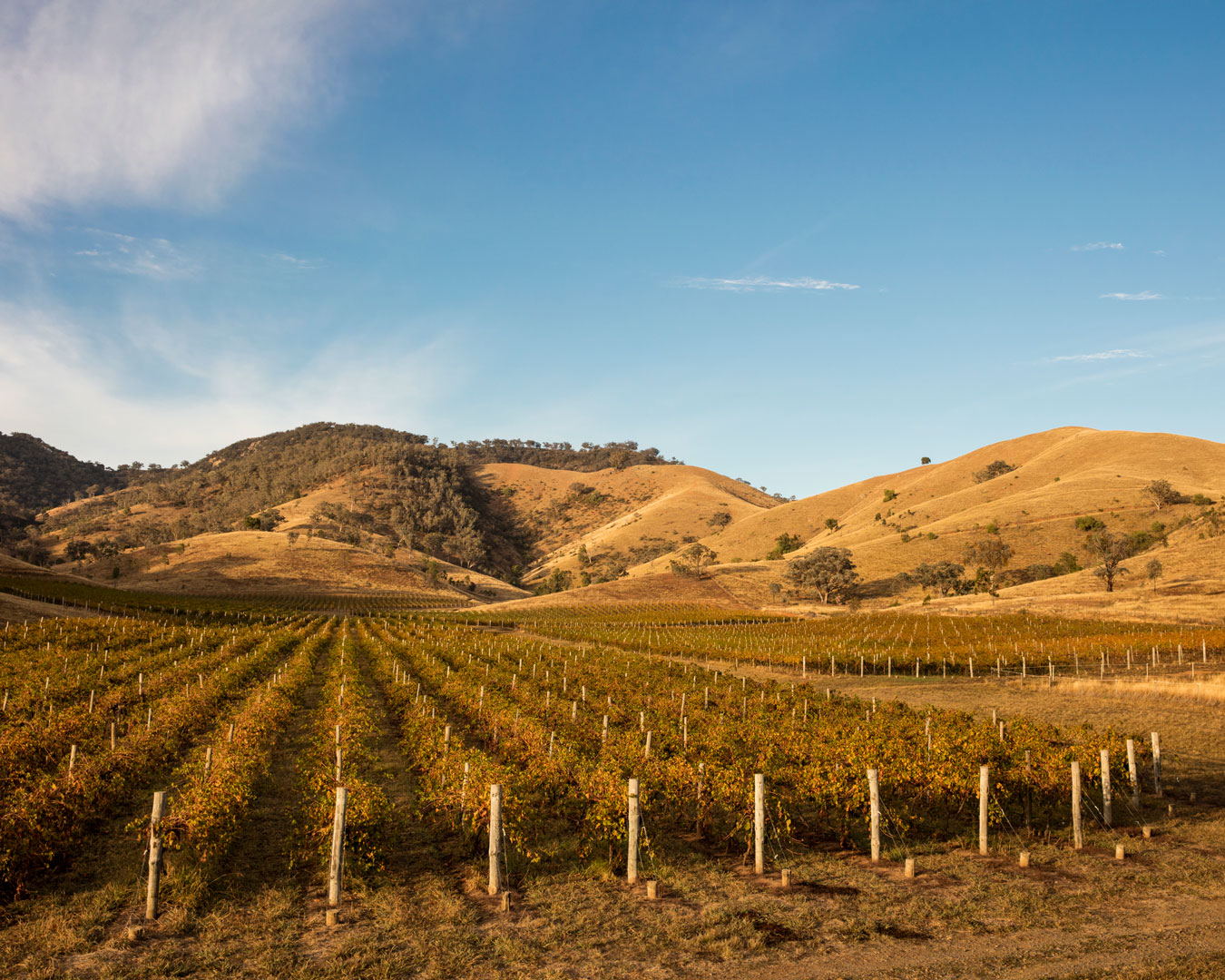 Situated on the edge of town just across Lawsons Creek, the Gilbert Family are famous for their hospitality and their broad selection of wines. You can mix-and-match your tasting to suit and get in on some of their more experimental stock which is really good.
Moothi Estate
Expect beautiful family-owned boutique vibes at Moothi Estate, which offers panoramic views of the rolling countryside. The estate takes its name from moothi, the indigenous name for the region, meaning 'nest in the hills' and also offers an excellent dine-in option.
Burnbrae Wines
Burnbrae is another outstanding option. One of the oldest still-active wineries in the region, it's staffed by a very knowledgeable and inviting team and offers live music and wood-fired pizza every third Sunday of the month. You can also sleep beside the vines in a charming little winemakers cottage.
Rosby Wines Cellar Door
The cellar door here is run by owner Gerry who lives on-site and will sit down with you in the rolling gardens of the Rosby vineyard and charm you with his wine knowledge and personability. More than just wines, however, this place runs a sculpture garden featuring local and up-and-coming artists which is well worth a look.
Mudgee Brewing Company
Not a winery, obviously, but definitely worth a mention. A little microbrewery and restaurant in the middle of the town offering excellent craft beer selection. If you want a sample of what you can expect here, 12 Taps in Glebe are one of their only Sydney distributors.
Baker Williams Distillery
Another non-winery worth checking out. Find Mudgee's first and only micro-distillery at Vinifera Wines cellar door (who also do excellent Spanish selections). These guys specialise in oddities and have must-try wheat vodka, cafe liquor, and butterscotch schnapps.
Where To Eat In Mudgee
Mudgee is best-known for its wineries and while most of them have food options—or at the very least, tasting boards to pair—there are some stand out restaurants and cafes as well.
Alby & Esthers
Alby & Esthers is a great little cafe and wine bar with a beautiful, gram-worthy courtyard overhanging with vines built in the 1870s. Serious coffee here from Underground Roasters and great brunch-style food options like the mushroom bruschetta and Rueben sandwich.
Di Lusso Estate Dining
A little out of town sits the di Lusso Estate which, as you may have guessed, focuses on rich Italian varieties. These go down a treat alongside some excellent wood-fired pizza you can feast on for a glorious al fresco lunch.
High Valley Cheese Co
Not exactly a fully-fledged restaurant but at High Valley Cheese Co you can book tastings of their small-batch artisanal selections which is arguably better than a proper meal.
Pipeclay Pumphouse
Pipeclay is renowned throughout the region and across the country for its exquisite set menus and degustations that employ paddock to plate philosophy using fresh, local ingredients. Situated on the equally popular Robert Stein Winery this is the place to go to soak up the best of the town.
Elton's Eating And Drinking
You can get a bit of everything at this bustling heritage spot from tacos, to burgers, to share plates loaded with popcorn pork belly and sundried tomato arancini. They also feature an extensive, locally sourced drinks selection and gel the whole operation together with friendly, happy staff.
Things To Do In Mudgee
Mudgee Hot Air Ballooning
Take to the skies and witness Mudgee's breathtaking beauty from above. With its rolling hills, surrounding mountains and stunning valley, a hot air ballooning experience here cannot be beaten. The Mudgee Hot Air Ballooning crew have over 40 years experience, so strap in for an unforgettable day out.
Mudgee Observatory
One of the best things about getting out of the city is the night sky and just outside of town sits the Mudgee Observatory, which gives you the opportunity to really get up close and personal with the constellations. It's a private setup built by local astronomy enthusiast John Vetter and comes highly recommended.
Balloon Aloft
OK, hot air balloons are probably the weirdest form of transport in that your destination is literally not up to you but, when you're only trying to see the stunning surroundings from way up high, we guess they make sense. Splash out in style by booking a balloon ride on the first Saturday of the month.
Farmers' Market
The third Saturday of the month gets really busy in Mudgee as this is the weekend of the farmers' markets. It's a great authentic offering with fresh produce and high-quality products all made locally by the people selling them.
Farm Walks
If you do make it for the farmers market and want to find out a little more about how it all comes together, it's well worth signing up for a farm walk the following day—that's the third Sunday of the month. Fresh air, fresh food, and a great way to walk off all that wine.
Where To Stay In Mudgee
While many of the wineries offer accommodation that can make your whole trip a lot simpler, Mudgee has some unique places that are definitely worth checking out if you fancy something a bit different.
Gawthorne's Hut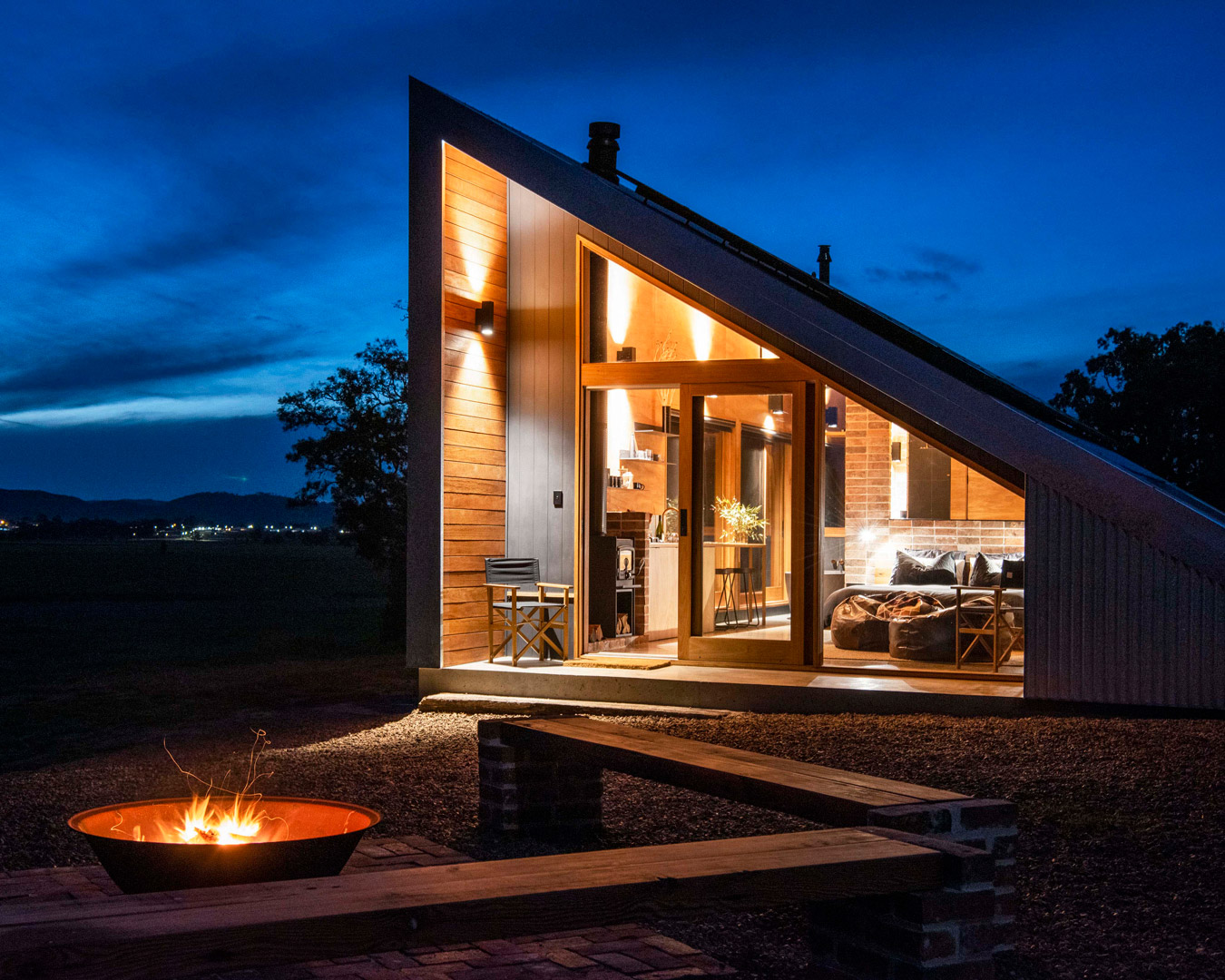 Winner of Airbnb's inaugural Host Awards 2021 for the "most unique stay", Gawthorne's Hut is a luxury off-grid eco hut for two, located on the beautiful Wilgowrah property about 10 minutes outside of Mudgee. Complete with a king bed, full bath, shower, fire pit, and beautiful views across the property, this is a charming spot to really, truly, get away from it all. Book here.
Strikes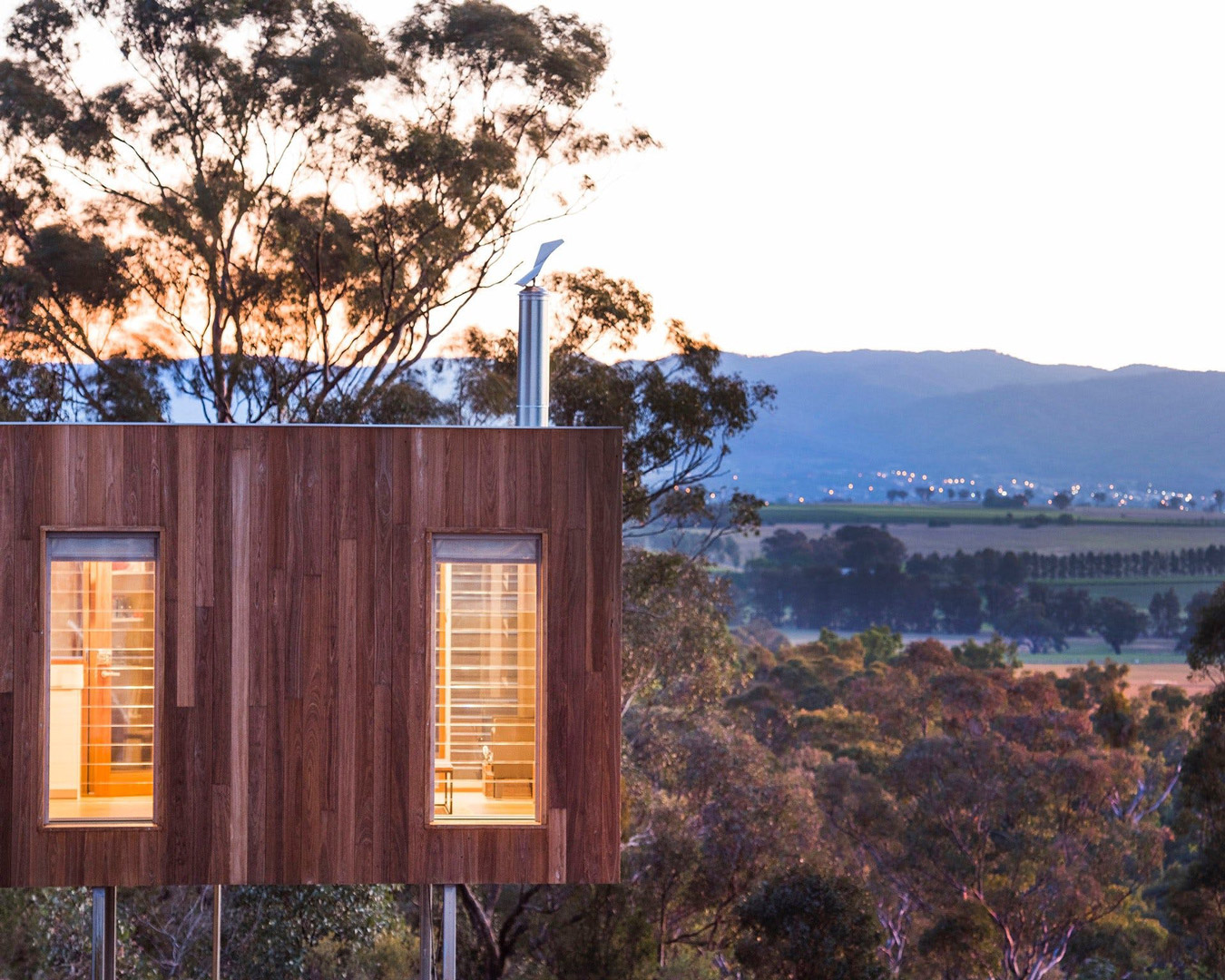 Ten minutes from the centre of town, well-known local builder Justin Penney has crafted two identical self-contained modern units perfectly designed to take in as much of the scenery as possible. The pair face away from each other and are perfect for a romantic getaway. Check them out here.
Sierra Escape
Sierra Escape looks purpose-built for next-level Instagram snaps but its off-grid philosophy means you'll have to wait to post those pics. It's a luxury glamping set up in the middle of nowhere overlooking a vast valley you can gaze at from the verandah bath sipping the day's spoils. Head here to book.
Bubble Tent Australia
This one really pushes the definition of "local" but it's so cool we thought it was worth a mention. If the eco-glamping of the above sounds like your thing, check out Bubble Tent, which is pretty much what it sounds like; a huge see-through dome ideal for stargazing in the picturesque Capertee Valley. Book here.
Best Places To Visit Near Mudgee
If you've got a little more time, there are some great day trips you can do from Mudgee that are definitely worth a visit.
Gulgong
Half an hour north of Mudgee you'll find this 19th-century gold-rush town that has hardly changed in 200 years. Expect quaint heritage buildings, gold panning and eccentric country-pub vibes at The Prince of Wales Hotel.
The Drip Gorge
If you're heading north and fancy a bit of bushwalk, The Drip is only 40 minutes away. It's a huge serene sandstone gorge that, you guessed it, drips fresh spring water and is a significant site to the local Wiradjuri people.
Rylstone
Heading south, Rylstone is a tiny country town with a bit of a reputation for its fantastic local wines and produce, which can be sampled at the Rylstone Artisan and Produce Markets every second Saturday of the month. De Beaurepaire Wines and The Rylstone Olive Press are also particularly good and worth a stop.
Dunn's Swamp
Half an hour east of Rylstone is Dunn's Swamp which is done a total disservice by the name. You won't find any ogres here but it's a great spot to explore a bit of the Wollemi National Park, which can be done by kayak or paddleboard hire.
And here are five more amazing places to visit in NSW.
Image credit: Destination NSW
Editor's note: Urban List editors independently select and write about stuff we love and think you'll like too. Urban List has affiliate partnerships, so we get revenue from your purchases.