There's no doubt we all have one thing on our minds right now. A road trip. Some time away. A weekend camping trip. A spa day. We hear you.
If you're in need of that sometimes necessary recluse from city-life—the sort you find in shopping trinkets from small businesses, memories of bush hikes, swims, or fishing trips—this list is for you. With the announcement that travel restrictions within NSW will ease for fully vaccinated adults next month when the state hits its 80% vaccination target—it's time to start planning. Get ready to feel an appreciation for the sheer beauty of NSW through its many national parks, camping spots, boutique stays, secluded beaches, and winding rivers.
Pack the car, prep your playlists and your podcasts and buckle up—these are the best places to visit in NSW.
Tuncurry
TRAVEL TIME: 3 HRS 20 MINUTES
GREAT FOR: FOUR-WHEEL DRIVING ON THE BEACH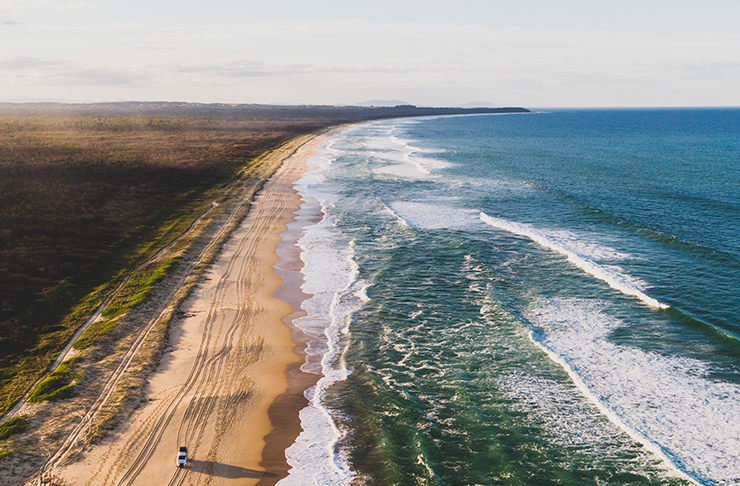 We've said it before and we'll say it again, the great northbound road trip from Sydney is basically a rite of passage. Since nothing really beats the slow reverberations of a sleepy coastal town, we want you to beeline straight to the Barrington Coast and make way for the summer haven known as Tuncurry. Known as the smaller twin to Forster, Tuncurry combines endless water adventures with an infectious small-town mentality you'll never grow weary of. A whole heap of takeaway fish and chips should be on the cards here, mainly because Tuncurry actually means something along the lines of "plenty fish".
When you are looking for a greasy newspaper burrito of the good stuff, you won't have to go far. Thommo's On Wallis is basically the undefeated champion of all things, with everything from a cheesy bacon and egg roll to crispy potato scallops. Elsewhere, you'll want to give The Deck At Tuncurry a red-hot crack because a cafe-bar overlooking the incredible Wallis Lake always gets a yes from us. Wallis Lake also churns out some of the best oysters in the world and you can buy them directly from the farmers at Barclay Oysters (in Forster) or Hamilton Oysters Bar and Restaurant.
In terms of how you're going to fill out your days here, it's Tuncurry's Nine Mile Beach that gets the tick of approval from us. Kicking off from Tuncurry's break wall and spanning all the way to Black Head, there are epic surf spots, rockpools, off-leash areas for your furry family members, and the real piece de resistance—4WD access.
It's sweet holiday homes over boutique hotels here so hit up this epic lake house for wide-open spaces or this stunning penthouse suite.
Lord Howe Island
TRAVEL TIME: 2 HHRS (FLYING)
GREAT FOR: SPECIAL OCCASIONS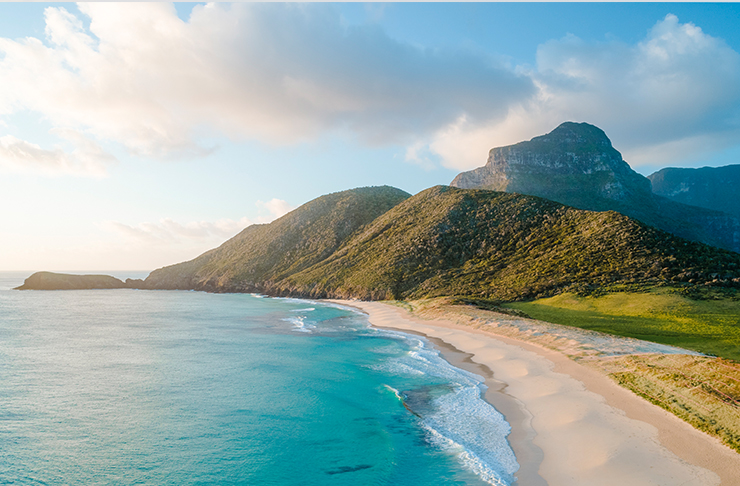 Picture this—it's a clear day and you're paddling out in a kayak on the bluest lagoon you've ever seen with your significant human. A warm breeze rolls over, you've got sand on your toes, and a mega vista of Jurassic mountains. You can quite literally spot turtles swimming below you. Welcome to the romantic-adventure vibes at Lord Howe Island. The only "downside" to making a trip to Lord Howe Island is how exxy it can be (you won't be shacking up in a hostel here) which is why this breath-taking island should be reserved for only the most special occasions (birthdays, weddings, anniversaries—you name it). Because how cool would it be if you actually spent a week on a now-extinct shield volcano which dates back seven million years?
The beauty of this island is that it only allows 400 visitors at any given time so that means you'll have absolute seclusion during bushwalks, snorkelling, and bike rides (the best way to get around). When you're not busy sailing around the shallows or taking your paddleboard for a spin at sunset, you'll want to tie up your laces and stretch those legs out. The Valley of the Shadows is an easy 1.2km trail that starts at Middle Beach and bends through palm forest. Drop-in yoga sessions at Anglican Church Hall are also a vibe and will only set you back $20.
For the real ballers out there, cast your eye over Capella Lodge because views of the ocean, Mount Gower, and Mount Lidgbird from your private plunge pool are never a bad idea. For something a little more laid back, kick your heels up at Blue Peter Beach House and the perfect accommodation on the island for two.
Narooma
TRAVEL TIME: 4 hrs 45 min
GREAT FOR: All the wildlife
Fluorescent estuaries, ancient caves, and bearing more wildlife than a David Attenborough documentary, if Narooma ain't on your list of places to visit in NSW you're doing it all wrong. Diving down south (we suggest stop-offs in Nowra and Batemans Bay), Narooma is like any avid National Geographic reader's heaven on earth. At any time of year, you're in for a plethora of whales, penguins, a thriving colony of fur seals, and thousands of birds in the area.
For your feasting adventures, you really can't go past Quarterdeck—a quirky tiki bar that not only serves Hawaiian beer on tap but Bloody Mary Oyster shooters. You'd also do well to pay a visit to a Merivale iteration called Chez Dominique at The Whale Inn and helmed by Julian May and Elsa Marie. The menu is ever-changing but mainly leans towards championing local producers and vegetables.
When the food coma eventually passes, it's time to hit the ground running with all the activities (spoiler, there are lots of them). Barunguba, which has also gone by the name of Montague Island, makes a perfect pendicular with Narooma and is about a 20-minute boat ride from the heart of the town. It's here you're going to witness all the wildlife, take underwater safaris (read: snorkelling with seals), explore a granite lighthouse, and take a mega walking track filled with exceptional vistas.
On the mainland, you can also hit Narooma Surf Beach, check out ancient rock formations of Glasshouse Rocks and Pillow Lava, picnic at Handkerchief Beach, and take the 21km cycling route all the way to Dalmeny.
It's beach house central in Narooma so expect to have many a weatherboard abode at your disposal when it comes to planning your accommodation. Stone's Throw Cottage is a beachfront piece of perfection that also happens to be pet-friendly and this property will let you live out your Blue Crush dreams if you're into that (we mean, just look at that view).
Coonabarabran
TRAVEL TIME: 6 HRS
GREAT FOR: STAR-GAZING
Yep, one of the first places you'll want to hit now that "road-trips-are-a-goer", is good old Coonabarabran. This central-west town in NSW sits near the spectacular Warrambungle National Park, which is Australia's first and only Dark Sky Park. And what does this mean, you ask? Well, it's an internationally-recognised place of crystal clear skies, we're talking an unholy amount of clarity to stargaze at night (Joshua Tree in California and Vrani Kamen in Croatia are two others). Warrambungle is also where you'll find Siding Spring Observatory, the home of ANU's super-cool SkyMapper telescope.
The drive time for this one is around six hours (or around seven Shameless episodes in podcast time). Coonabarabran sits on top of a volcanic mountain range and it's the perfect low-key getaway especially if you're keen to camp (we recommend Gunneemooroo Campground, which sits in the shadows of Mount Naman). If four-walls are more your thing, scoot on over to Barkala Farmstay. It's an actual working farm with cows, goats, sheep, horses, and ahem… pottery classes for a total zen time.
The streets around here also come alive on the weekends with the aptly named Coonabarabran Townlife Markets. You'll be in for some keen finds including native plants to take home and amp up your city digs, jewellery, local-made jams, nuts, honey, olive oil, dog products and furnishings too.
Stay in these Skywatch Observatory Domestays or opt for something more low-key like this colonial-style cottage.
Orange
TRAVEL TIME: 3 HRS 40 MINS
GREAT FOR: FOOD AND WINE
If it's a food and wine adventure you're after, set your sights on Orange. Arguably one of our State's coolest new wine regions (not by temperature so much, more by awesomeness), Orange is just under four hours drive from Sydney and features over 60 vineyards and about 40 cellar doors.
Tucked into rolling vine-covered hills and pretty country lanes and set against the backdrop of an ancient, extinct volcano called Mount Canobolas, Orange is Australia's highest elevation wine region—making it perfect for Chardonnay, Pinot Noir, Riesling, Pinot Gris, Merlot, Shiraz and emerging drops like Gewürztraminer, Viognier, Tempranillo and Sangiovese.
As for which cellar doors to head to first, we love Cargo Road Wines. It's one of the oldest vineyards in the region, set on the slopes of Canobolas with a jaw-dropping view. Winemaker James Sweetapple takes a holistic, sustainable approach to grape-growing and his dedication to the soil, the grapes and the natural way of the land results in some damn fine wine. His Zinfandel might be one of the tastiest reds we've ever had, just quietly.
Heifer Station has all the bells and whistles: a stunning cellar door and courtyard drenched in sun, a petting zoo complete with an extra happy white alpaca called Snowy, and a super tasty Chardonnay that should absolutely be on your booze bucket list. Last but not least, make sure you drop into Nashdale Lane Wines. The vineyard has built a stunning, breezy cellar door with a wood fire and enormous windows that pour out over the surrounding green hills.
And, if you're after a place to stay—Nashdale Lane Wines offer on-site luxury glamping cabins so you can snooze and stargaze alongside the vines.
Broken Hill
TRAVEL TIME: 12 HRS 30 MINS
GREAT FOR: THE ROAD TRIP
For those of you with a stellar road trip crew (ie. one that won't do your head in after a 12-hour driving slog)—hit the highway and make your way to Broken Hill. This drive will be filled with all the moon-like landscapes, national parks to dip into, and, for the love of god, the most striking, dusty sunsets you'll ever lay eyes on (Santorini eat your heart out).
Out here, you'll be able to throw yourself at art galleries, groovy cafes, mining landmarks and if you really want to treat yourself and support a whole heap of local business, take a detour through Mudgee (about four hours from the Big Smoke) which, just quietly, sports over 35 cellar doors to quench your thirsty soul.
Also on the way is the iconic Western Plains Zoo, the sister zoo to Sydney's beautiful Taronga Zoo and home to lions, tigers elephants, and elegant wild horses known as Takhi. This detour will also bring you to the schnitty haven of Cobar (also known as Copper City). Order the parmi at the Great Western Cobar Hotel. It's a great time.
When you actually reach Broken Hill, there are a number of sites you'll need to make sure you tick off your outback bucket list. There's NSW's oldest regional gallery and The Living Desert sculptures, the Line of Lode Miners Memorial and if you don't mind driving a touch further, Kinchega National Park.
There are two campgrounds around here that really steal our hearts too. The first being Mount Wood Campground—this one's on the more exposed side but she's set next to an outback billabong. The second is Homestead Creek Campground, which will leave your tent or van absolutely surrounded by towering river red gums. This is a beautiful little miner's cottage that has recently been renovated if roughing it isn't your thing.
Snowy Mountains
Travel Time: 5 hrs 30 mins
Great For: THE GREAT OUTDOORS
Alright people, if you're planning on having a jam-packed getaway, then hover your eyes over the Snowy Mountains. Here, it's all about horseriding, fishing, mountain biking, road cycling, hiking, and bushwalking in and around stellar lakes and waterways. The towns in this region surround Kosciuszko National Park, where you can climb Australia's highest peak, Mt Kosciuszko.
For the foodies out there, we guarantee you'll really get to loosen your belt here with Australia's only schnapps distillery, Wildbrumby Distillery, as well as cold climate wines from Courabyra Wines, Sundance Bakehouse, Snowy Vineyard Estate and Microbrewery, Macenmist Truffles and Wines, and Kosciuszko Brewery—Australia's first mountain brewpub.
Alongside adrenaline-pumping bushwalks and hikes, you can also head down this way for a bit of R&R. Lake Crackenback Resort & Spa should really be your first point of call when road-tripping is allowed again because this spot (which is also just 15 minutes from Thredbo and Perisher), is the ultimate sanctuary to reset. You can treat yourself to rejuvenating facials, an infinity-edge bath, and deep-tissue massages to relieve all those WFH aches and pains.
If you'd prefer to rock it in ultimate seclusion and style, The Eastern (Oak Apartment) is for you.
For more adventure scheming and dreaming, check out NSW's most beautiful scenic drives.
Image credit: Destination NSW, Destination NSW, Destination NSW, Destination NSW, Nashdale Lane Wines, Denis Degioanni, Nashdale Lane Wines, John Suske, Oliver Strewe, Andrew Merry
Editor's note: Urban List editors independently select and write about stuff we love and think you'll like too. Urban List has affiliate partnerships, so we get revenue from your purchases.