There's no doubt we all have one thing on our mind right now. A road trip. Some time away. A weekend camping trip. A spa day. We hear you.
This year has been a devastating one for many, and when we look into our very own backyard, it's pretty impossible to forget the catastrophic bushfires that wiped out many towns, bushland and wildlife across the state over summer. Just as the pieces were slowly being picked up, COVID-19 hit, wreaking further havoc across NSW (and the world) causing a hard stop to Australia's so-called "rite-of-passage" to road trip, and our weekends filled with exploration of the best of what our regions have always given to us.
Many of these places granted that sometimes necessary recluse from city-life, in trinkets we bought from small businesses, memories of hikes, swims or fishing trips and an appreciation for where we live through the many national parks, camping spots, boutique stays, secluded beaches and rivers.
Pack the car, prep your playlists and your podcasts and buckle up—these are five of the best regions to visit in NSW.
Coonabarabran
TRAVEL TIME: 6 HRS
GREAT FOR: STAR-GAZING
Yep, one of the first places you'll want to hit now that "road-trips-are-a-goer", is good old Coonabarabran. This central-west town in NSW sits near the spectacular Warrambungle National Park, which is Australia's first and only Dark Sky Park. And what does this mean, you ask? Well, it's an internationally-recognised place of crystal clear skies, we're talking an unholy amount of clarity to stargaze at night (Joshua Tree in California and Vrani Kamen in Croatia are two others). Warrambungle is also where you'll find Siding Spring Observatory, the home of ANU's super-cool SkyMapper telescope.
The drive time for this one is around six hours (or around seven Shameless episodes in podcast time). Coonabarabran sits on top of a volcanic mountain range and it's the perfect low-key getaway especially if you're keen to camp (we recommend Gunneemooroo Campground, which sits in the shadows of Mount Naman). If four-walls are more your thing, scoot on over to Barkala Farmstay. It's an actual working farm with cows, goats, sheep, horses, and ahem… pottery classes for a total zen time.
The streets around here also come alive on the weekends with the aptly named Coonabarabran Townlife Markets. You'll be in for some keen finds including native plants to take home and amp up your city digs, jewellery, local-made jams, nuts, honey, olive oil, dog products and furnishings too.
Orange
TRAVEL TIME: 3 HRS 40 MINS
GREAT FOR: FOOD AND WINE

If it's a food and wine adventure you're after, set your sights on Orange. Arguably one of our State's coolest new wine regions (not by temperature so much, more by awesomeness), Orange is just under four hours drive from Sydney and features over 60 vineyards and about 40 cellar doors.
Tucked into rolling vine-covered hills and pretty country lanes and set against the backdrop of an ancient, extinct volcano called Mount Canobolas, Orange is Australia's highest elevation wine region—making it perfect for Chardonnay, Pinot Noir, Riesling, Pinot Gris, Merlot, Shiraz and emerging drops like Gewürztraminer, Viognier, Tempranillo and Sangiovese.
As for which cellar doors to head to first, we love Cargo Road Wines. It's one of the oldest vineyards in the region, set on the slopes of Canobolas with a jaw-dropping view. Winemaker James Sweetapple takes a holistic, sustainable approach to grape-growing and his dedication to the soil, the grapes and the natural way of the land results in some damn fine wine. His Zinfandel might be one of the tastiest reds we've ever had, just quietly.
Heifer Station has all the bells and whistles: a stunning cellar door and courtyard drenched in sun, a petting zoo complete with an extra happy white alpaca called Snowy, and a super tasty Chardonnay that should absolutely be on your booze bucket list. Last but not least, make sure you drop into Nashdale Lane Wines. The vineyard has built a stunning, breezy cellar door with a wood fire and enormous windows that pour out over the surrounding green hills.
And, if you're after a place to stay—Nashdale Lane Wines offer on-site luxury glamping cabins so you can snooze and stargaze alongside the vines.
Broken Hill
TRAVEL TIME: 12 HRS 30 MINS
GREAT FOR: THE ROAD TRIP
For those of you with a stellar road trip crew (ie. one that won't do your head in after a 12-hour driving slog)—hit the highway and make your way to Broken Hill. This drive will be filled with all the moon-like landscapes, national parks to dip into and, for the love of god, the most striking, dusty sunsets you'll ever lay eyes on (Santorini eat your heart out).
Out here, you'll be able to throw yourself at art galleries, groovy cafes, mining landmarks and if you really want to treat yourself and support a whole heap of local business, take a detour through Mudgee (about four hours from the Big Smoke) which, just quietly, sports over 35 cellar doors to quench your thirsty soul.
Also on the way is the iconic Western Plains Zoo, the sister zoo to Sydney's beautiful Taronga Zoo and home to lions, tigers elephants and elegant wild horses known as Takhi. This detour will also bring you to the schnitty haven of Cobar (also known as Copper City). Order the parmi at the Great Western Cobar Hotel. It's a great time.
When you actually reach Broken Hill, there are a number of sites you'll need to make sure you tick off your outback bucket list. There's NSW's oldest regional gallery and The Living Desert sculptures, the Line of Lode Miners Memorial and, if you don't mind driving a touch further, Kinchega National Park.
There are two campgrounds around here that really steal our hearts too. The first being Mount Wood Campground—this one's on the more exposed side but she's set next to an outback billabong. The second is Homestead Creek Campground, which will leave your tent or van absolutely surrounded by towering river red gums. Luxe on Lane is a beautiful little miner's cottage which has recently been renovated if rugging it isn't your thing.
Eurobodalla
TRAVEL TIME: 4 HRS 30 MINS
GREAT FOR: Coastal beauty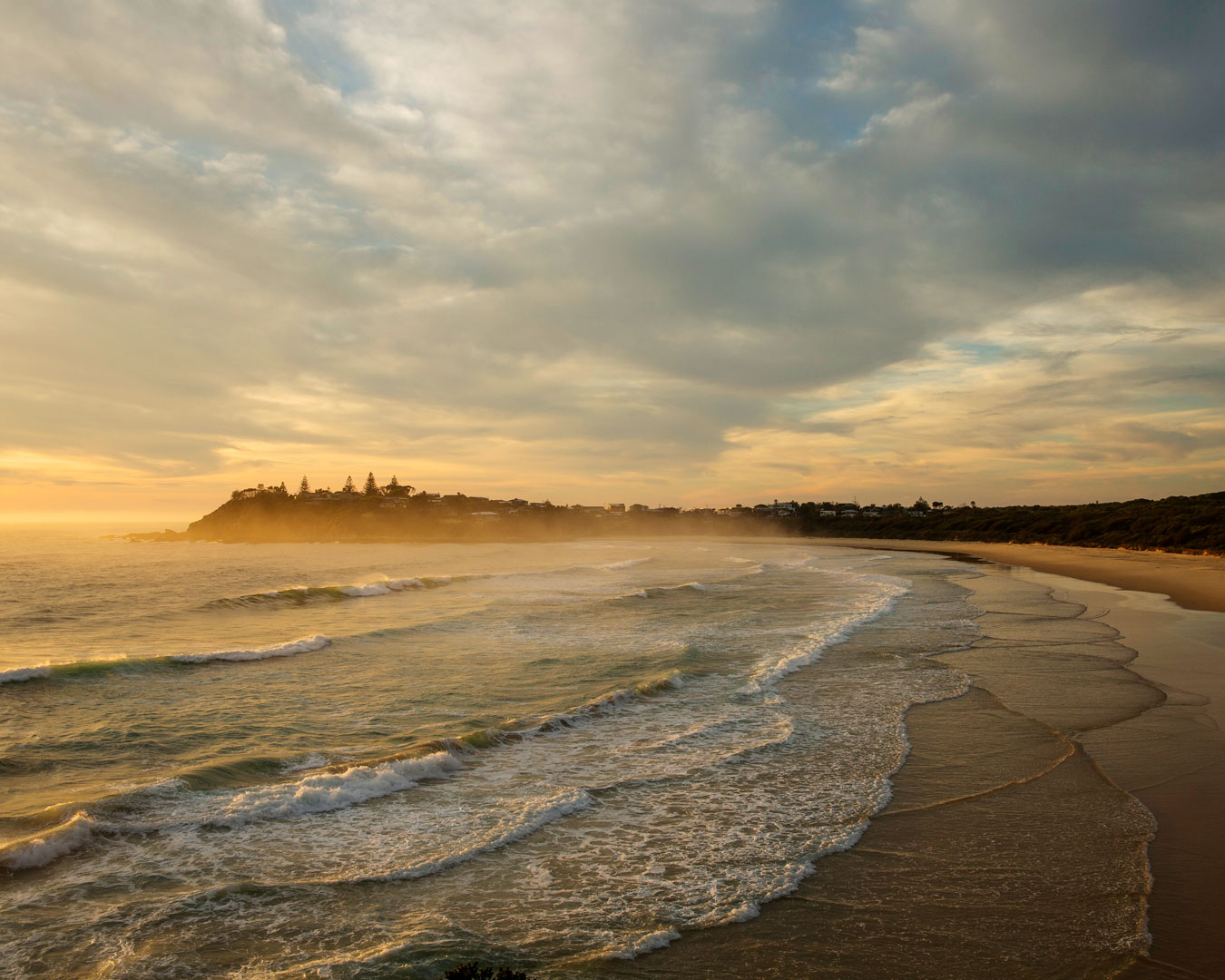 If you head down the NSW South Coast, you'll eventually come to Eurobodalla, a region which kicks off at South Durras all the way to the in-land area of now-infamous Nelligen (shout out to firey and national hero, Paul Parker).
This area takes in Batemans Bay, Mossy Point and Narooma. We suggest hitting up Three Fish Cafe in Batemans Bay for juicy burgers, chips, big breakfasts and the ultimate seafood feed. Or try The Venetian Cafe—they roast their own coffee and currently house a casual 19 different blends. Plus, if you're not a big coffee drinker, the team here also whips up a killer chai and super indulgent hot chocolate.
If you're looking to expend some energy, you can rent some wheels from Moruya Bicycles who have everything from traditional bicycles to pedal-assist beauties if you're keen to make some miles (they'll also provide you with some pretty handy maps). The Mill Bay Boardwalk in Narooma is a super scenic walk that leads you past goodies like the Narooma Bridge and Apex Park. It's gentle on the legs and contains wheelchair access. Needless to say, you'll also want to save room for an Oyster feed at The Oyster Shed, which is located on the banks of the Clyde River.
Dalmeny Campground is a winner if you want to wake up to beach views, but you can also scope some mountain scenery at the quaint Palm Cottage in Narooma, the Fig Tree Bush Cabin in Moruya, the Serendip "Glamping" Shack on Wallaga Lake or the rustic heaven of The Studio in Tilba Tilba.
Snowy Mountains
Travel Time: 5 hrs 30 mins
Great For: THE GREAT OUTDOORS
Alright people, if you're planning on having a jam-packed getaway, then hover your eyes over the Snowy Mountains. Here, it's all about horseriding, fishing, mountain biking, road cycling, hiking and bushwalking in and around stellar lakes and waterways. The towns in this region surround Kosciuszko National Park, where you can climb Australia's highest peak, Mt Kosciuszko.
For the foodies out there, we guarantee you'll really get to loosen your belt here with Australia's only schnapps distillery, Wildbrumby Distillery, as well as cold climate wines from Courabyra Wines, Sundance Bakehouse, Snowy Vineyard Estate and Microbrewery, Macenmist Truffles and Wines, and Kosciuszko Brewery—Australia's first mountain brewpub.
Alongside adrenaline-pumping bushwalks and hikes, you can also head down this way for a bit of R&R. Lake Crackenback Resort & Spa should really be your first point of call when road-tripping is allowed again because this spot (which is also just 15 minutes from Thredbo and Perisher), is the ultimate sanctuary to reset. You can treat yourself to rejuvenating facials, an infinity-edge bath, and deep-tissue massages to relieve all those WFH aches and pains.
For more adventure scheming and dreaming, check out NSW's most beautiful scenic drives.
Image credit: Nashdale Lane Wines, Denis Degioanni, Nashdale Lane Wines, John Suske, Oliver Strewe, Andrew Merry