With international travel a reality once again, we shouldn't forget about the wealth of getaway opportunities right on our doorstep. Local businesses and tourist areas need our support as ever, and we're lucky that NSW has some of the most varied and exciting scenery in the world, and there's no better way to explore it than on four wheels.
With great food, stunning views, great-value accommodation, and activities as far as the eye can see, here are seven of the best road trips to take from Sydney.
Parkes to Lightning Ridge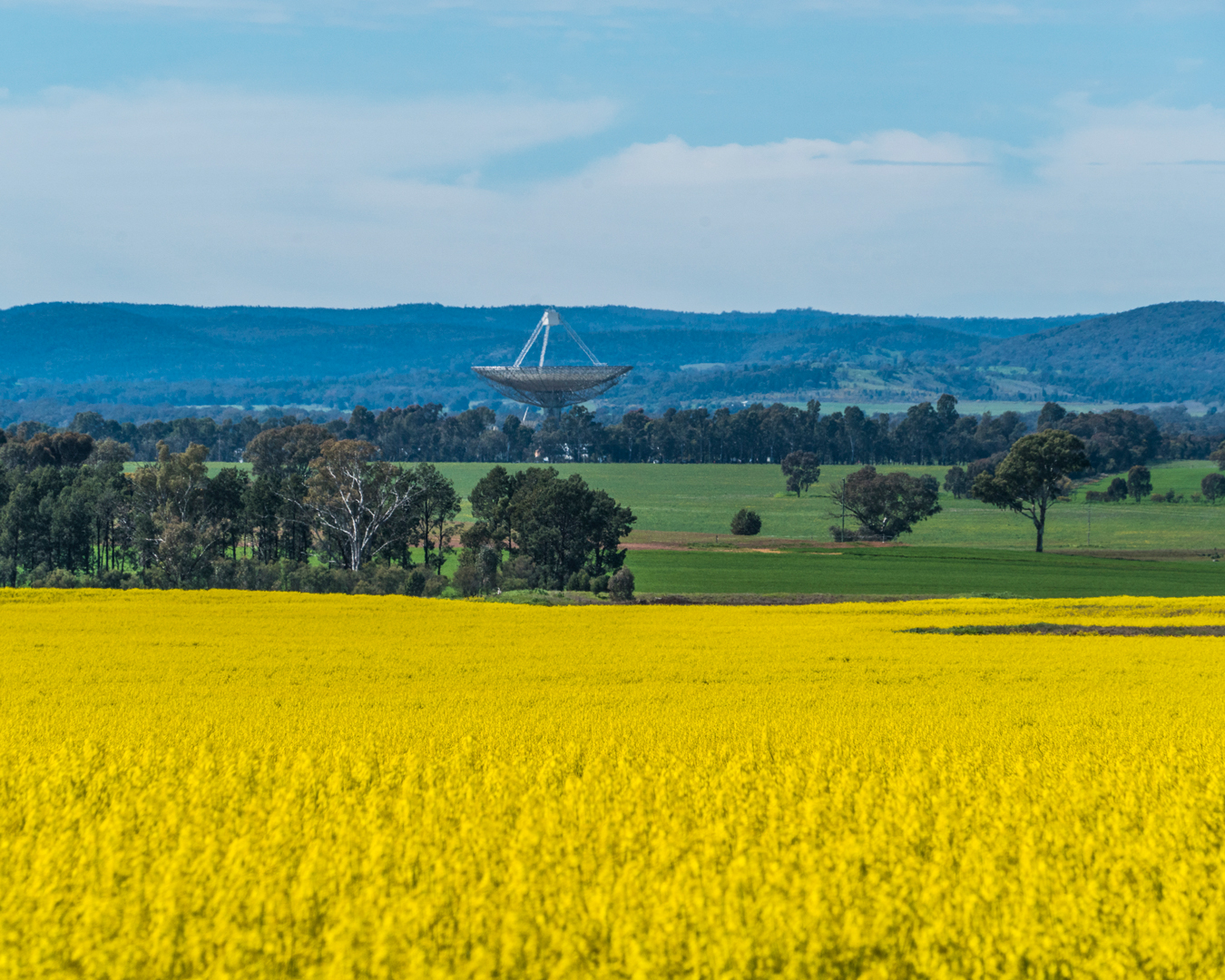 Like many rural towns, Parkes is known for both its gold rush history and stargazing opportunities, so it's the perfect starting point for this outback adventure. Heading north along the open road takes you to Dubbo—a family-friendly town and home of Taronga Western Plains Zoo. Again, the clear skies mean that a trip to Dubbo Observatory is a must for an unspoiled view of the cosmos.
Pass through the Great Western Plains and Gilgandra and into The Warrumbungles where you'll find Australia's first and only Dark Sky Park, an area specifically protected for its spectacular night-time vistas (can you sense a theme developing yet?). The end of the line is Lightning Ridge, a famous outback town where you can try your hand at opal mining before taking a peek at Australia's own, below-ground version of Mount Rushmore, carved by a local miner.
Top tip: It's worth spending a night or two in Dubbo, and there's a range of accommodation options to cater for all budgets
Length: 7 hours, though you can cut that to 5 hours by skipping The Warrumbungles—we recommend you don't though!
Mighty Murray River Drive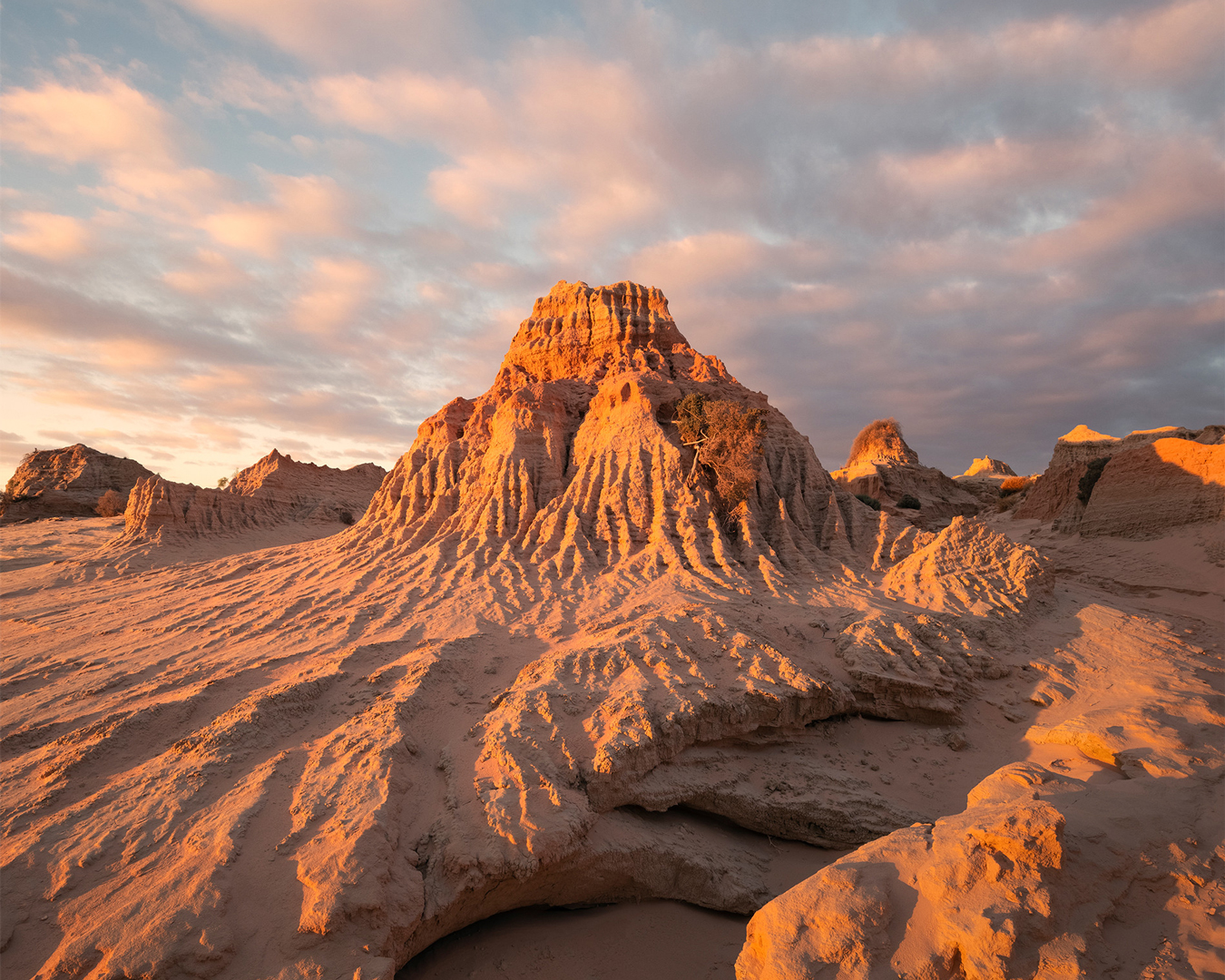 The Murray River bisects NSW and Victoria, and this drive is a beautiful, 850km trek that follows the waterway's twists and turns. Albury is your starting point, but don't leave town before checking out The Murray Art Museum and its collection of Aboriginal works. A drive through lush countryside will take you to Corowa, home of Corowa Whisky and Chocolate—a company whose name tells you everything you need to know. You'll pass through stunning wetlands and cross the river itself more than once before hitting Barham, known for its citrus production and river tours.
Arguably, however, the best is saved for last: Mungo National Park. You'll feel like you've been sent back in time as you look over ever-changing lake beds and weathered dunes. It's a World Heritage Site that is also the home of Mungo Woman and Mungo Man—human remains thought to be the oldest in the country.
Top tip: As you'll be following the water the whole way, keen anglers should plan for extra time and make sure they've got their gear on hand
Length: 10.5 hours
Kidman Way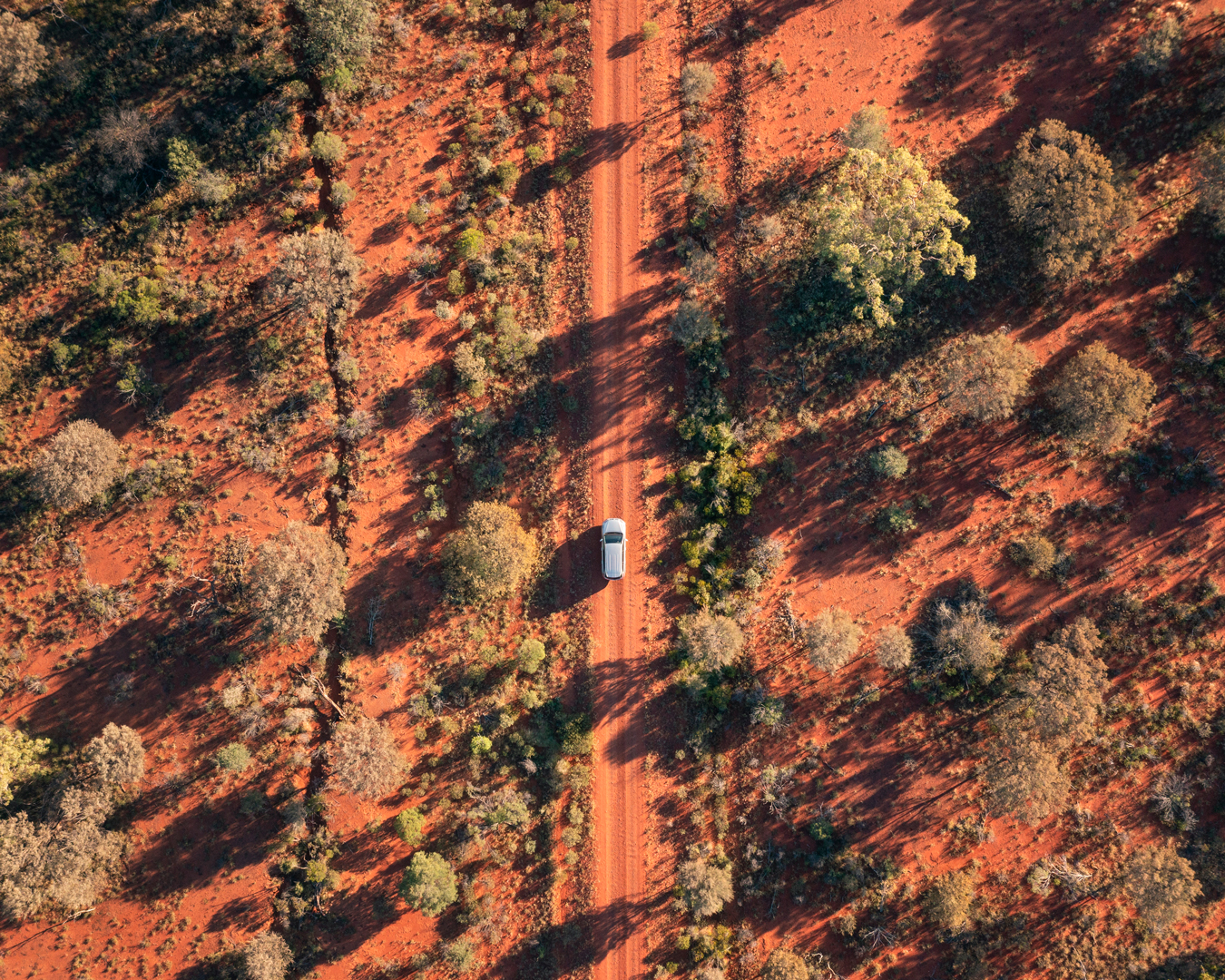 The Kidman Way (named after pastoralist Sir Sidney, rather than Nicole) also begins in Albury, but rather than following the river, this time you head north and experience the true Australian outback. But before you hit the barren landscape, spend a day in Griffith: the food and drink epicentre of the Riverina region. It has a strong Italian heritage that's still evident today in the wine and produce of the area.
The journey from Griffith first takes you through landscapes dominated by red soil and then sparse plains before reaching the town of Cobar. Cobar may have been a big mining town in its day, but now it's ideal for seeing the outback as it was always intended to be. Finally, you arrive in Bourke, a town keen to show off its Aboriginal heritage to visitors keen to learn about Country and the traditional ways of life.
Top tip: Stop at Coleambally, the state's newest town and home of The Kidman Way's only cellar door.
Length: 9 hours
Sydney To Coffs Harbour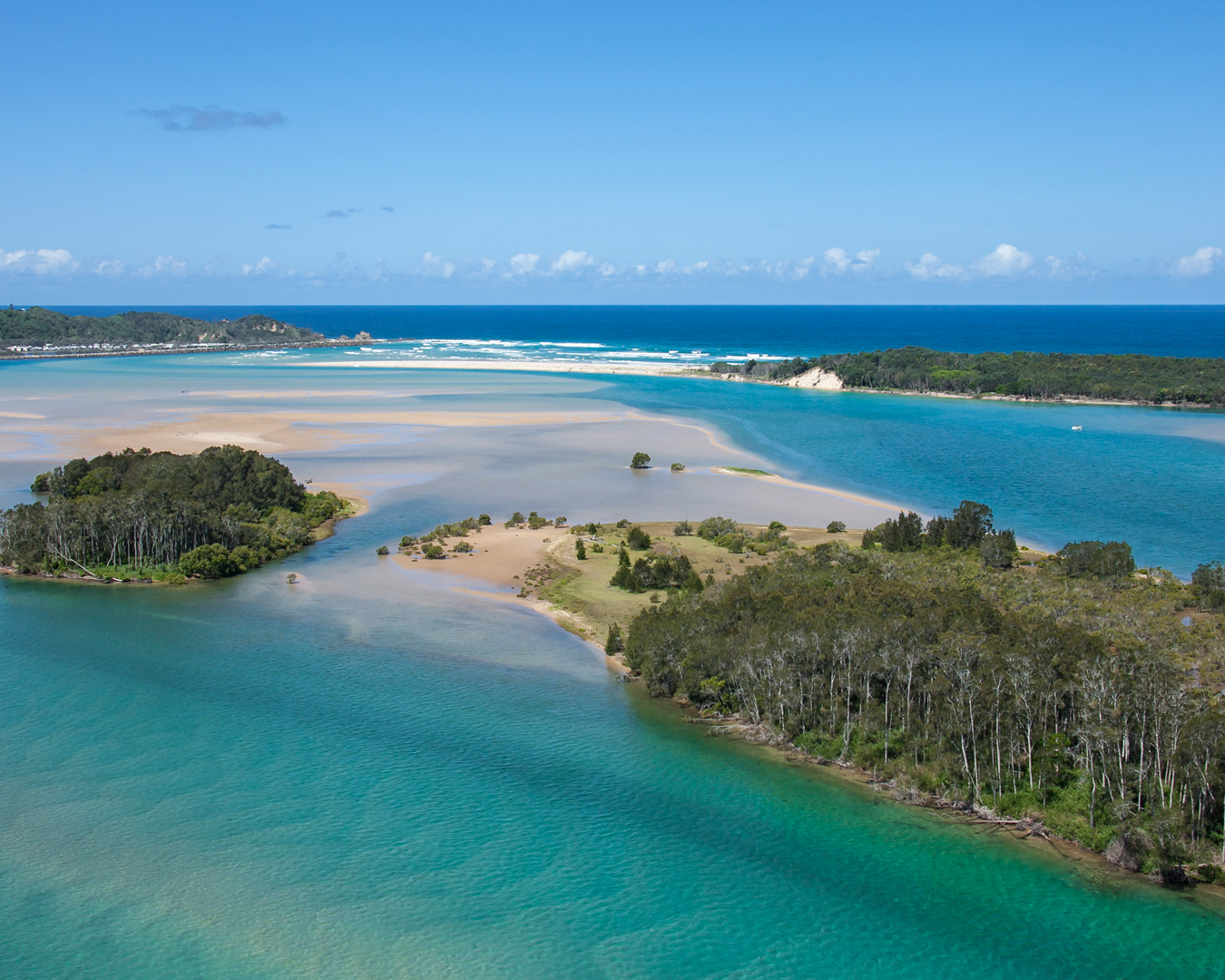 The trip north up the coast from Sydney is the quintessential Aussie road trip and for good reason. You can't travel more than half an hour at a time without finding a little town worth exploring. Once you've left the big city behind, the beaches are quieter, the air is clearer and the way of life is just that bit more relaxed. Port Macquarie is worth at least one night of your time with its beautiful marina views and burgeoning foodie scene.
It's a good idea to leave the highway whenever you can, particularly to hug the coast between South West Rocks and Nambucca Heads. Here, stunning, empty beaches are the norm (some are even 4WD-friendly) and Nambucca Heads offers beautiful riverside walks where you can see community art on the breakwaters. Stop off for a forest walk in Bongil Bongil National Park before hitting Coffs Harbour and hopping over to Muttonbird Island for stunning views across the water.
Top tip: Take the road less travelled between Newcastle and Forster for stops at Seal Rocks and Blueys Beach, and some of the most beautiful views of the trip.
Length: 5.5 hours if you stick to the Pacific Highway, but you can make it as long as you need.
Snowy Mountains Loop
Sometimes, a road trip is a lot easier if you know you don't have to retread your steps on the way back. Kick-off in Cooma, a quaint little town that is a decent base for skiing if you prefer somewhere quieter. Adaminaby is worth visiting mainly because of its unusual heritage—the original town was drowned and the new Adaminaby contains some of the original buildings from the Aussie Atlantis. As you enter Kosciuszko National Park, your activities will be determined by the time of year: hikes in the summer months and snow sports in the winter.
Thredbo and Jindabyne are the tourist centres for NSW's snowfields, and both are geared up for an influx of skiers and snowboarders. There's more to these towns than just the powder, however, with plenty of opportunities for fishing, mountain biking and horse riding. From there, before you know it, you're back in Cooma again to relax and recharge.
Top tip: Hit Thredbo in January for the annual Thredbo Blues Festival.
Length: 5.5 hours if you opt for the scenic route through the National Park, taking in the scenic towns of Cabramurra and Khancoban.
Wentworth To Wagga Wagga
Wentworth is where the Murray and Darling rivers cross, and we begin this epic tour here, on the Victorian border. Your next destination is Balranaid, which may look like a non-descript sleepy town, but there are five different rivers within a half-hour drive, making this perfect if you're angling for a short diversion.
Taking the road East out of Balranaid means you get to drive through the saltbush plains before reaching Hay, a place with such good sunset views there's a dedicated sunset viewpoint outside the town. Narrandera is on the outskirts of Murrumbidgee National Park, a tranquil area ideal for spotting a koala or two napping in a red gum. By the time you get to Wagga, it'll probably feel like a big city, but it's definitely worth a day or two to explore the town's plentiful food and culture options, as well as an award-winning riverbank beach.
Top tip: There's a chance to overlap this route with parts of the Mighty Murray River Drive and create your own bespoke ultimate NSW road trip.
Length: 8.5 hours
The Blue Mountains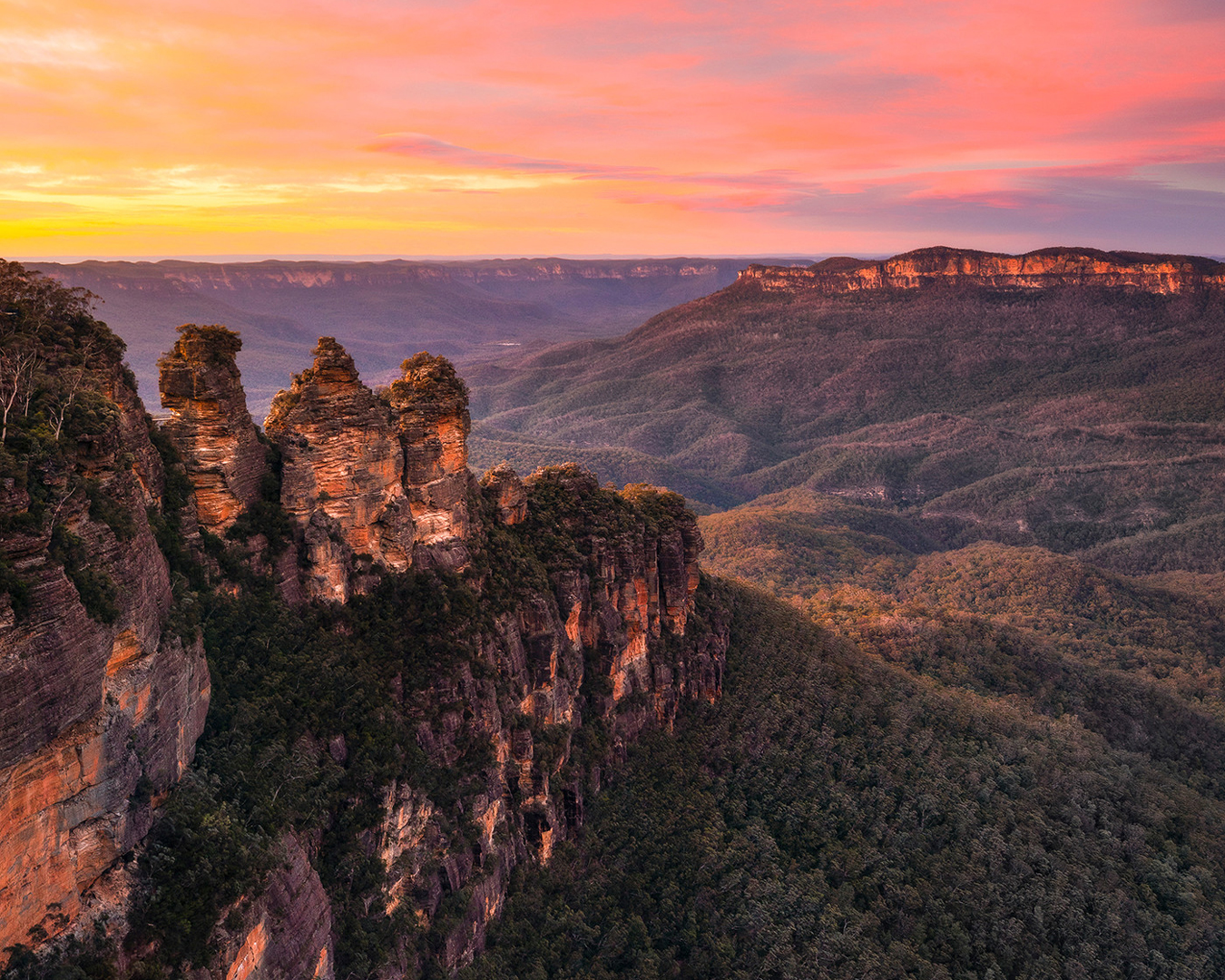 If you're approaching the Mountains from Sydney, you cross the bridge at Emu Plains, the houses fall away, the roads become windier, the elevation increases, and you know you're in for a treat. The tourist heart of the mountains is Katoomba and while it's extremely well known, there's still nothing quite like the view of the Three Sisters from Echo Point. Neighbouring Blackheath has a quieter, artsy vibe, and a stunning panorama from Govett's Leap.
From Blackheath, you can also take a diversion into the Megalong Valley, where the pastoral farmland is a change of pace from the dramatic clifftops. Here, there are a couple of boutique wineries that are well worth your time. Rejoining the main road and continuing west will take you to Lithgow, home of the region's highest lookout: Hassan's Walls. You can finish your mountain journey at Jenolan Caves—a spectacular cave system thought to be the oldest in the world.
Top tip: If you want to beat the crowds at Echo Point, make sure to rock up early before the convoy of coach tours arrives
Length: 2.5 hours from Parramatta to Jenolan Caves
Keen on more adventures? Check out these nine otherworldly destinations in NSW.
Image credit: Destination NSW