We know, we know—you've been told to explore your own backyard a lot recently. But let's face it, you likely went on a trip to Byron, spent a weekend sipping wine in Orange, or went cruising down to the Far South Coast. Maybe you even hit up Tassie or Far North Queensland for a spell. Sound about right? Well, this time we reckon it's time to set your sights on destinations that are out of this world—and they're right here in New South Wales.
From desolate Mars-like landscapes and vibrant underwater worlds to ancient rainforests and the world's second-largest canyon, NSW sure has some spectacularly surreal landscapes. So next time work is too much, the concrete jungle becomes banal, or you just want a change of pace, hit the open road and explore these magical spots.
Ready for an adventure? Here are nine otherworldly places in NSW you need to add to your backyard bucket list.
Mungo National Park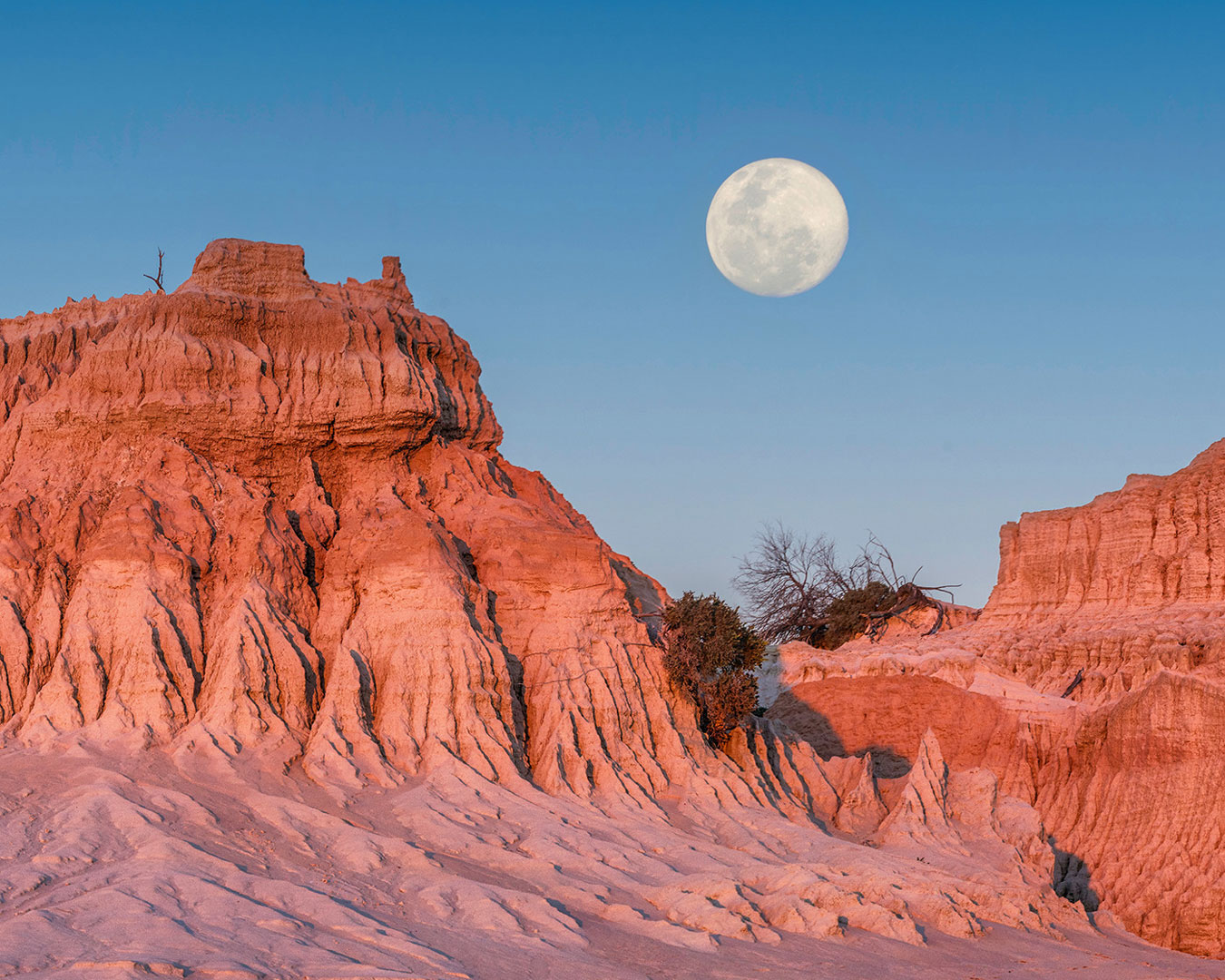 This UNESCO World Heritage-listed park is known for seriously significant archaeological discoveries, dry lakes, sand dunes, nature trails, and breathtaking stargazing sites. It's also It's a place of great cultural, geological, and historical importance—so it is a place to visit with respect.
The park lies partly inside the Willandra Lakes World Heritage Area, an extensive area that contains an intricate system of ancient lakes formed over the last two million years. The semi-arid landscape covers a casual 2,400 square kilometres. There are two main sites you want to see: The Walls Of China and Mungo Lake. The Walls Of China is, just quietly, one of the most incredible natural wonders in Australia. Mungo Lake is equally as impressive—it's one of 17 lakes in the Willandra Lakes Region and numerous archaeological findings have been made here, including the discovery of the Mungo Man and the Mungo Woman, and findings which confirm First Nations people were living on the Australian continent from 50,000 years BP. Not to mention it looks like you're on Mars.
There's a lot to take in at this vast national park, so we recommend taking one of the Aboriginal Discovery Tours. Tours include representatives from Mungo's three main First Nations tribes. The tours will give you greater access to sites like The Walls Of China and help limit human contact so as to preserve sites in the best way possible. And, if you're keen to camp in the park itself, there are plenty of grounds, including Main Campground, which has 33 big sites, and the more secluded Belah Campground with 12 sites.
Travel time: 11-hour drive from Sydney, or 2.5-hour flight to Mildura followed by a 1.5-hour drive.
Where to stay: Mungo National Park Main Campground, Belah Campground, or Mungo Shearers' Quarters
Lord Howe Island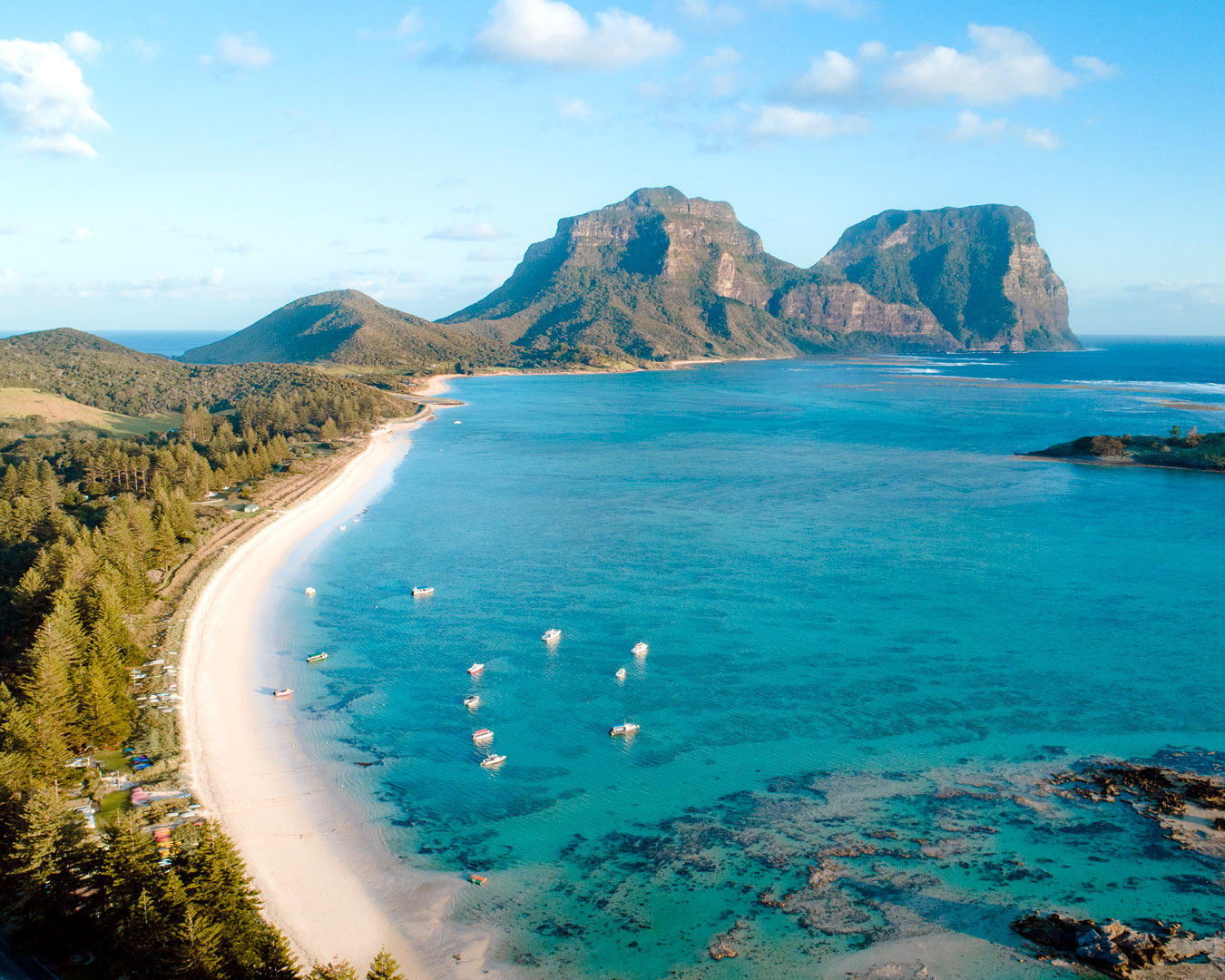 There's a reason Lord Howe Island is on the World Heritage List. From its rainforest-clad volcanic mountains to the fern-laced gullies that nurture some of Australia's most important migratory birds, this island is the definition of paradise. Not to mention it's home to the world's most southern coral reef that hosts more than 90 coral species and 500 fish, many of which are endemic to the island. Plus, the water is some of the bluest you'll ever see.
Bountiful flora and fauna aside, the best part about this patch of paradise is that you'll likely have it to yourself: the permanent population of 360 people and it has an enforced quota of 400 visitors at any given time.
Travel time: 2-hour flight from Sydney
Where to stay: Blue Peter Beach House or Capella Lodge
Capertee Valley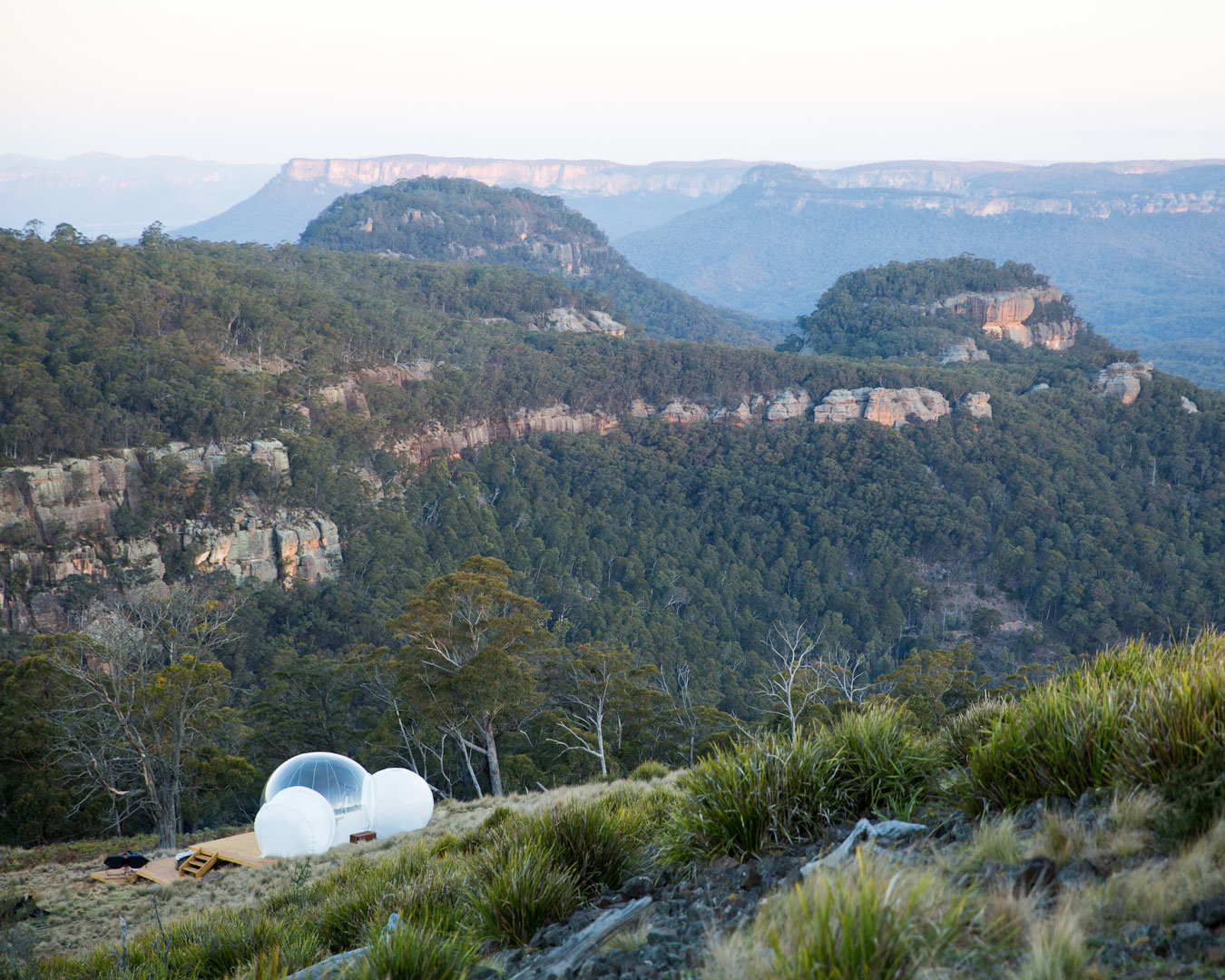 Did you know that the second largest canyon in the world is right here in NSW? Not only that, but it's just a short three-hour drive from Sydney, so it's an easy weekend getaway destination. The Capertee Valley boasts stunning sandstone escarpments, abundant wildlife, lush bushland, and an impressive monolith. The latter, named Pantoney's Crown, is an ideal challenge if you feel like a bushwalk. Once you reach the summit, you'll be rewarded with panoramic views.
And if eco-glamping with unadulterated 360-degree views of the canyon sounds like a vibe, check out these Bubble Tents. they're pretty much what they sound like; huge see-through domes ideal for stargazing and view-filled snoozes in the picturesque Capertee Valley. They even come with an outdoor woodfired bath for soaks under the stars.
Travel time: 3-hour drive from Sydney.
Where to stay: Bubble Tents or Red Stone Retreat
White Cliffs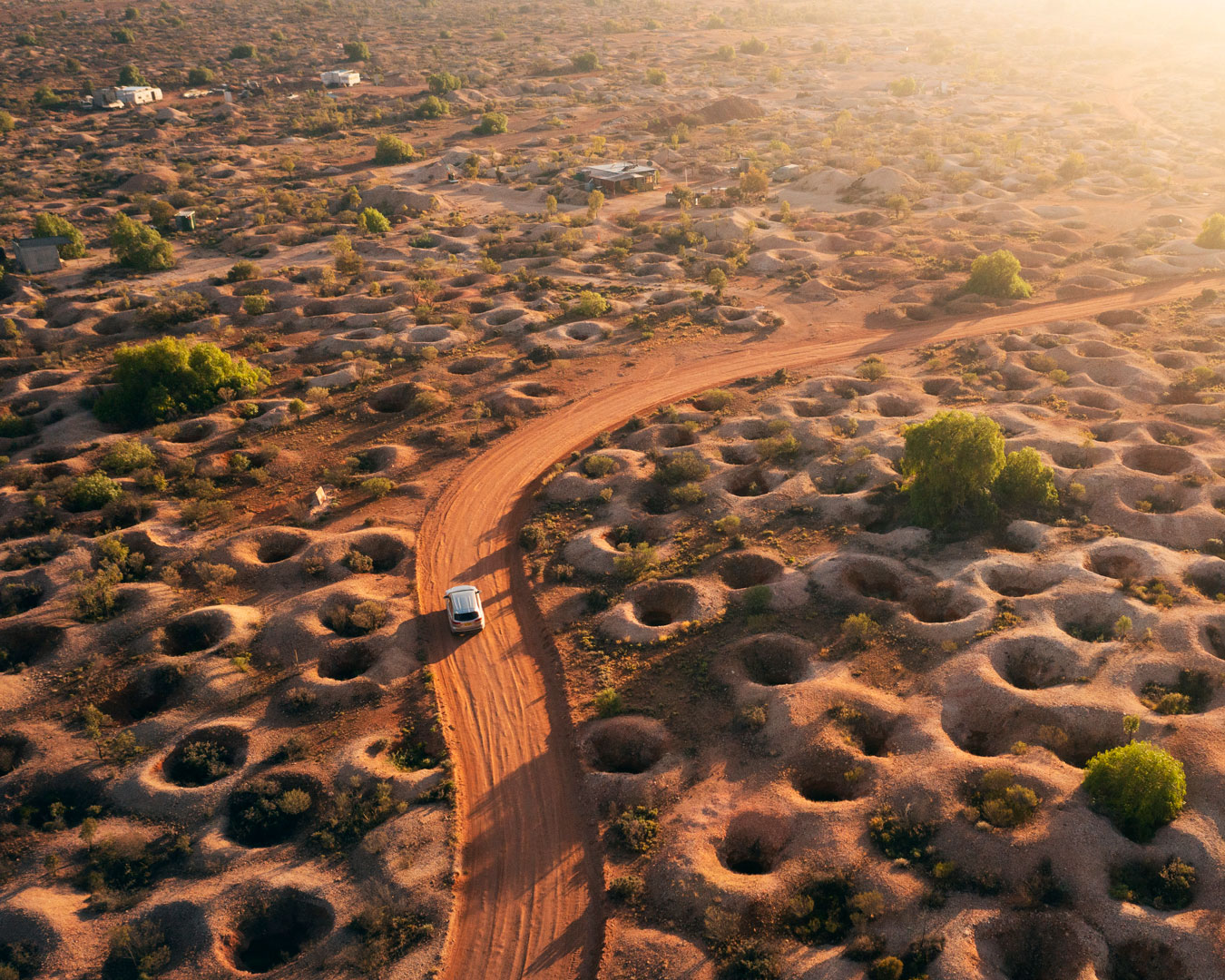 Home to Australia's oldest commercial opal field, White Cliffs is more or less a goldmine, if you will, of unusual antics and places to explore. Hitting hard in the realm of desert-scapes, the town is known for its underground living (all thanks to the outback temperatures) and colonial heritage. So, you could say this spot has more underground earthy vibes than otherworldly one—but we reckon it's fair dinkum. Like we said, there are whole houses underground.
Still kicking it as an active opal mine, White Cliffs is one of the few places in the entire world where you can actually score bits of white opal and rare pineapple opal, so we suggest booking a tour with Red Earth Tours to see if you can actually score big time (it's happened before).
Travel time: 11-hour drive from Sydney, or 2.5-hour flight to Broken Hill then three-hour drive
Where to stay: Fossickers Den Dugout or Goodwood Station Stay
Dorrigo National Park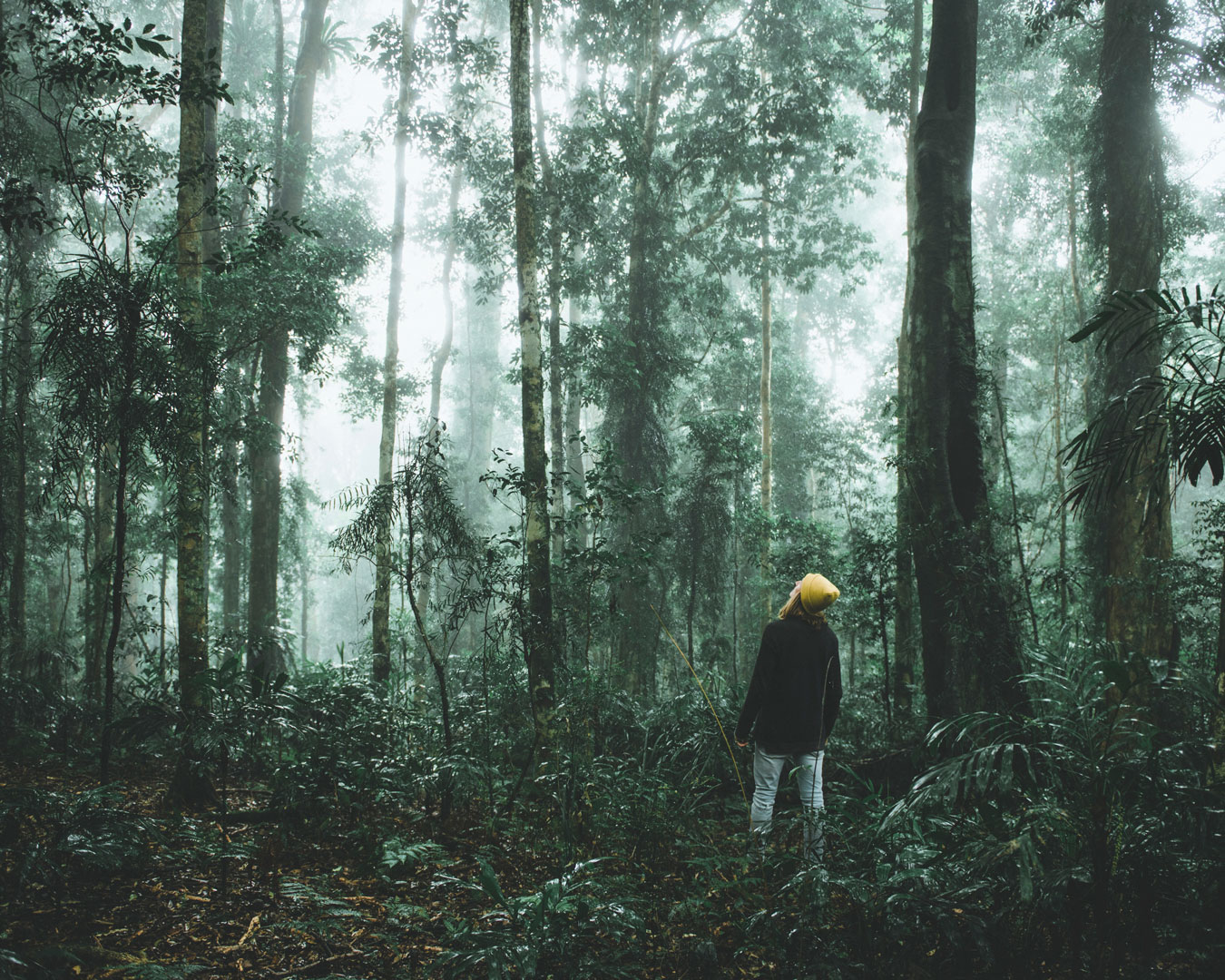 TLC be damned—you'll definitely want to go chasing waterfalls in this ancient rainforest in the Mid North Coast. Dorrigo National Park is located on Gumbaynggirr Country and is known for its serious Gondwana vibes. Here, you'll hike past 600-year-old trees, high-climbing ferns, plenty of birdlife, and majestic falls. The most epic is Crystal Shower Falls, which looks like it belongs in an enchanting fairytale. To get to it, you start out on the Wonga Walk, then follow the Crystal Shower Falls Track that tacks you over a suspension bridge and behind the falls. Or, you can check out the glorious Dangar Falls and go for a dip in the pool below.
Travel time: Six-hour drive from Sydney
Where to stay: Lombok On Waterfall Retreat Villa or Rosewood River Cottage
Wollomombi Falls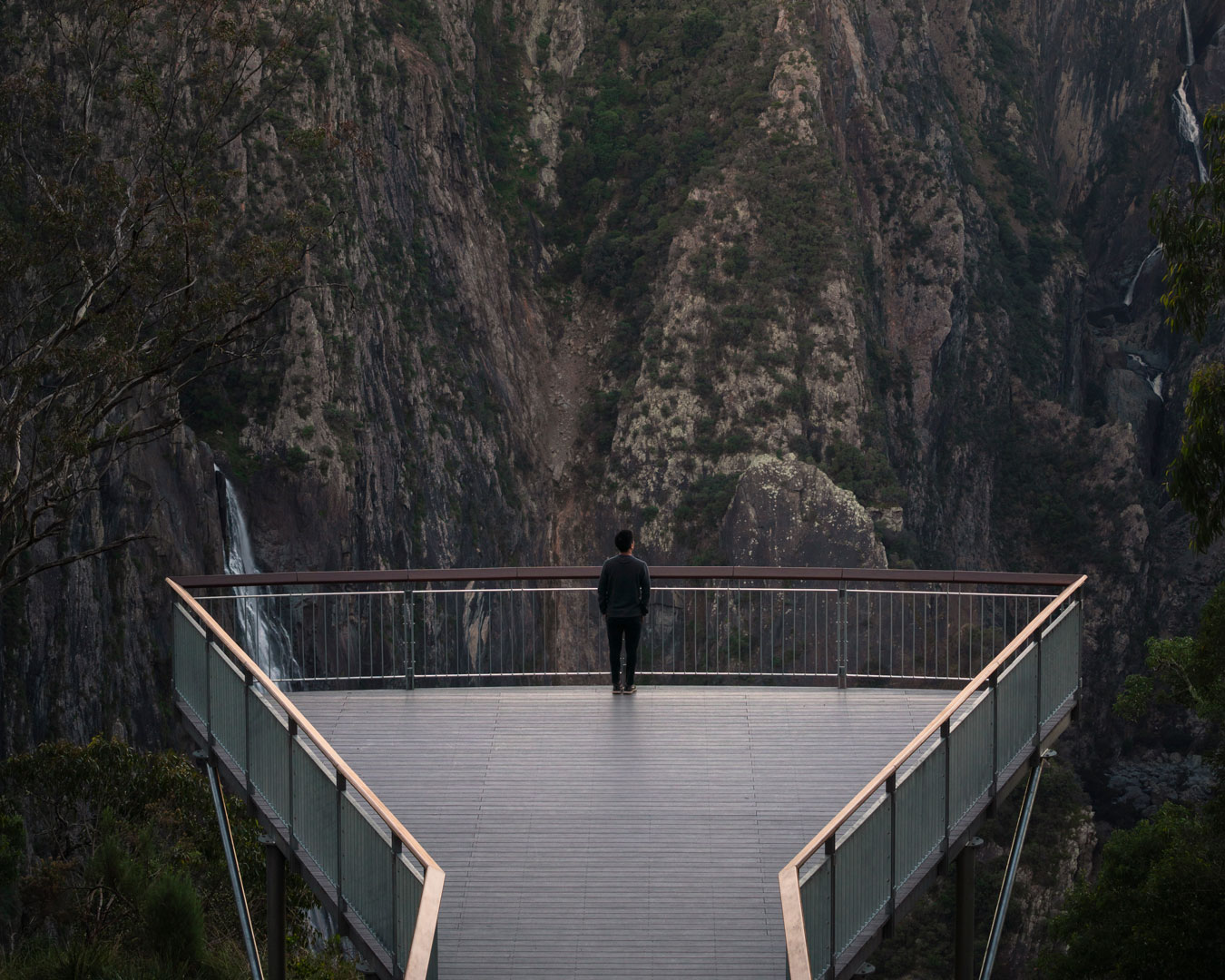 What more waterfalls? Of course you do—they're pretty spectacular. And Wollomombi is the highest waterfall in the state, making it one of the most impressive in the entire country. Located in the Oxley Wild Rivers National Park, the falls cascade 220m over the rugged cliffs to the valley below. Should you visit after heavy rainfall, you'll see the gorge fill with mist and maybe even catch a rainbow or two.
Thankfully, the lookout here helps you take advantage of these vistas—the cantilever platform takes the experience to great new heights (excuse the pun). The best time to visit is either during spring when the heathland is shrouded in colourful wildflowers, or at the tail-end of summer after rain.
Travel time: 6.5-hour drive from Sydney
Where to stay: Coningdale Farmstay Bed
Barunguba (Montague Island)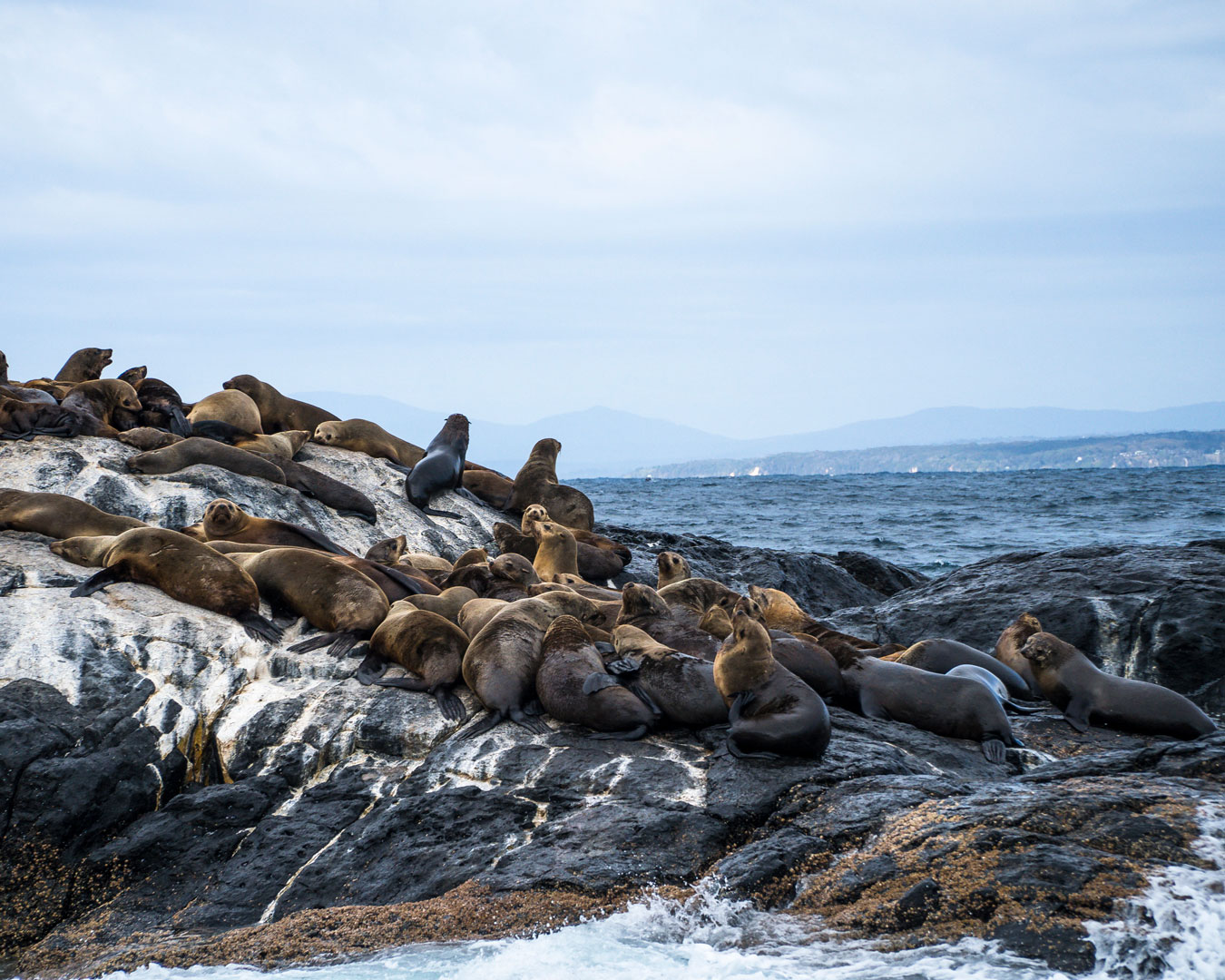 Just off the coast of Narooma lies Barunguba. Also known as Montague Island, the nature reserve isn't the easiest place to get to. First, you'll have to drive about five hours south to get to this part of the Sapphire Coast, then you'll have to organise a 20-minute boat ride from Narooma. But, boy, is it worth it. The entire island is a protected nature reserve that's home to hundreds of fur seals and more than 90 bird species. You'll want to plan your trip around the wildlife, too. From late winter to early December, you'll see the seals sunbaking on the rocks. Or, come in spring for some of the most epic whale-watching as they migrate south. Oh, and did we mention you can snorkel or dive with the seals? There's also a mega walking track filled with exceptional vistas and a granite lighthouse to explore.
If you'd like to live it up on this island paradise, you can—there are two lighthouse keepers' cottages available for short-term stays. Otherwise, hop back on the boat and stay in one of the many quaint towns along this stretch of coastline.
Travel time: 5-hour drive from Sydney, plus 20-minute boat ride
Where to stay: Head Lighthouse Keeper's Cottage and Assistant Lighthouse Keeper's Cottage
Glow Worm Tunnel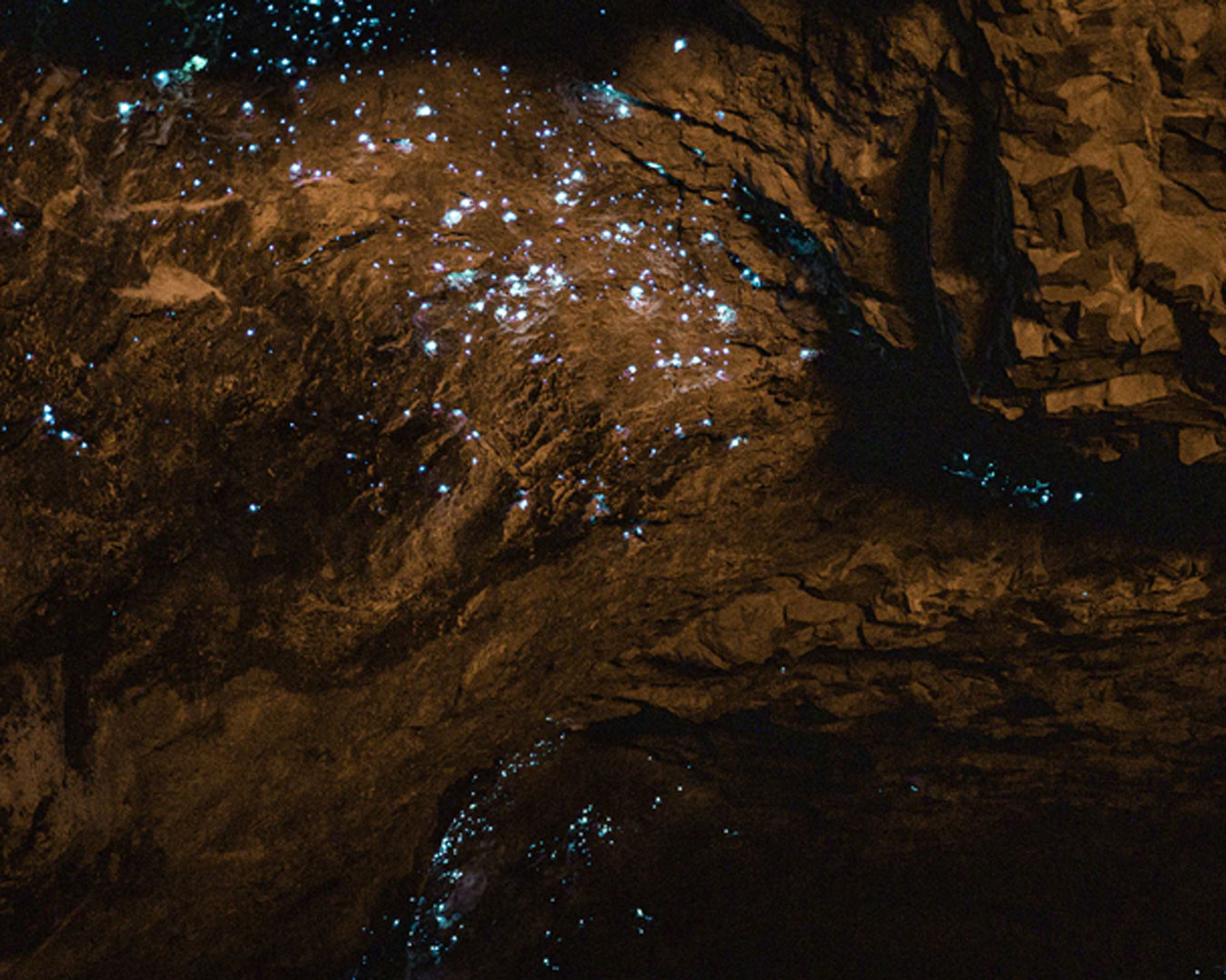 The Glow Worm Tunnel makes for an ethereal sight: in a once-abandoned railway tunnel glitters thousands of glow worms, letting off their ghostly light. It's an other-worldly experience that you won't forget. You'll need to tread carefully and quietly through the dark, 400-metre tunnel, and be careful where you shine your BYO torch—the glow-in-the-dark larvae are sensitive to noise and light. The Glow Worm Tunnel is part of the heritage-listed Wollemi National Park, which is a whole mini-universe of rivers, forests, canyons, and bushwalks.
Looking for more cave adventures? The Jenolan Caves, also located in the Blue Mountains, are worth a visit. Sure, you may have gone to the self-proclaimed "Australia's most spectacular caves" on a primary school excursion. However, you may not know that this area is a sacred space for First Nations communities. For thousands of years, First Nations people from various clans would come to the Jenolan Caves to bathe in the pools of Nadyung.
Travel time: 3-hour drive from Sydney
Where to stay: Emirates One and Only Wolgan Valley or Piccolino
Yarangobilly Caves Thermal Pool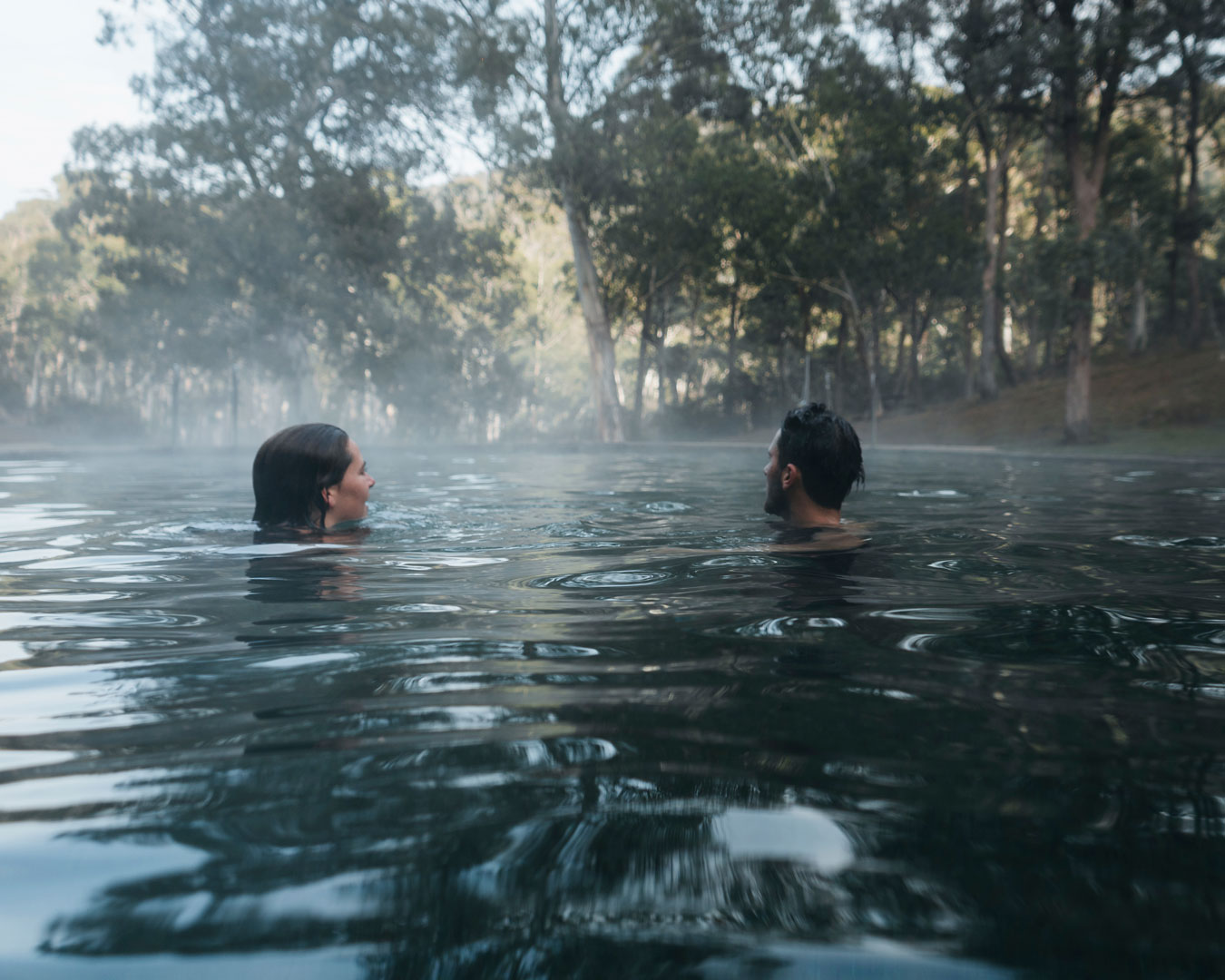 This hot pool is found smack bang in the middle of Kosciuszko National Park. So, it's in an absolutely stunning setting, surrounded by bushland and mountainous scapes. Fed by a natural spring, this magical swimming spot, known as Yarangobilly Caves Thermal Pool, goes hand in hand with a number of epic picnic spots and a couple of walking tracks. You'll find it in a pristine mountain-meets-river setting, which makes it the perfect place to road trip to this autumn.
Yarangobilly Caves Thermal Pool is currently closed for maintenance but is set to reopen on 9 April 2022.
Travel time: 6-hour drive from Sydney
Where to stay: The Outpost Cottage or Truffle Tiny Home
For even more epic local escapes ideas, check out our travel section.
Image credit: Tyson Mayr, Zach Sanders, Mayumi Iwasaki, and all others courtesy of Destination NSW