NSW has more than its fair share of far-off places brimming with delicious foods. There's a good scattering of restaurants right across the state that are well-worth clocking some annual leave and packing your weekend bag for. Yep, these are the types of places you plan a holiday around getting a table at.
Not all of them are cheap, though some are much cheaper than they ought to be. Instead, they become the splash-out spots you take a special trip to once in a blue moon and know you're going to be in good hands from the moment you step through the threshold.
What sets a good regional restaurant apart from the rest is its ability to reinvigorate the surrounding area. To become a destination point, the end of the rainbow for some long drive, the best regional restaurants use locally sourced ingredients and bring the flavour and character of the surrounding country to your plate, letting you tour the area from the comfort of your own table.
Here we've narrowed down the list of our top non-Sydney, regional restaurants across NSW that should be on your road trip hit list.
Saddles
Mount White
Starting out within striking distance of Sydney, Saddles is a waterfront restaurant set into the lush greenery of a garden centre. If you think that sounds like getting a meal at Bunnings, you would be wrong. It's a huge modern barn structure dripping in ornate furnishings set into 10 hectares of bushland and serving up delicious, locally sourced seasonal Aussie cuisine. Try the charcuterie board for a good selection of everything and the homemade caramelised banana pancakes are worth leaving room for.
Tonic
Milthorpe
Halfway between Orange and Bathurst, Tonic is the perfect stopping in spot for Sunday lunch or weekend dinner that packs a punch. Established in 2003, it sits at the heart of this historic town and has played no small part in putting it squarely on the foodie map. The five-course degustation with wine pairing is the best way to taste your way through the local offerings which are changed regularly and for $80 a head you would be hard-pressed to find a better deal nearby.
Flour, Water, Salt
Bowral
An icon of the small country town on the way toward Canberra, Flour, Water, Salt in Bowral is the original whose success has spawned two equally good sister branches. It's a small organic sourdough bakery where bread, pastries, and other baked items are fussed over to perfection. They serve rich, flaky gourmet tarts, sausage rolls, and pies in carnivore and vegan styles and the spelt muffins are worth stocking up on. Get in quick because they sell out early.
Charred
Orange
Orange is known as an up-and-coming foodie capital since, after all, you need something to pair with your excellent local wines. For best in show, look no further than Charred. Their farm-to-plate philosophy and approach to cooking set them apart here along with the massive cast-iron wood burner they use to prepare your meal. It's all seasonal but their slow charred meats are an obvious go-to, while they still have plenty up their sleeves for veggies and vegans.
No Bones
Byron Bay
While we might not class Byron as "regional" these days, it's still not considered to be the Big Smoke—so it totally counts right? No Bones is hands down some of the best vegan food we've ever tried and worth a visit the next time you're in town. They artfully crafted imitation meat items not even to the point that you wouldn't be able to tell the difference, but where you know the difference and think it actually tastes better. Seriously incredible stuff. Menu highlights include "chicken" skewers and "calamari".
Rick Stein At Bannisters
Mollymook and Port Stephens
This is pretty much the destination seafood experience for fine dining in NSW. Chef Rick Stein needs no introduction but suffices to say he cooks a mean fish. Dining on fresh seafood straight from the ocean as it rolls out in front of you is always an incredible experience, but when you've got the quality and expertise of this institution behind you, it doesn't get much better.
Pipit
Pottsville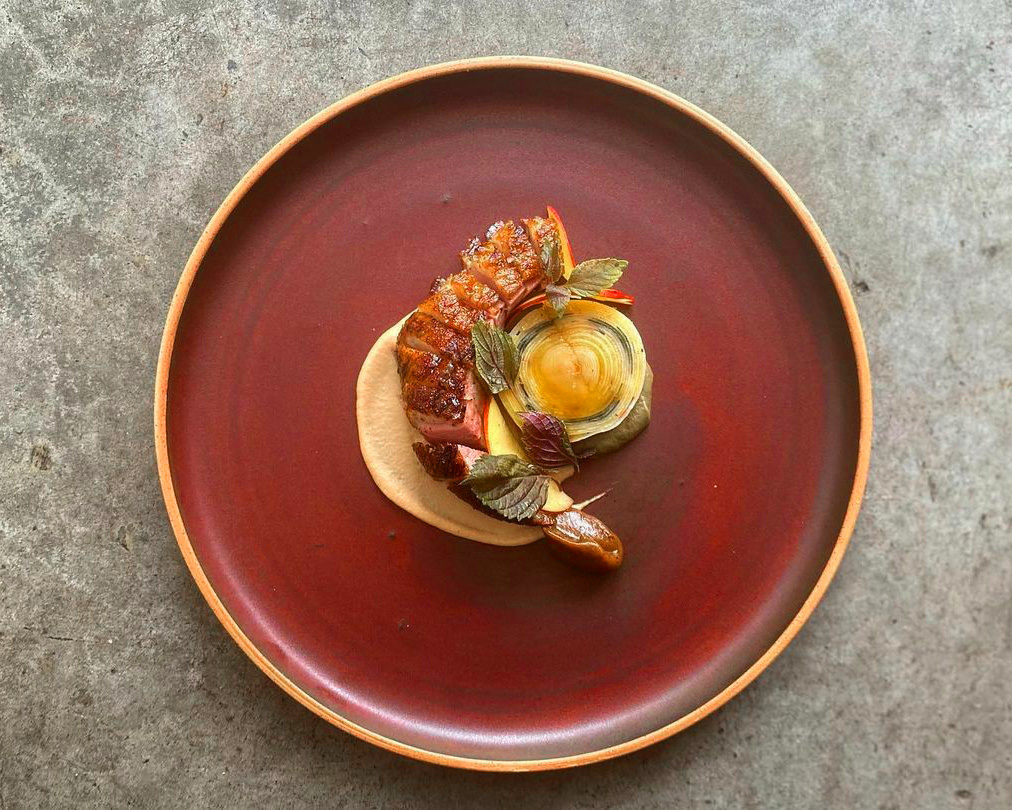 Pipit is a not-so-hidden gem on the far north coast headed by local man and former Paper Daisy chef Ben Devlin. They specialise in small, light, succulent, share plates that are served up right in front of you at the open plan kitchen bar. Chatting with the chefs is very much encouraged as they work their craft on the locally acquired produce. It's a set menu here, which changes regularly and comes in short or long-form.
The Zin House
Mudgee
Along with Pipeclay, The Zin House is the destination food spot in Mudgee, which is a destination food spot in itself. Situated on the spectacular family owned and run Lowe Estate winery, Zin House is run by long-time veteran chef and "NSW Rural Woman of the Year" winner Kim Currie. The food is seasonal, hyper-local, and comes with optional wine pairing from Lowe Estate matched by David Lowe himself. Bookings a few weeks to a few months out are essential.
Eschalot
Berrima
It's all white table cloth fancy here at Eschalot, which is built into a heritage sandstone cottage in the Southern Highlands. They build their dining experience around paddock-to-plate ethics that are blended with diverse, international leanings. The curried chat potatoes with lime are a good example of what we're talking about but they also serve up classics like fresh pork cutlet and have a seriously extensive drinks list, complete with their own stand-out Eschalot Spiced cocktail.
Muse Restaurant
Hunter Valley
Obviously, it's hard to play favorites when you're talking about the Hunter, but Muse consistently tops so many "best of" lists that it would be wrong to leave it out. It's truly next-level dining that epitomises everything the Hunter is about. That is—wide-open spaces with views of the surrounding vineyards and a menu packed with all the best local produce and of course, wine. The fried tofu and home-made haloumi are definite go-to's and the Muse coconut dessert is a refreshing after-dinner revelation in itself.
Fleet
Brunswick Heads
Fleet is a super-tiny 20-seater perfect for foodie party bookings…that is, if you can get in. Run by veterans of the famed Loam restaurant in VIC, it showcases the best of the region. Everything here right down to the plates is locally sourced and the menu is hyper-seasonal and basically designed around whatever it is you want to eat. They'll guide you through the options and suggest Aussie wines to go with it so prepare to be well looked after. And they're also running a #hosporelief fund for Melbourne so, you know, good people too.
Graze
Willow Tree
Finally, Graze at the Willow Tree Inn in the Northern Hunter region on the way to Tamworth is another classic out-of-the-way spot that hits all the right notes. Stone heritage country building with lush gardens surrounding, the husband and wife duo behind Willow Tree serve choice dry-aged cuts from their in-house aging unit that they supply with Black Angus beef from their farm up the road. Slim pickings for vegetarians, but for the meat-eaters out there, this place is a haven and a delight.
Planning a getaway in NSW? Head over to our local escapes section.
Image credit: Destination NSW, Tonic, Flour Water Salt, Destination NSW, No Bones, Pipit, Destination NSW, Fleet