There are very few things us Aussies enjoy more in life than freshly baked sourgdough, a flaky croissant, and piping-hot pies.
With that in mind, it's time to sub out your city side smashed avo brekkie and sub in crusty loaves bigger than your head, lemon meringue eclairs, custard tarts and our favourite buttery, meat-filled baked good—the classic meat pie.
Here are the best country bakeries in NSW worthy of a road trip.
North
Burnt Honey Bakery
Copacabana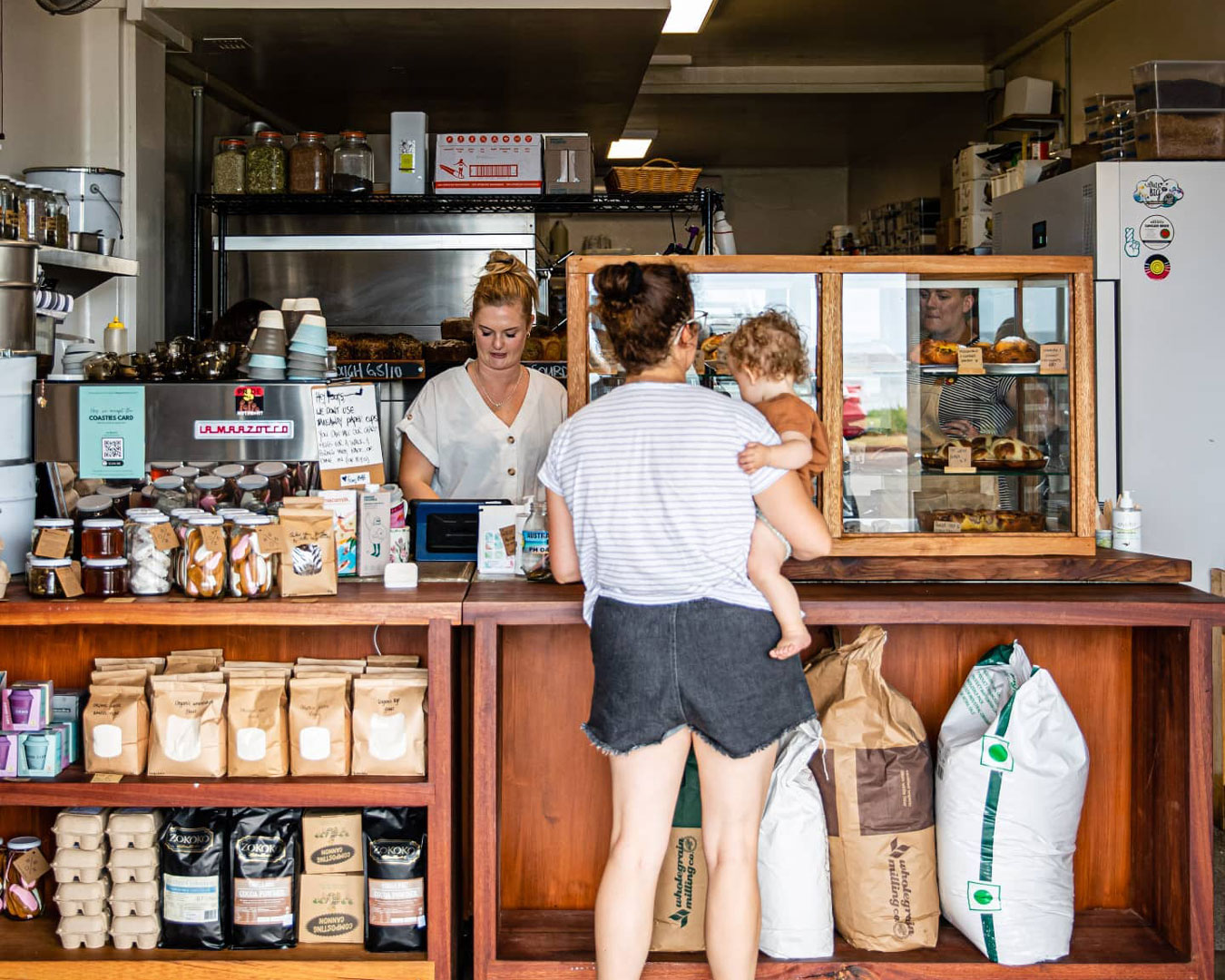 While the Central Coast might not be the countryside, it is regional to anyone living in the inner-city. Semantics aside, this stretch of coastline is home to one of the best bakeries around. Burnt Honey is the brainchild of Joanna Fairall and Hayley Thorncraft and has been loved by locals and day-trippers alike ever since it opened. It's no wonder why either; Thorncraft has worked at some top patisseries in Sydney and the UK, including Black Star Pastry, Dominique Ansel Bakery and Honey & Co. The beachside hole-in-the-wall is often busy but always has a good ol' convivial vibe. Order a coffee, a couple of pasteis de nata and croissants, and some bread for later, then perch yourself by the beach. We guarantee you'll be back.
Glenorie Bakery Café
Glenorie
Glenorie Bakery Café has a big old truck parked out front with a giant pie on the back of it, which is pretty appropriate because this joint knows its way around a damn fine pastry. Just 45-minutes from Sydney, the family-run business that churns out over 300 freshly baked goods every morning is known by locals and out-of-towners for its extensive range of tasty meat pies and decadent eclairs. The vibe inside is old school industrial meets country-and-western, kind of like where you'd imagine John Wayne would hang in the 70s.
If you know what's good for you, get around the live music on Sundays and grab yourself a beef pie—voted no.1 pie in Sydney over multiple years, it's made with quality beef and homemade gravy. Then, grab a lemon meringue pie for dessert, because, well, you'd be a "lemon" if you didn't. Glenorie Bakery has also just started doing custard Biscoff eclairs.
The Icky Sticky Patisserie
Maitland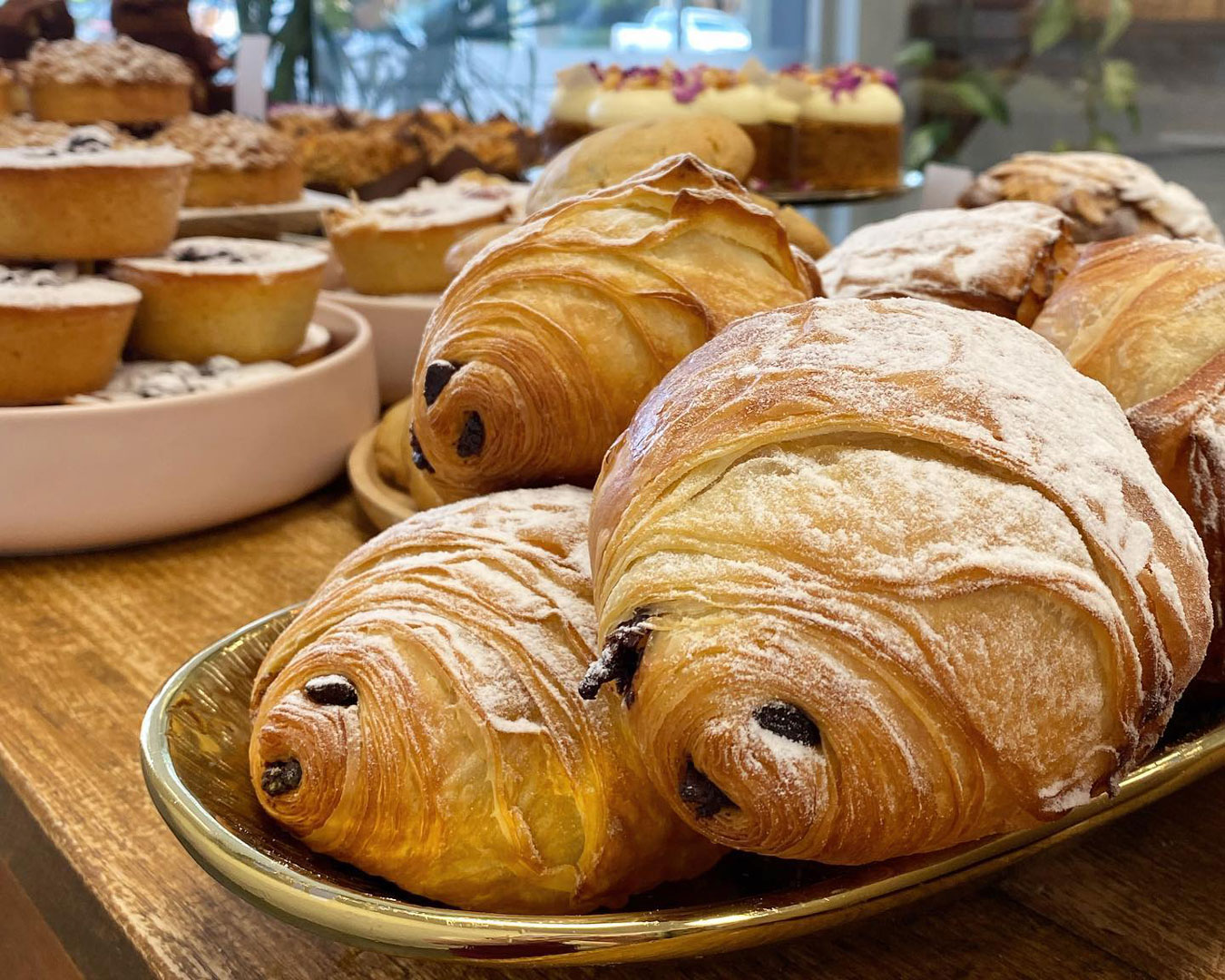 If you're down for a tasty treat that just happens to be incredibly photogenic, hit up The Icky Sticky Patisserie. Whether you're en route to wine region (the Hunter) or you're just keen for a road trip up north, Icky Sticky is worthy of a pitstop. The menu changes on the regular depending on what's fresh and seasonal—but regular features include earl grey pannacotta tarts with pear jelly, blueberry coconut cheesecakes with white chocolate and cardamom glaze, and a selection of buttery Danishes and croissants. Icky Sticky now has a sibling called The Stick tucked away at Tulloch Wines in Pokolbin.
Pie In The Sky
Cowan
This "true blue" Aussie petrol station turned pie shop is pretty much as traditional as it gets. Known for their crisp-crusted pies filled with generous chunks of lean, grass-fed beef, these baked goods are served hot and fresh daily. Grab a beef, bacon and cheese or potato mince pie and join the locals who have been doing just that for over thirty years. Pie In The Sky is a super casual, relaxed hilltop joint off the highway with bushland views and a community feel. A must if you're road tripping up north and have a hankering for a classic Aussie pie.
Ken's Humble Pies
The Entrance
Ken's has only been around a few years, but don't let that stop you because this newcomer certainly gives the oldies a run for their money. Ken's is simple and centred on the three P's—that's pies, pasties and profiteroles. The meats are slow-cooked or roasted, paired with fresh seafood or veggies, topped with flaky pastry and baked to golden perfection. We're thinking a beef burgundy or bangers and mash pie by the water is a must next time you're travelling up this way. As for those profiteroles, these babies are filled with vanilla cream and dipped in either ganache or crunchy toffee.
West
Black Cockatoo
Lawson and Katoomba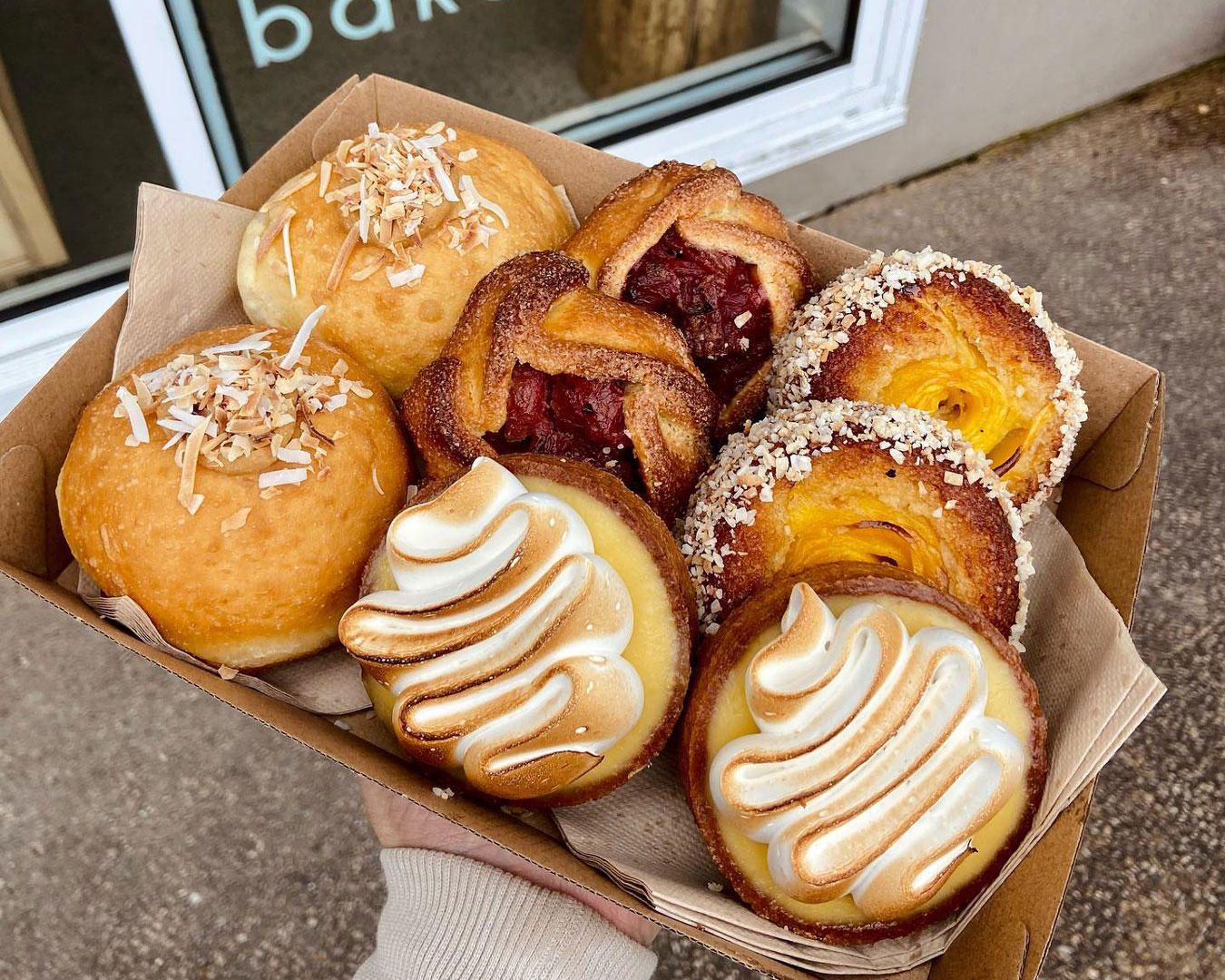 Black Cockatoo is worth just a drip for (although we recommend at least getting a light Blue Mountains stroll in while you're up there). With locations in Lawon and Katoomba, the bakery was founded by Paris-born chef-turned-baker Alexandre Rivière. Everything here is baked fresh, by hand, and served to you on the same day it's made. From oh-so-flaky croissants to exceptional sourdough made from dough, the goods here are made with organic Australian flour, Pepe Saya butter, and dough that naturally ferments over 20 hours using wild live cultures.
The Sir George
Jugiong
A bar, a restaurant, a cafe, an artisan bakery, and a homewares store—there's a lot going on at The Sir George. However, all you really need to know is that no matter what time of the year you hit this country gem there are heavenly baked goods fresh out of the oven. Brace yourself for the most famous sourdough in the region (famous for its slow fermentation), sourdough doughnuts filled with jam, vanilla custard and Nutella, and an ever-changing selection of baked treats.
Racine Bakery
Orange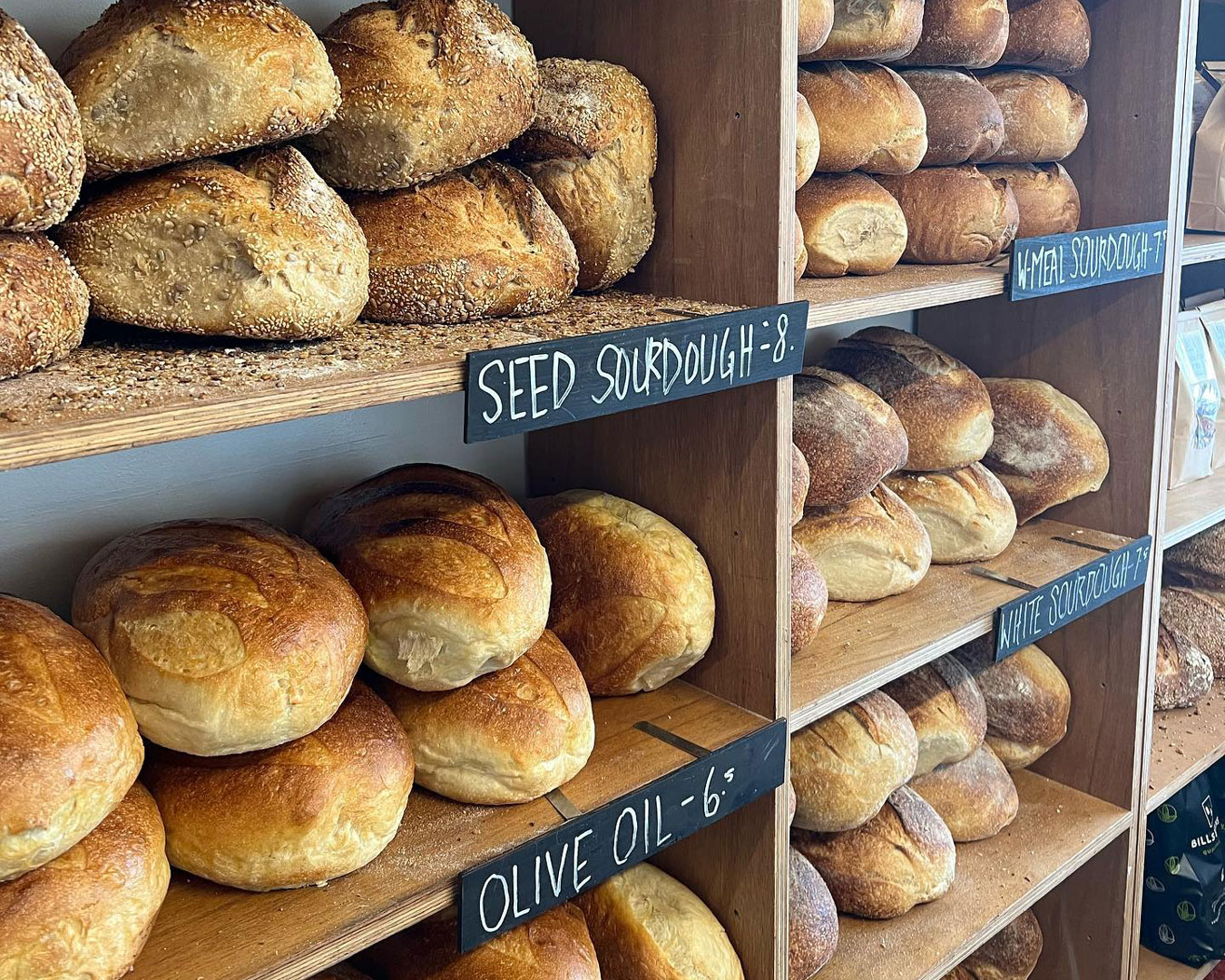 Racine Bakery is the baby of hatted restaurant Racine. Everything is handmade on-site using seasonal, fresh ingredients, from organic sourdoughs to beautiful buttery pastries, cakes, biscuits and their famous butter pastry pies and sausage rolls.
The croissants at Racine Bakery have been voted the best in Australia, which is definitely a big call, but they're absolutely phenomenal: buttery, flaky and served warm with house-made jam and butter. So. Damn. Yum. If you're feeling like something on the lighter side, the signature Racine Muesli with yoghurt, lemon curd and fresh fruit is also spectacular.
Racine Bakery has also just created a glorious hybrid treat that is the combined goodness of an eclair, doughnut and cream bun and yes—it's heaven on earth. You and your road trip buddies can have a crack at the best portmanteau name for this one... we're stumped.
South
Wild Ryes Baking Co
Pambula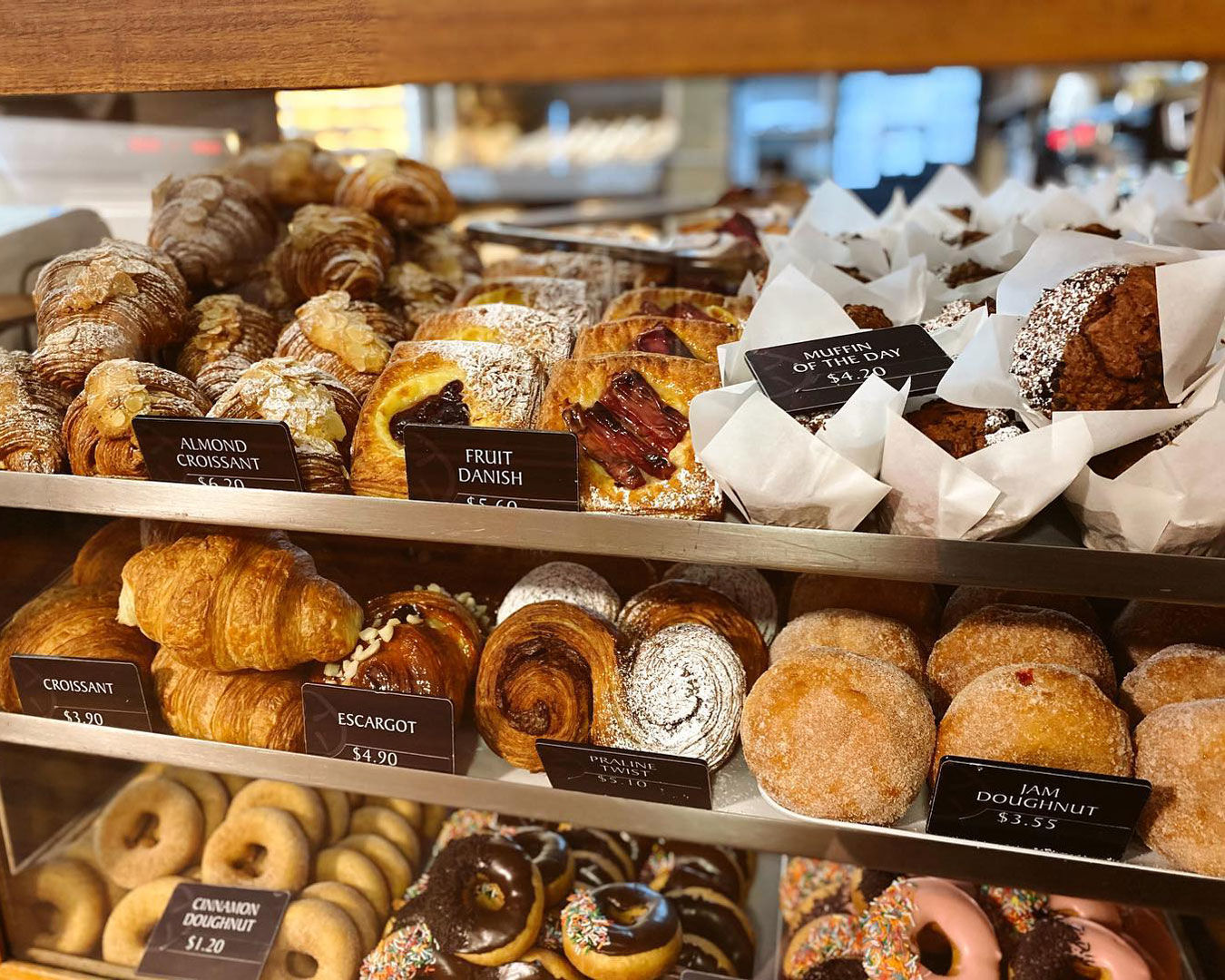 If you're planning a trip down to the now-trendy (but still wonderfully sleepy) Narooma, we have some advice—call into Wild Ryes on your way through. For one, you'll need sustenance on the long coastal drive. And these guys churn out some of the pain aux raisins (or "snails") we've ever tried. Plus they have their own on-site coffee roastery, so you can get that caffeine hit, too. And while you're there, you'll also want to pick up some croissants, olive baguettes, and seeded sourdough—or, ya know, as much as you can carry out of there.
Dojo Bread
Braidwood
Dojo Bread is housed in a charming 1830s cottage in a back lane behind Braidwood's main street. The team here is definitely one-of-a-kind with everything being made from scratch (by hand people, by hand). Sourdough is the main event here and we guarantee the loaves you made in iso were not this good. You'll also want to hit up the coffee and Greek-style "halva cake". To top it off, these guys also cover the staples so yes, the good old sausage roll is also making an appearance but we promise, you won't even need tomato sauce (it's that good).
Milkwood Bakery
Berry
The classic brekkie and lunch options at this extra-charming country cafe are worth a go, but the unmissable treats at Milkwood Bakery are the savoury and sweet pastries. Try one of the dressed-up ham and cheese croissants, lamb and pinenut sausage rolls or cure that sweet tooth with a brandy-soaked prune and custard tart or one of the many delicious tea cakes and friends. Special mention goes to the famous Berry sourdough, Kalamata olive Vienna and the perfectly sweet sourdough fruit loaf. Oh, and it would be rude not to pair these with a blood orange marmalade or Moroccan eggplant dip while you're at it.
Hayden's Pies
Ulladulla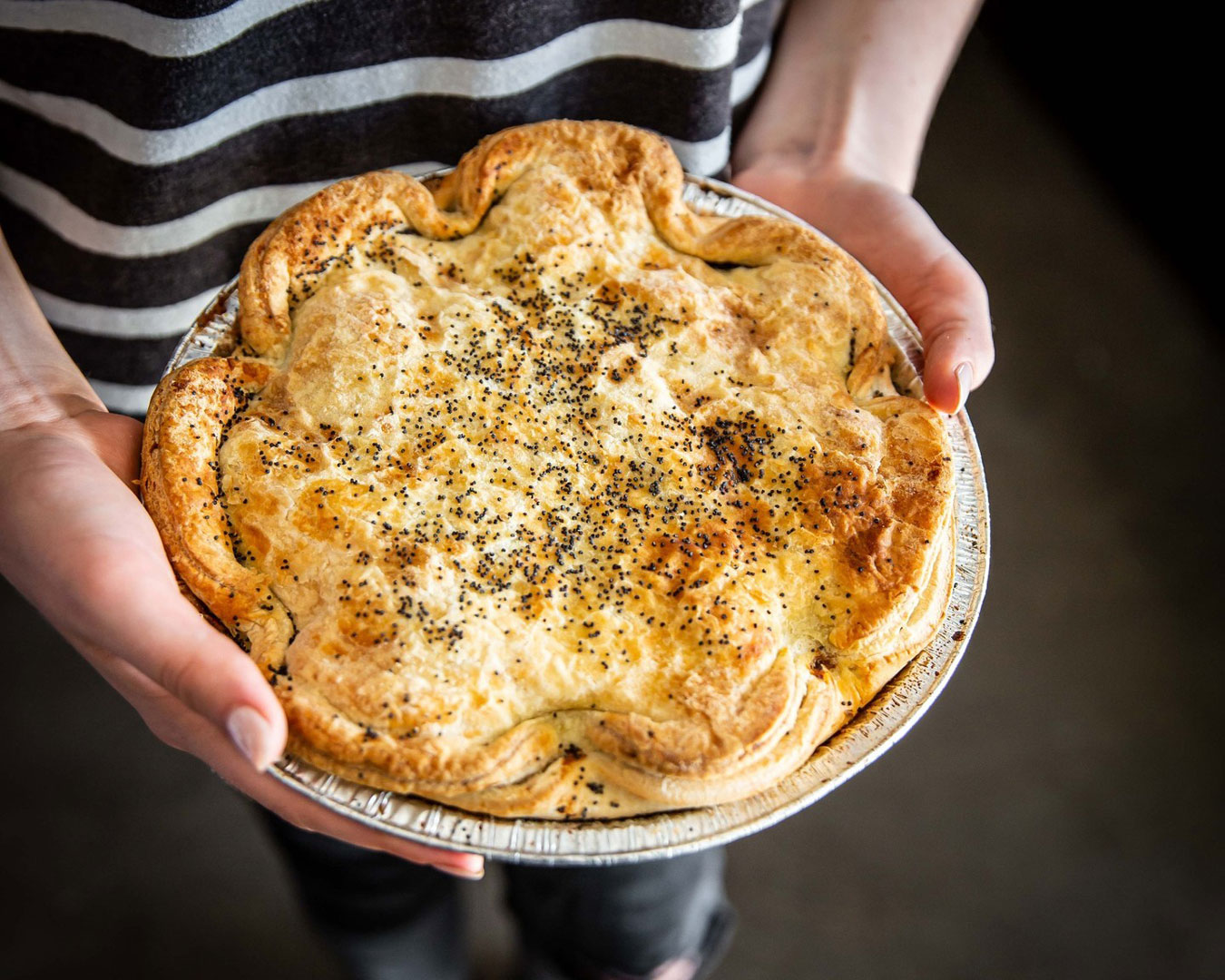 We'll be frank. You're doing an absolute disservice to your tastebuds if you haven't tried the pies at Hayden's Pies. A rotating list of daily specials shows off Hayden's ultimate pie creativity. Think osso bucco, peking duck, wild boar and chorizo, Sunday roast (yes, with all the pork, potato and pea trimmings), cheeseburger and even, wait for it—crocodile pie. If you miss these, fear not, there's also a staple steak and green peppercorn and a honey-roasted pumpkin, spinach and feta pie for all the vegos out there.
In the words of Urban List's Creative Director, Hayden's is a spot to "Warm your soul, fill your guts, be happy, eat a pie, shut up, just do it, bury me in pastry and gravy." And if that's not enough to convince you to hit up the pie excellence at Hayden's, we don't know what is.
Highlands Merchant
Moss Vale
Highlands Merchant certainly knows a thing or two about baked goods. You'll find this powder-blue coloured deli meets cafe meets homewares store on Argyle Street in Moss Vale. With the menu changing seasonally, there is always a tasty baked treat staring back at you at the front counter. Think savoury tarts, crumpets, buttery croissants, muffins, delicious fresh sambos, wraps and house-made toasted muesli jam-packed with goodness. The all-day breakfast roll is ever-changing but always spot-on—cue the perfect soft, fluffy bun or crunchy panini with soft eggs, sliced leg ham or maple bacon, greenery, cheese and the most delicious homemade sauce.
The Merchant will satisfy all those highland country feels you've been craving, with knitted throws, a warm cosy interior, friendly folks and plenty of home-style goodies to take home (and keep an eye out for its upcoming take-home mulled wine from Mr Consistent).
Flour Water Salt
Bowral, Milton, Kiama, Huskisson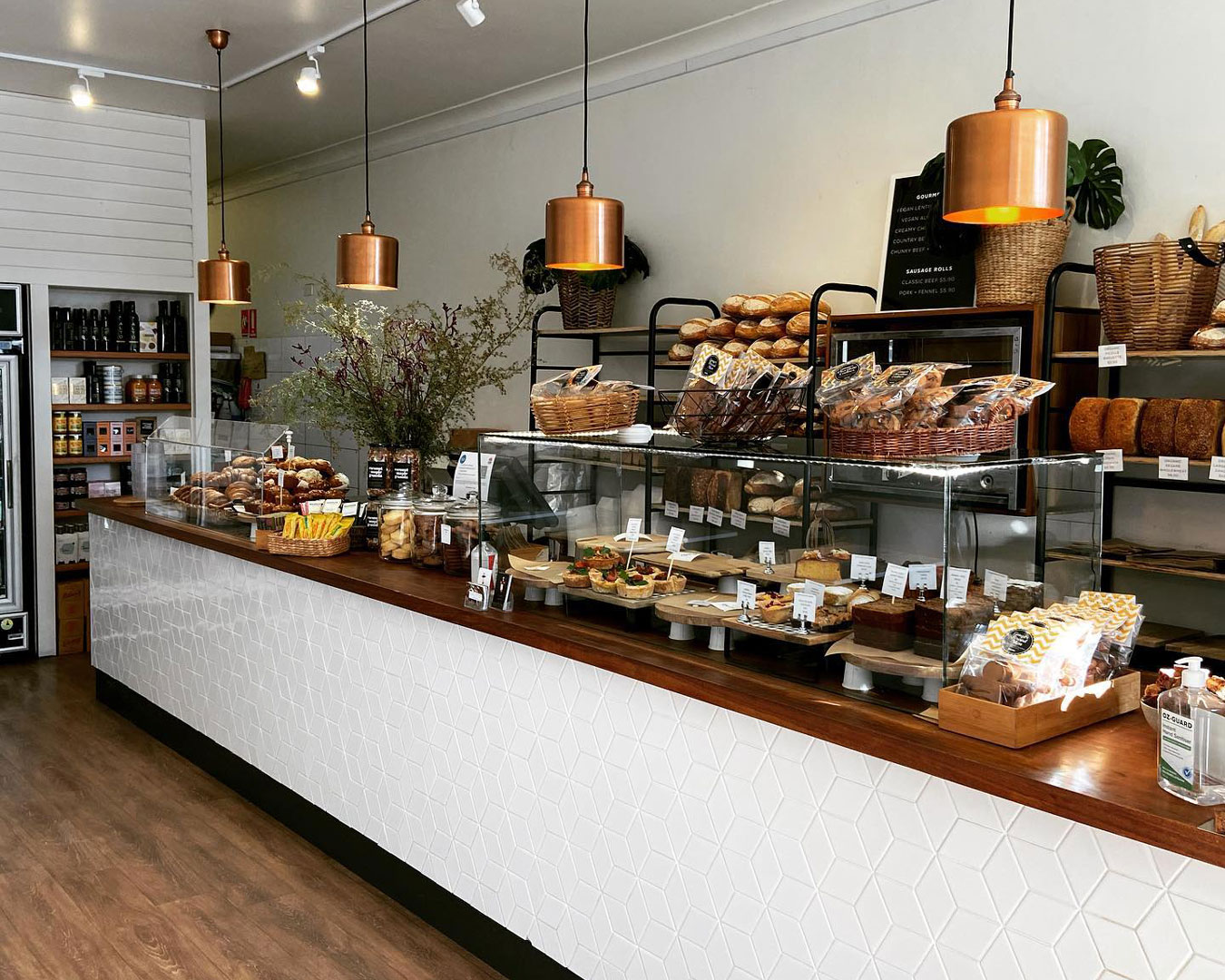 These guys are all about just doing a few things, and doing them right. Their organic, artisan sourdough that uses, as the name suggests, just flour, water and salt, is perfection. The cakes, pastries and biscuits are to die for, and you'll want to try out one of the lemon and vanilla bean curd tarts if you know what's good for you. However, the real MVPs at Flour Water Salt are the hot savoury tarts, pies and sausage roll as Flour Salt Water uses its very own shortcrust and Belgian butter puff pastry and it is utterly phenomenal. We're talking lamb, mint and rosemary sausage rolls, beef and Guinness pies with onion jam, fetta and thyme tarts.
Gumnut Patisserie
Bowral, Berrima, Mittagong
Locals rise early to beat the queues at Gumnut Patisserie, because it's just that damn good. This family-run business is over two decades old and well known for beyond beautiful fine pastries and cakes. Warning: when you get your hot hands on a Gumnut cake you'll probably be daydreaming about it for a long while afterwards. We're not going to make this one easy on you, because literally everything will hit the sweet spot here, but let's just say the lemon meringue, mud cakes and decadent banoffee pie are out of this world. Oh, the fresh cream eclairs and jam-packed, melt-in-your-mouth vanilla slices are kind of ridiculous too. You'll also want to try Gumnut's version of the humble custard tart.
Robertson Pie Shop
Robertson
Ah, the famous Robbo Pie Shop, where the Harley Davidsons congregate out front and the outrageously tasty pastries congregate in our bellies. This one is simply mandatory. Grab a chicken, camembert and leek or shepherd's pie, followed by an apple turnover and have absolutely no face-stuffing regrets afterwards. You are welcome.
Planning a local escape? Book yourself a stay at one of these off-grid tiny houses and cabins.
Image credit: The Icky Sticky Patisserie, Burnt Honey Bakery, The Icky Sticky Patisserie, Black Cockatoo, Racine Bakery, Wild Ryes Baking Co, Hayden's Pies, Flour Water Salt